London's verdant Hyde Park is one of the UK capital's most precious oases. Overlooking it, one of its most prized addresses: JW Marriott Grosvenor House London, former home of the Dukes of Westminster and Gloucester. With luxurious guest rooms offering sweeping views of the park's soothing green hues, a stay here sees you bathed in calm at the centre of one of the world's greatest metropolises. Read on for how to find wellbeing at the JW Marriott Grosvenor House London, so that your time in Mayfair is an enriching one, leaving you refreshed and recharged.
Day 1 – A room with a view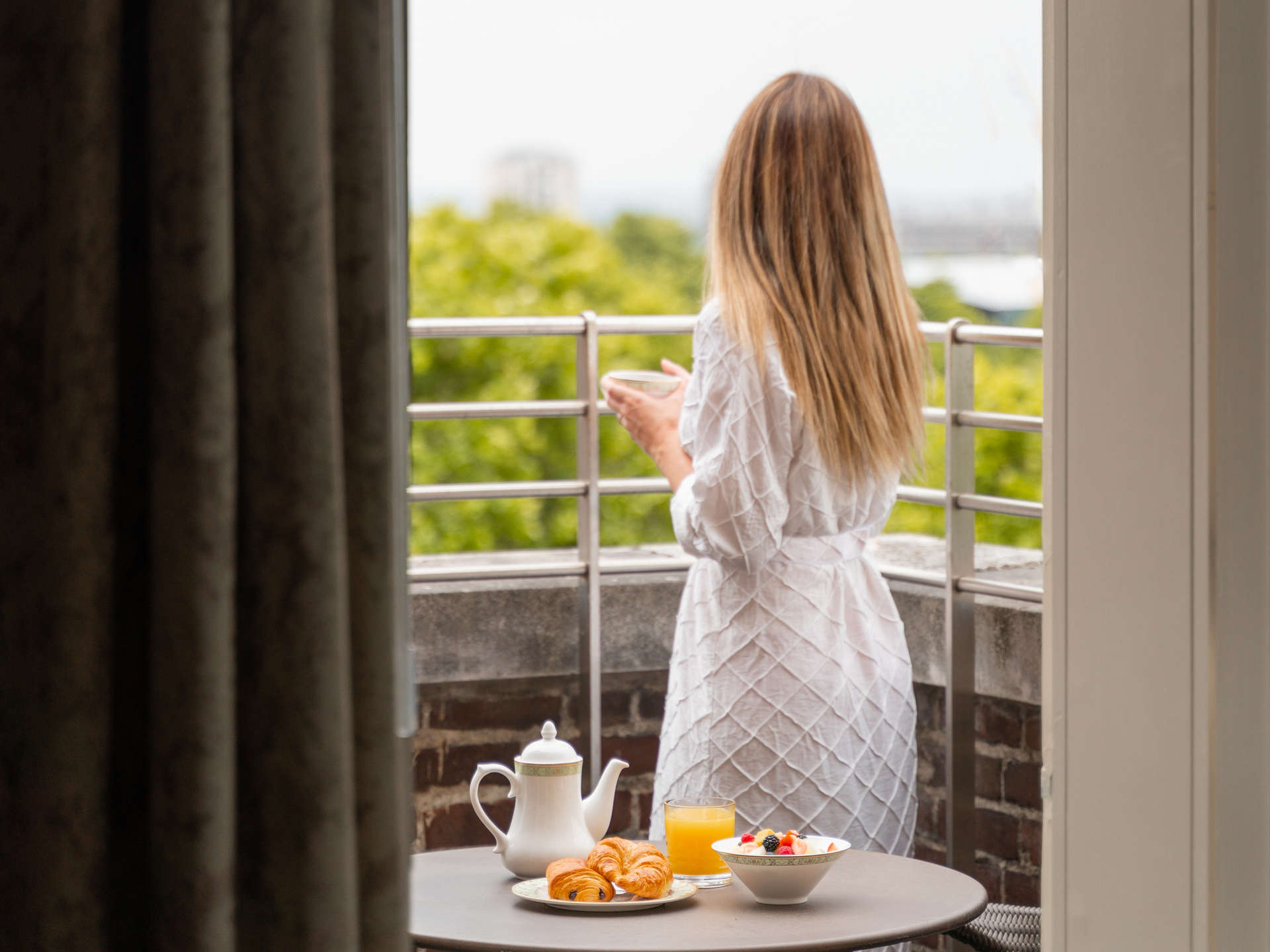 Book a suite with a view at JW Marriott Grosvenor House London and look out over Hyde Park as you enjoy breakfast (Photo: Marriott Hotels International)
All the little details at JW Marriott Grosvenor House London emphasise taking your time – and taking everything in. Rooms enjoy oversized chairs that beg you to sink into them, plus floor-to-ceiling windows and spacious, elegant bathrooms, while the evening turndown service and delivered-to-your-door newspapers encourage a more relaxed rhythm. Best of all, perhaps, are the views. Gazing out from a suite overlooking Hyde Park, the largest green space in central London, its lush vistas unfolding before you, it's easy to forget entirely that you're in a bustling city. London is one of the world's most nature-packed major cities and JW Marriott Grosvenor House London brings nature to you. Take time out to reflect and be lost in thought.
Day 2 – Fresh perspective in a green space
The abundance of the JW Garden at JW Marriott Grosvenor House London serves as a year-round inspiration to the chefs in the hotel's kitchen – and provides garnishes for the cocktails created by its mixologists. Immerse yourself in the simple beauty of the natural world in this serene and tranquil green space, listening to birdsong and the breeze rustling in the branches of the trees.
Day 3 – Dining in the great outdoors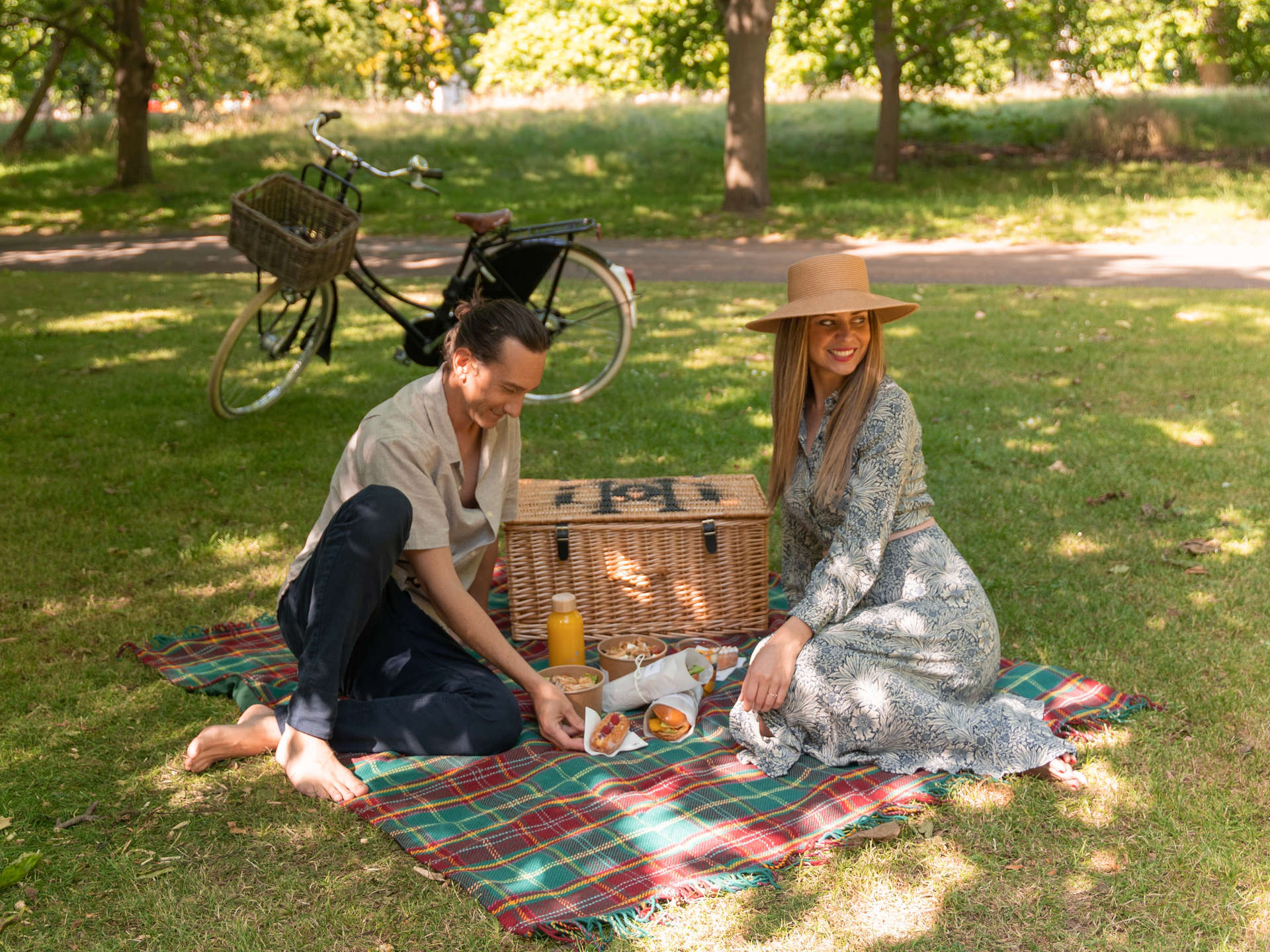 Take a picnic and find a corner of Hyde Park all your own for a long, leisurely lunch (Photo: Marriott Hotels International)
A picnic in the abundantly green park nourishes the appetite and the soul. Ask the dedicated Les Clefs D'or concierge team and they will arrange for the chefs at JW Marriott Grosvenor House London to prepare a healthy culinary feast to lay out on a blanket beneath the shade of a tree in Hyde Park, the largest of four Royal Parks that link Kensington Palace and Buckingham Palace. The picnic's array of fresh seasonal produce will augment the Vitamin D boost you get on a sunny day and the serotonin and stress relief of being out in the great outdoors. If you just want to stay within the hotel's serene interior, you can enjoy a lovingly crafted bite, sweet treat or freshly brewed coffee before stopping by at the hotel's Park Lane Market, where the famous JW cheesecake is a must-try.
Day 4 – The nourishment of a treasured tradition
JW Marriott Grosvenor House London serves afternoon tea in its elegant lounge, the Park Room, which boasts magnificent views of Hyde Park and includes nods to that historic green space in its design and décor. The Park Room's daily, award-winning afternoon tea includes delicate finger sandwiches, buttermilk scones with a choice of preserves, tarts and fruitcakes, and Newby Teas – or a glass of champagne. Vegan afternoon tea is available and there's also a child-friendly option that includes a miniature Knickerbocker Glory.
Day 5 – Holistic wellbeing: body and mind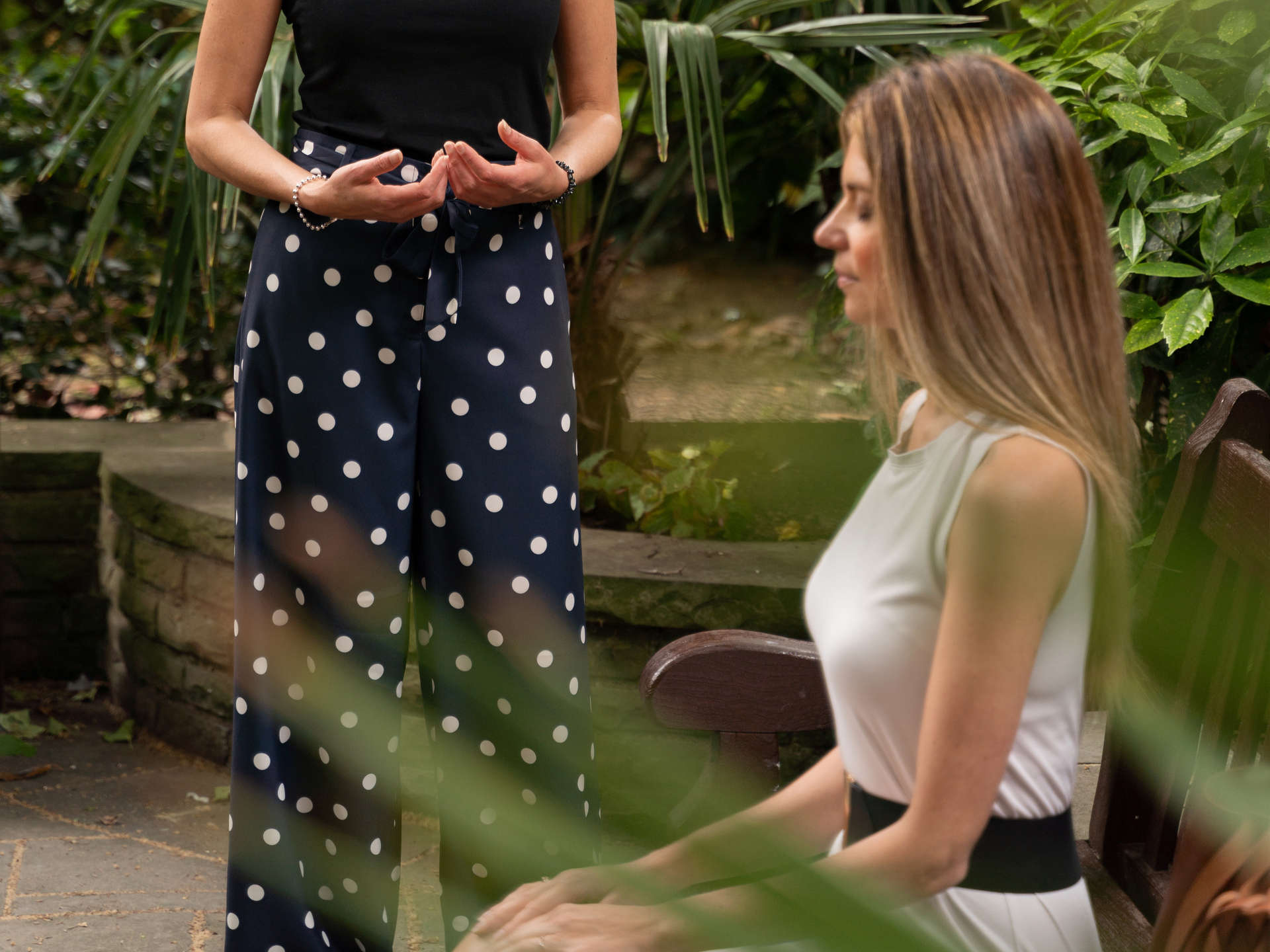 Find your calm centre with a meditation session in JW Marriott Grosvenor House London's quiet zone (Photo: Marriott Hotels International)
We know that a workout promotes better sleep and boosts energy and it's even more beneficial when a gym session is fun – especially when you're travelling. Open 24 hours, 7 days a week, the fitness room at JW Marriott Grosvenor House London features a range of cardio machines and weights, plus spaces for meditation and yoga practice, ensuring you a well-grounded stay with an emphasis on mind-body harmony. A safe haven for holistic wellbeing, there's also a quiet zone in place to ensure relaxation with minimal distractions.
Day 6 – Discovering nature in Hyde Park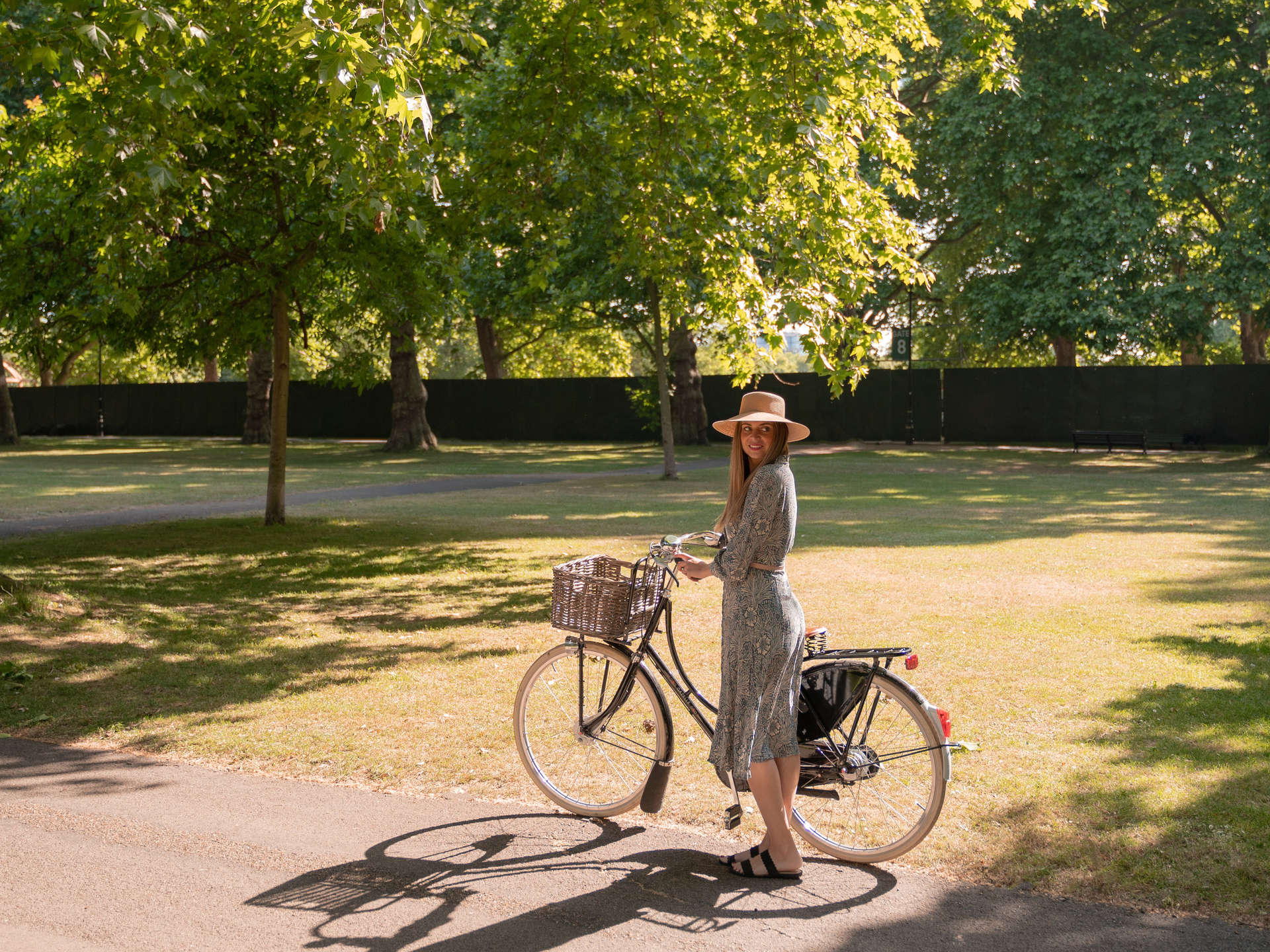 London is blessed with abundant green space and exploring it by bicycle is a joy (Photo: Marriott Hotels International)
First-time visitors are often surprised at the sheer amount of green space in central London. With a Royal Park for a neighbour, the JW Marriott Grosvenor House London is a portal to a unique habitat and diverse variety of species, particularly in the meadow area with its native wildflowers. Song birds hop between the trees and shrub beds, while the tranquil water of the Serpentine attracts all manner of insects and bats, as well as geese and Crested Grebe in winter. As research into the Japanese practice of shinrin-yoku (known as 'forest bathing' in English) has demonstrated, engaging with nature is real soul nourishment. The hotel's concierge team can organise guided nature walks and horse-riding, and in summer you can swim at the Serpentine's lido.
Day 7 – Mayfair's mindful spaces
London is a city of villages, with Mayfair arguably the most stylish of them all. The neighbourhood is a place of peaceful solitude with discovery moments and mindful spaces around every corner. Leafy Mayfair is home to the lawns of Grosvenor Square, the art galleries of New Bond Street and the artisan boutiques of Mount Street. Cobbled lanes are lined with 18th-century mews houses and there are alleys and Georgian squares to seek out, including London's smallest: Pickering Place. London's famous Blue Plaques are proudly mounted here and there to commemorate Florence Nightingale, Sylvia Pankhurst and Jimi Hendrix, and there are benches liberally dotted about that are ideal for simply sitting and people-watching. Staying centred in the centre of a city is attainable when you mindfully give yourself permission to pause and feel connected to yourself and to the world around you.
Published: September 30, 2022
Last Updated: October 12, 2022
Article Tags: Hyde Park , London , United Kingdom