A city's art reveals so much about its people, places and personality – whether it's renowned for world-leading galleries and priceless Renaissance sculptures, or backstreets emblazoned with thought-provoking street art. Some destinations like Paris, Florence and London are synonymous with striking aesthetics, while others have a fast-growing appetite for art: such as Abu Dhabi, with its growing crop of landmark galleries; and Berlin, whose vibrant street art reflects its subversive spirit. Read on to discover the best city break destinations for art aficionados, and the most eye-catching hotels to book.
Seek Timeless Treasures in Paris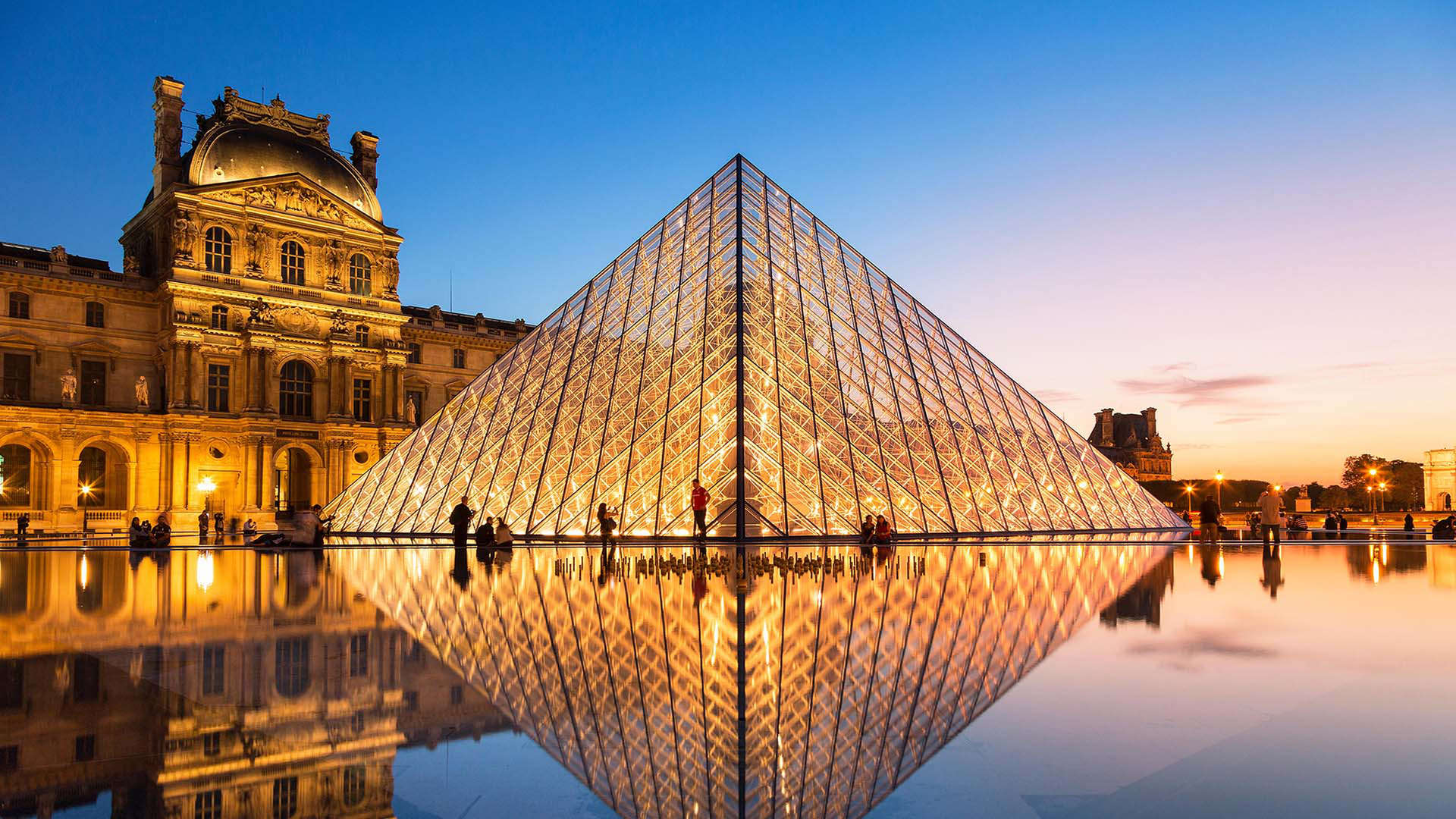 The Louvre in Paris is one of the world's great art museums, home to masterpieces including da Vinci's 'Mona Lisa'
The City of Light is renowned for its Louvre Museum – the world's most visited gallery. Housed inside a colossal palace in central Paris, it is home to masterpieces including da Vinci's 'Mona Lisa' and Delacroix's 'Liberty Leading the People', but there is so much more to the French capital's art scene.
In the eastern suburb of Romainville, Komunuma brings together many of Paris' most prestigious galleries – including Air de Paris, Galerie Sator, Galerie Jocelyn Wolff and In Situ Fabienne Leclerc. Each has a number of international artists-in-residence, showcasing their contemporary creations.
Every October, thousands of art buyers and spectators travel to Paris's Foire Internationale d'art Contemporain, a gathering where international galleries, museums, collectors and curators trade modern masterpieces and plan exhibitions around the world. The Art Paris Art Fair, held in the Grand Palais Éphémère, achieves the same each spring.
The city has a hotel to suit every aesthetic taste, whether that's 1920s Art Deco glamour at Prince de Galles, a Luxury Collection Hotel, Paris, or colourful eclecticism at Le Roch Hotel and Spa, Paris, a Member of Design Hotels.
Get Experimental in London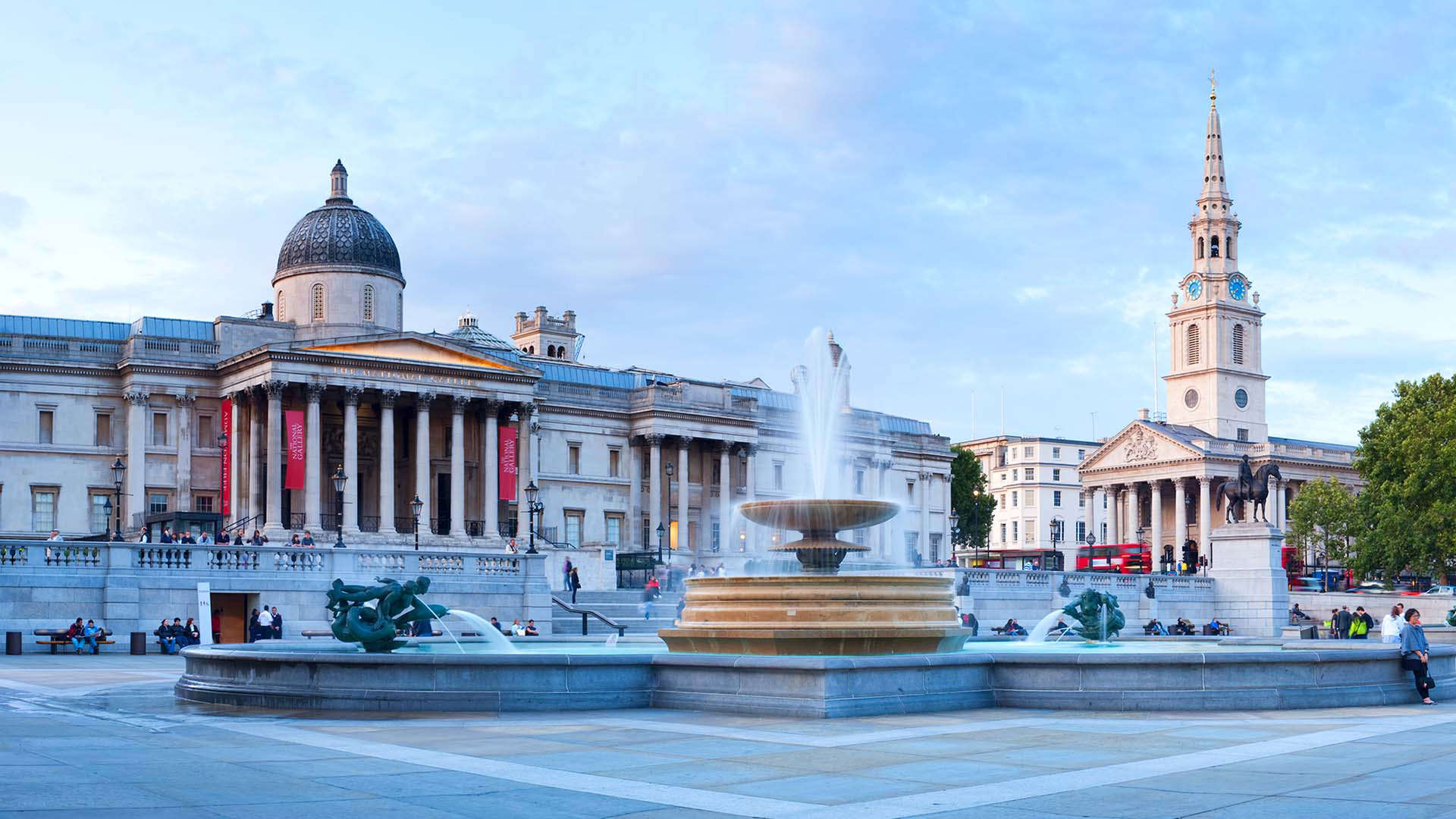 Sitting proudly on Trafalgar Square, London's National Gallery is unmissable experience for art lovers
The British capital has no shortage of world-famous museums and art galleries. The National Gallery on Trafalgar Square, Tate Modern beside the Thames, and the Saatchi Gallery house many of the nation's greatest works of art – and international artists are also well represented, with Pollock, Matisse and Picasso just some of the innumerable notable names hanging across the UK capital.
London also has many commercial art galleries, which you can visit for free and view the art for sale. The minimalist White Cube in Bermondsey has hosted the likes of Tracey Emin and Damien Hirst; the experimental Victoria Miro sells pieces by Yayoi Kusama and Grayson Perry; and Mayfair's Thaddaeus Ropac works with Anish Kapoor, Anselm Kiefer and many more.
The city also hosts some of the world's top art auctions, art fairs and shows by students at leading art schools. Be sure to visit the Affordable Art Fair (March) and London Art Fair (April), while the Royal College of Art exhibits its graduates' stellar work in its annual Showcase (January–February).
A three-minute walk from the National Gallery, W London celebrates bold, Britannia-inspired design: think Union Flag motifs, Soho-style neon lights and accessories by London fashionista Jack Irving. In true W style, it's a playful and seriously cool spot. Or there's the Sheraton Grand London Park Lane and The London EDITION; both are set in exquisite heritage buildings, with beautifully-restored original features and a trove of capital-themed art. The London EDITION is also home to Berners Tavern from michelin-starred chef Jason Atherton, where you'll enjoy a meal in the restaurant's iconic dining room surrounded by hundreds of paintings.
Find Priceless Icons in Florence
Florence's cityscape is a work of art in its own right, and the heady combination of classic and contemporary art pieces makes it Italy's cultural capital. The Galleria dell'Accademia, home to the legendary 'David' statue by Michelangelo, and the Uffizi Gallery house some of the world's greatest treasures, but a contemporary art scene is emerging in the city too.
In Studio Abba, located inside the 16th-century Renaissance Palazzo Rosselli del Turco (formerly the U.S. embassy), a permanent collection by Hungarian artist Karl Stengel is exhibited alongside collective and solo displays from around the world. In Palazzo Strozzi, La Strozzina is the base for the Centre for Contemporary Culture Strozzina, home to a rotating calendar of visual art workshops and shows.
Every inch of The St. Regis Florence mirrors the city's breathtaking art and architecture, from the ornate stucco and glittering chandeliers of its Salone delle Feste ballroom, to the magnificent oil paintings and antiques in its suites. Indeed, it feels more like a world-leading gallery than a hotel. For Renaissance-style grandeur, look to the ​​Presidential Da Vinci Suite; by contrast, the Bottega Veneta Suite is a chic, minimalist creation designed by the famous Italian couture marque.
Catch Berlin's Colourful Counterculture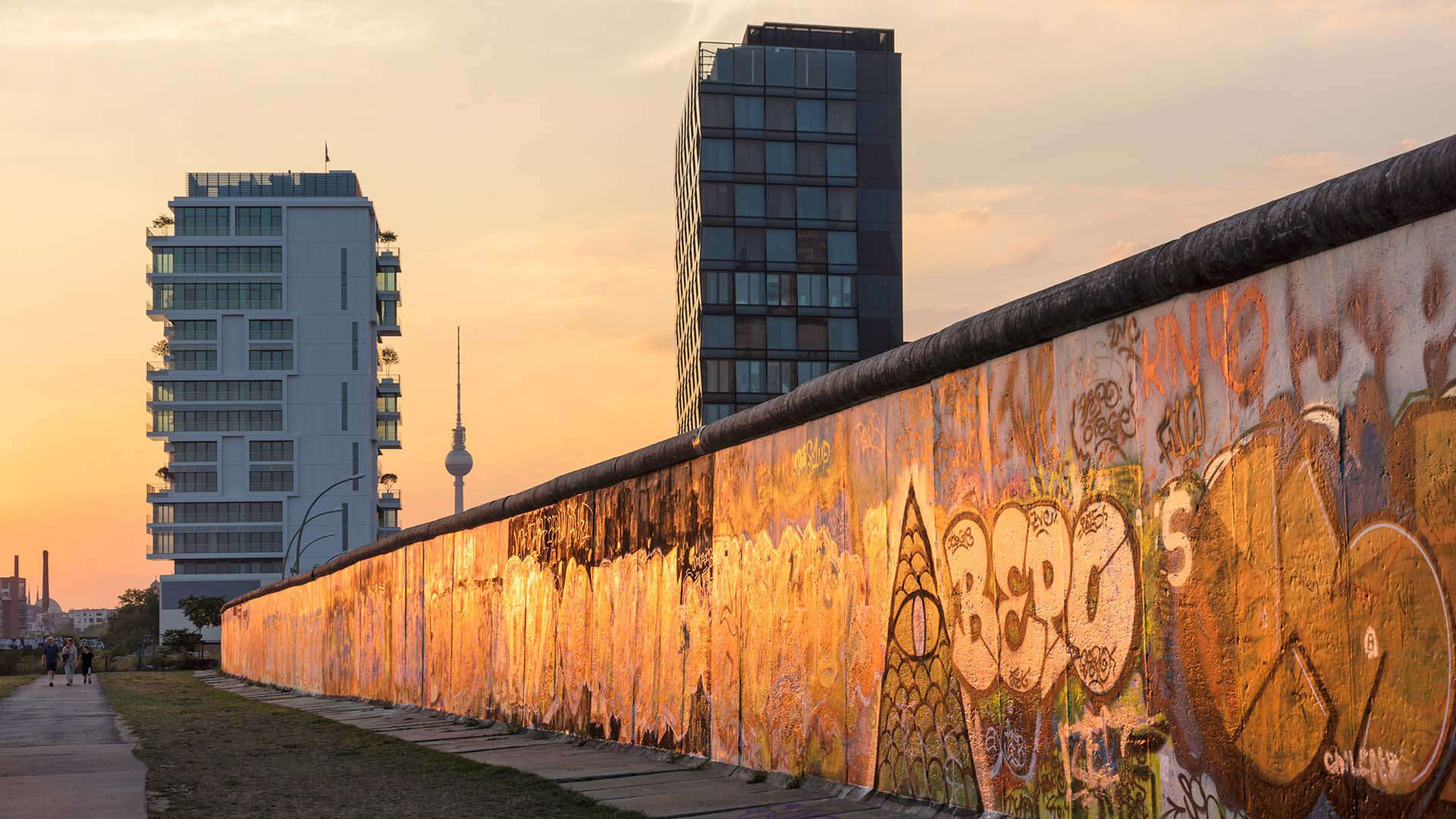 The German capital's East Side Gallery is a stunning artists' takeover of a 1.3km section the Berlin Wall , featuring some 100 paintings
Berlin's avant-garde counterculture has made it one of the world's great modern art cities. Galleries great and small are scattered across Berlin, including Contemporary Fine Arts, Daimler Contemporary and the KW Institute for Contemporary Art, but its street art scene is more dynamic yet.
After the fall of the Berlin wall, graffiti artists took to the city, daubing it with subversive slogans and politically-provocative murals. And Berlin's street art scene is still evolving, with many new graffiti pieces by top artists appearing on Haus Schwarzenberg near Alexanderplatz. Another must-visit spot is the East Side Gallery on Mühlenstrasse, where vibrant graffiti covers the final remaining 1.3km stretch of the Berlin Wall. It's located in the Friedrichshain quarter, which is renowned for its rebellious spirit and counterculture vibes.
A few minutes walk away from the East Side Gallery, stands the Moxy Berlin Ostbahnhof, a design maven's dream. Filled with sculpturesque furniture, statement lighting and industrial-style materials, it encapsulates Berliners' passion for pared-back, minimalist aesthetics – but it's warm and approachable too, with edgy artwork and sumptuous leather armchairs. For a more classical aesthetic, look to Hotel Luc, Autograph Collection, whose vast oil paintings wouldn't feel out of place in Berlin's history-rich Gemäldegalerie museum.
Go Scandi Modern in Copenhagen
The Danish capital is the undisputed home of Scandi modern art. On Copenhagen's waterfront, the Nyhavn quarter is the home of Kunsthal Charlottenborg, a popular contemporary art museum housed in a 17th-century structure. The museum hosts a changing array of modern art events and exhibitions throughout the year, and has even designed its own bike art trail, which visits ten outdoor sculptures around the city.
Etage Projects is a contemporary design gallery and lecture hall where up-and-coming designers are pushing the boundaries of art and architecture, while Copenhagen Contemporary has hosted modernist works by the likes of Anselm Kiefer, Yoko Ono and Bill Viola.
For something more traditional, the SMK is Denmark's national gallery and the largest collection in the country. Art dating back to the 14th century is housed here, including pieces by Matisse, Picasso and Eckersberg.
In Nyhavn, a ten-minute walk from Kunsthal Charlottenborg, The Socialist, a Tribute Portfolio Hotel captures the urban cool of this design-loving quarter. Inside, it's minimalist yet seriously plush, full of soft velvets, cool marble and brooding hues.
See Abu Dhabi's Rising Art Stars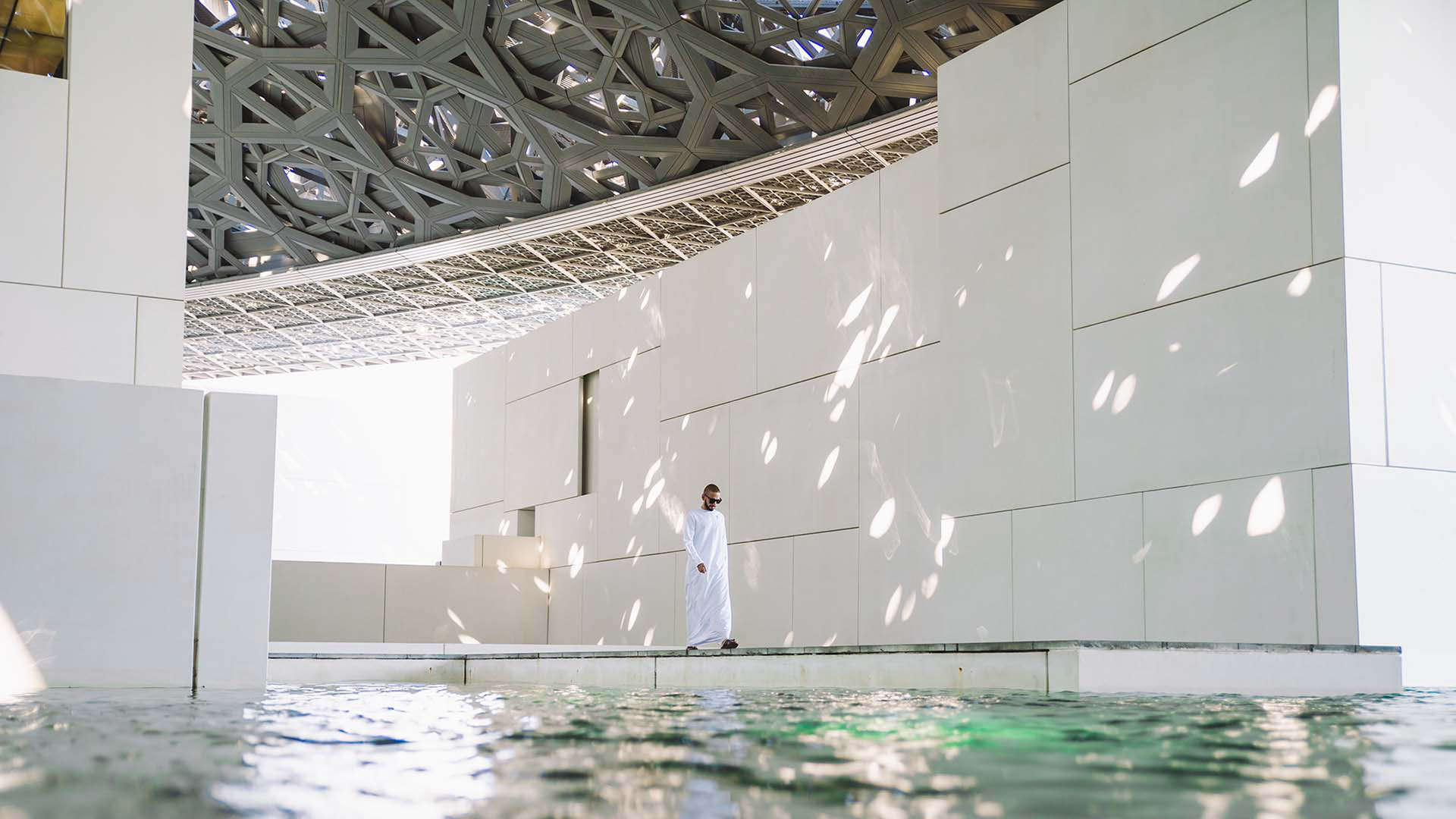 Louvre Abu Dhabi, located on Saadiyat Island in Abu Dhabi, is the pearl of the UAE's art scene
Abu Dhabi is quickly emerging as the epicentre of the Middle East's art scene, particularly in its cultural district on Saadiyat Island, where ambitious grassroots movements rub shoulders with landmark international galleries.
The Louvre Abu Dhabi, which opened in 2017 to rapturous reviews, is the centrepiece of the UAE's cultural ambitions. The Jean Nouvel-designed concrete and stainless-steel structure, topped with an intricate latticework dome, displays a mighty collection of international art by the likes of Henri Matisse and Francis Bacon, along with 2,800 medieval Islamic coins.
Featuring home-grown Middle Eastern talents, the NYU Abu Dhabi Art Gallery offers a changing calendar of exhibits and events to connect local artists with international collectors and curators. And galleries such as Warehouse 421 and Salwa Zeidan Gallery focus on modern art and sculpture from across the region.
The Guggenheim Abu Dhabi will be the next stage of the Saadiyat Island development, set in a shimmering modernist gallery designed by Frank Gehry – the 'starchitect' behind the original Guggenheim Museum Bilbao.
As for where to stay, Saadiyat Island itself is a beautiful location, with a long soft-sand beach and turquoise waters: perfect after a busy day's gallery hopping. The St. Regis Saadiyat Island Resort, Abu Dhabi sits right on the shore, a vision of Arabian-inspired architecture and gemstone-blue swimming pools – and Louvre Abu Dhabi is just a 10-minute drive away.
Jump into Johannesburg's Art Scene
Johannesburg is home to South Africa's hottest art scene – particularly on Jan Smuts Avenue in the Rosebank district, which has a multitude of independent galleries. Visit on the first Thursday of each month, and you can enter them for free until 9pm.
The Everard Read gallery, established in 1913, claims to be the oldest commercial gallery in Africa, and features works from top South African artists and up-and-coming designers. Meanwhile, the Victoria Yards industrial area is also home to a collection of creative galleries, as well as an urban farm, artists' workshops and craft markets every month.
In the Newtown and Maboneng areas, murals by local artists line the streets, showcasing sociopolitical issues faced in these communities. Graffiti artist Falko 1's 'Family Time' mural in the Central Business District, a brightly-coloured elephant mother and calf, is one of the most popular – but the art scene is always changing. In late 2021, the Newtown Revitalisation Project added more murals to the district, including jazz-themed pieces by ​​Dbongz Mahlathi, and a huge saxophone sculpture on Mary Fitzgerald Square.
Just off Jan Smuts Avenue, Ten Bompas Hotel, Johannesburg, a Member of Design Hotels is the perfect base for art lovers. Each of its ten suites is designed by a different local creative, whether inspired by Southern Africa's indigenous tribes or the bright hues favoured by the city's contemporary artists. It's a compelling reflection of the nation's cultural diversity, with an abundance of local photography, sketches and paintings too. The street art of Maboneng is only a 15-minute drive away.
Published: July 26, 2022
Last Updated: October 19, 2022
Article Tags: Abu Dhabi , Arts , Berlin , Copenhagen , Florence , Johannesburg , London , Museums , Paris