Dubai has long been celebrated for its superb cuisine, and now the emirate's world-class restaurants have been given the Michelin Guide seal of approval. Launched in the Middle East in 2022, the Dubai edition of the famous culinary awards honoured 25 restaurants with either Stars or Bib Gourmand status, with a further 44 receiving Recommendations. Here are seven Dubai restaurants praised in the Michelin Guide that embrace, explore and occasionally challenge the fine dining concept to fabulous effect.
Il Ristorante – Niko Romito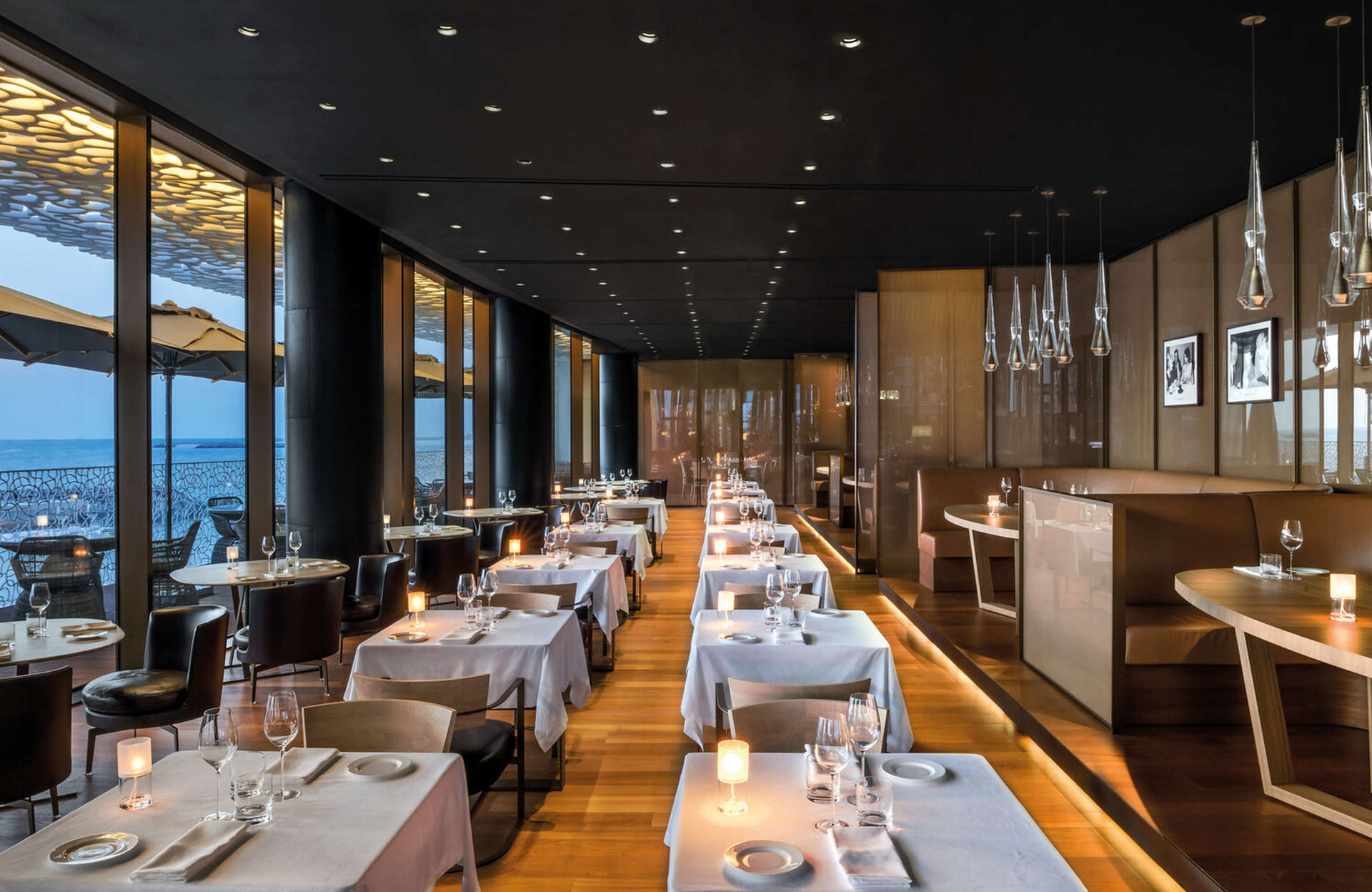 Rating: Two Michelin stars
True to the exclusive style of Bulgari Resort Dubai, the sea-view Il Ristorante – Niko Romito offers exquisite dining and unparalleled service. Abruzzo-born chef Niko Romito, holder of seven Michelin stars, has ingredients imported especially from Emilia-Romagna, Naples and beyond for his kitchen's creations, and the elegant restaurant is one of just two in the UAE to hold two coveted Michelin stars.
Praised by the Michelin Guide for its 'assured, sophisticated modern Italian dishes', the menu at Il Ristorante – Niko Romito both surprises and satisfies: think homemade tagliolini with mussels and a twist of grapefruit, or a salad of the freshest blue lobster and zucchini with notes of pink pepper. Opt for the 'Degustazione' menu and you will be served six superlative courses, with optional wine pairings. Authentic Italian dining of the highest order has arrived in Dubai.
Indya by Vineet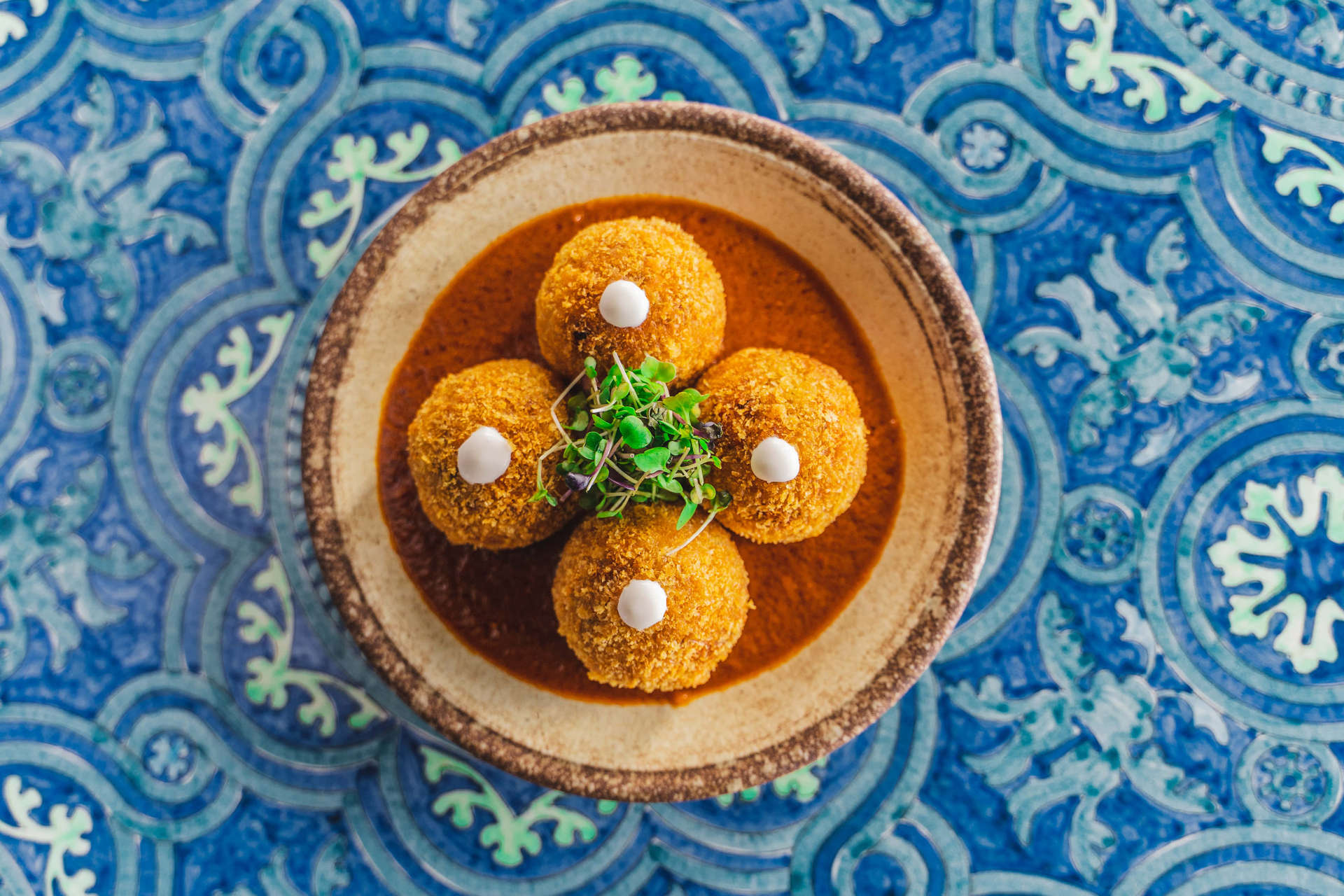 Rating: Bib Gourmand
Praised by the Michelin Guide for its 'vibrant, modern Indian cooking', Indya by Vineet puts an innovative twist on some of India's best-loved dishes. Enjoy the atmospheric restaurant's celebrated 'KFC' (Kerala-fried chicken) or Aunty Braganza's Prawn Stew, an inspiring melange of boat-fresh seafood, garlic and tomatoes. You might also share a selection of delicacies inspired by Indian street food, such as the chaat pastry cups, filled with rich chickpea curry and fresh coriander. The menu is the creation of chef Vineet Bhatia, a Master Chef judge and one of the first chefs of Indian origin to be recognised by Michelin. 
Indya is located in Le Royal Méridien Beach Resort & Spa, and its Indian-inspired décor is as vibrant as its dishes. Take a table on the sea-breezy terrace and prepare to be taken on an unforgettable voyage through the flavours of India. 
Torno Subito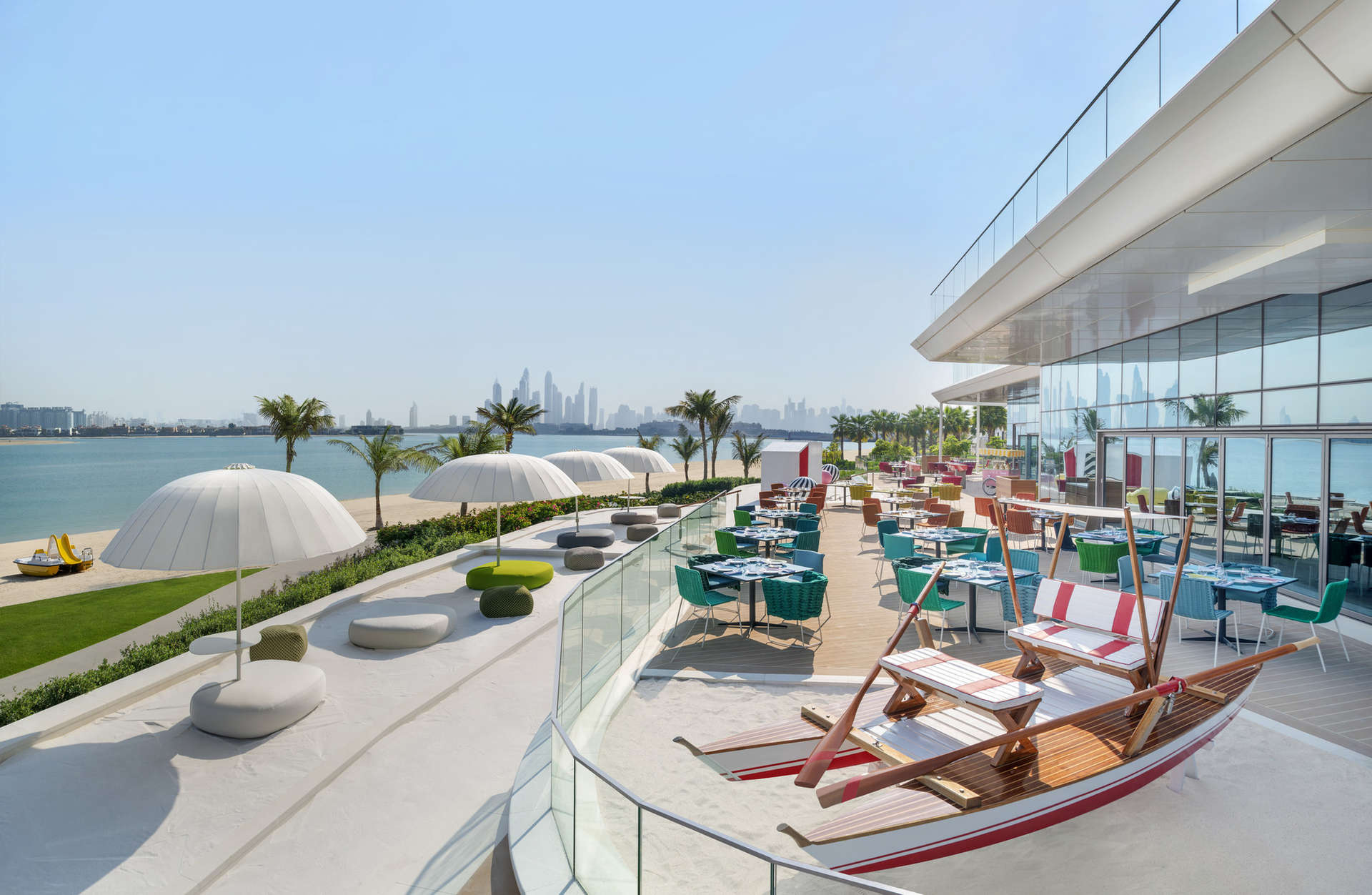 Rating: One Michelin star
Inspired by the iconic style of 1960s era Italian Riviera, Torno Subito brings a taste of la dolce vita to Dubai. Linger over lovingly crafted lunches of roasted octopus and ricotta-stuffed ravioli, paired with Gaja's Ca' Marcanda Vistamare or Rossj-Bass. Part of W Dubai – The Palm, the restaurant enjoys a superb sea-view terrace: what better setting for perfect Aperol Spritzes, and just-so risotto with shrimps, sweet garlic and lemon?
Chef Massimo Bottura brings his expertise from the three-Michelin-starred Osteria Francescana in Modena, Italy to the theatrical open kitchen at Torno Subito. This is Bottura's first restaurant outside his homeland, offering both tasting menus and à la carte options. 'Sophisticated, refined and bursting with colour and rich flavours,' raves the Michelin Guide; 'the desserts are not to be missed'. Try the 'Tiramisubito', a creamy-sweet concoction of cocoa, mascarpone and coffee.
Akira Back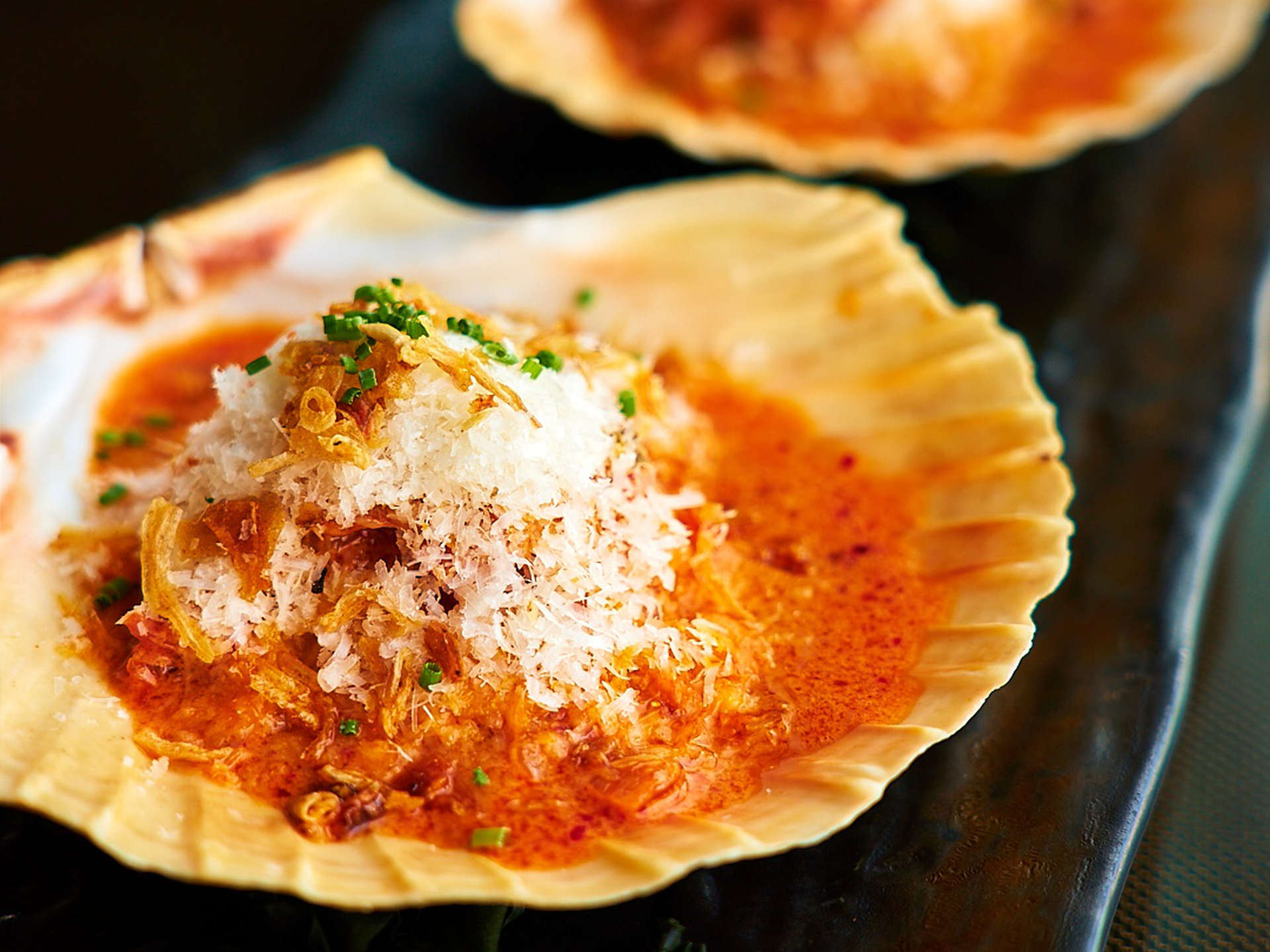 Rating: Michelin-recommended
Dinner is a work of art at Akira Back, from its delicate 'Mystery Box' of chef's-choice sashimi and sushi, to the truffle-topped A5 Wagyu Saroma Tobanyaki – the highest-grade of Japanese Wagyu steak. The menu reflects the culinary heritage of chef Akira Back, who was born in Seoul and raised in Colorado, and now has a portfolio of acclaimed restaurants in Paris, Istanbul, Singapore, Bangkok and beyond. 
Housed on the fifth floor of W Dubai – The Palm, the restaurant's Asian-fusion dishes are served against a panorama of the city's skyline: think Oscietra caviar with wasabi creme fraiche, miso-marinated black cod, and buttery mochi cake with coconut sorbet. There are also extensive menus for vegan and gluten-free diners.
Hōseki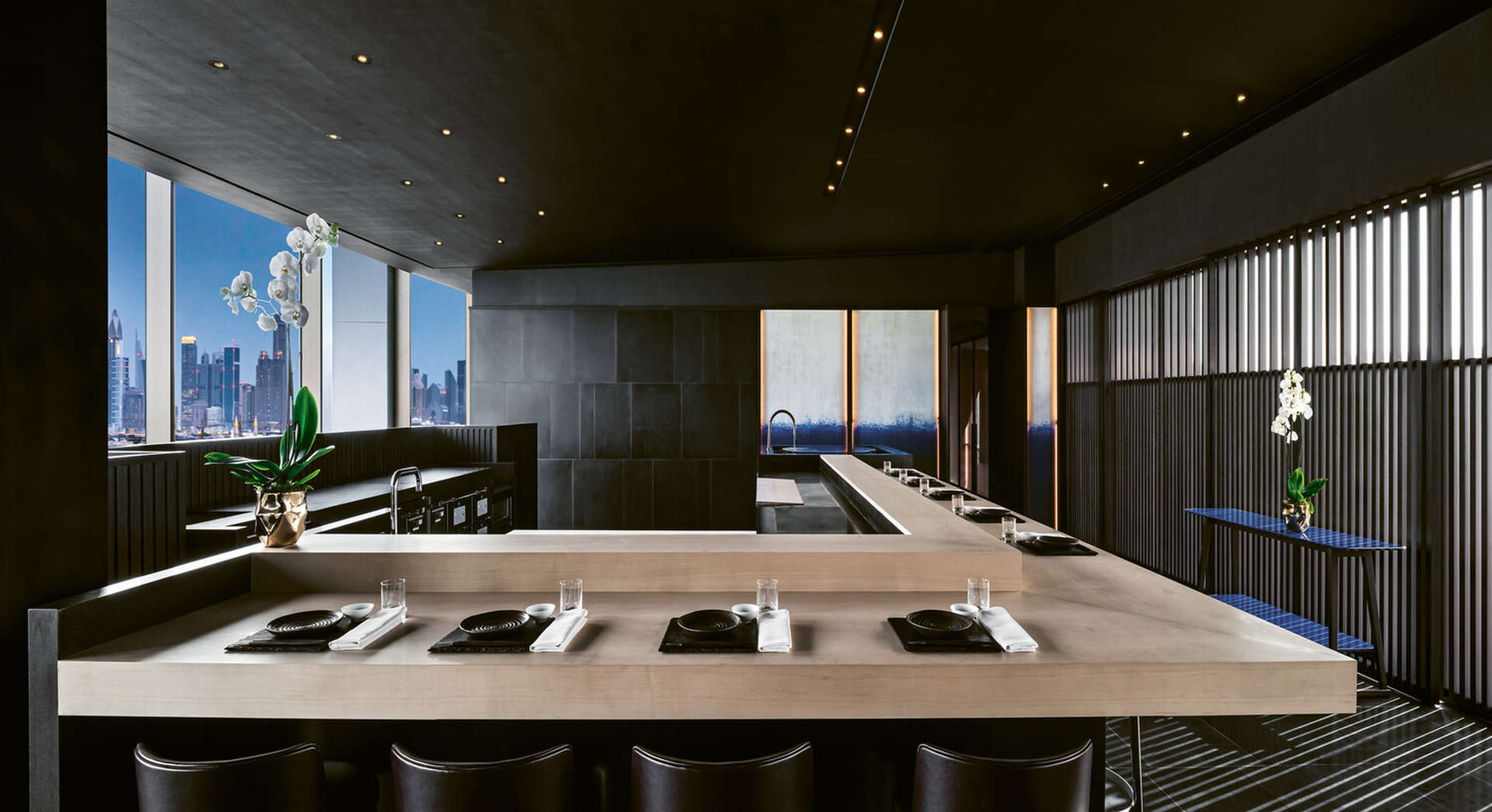 Rating: One Michelin star
Led by sixth-generation sushi master Masahiro Sugiyama, Hōseki serves a Japanese menu of supreme refinement, with ingredients flown in daily from Tokyo's legendary Tsukiji fish market. With the Burj Khalifa and Downtown Dubai as the restaurant's dazzling backdrop, take a seat at the counter, which folds around Hōseki's sleek open kitchen, alongside just a handful of other diners. Relax into the tranquil ambience as you appreciate the knife skills of your own dedicated chef, who will prepare the freshest ingredients according to your tastes and preferences. Hōseki's artful expression of the traditional dining style known as omakase, meaning 'I leave it to you', secures Bulgari Resort Dubai's status as a gastronomic destination.
'​​This is technically adept and beautifully presented cuisine', reports the Michelin Guide of the ever-changing offering of sushi and sashimi, featuring only the finest seafood, such as Japanese sardines, squid and blue-fin tuna.
Indego by Vineet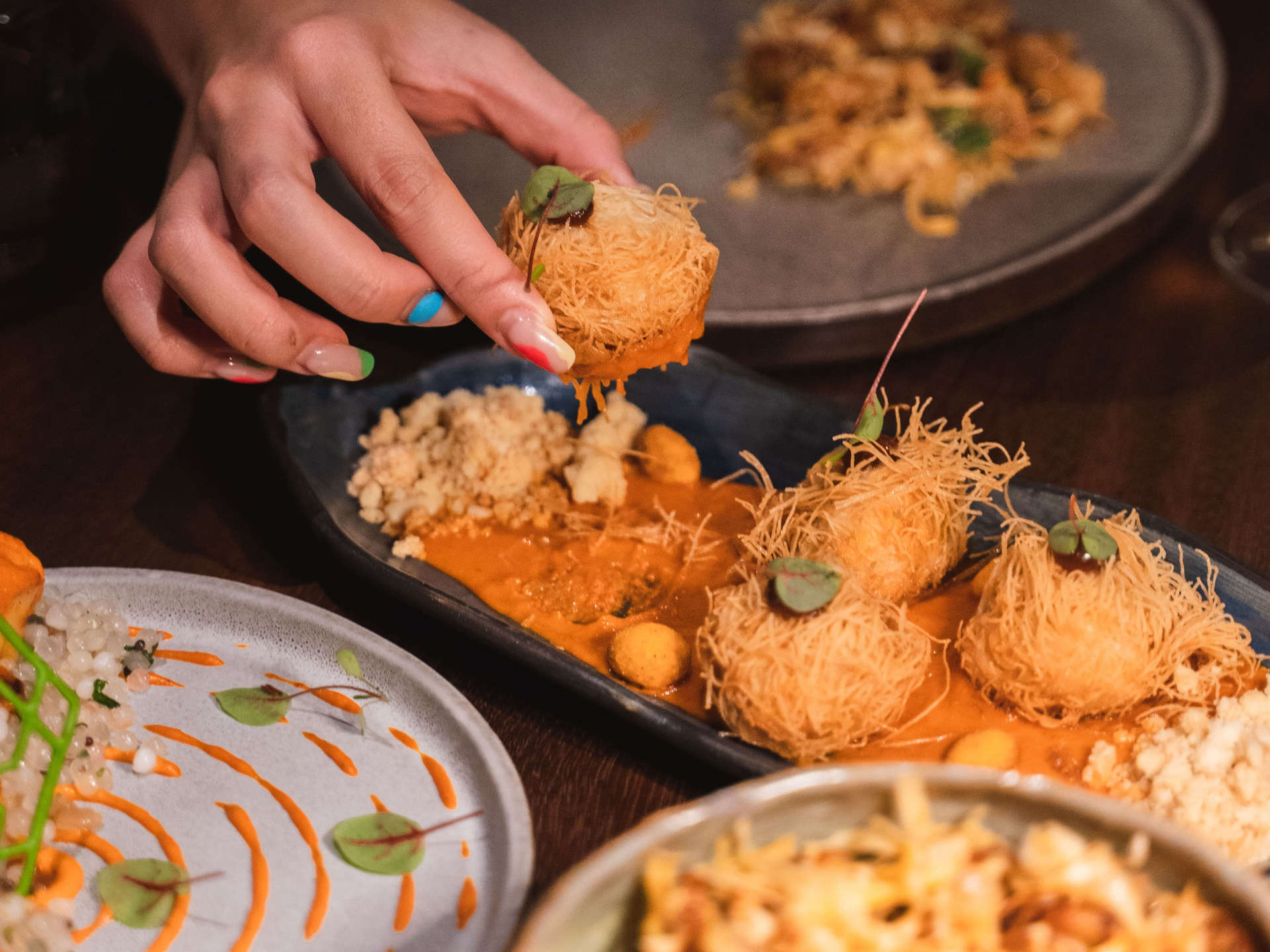 Rating: Michelin-recommended
At the Michelin-recommended Indego by Vineet, British Chef Vineet Bhatia brings new dimensions to traditional Indian favourites, with dishes such as lobster tikka masala, truffle-laced korma and gold-topped lamb musallam. The restaurant's menu combines street food – such as bhajis, samosas and plump steamed momos – with dishes from the tandoor (clay oven) and sigdi (griddle). 
As well as praising the restaurant's delicate spicing and playful presentation, the Michelin Guide recommends sitting on the terrace for front-row views of Dubai Marina, with Grosvenor House, a Luxury Collection Hotel, Dubai as your backdrop. Indego by Vineet's signature cocktails include the 'Karma Kool' with cardamom-infused vodka, and the saffron-spiced 'Mumbai Rhapsody' with fresh lemon and gin. 
Rhodes W1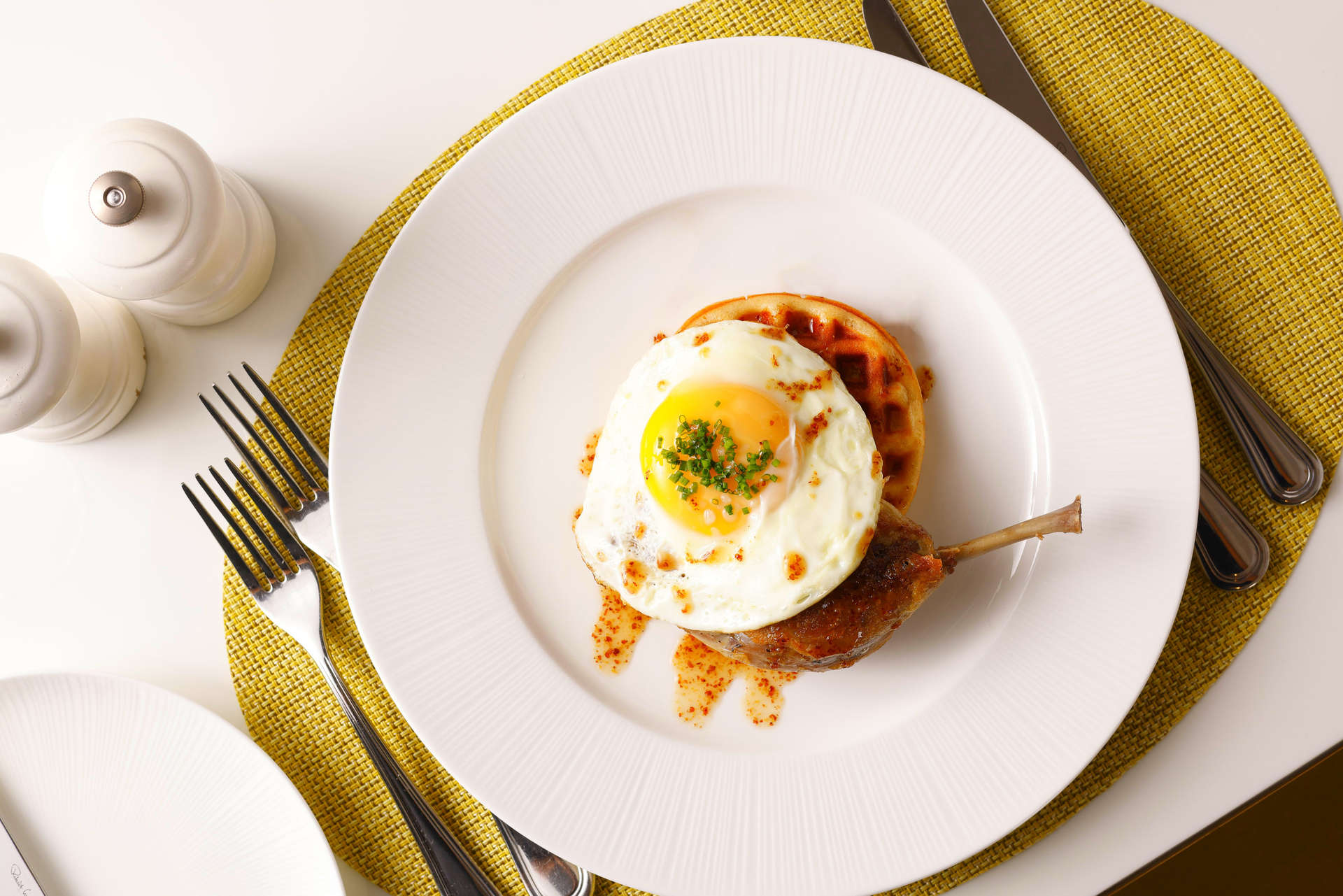 Rating: Michelin-recommended
Rhodes W1 takes British cuisine to new heights. The restaurant was founded by the late culinary maestro Gary Rhodes, who received a constellation of Michelin stars through his career (the first when he was aged just 26). Continuing his father's legacy, Rhodes' son Sam now heads the kitchen's operations.
Part of Grosvenor House, a Luxury Collection Hotel, Dubai, Rhodes W1 offers elevated vistas of Dubai Marina's mighty towers, with tables on the restaurant's terrace particularly desirable. Described by the Michelin Guide as 'top notch', the menu includes a few Middle Eastern twists, such as foie gras and date terrine, and spicy shakshuka for breakfast. The in-house mixologists' signature cocktails, such as the SDR Martini with passion fruit purée and Ketel One vodka, pair beautifully with that view.
The restaurants listed are part of More Cravings by Marriott Bonvoy™, Marriott International's one-stop destination to discover a world of culinary inspiration and rich rewards. To learn more about More Craving's Michelin-approved restaurants in Dubai, click here.
Readers based in UAE and Qatar can download the More Cravings app now and enjoy endless dining experiences at their fingertips. For more information, check out More Cravings on Instagram or visit www.morecravings.com
Published: December 01, 2022
Article Tags: Dubai , United Arab Emirates