While traveling is an enriching experience, sometimes we need to take a little time to recharge during a trip. Fortunately, there's a wealth of spa retreats available with a cultural vibe to combine relaxation with a love for new adventures. From the ancient beauty rituals of the Egyptians to healing therapeutic springs in Tuscany and restorative olive oil treatments in Greece, here are a few of the globe's most luxurious experiences to restore and revive.
Rejuvenate with Roses in Bodrum
For a peek at spa traditions of the ancient Ottoman Empire, try the Sultan's Rose Hammam ritual at Caresse, a Luxury Collection Resort & Spa, Bodrum. The hour-long treatment highlights the rejuvenating properties of the regionally grown damask rose.
Guests lie on a traditional Turkish Marmara table while the therapist exfoliates the body with an authentic kese mitt. Dead skin cells are then washed away with rose water and rose-infused soap. Top off with a massage and full-body rose mask for optimum skin hydration.
Healing the Body with Olive Oil in Greece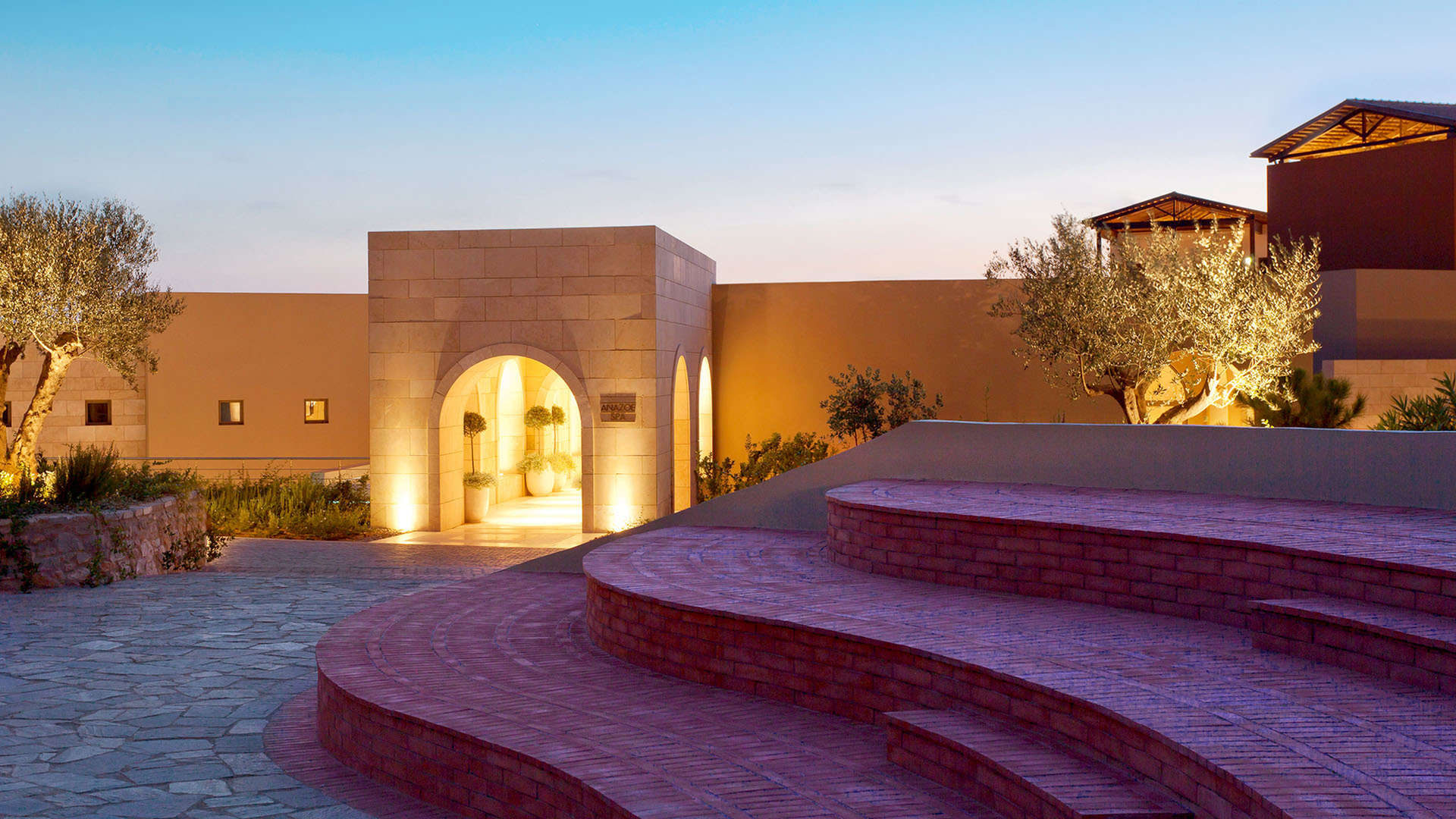 Step inside a blissful spa in Costa Navarino. (Photo: Marriott International)
Featuring products and treatments based on the wellness practices of the ancient Greeks, the Anazoe Spa at The Westin Resort, Costa Navarino offers a range of signature rituals utilizing therapeutic olive oil (oleotherapy) as the star component.
Paired with regional herbs grown in-house, these invigorating treatments provide a uniquely personalized spa experience.
For optimum results, combine an Oleotherapy Rosewood & Rosemary Scrub with the Healing Massage Remedy, derived from health teachings of the father of medicine himself, Hippocrates.
Water Your Way to Relaxation in the Al Wadi Desert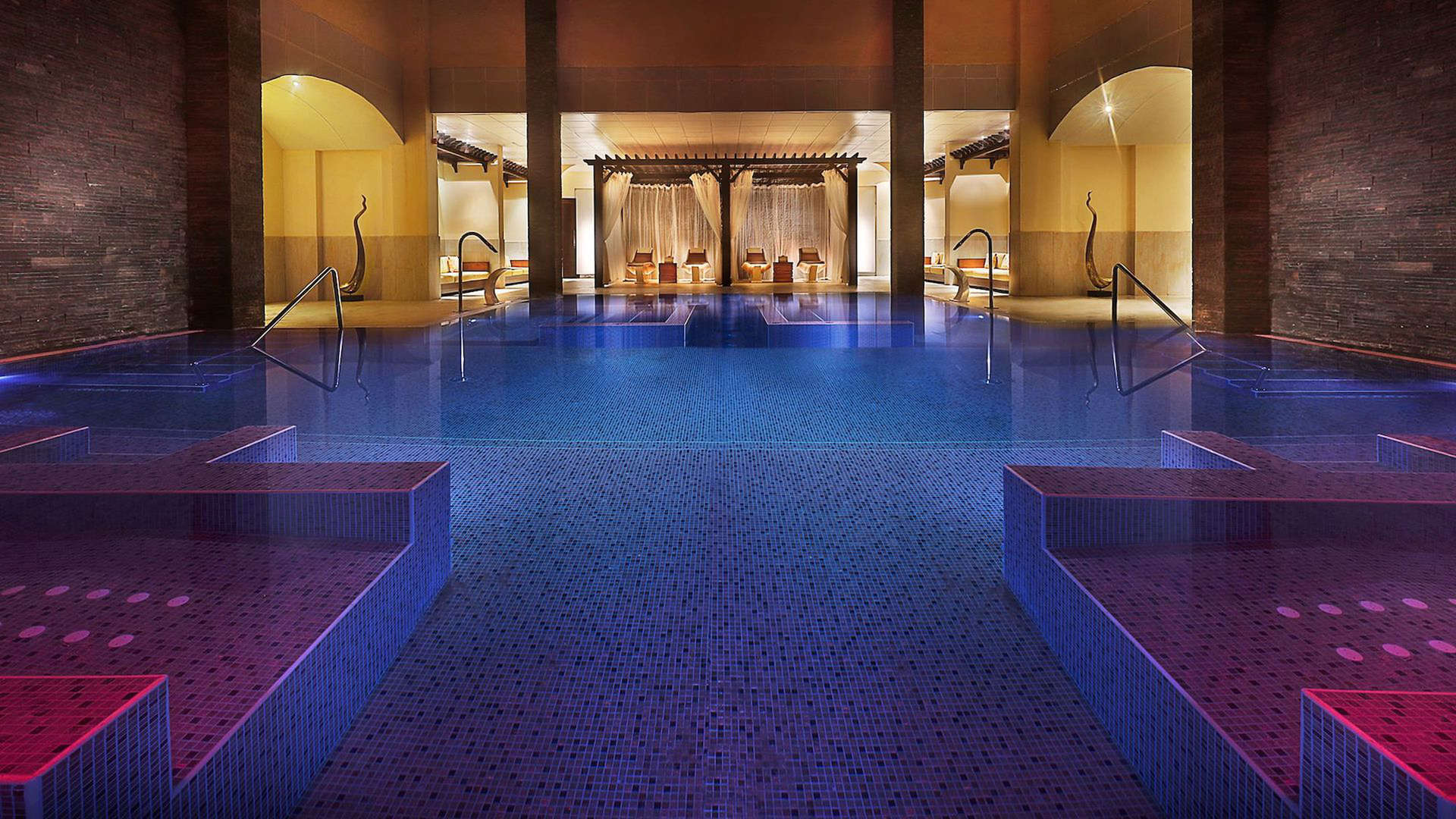 Relax in one of many pools. (Photo: Marriott International)
Aptly suited as a counterpoint to the desert location of The Ritz-Carlton Ras Al Khaimah, Al Wadi Desert, the Rainforest bathing ritual boasts a relaxing, 16-station water journey through a combination of Middle Eastern and European spa activities.
Standouts include the Brine Cavern, a salt and steam nasal-passage remedy; the Herbal Sauna light chamber, fragranced with local herbs and flowers; and the Sole Therapy, a duo of foot-soothing experiences – a hot and cold pebbled pond and a gentle crosscurrent spa.
Beautify Like a Queen of the Nile in Cairo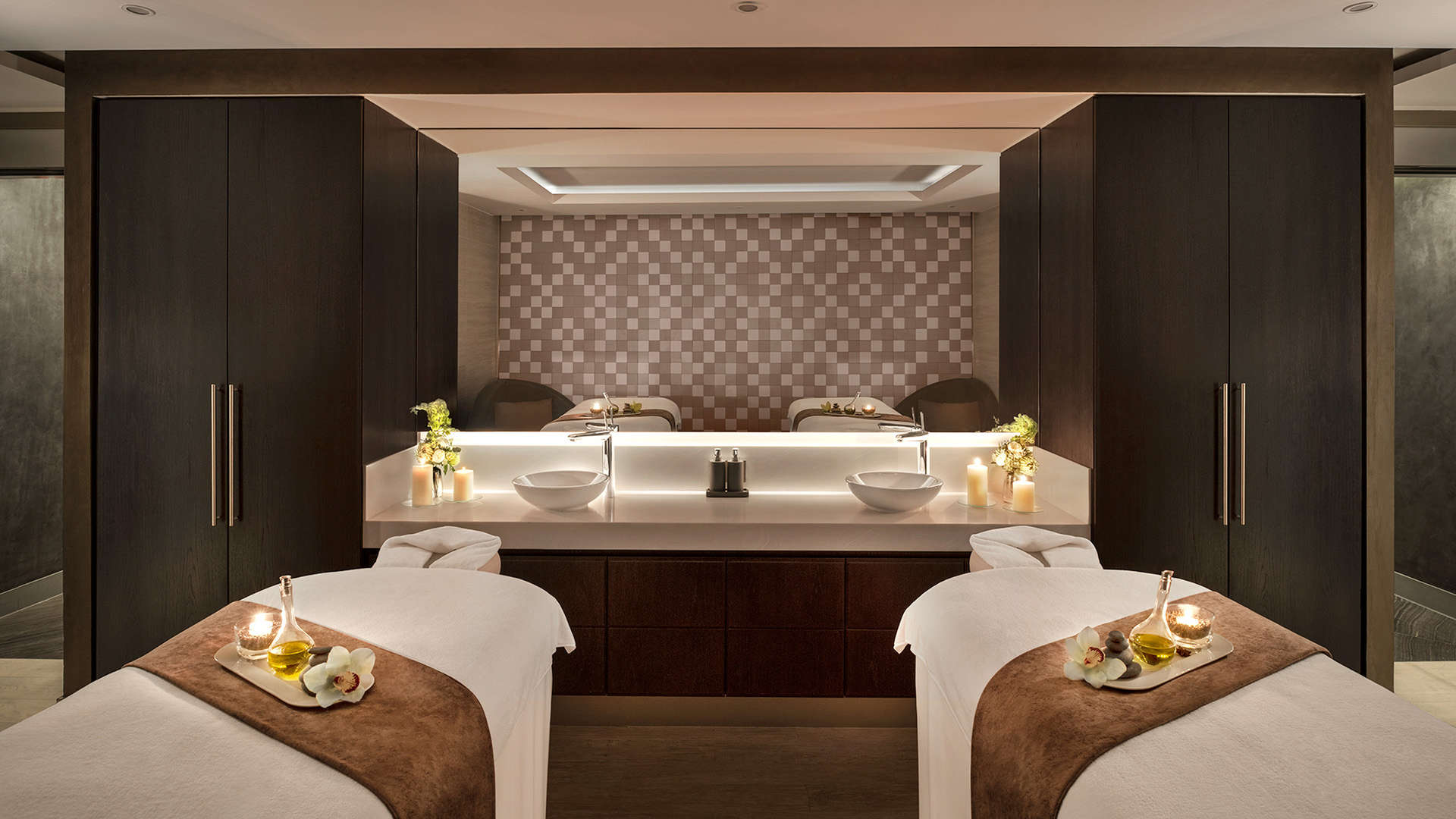 Schedule a decadent treatment in Cairo. (Photo: Marriott International)
The elegant Iridium Spa at The St. Regis Cairo celebrates beauty secrets of the ancient Egyptians through a series of specialized ritual treatments, each with a focus on body and mind.
Among the most indulgent therapies are the Nefertiti Golden Package's honey and milk bath, which results in glowing skin; the 120-minute Ancient Nile Special, which features a date and coconut scrub and a total relaxation massage; and the Cleopatra Shimmer Ritual, which nourishes the body with a scrub made of Red Sea salt crystals followed by a massage.
Indulge in Algarve's Best Natural Ingredients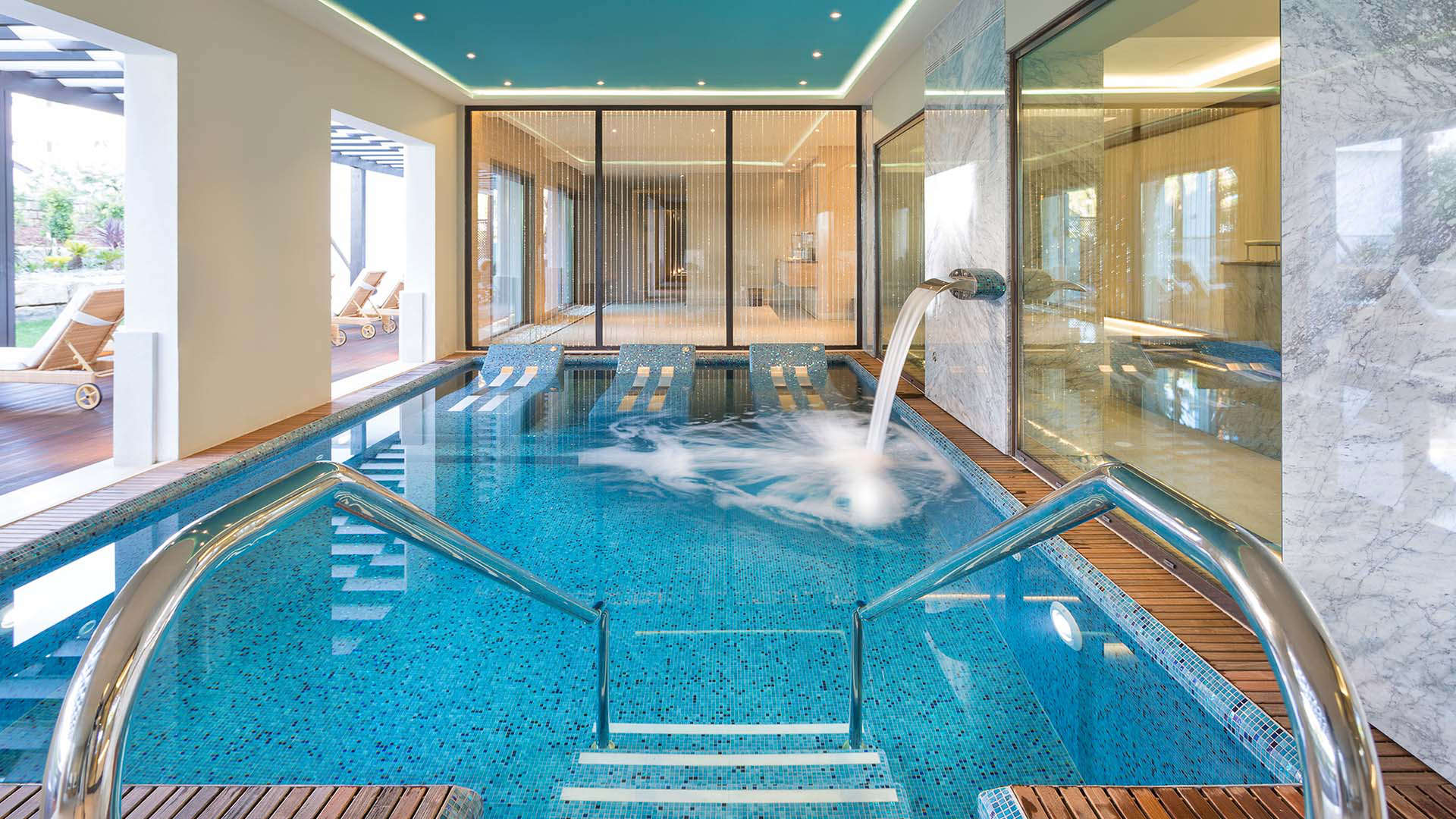 Soothe body and soul at the Pine Cliff's spa. (Photo: Marriott International)
The seaside Serenity Spa at the Pine Cliffs Hotel, a Luxury Collection Resort, Algarve offers guests a collection of indulgent therapies inspired by the Portuguese region's natural bounty.
The Senses of the Algarve signature treatment, an 80-minute ritual designed to pamper guests from head to toe, begins with an exfoliating scrub that combines local Fleur-de-Sel salts and sands, followed by a carob (among the Algarve's most famous antioxidant commodities) wrap.
The experience concludes with an anti-aging full-body massage enriched with orange essence oil — the Algarve region's citrus fruits are among the best in the world. Afterward, enjoy a lemongrass tea in the relaxation room.
Diamonds Are Your Skin's Best Friend in Barcelona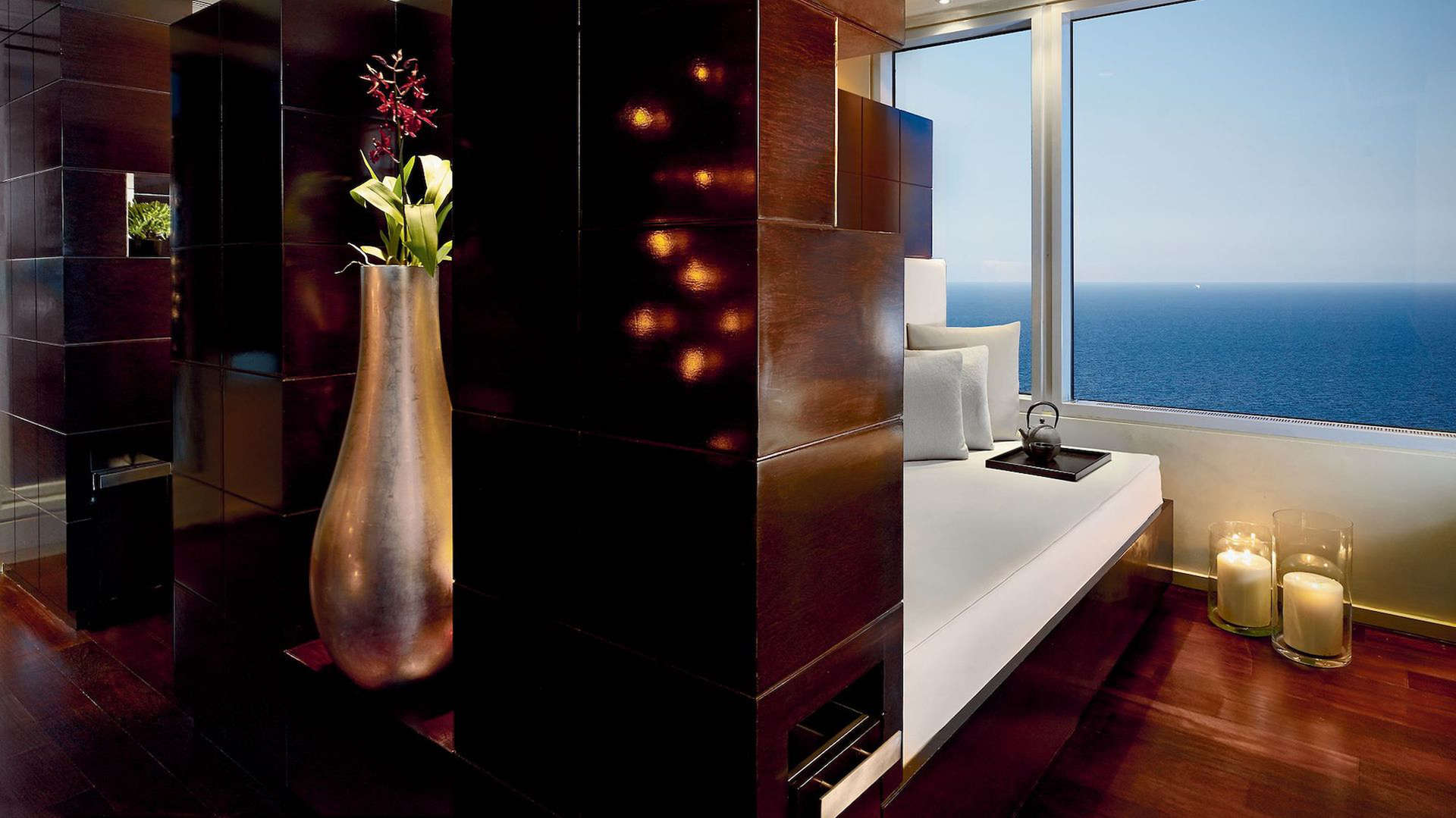 Unwind with water views. (Photo: Marriott International)
Founded in Barcelona in 1979, Natura Bissé is the exclusive provider of luxury spa products at the beachfront 43 The Spa in the Hotel Arts Barcelona.
The skincare company is known for incorporating into their products natural ingredients such as white tea, rosemary and free-form amino acids to nourish the skin.
For an ultra-indulgent treatment resulting in glowing, silky skin, sample the Sublime Diamond Journey, a 140-minute ritual that uses diamond dust during the exfoliation followed by a Natura Bissé hydration cream and complete anti-aging facial.
Traditional Wellness Ingredients in Oman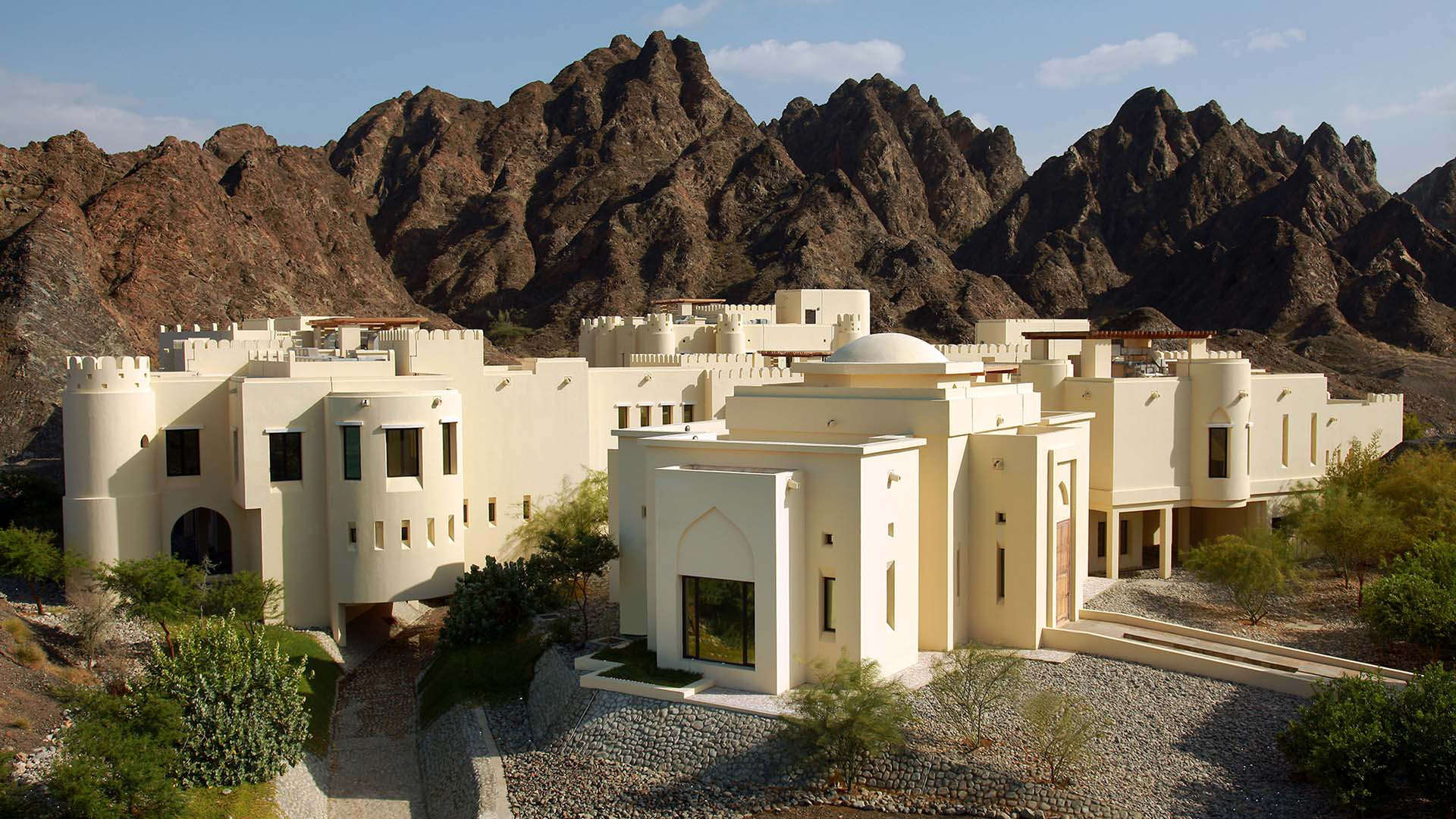 Rejuvenate at Al Bustan Palace. (Photo: Marriott International)
Boasting locally sourced spa ingredients and six hammam rooms in a space resembling an authentic Omani fort, the three-tiered spa at Al Bustan Palace, a Ritz-Carlton Hotel is an opulent sanctuary by the sea.
Top ritual experiences include the Dynamic Glow, which combines an aromatherapy massage with a rose crystal lymphatic facial for a relaxing treat, and the Signature Journey, which pairs a stimulating 24-karat-gold facial mask with a vitalizing beauty booster juice made with seasonal, regional products.
Thermal Therapies for Optimum Health in Tuscany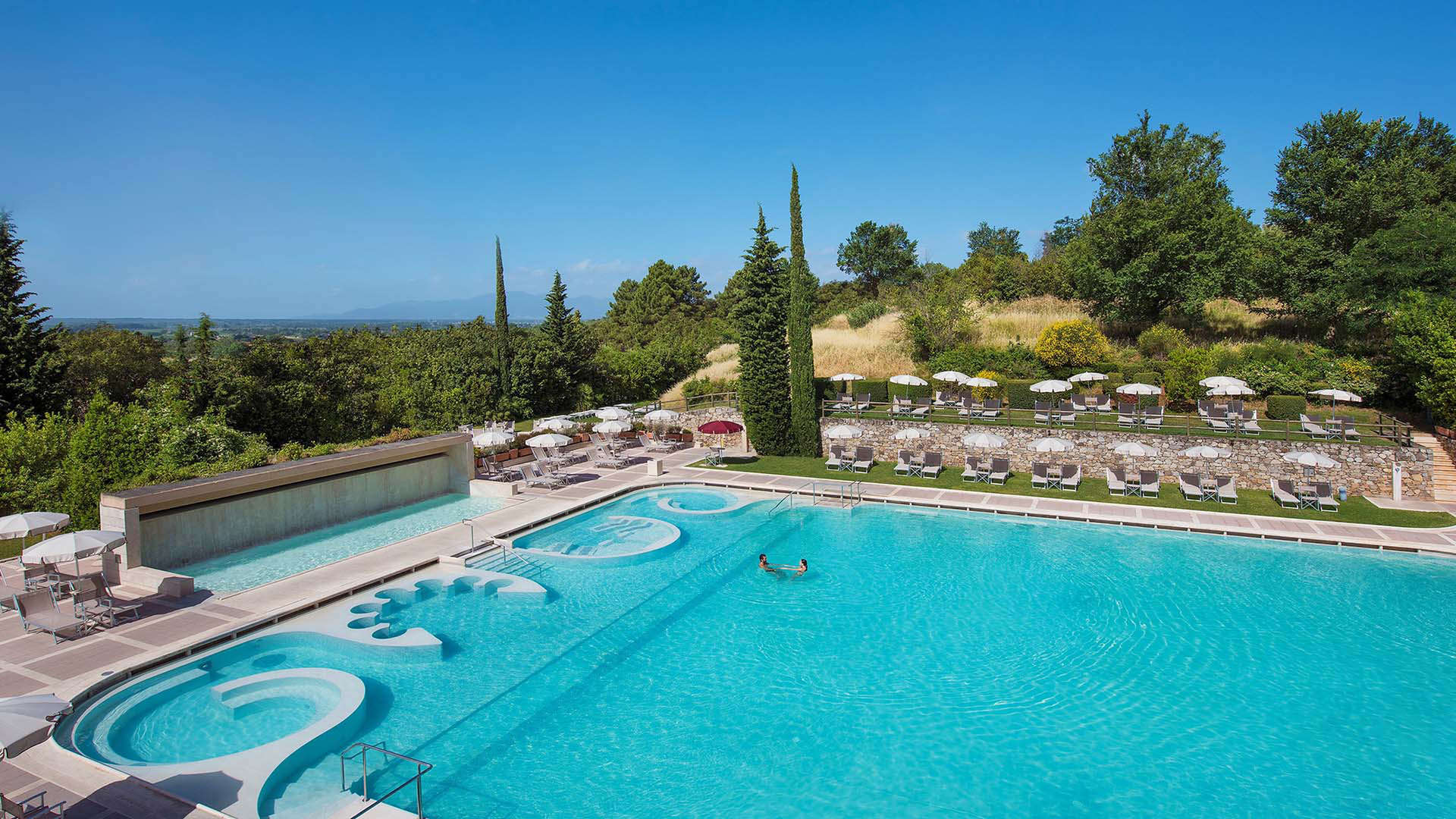 Dip in the thermal pools in Tuscany. (Photo: Marriott International)
Grotta Giusti Thermal Spa Resort Tuscany, Autograph Collection offers therapeutic spa treatments by way of local mineral water hot springs and thermal pools.
Ancient practices suggest that the mineral salts and gases contained in these natural waters provide disease-preventing properties for the skin, bones, muscles and respiratory system.
Some of the ritual ingredients used to complement the mineral water spa pools include chia seed scrubs, thermal bio-clay, alginate masks and guarana for water retention.
Published: July 25, 2022