Cuisine is often the best prism through which to experience a place and keeps us coming back for more. We invite you on a journey across Eastern Europe to some of the best restaurants and bars in which to taste dishes that have come to define different regions and the chefs pushing the boundaries of flavour to make a history all of their own.
DNB Budapest: traditional Hungarian cuisine with a twist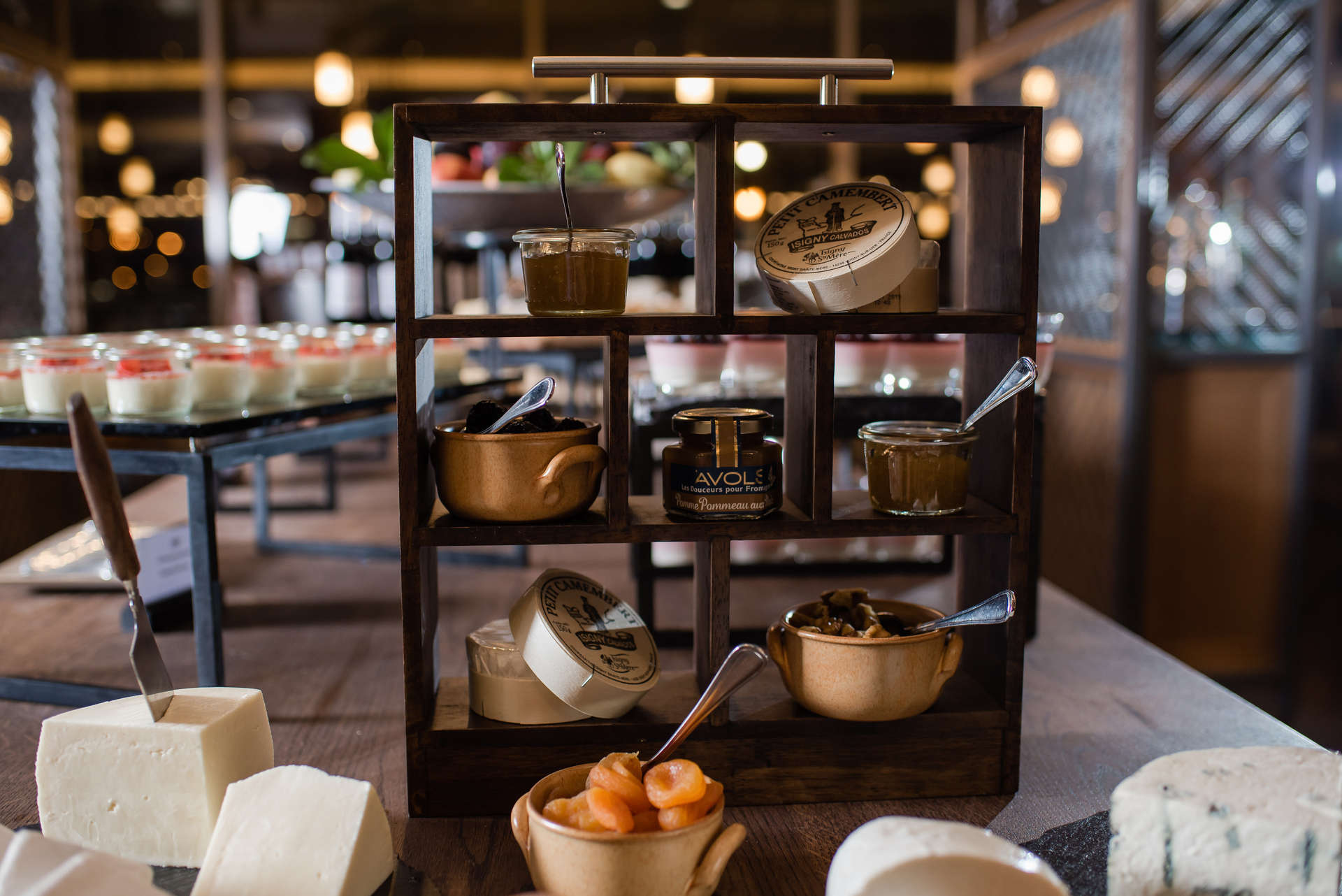 Experience authentic local dishes in a rustic setting at DNB Budapest. (Photo: Budapest Marriott Hotel)
Don't visit the Hungarian capital without stopping at DNB Budapest, one of three restaurants at the Budapest Marriott Hotel. Offering unparalleled views across the Danube River, here you can experience contemporary Hungarian cuisine from chef Ferenc Kovács. The menu mixes the modern with the traditional for something totally unique. Must-try plates include the sous-vide pork loin with mushroom paprikash and "rosti" potato and the vegan pumpkin risotto, both made with only the sustainable and locally-sourced ingredients.
Liz & Chain Sky Lounge: crafted cocktails with an unforgettable view
The second offering from Budapest Marriott Hotel offers unobstructed views of this majestic city, where guests can indulge in unique cocktails and a selection of luxurious snacks to satiate the palette. Liz & Chain Sky Lounge is located on the top floor of the hotel with 360-degree views of the skyline and Budapest's most iconic landmarks. The menu offers a beguiling mix of  Mediterranean and fusion cuisine including spinach and butter empanadas with truffle cheese, salmon poke bowls, and salted caramel brownies to cap things off. The adjacent bar serves a small, yet considered, selection of cocktails, playful twists on the classics including Sky Fizz, a mix of Italicus, lillet blanc, orange water and tonic and So High which uses rum, orange cordial, Pisang Ambon, soy milk, sugar, bergamot juice for flavours bold enough to match the unforgettable setting.
The Refectory in Prague: a spiritual experience in an old monastery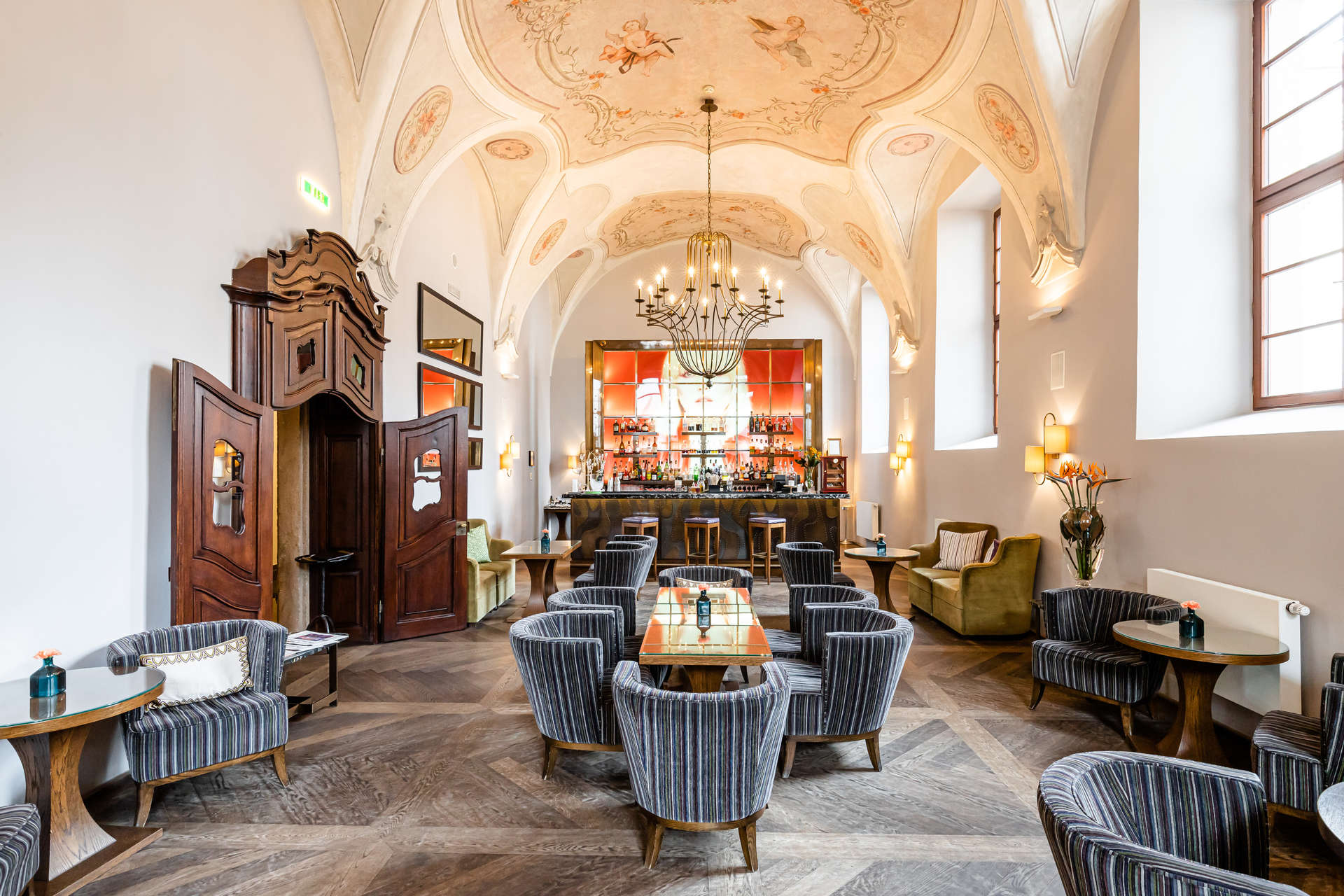 Classic architecture meets modern mixology at The Refectory. (Photo: Augustine, a Luxury Collection Hotel, Prague)
The Refectory, part of the Augustine, a Luxury Collection Hotel is the very essence of Prague's inimitable old-meets-new architecture. The bar was founded on the site of an Augustinian monastery. The ceiling boasts original 19th-century baroque frescoes, beneath which a modern spirit-lined bar catches the eye. Skilled bartenders prepare a selection of exquisite cocktails, inspired by four archangels depicted on ceiling, which can be customised to suit different tastes. The Refectory is also the only place in Prague where you can try the St. Thomas beer from a brewery whose history dates back to the 14th century and the favourite tipple of great Czech poets as Jan Neruda, Bohumil Hrabal and Jaroslav Hašek.
The Artisan Restaurant: artfully designed dishes that reinvent the classics
Artisans by name and nature, chef David Rejhon is taking traditional Czech cuisine to new heights at The Artisan part of the Prague Marriott Hotel. Sample the very best sustainable and locally-sourced ingredients combined in artfully designed dishes. Watch the action unfold from your front row seat at the Theatre Kitchen. Don't miss the "svíčková", a popular Czech dish based around sirloin steak and "pstruh potoční", Czech river trout. Sunday brunch is always an event, with a wide choice of appetisers, sushi and seafood as well as variety of homemade desserts with live music.
The Artisan Bar: Czech wines to rival the best in Europe
The Artisan Bar, just like the restaurant, is also unmissable when in Prague. Enjoy sumptuous cocktails in a modern, minimalist setting. The wide selection of Czech wines on offer are lesser-known but up there with the very best in Europe. Thanks to its unique terroir, South Moravia is divided into four wine growing regions: Znojmo, Mikulov, Velké Pavlovice and Slovácko with truly excellent examples of Grüner Veltliner, Müller Thurgau, Sauvignon, Pálava and Riesling. The Artisan Bar and the Artisan Restaurant truly are a perfect pair.
Café Bristol: a legendary café to inspire the soul
Nestled within the cobbled streets and mediaeval buildings of Warsaw's Old Town, legendary Viennese-style Café Bristol, part of the Bristol Hotel, a Luxury Collection Hotel has hosted actors, politicians and Nobel Prize winners alike. You can feel the history of the place as you dine on a menu that features such favourites as the octopus salad, shrimp sandwich, Croque Madame and cheese ravioli. As if you needed any more incentive to visit, Café Bristol was recently voted as having the world's best pastry shop selection 2022 by La Liste. Look no further for a culinary experience that's as charming as it delicious.
Lane's: avant-garde cuisine in the heart of Warsaw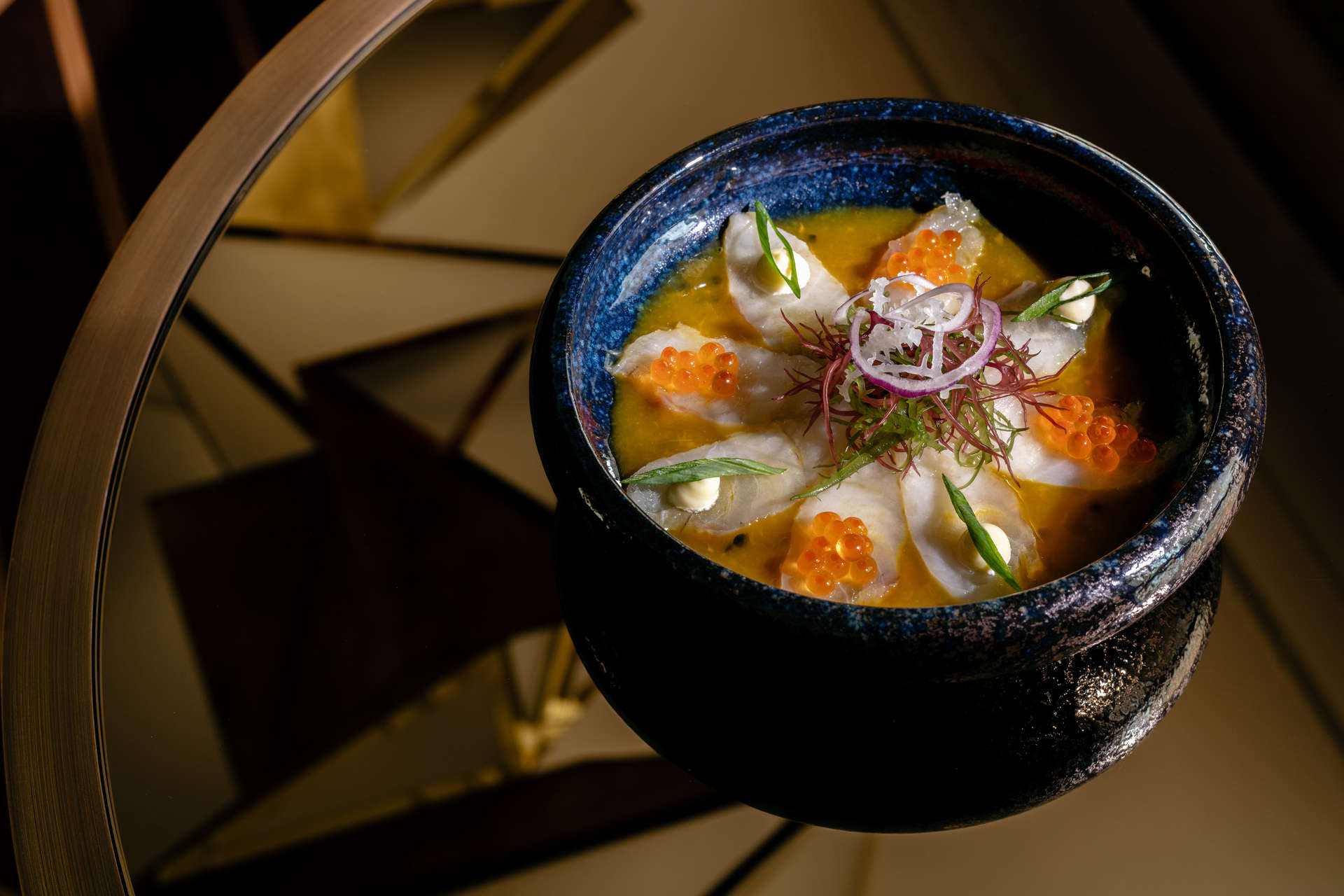 Nikkei cuisine combines Peruvian and Japanese recipes to dazzling effect. (Photo: Hotel Bristol, a Luxury Collection Hotel, Warsaw)
Designed by London-based architects Sagrada, it's little wonder that Lane's, part of Hotel Bristol, a Luxury Collection Hotel, exudes sumptuous sophistication straight out of a Bond film. Thanks to it's eye-catching cocktails and unique Nikkei cuisine that cleverly combines Peruvian and Japanese sensibilities, Lane's has already established itself as an unmissable venue since opening in 2021. Gin aficionados need look no further with a diverse selection of spirits with a cocktail menu that would make even Bond consider switching his usual tipple.
Cucina Mia: Italian classics served in the best way
Cucina Mia, one of two restaurants at the Sheraton Grand Warsaw brings together the very best of Italian cuisine under one roof located in Warsaw's beautiful Łazienki Park district. Chef Marcin Sasin has hand-selected standout dishes from Rome, Naples and Sicily taking diners on a journey through Italian cuisine like no other. Standout dishes include the funghi capricciosa pizza, gnocchi di Barbabietole, and the traditional tiramisu made with buffalo mascarpone.
inAzia: taste of Asia which charms every guest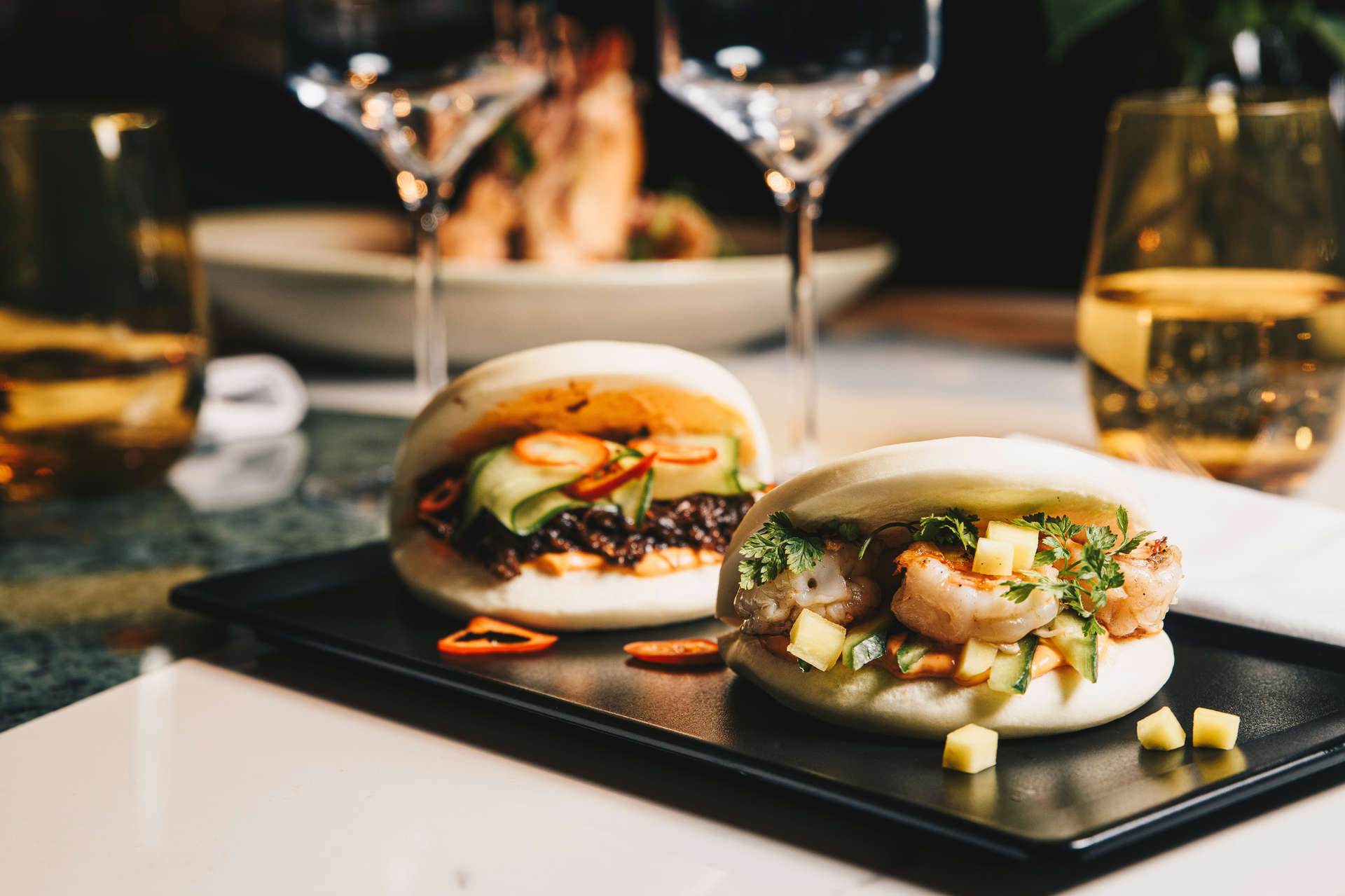 inAzia combines the best dishes from across Southeast Asia in one unmissable menu. (Photo: Sheraton Grand Warsaw)
With an enviable location on Three Crosses Square in the heart of the city, Sheraton Grand Warsaw has delivered a dining experience befitting of its historic and imposing surroundings. inAzia blends Chinese, Japanese, Thai, Indonesian, and Vietnamese cuisine into one cohesive, totally delicious menu. Take your pick from dim sum, sushi, wok and curry dishes. Don't miss the Omakase-style tasting menu, a curation of hits hand-picked by chef Marcin Sasin.
Published: December 01, 2022
Last Updated: March 03, 2023
Article Tags: Budapest , Czech Republic , Poland , Prague , Warsaw