Gaudí's whimsical designs dominate Barcelona's show-stopping highlights, but there's plenty more to discover hidden in the narrow maze of streets in the Gothic Quarter, along the wide boulevards of Eixample and even up on Montjuïc hill. The city's multicultural vibe, coastal location and fiercely proud Catalan culture means that there's always some type of festival going on and plenty to see, no matter what time of year you visit.
The best neighbourhoods to visit in Barcelona
Barrio Gótico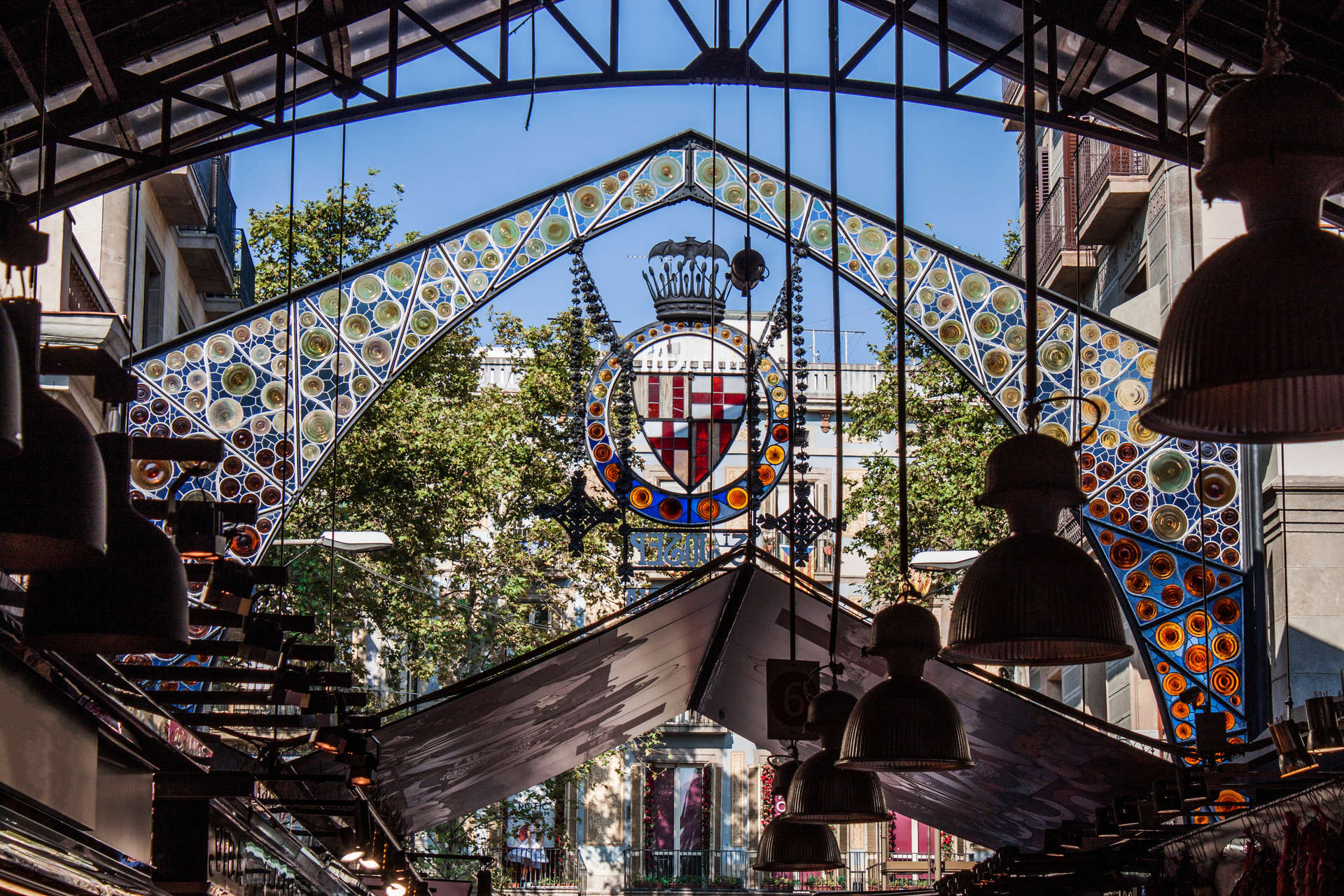 La Boqueria is Barcelona's magnificent covered market
Set between the old port and the modern extension of the city, the Barrio Gótico (Gothic Quarter) is part of Barcelona's Ciutat Vella (Old Town), and is filled with ancient treasures and grand historic buildings. At its heart lies Barcelona Cathedral, surrounded by a network of narrow streets and a mix of shops, some which have remained untouched for more than a century. Hidden among these, you'll discover a wide range of places to visit, from the Barcelona History Museum and the Jewish MUHBA El Call to the Cathedral Museum and the Frederic Marès, showcasing religious art and historical oddities.
Other interesting things to do include a visit to the impressive Plaça de Sant Jaume, home to the palace of Catalan government and the grand Town Hall; and the picturesque Plaça Reial with its colonnade arcades and central fountain. One of the most unique things to do here is to visit the hidden remains of the city's ancient Roman temple.
Of course, you can't miss a stroll down Barcelona's most famous street: The Rambla. Visit the celebrated La Boquería market to pick up some local produce, and stop to admire the Gran Teatre del Liceu opera house along the way.
El Born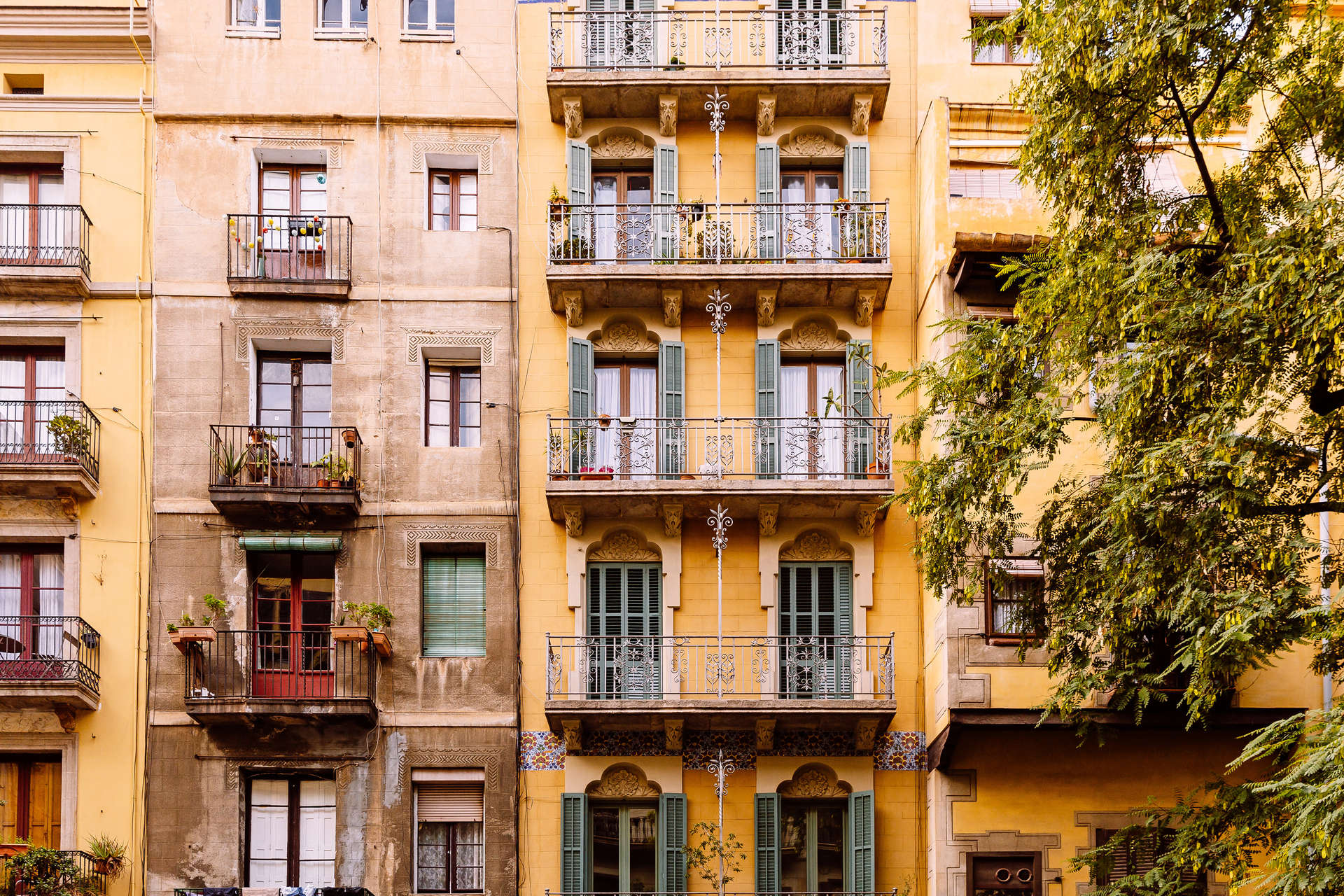 El Born is a great place for eclectiv nightlife and spots to eat
Lying to the south of the city – with leafy Ciutadella Park on one side, the Barrio Gótico on the other and the old port to the south – this neighbourhood attracts a mixture of young professionals, foreign residents and tourists. An eclectic mix of trendy bars, cafés and restaurants lines its cobbled streets around the elegant Santa Maria del Mar church, while the nearby labyrinth of narrow alleyways hosts an array of charming boutiques and small galleries. Besides the nightlife and the excellent range of places to eat, El Born's main draws are the Picasso Museum, the UNESCO World Heritage Palau de la Música, and the vibrant Santa Caterina Market.
Just before lunch, stop for a break to enjoy the hora del vermut (vermouth hour) in one of the many vermouth bars here, then head to The Roof restaurant at The Barcelona EDITION hotel for lunch, which offers al-fresco Mediterranean dining and enviable views of the market's undulating, multicoloured rooftop.
Eixample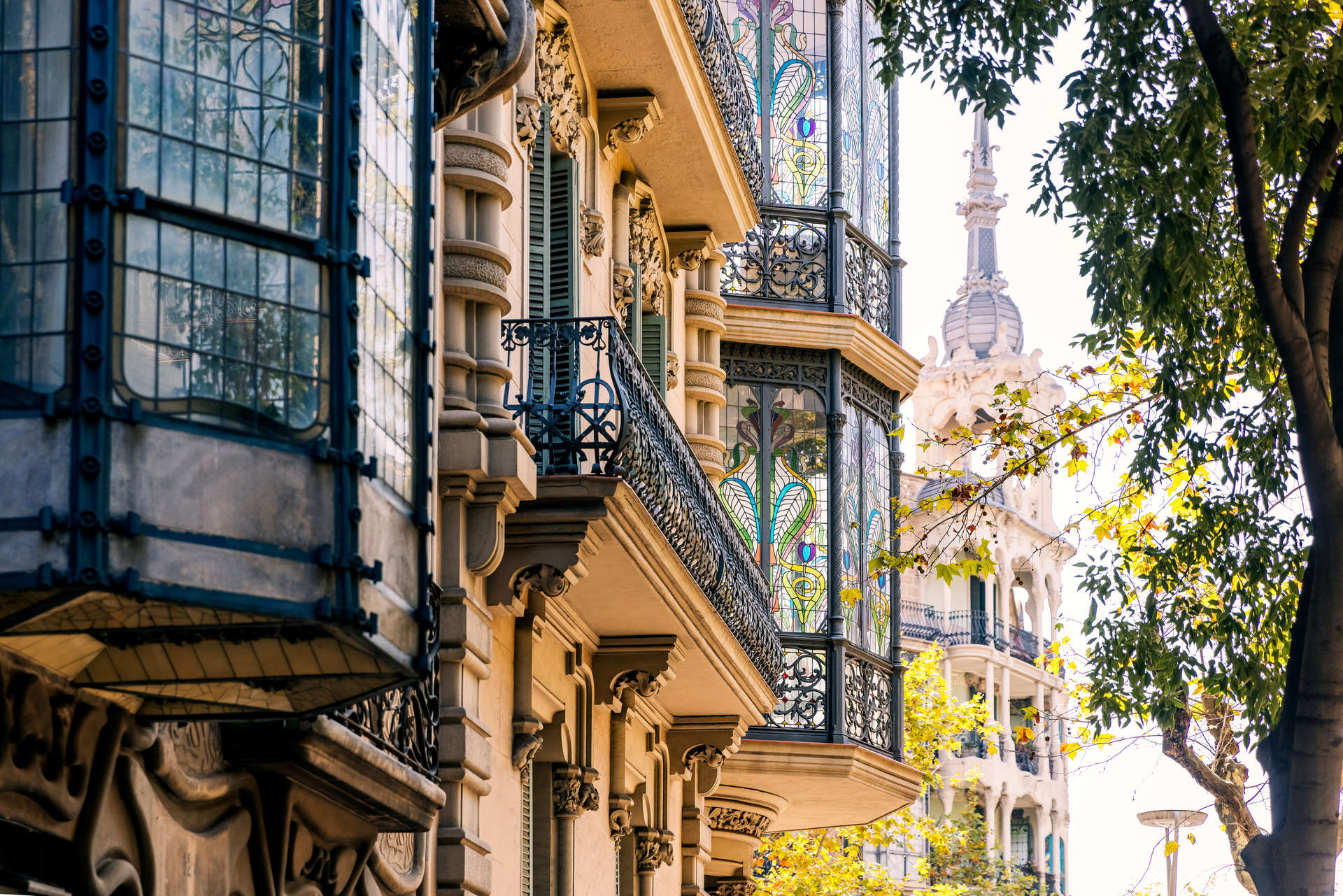 Well-heeled Catalans, tourists and business professionals mingle along the wide boulevards of the Eixample neighbourhood
Well-heeled Catalans, tourists and business professionals mingle along the wide boulevards of the Eixample neighbourhood, passing designer boutiques, elegant Modernista buildings and stylish restaurants. Situated in the centre of Barcelona, it's one of the best places to stay in the city. Opt for the chic Sir Victor Hotel, located just two minutes' walk from one of the city's main attractions – Gaudí's La Pedrera or the gorgeous Cotton House Hotel, Autograph Collection, near to the centre of the city at Plaça de Catalunya.
Split into L'Eixample Esquerra (left side) and L'Eixample Dreta (right side), the district is bisected by the grand Passeig de Gràcia. It's here, sitting side by side with designer stores, you'll find another of the city's main highlights: Gaudí's iridescent Casa Batlló. There are also several alternative things to do, including visiting the Catalan Modernista-style Casa Amatller, well known for its chocolate; and the Casa de les Punxes, to find out all about the legend of Catalonia's patron saint, Sant Jordi (Saint George).
The right side of the neighbourhood is also home to Barcelona's biggest attraction – Gaudí's Sagrada Família, which has been under construction for more than a century. Another unique thing to do here is to head just up the road from this astounding architectural feat to visit another, the amazing Recinte Modernista de Sant Pau, an old hospital and the largest complex of Modernista buildings in the world.
There's a huge range of great places to eat in Eixample. If you're finding it hard to decide where to go, you won't be disappointed by El Nacional, an elegant Art Nouveau building housing four different dining areas and four bars, giving you a choice of some of the best Spanish and Catalan dishes to try.
Gràcia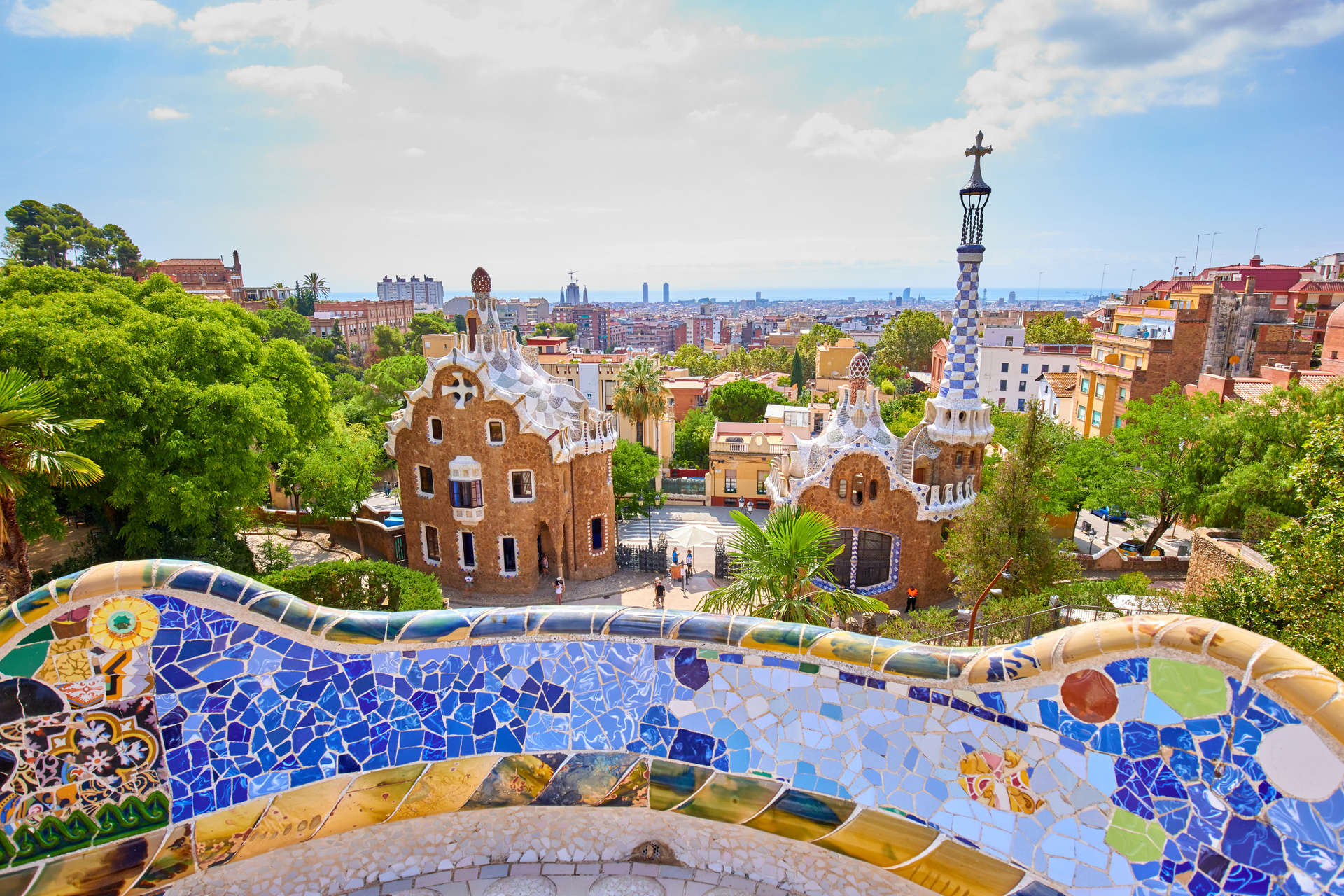 Parc Güell is one of the largest green spaces in Barcelona
A little bit hipster, a little bit Bohemian and with a local Catalan vibe, Gràcia has its own style going on. Lying to the north of the centre, it comprises a series of lively plazas connected via narrow lanes. There's a long list of great places to eat here, from many international restaurants and typical Catalan joints to excellent tapas bars and cosy cafés.
By day, it's a great place to shop for unique items and handmade crafts. And by night, its squares come alive with the sounds of students and young professionals enjoying the neighbourhood's many cocktail bars and nightlife options. Besides being a great hangout spot, its main attractions are those designed by Antoni Gaudí. On one side sits the first house that the architect designed – Casa Vicens, with its turrets and bright tiled façade. To the north lie the steep paths of Gaudí's Parc Güell, with its famed trencadis bench, gingerbread-like houses and stone-carved palm trees.
Poblenou
Locals young and old make up the population of this neighbourhood, with an unusual mix of elderly women, coffee-roasting hipsters and startup employees. Lying to the southwest of the city centre, next to the beach, it's made up of a traditional Catalan lower half and a hip, new-age upper half. To the south, elegant Modernista buildings and restaurants line the neighbourhood's Rambla; to the north, the @22 District is filled with factory warehouses turned design schools, tech hubs and craft beer breweries.
It's a great place to wander around, grab some food and then hit the beach. Brunch on kimchi pancakes at Little Fern, sample some of the city's best croquetas at Catacroquet and then finish with a café con leche (coffee with milk) surrounded by hundreds of house plants at Espai Joliu. If you want to base yourself in Poblenou, Four Points by Sheraton Barcelona Diagonal is a great hotel option.
Barceloneta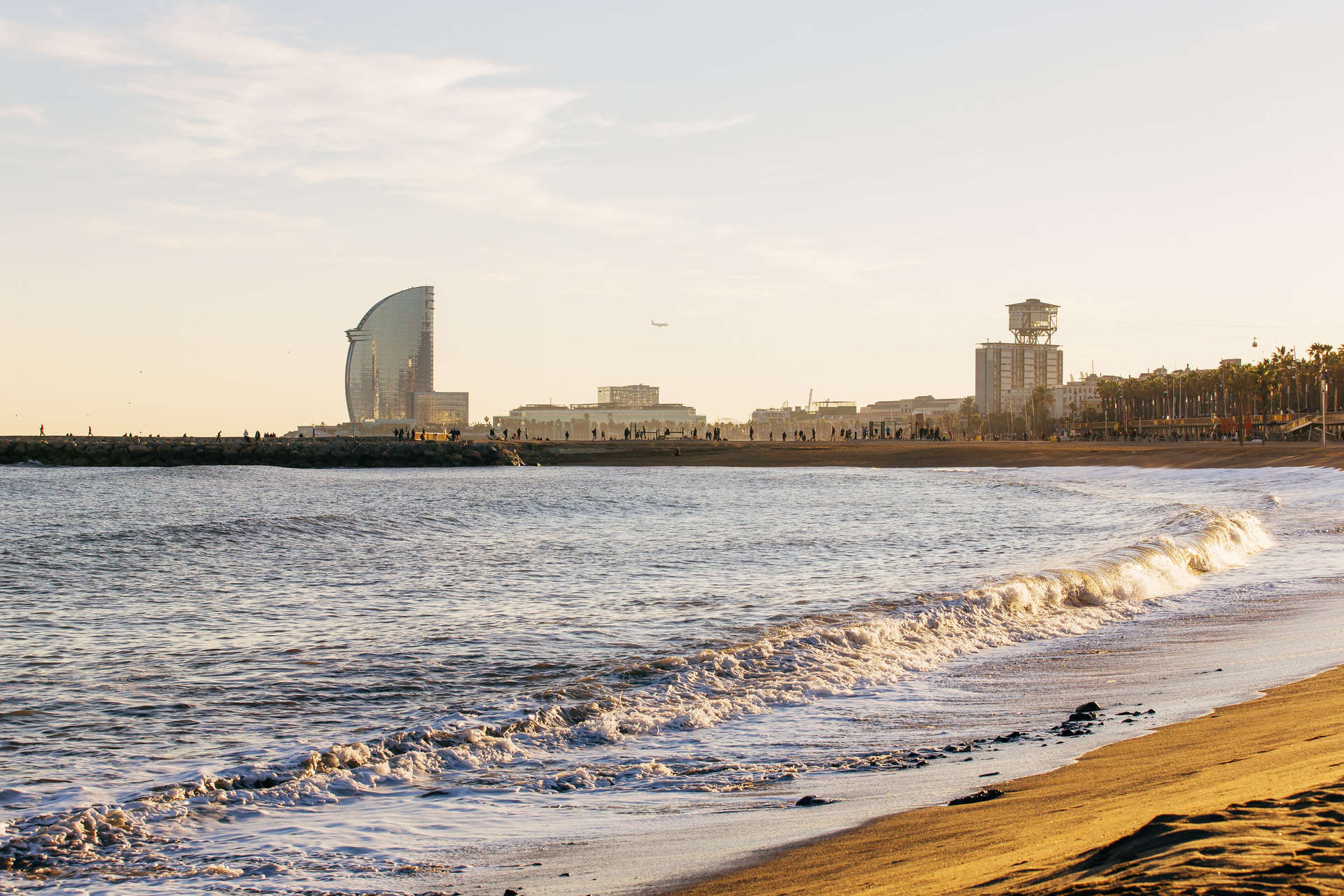 W Barcelona offers a combination of luxury and comfort in each of its rooms and suites
Running just behind the seafront, Barceloneta is the city's old fisherman's district. Today, it has a good mix of locals and tourists, attracted to its classic tapas bars, traditional seafood restaurants and beach-front dining. Most people pass straight around the edge of the neighbourhood to reach the beach, but it's worth exploring its narrow streets to see its traditional architecture, central market and Baroque-style Sant Miquel del Port church.
Spend the afternoon relaxing by the water, then try one of the city's best paellas at Can Solé, or head over to the iconic W Barcelona hotel to dine on fresh seafood from renowned chef Carles Abellán. When the sun sets, head up to the Eclipse cocktail lounge, which has spectacular views over the beach and city. A culinary highlight in Barceloneta is at the Hotel Arts Barcelona, where a two Michelin-star restaurant serves up dishes to remember.
Plaça d'Espanya and Montjuïc
Looming over the west of the city is huge Montjuïc hill, covered in parks, gardens and leafy groves. To get there, climb the grand staircase (or take the escalators) from Plaça d'Espanya past cascading waterfalls and resplendent fountains up to the Neo-Baroque palace housing the National Museum of Art of Catalonia (MNAC). The platform at the top offers one of the best views over the entire city.
Besides enjoying the scenery, there are several fun things to do up here, from swimming in Olympic pools to cable car rides. There's also a host of other museums including the Fundació Joan Miró, the Olympic and Sports Museum, the Catalan Museum of Archaeology and Poble Espanyol, showcasing architectural styles and crafts from around Spain. You could easily spend several days up here and not be able to visit them all. Other sights include the impressive Olympic Stadium, the Botanical Gardens and Montjuïc Castle, sitting right on top of the hill.
Dining options are few and far between up on the hill, but there are lots of great picnic spots. Remember to take some food up with you from the Las Arenas shopping mall at Plaça d'Espanya – an attraction in itself, housed inside a former bullring.
Go deeper
The iconic fountain and columns of Barcelona's Plaça d'Espanya
You're in Catalonia, so impress the locals by learning a few phrases in Catalan. Use bon dia to greet people and adéu to say goodbye. When dining out you can ask: teniu una taula per dos? (Do you have a table for two?) or la carta, si us plau (the menu please).
Getting around Barcelona is simple with the TMB T-Casual transport ticket, which gives you ten journeys to use on either the metro, buses, trams or Rodalies (urban train network). There's a great regional transport system too, making trips out of the city very easy. Take a drive up to the picturesque Costa Brava to seek out idyllic coves and hidden beaches — ideal for swimming, snorkelling and kayaking.
Published: July 25, 2022
Last Updated: November 15, 2022