Durban is one of the most beautiful cities in South Africa. The city offers an array of things to do and see, from the breathtaking beaches to the bustling markets, but it can be difficult to know where to start when you first visit. This article will break down everything Durban has to offer so that you don't miss any of your favorite spots from stunning beaches with white sands and clear blue waters to nearby attractions like dolphin boat tours. Durban doesn't just have great beaches; there's also plenty happening inland too. Take a wander through some local markets for unique shopping opportunities or head to nearby Imbali for safari.
Umhlanga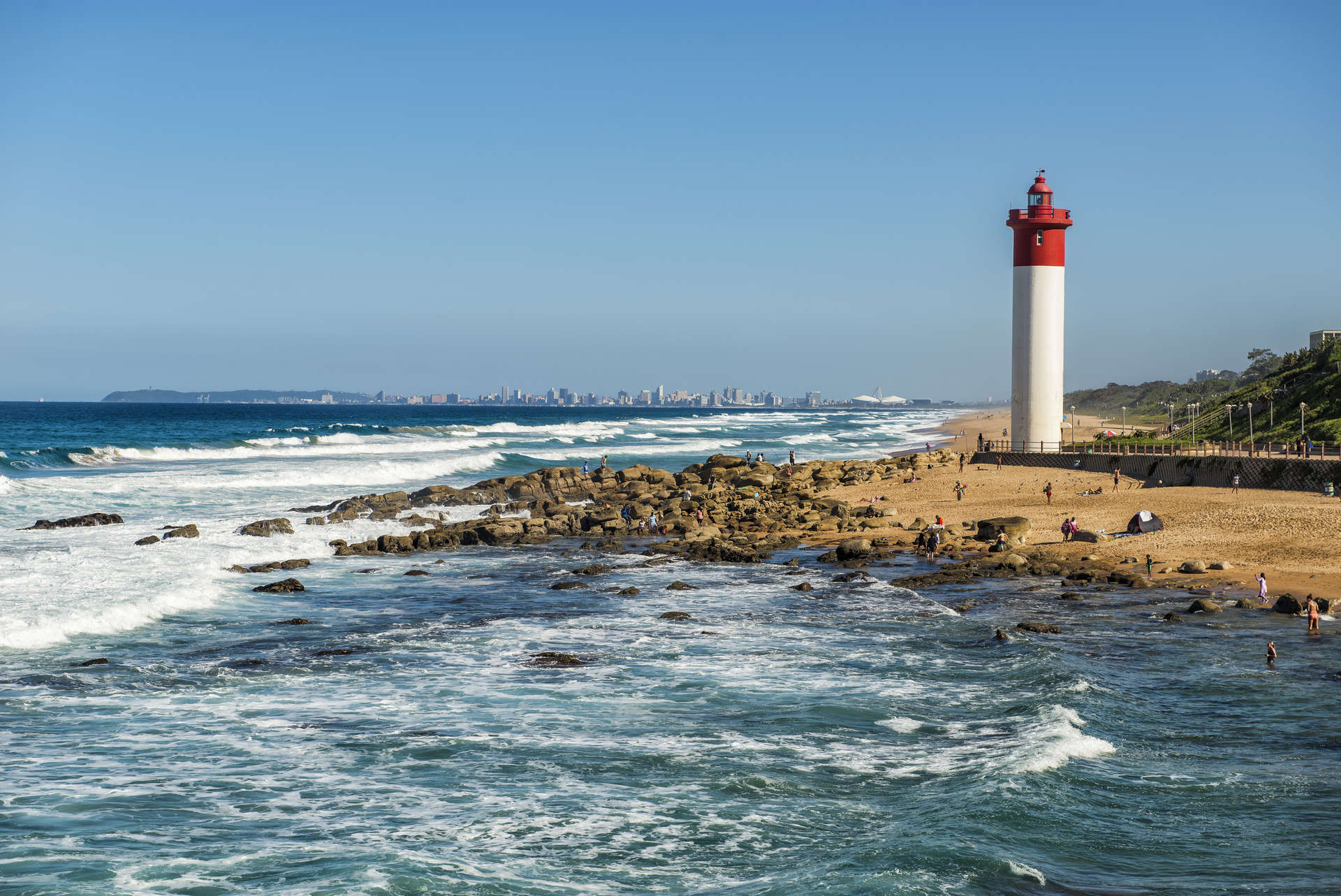 Coastal Umhlanga is one of Durban's most upmarket neighbourhoods
Just north of Durban's city centre, the coastal suburb of Umhlanga is one of the city's most upmarket areas. It's one of the best places to stay thanks to its combination of beaches, shopping, restaurants and bars – and its proximity to King Shaka International Airport, which is just a 20-minute drive away.
Umhlanga Rocks is popular with visitors as it's right on the coast. The Protea Hotel Umhlanga Durban is mere minutes from the beach and a great place for families or those who want to spend plenty of time sunbathing or swimming. You're also spoiled for choice when it comes to dining, with loads of great places to eat within walking distance. If you fancy exploring a bit, take a stroll along the promenade to the coastal Umhlanga Lagoon Nature Reserve.
The Protea Hotel Fire & Ice! Durban Umhlanga Ridge, meanwhile, is right next to the Gateway Theatre of Shopping – and its vintage surfer vibes suit Durban's beachy lifestyle to a tee. It's only moments from the ocean or the promenade, but if you're short on time, there's also a pool and gym in the hotel.
Golden Mile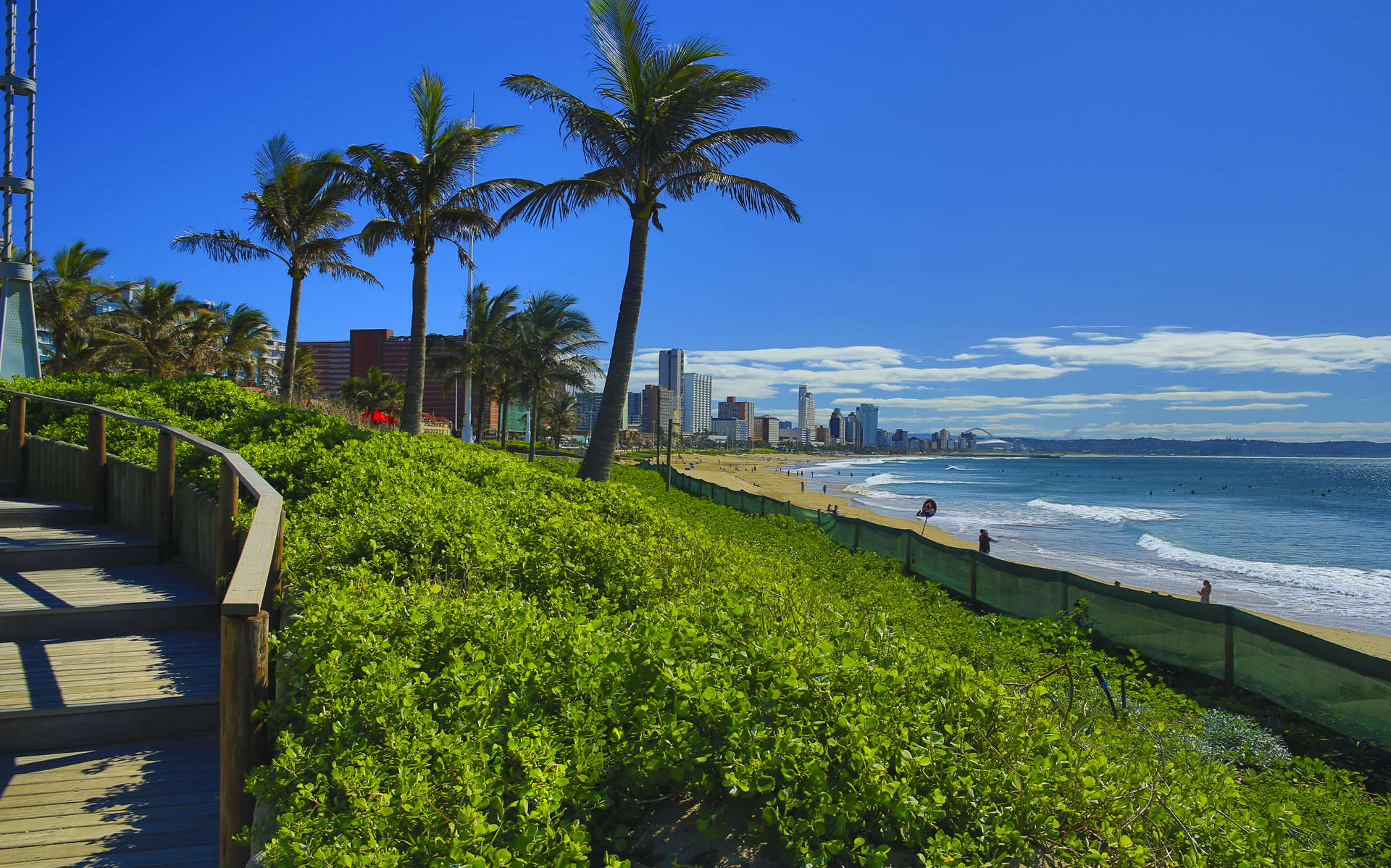 The Golden Mile is a cool stretch of beaches near to Durban's centre
The Golden Mile is the strip of beaches closest to Durban's Central Business District (CBD) with a promenade that's always busy with walkers, joggers, cyclists, skateboarders and rollerbladers. It's conveniently close to the International Convention Centre for those in Durban on business, but it also puts leisure travellers right in the heart of the city.
Do as the locals do and catch some waves – hands-down one of the best things to do in Durban. Surfing is big business here and the Golden Mile is a good place to learn. There are lots of surf instructors and places to hire your gear along the beachfront. Try South Beach if you're new to the sport; further north is better for those with some experience.
At the bottom of the Golden Mile, the most southerly part, you'll find uShaka Marine World, which has the largest aquarium in South Africa, a Wet 'n Wild water park, adventure parks and more. A little further along, there are canals along which you can stand-up paddleboard – look out for uShaka's nursery of baby hammerheads. One of the more unique things to do in Durban.
Morningside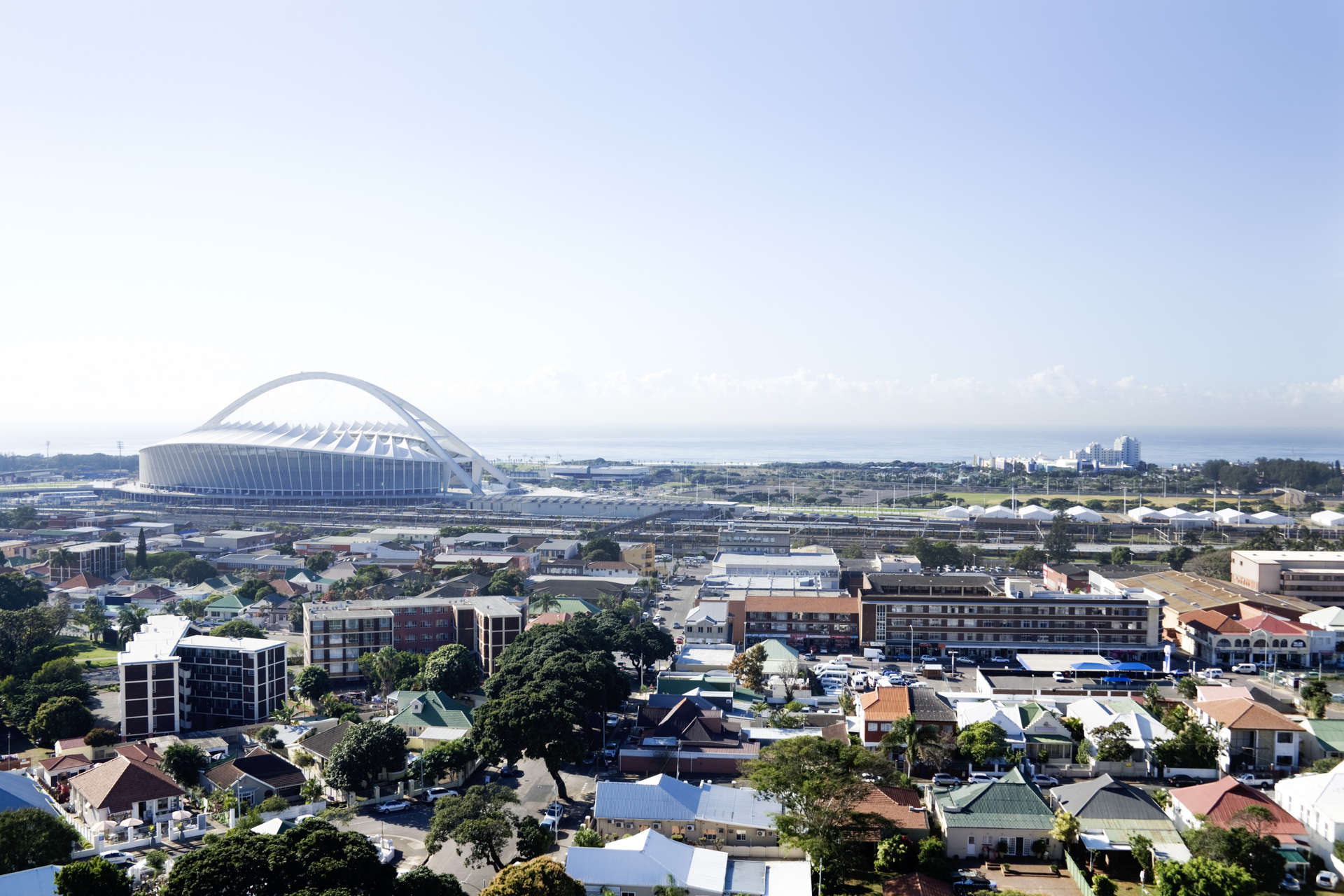 Moses Mabhida Stadium is the home of soccer in Durban
A more residential option, Morningside is just north of the city centre. It has been gentrified in recent years, becoming a popular place for young trendy folk.
It's known for its Edwardian-style architecture and the newly developed Florida Road, which was once an elephant path to the marsh, where the Greyville Racecourse is now. If you're looking for great places to eat, Florida Road and its surroundings offer an array of dishes to try, from pizza and steaks to burritos. Keep an eye out for bunny chow, too. This curry served in a hollowed-out loaf of bread is a must-try when in Durbs.
Morningside is also a good base if you're planning to visit the Moses Mabhida Stadium or the Greyville Racecourse.
Illovo
If you're travelling for the beaches and not the city, why not escape Durban's urban confines completely? Just half an hour to the south is the resort town of Illovo Beach, located where the Lovu River spills out into the Indian Ocean.
Between the lagoon and the beach, the Protea Hotel Karridene Beach has a wide range of fun things to do to keep the whole family happy – including three pools, mini-golf, trampolines, table tennis, squash courts, a play park, a spa and a fitness centre. There are great places to eat nearby – serving up steak, seafood or pizza – as well as the on-site Oakwoods Restaurant, which overlooks the lagoon.
Illovo is a great spot for fishing – you might be able to catch kob or garrick. There are surf breaks and nearby trails for hiking or mountain biking. And, of course, you can just kick back on the beach.
Ballito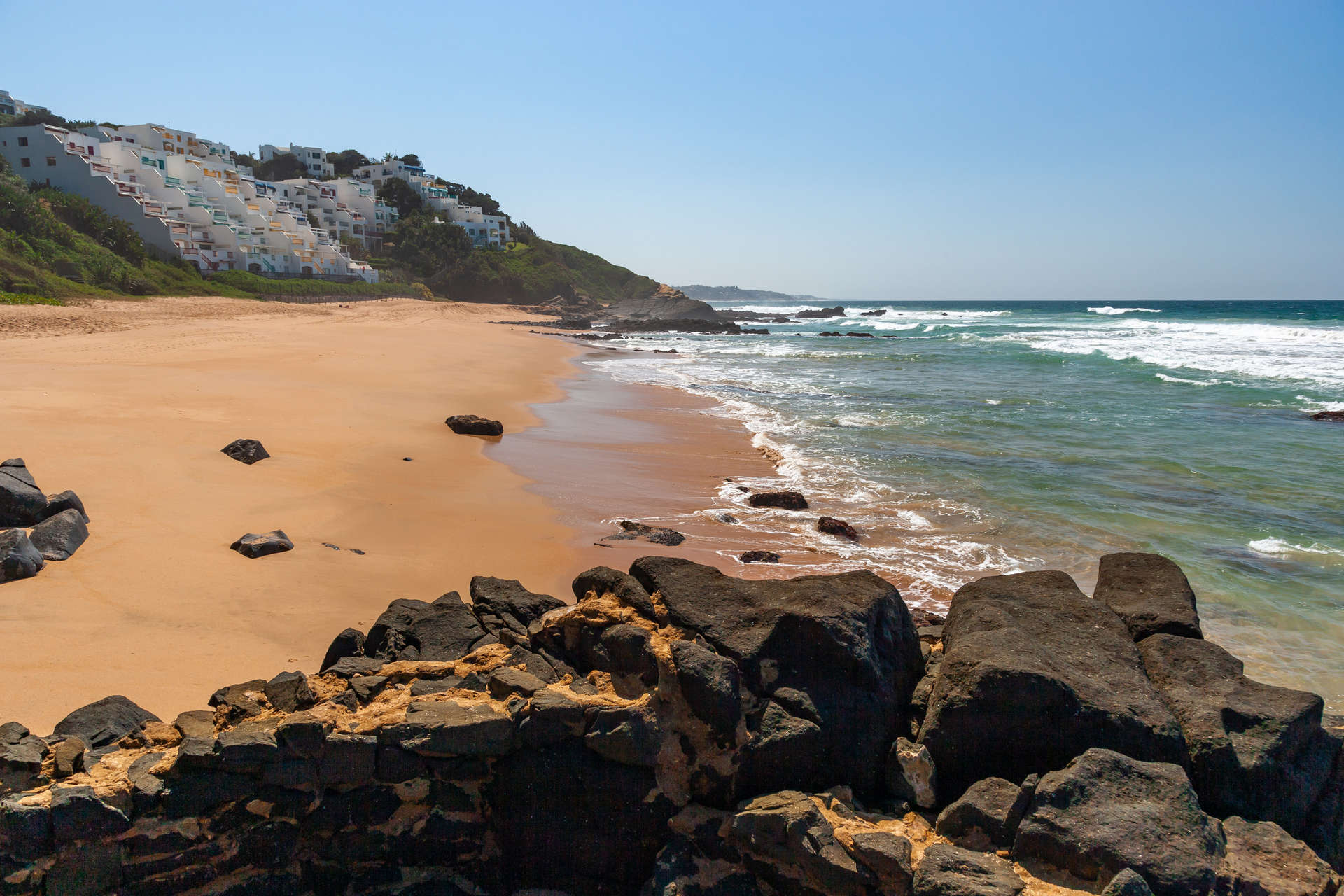 Ballito is a beach resort on the Dolphin Coast
Another resort just out of the city, Ballito is a little to the north of Durban, on the Dolphin Coast – which makes it conveniently close to the airport and one of the best places to stay if you have a night or two to spare before a flight.
This resort town is not only a holiday destination, but also a popular place to live and has boomed in size over recent years. If you've been wondering where to go for the best surfing, this is a top option – the Ballito Pro, the world's longest running professional surfing event, is held on Willard Beach. The beachfront stretches for over a mile and a half, with scenic tidal pools that are perfect for a morning swim – Thompson's Bay is a favourite.
For shops and dining options, there are two malls: the Lifestyle Centre and the Junction. You'll also find plenty of alternative things to do and places to visit in and around Ballito, from the crocodile farm to Holla Trails for mountain biking and trail running.
Go deeper
If you're in Durban, you'll likely be spending some time in the Indian Ocean. Make sure you check which beaches are for swimming, which are for surfing and which are for both. If you're swimming, stay in between the two flags to avoid rip currents. KwaZulu-Natal is the only province in South Africa that uses nets to keep sharks from surfers and swimmers.
Published: July 26, 2022