A welcoming wonder of the Middle East, Jordan is best known for the ancient city of Petra. But explore it in full, at any time of year - from its swirling capital Amman to the shores of both the Red and Dead Seas - and an even more glorious picture presents itself.
The best places to visit in Jordan
Amman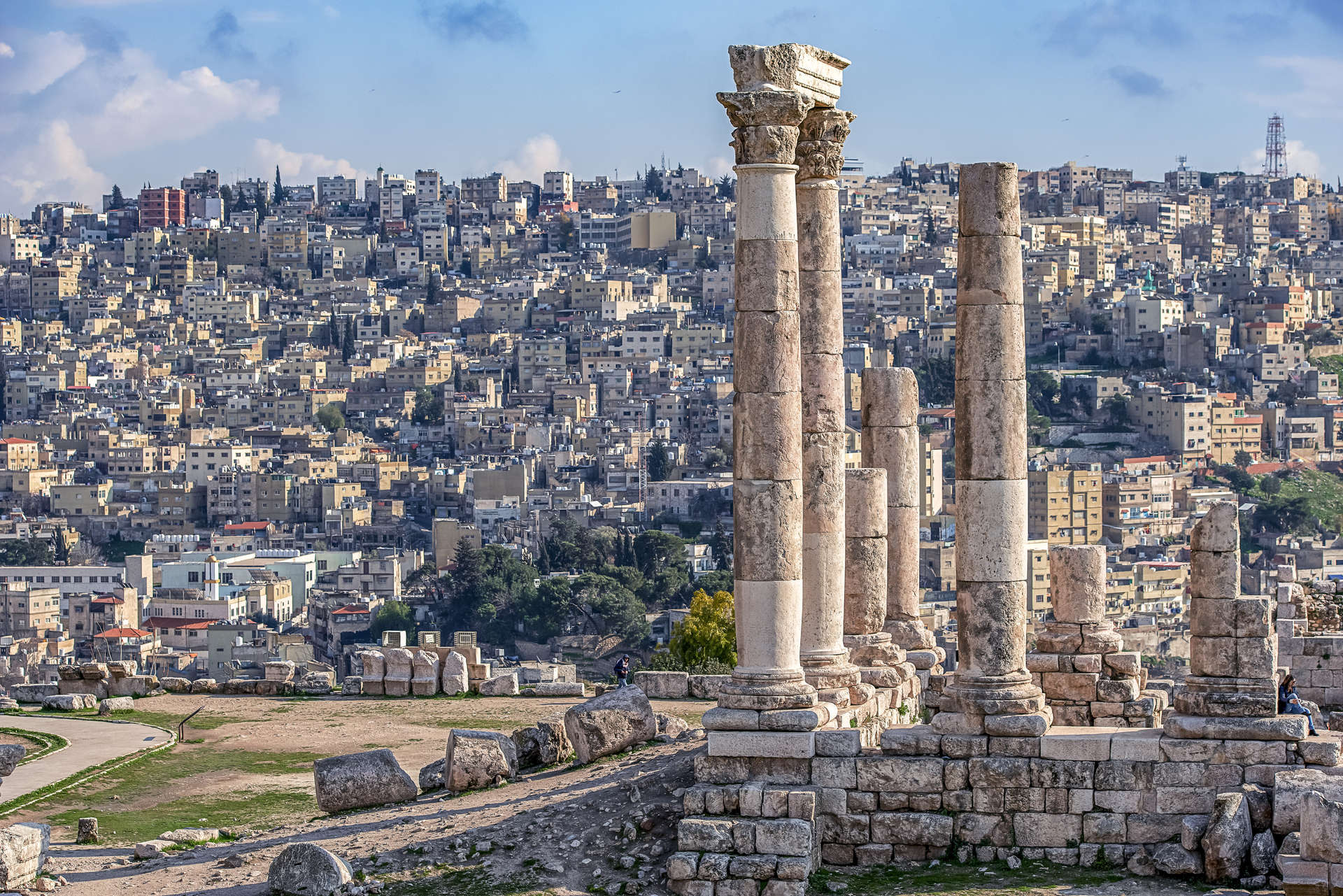 Jordan's capital is a city of rare history
Founded more than 3000 years ago, Jordan's capital is a city of rare history - indeed, Amman is so old that it appears in the Bible as Rabbath Ammon. The city wears its heritage openly, with fascinating ancient places to visit including a masterpiece of a Roman amphitheatre which once held 6,000 spectators and the Citadel of Jabal Al Qala'a. But Amman does not neglect the present - the souks and stalls of King Talal Street and the restaurants of Rainbow Street should be on every visitor's to-do list. The best places to stay include the five-star St. Regis Amman. Located a short distance from the Jordan National Gallery of Fine Arts, the hotel offers epic views of Amman's centre. Alternatively, one of the many fun things to do in the capital after dark is to sip a cocktail at a rooftop bar. The Wet Deck at the W Amman is one of the best. The five-star Amman Marriott Hotel, meanwhile, is a well-loved Amman institution of four decades and counting. Its bars and restaurants are loved as much by locals as by visitors to the city.
Petra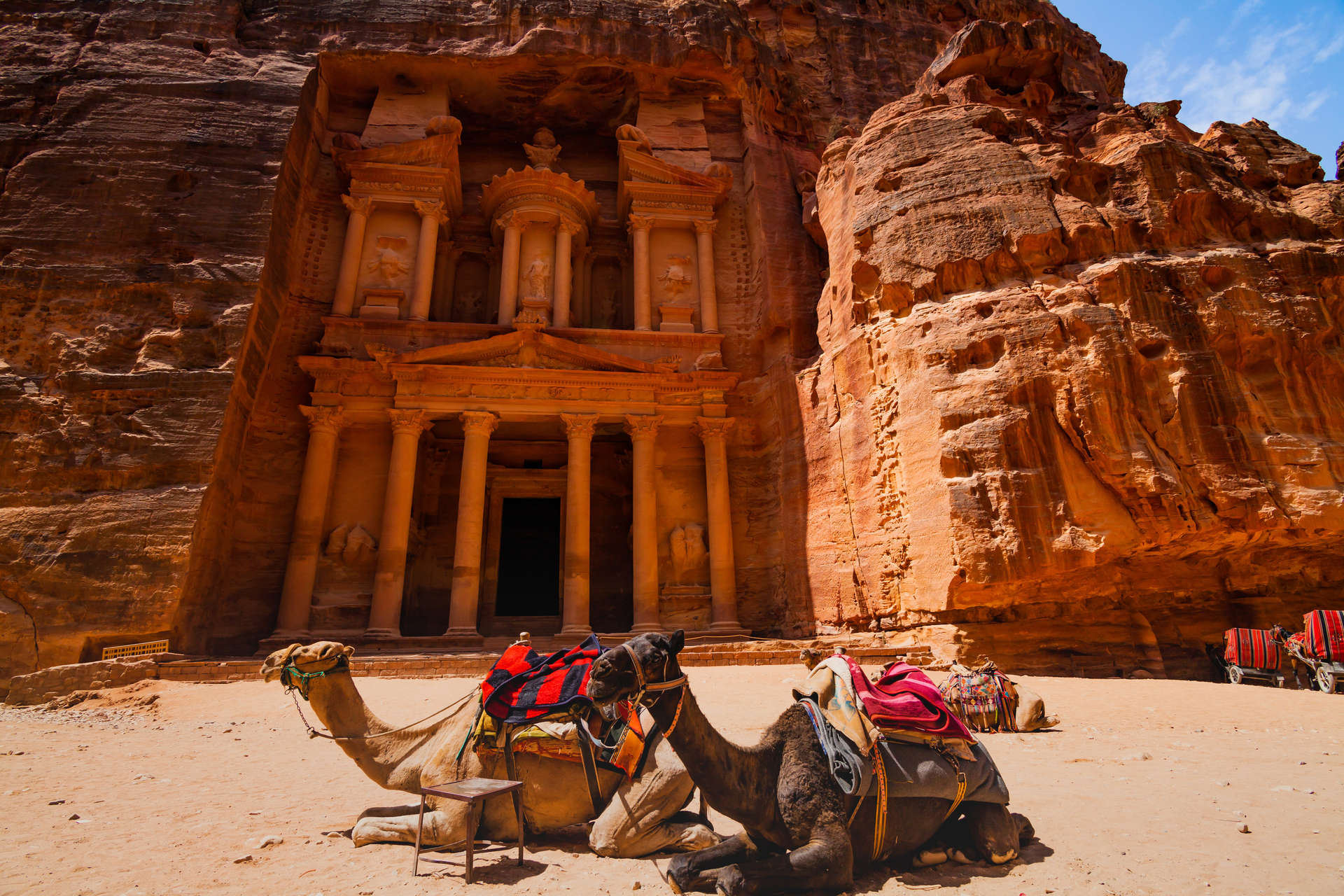 Petra is an archaeological wonder that everyone should see in their lifetime
The UNESCO World Heritage site of Petra is an archaeological wonder that everyone should see in their lifetime. It was built long before the Roman era by the Nabatean people and still bears witness to the skill of their craftsmanship in the ornate carved facade of the "Treasury" building (Al-Khazneh). But there is more to the site - temples, cliff homes, theatres - than one incredible landmark. There are excellent places to sleep too, not least the Petra Marriott Hotel, a high-comfort refuge after a day of history.
The Dead Sea
If you're wondering where to go beyond Petra, Jordan shares the planet's most celebrated body of salty water with Israel - and offers a range of properties on its eastern shore. These include the Dead Sea Marriott Resort & Spa, where you can - famously - float upright in heavy tides, but also swim in a gorgeous pool complex up on the terrace.
Aqaba
Jordan has just 16 miles of coast - all of it along a sliver of the Red Sea, at the country's southern tip - but it more than makes the most of it. Over the past twenty years Aqaba has blossomed into a holiday enclave of well-designed golf courses and sophisticated resorts. These include Al Manara, A Luxury Collection Hotel, Saraya Aqaba, the city's first five-star retreat, where you can relax on a private beach and enjoy Jordanian cuisine at the Kubba Levantin Restaurant. One of Jordan's most exciting alternative things to do is to go scuba-diving in the Red Sea's warm, clear waters.
What to eat and drink in Jordan
Mansaf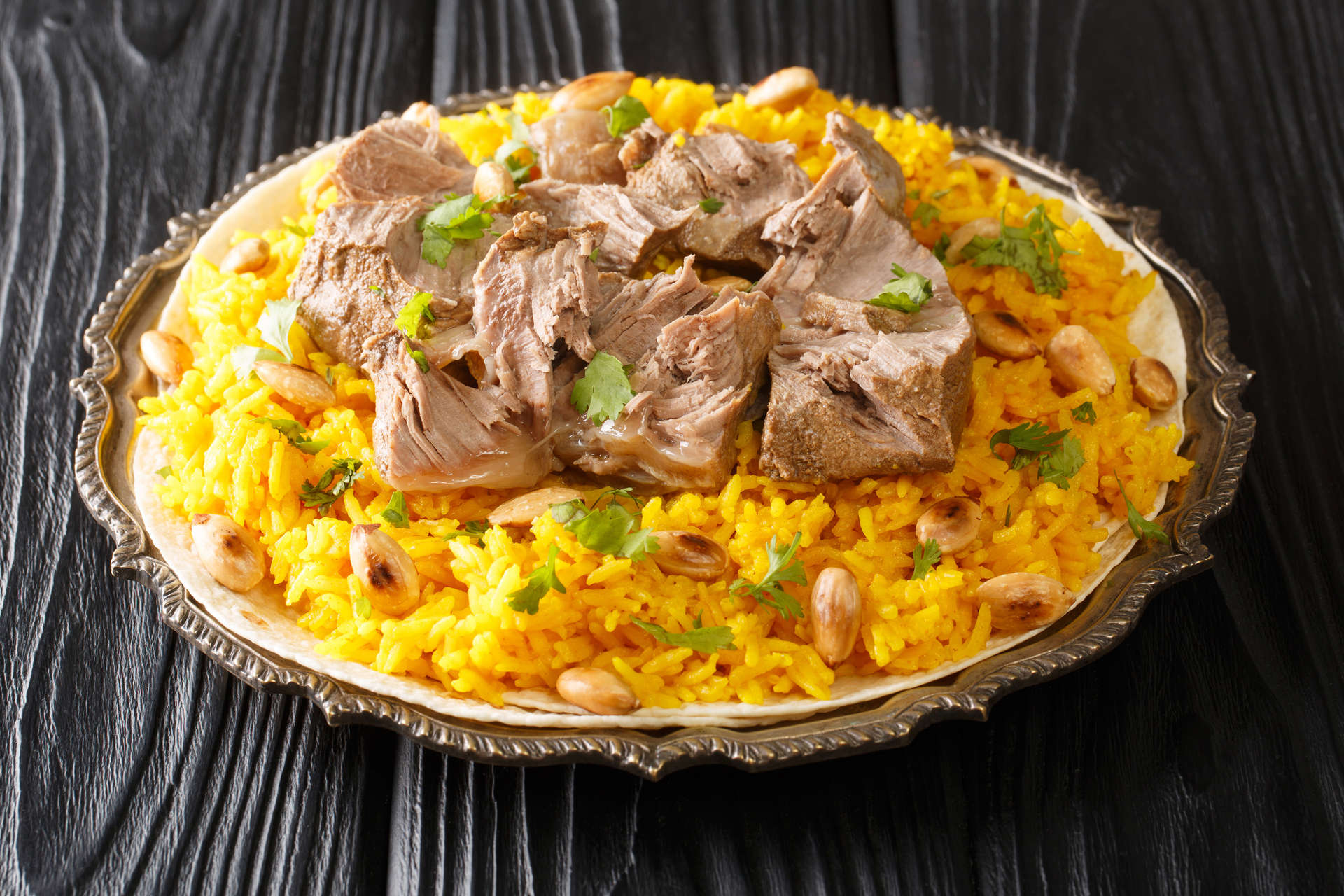 Mansaf is one of the key Jordanian dishes to try
One of the key Jordanian dishes to try is mansaf. This national favourite is derived from the bedouin tradition that sees chunks of chicken or lamb served on a soft bed of rice, in a salty yoghurt sauce. Try it at Sufra, in Amman – there are many great places to eat on Rainbow Street, and this gourmet enclave, set in a restored Ottoman mansion, is one of the best.
Tamrieh
Jordanians can't get enough of tamrieh - distinctly more-ish parcels of filo pastry stuffed with a sweet, nutty paste (generally of almonds or cashews), and fried in oil. Tamryet Omar - a simple but very popular takeaway restaurant in the Jabal Amman part of the capital - is a true specialist.
Arabic breakfast
Jordanians know how to fuel themselves until lunchtime. Spice Garden, the house restaurant at the Sheraton Amman Al Nabil Hotel, offers an excellent Arabic breakfast, which unfolds at leisurely pace over flatbreads, hummus, labaneh, cheeses, fresh fruits and coffee.
Kunafa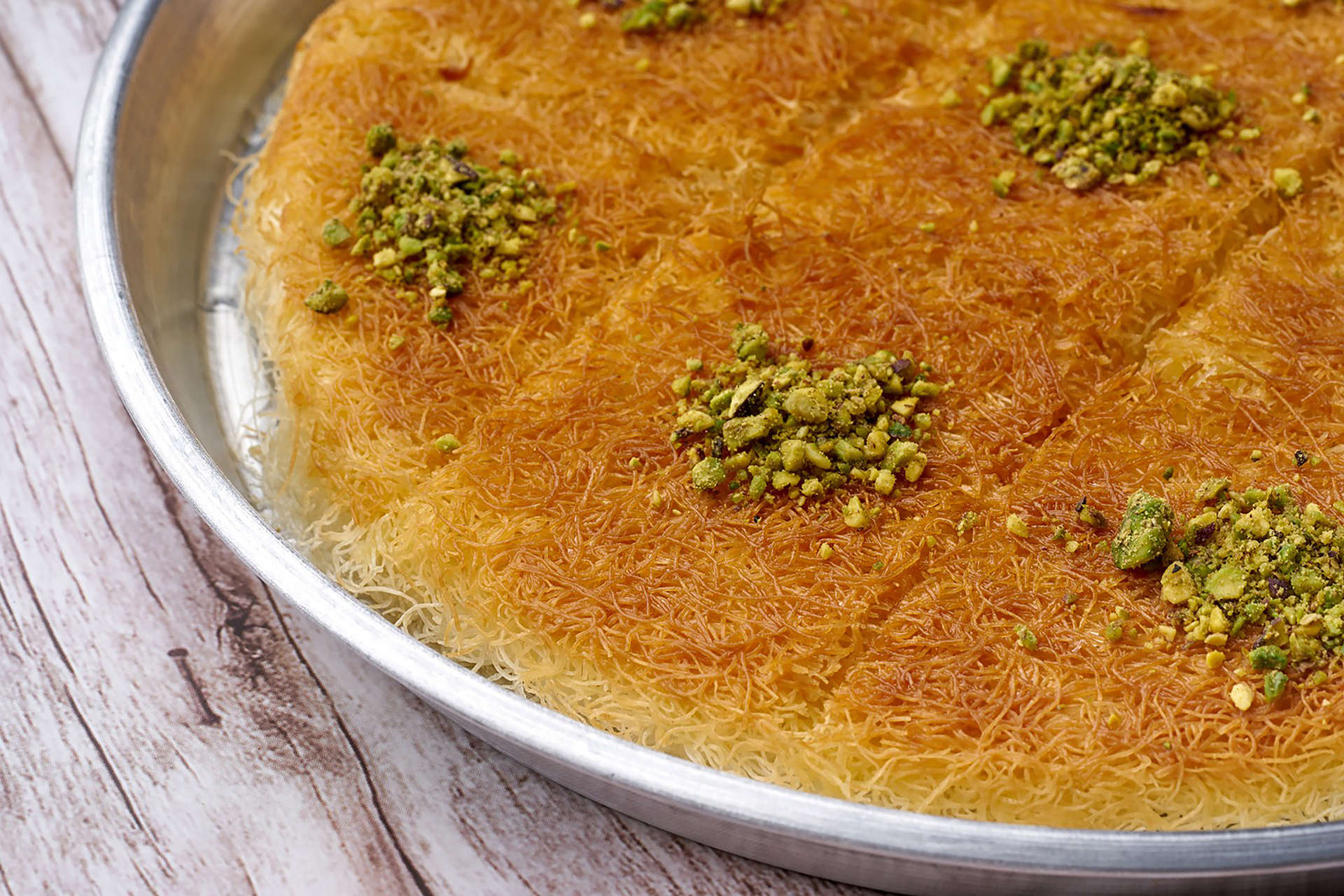 Delicious, syrup-soaked kunafa
When in downtown Amman, make sure you pay a visit to Habibah Sweets to try their kunafa. The warm cheese pastry soaked in syrup will satisfy the sweetest of teeth.
Top things to do in Jordan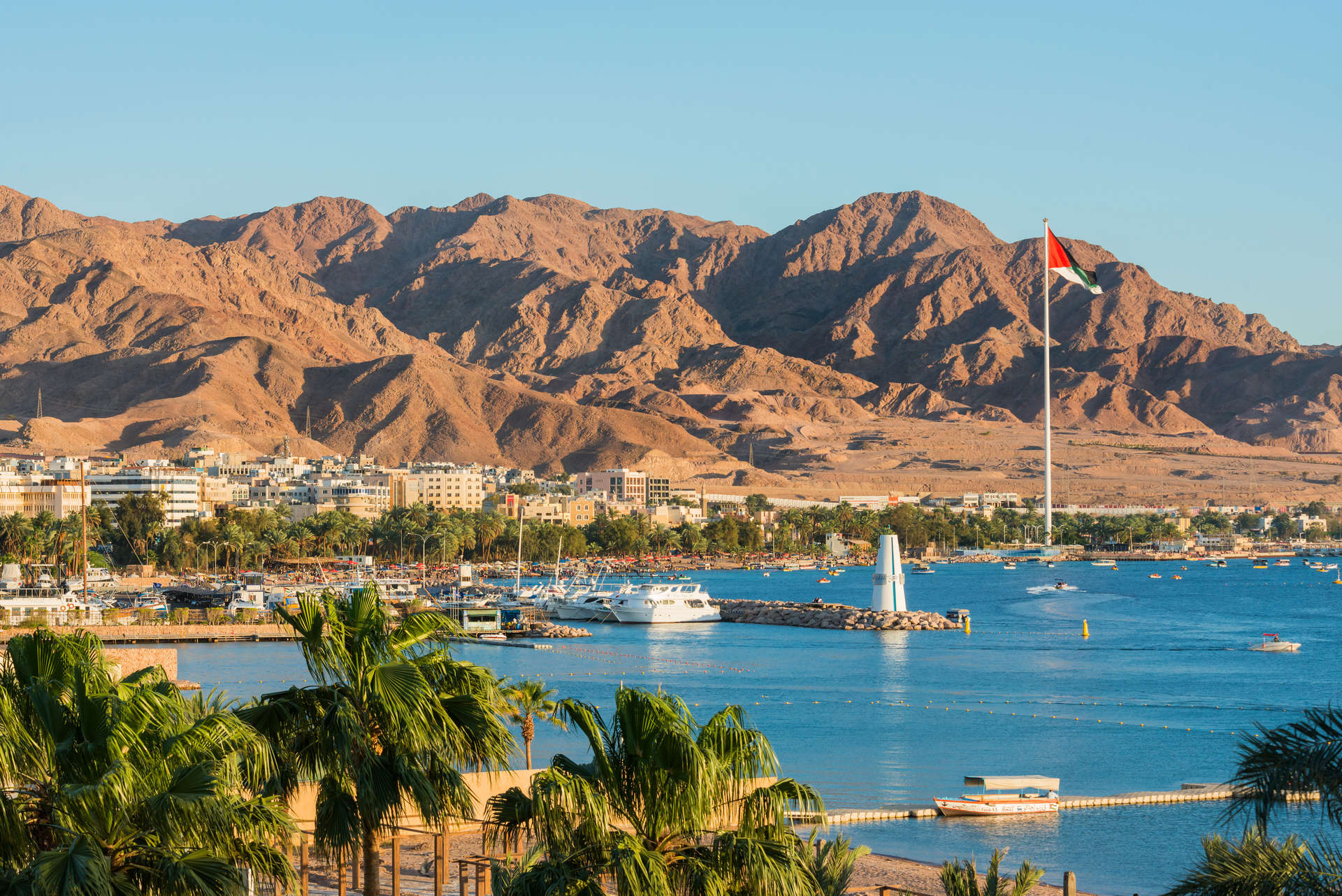 Try snorkelling in the Red Sea around Aqaba
There are many interesting things to do and see in Amman, from the Jordan Museum, which takes the national story back 9000 years via the remarkable 'Ain Ghazal statues, to the Royal Automobile Museum, which displays a range of classic cars collected by the royal family. Then there is Jerash, thirty miles to the north. Here is a Roman site as unmissable as Pompeii, its colonnaded streets stretching out behind the grand Gate of Hadrian at the entrance. Take a whole day over the complex - there is much to admire.
One of the best things to do in Jordan is to spend a night in Wadi Rum. This astonishing desert valley, some 30 miles east of Aqaba, is geography at its most dramatic - sharp bluffs of rock rearing above red sands. Book a stay at one of the comfortable camps tucked into the landscape, and wake early for sunrise over the dunes.
To complete your experience, end your adventure underwater by snorkelling or scuba-diving surrounded by the unique marine life that populates the Red Sea around Aqaba.
Hidden gems in Jordan
Jordan offers intriguing places at every turn. One of the unique things to do if you're heading south from Amman to Petra is to pause at Madaba - known for the sixth-century mosaic of the world which adorns the floor of St George's Church. An hour's drive northwest of Madaba is Al-Maghtas, the site on the east bank of the River Jordan where Jesus Christ is said to have been baptised. Heading south for Petra from here, you could stop first at Hammamat Ma'in, a stunning collection of thermal springs and waterfalls, packed full of minerals that are believed to benefit the skin, blood flow and to soothe aching muscles. After that, pay a visit to Kerak, where a twelfth-century Crusader castle crowns a hill. The thick-walled fortress is still in astonishingly good condition and the views from its ramparts breathtaking.
Go deeper
Jordan can be explored at any time of year. July and August bring guaranteed heat, while there are cooler temperatures around 20–28 °C in spring and autumn. English is widely spoken, but the word Shukran, Arabic for "Thanks", goes a long way.
Published: July 26, 2022