With UNESCO-listed archeological sites, dramatic coastal scenery and, so it is said, a church for every day of the year, Malta has a unique charm and a rich variety of sights that will draw you in – not least as you can visit the little islands of Gozo and Comino as part of your trip. Malta's manageable size (the eponymous largest island is less than 100 square miles) means you can cover a lot of ground when you visit. Hire a car and it's easy to reach many of the big sights and overlooked gems of all three main islands in just a week.
The best places to visit in Malta
Valletta and the Three Cities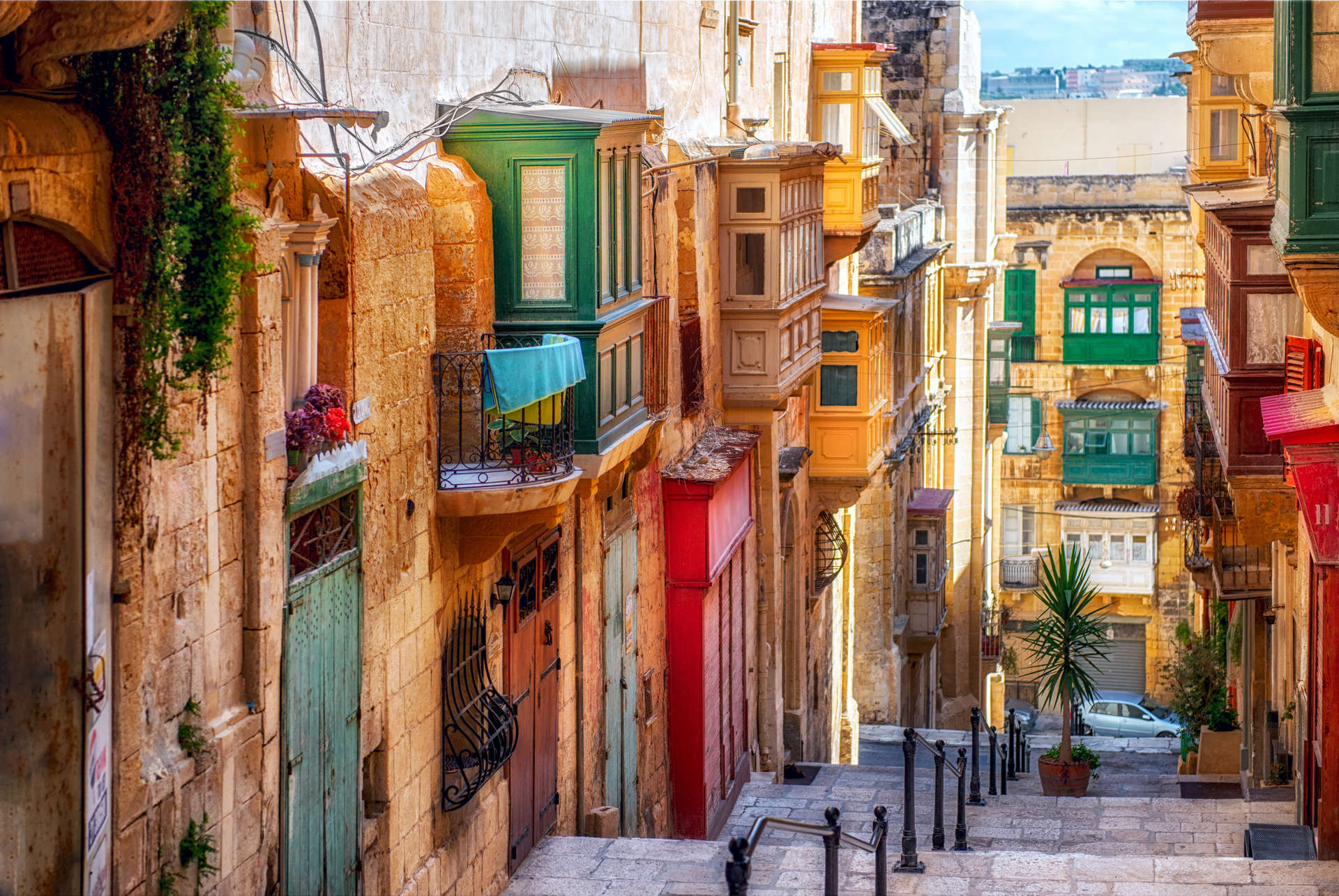 Wending your way through Valletta's charming narrow streets is one of the city's great pleasures (Photo: Getty Images)
Malta's capital Valletta juts out into the Mediterranean Sea on Malta's east coast. Start your exploration of the city by taking in the landmarks of St Paul's Pro-Cathedral, with its delicate steeple, and the stunning dome of the Basilica of Our Lady of Mount Carmel. Afterwards, wend your way through the compact city's narrow streets to St John's Co-Cathedral (home to a memorable Caravaggio painting) and the imposing Grandmaster's Palace, or explore the diverse collection of the MUZA Museum of Fine Arts. 
One unique thing to do in Valletta is to join a guided tour of the lavish sixteenth-century Casa Rocca Piccola for a glimpse of the home life of Malta's upper classes – a noble family still lives here.
You could easily spend an afternoon roaming the city walls and relaxing in the Upper and Lower Barrakka Gardens. To see Valletta from a different perspective, though, take a colourful dghajsa (traditional water taxi) across the Grand Harbour to the Three Cities of Cospicua, Senglea and Vittoriosa. This area is one of the best places to explore Malta's military and maritime history; Fort St Angelo and Gardjola Gardens both make perfect spots from which to watch the 4pm cannon salute across the harbour in Valletta.
Set on a natural peninsula fringed by the sea, The Westin Dragonara Resort, Malta makes the perfect base for your explorations of Valletta and the Three Cities.
St Julian's and Bugibba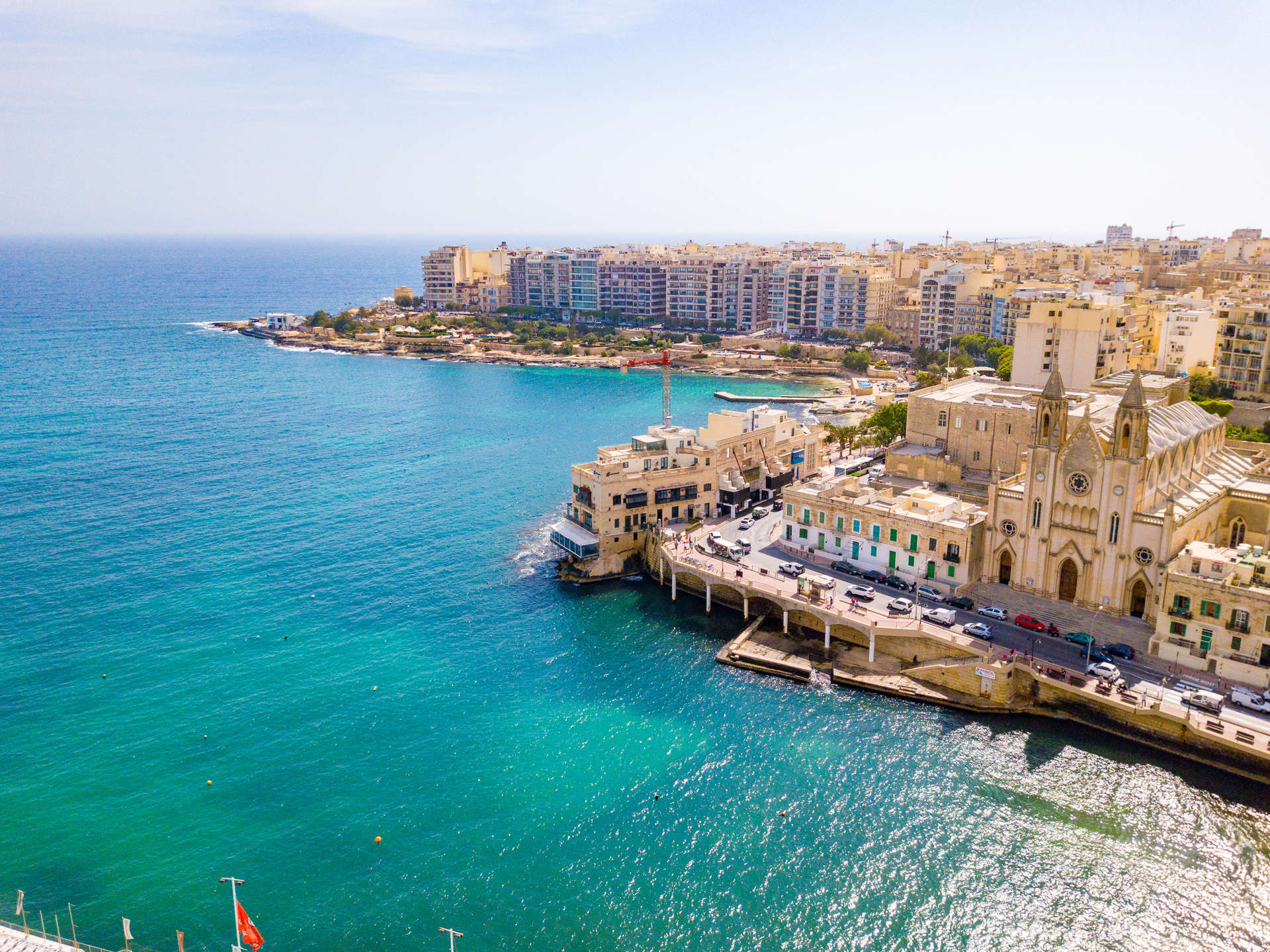 The buzzy town of St Julian's is one of the liveliest on the island (Photo: Getty Images)
Malta's liveliest stretch of coast, to the northwest of Valletta, centres on the buzzy town of St Julian's. With its rooftop pool and proximity to Balluta beach, a great base here is the Malta Marriott Hotel & Spa. Conveniently located for the hustle and bustle of St Julian's, the resort also enjoys a distinct tranquillity thanks to its location on a private peninsula, featuring two charming beaches.
To the north of St Julian's is Bugibba. While it's undoubtedly a popular holiday hub, it also features two excellent nature reserves. Salina is located on restored salt pans, and sees egrets, gulls and even the occasional flamingo. Is-Simar wetland, to the west, also offers some good birdwatching, but you might spot a chameleon too. Join the Xemxija Heritage Trail near Is-Simar to discover some pleasantly atmospheric historic spots, from Neolithic burial sites to Roman baths.
Gozo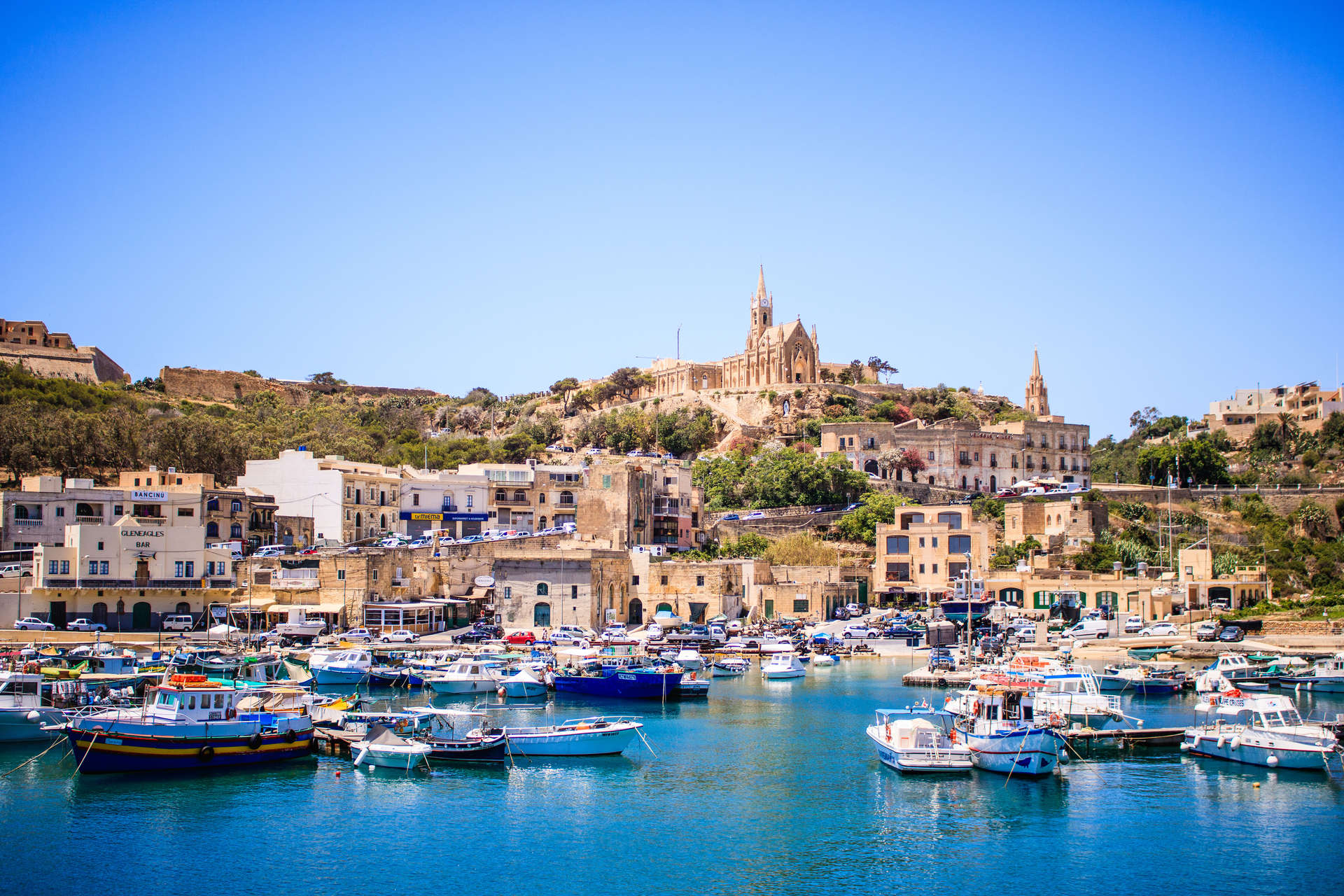 One gem of the Gozo coastline is the fascinating Blue Hole, which is popular with snorkellers and divers (Photo: Getty Images)
A short ferry ride north of Malta, Gozo offers rural charms with its vineyards and olive groves. But like its larger neighbour, it's also known for its picturesque churches, ancient sites and coastal scenery.
It's worth renting a car when visiting Gozo, so you can really explore the island fully. From Mgarr port, head for Victoria, making a quick stop to admire the rotunda of St John the Baptist Church and the sweeping views from its rooftop walkways. In the city (often called ir-Rabat) you can enjoy the Baroque splendour of St George's Basilica, wander the citadel ramparts, and explore several small museums.
Just ten minutes' drive northwest of here lies the awe-inspiring Ta'Pinu Basilica, which enjoys a spectacular setting, with the Gozo landscape stretching out all around it.
Towards Gozo's west coast you'll encounter Dwejra Inland Sea, a sheltered lagoon with clear, shallow waters – a perfect swimming spot. Just off the shore here is the Blue Hole, a fascinating rock formation where a tube drops into the sea, popular with snorkellers and divers.
In Gozo's northeast, you can explore some of Malta's fascinating Megalithic temples at Ggantija. Alternatively, head to Ramla Bay for more swimming opportunities, plus short hikes to Calypso's Cave, rumoured to be the home of the nymph Calypso in Homer's Odyssey, and Tal-Mixta, another cave with perfectly framed sunset views.
Comino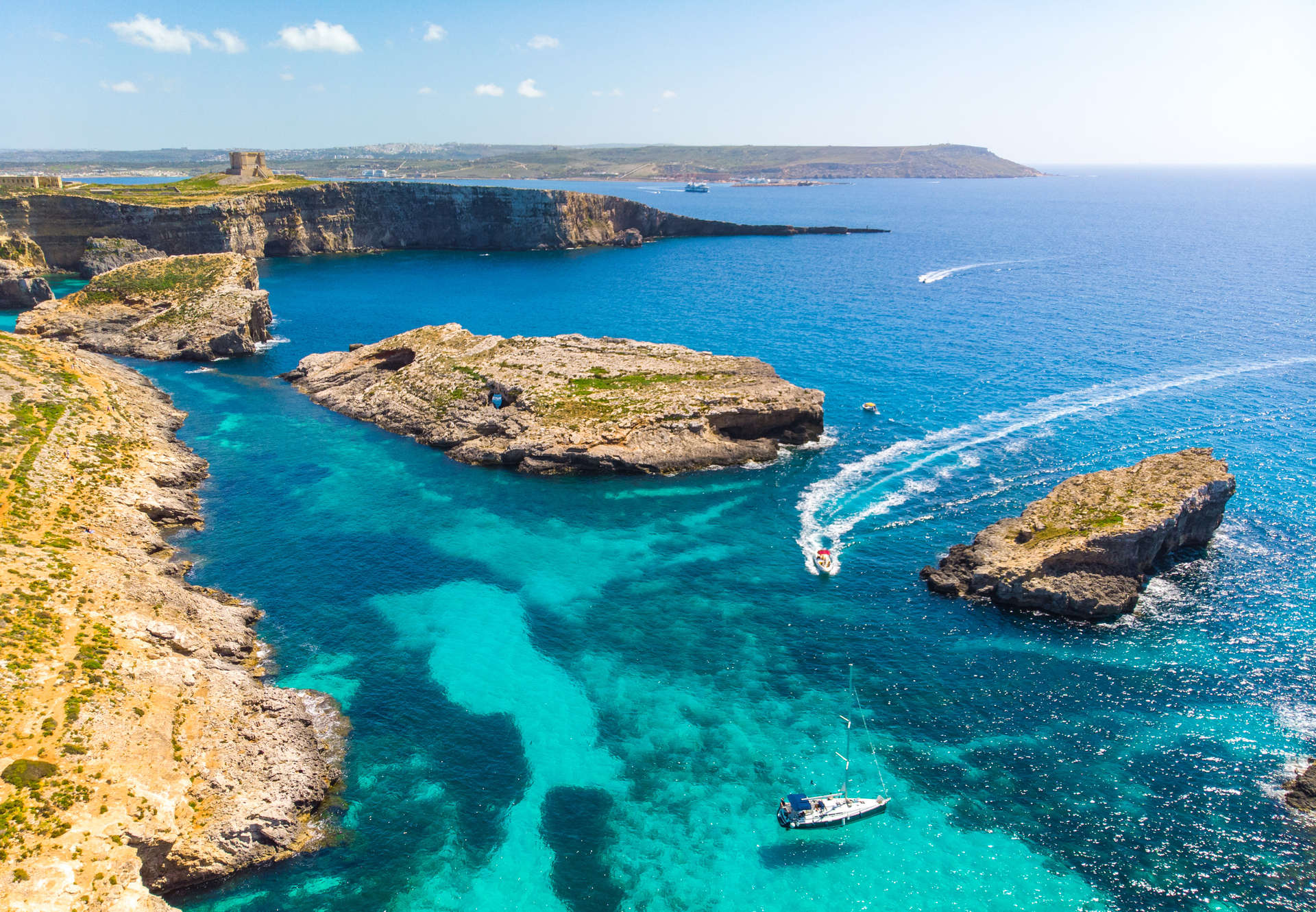 Comino's beautiful Blue and Crystal lagoons are well worth the short ferry trip from Malta's northern tip (Photo: Getty Images)
Car-free Comino is a short ferry trip from Malta's northern tip. You'll arrive at the Blue Lagoon, a picturesque spot safe for swimming. Just a short walk away is the less well-known Crystal Lagoon, its clear waters making it a popular snorkelling and diving location. Slightly further down Comino's coast to the southwest is the limestone St Mary's Tower, which offers impressive ocean views.
In the north of the island is Santa Maria Bay, with a gently shelving beach, overlooked by the thirteenth-century whitewashed Chapel of Our Lady's Return from Egypt. Take a boat trip around the headland to see (and maybe dive in) Santa Maria Caves, one of the most scenic parts of the archipelago's dramatic rock coastline.
What to eat and drink in Malta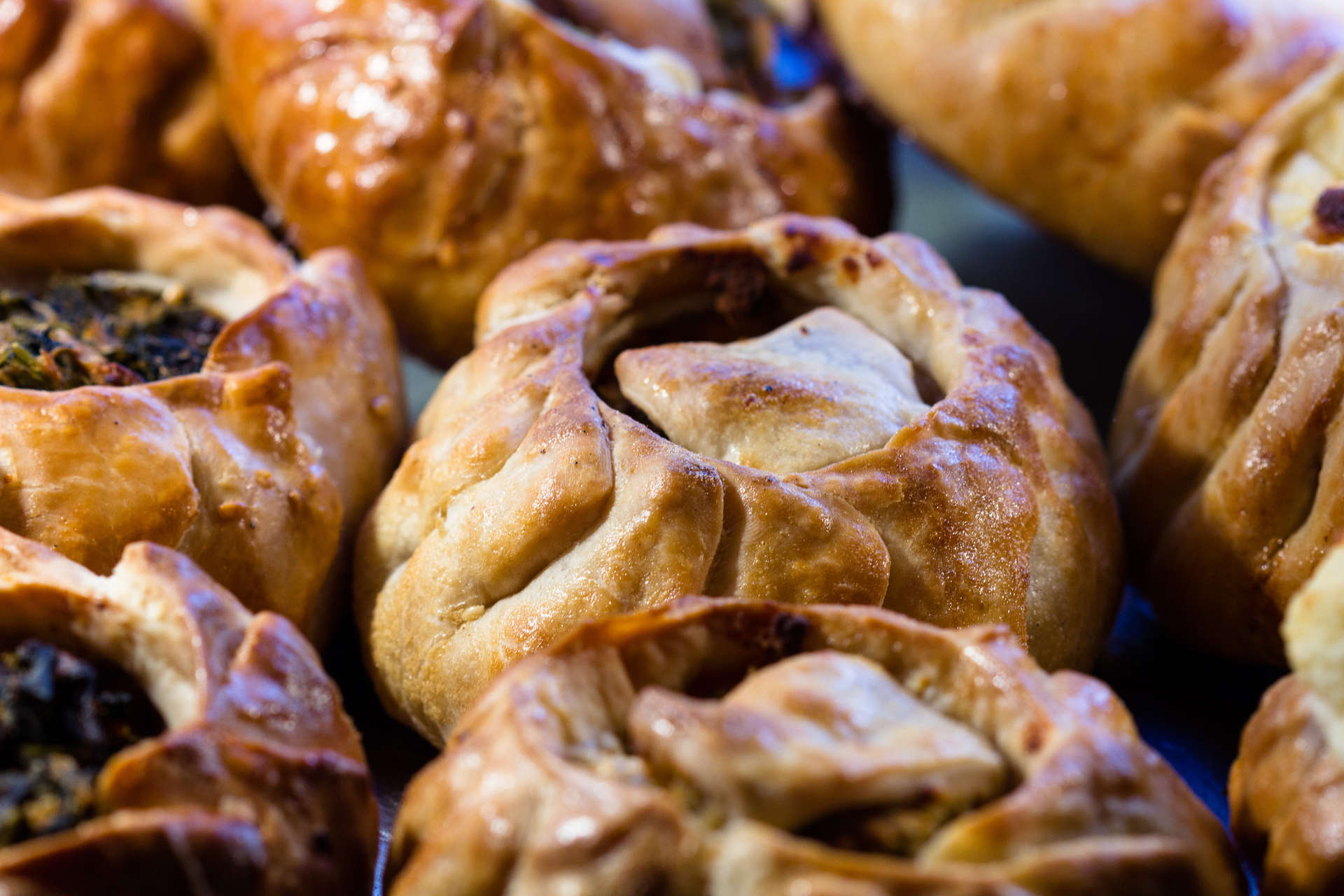 Maltese food shares many similarities with other Mediterranean cuisines, but also evidences hints of British and North African influences (Photo: Getty Images)
Be sure to pick up some pastizzi when you're in Malta. These flaky pastries, usually filled with feta or curried peas, are perfect on-the-go fuel. If you fancy more than a snack, try lampuki pie (fish pie) or soppa tal-armla (a hearty vegetable soup served with soft gbejniet cheese). Order a Cisk lager on the side, or any wines made with Gellewza or Ghirghentina grapes. If you'd prefer a soft drink, go for a bitter-orange Kinnie.
In Valletta, stop at Rubino for dinner. Founded in 1906 as a confectioner, this traditional restaurant still has its original cassata Siciliana on the menu. This moist sponge cake is layered with ricotta cheese and colourfully studded with candied fruit. For dinner in Balluta Bay, you can enjoy excellent modern European cuisine and freshly caught fish in an eighteenth-century palazzo at OKA's at The Villa.
When visiting Bugibba the fresh seafood – and sea views – at fine-dining Tarragon Restaurant are a real treat; the oak-smoked octopus is stunning. In Gozo, try Ta' Frenc, an excellent modern Mediterranean restaurant housed in a converted farmhouse in Xaghra. The seafood is as good as you'd hope for from an island restaurant, but they also serve the likes of homemade cappelletti ("little hats") pasta filled with rabbit, testament to the Italian influence on Malta's cuisine.
In southern Malta, head to Marsaxlokk to enjoy the freshest of fish and seafood with a visit to Tartarun restaurant – it will have been brought to shore at the harbour just minutes from the restaurant. The lobster linguine is an unforgettable dish.
Top things to do in Malta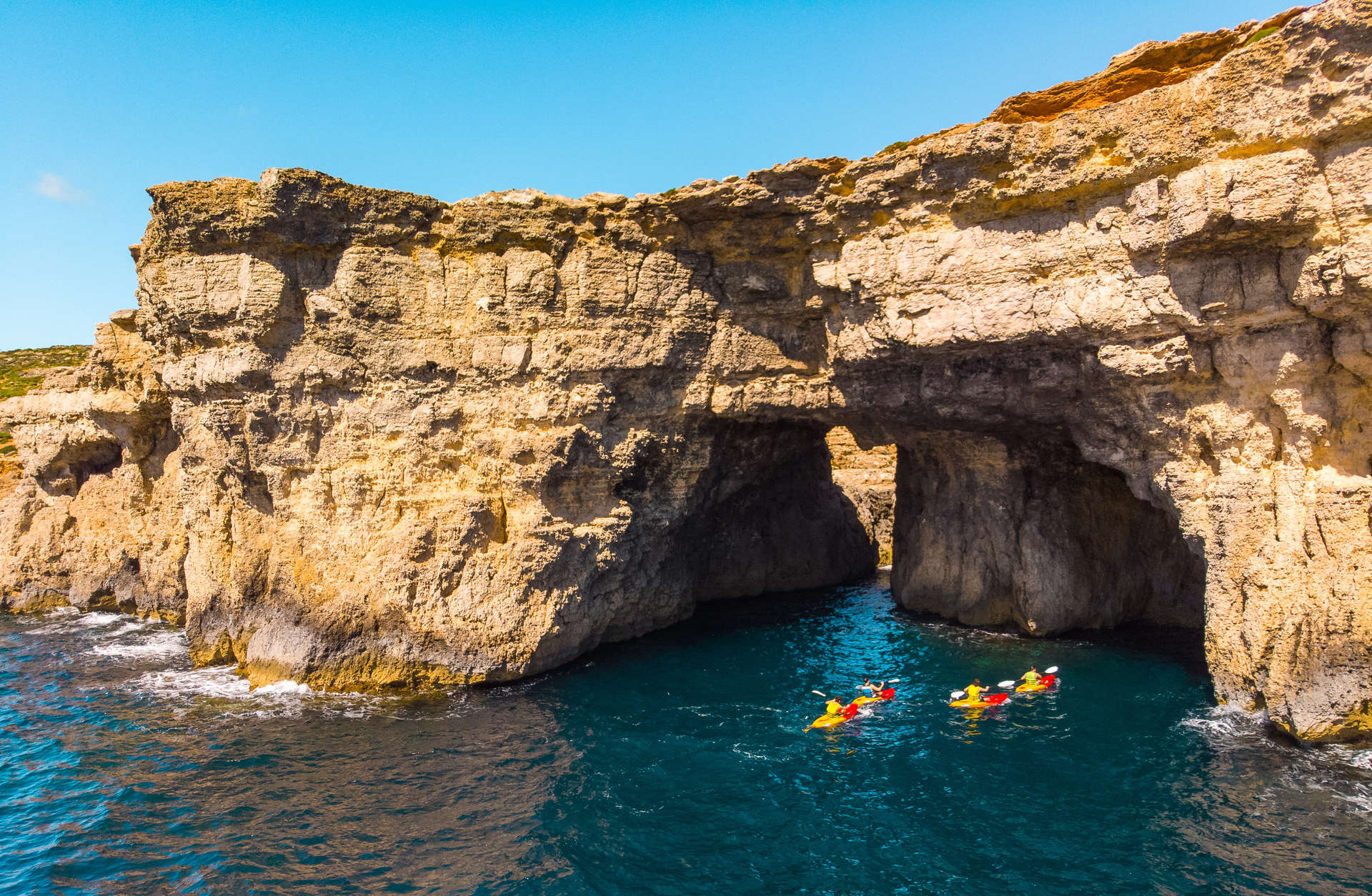 Kayaking off the north coast of Gozo in Malta (Photo: Getty Images)
With its rugged coastline and easy access to the sea, Malta is a perfect spot for kayaking. There are plenty of hidden caves and secluded coves you can only reach from the water, and several kayak tour operators who can guide you there safely – even if you're a total beginner.
The south of the island is full of opportunities to enjoy sea swims, coastal views, and ancient sites. When in this part of Malta, dive deep into the island's storied past by stopping at the UNESCO-listed Hal Saflieni Hypogeum, a remarkable 5000-year-old underground tomb complex. Most mysterious is the Oracle Room, where whispers become magnified and resonant. The nearby Tarxien Temples, where you'll likely see cats slinking through the Neolithic structures, are also worth a quick stop.
With their clifftop perch, Hagar Qim and Mnajdra are possibly Malta's most scenic ancient sites. Dating back to around 3600 BCE, these Megalithic limestone temples are – along with Ggantija on Gozo – the world's oldest free-standing structures.
Just a few minutes' drive from Hagar Qim you'll come to tiny Zurrieq, where you can join a fishing-boat tour of the Blue Grotto caves. Visit at midday to see the waters at their most startlingly blue. Alternatively, cut across the island to pretty Marsaxlokk, where brightly painted luzzus (fishing boats) bob in the harbour. Make your way down the neighbouring peninsula for sheltered sea swimming at St Peter's Pool, or at the less-crowded Il-Kalanka.
Though Malta's dramatic rocky coastline attracts most visitors, it's worth exploring inland too. Just a 15-minute drive from Balluta Bay is San Anton, where formal gardens dotted with elegant fountains and gnarled trees surround the presidential residence. The palace may look familiar to Game of Thrones fans – it was the Red Keep in season one. The Buskett Woodlands, meanwhile, is the only significant wooded area left on the island, its shady walkways a welcome respite on hot days.
If you make it over to Malta's west coast, be sure to visit Golden Bay, one of the island's best sandy beaches and a popular spot for watersports. Less developed is Ghajn Tuffieha, just 15 minutes' walk south, where you'll find reddish-gold sand, scenic coastal trails and good surfing when conditions are right. A 20-minute drive south of Ghajn Tuffieha, you'll come to Dingli. These precipitous cliffs are Malta's highest point, and the perfect spot from which to watch the sunset.
Hidden gems in Malta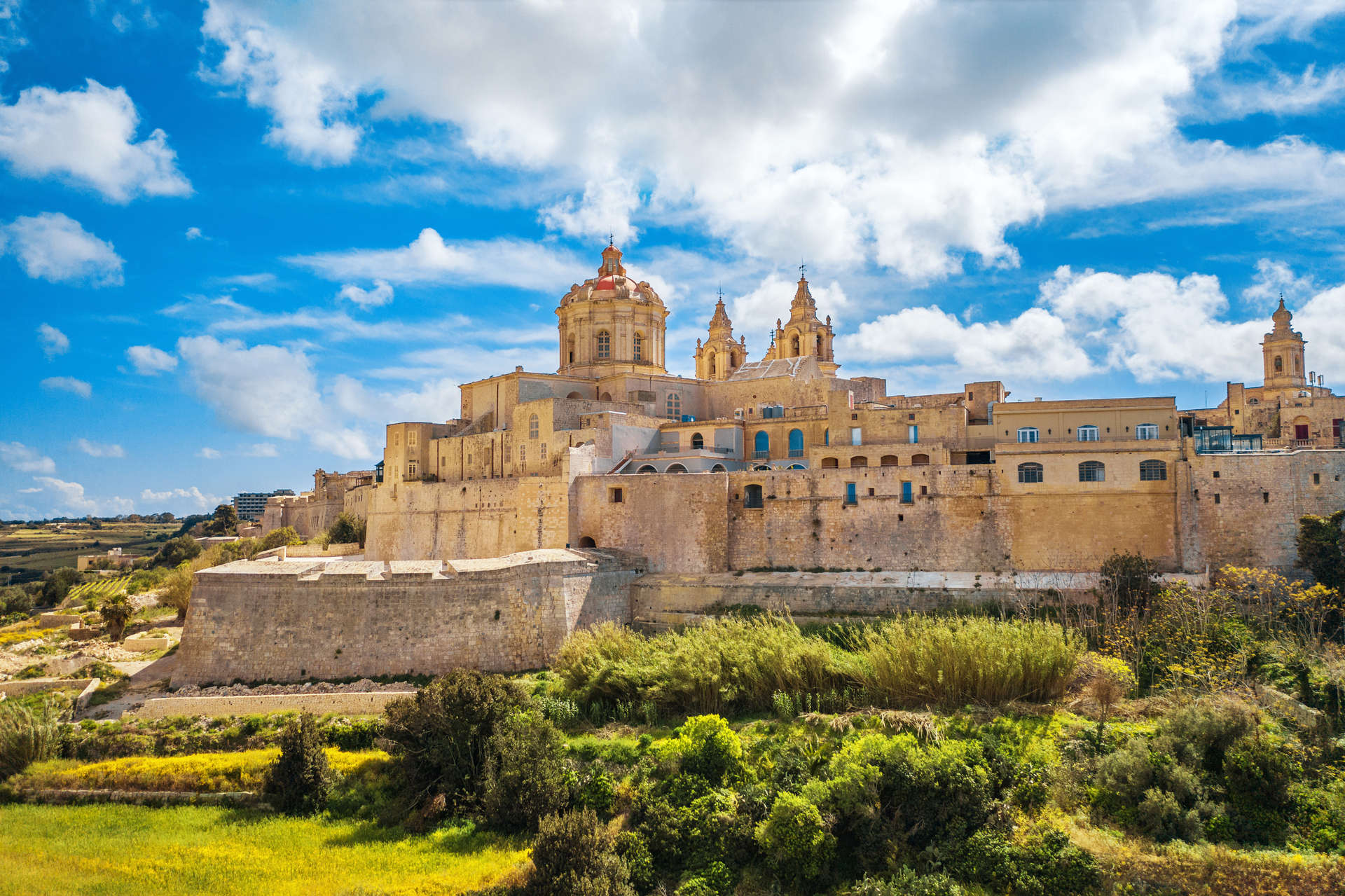 Mosta Dome Catholic Basilica in Malta (Photo: Getty Images)
Inland Malta sees far fewer visitors than the coastline but definitely warrants exploration. Pay a visit to the town of Mosta and in particular its basilica's awe-inspiring dome – 61 metres high, 40 metres wide, and covered inside in intricate white, blue and gold detailing. Afterwards, take in nearby Mdina, another inland gem. As only residents can bring their cars into this ancient walled capital, it has retained much of its medieval charm. Listening to the cathedral bells echoing across cobbled squares, you could have stepped back centuries. Stay for dinner at the vine-draped internal courtyard of The Medina restaurant, housed in a 500-year-old building, and enjoy the city's calm evening atmosphere. The kitchen's succulent tagliata for two is delicious, a generous chargrilled steak served with salsa verde and grana cheese.
One of the most unusual things to do in Malta is to embrace the idiosyncrasies of Popeye Village, a charmingly tumbledown film set from the 1980 Popeye musical. Located in the north of the island, the set has been turned into a theme park, with enthusiastic actors and family-friendly activities.
Go deeper
Though most people on the archipelago speak English, you might find it handy to have a few Maltese words memorised. And if you speak any Romance or Semitic languages you might already know some Maltese by accident. For example, "bye" is "ċaw", pronounced like the Italian "ciao", while "thank you" is "grazzi". "I love you" is "inhobbok" – quite similar to Arabic.
Published: January 25, 2023
Last Updated: January 30, 2023
Article Tags: Malta , Valletta