Qatar packs a whole lot into a compact package. Visitors can take a sophisticated city break in Doha before delving deep into the desert for adventurous activities like quad biking and dune bashing, or to experience one of the most jaw-dropping art installations on the planet. An intriguing mix of traditional Arabian tradition and hyper-modern design, contemporary Qatar is one of the world's richest cultural destinations and no trip here is complete without visiting stunning venues like the Museum of Islamic Art.
The best places to visit in Qatar
The Corniche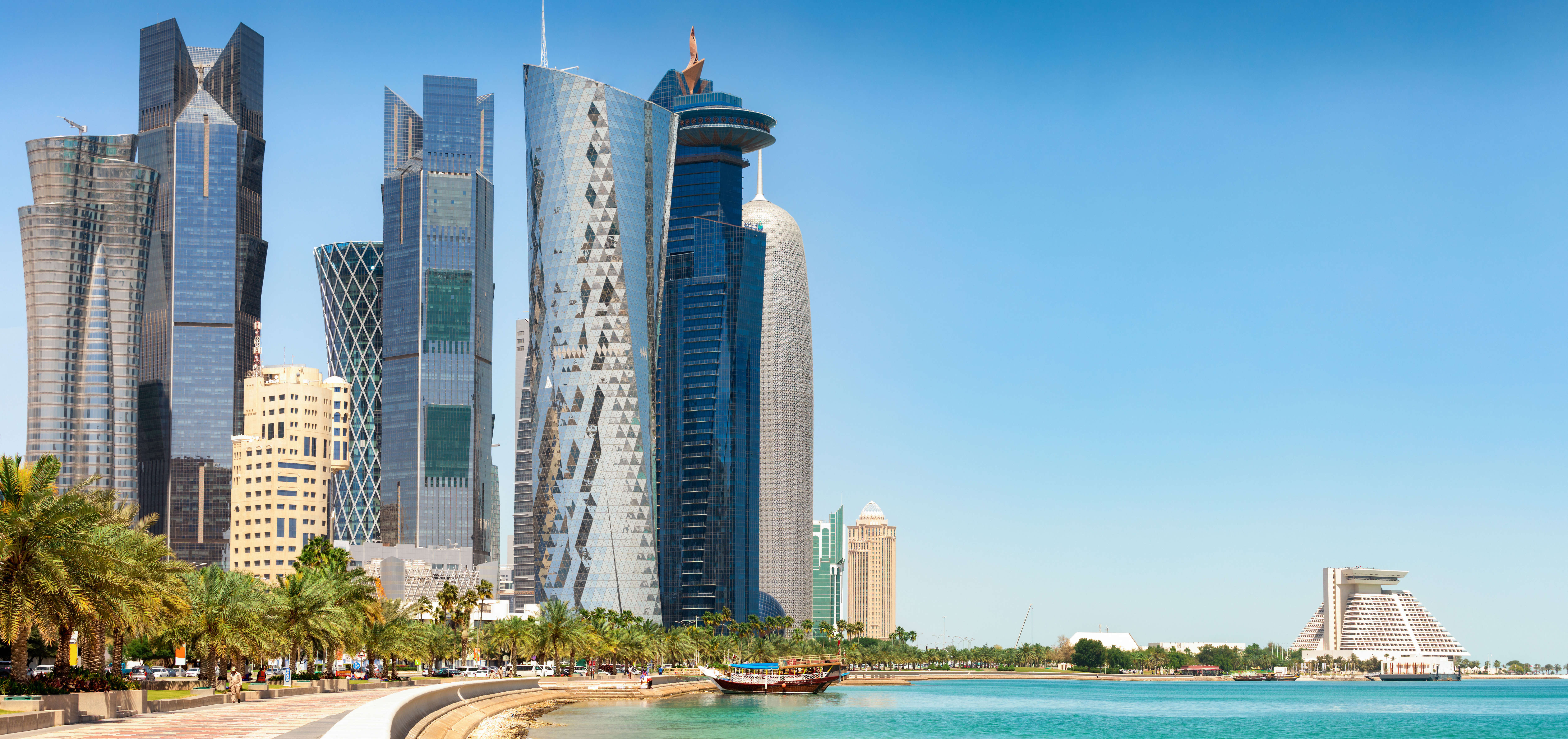 Doha's Corniche
The 7km-long Corniche, Doha's iconic seaside promenade, is not only a fabulous place to go for a walk with the city's modern skyline in the background – it also has all the city's best addresses dotted along it like a string of pearls. This is where to go for Doha's must-visit locations and places to visit.
At the southern end awaits one of Doha's best places to stay: The Ritz-Carlton Sharq Village, Doha, a traditional village-like, low-level hotel on the beach, with a superb spa. Nearby you'll also find the National Museum of Qatar. Designed by Jean Nouvel in the shape of a desert rose, a crystal sand formation you can find in the Qatari desert, the museum ranges across Qatar's past, present and future, and has some superb displays. Don't miss the Pearl Carpet of Baroda, embroidered with some 1.5 million of the finest Gulf pearls.
Heading northwest from here, you'll eventually reach West Bay, where most of Doha's best hotels cluster, including the pyramid-shaped Sheraton Grand Doha Resort & Convention Hotel and the W Doha, one of the most popular places to stay and eat at for locals and visitors alike.
Souq Waqif
Souq Waqif lies opposite the traditional boat harbour and is the historic hub of Doha. A lively souq, or bazaar, it is full of small shops selling traditional trinkets, spices, cloth and souvenirs. This is a great place to linger and get lost in the many small alleyways and enjoy the cafes and restaurants serving regional food, from freshly pressed juices to kebabs and biryanis. Here there are also horse stables with displays of elegant Arabian thoroughbreds, and a separate Gold Souq, where you can buy not just ordinary jewellery but entire outfits in gold, from head dresses to belts, and necklaces covering your entire torso, as well as gold bars in all sizes.
Inland Sea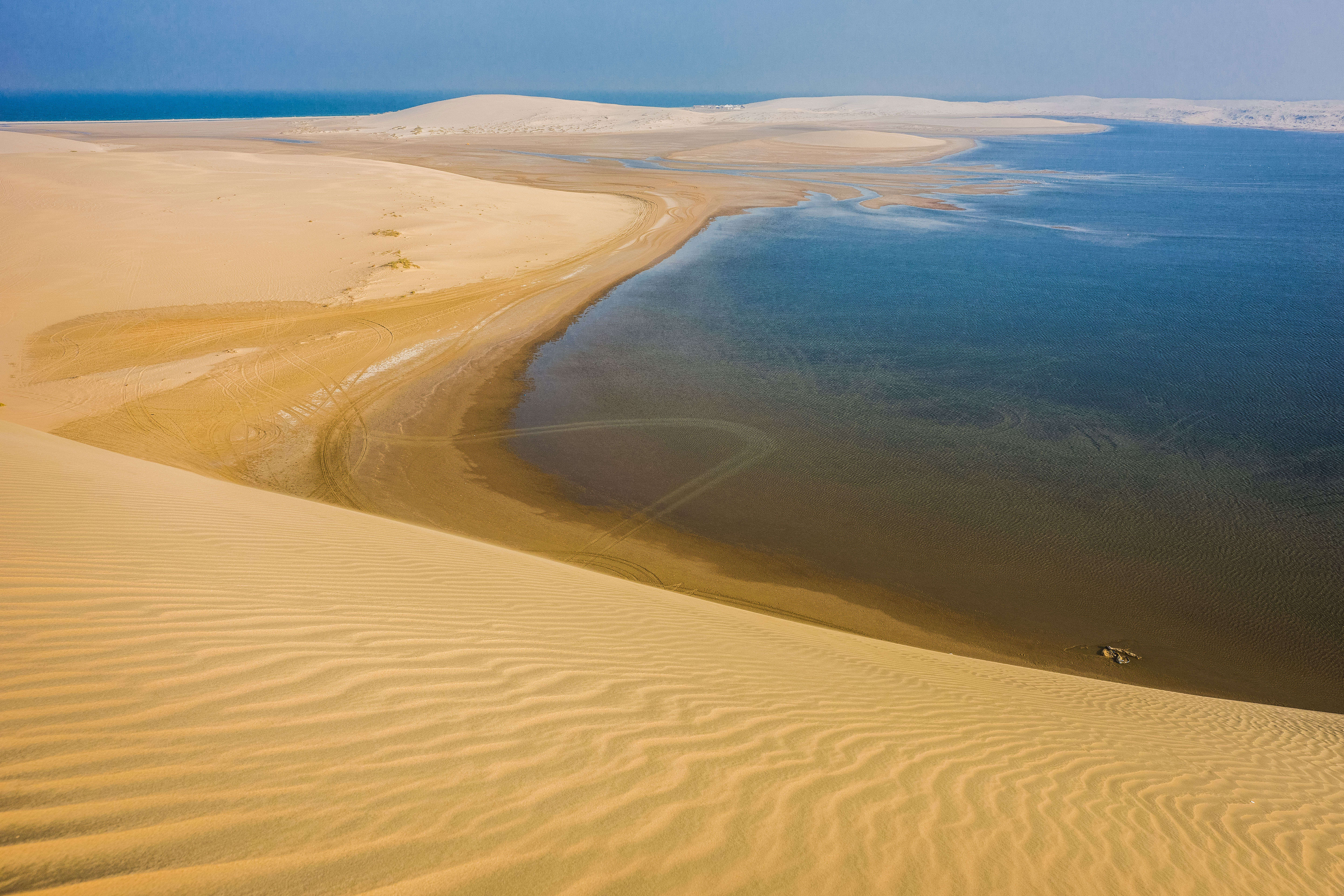 Khor al Adaid, the Inland Sea
Khor al Adaid, the Inland Sea, is a seawater inlet right at the bottom end of the Qatar peninsula, and a must-see destination. Hemmed by beautiful sand dunes, the waters are deep blue and turquoise, and in winter are dotted with pink flamingos which migrate there. The only way to reach the Inland Sea is by going across the sand dunes, which, with an experienced driver, is great fun.
What to eat and drink in Qatar
Warak enab
These vine leaves filled with ground beef, lamb and rice, are a light dish often nibbled during the day or eaten as a starter. Sample them at the Sultan Brahmin Restaurant at the St. Regis Doha, one of the finest Middle Eastern restaurants in Doha
Majboos (Machboos)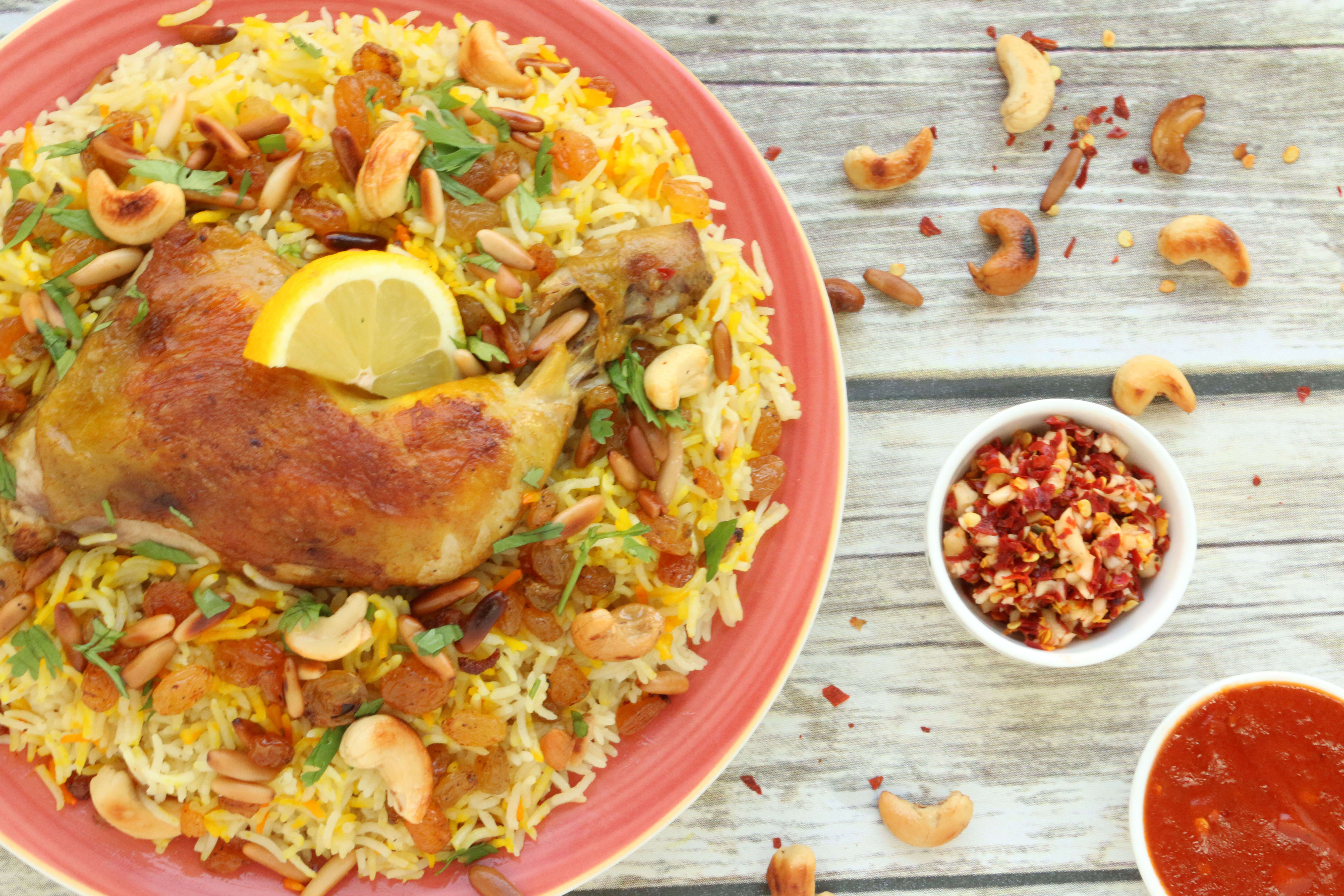 Majboos
This spiced but not spicy rice dish, to which you can add chicken or lamb, is best tried in one of the many small restaurants in the old town, such as Majboos Al Walaida.
Umm Ali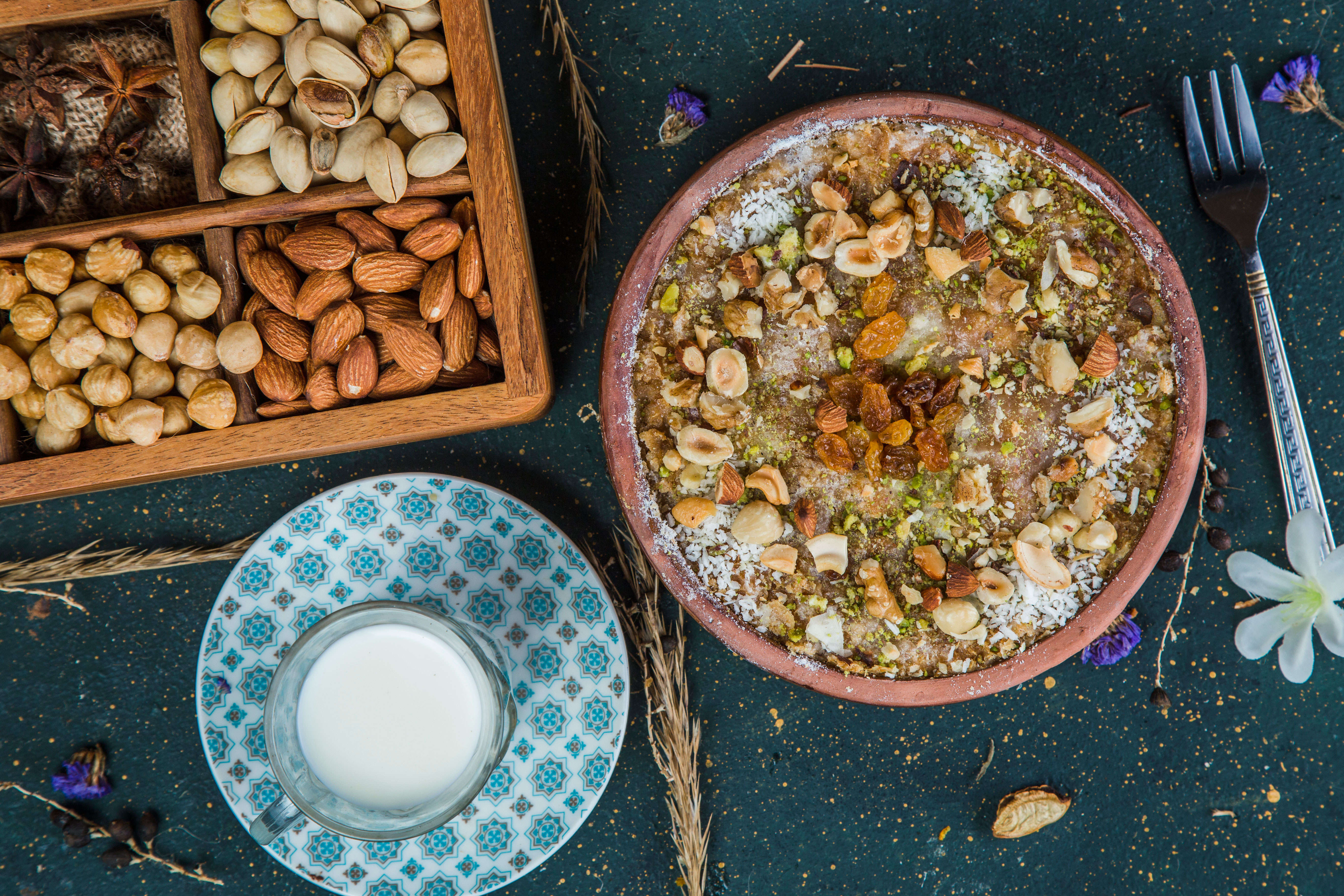 Umm Ali
The local comfort food, umm Ali is made with sultanas, nuts and milk – and is wonderfully stodgy. There are lots of great places to eat it but try the Em Sherif restaurant at the Sheraton Grand Doha Resort & Convention Hotel.
Balaleet
The description doesn't do the flavours justice: fried vermicelli noodles flavored with saffron, cinnamon and rose water, topped with a thin omelette. Balaleet is a sweet-savoury combination perfect for breakfast or even dessert. Try it at Al Jasra Traditional Food in Souq Waqif.
Hamour fish
The grouper hamour is one of the local fishes you must try. And why not try it under the stars in your own gazebo on the beach? The Zarb Experience at The Ritz-Carlton Sharq Village, Doha is one of the most pleasurable and romantic ways to try numerous Arabian specialties in style.
Top things to do in Doha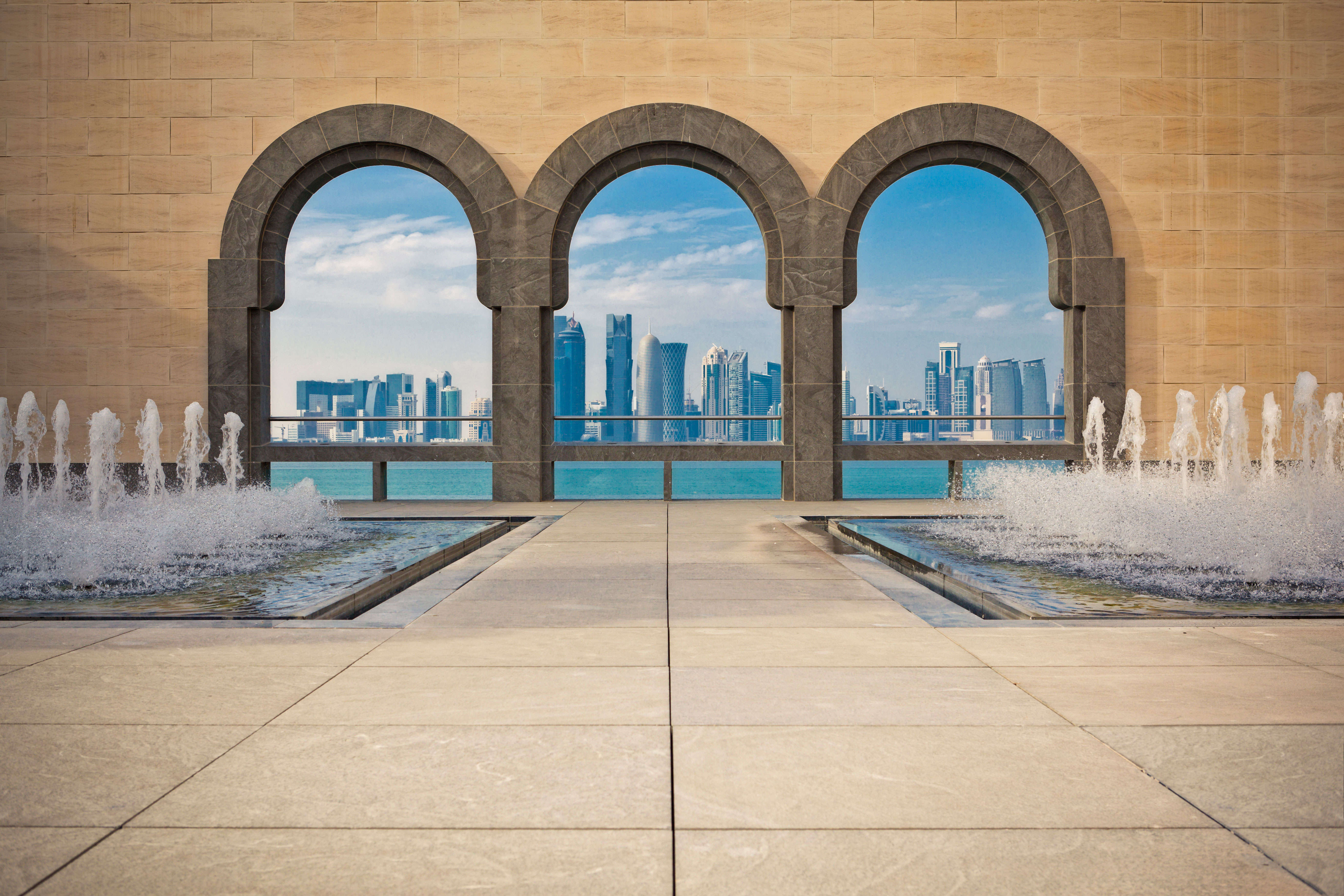 The Museum of Islamic Art, Doha
Qatar is such a varied country that there are countless interesting things to do. An iconic building designed by I.M. Pei, full of Islamic art treasures, the Museum of Islamic Art is one of the very best things to do in the country. From the lovely park behind it, you also get some of the best views in town.
One of the most fun things to do in Qatar is visiting the Falcon Souq in Souq Waqif. Here you can learn about the importance of the falcon in Arabian culture, and watch stunning displays up close.
For an unmissable mix of traditional and modern, head to Doha's design and art district Msheireb, easily accessed from Marriott Marquis City Center Doha Hotel. This is a great place to enjoy the contrast of modern design exhibitions, such as in the M7 and the Msheireb Museums, a series of restored old Qatari houses.
For another interesting thing to do, head to the Pearl, an artificial island full of colourful architecture, cafes, restaurants and marinas (with some seriously impressive yachts) and truly superb hotels, such as the The St. Regis Marsa Arabia Island, The Pearl Qatar set on its own island.
Hidden gems in Qatar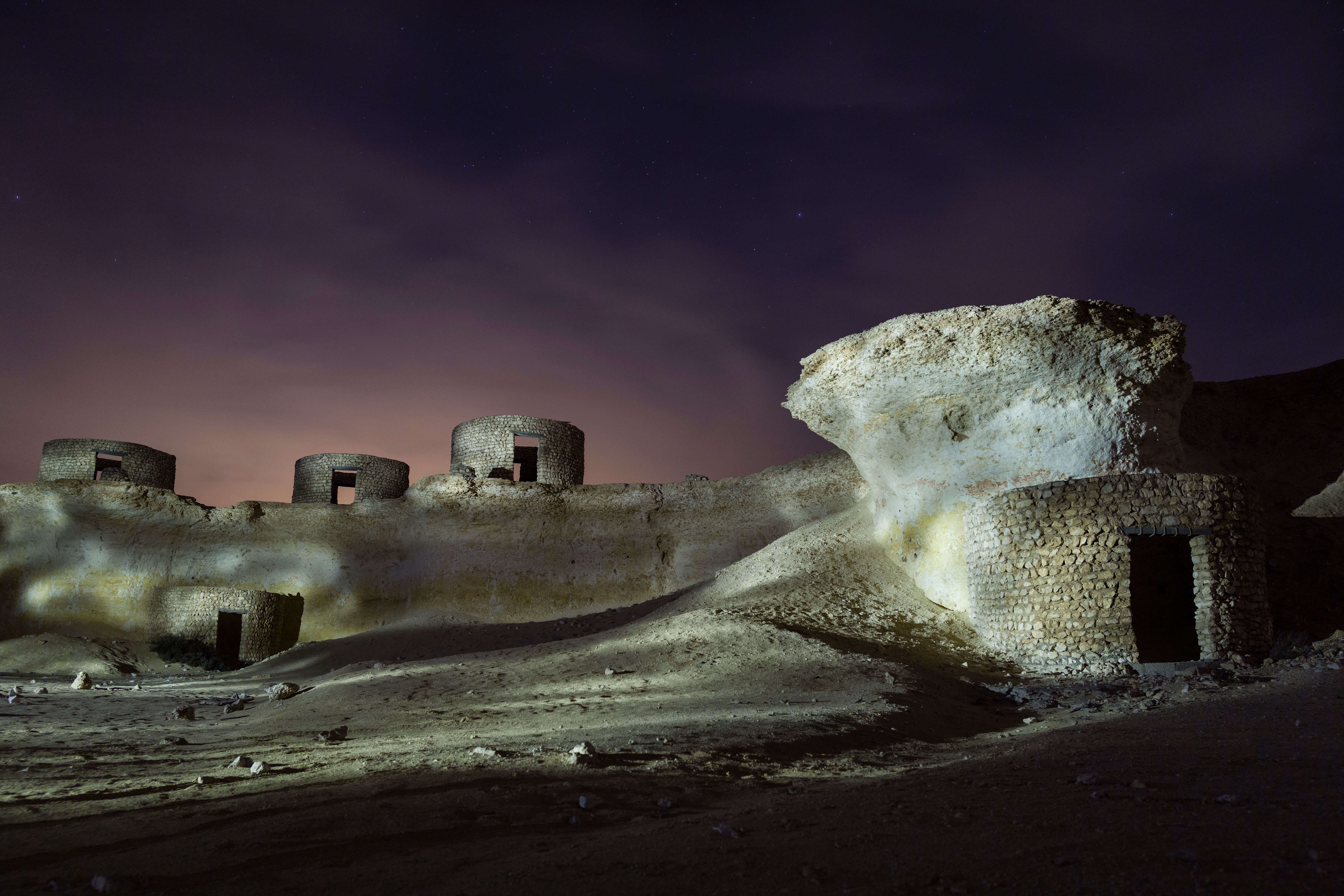 Qatar's Zekreet desert
Visiting the Qatari desert is a must-do
Go deeper
Start the day with a chirpy Saba al khair! (Good morning!) greeting, a glass of the spiced Qatari tea called karak, and a chapati with honey. Chapati & Karak in Katara Cultural Village is a great option.


Disclaimer: As always, check for travel restrictions and closures before planning your trip.
---