The three largest islands are the stars of this year-round Atlantic show. Tenerife, a natural adventure playground, is topped with Spain's highest mountain; its resorts are a dreamy backdrop to a culture swirling around the world's second largest carnival in Santa Cruz. 'Continent in Miniature' Gran Canaria is remarkably diverse with beaches, forest and volcanoes, plus Las Palmas, the Canaries' unrivalled urban star. Fuerteventura is ringed by some of the finest beaches anywhere, its rugged interior perfect for exploration.
The best places to visit in the Canary Islands
Northern Tenerife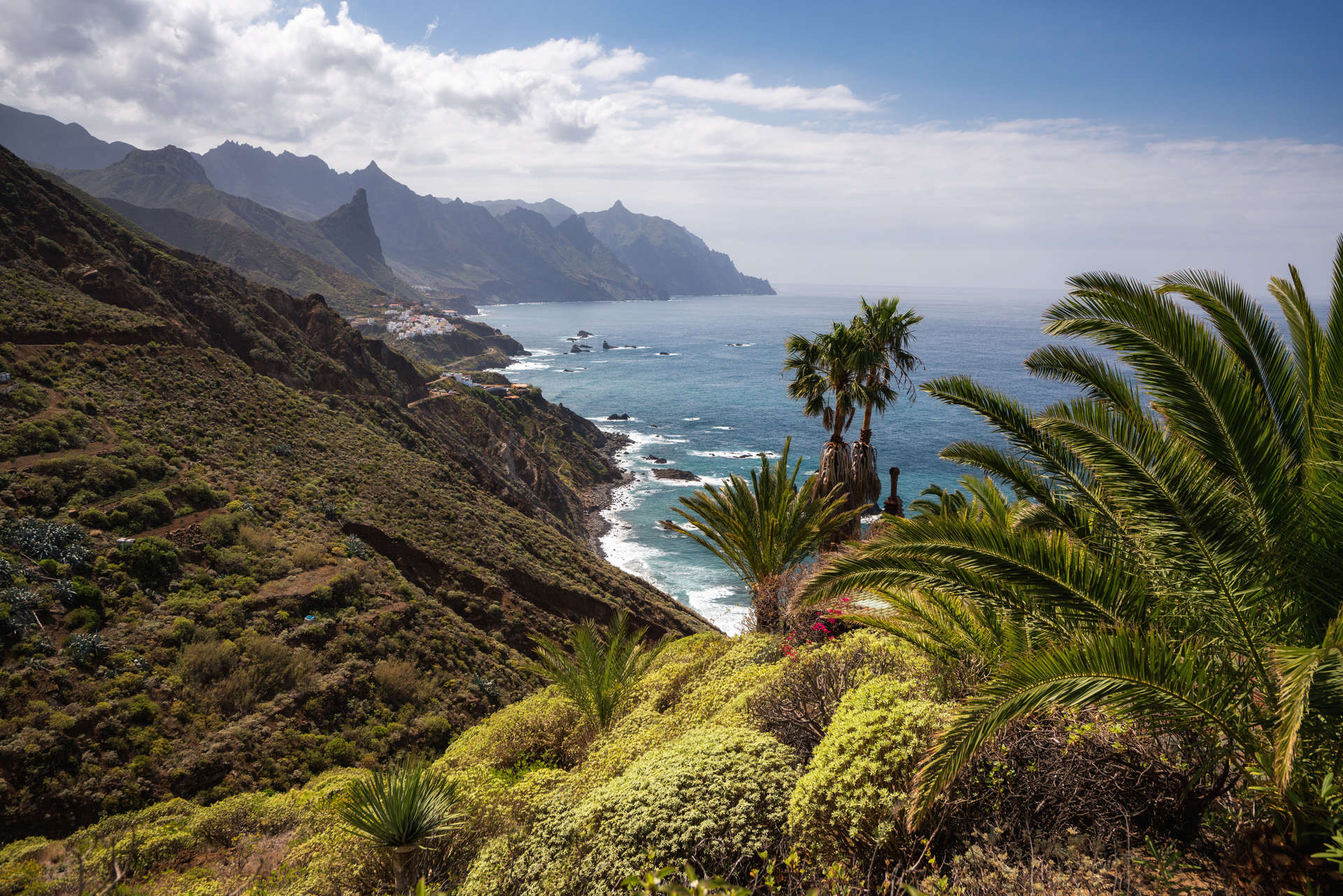 The coastline of Northern Tenerife
The largest and most populous island in the Canary Islands is home to the joint capital, Santa Cruz (which shares capital status with Gran Canaria's Las Palmas), a lively oceanfront city, surrounded by mountains and beach, that hosts the second largest carnival in the world after Rio. Stay at the AC Hotel Tenerife in the heart of Tenerife's cultural hub to enjoy a taste of the carnival vibe and outdoor living strolling the historic La Noria district. One of the best places to visit is the Auditorio, an avant garde waterfront arts venue. Take a tram ride up to the nearby town of La Laguna, whose Spanish colonial-era architecture has it enshrined on UNESCO's World Heritage List.
Southern Tenerife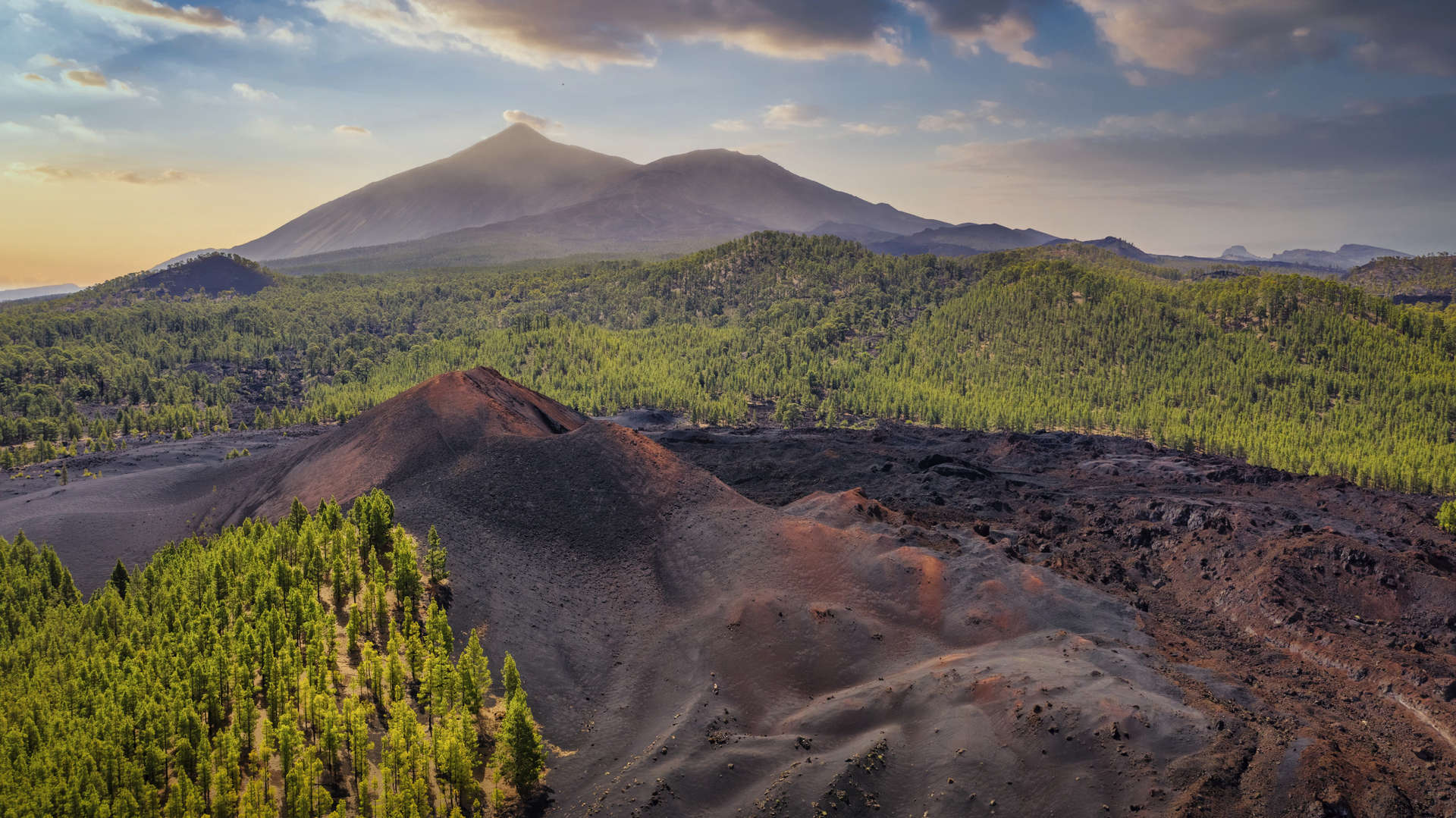 The towering centrepiece of Teide National Park is Mount Teide
Millions of holiday makers seek sun and solace in Tenerife's south and it's easy to see why with a balmy climate and a necklace of luxury resorts sprinkled along the cliff and beach studded shores. The Ritz-Carlton Abama is an ideal base, enjoying its own stretch of coastline outside the main resort strip of Playa de las Americas, Los Cristianos and rapidly expanding Costa Adeje – all linked by a waterfront promenade. All the resort frills tempt, with easy access to the Teide National Park, too.
Gran Canaria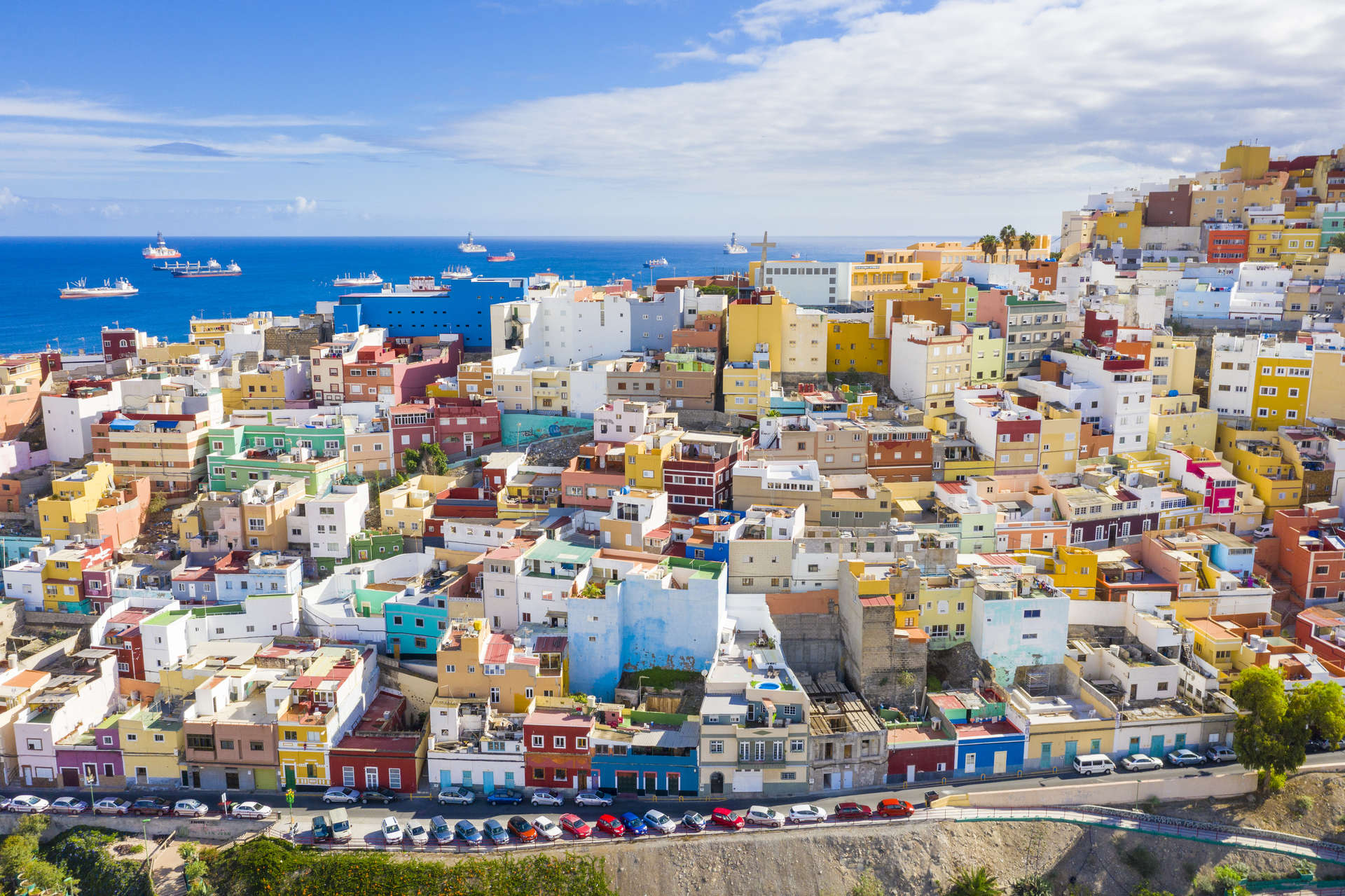 Gran Canaria
Many visitors head to the beach resorts, but the real action is in the island capital Las Palmas. The days are relaxed along the three-kilometre-long Las Canteras beach; the nights are long with tapas bars offering tempting seafood and a welcoming LGBTQ scene. Plan your time from the AC Lounge in the AC Hotel Gran Canaria, the highest bar in Las Palmas, from where you can see the Poema del Mar, one of the world's most impressive aquariums.
The Vegueta old town is rich with cobblestone streets and hanging balconies, little changed since Columbus passed through en route to the Americas. Visit the Columbus House and the vaulting Santa Ana Cathedral. Outside Las Palmas, the Tamadaba Natural Park is a biosphere reserve alive with waymarked hiking trails.
Fuerteventura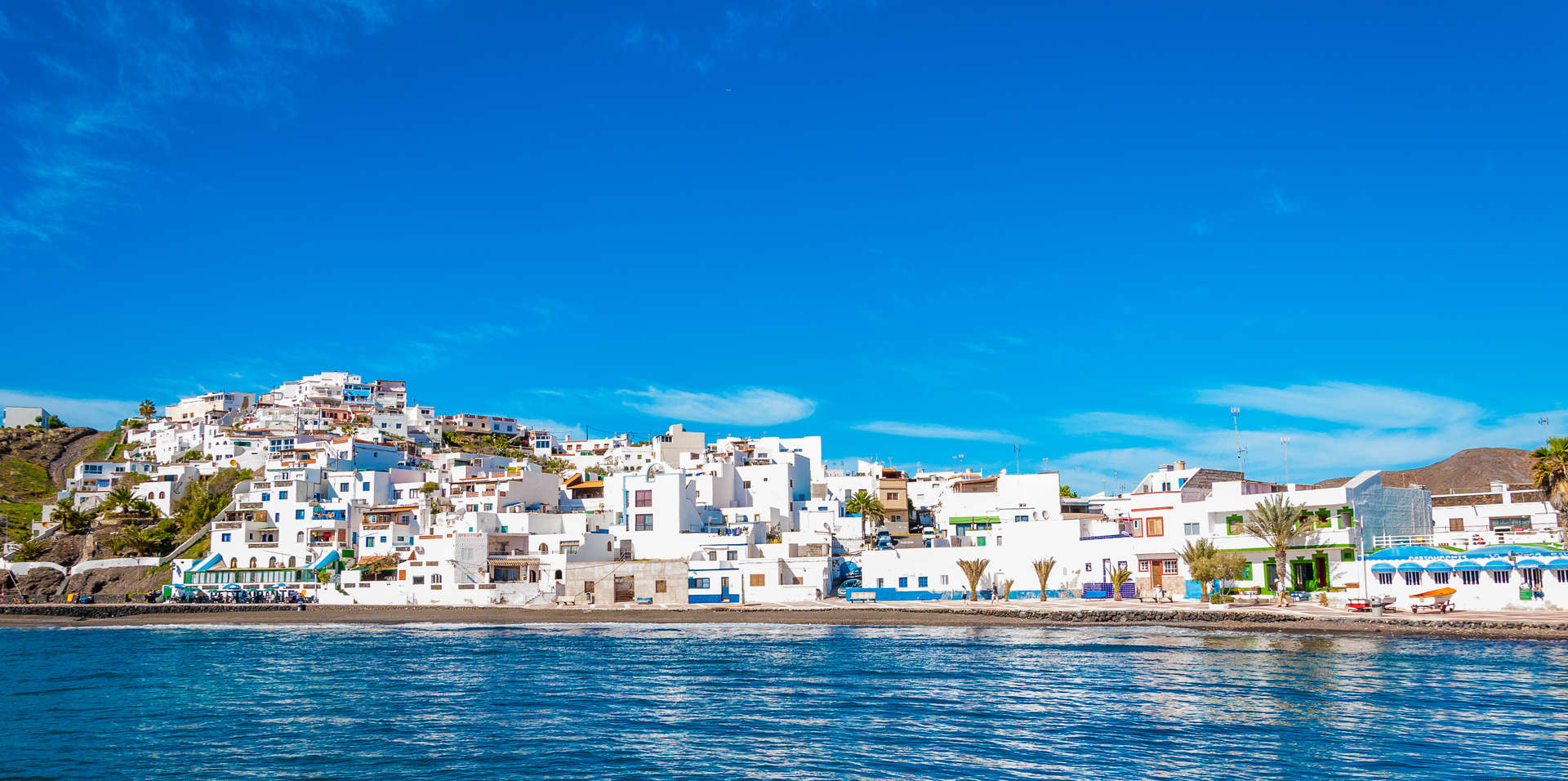 Houses overlooking the coastline in Fuerteventura
The island of Fuerteventura blends brilliant beaches with adventures inland and on the ocean. The Sheraton Fuerteventura Beach, Golf & Spa Resort is ideally located in one of the most popular beach resorts, Caleta del Fuste. The rugged, arid interior is another world, peppered with little villages that could easily be in North Africa, less than 100km away. The north is wild too: surfers and windsurfers will love hitting the waves.
Other Canary Islands
From Sheraton la Caleta Hotel & Spa – one of Tenerife's best places to stay – the volcanic rock of La Gomera is only a 30-minute ferry ride away. Just enjoy the slower pace of life in San Sebastian de la Gomera, or head off on one of the network of hiking trails, including up the 1,487-metre-high peak of Garajonay in the eponymous Unesco World Heritage-listed national park before the return ferry. Lanzarote lies within a 30-minute ferry of Fuerteventura's north, with a day tour of the acclaimed vineyards opening a window into the delicious volcanic Malvasia whites.
What to eat and drink in the Canary Islands
Paella
Seafood is the star with plenty of great places to eat fish and shellfish as the nutrient-rich Atlantic waters haul up a bounty. Don't miss local cerne, a meaty, delicious white fish best grilled simply with garlic. Tajao and Los Abrigos in Tenerife are fishing villages with a choice of restaurants, as is Puerto de las Nieves on Gran Canaria and El Cotillo in Fuerteventura.
Papas arrugadas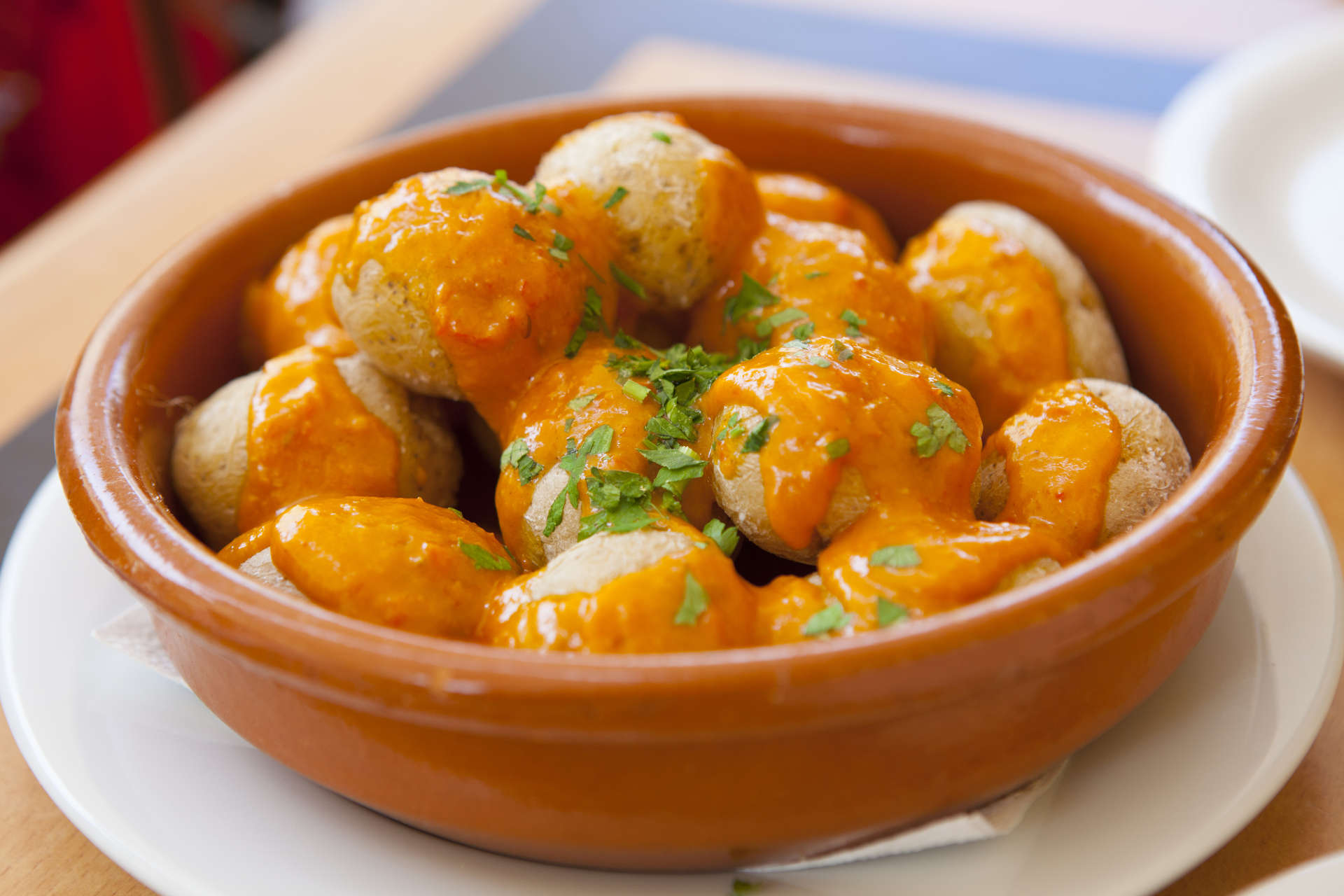 Papas arrugadas
These salty wrinkly potatoes are a simple but utterly moreish dish and are devoured with almost every meal in the Canary Islands. In Fuerteventura at El Faro Restaurant, order grilled fish of the day with Canarian potatoes and four mojos (sauces): the traditional green and spicy red, plus avocado and roasted tomato.
Volcanic wines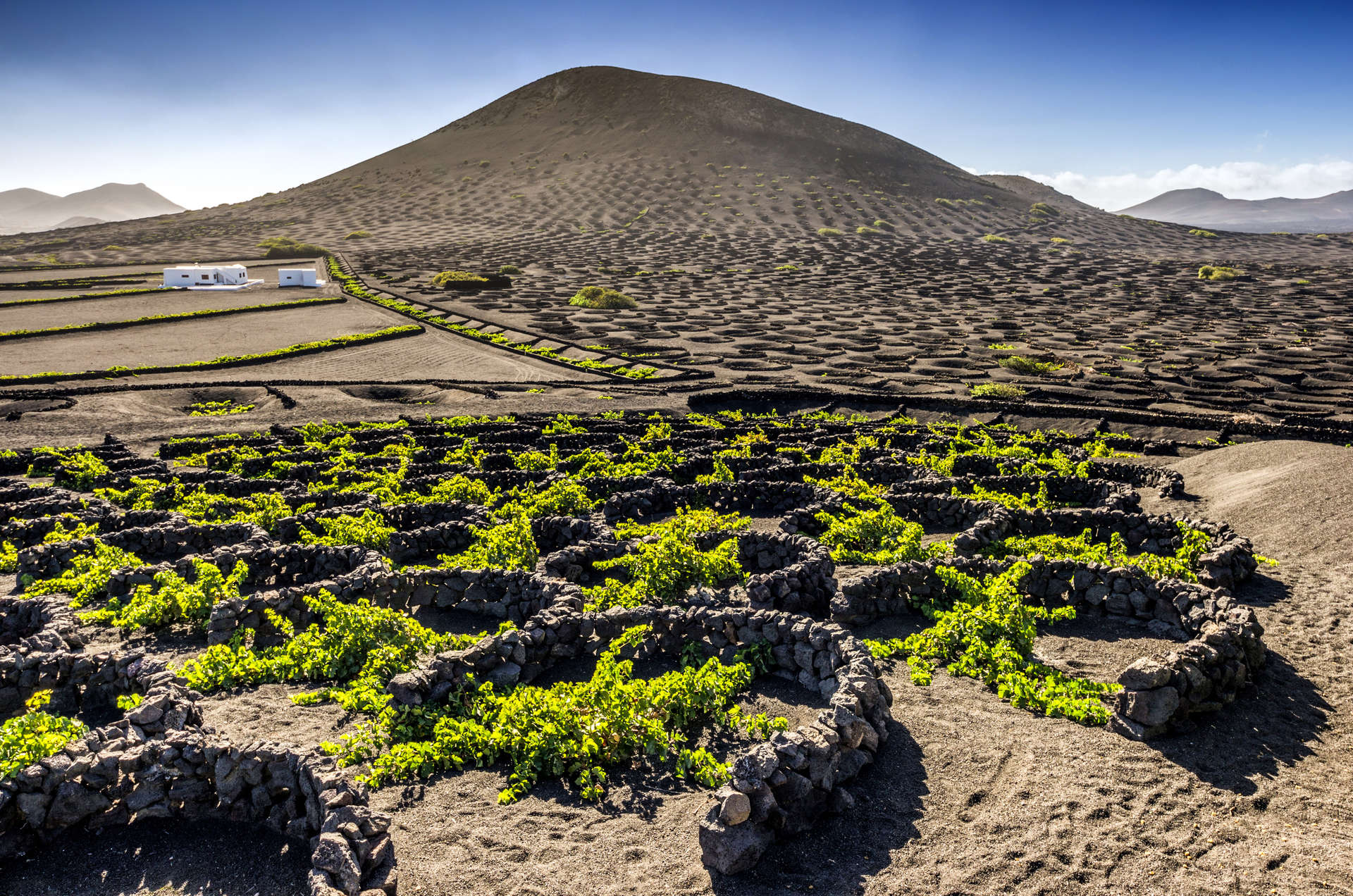 Lanzarote is famed for its volcanic white wines
Over the last decade the quality of Canary Islands wine has both improved and been recognised. Lanzarote is famed for its volcanic whites, but Tenerife also offers Malvasia and Listán Blanco whites. Both Tenerife and Gran Canaria excel with reds, too. Explore wines from across the Canaries as you gaze over Santa Cruz from the rooftop Azotea del 31.
Locally brewed beers
More famous for their wines, the Canaries offer two excellent beers, both dry and refreshing – ideal on a hot day gazing out over the cobalt Atlantic. Tenerife's Dorado sports an image of Teide, while Gran Canaria's Tropical is lighter tasting but equally refreshing. Look out for emerging smaller craft brewers, too.
Majorero
You'll savour superb artisan cheese all over the Canaries, none finer than Fuerteventura's Majorero, a tangy fine cheese made from the unpasteurized milk of Majorera goats. The parmesan-like almogrote cheese paste from La Gomera, paired with bread, is one of the dishes to try throughout the archipelago.
Michelin-starred dining
It's all about Michelin stars on Tenerife – no wonder mainland Spanish foodies flock south for epicurean adventures. Tenerife houses a remarkable six Michelin stars; three of them are handily housed in the Ritz-Carlton Abama. Chef Erlantz Gorostiza – inspired by the vision of Martín Berasategui – cooks up a two-Michelin star Basque storm at M.B, backed up by Kabuki's Michelin-worthy Japanese fusion.
Hidden gems in the Canary Islands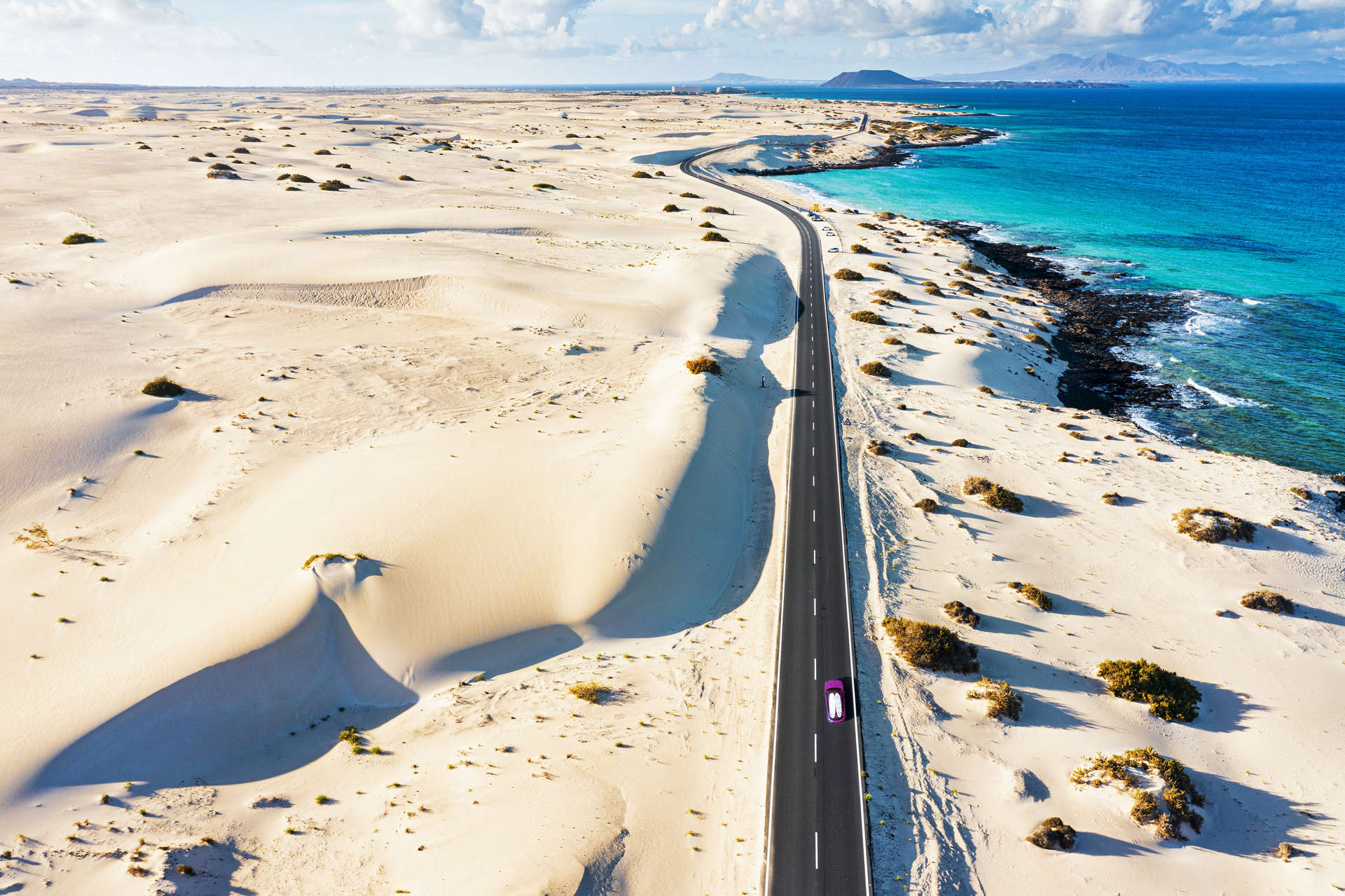 The hike from Corralejo to El Cotillo sruges along the volcanic coast exploring empty coves and beaches
Veer away from Tenerife's crowds hiking in the Teno Mountains, snacking on homemade cheese in the remote villages en route to Parque Rural de Teno. While visitors flock to the resort beaches, locals ease to El Medano for beaches, a cooling breeze and tapas in a waterfront bar. There are a brace of low volcanoes to hike up, too.
One of the most enjoyable alternative things to do on Gran Canaria is head west of Las Palmas out to Puerto de la Nieves. A sprinkling of seafood restaurants dot the waterfront so settle in for dinner and watch the Tenerife-bound ferry sail past. Afterwards unspoiled Agaete next door offers a slice of Canarian life.
A unique activity on Fuerteventura is to drive to Vega de Río Palmas, then hike down the Barranco de las Peñitas. You'll come across a little visited (outside the annual pilgrimage) Hermitage, massive boulders and the greenest parts of this arid island descending down to the beach at Ajuy. The hike from Corralejo to El Cotillo is another alternative gem, surging along the volcanic coast exploring empty coves and beaches.
Go deeper
It's well worth using the informal Spanish for hello (hola) with a smile entering bars, cafés or shops; adios (goodbye) as you leave with a wave. Any use of Spanish is appreciated, but you'll impress even more if you learn the local dialect.
Bubbling under the Spanish mainland influences is an indigenous Guanche culture that at times seems lost. It isn't. It lives on, especially in Tenerife, where you can access it through the guachinches, informal pop-up restaurants, often at vineyards and farms where you can try out ultra-local produce – look out for scrawled road signs or ask at your Marriott Bonvoy hotel for advice on where to find them.
Published: July 26, 2022