Waves lapping against the shores of idyllic coves, craggy mountains rising skywards and small boats bobbing gently on crystal-clear waters – the Greek islands offer near-endless variations on such picturesque scenes. Add a sprinkling of ancient temples, hiking paths criss-crossing hillsides strewn with wild thyme and oregano, a myriad of tavernas serving up mouth-watering seafood, and multiple watersports options – and you have all the ingredients for a perfect holiday. Below are highlights from just some of Greece's 227 inhabited islands, divided into four of the major island groups, plus one-of-a-kind Crete.
The best islands to visit in Greece
The Argo-Saronics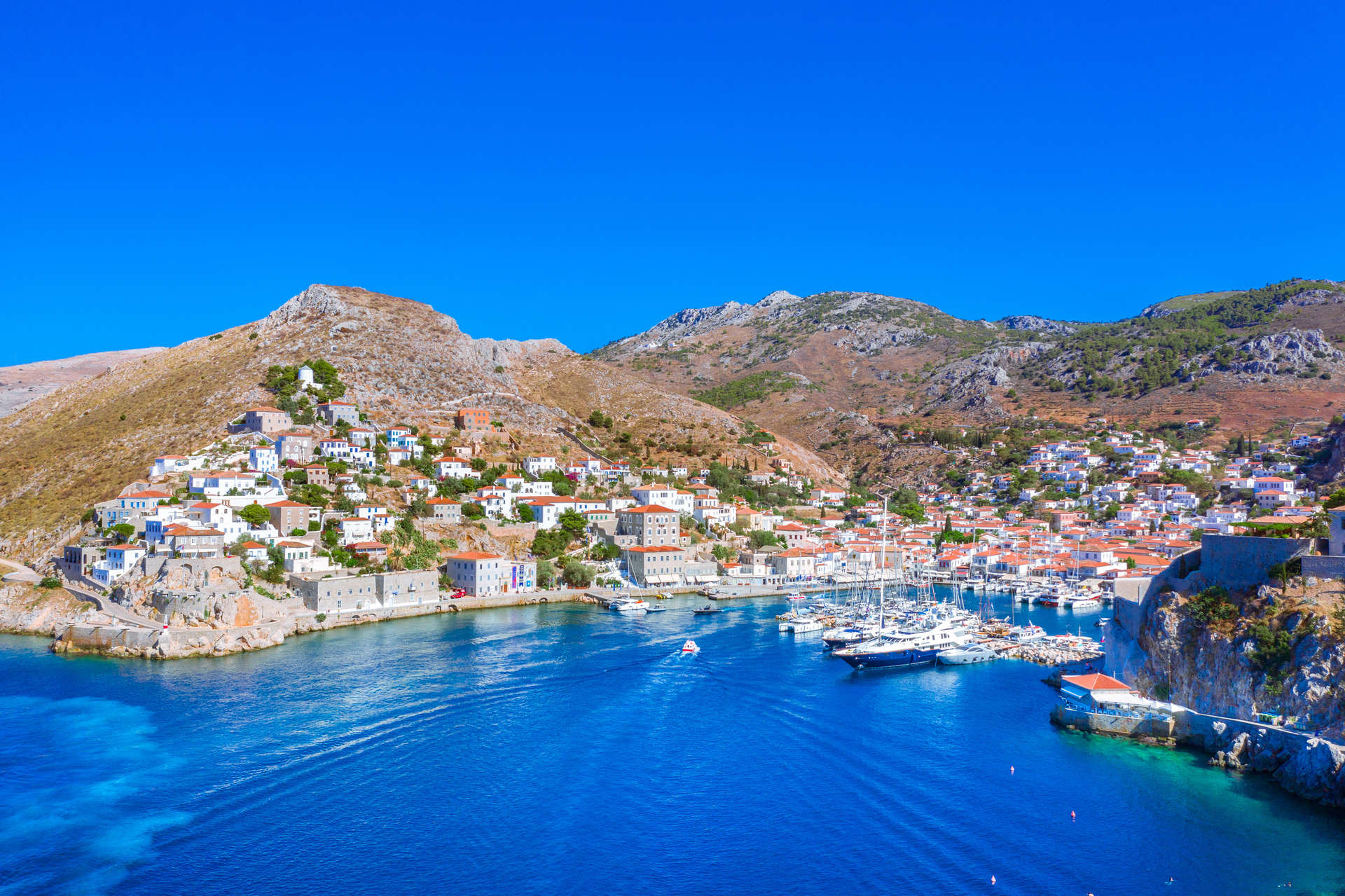 The picturesque port-side town of Hydra – one of the most appealing of the Argo-Saronics – fans up a steep hill and is listed as a National Monument (Photo: Getty Images)
Lying between Athens and the northeast coast of the Peloponnese, the Argo-Saronics are the closest island group to Greece's capital, which means they can even be visited on a day trip if time is short. The ultimate base for such a venture is the iconic Hotel Grande Bretagne, a Luxury Collection Hotel, Athens. The largest and closest of the archipelago is Aegina, famous for fresh pistachios and the imposing Temple of Aphaia, which offers panoramic views in all directions.
One of the most attractive islands is Hydra, whose picturesque port-side town fans up a steep hill and is listed as a National Monument because of its splendid grey stone mansions and red-tiled houses. An added bonus is that the entire island is traffic-free and thus ideal for hiking. Of the other two islands, Spetses also boasts some impressive architecture, including the Bouboulina Mansion, the house of the eponymous heroine from the War of Independence, now a museum full of Bouboulina's personal artefacts. The beautiful building features a delicately carved wooden ceiling and attractive arched colonnade.
The Cyclades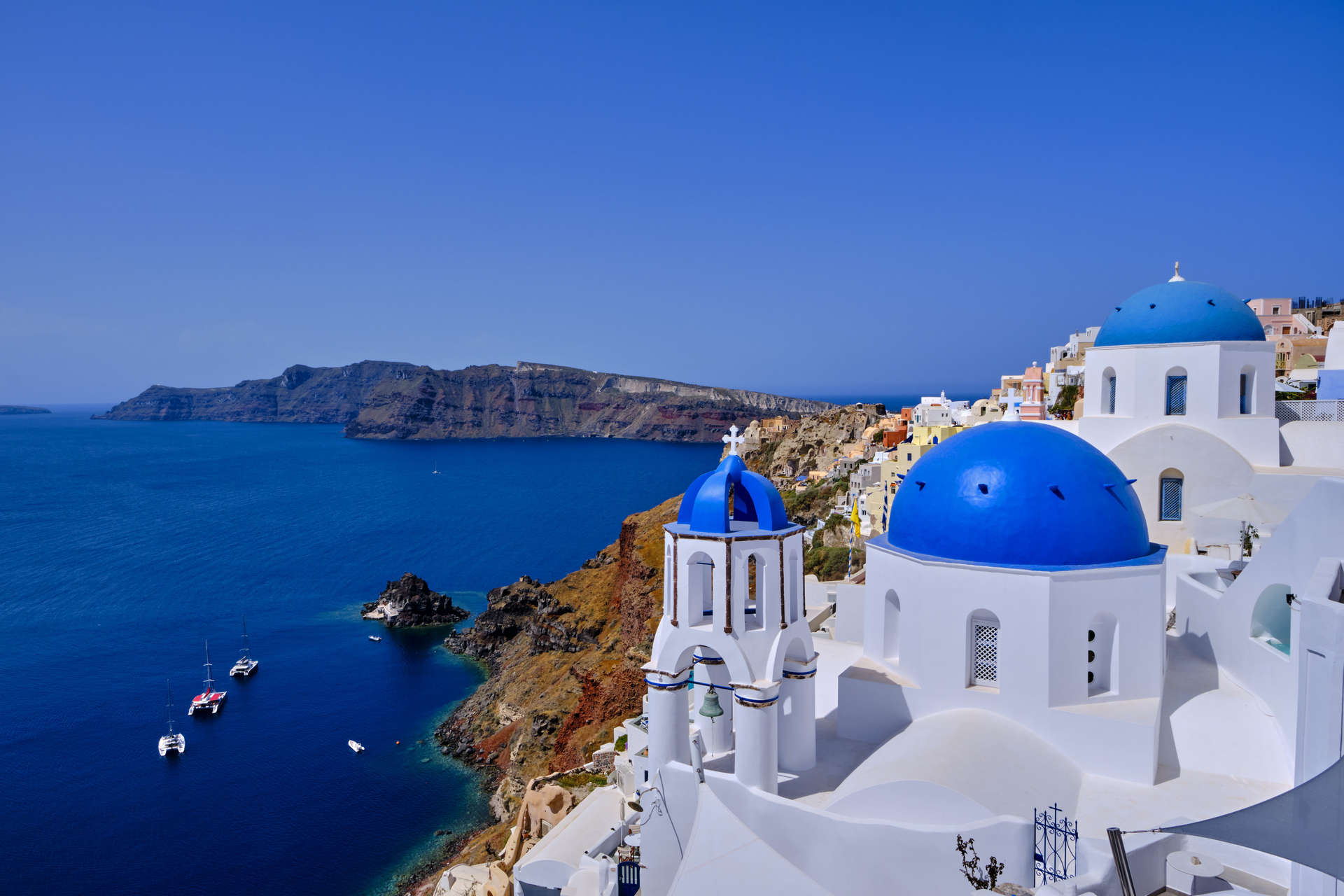 The curved west coast of Santorini is dotted with whitewashed houses and blue-domed churches (Photo: Getty Images)
The sprawling Cyclades offer extraordinary diversity, from peaceful islets such as Schinousa or Koufonisi to buzzing jet-setter haunts like Mykonos, where you can stay at the scenically located Santa Marina, a Luxury Collection Resort. Famous as much for its nightlife as for its white windmills, Mykonos is the base for visiting the wonderful Sanctuary of Apollo on nearby Delos. Centrally located Paros offers a pleasant mixture of beach resorts and attractive inland villages, as well as the ancient church of Ekatondapyliani, founded in 326AD. With an idyllic setting in the whitewashed village of Naoussa, Cosme, a Luxury Collection Resort, Paros is one of the best places to stay on the island. Paros' smaller, increasingly fashionable neighbour Antiparos is just a short boat ride away. 
There's stunning scenery on Santorini (ancient Thira), whose curved west coast, dotted with whitewashed houses and blue-domed churches, faces two still-active volcanic islets. Called Nea Kameni and Palea Kameni (kameni means 'burnt'), their volcanic nature is responsible for both Santorini's unique shape and its black-sand beaches. Vedema, a Luxury Collection Resort, Santorini is tucked away within the medieval village of Megalohori, and incorporates a 400-year-old wine cellar and a 100-year-old mansion into its architecture. Occupying a beautiful swathe of waterfronts Mystique, a Luxury Collection Hotel, Santorini, is carved spectacularly into the rugged Caldera cliffs of Oia, according to Cycladic architectural principles.
The Ionians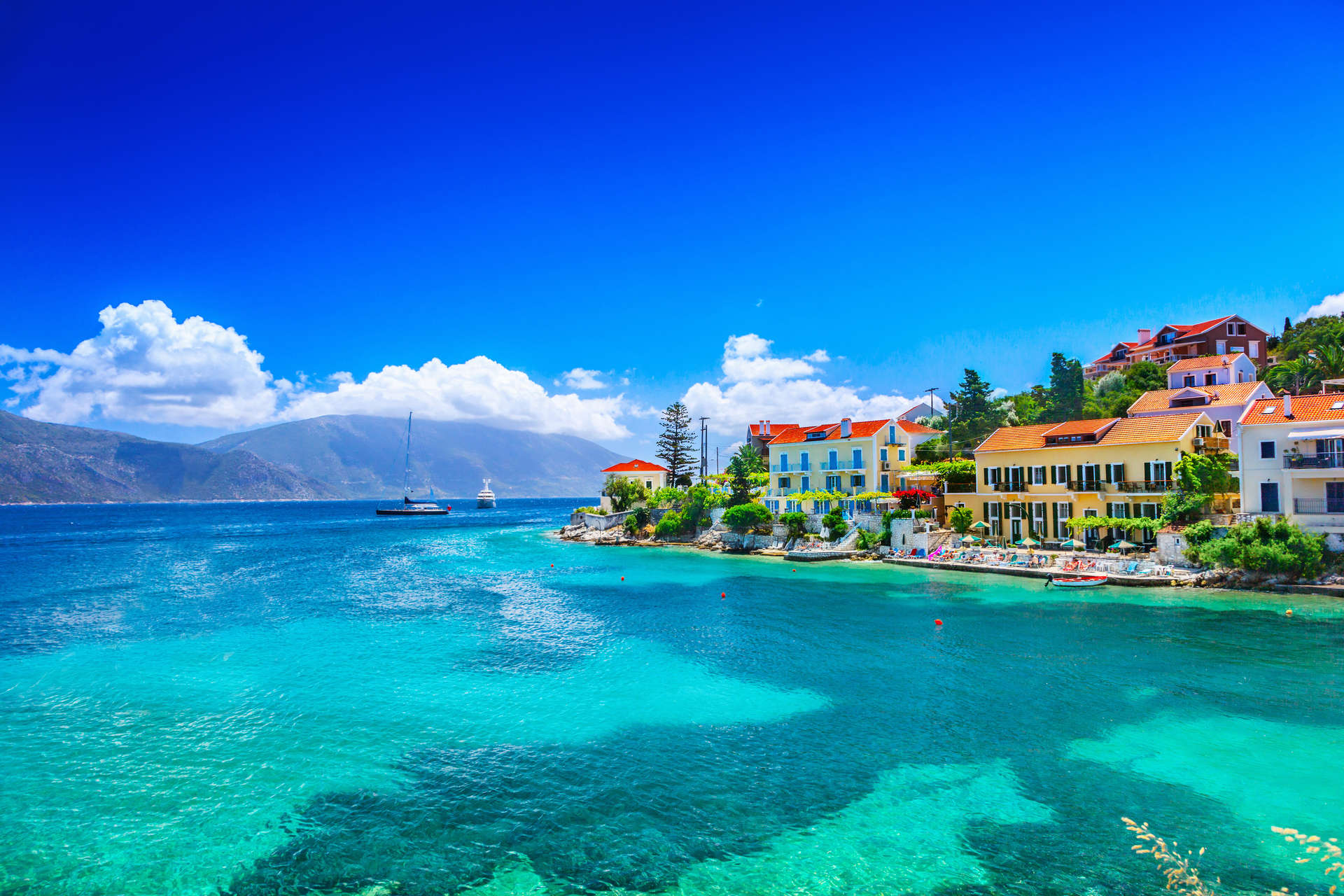 Beautiful Kefalonia is the largest island of the Ionian group (Photo: Getty Images)
The Ionian islands offer mesmerising vistas of turquoise waters turning deep azure as they stretch west towards Italy. One prime spot for such views is the northwest coast of Corfu, whose imposing capital town contains the fascinating Byzantine Antivouniotissa Museum and, ten kilometres south, the quirky Achillion Palace. You can stay at the delightful seafront Domes Miramare, a Luxury Collection Resort, Corfu at Moraitika. On the opposite coast, at Glyfada, Domes of Corfu, Autograph Collection is another stylish and comfortable option.
Further south, Kefalonia is the largest island of the group and has stunning beaches such as Myrtos and Petani. 
The Dodecanese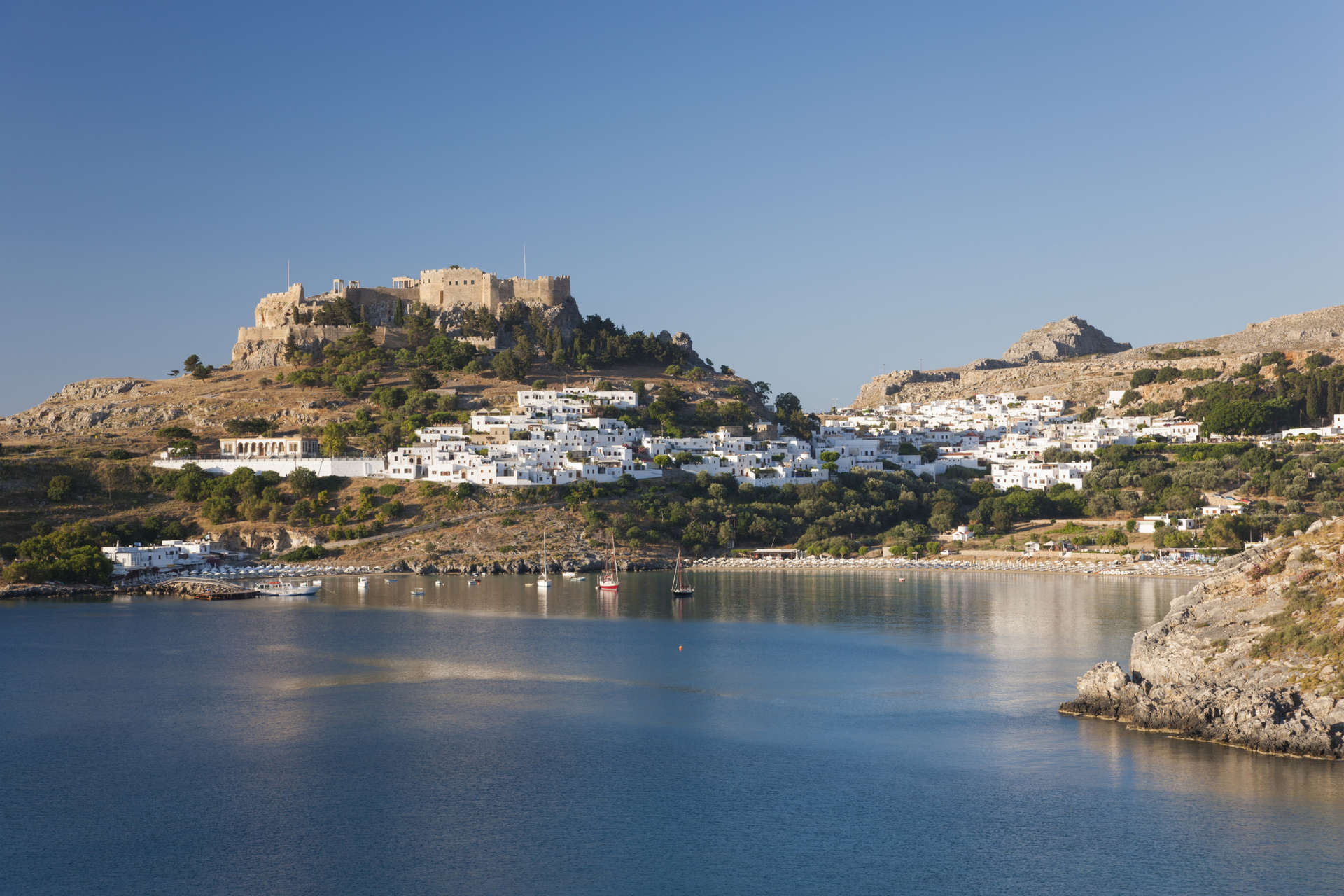 The imposing ancient acropolis at Lindos sits on a lofty perch on Rhodes, the largest of the Dodecanese chain (Photo: Getty Images)
The largest and most visited of the Dodecanese chain is Rhodes, whose enchanting Old Town is one of the best-preserved medieval walled cities in the entire Mediterranean. Its cobbled alleys are full of shops, cafés and restaurants, while not far away you can stay at the attractive Sheraton Rhodes Resort. Prime attractions elsewhere on the island include Petaloudes (Butterfly Valley), a verdant patch teeming with Jersey tiger moths from June to September, and the imposing ancient acropolis at Lindos.
North of the flat, elongated tourist island of Kos, mountainous Kalymnos is renowned for its sponge-diving industry. The Municipal and Folklore Museum at Pothia on Kalymnos focuses on the sponge-diving industry, and the harbour front is lined with shops selling high-quality sponges. Delightful Patmos, meanwhile, contains the cave where St. John is said to have seen the Revelations within the Apokalypsis Monastery.
Crete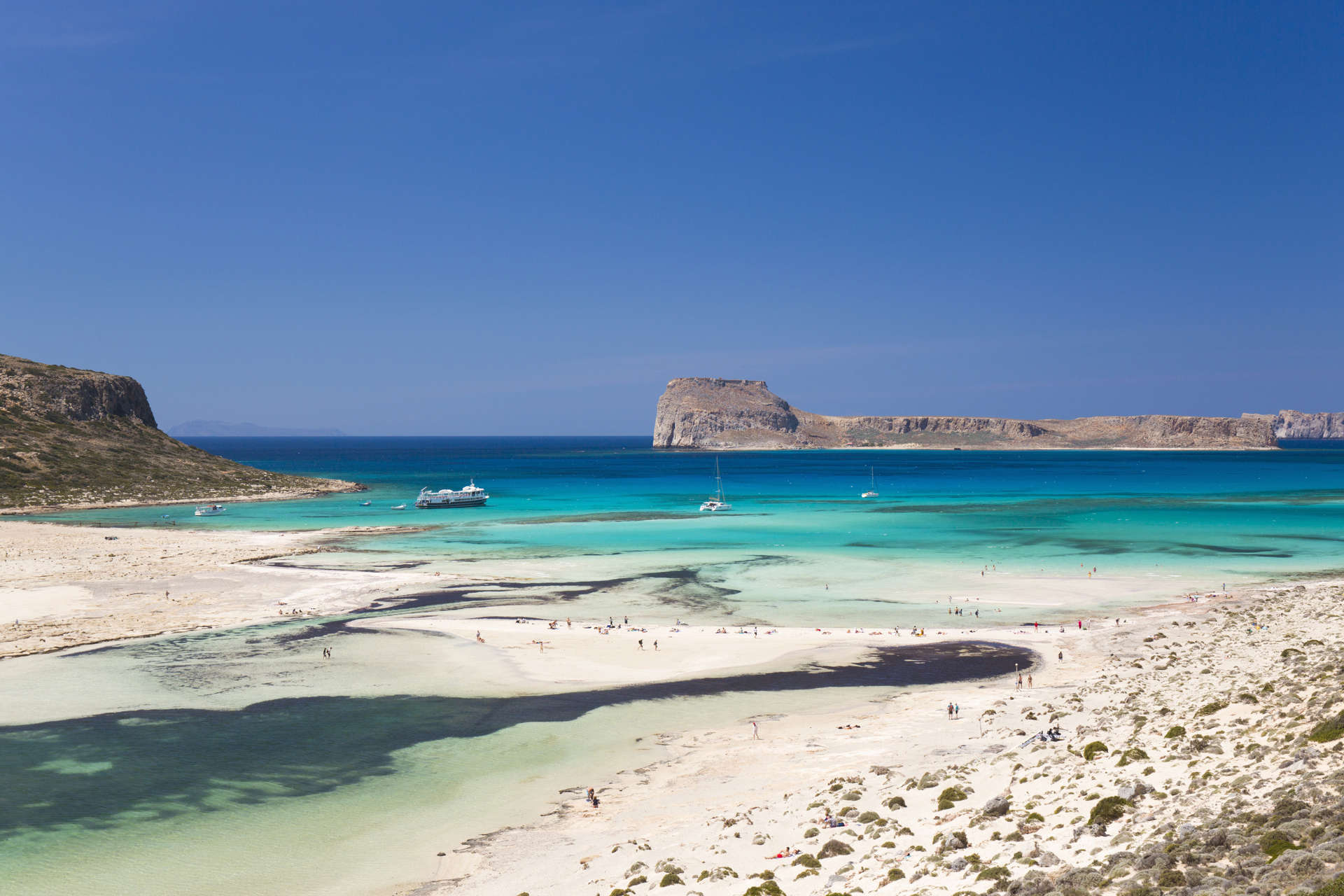 Walk barefoot over the white sands of Crete's Balos Beach, gazing out at the lagoon's turquoise waters, for a travel experience to remember (Photo: Getty Images)
Greece's largest island Crete offers hundreds of beaches, the towering White Mountains, multiple ancient sites, several sizable cities and its own traditions in music, wine-making and olive-harvesting. Just outside its busy capital Iraklio is the incredible ancient Minoan palace of Knossos, preserved by the volcanic explosion of Thira around 1500 BC, while further inland lies the Palace of Phaistos. 
To the west, the most scenic old town can be found at Chania, where you can stay at the Domes Zeen Chania, a Luxury Collection Resort, Crete. From here you can easily reach the steep Samaria Gorge and embark on one of Europe's most scenic hikes. At the eastern end of the island, the palatial Blue Palace Elounda, a Luxury Collection Resort, Crete is a superb place to base yourself for explorations of the wonderful beaches around Ierapetra, Vaï and Zakros, where there is another Minoan palace. The resort also offers unique views of UNESCO-protected Spinalonga Island.
What to eat and drink in the Greek Islands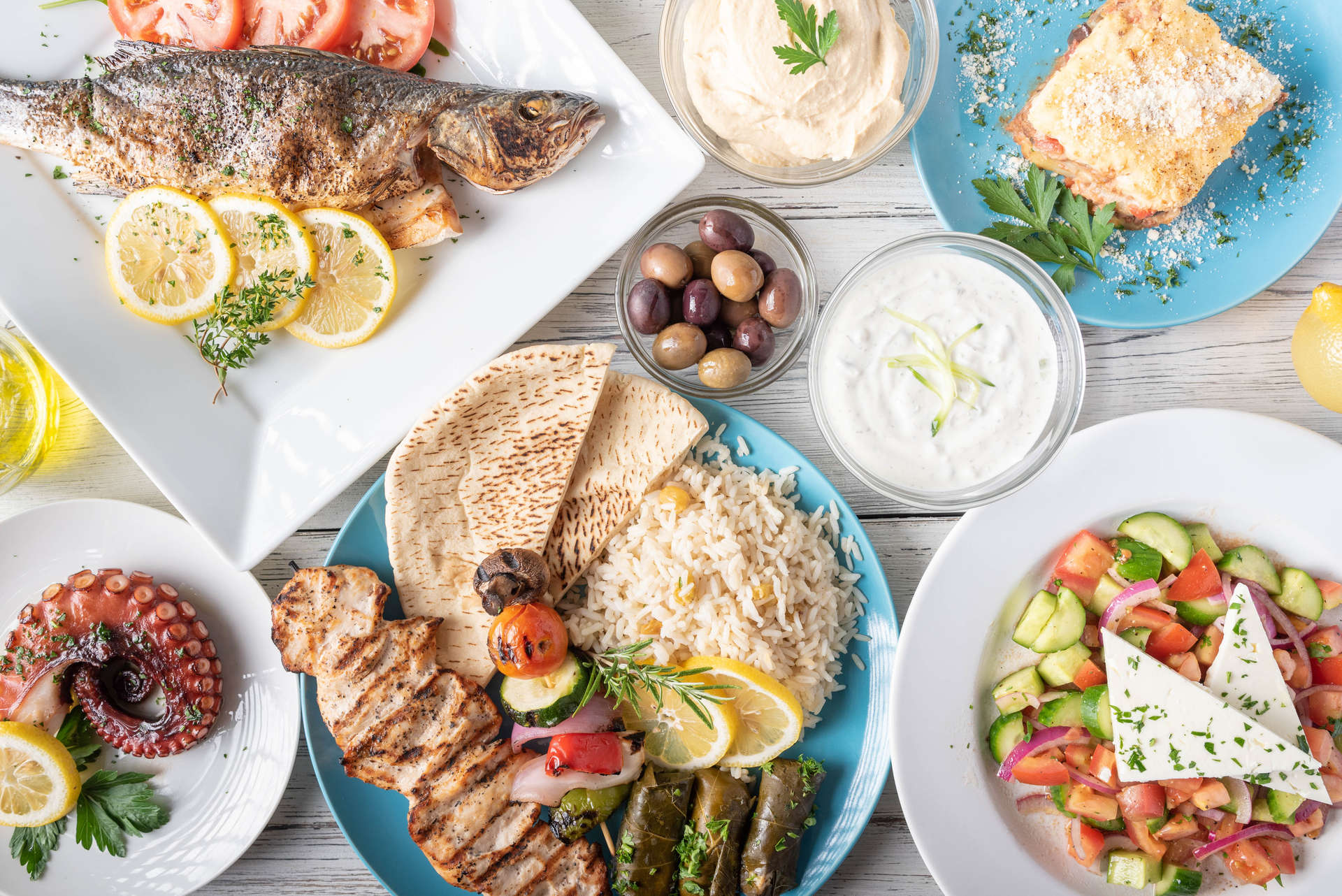 You'll encounter many of the classic Greek dishes when visiting the islands, but be sure to enquire about local specialities, too (Photo: Getty Images)
There are certain dishes that you'll see throughout the islands – classics such as taramasalata, tzatziki, dolmades and moussaka – and the ubiquity of the Mediterranean waters means that freshly grilled fish and octopus (which you can still see fishermen tenderising on beachside rocks) are on menus everywhere.
But from island to island, there are also lots of local specialities to sample. Corfu's strapatsada, for instance, is a delicious concoction of eggs fried with tomatoes, onions and sometimes feta cheese. On Crete, lamb stamnagathi is a popular dish featuring sautéed meat served with wild greens in a lemon sauce. In the Dodecanese – particularly on the island of Symi – one unmissable treat is akoumia, a type of deep-fried doughnut with boiled rice and ouzo in the dough, served with sugar or honey on top. Ouzo, of course, is the most famous Hellenic spirit, distilled from the grape pulp left over during wine-making and always strongly flavoured with anise. You might also want to sample the increasingly popular spirit tsipouro, which is like ouzo but (usually) without the aniseed flavour.
When visiting Corfu, a really great place to eat fish and seafood is Boukari Beach, which is one of the finest fish tavernas not just in the Ionian chain but in the entire Greek Islands archipelago. On Kefalonia, check out Kyani Akti restaurant in the capital Argostoli, which dishes up exquisite seafood like razor clams and sea urchins.
Top things to do in the Greek Islands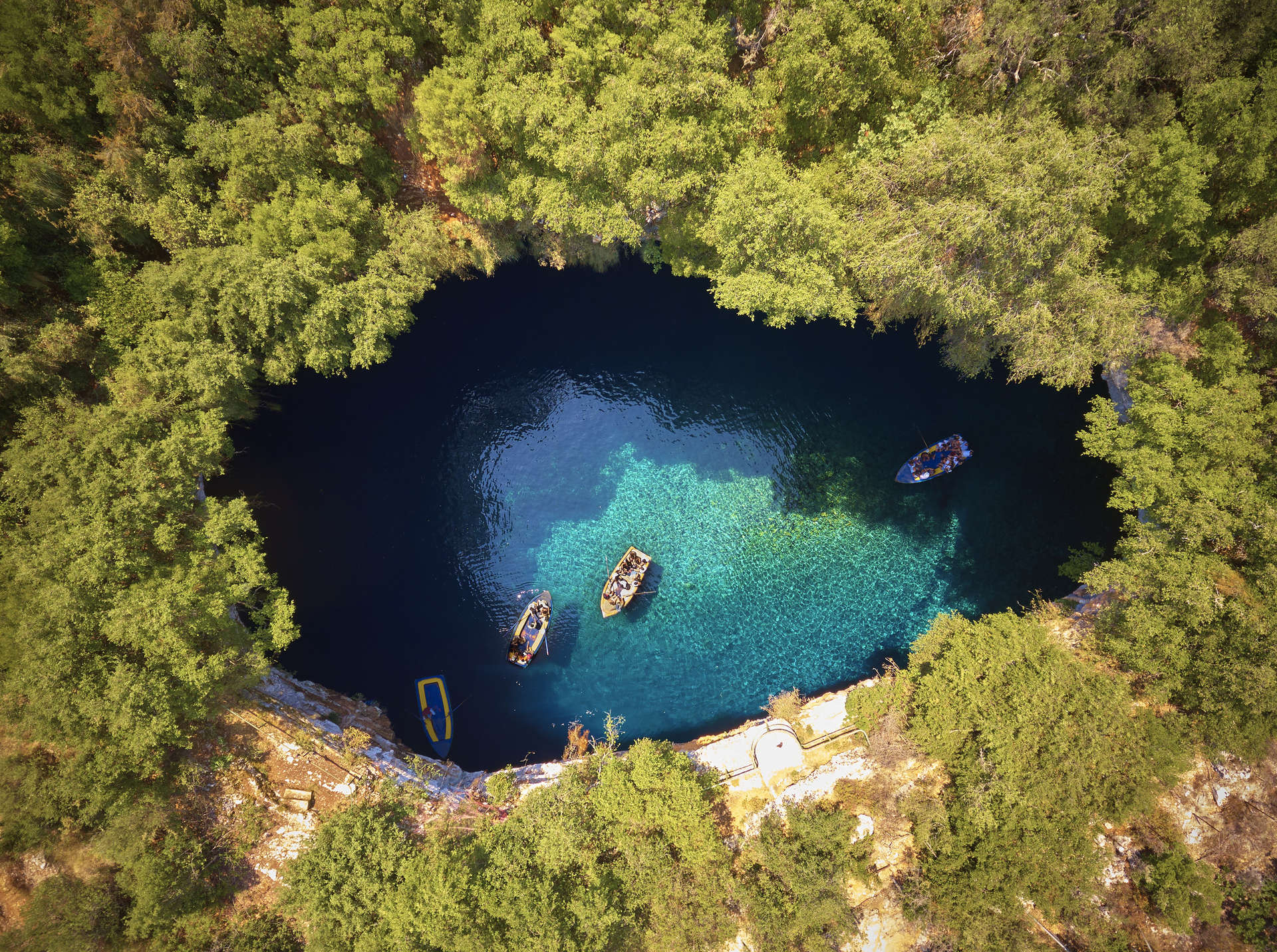 One wonderful experience when visiting the Greek Islands is to take a boat ride into atmospheric Melissani Cave near Sami (Photo: Getty Images)
Watersports are on offer throughout the islands, from windsurfing to parasailing and jet-skiing. There are also numerous hiking options such as the wonderful and clearly marked ten-day Corfu trail.
The coast of Milos island in the the Cyclades archipelago is punctuated by amazing rock formations, which are best viewed on a boat tour. Another unique Cyclades destination is the holy Panagia Evangelistria church on Tinos, which attracts great numbers of Orthodox pilgrims in the same way Lourdes does Catholics. Visiting the church – especially at Easter – is one of the most interesting things to do on the Greek Islands.
When visiting Kefalonia, take a boat ride into atmospheric Melissani Cave near Sami, where much of Captain Corelli's Mandolin was filmed.
Part of the Ionian islands, mountainous Ithaki is famed in mythology as the home of Odysseus. To the south of Ithaki is Zakynthos island, where you can visit the huge historical Museum of Zakynthos and take a boat trip to the beautiful Blue Caves and iconic Shipwreck Bay.
Hidden gems in the Greek Islands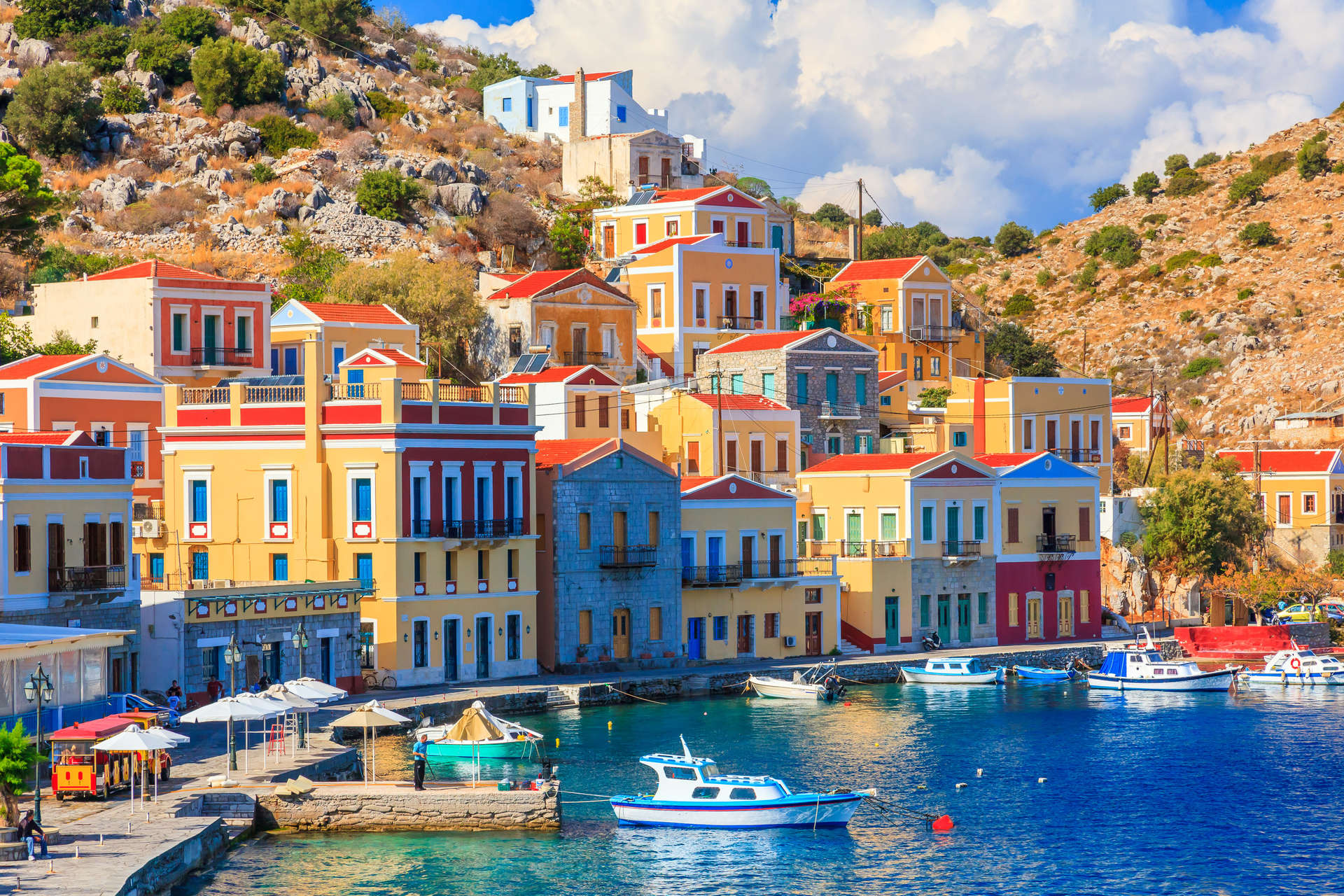 Colourful Italianate mansions rise up the steep hills of Symi's picturesque town (Photo: Getty Images)
Owing to its proximity to Athens, Aegina is one of the most popular Argo-Saronics islands, but its tiny neighbour Agistri is a real hidden gem, with a couple of lovely beaches that can be crossed on foot in around an hour. 
Islands on the western side of the Cyclades archipelago such as Kythnos and especially Milos tend to receive fewer visitors, so you might just have one of their fine sandy beaches to yourself. 
When visiting the Dodecanese, the island of Symi – which lies just north of Rhodes – boasts a very picturesque town set in a deep bay, with Italianate mansions rising up its steep hills, while the largely empty interior is popular for hiking. In the middle of the archipelago, Tilos offers beaches that few travellers visit, whereas Nissyros is greener than most of the group owing to the rich soil created by the volcano that dominates it.
Go deeper
Apart from high summer and major holiday weekends like Easter, it is invariably fine to turn up and buy passenger tickets for inter-island ferries or services to and from the mainland on the spot. It's only advisable to book in advance if you are taking a vehicle on board.
Published: January 25, 2023
Last Updated: March 03, 2023
Article Tags: Corfu , Crete , Greek Islands , Greece , The Argo-Saronics , The Cyclades , The Dodecanese , The Ionians