Longer days. Cherry blossom and iced coffee. Gorgeous park walks. Sunset strolls along the Thames and alfresco beers. Spring in London is here! As the chill of winter dissipates, the UK capital bursts into a kaleidoscope of colours and fragrances, making it the perfect time to explore all that this vibrant destination has to offer.
See the city in full bloom
Come springtime, London bursts into life (Photo: Getty Images)
London's floral displays are renowned worldwide, and spring is the perfect time to experience them. The Hampton Court Palace Tulip Festival is a must-see, with a spectacular display of 100,000 tulips blooming in the palace gardens. For a more intimate experience, head to the Chelsea Physic Garden, where you can wander through the botanical oasis. For families, there's a chance to inspire children's green fingers and learn about hairy flowers and fuzzy plants at the kids lab.
The end of May gives visitors the opportunity to indulge in the ultimate display of floral artistry at the RHS Chelsea Flower Show. Embrace the latest gardening styles and adopt a few new plant companions along the way. Experience unmatched sophistication at the London Marriott Hotel Park Lane, which keeps you close to all the horticultural action. The hotel's Lanes of London restaurant even offers a 'Botanical Afternoon Tea', featuring indulgent, botanically themed desserts.
Experience Easter in London
At Easter, the iconic St. Paul's Cathedral really comes to life with special services, concerts and exhibitions (Photo: Getty Images)
London presents an abundance of activities to keep you amused during the Easter weekend.
Easter Egg hunts are plentiful in London. One favourite is located in the magnificent 60-acre gardens of Henry VIII's Hampton Court Palace. Scour the lush grounds to uncover hidden treasures in the form of chocolate bunnies and with every discovery, you'll unveil captivating stories that will transport you back in time and enhance your experience of this historic landmark. After your chocolate bunny hunt, relax nearby at London Marriott Hotel Twickenham, a distinctive destination for unforgettable experiences with the whole family.
The iconic St. Paul's Cathedral is always a must, whatever time of year you visit. During Easter, the cathedral really comes to life with special services, concerts and exhibitions that celebrate the Easter season. The cathedral also offers stunning views of London from the Golden Gallery, providing a breathtaking perspective of the city's skyline. 
Rise above it all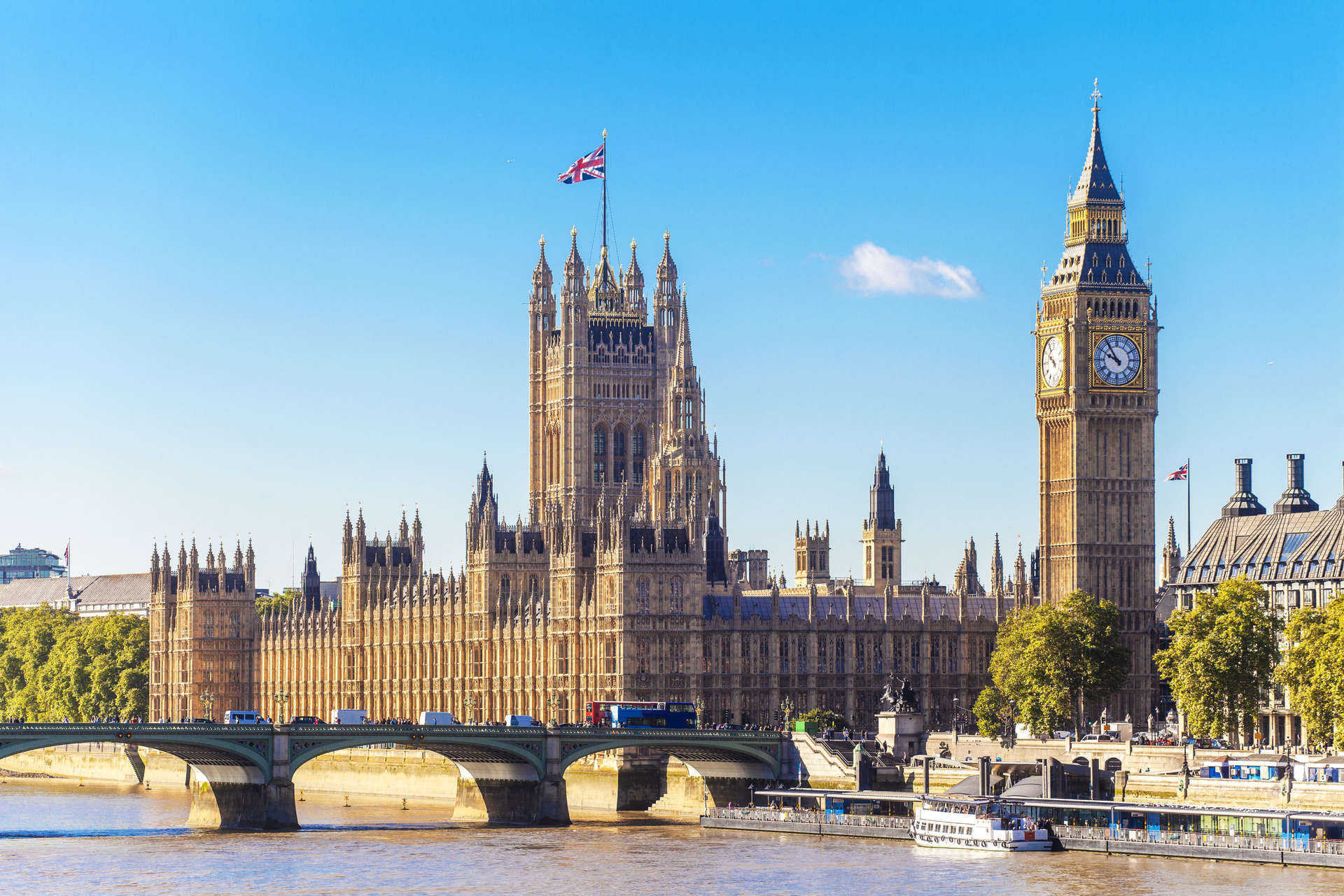 As London begins to enjoy more days of blue-skied sunshine, take time to savour the fantastic views (Photo: Getty Images)
The London skyline is an ever-changing canvas. For some of the best views in the city, dine at one of the incredible restaurants The Shard has to offer. Or, journeying yet higher, visit the 'Walkie Talkie' skyscraper's 43rd-floor viewing gallery, The Sky Garden. Experience an awe-inspiring panoramic vista of the bustling cityscape of London, while immersed in a foliage-filled atrium.
If the search for breathtaking views fuels your explorations, you'll fall in love with the quintessential British charm of the London Marriott Hotel County Hall in Westminster. The elegant suite features a private balcony offering exclusive breathtaking 180-degree view over the London Eye, the River Thames, Big Ben and the Palaces of Westminster. Alternatively, check out The Westin London City, whose riverside location boasts spectacular views over London's historic River Thames. Overlooking Shakespeare's Globe and the striking Tate Modern, the hotel offers incredible panoramic vistas.
Encounter London's rich natural history and wildlife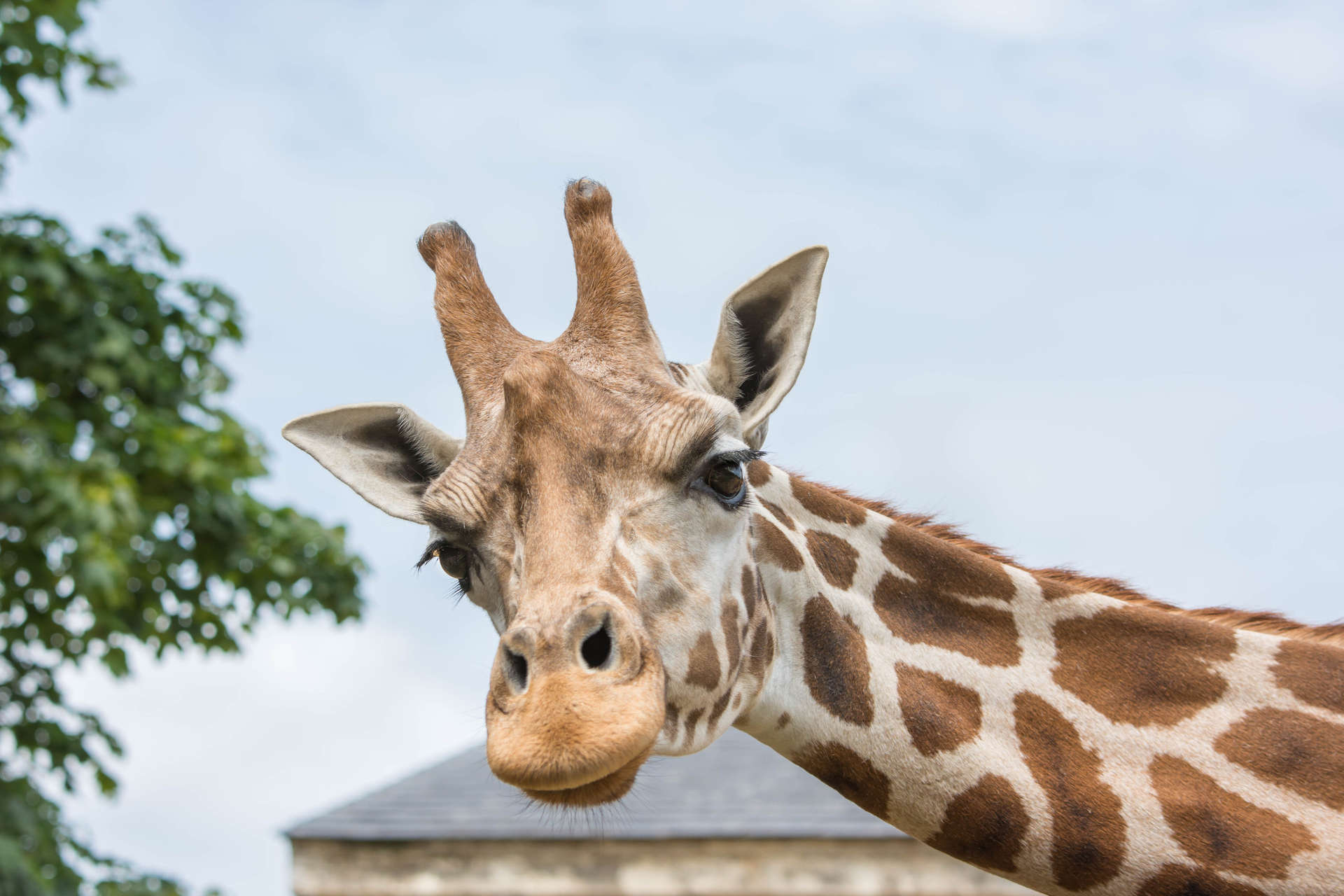 London Zoo's animals are grateful for the arrival of spring, too (Photo: Getty Images)
Unleash your inner adventurer at the illustrious Natural History Museum. Marvel at its awe-inspiring collection of specimens and engage with interactive exhibits that will undoubtedly spark their imaginations. To ensure that you don't miss a moment, bask in the unparalleled comfort of the London Marriott Hotel Kensington, located just a stone's throw away from this iconic destination and many more of London's best-known landmarks, including Kensington Palace, Royal Albert Hall, Hyde Park and the V&A. 
Alternatively, you could swap fossils for the real thing and embark on an unforgettable animal adventure at the world-renowned London Zoo, where you'll be fascinated by an abundance of exotic creatures (698 different species to be exact!) and thrilling activities. The London Marriott Hotel Regents Park is conveniently situated a short distance away from this enthralling attraction. The family-friendly hotel is an ideal base for an exhilarating day out with the family. 
Embark on a Royal affair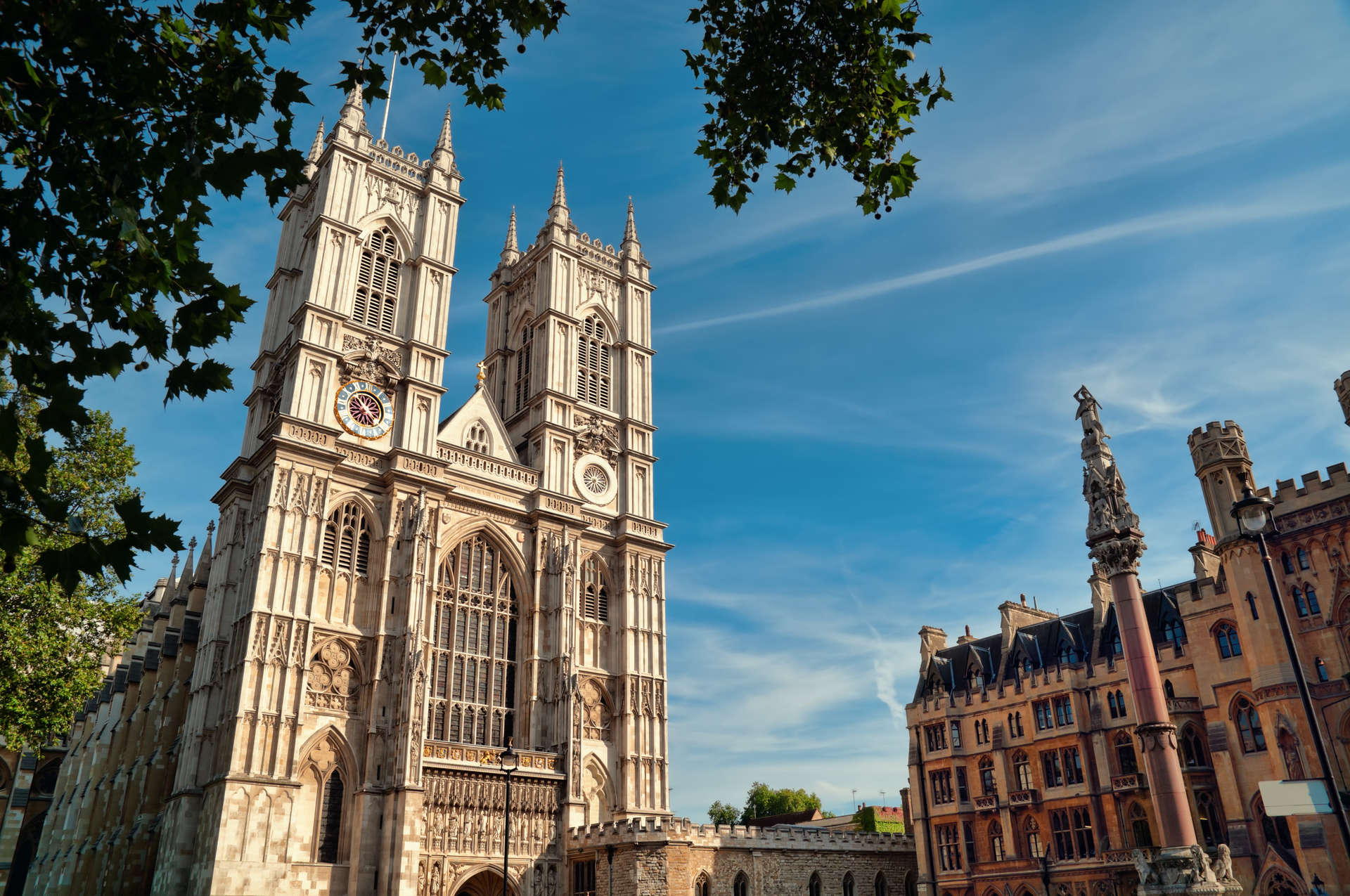 Spring 2023 sees a once-in-a-lifetime event with the Coronation of King Charles (Photo: Getty Images)
If you're in London on the 6th of May, you can experience all the pomp of the King's Coronation at Westminster Abbey – a true once-in-a lifetime experience. Stay at one of the centrally located hotels, like the JW Marriott Grosvenor House London, to be close to all the royal and historic sites. Between 4th April and 11th May, Grosvenor House will commemorate His Majesty King Charles III's Coronation with a limited-edition Afternoon Tea in the Park Room. What better way to celebrate than enjoying a tantalising amuse bouche by their expert pastry team!
Get a Thames-eye view

Take a trip between  Tate Modern and Tate Britain on the Damien Hirst-designed catamaran (Photo: Getty Images)
Arguably London's two most famous art galleries are Tate Modern and Tate Britain – and you can take in stunning views of some iconic London landmarks by journeying across the River Thames between the two of them. To take the trip in suitably artistic fashion, hop on the catamaran designed by artist Damien Hirst, which plies the route to a regular timetable. The Residence Inn London Tower Bridge is a great place to stay after a day visiting Tate Modern and other prominent destinations like Borough Market and the South Bank. Another great option in this part of town is The Dixon, Tower Bridge, Autograph Collection, which occupies a building steeped in history and lies just a few paces from the iconic 19th-century bridge over the Thames.
Satisfy your culinary cravings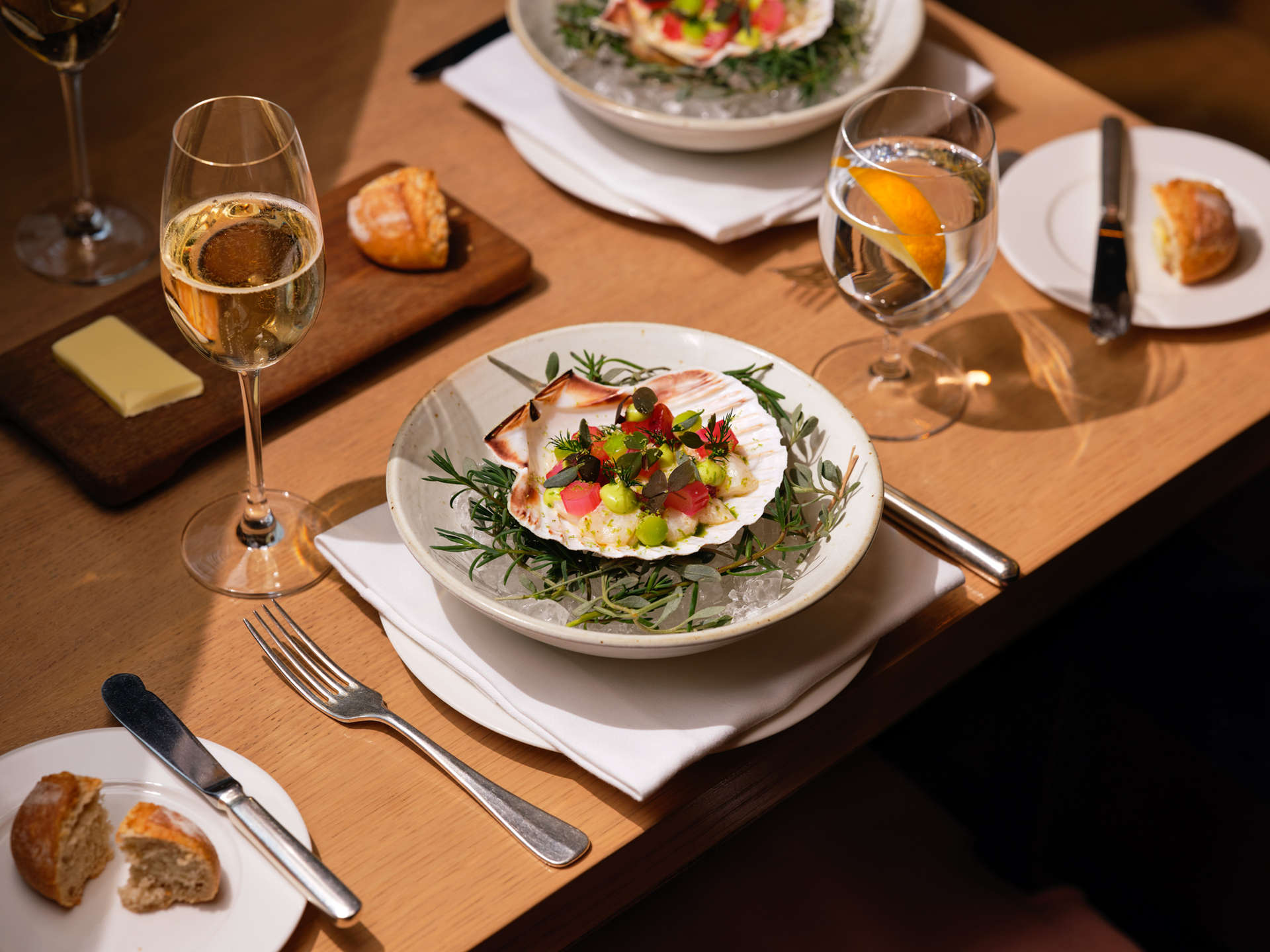 The spring menu at Berners Tavern is a joyous celebration of the season's flavours and ingredients (Photo: Marriott International)
No trip to London would be complete without indulging in a quintessentially British tradition: afternoon tea. The St. Pancras Renaissance Hotel is an excellent choice for this classic experience. Enjoy a selection of finger sandwiches, scones, and pastries, all served with a variety of teas and, of course, champagne. 
If you're looking for an unforgettable dining experience later in the evening, Berners Tavern is among the city's most sought-after dining destinations. With Michelin-starred chef Jason Atherton at the helm, the restaurant offers contemporary British cuisine made with fresh, seasonal ingredients. The dining room, adorned with ornate plasterwork and art curated by creative director Michaelis Boyd, effortlessly blends historical charm with sophistication. 
For those seeking a culinary journey of the senses, visit London Taste Collective, and discover the city's most exciting restaurants and bars.
Walk this way (and that way)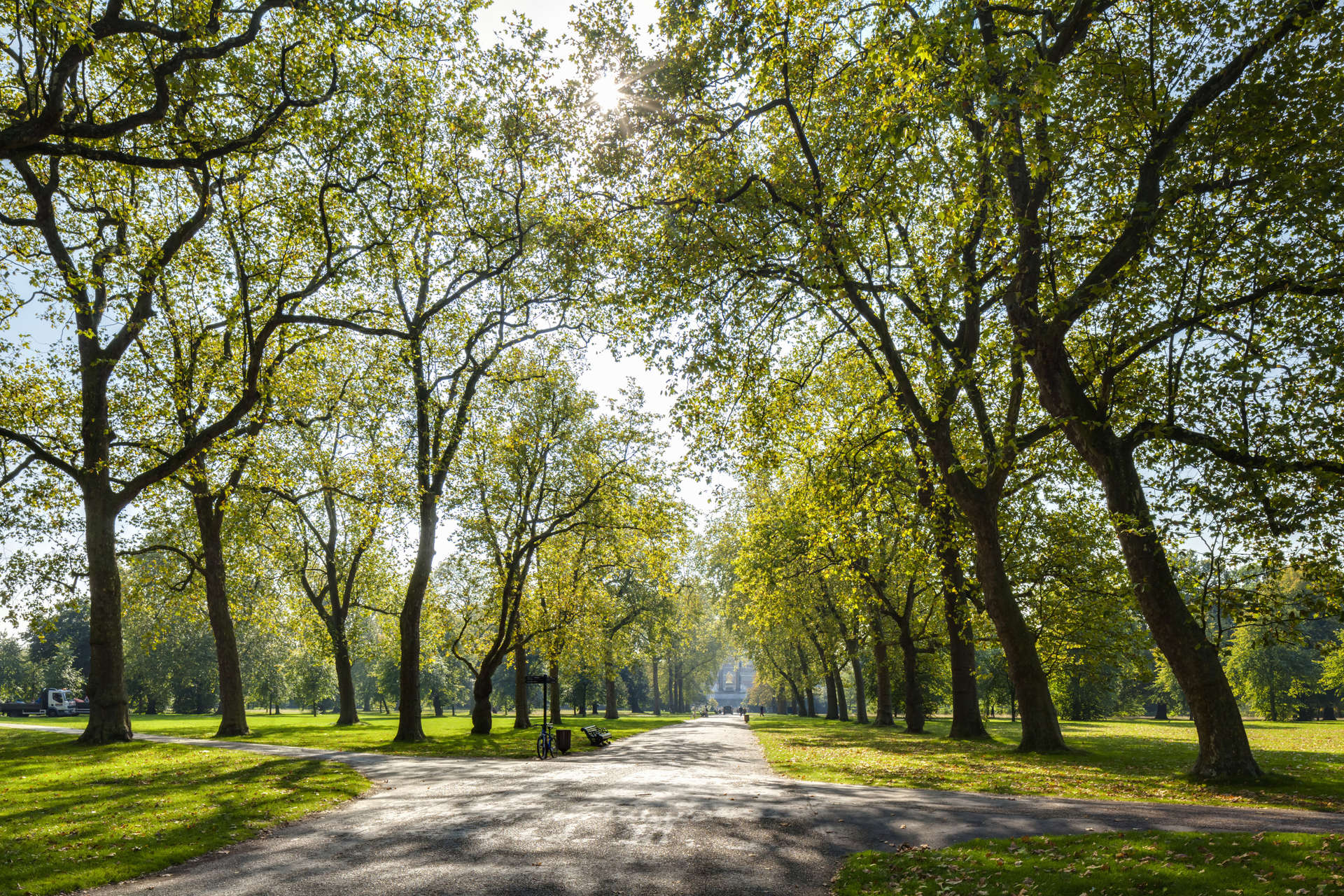 London is a city of hidden corners best discovered and enjoyed on foot (Photo: Getty Images)
With the warmer weather and longer days, it is the perfect opportunity to explore the city on foot. Start your journey in the heart of the city with a stroll through the lush greenery of Hyde Park, an iconic destination that offers stunning views of the city, walking paths, lakes, and gardens.
From there, venture into the trendy neighbourhood of Notting Hill, with its colourful mews and quaint cafes, perfect for a leisurely day of exploring. Art and culture lovers can make their way to the South Bank, home to world-famous museums, galleries, and performance venues. With so much to discover, London is a city that's best experienced by foot.
Published: March 30, 2023
Last Updated: March 31, 2023
Article Tags: Spring , London , United Kingdom