Today, new and inventive ways to travel from point A to point B make the experience more memorable than ever. With so many places to discover, the journey to get to your destination may well be as enriching as being there. Here are a few unique trips to entice travelers to enjoy every step of the way.
Hiking in Basque Country, Spain: San Sebastián to Pasaia
Hiking the iconic Camino de Santiago is on many bucket lists. But when short on time, this bucolic trek between coastal San Sebastián and storied Pasaia port provides a scenic — and shorter — alternative.
After indulging in pintxos (regional bite-sized snacks), abundant in San Sebastian's old town bars, the hike begins on Navarra Hirbidea, an avenue easily accessible from surfer beach Zurriola.
Start your ascent on Zemoria Kalea, a sloped path that quickly turns into steps. Panoramic town views make the effort worthwhile, eventually becoming a walk through lush, indigenous plant life.
The descent features an overview of the rocky coastline and the Insta-ready Faro de la Plata lighthouse before entering Pasaia.
Conclude your trip at Pasajes de San Juan (Pasai Donibane), a colorful fishing village that lies a short boat ride from Pasajes de San Pedro harbor. Known for its excellent seafood, Ziaboga Bistrot makes for an ideal lunch break; the eatery serves local fish dishes on a square overlooking the river.
Biking in the U.K.: From London to Brighton on Two Wheels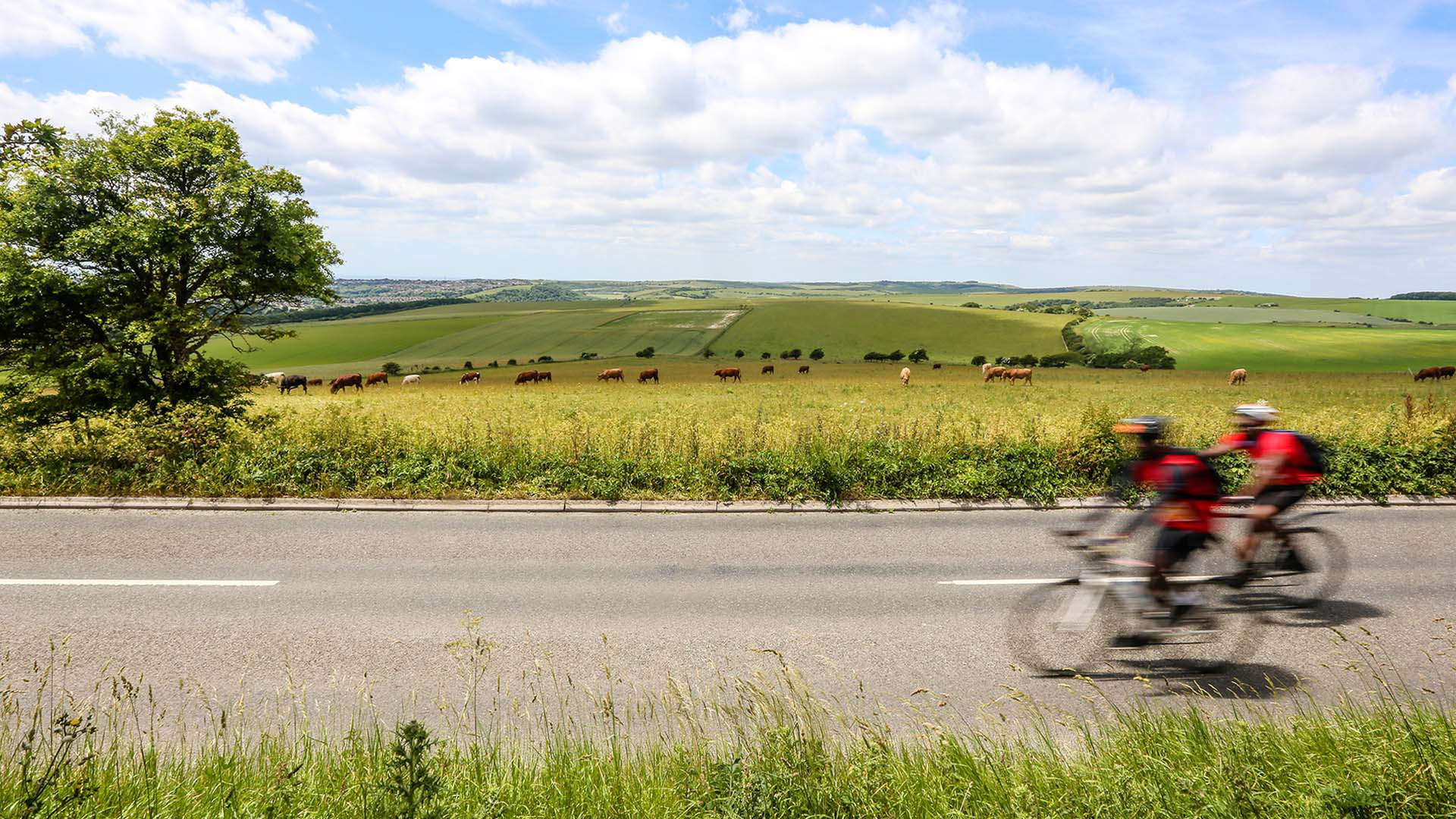 Take two wheels in the United Kingdom. (Photo: Getty Images)
A picturesque 60-mile bike ride for all fitness levels, the route between London and Brighton allows cyclists to choose between making the ride a day trip or a multi day journey. With many different routes to try, start early and let the road guide you.
After a few miles, the noisy city gives way to verdant countryside, rural pubs and gorgeous landscapes. If the mood strikes, stop at Lindfield, a quaint, postcard-perfect village.
Then ride on to tiny Streat for roadside cake at the aptly named Suzy's Streat Food before a final push up the hilly Ditchling Beacon over the South Downs. On the way down, the roads widen, heralding that Brighton is near.
Once there, celebrate your achievement with local fish and chips (typically wrapped in day-old newspaper) on the waterfront. Or, for a sit-down treat, visit English's of Brighton Restaurant & Oyster Bar (the oldest eatery in town) for seasonal oysters or a large selection of regional seafood, a Brighton specialty.
Trekking in Wadi Rum: Riding Camelback in Jordan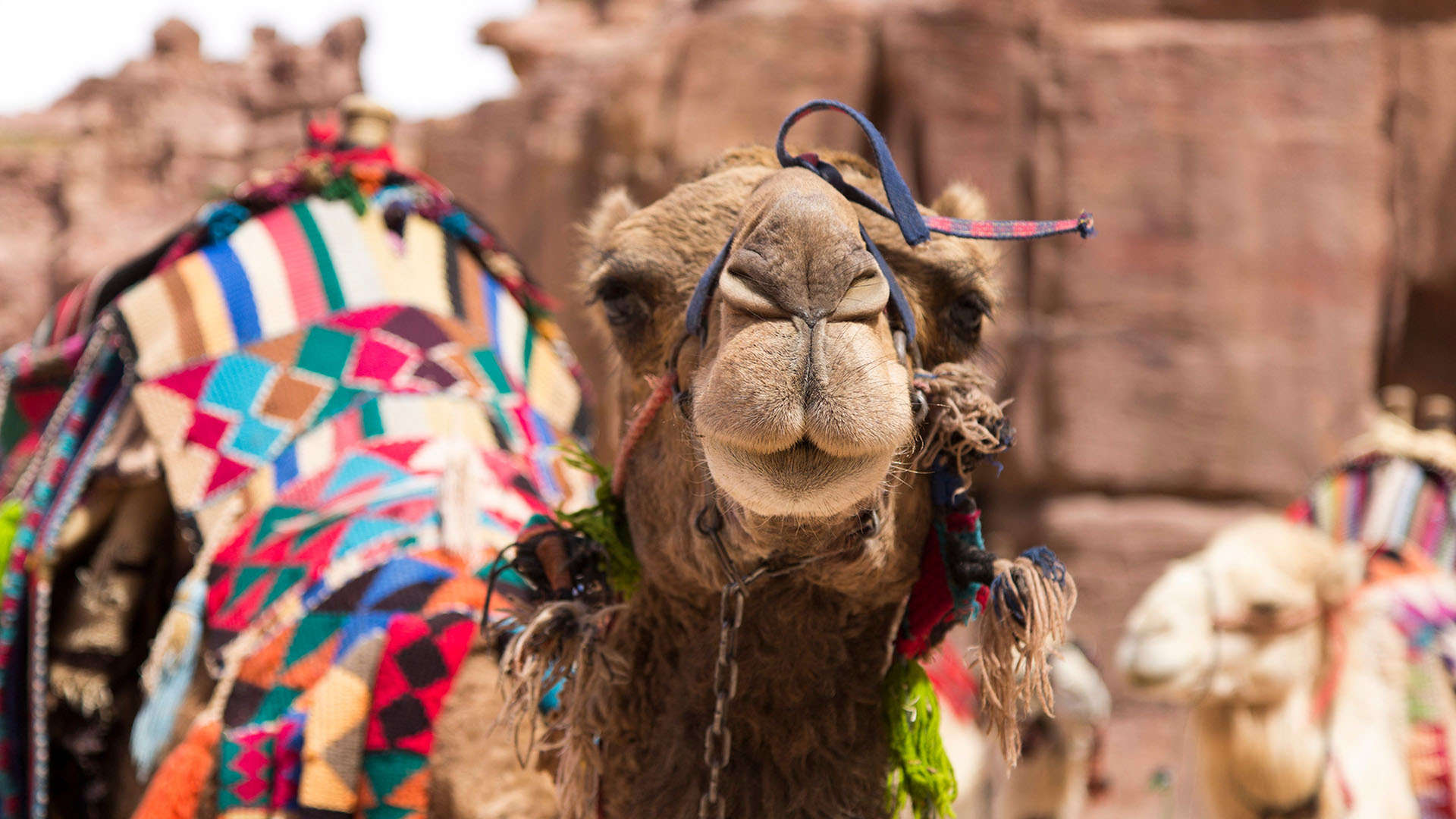 Get candid with a camel. (Photo: Getty Images)
Retrace ancient, nomadic Bedouin tribe footprints with a memorable camelback trip to the protected desert lands of Wadi Rum in Jordan. Visitors can opt to camp overnight or continue on longer excursions.
The trip begins when a native guide meets participants in the Wadi Rum Village for a camel ride to Lawrence's Spring, a stunning freshwater "pool" surrounded by red rock desert and immortalized in T.E. Lawrence (of Arabia)'s book, "Seven Pillars of Wisdom."
After an exploration break, the next stop is Khazali Canyon, a fascinating spot filled with centuries-old Nabatean writings and petroglyphs (rock carvings) representing people and animals.
Following a few more historic photo-ops and a traditional Bedouin lunch — which may include zaarb (marinated meat and vegetables), bread, dates, berries, seasoned rice and tea sweetened with honey, cardamom and sage — set up camp and spend a magical night under the stars.
Boating in Germany: Cruising the Rhine in Cologne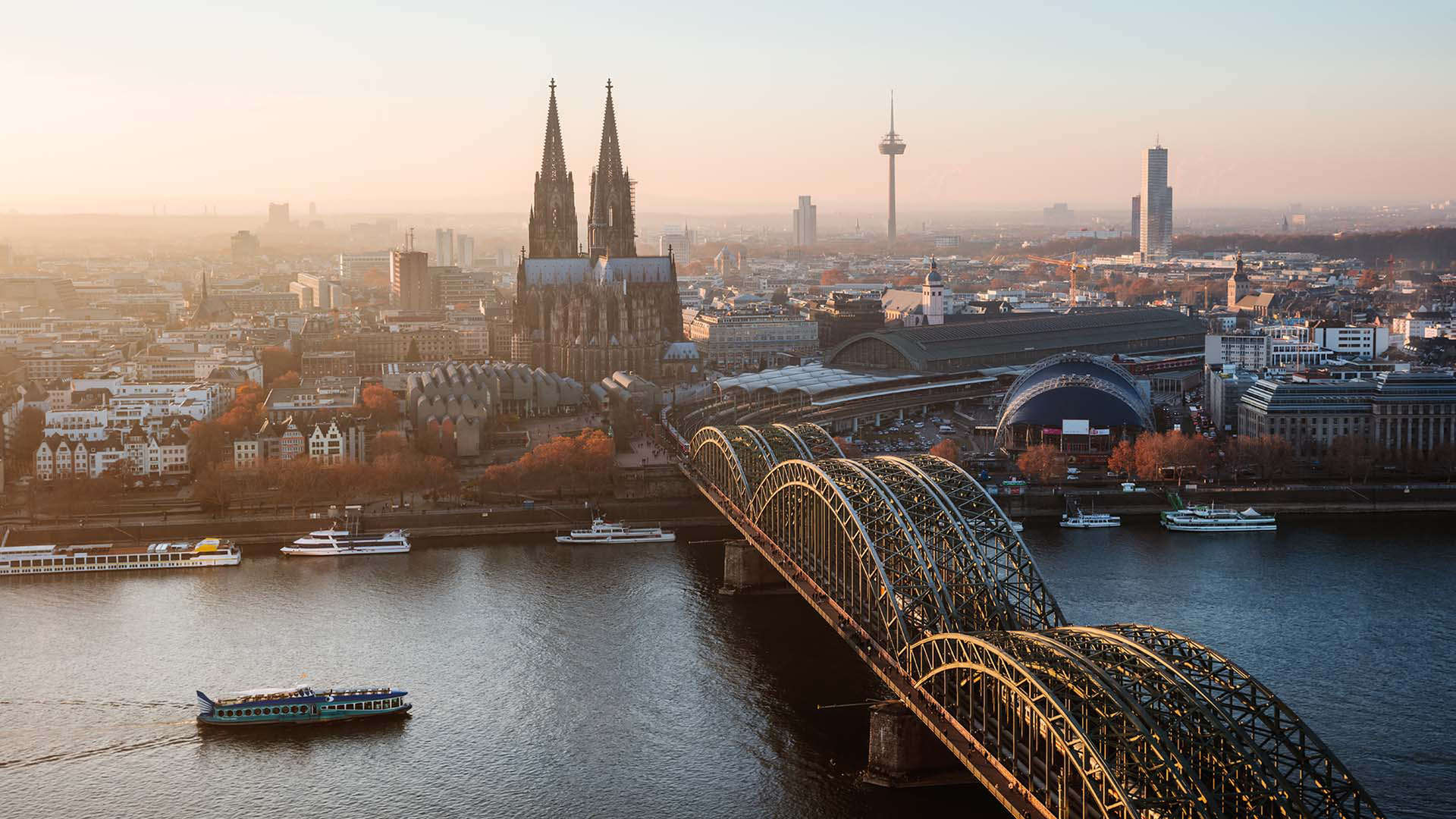 Ride the river in Cologne. (Photo: Getty Images)
For a unique perspective on 2,000-year-old Cologne (Köln), step aboard a sightseeing cruise on the Rhine River following a visit to the magnetic Old Town. Available in the morning and early evening, cruises run between one to two hours and may include food or drink.
Ideal for travelers that enjoy their landmarks with a side of historical commentary, the cruises have local guides who provide facts and anecdotes.
In a city boasting an eclectic mix of ancient and contemporary architecture, the highlight is arguably the view of the Gothic, double-spired Cologne Cathedral, one of the tallest churches in the world.
Once back on land, experience the Köln life with a culinary tour of traditional foods and embrace Brauhäuser (brewery restaurant) culture. Start with a Halve Hahn (old gouda cheese on rye with onions and mustard).
Next try the hearty Himmel un Äd (Heaven and Earth), consisting of sausage, mashed potatoes and applesauce. Wash it all down with a kölsch (top-fermented beer) made exclusively in Cologne.
Pride of Africa Train Ride: From Cape Town, South Africa to Dar es Salaam, Tanzania
Book a train trip aboard the Pride of Africa for an epic journey across South Africa to Tanzania. Spend 15 days discovering an ever-changing landscape highlighting exotic sites in Zimbabwe, Botswana, Zambia and Tanzania.
The first five days are spent riding through South Africa. Aside from natural wonders like the lesser flamingos, notable stops include Kimberley's Big Hole and Diamond Mine Museum, a Pretoria city tour and a two-day stay at the Madikwe Game Reserve in Zeerust, complete with game drives.
Guests arrive in picturesque Victoria Falls by day eight and face a selection of exciting activities, like bungee jumping, helicopter tours and elephant rides.
Following a brief visit to the Chishimba Falls in Kasama and a collection of onboard lectures and unforgettable landscapes, coastal Dar es Salaam is the final stop on day fifteen.
This Tanzanian region's cuisine is best known for its spicy flavors and Indian influences. Standout mains include mchuzi wa samaki (fish curry with coconut milk), mchicha (leafy veggies, coconut shavings and peanut butter) and mishkaki (skewered and marinated meat).
Published: July 25, 2022