A UNESCO World Heritage Site since 2007, Bordeaux is renowned for its grand 18th-century buildings and the fabled vineyards — many dating back centuries — surrounding the city. But don't assume this is a city trapped in an amber-tinted vision of the past. The essence of Bordeaux has always been its forward-looking culture.
Set along the banks of the Garonne River, Bordeaux has been a trading city for more than 2,000 years and once boasted the largest port in the world. It tracks, then, that the urban regeneration of the once run-down Bassins à Flot — the still-operating wet docks north of the city — is putting the spotlight back on Bordeaux. Today, this burgeoning district marks the cutting edge of cool, attracting startups from Paris, artists and artisans from the South of France, and visitors from around the world.
In the Bassins à Flot you will find disused factories repurposed as experimental art venues, ferries-turned-live music venues, Instagrammable street art, all-night parties in sprawling warehouses and daring new architecture punctuating the skyline.
Whether you contemplate it all from the roof terrace restaurant of the Renaissance Hotel Bordeaux or set out after enjoying brunch below the soaring former silos adjoining the Moxy Bordeaux, this architectural wonderland is easily accessed on foot or by bike.
Food and Drink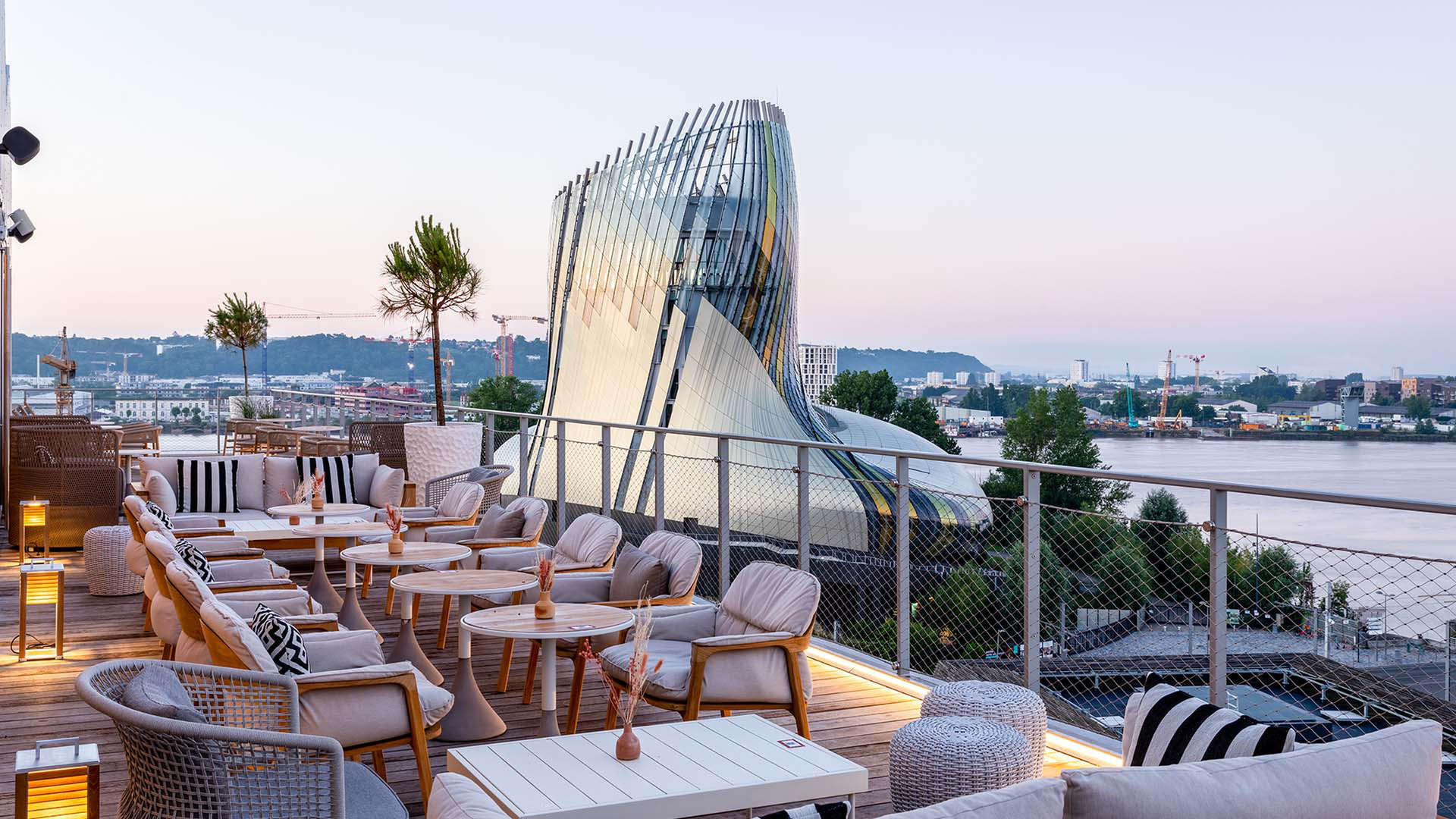 Soak in views of Cité du Vin from the rooftop terrace at Renaissance Bordeaux Hotel. (Photo: Marriott International)
No trip to the Bassins à Flot is complete without visiting the Cité du Vin, whose iconic structure resembling a melted silver ingot is a local magnet. The highly acclaimed interactive and immersive exhibition space within is dedicated to the world's wines, some of which you can sample in its eighth-floor wine bar with 360-degree views over the city.
Coming back down to earth (and just next door to Cité du Vin), Les Halles de Bacalan on the waterfront offers a contemporary take on the covered market. Featuring regional food producers, artisans and chefs, it's the perfect spot for picking up local treats to take home before sampling taste-bud tingling tapas on the terrace.
Culture
Experimental cultural venues are at the heart of the docks' reinvention, and Les Vivres de l'Art is the perfect starting point for a walking tour of the area. Housed in an 18th-century abattoir, this art gallery, sculpture garden and artists' residence serves as an incubator for emerging talent. Eclectic events include everything from techno parties and theater performances to bring-and-buy clothing sales.
Ever wanted to know how to build a bike or fix your car? The Garage Moderne, located less than 100 meters (330 feet) away in a factory that once manufactured cable cars and biplanes, is run by a community-focussed association running recycling and repair workshops. Even if you don't see yourself as Rosie the Riveter, the atmospheric, soaring space is well worth a visit for its live music programs, weekly markets and a restaurant serving simple French comfort food.
If its ambience you're after, head to the Bassins des Lumières, in a brooding former submarine base built by the Germans during WWII, where digital projections on concrete walls create a mind-bending and immersive art experience.
Given the city's maritime-focused history, you'd be remiss not to celebrate the role of the Garonne River. The newly constructed Musée Mer Marine highlights all things seafaring and sailing and exhibits a collection of historic boat models and contemporary art.
Nightlife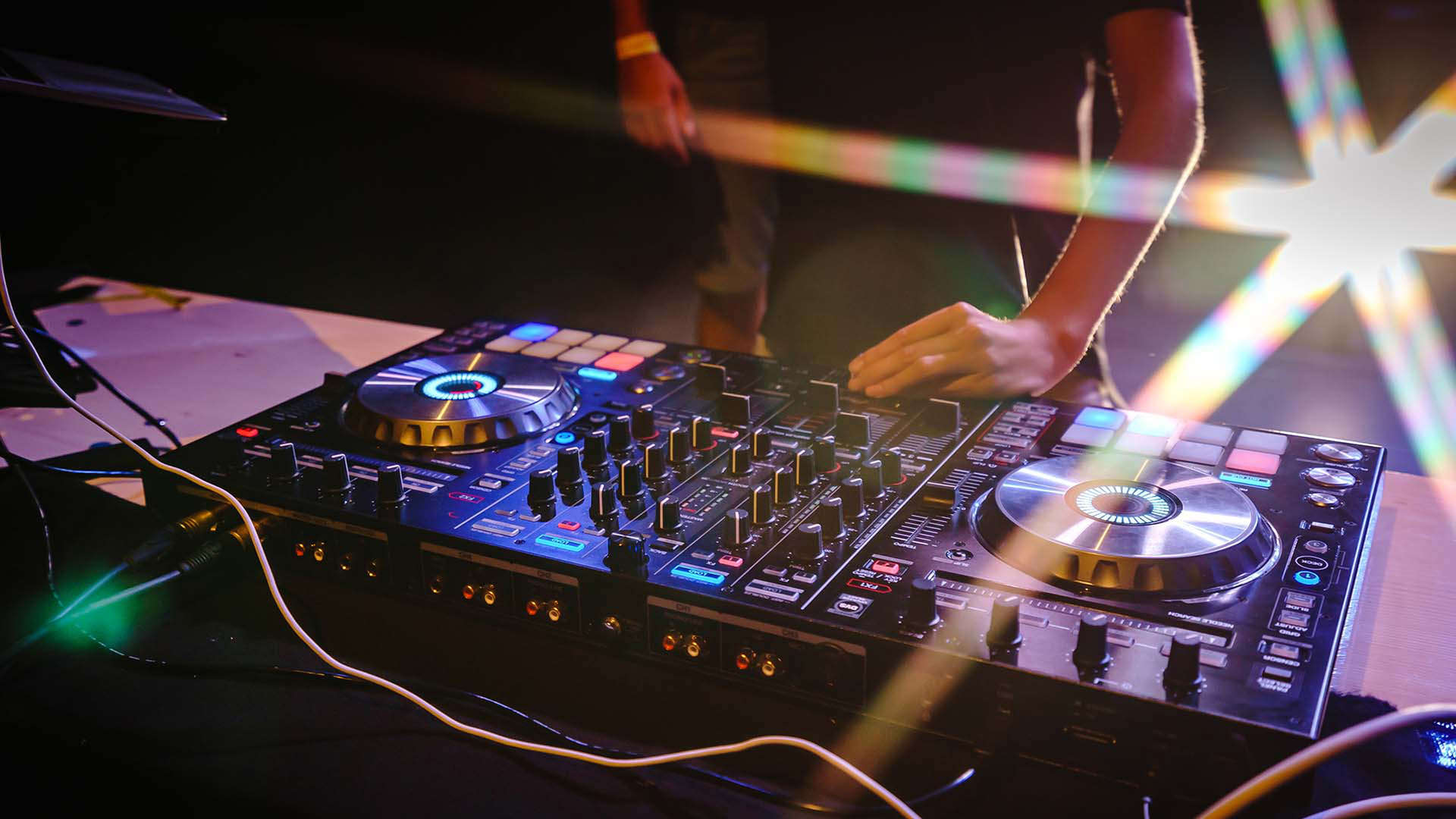 Music and dancing await after dark. (Photo: Getty Images)
Night owls have rich pickings in the Bassins à Flot. Start your after-dark exploration at I.Boat — a live music venue on a former ferry that hosts more than 2,000 artists a year. Then pop by its dockside sister venue, Blonde Venus, which is inspired by the traveling dance halls of the 1920s and 1930s. Prepare to groove to everything from krautrock to Russian new wave to French rap, with events including queer parties, film screenings and roller discos.
La Dame, housed on a former barge, offers an upmarket restaurant whose chef, Ugo Arni, creates fusion food inspired by the cuisines of Thailand, Peru and Japan. Downstairs, the boat turns into a club on Thursday, Friday and Saturday nights and keeps the party going until 5:30 a.m.
Still want to keep dancing? Tucked into a massive warehouse, megaclub The Base houses a restaurant, open-air terraces, a vast dance floor and lengthy bar and stays open until 7 a.m.
Published: April 29, 2022
Last Updated: October 04, 2022