Madrid – where rooftop pools sparkle beneath clear blue skies, world-leading art museums tempt with treasures and the best of Spain's produce graces Michelin-starred dinner tables. Whatever your passion, you can indulge it in the Spanish capital.
Check in at the best addresses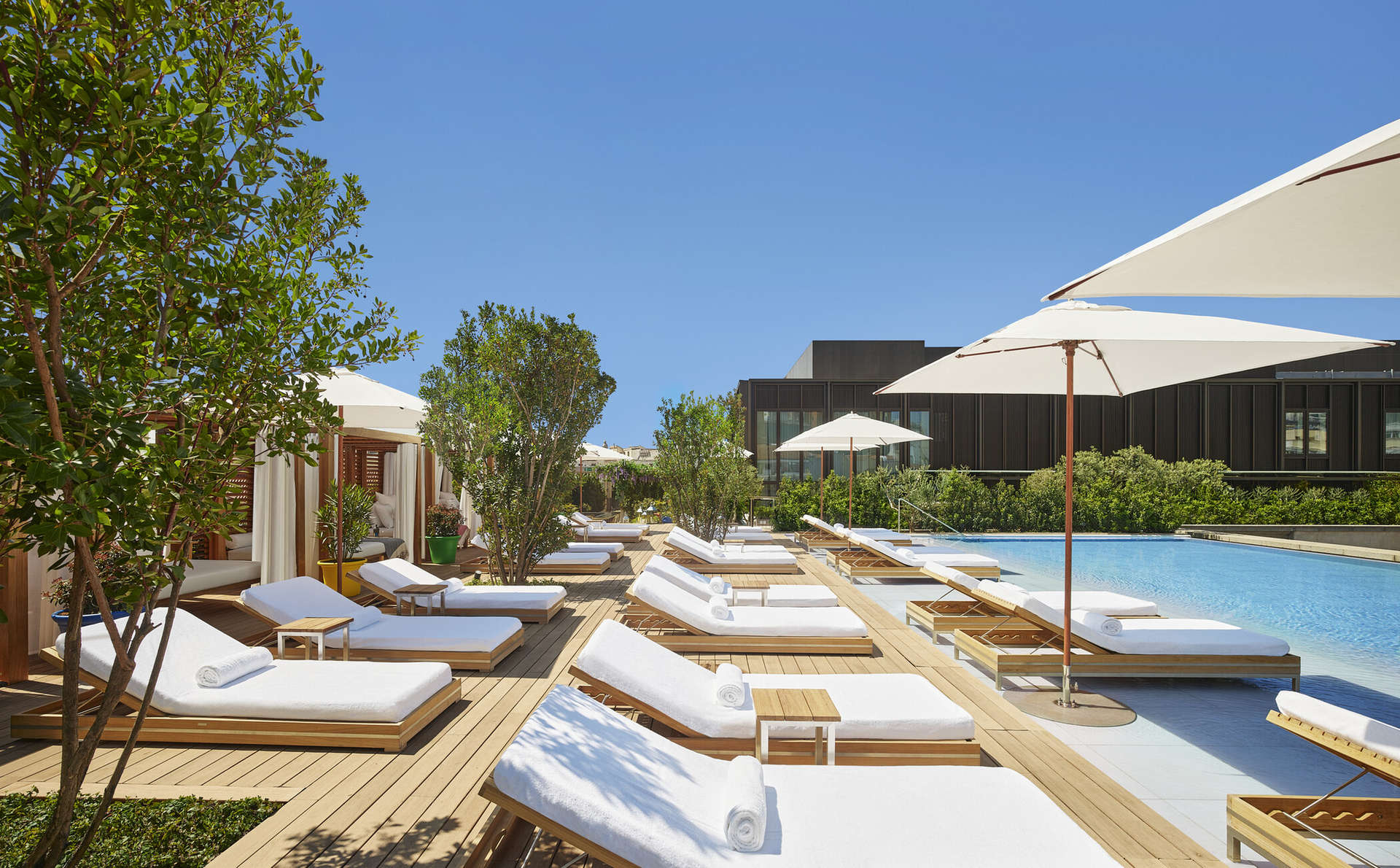 The Madrid EDITION is a refined urban resort in the vibrant heart of the Spanish capital (Photo: Nikolas Koenig)
Madrid is an eminently walkable city if you stay in the heart of the action – and The Madrid EDITION enjoys a perfect location between Plaza Mayor and Gran Via. This is a hotel that will attract design lovers, evidencing the EDITION brand's signature contemporary sophistication and understated elegance, combined with the artistry and originality that captures the essence of Madrid's spirit, traditions, and energy. Duplex Penthouses with vast windows and the city's biggest rooftop pool offer unrivalled panoramic views.
Alternatively, check in to Santo Mauro, a Luxury Collection Hotel, Madrid. Surrounded by private gardens dotted with fountains and shaded by ancient chestnut trees, the hotel sits right in the heart of the city's aristocratic quarter, a five-minute walk from the Prado museum. You'll be staying in what was once the home of the Duke of Santo Mauro, an influential figure who had an eye for design – the Modernist staircase in the entrance hall and the Duke's library are particularly notable. The Duke's role as interior design overseer has since been claimed by celebrated Spanish designer Lorenzo Castillo, whose stylish influence is apparent throughout the property. Ask the concierge about private tours of Spain's oldest artisanal bookbinding workshop, with the opportunity to hand-make your own notebook using traditional techniques.
Feast your eyes on world-class art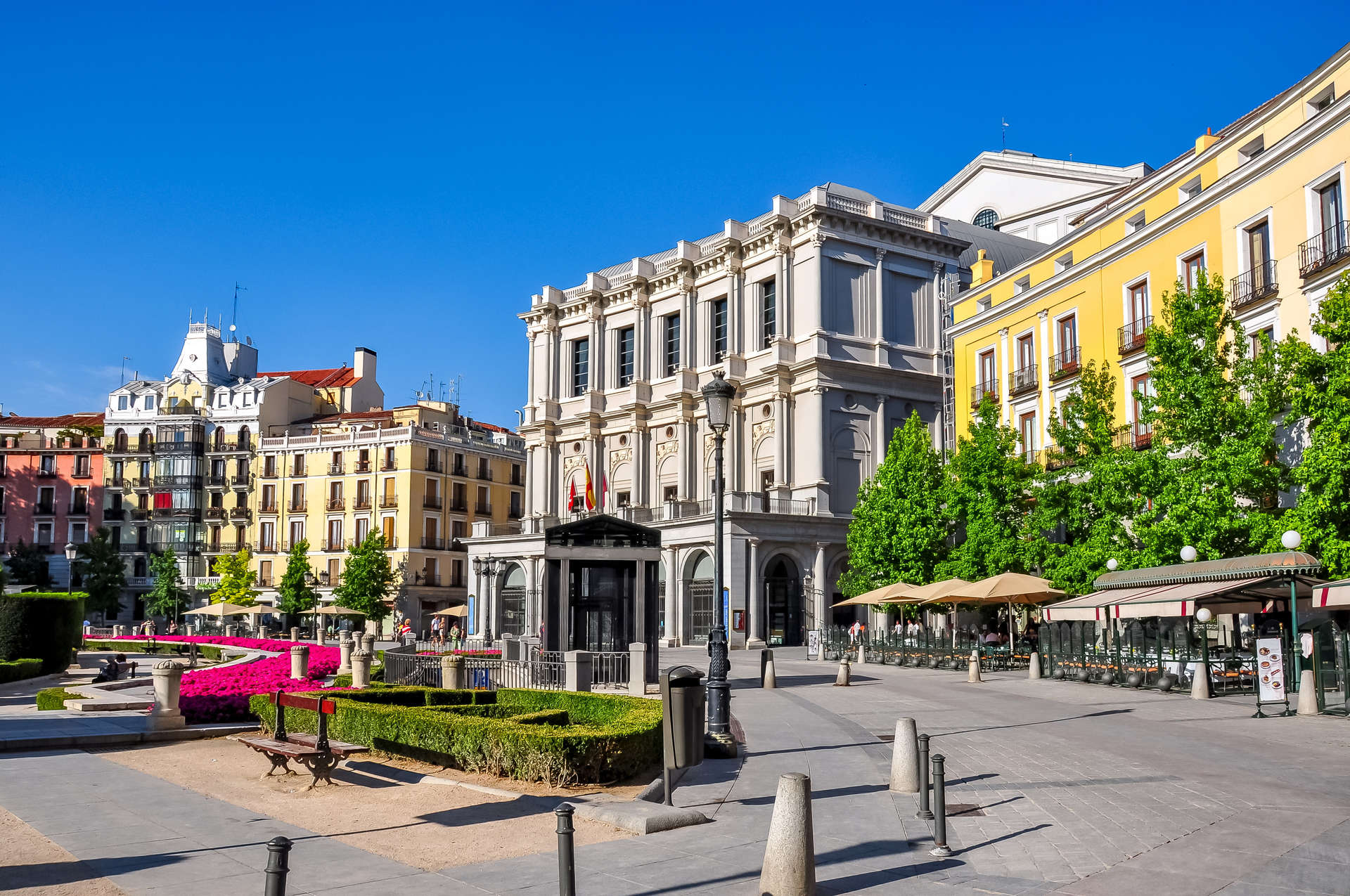 Madrid's Teatro Real plays host to some of the world's most distinguished opera singers (Photo: Getty Images)
The Spanish capital is one of Europe's best cities for discovering art. A private tour of the Museo del Prado allows you to appreciate the creative riches of one of the world's leading art museums; your hotel will be happy to arrange the experience. Most of the artworks here were collected by the Spanish royal family and they include all of the Spanish masters, from Francisco de Goya to Diego Velázquez, as well as major works by Raphael, Tintoretto and Caravaggio.
A short walk away lies the Centro de Arte Reina Sofía, the permanent home of Spain's modern and contemporary art collection. Picasso's astonishing Guernica is the prized work here and you'll also have the opportunity to appreciate pieces by Miró, Francis Bacon and Henry Moore, as well as a thought-provoking collection of photography.
Madrid's trio of world-class art museums is completed by the Museo Thyssen-Bornemisza, where you can take in the work of many of the major post-fourteenth-century names in European art: everyone from Monet and Renoir to Kandinsky, Van Gogh and Dalí is represented. 
A suitable end to such a cultural day is surely a night at the opera, so head across the city in the evening for a performance at the lavish Teatro Real, which dates from the nineteenth century and glitters with crystal chandeliers and golden decor.
Dine on the finest cuisine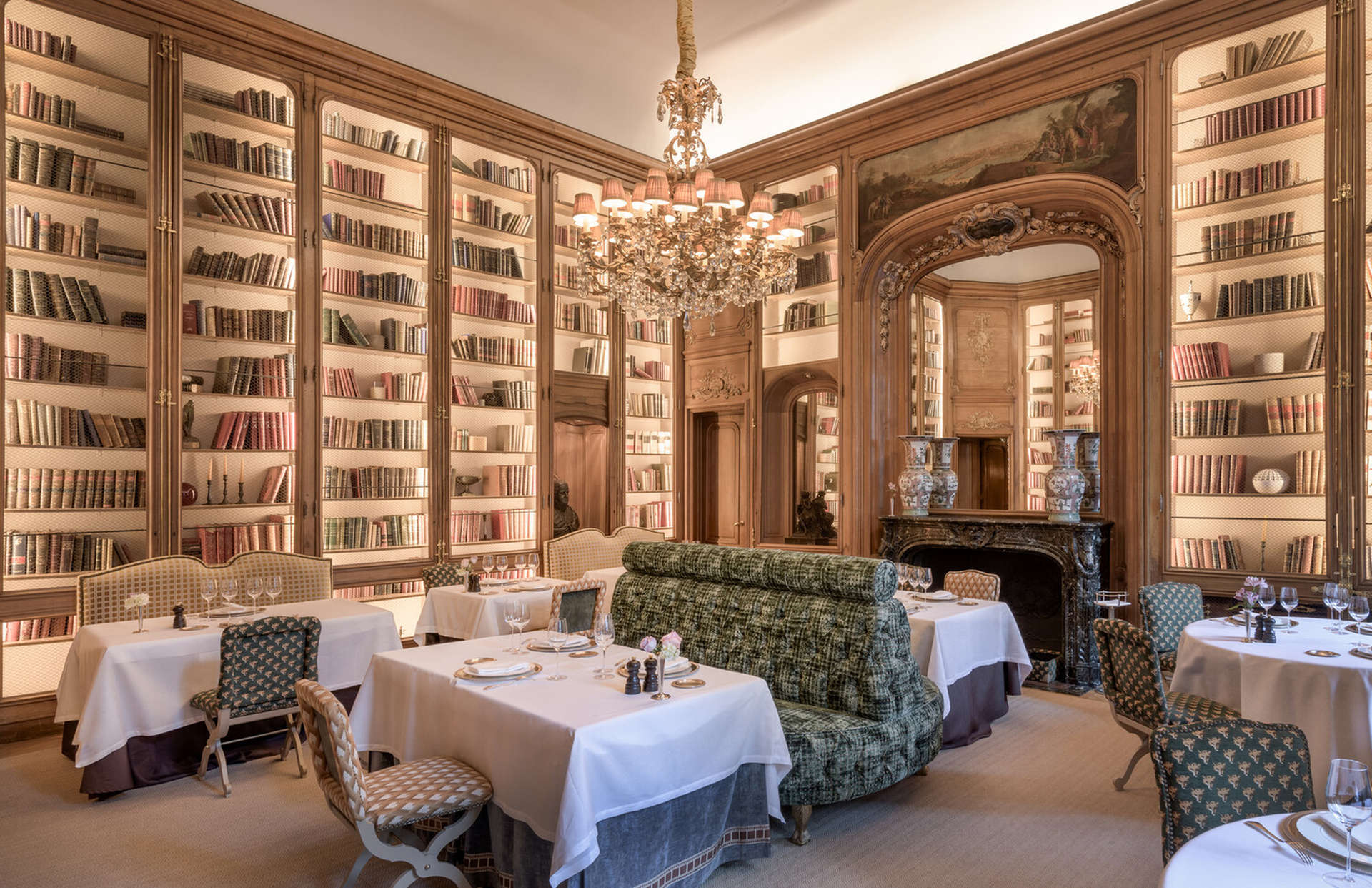 The sumptuous dining room of Restaurante La Biblioteca Gresca at Santo Mauro, a Luxury Collection Hotel, Madrid (Photo: Miguel Merino)
Madrid is home to some of the best restaurants in Europe, including a veritable constellation of Michelin stars. Leading light DiverXO has three stars to its name and a truly avant garde chef in Madrid-born Dabiz Muñoz. Dispensing with crisp white linen and classical cuisine, this restaurant pushes boundaries with dishes that defy description – dish names such as "Galician lobster waking up on the beaches of Goa" give a sense of the kitchen's approach.
Another playful Madrid-born chef is at work at the Casino de Madrid, where bright geometric shapes and quirky chandeliers grace the top-floor dining room that is Paco Roncero Restaurante. Here the tasting menu includes course after beautiful course, each one making the very best use of the highest-quality produce: think ensalada de quisquilla con nieve de tomate rosa (shrimp salad with pink tomato snow) and costilla de vaca con salsa Foyot y foie gras (beef rib with Foyot sauce and foie gras).
For something exquisitely simple and refined, try the tapas at Bodega de la Ardosa, where you might find griddled artichokes dressed in delicious Spanish olive oil, or a perfect tortilla española.
If you're staying at The Madrid EDITION, indulge in meticulously crafted culinary concepts by two world class chefs. Head to the fourth-floor rooftop to visit Oroya, a convivial greenhouse space with an expansive terrace and garden featuring the city's first Pisco Bar, and offering a relaxed tapas menu by chef Diego Muñoz that tells the story of Peru's cultural history. You can also reserve a table at Jerónimo to enjoy the authenticity of Mexican cuisine by chef Enrique Olvera, with a vibrant menu featuring fresh local Spanish produce.
Over at the Santo Mauro, a Luxury Collection Hotel, Madrid, you'll find the Restaurante La Biblioteca Gresca, where a sumptuous dining room – formerly the Duke's library – plays host to traditional Spanish cuisine of the highest order. Sample elegant dishes such as sea bass in a clam salsa verde through to tapas such as Cinco Jotas jamón and brioche with black chanterelles and cured egg yolk.
Hit the heights of fashion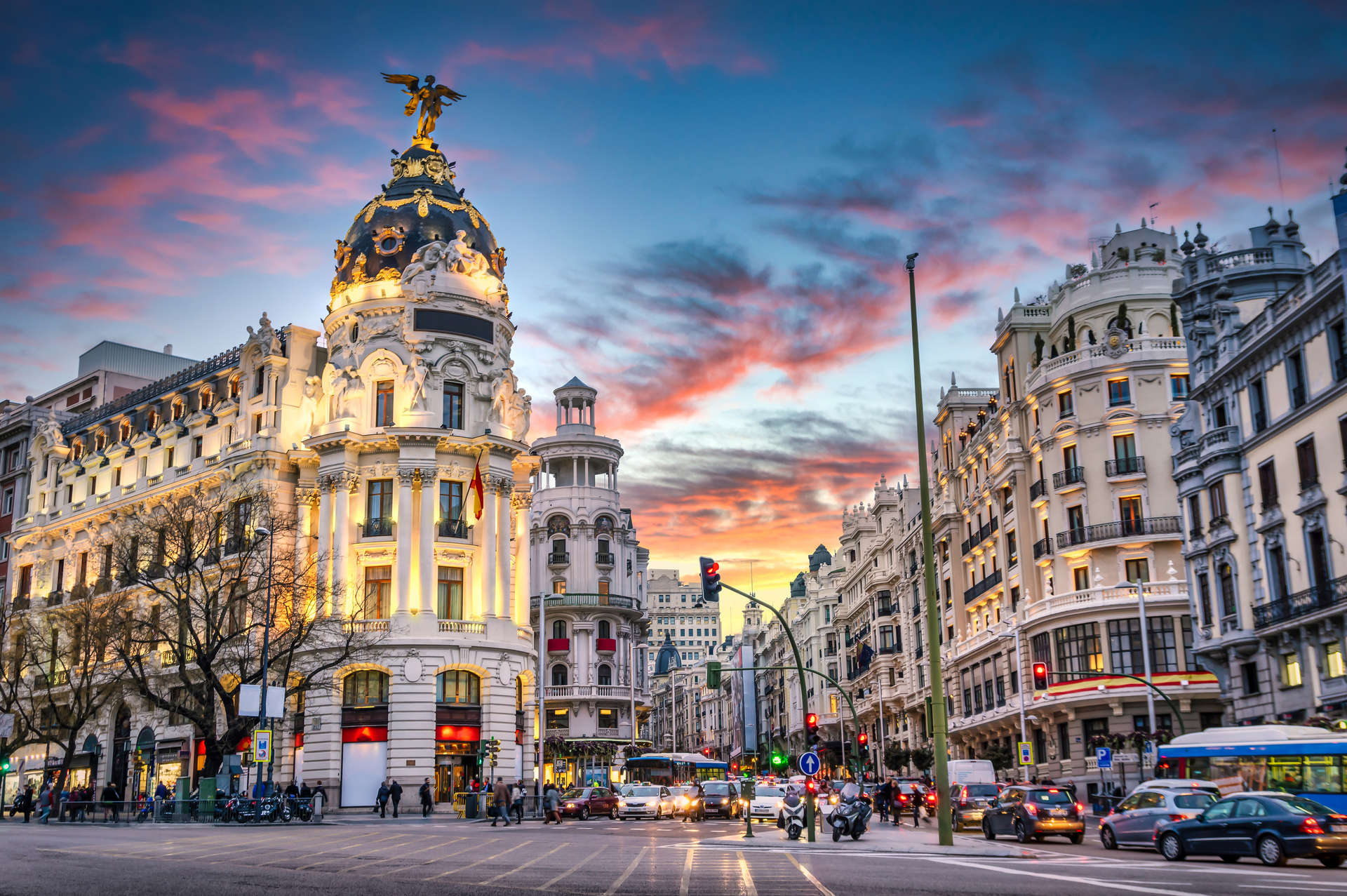 Madrid's Gran Vía is the gateway to some of the city's best shopping experiences (Photo: Getty Images)
For high-end shopping, head to Salamanca, the city's designer district. Here, on Calle Serrano, you'll find a large branch of Spanish department store El Corte Inglés, home to a five-floor curated fashion collection as well as customised tailoring and a personal shopping service.
Also on Calle Serrano is the Madrid-born brand Loewe's flagship store Casa Loewe. Housed in a three-storey nineteenth-century building, the store presents both menswear and womenswear, as well as an unparalleled collection of leather goods and a selection of contemporary artworks. Bespoke pieces can also be ordered here. If your tastes incline more towards antiques, take a Sunday stroll around El Rastro market, where you'll find the city's most sought-after dealers, many of them in the Galerías Piquer.
Published: November 16, 2022
Article Tags: Madrid , Spain