With 350 miles of Persian Gulf coastline, year-round sunshine and mild temperatures, Qatar is an ideal playground for beach lovers. As you explore its shores, expect to find a wide selection of beaches ranging from private stretches of sand to wild and remote access points. Discover a diversity of landscapes along the beach, including rock formations, mangroves, palm trees and white sand. Bring your dream Qatar beach getaway to life with these planning tips.
Choose a Hotel with Private Beach Access
Most of Doha's beaches are only accessible via a beachfront hotel or by purchasing day passes. Hotels also offer the convenience of privacy, as well as access to restrooms, showers, food and alcoholic drinks.
With its downtown location and iconic pyramid-shaped building, the Sheraton Grand Doha Resort & Convention Hotel has a fabulous, private, white sand beach and circular swimming pool surrounded by extensive landscaped gardens.
Here you can have a relaxing time in the calm, sheltered waters around the coves, with the Doha skyline for a backdrop. After your time at the beach, soak in the Jacuzzi, destress in the steam and sauna rooms, and refresh in the on-site shower and locker facilities.
Stay at The St. Regis Doha, located in the trendy neighbourhood of West Bay that is best known for housing many of the city's top attractions, shopping and dining. Feel like a champion as you swim in an Olympic-size pool surrounded by Arabic-style gardens and statues. Here you can get a private cabana and indulge in all sorts of activities, from beach soccer and volleyball to pedal boats and boogie boards.
Kids can enjoy the inflatable water playground located steps from the beach. Make sure to treat yourself to an over-the-top Friday grand brunch buffet featuring more than 16 international food stations and a kids food corner while enjoying the fresh breeze on the hotel's expansive terrace.
Enjoy a classy Arabic vibe at The Ritz-Carlton Sharq Village, Doha's luxurious, expansive private beach. You can order food to be delivered to your lounge chair and pamper yourself at the spa while the kids amuse themselves at the two kids pools and play areas.
Visit the Top Beaches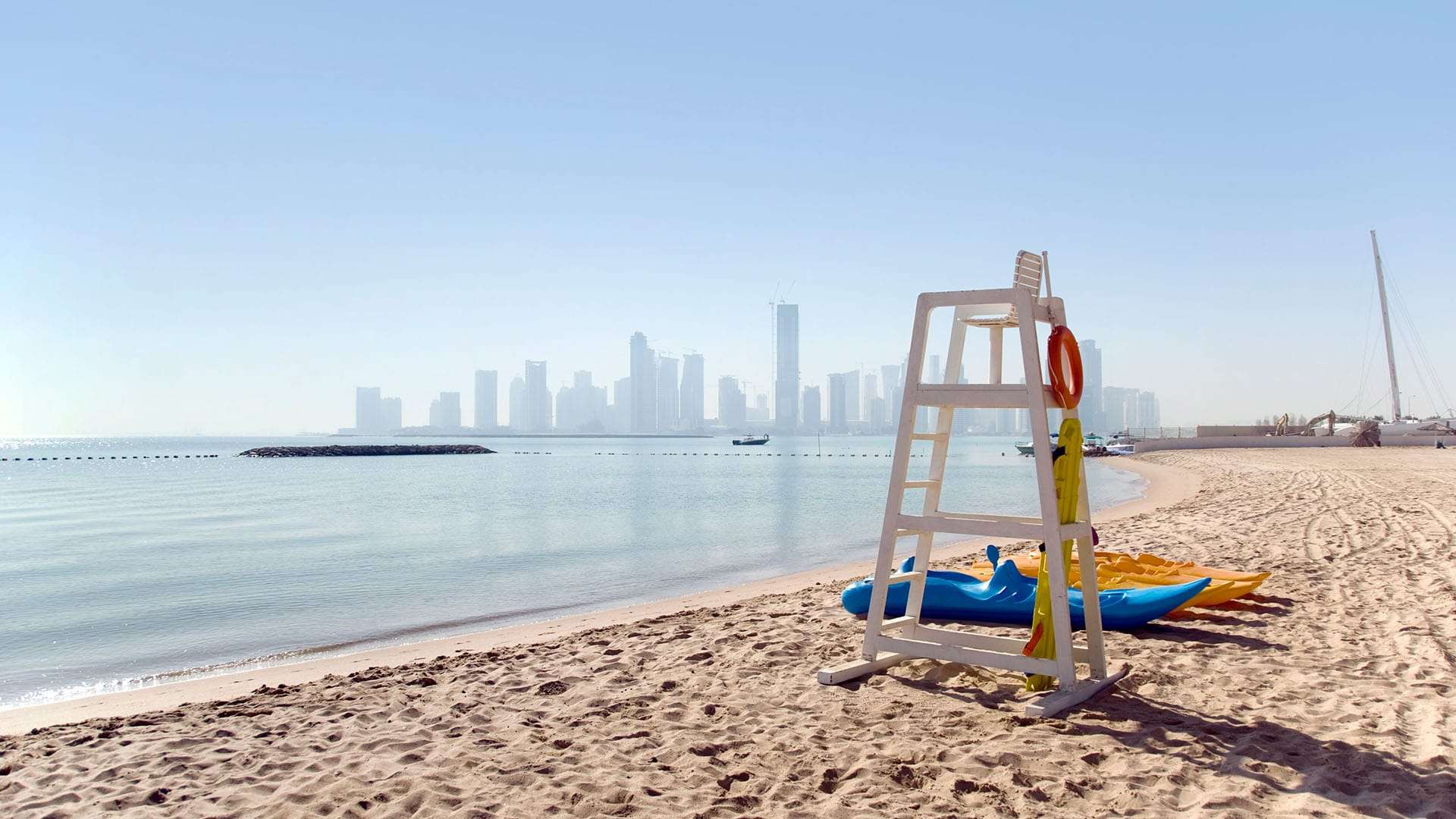 Get skyline views with your beach in Doha. (Photo: Getty Images)
If you are looking for a local atmosphere, head to some of the best beaches in Qatar. Note that they tend to get busy on the weekends with families and other large groups.
Located south of Qatar, the Sealine Beach in Mesaieed has expansive sand dunes and shallow waters that are comfortable for beginners. Aside from swimming, the long stretch of beach offers a variety of other, adrenaline-packed activities. Take a thrilling off-road driving adventure on an ATV, go dune bashing in a four-wheel drive or ride a camel over the soft sands.
Fuwairit Beach is also a local favorite. Located at the northernmost tip of Qatar, the stunning beach offers powdery white and pink sand and crystal-clear bays set against the backdrop of interesting rock formations. It is also a good spot for snorkelling and kitesurfing. Note that parts of the beach are closed off during Hawksbill sea turtle hatching season from April to July.
The Inland Sea (Khor al Adaid) is a beautiful UNESCO-recognised natural reserve located at the Qatar and Saudi Arabia border where you will find golden sand dunes surrounded by a tidal bay that is home to sea turtles, plump dugongs and colourful fish. Here you will find a family-friendly beach, fishing and campsites. You need a four-wheel drive to ride over sand dunes to access the beaches, so book a guided tour or travel with an experienced driver who can navigate the remote desert terrain.
Know Your Beach Etiquette
Though Qatar is in the Middle East, its culture is relatively more relaxed than neighbouring countries. Women can wear bathing suits and bikinis at hotel beaches and pools, but it is advisable to dress modestly at public beaches, especially if there are lots of locals.
Women should cover their elbows and knees when walking around publicly, so carry a sarong and a long-sleeved T-shirt. The only beach where bikinis are absolutely prohibited is the city's Katara Beach.
Qatar also has an exclusive women-only beach, Al Mamlha, with fencing and security for privacy, while parts of some beaches, such as Al Farkiah and Simaisma, reserve certain days and times to allow only women and children under 10.
Get the Proper Wheels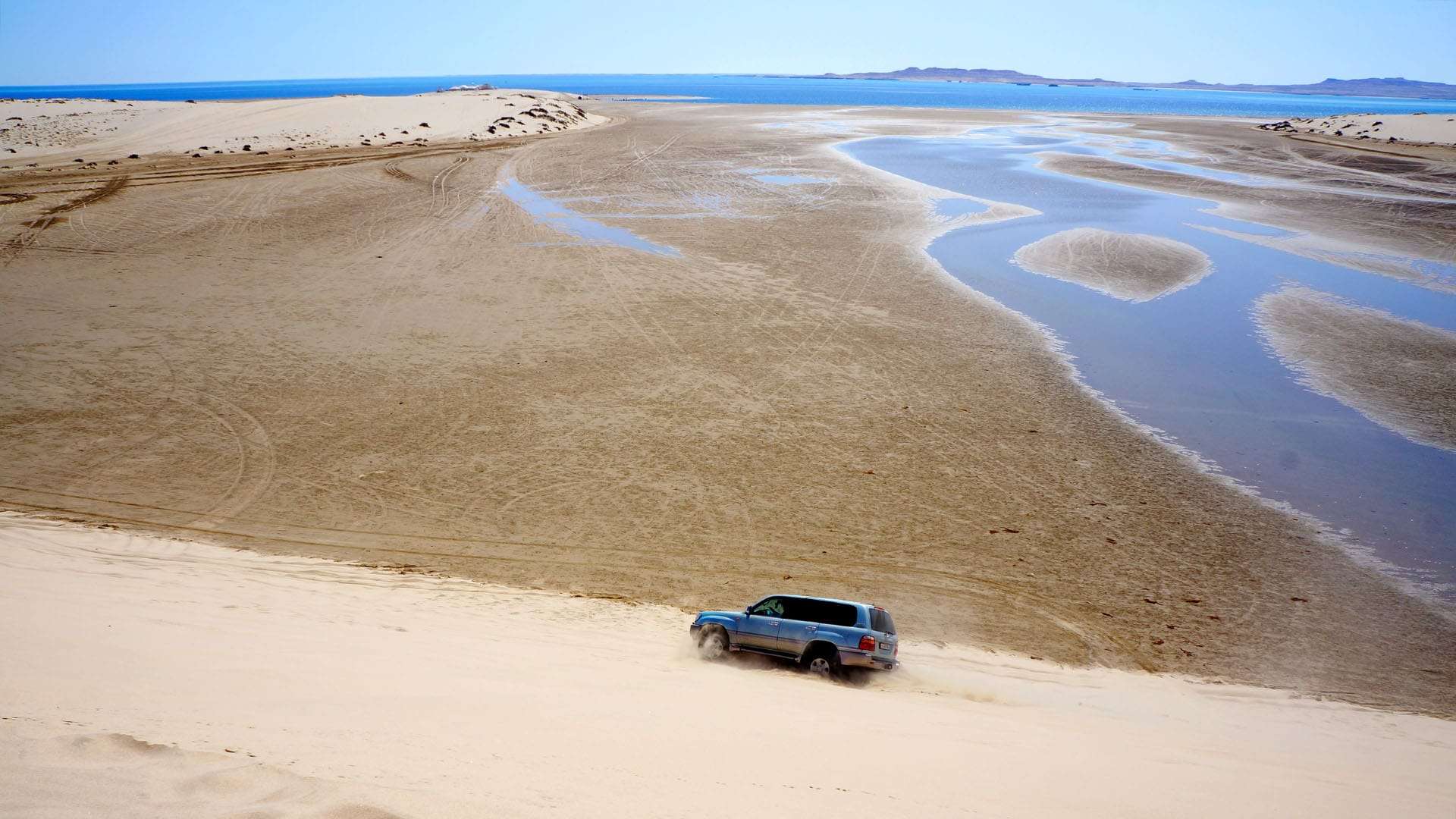 Reach far-flung beaches in Qatar. (Photo: Marriott International)
Some of the most remote beaches in Qatar, such as Al Ghariya and Zekreet, are only accessible via vehicle. Often there are no roads or markers, but this means you can discover a private area to your liking.
Many locals prefer to take their all-wheel-drives and go off roading on the sand dunes before arriving at a pristine spot for swimming, kayaking and picnicking. Even if you don't want to dune bash, you may still need to drive over rough terrain to get to some of the public beaches.
Picnic at the Beach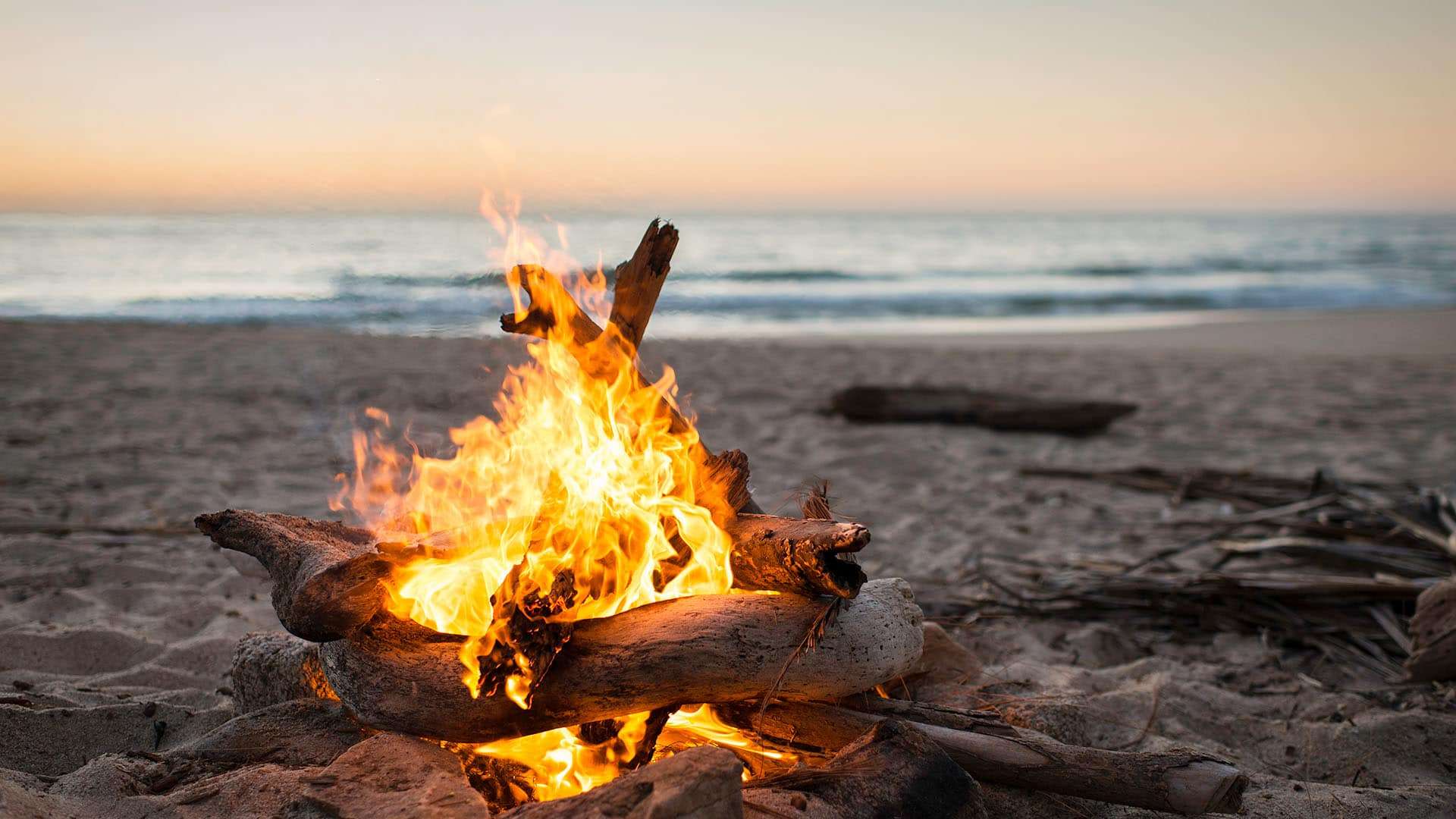 Plan a beach bonfire. (Photo: Getty Images)
While summers can get extremely hot, winters at Qatar's beaches are magical, especially at night when you can see starry desert skies.
Begin or end your day at the beach by having an Arabic-style breakfast or dinner and bonfire while listening to the waves. Watching the camels walking into the orange hues of the sunrise and sunset is worth staying, or waking, up for.
In the evening, you will see many local families grilling kebabs on portable barbecues, but you can also pick up precooked food from highway kiosks. Many of the hotels and tour operators will pack a picnic meal upon request.
Some of the best beaches for picnics are those where you can find a combination of pristine scenery and the convenience of shaded umbrellas and restrooms, such as at Al Thakira and Farkeh beach.
Published: February 15, 2023
Article Tags: Doha , Qatar