Golf is exciting, enticing – and sometimes wonderfully infuriating! Every round of golf is utterly unique, testing you in different ways, and in the UK the variety of courses is extraordinary, getting golfers out into some of the most beautiful landscapes in the country.
If you love golf then why not plan your next holiday around playing your favourite sport? Some of the very best golf courses in the world are found in the United Kingdom and whether you're seeking a round in glorious parkland, through ancient forest or beside a 13th-century priory, you'll find it here. Whether you're a beginner or a seasoned player, make a weekend of it – or treat yourself to a midweek golfing break – at one of these top courses, located at some of the best golf hotels in the UK.
Breadsall Priory, Derbyshire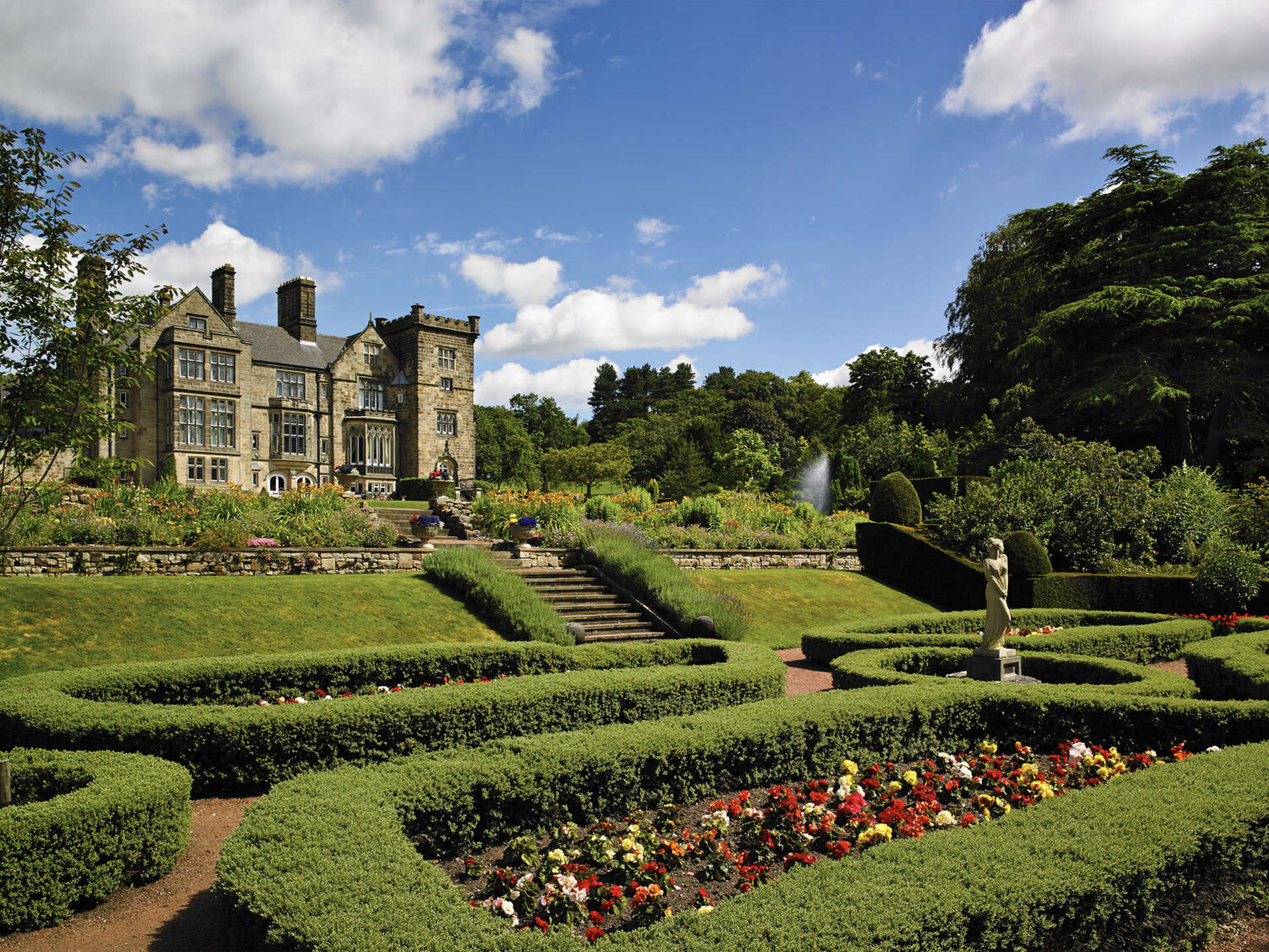 Delta Hotels by Marriott Breadsall Priory Country Club is located in almost 300 acres of beautifully landscaped gardens and two golf courses.
One of the English Midlands' most enticing contemporary golf break destinations, within easy reach of the glorious Peak District as well as Chatsworth House and Alton Towers, Delta Hotels by Marriott Breadsall Priory Country Club features two 18-hole golf courses set around a beautiful listed building that dates back to 1260. The Priory course is the more challenging of the two par 70 parkland courses here, featuring tree-lined fairways that demand accuracy, while the Moorland is more open and generous to higher handicappers. With two such interesting courses on one site, why not book a midweek "working from hotel" escape here, working from the hotel in the mornings and golfing in the afternoons?
The hotel itself is stunning – the oldest building in the world to house a Marriott hotel – and is sure to wow you with its elegant stone frontage, which is all turrets, crenulations and leaded windows. Inside you'll find original fireplaces and wood panelling, while outside, manicured gardens lead out to 300 acres of picturesque woodland. Some rooms are in the atmospheric priory building, and feature gorgeous bay windows with leaded glass, while others have a crisp, contemporary feel. There's also a putting green, floodlit driving range and spa with indoor pool.
Hanbury Manor, Hertfordshire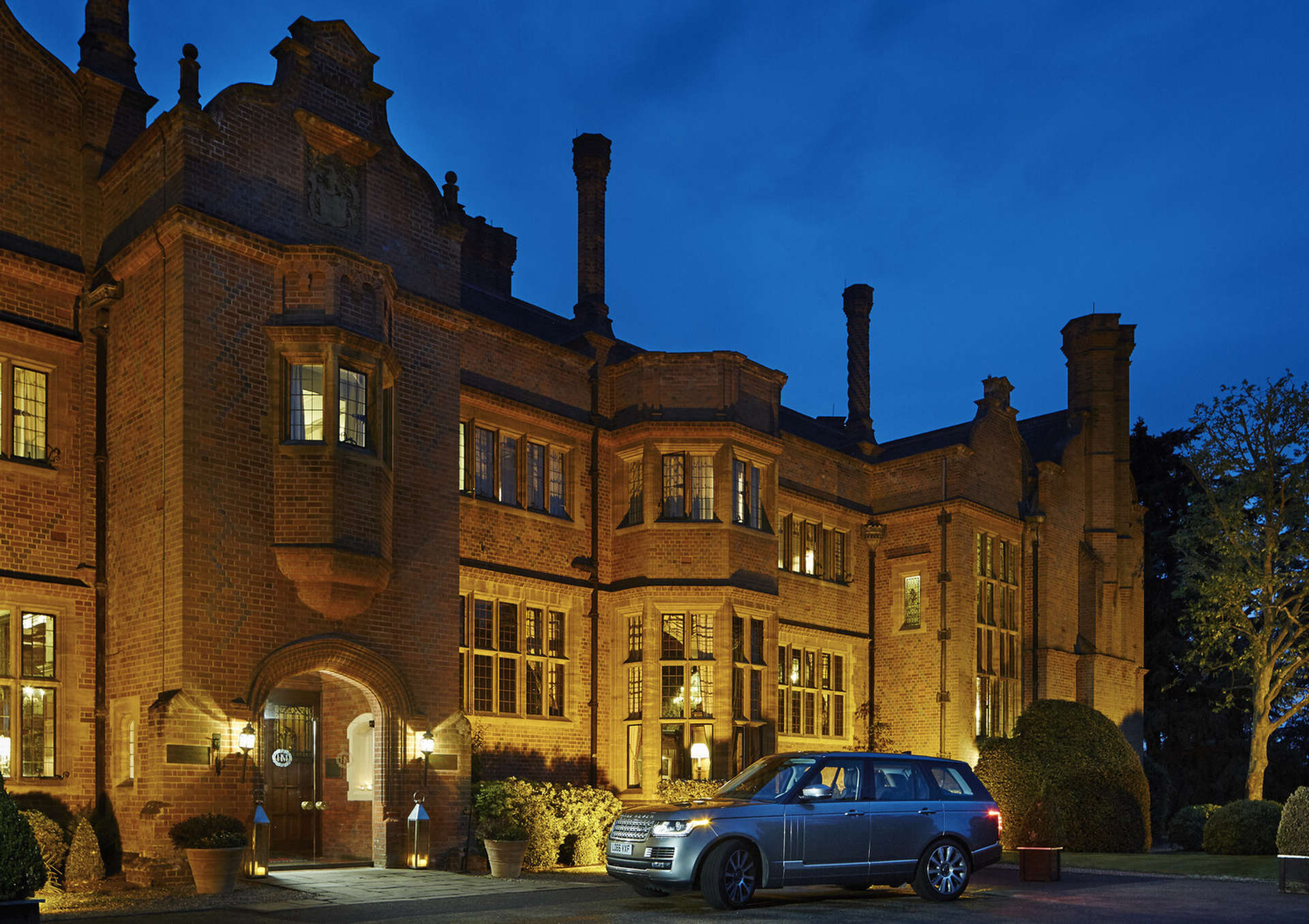 The Hanbury Manor Marriott Hotel and Country Club showcases Jacobean-style and enjoys a superb location.
Enjoy the best of both worlds at Hanbury Manor Marriott Hotel & Country Club: 200 acres of gloriously peaceful grounds just 40 miles north of the UK capital, London. Pop into town to soak up the royal sights this Jubilee year, or perhaps catch a show in the West End, then return to the calm of this country club hotel. The 7,052-yard championship golf course on site here is beautifully tended and has hosted numerous European tour events, its 18 holes offering a variety of challenges, from stately trees lining several of the fairways to a tricky approach shot to the elevated 8th green. More assured golfers will love this course, but those with less experience can play midweek, when the course is quieter and there's plenty of time to tee up those tougher shots.
The hotel, meanwhile, is set in a 19th-century Jacobean-style mansion, in which you'll find luxurious rooms with stunning views of the grounds and golf course – book the Hanbury Suite and you'll also get a sumptuous lounge area with sofas arranged around a fireplace. Take afternoon tea in the wood-panelled Oak Hall – sitting beside the roaring fire with a glass of champagne perhaps – and visit the elegant Cast Iron Grill for dinner. Don't miss a dip in the indoor pool and consider a muscle-soothing post-golf massage in the spa.
St. Pierre, South Wales
The signature 18th hole on Delta Hotels by Marriott St. Pierre Country Club's Championship Old Course offers a thrilling 235-yard par three, including a shot over water to an elevated green protected by sand.
History permeates every stone of the Delta Hotels by Marriott St. Pierre Country Club, a 14th-century manor house in the heart of Wales' Wye Valley, surrounded by some 400 acres of stately countryside and standing alongside a Norman church. The site is so ancient that the Crown Jewels are even said to have been hidden here during the Battle of Agincourt.
Today, though, it's all about golf and St. Pierre's two courses make for a wonderful golfing break. The 7,028-yard championship Old Course is designed around a large lake – which claims many an errant ball – and challenges even the savviest of golfers with mature trees lining the fairways and a dramatic 18th hole which requires a precision tee shot along the lake's edge. The Mathern course is far shorter, at 5,730 yards, making it the perfect warm-up – or cool-down – and excellent for beginners. It offers superb views of the Welsh countryside and a series of tight shots that will reward golfers with dependable accuracy. You'll walk through the 16th century gatehouse to reach the hotel here, with its stylish modern bedrooms, many of which have golf course views (the Balcony Superior Rooms even have spacious wooden balconies overlooking the lake). There's also a gym, pool and spa.
Forest of Arden, Warwickshire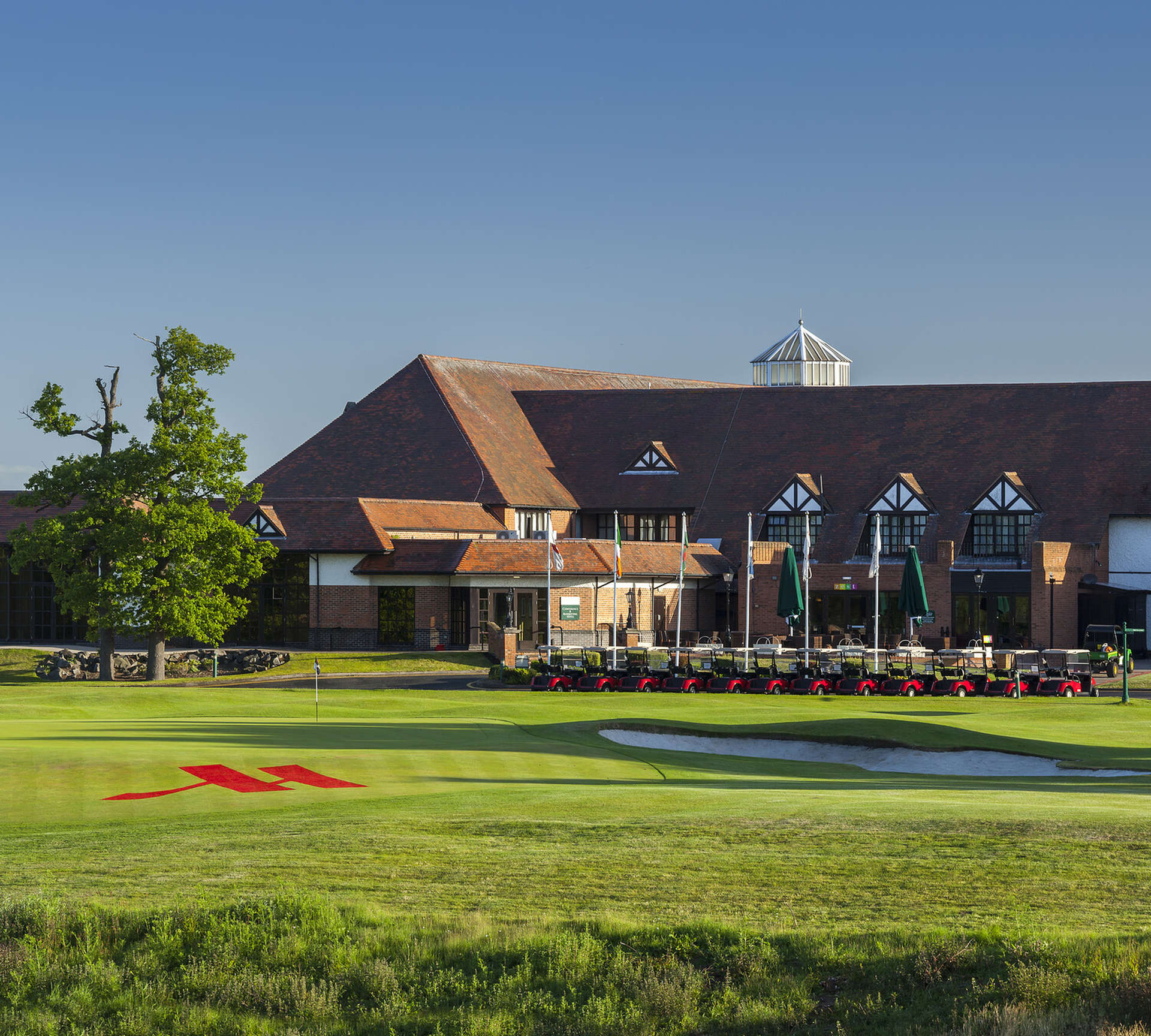 Book a midweek break at the Delta Hotels by Marriott Forest of Arden Country Club and you might find you're sharing your round with more wild Black Fallow deer than people.
Prepare to be pampered at the Delta Hotels by Marriott Forest of Arden Country Club – another of Marriott's golf centres in the English Midlands – where the spa offers dreamy massages and a traditional afternoon tea of delicious sandwiches and freshly baked scones is served. The hotel is located in 10,000 acres of Warwickshire parkland and if you book a midweek break here you might just find you're sharing your round with more wild Black Fallow deer than people. There's no pressure on those quieter days so why not take your time and soak up the unspoiled woodland scenery as you play the championship Forest of Arden course? The challenge builds as you go, with the back nine wending through ancient oak trees and culminating in a long carry across a lake to the par three 18th. The second course here, the Aylesford, may initially sound simpler, with its short 5801-yard length, but even the lowest handicappers will find plenty to test their game, not least the numerous water hazards. The hotel here has stylish rooms with golf course views and contemporary flair (check out the cherry red espresso machine), a large indoor pool and a British restaurant, as well as a driving range, putting green and golf shop.
Tudor Park, Kent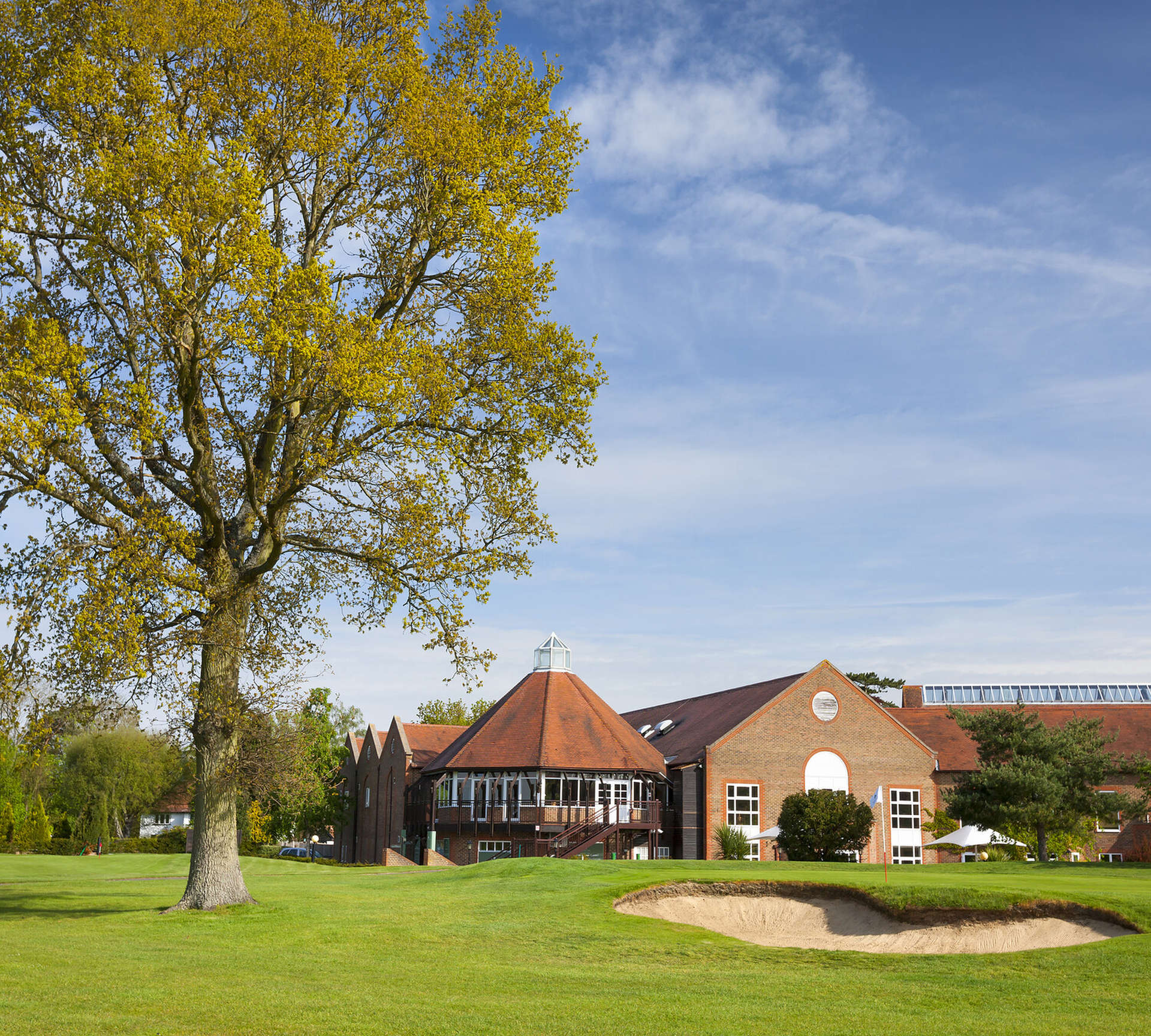 Delta Hotels by Marriott Tudor Park Country Club is surrounded by bucolic countryside within easy reach of London
Located in the heart of Kent, the Garden of England, the Delta Hotels by Marriott Tudor Park Country Club is surrounded by bucolic countryside within easy reach of London. You're surrounded by greenery here, and can indulge yourself with a massage in the spa, a soak in the indoor pool or perhaps just watch the match in the welcoming Zest Bar. The championship golf course here is often tranquil midweek, when beginner golfers can slow their pace to tackle the 6,085 yards of undulating greens and tight fairways – you'll also find better rates than you would at the weekend. The mature pine trees that surround the course make accuracy more important than distance, and concentration and focus are rewarded more than powerful drives – ideal for those who don't hit the ball as far. The hotel is modern and comfortable, with spacious rooms and suites overlooking the beautiful grounds – the Superior Terrace rooms even have private terraces with golf course views. Guests get access to the leisure club, which features an indoor pool, gym, sauna and steam room. There's also tennis, and the golf facilities include a driving range and putting green.
Worsley Park, Manchester
Delta Hotels by Marriott Worsley Park Country Club's accommodation occupies an historic site set in 200 acres of parkland
Nestled in the northwest of England and surrounded by 200 acres of bucolic scenery, the Delta Hotels by Marriott Worsley Park Country Club offers easy access to vibrant Manchester as well as one of the finest inland golf courses in this part of the country. Also nearby is Legoland Discovery Centre and the Old Trafford and Etihad stadiums, plus you'll find plenty to entertain you on site, from the full-service gym, where exercise classes are complimentary, to the large indoor pool and dreamy spa. The mature championship course runs over 6,611 yards of undulating fairways, natural water hazards (there are eight lakes) and immaculate greens. Novice golfers will particularly love the wide fairways and large greens but some of the lengthier par fives will reward big hitters, making this par 71 course an enjoyable round for all abilities. The hotel has a welcoming country club feel and offers 200 tranquil acres of grounds, spacious rooms with idyllic views and French windows, and practice facilities including a driving range and putting green.
Published: July 26, 2022
Last Updated: January 24, 2023
Article Tags: Golf , United Kingdom