Luxury hotels grace some of the most beautiful places on the planet – and their extraordinary suites can take your experience of a destination to a whole other level. These are no ordinary hotel rooms, after all, boasting lavish amounts of space, one-of-a-kind features, bespoke interiors from top designers, superlative views and immaculate service. Perfection inside to match that awaiting you outside their doors.
Ready to experience this yourself? Check out – and check in to – these luxury suites in Europe, the Middle East and Africa.
The St. Regis Florence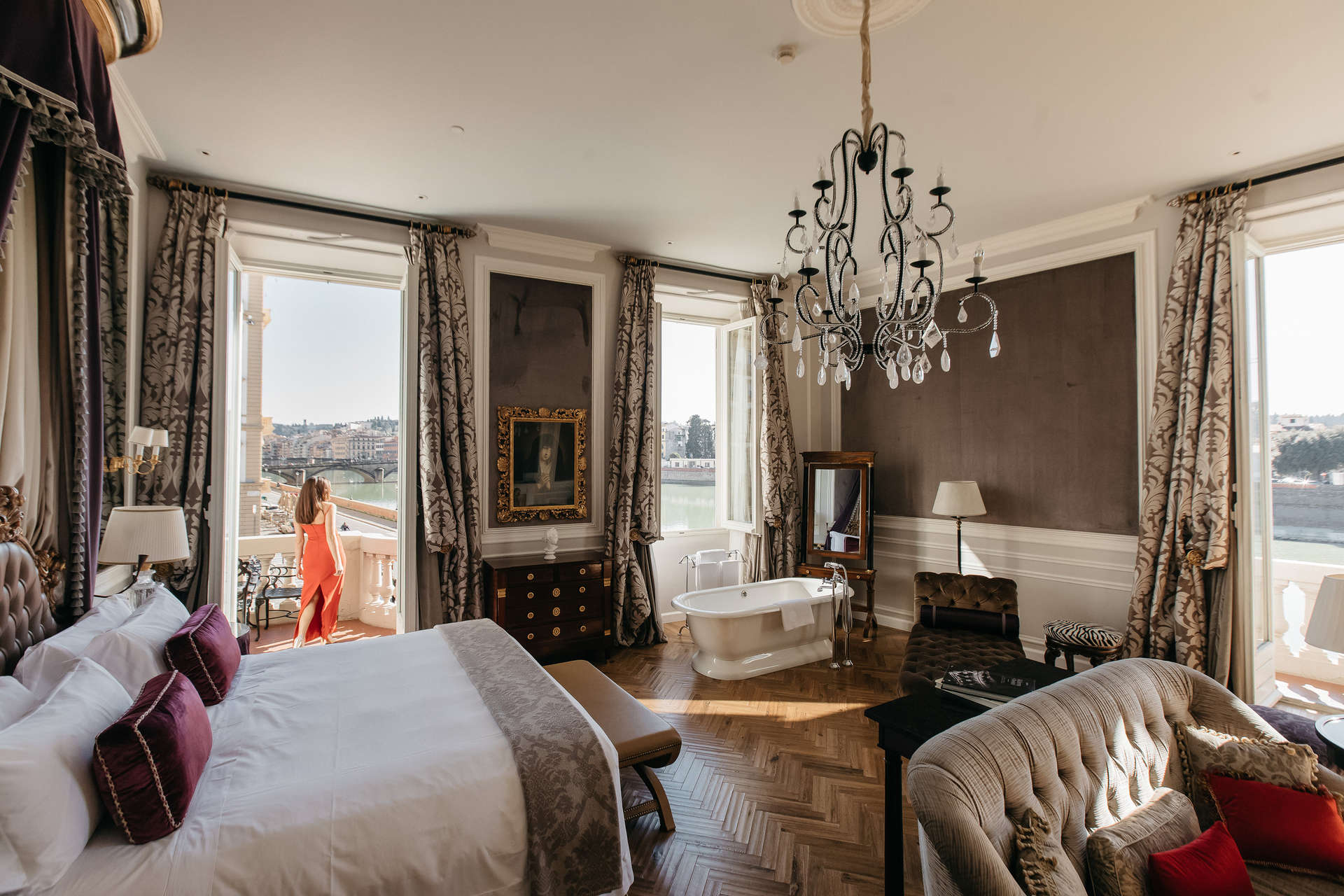 Crystal chandeliers hang lightly above bespoke wooden furniture in one of the suites at The St. Regis Florence
The birthplace of the Renaissance, Florence has been a powerhouse of art and design for centuries, and the gorgeous The St. Regis Florence fully embodies this ethos, from its grand chandelier-centred restaurant surrounded by a frescoed colonnade, to the perfectly accented suites that ooze old-world charm. Filippo Brunelleschi, a famed 15th-century Italian architect and Renaissance pioneer, designed this building, as well as the dome atop Florence's most iconic cathedral, placing this hotel in an elite architectural category.
The plush signature suites are painted in a classic colour palette of cool grey or honeyed amber, with eye-catching splashes of royal purple, rich red and sapphire blue – some spaces even have unique artwork and frescos. Crystal chandeliers hang lightly above bespoke wooden furniture, and you're sure to sleep soundly in the canopy bed covered with vibrant brocade fabrics. One suite, designed by luxury fashion house Bottega Veneta, takes a completely different approach, ushering in a sense of contemporary cool with a muted colour scheme. The effect is to let Florence's beauty shine through the elongated glass doors, while details such as cushions, frames and desk accessories are made in the intrecciato nappa (woven leather) style that's the brand's signature.
North Island, a Luxury Collection Resort, Seychelles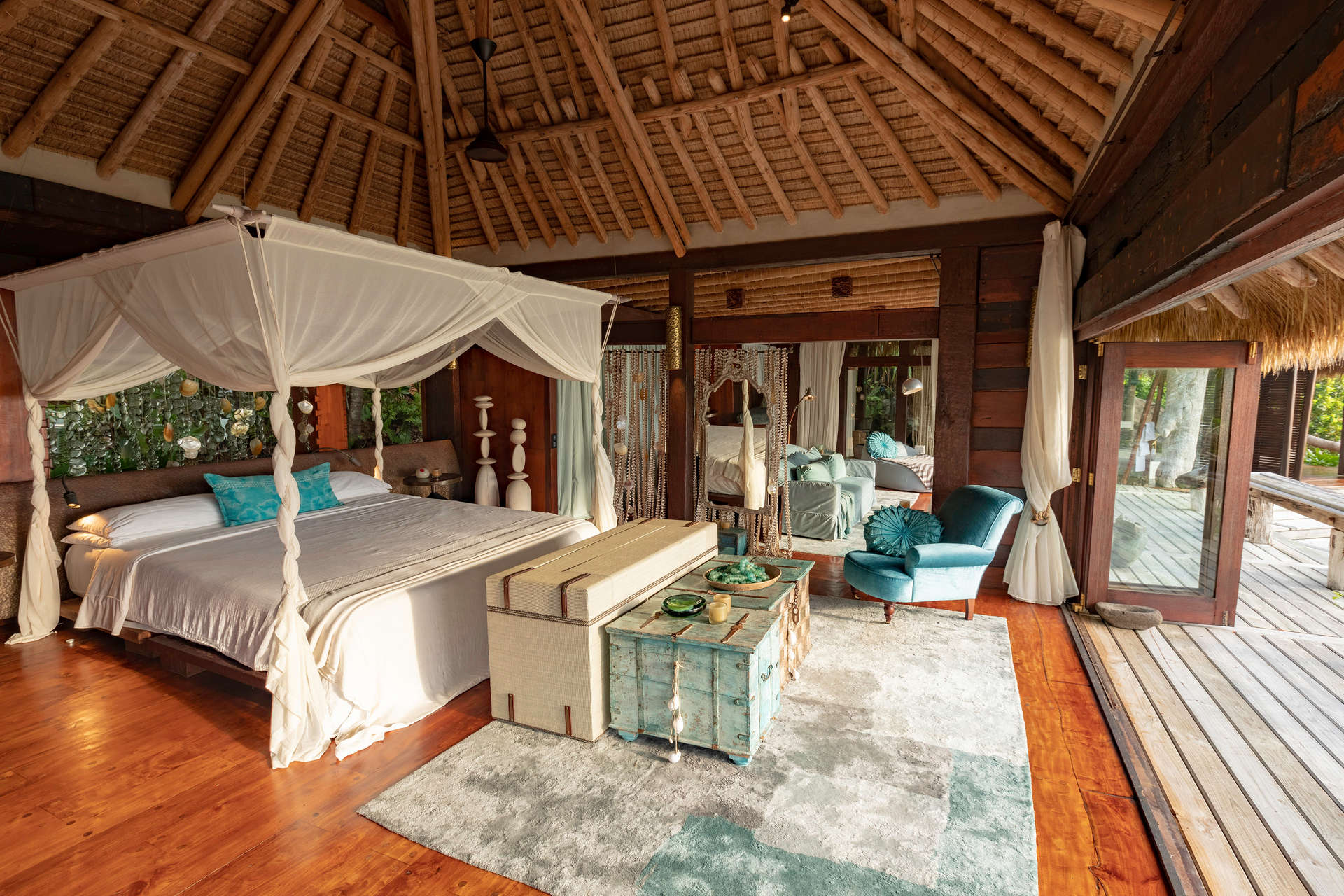 Villas at North Island, a Luxury Collection Resort, Seychelles feature local materials in a harmonious blend of opulence and natural aesthetics
Set on its own 201-hectare private island, North Island, a Luxury Collection Resort, Seychelles is paradise on earth. This exclusive hideaway miles from any other island has just 11 villas, each with its own dreamy plunge pool and unobstructed Indian Ocean views. A-listers including Prince William and Kate Middleton and George and Amal Clooney stayed here for their honeymoons, and you too can savour the seclusion and dig your toes into the soft pearl-white sands below the granite jungle-covered crags.
The airy villas are built from local Seychelles materials collected as the island was rehabilitated from a coconut farm, resulting in a harmonious blend of opulence and natural aesthetics. Separate living and dining areas provide space to spread out and relax. The (even more private) larger villa on the end of East Beach has cascading wooden levels with inviting sofas and thatch palapa umbrellas right down to the water.
The Jaffa, a Luxury Collection Hotel, Tel Aviv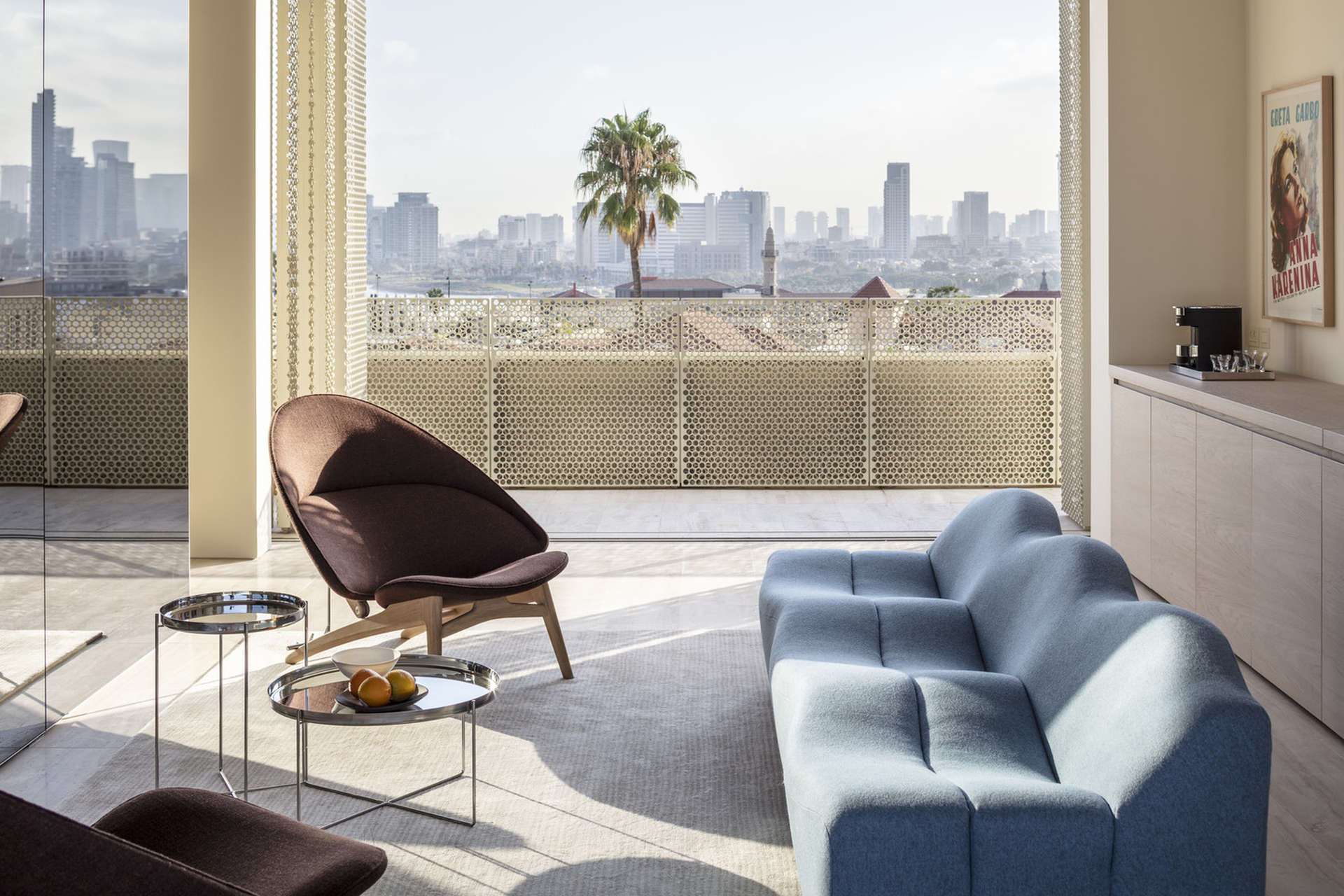 Suites at The Jaffa, a Luxury Collection Hotel, Tel Aviv just ooze contemporary design, with neutral desert tones, soft lighting and minimalist local artwork
The Jaffa, a Luxury Collection Hotel, Tel Aviv has been a destination for travellers to Israel for centuries, operating originally as a 19th-century French hospital and monastery, and now welcoming discerning visitors. The luxury hotel, whose conversion from its former incarnation took place under the watchful eye of celebrated British designer John Pawson, has serious historic cred, and the building's heritage mixes seamlessly with modern amenities, such as the lobby's Crusader-era stone wall uncovered during excavations that sits happily beside artwork by Damien Hirst. The hotel's bar, meanwhile, occupies a deconsecrated chapel with original frescoes restored to their former glory.
The suites' contemporary design of neutral desert tones, soft lighting and minimalist local artwork invites travellers to relax. Suites are outfitted with state-of-the-art technology, allowing you to open the mashrabiya-style latticework blinds with the push of a button to sip a coffee on the spacious balcony overlooking the historic port of Jaffa, downtown's skyscrapers in the distance and the glittering Mediterranean Sea.
The Ritz-Carlton, Abama, Tenerife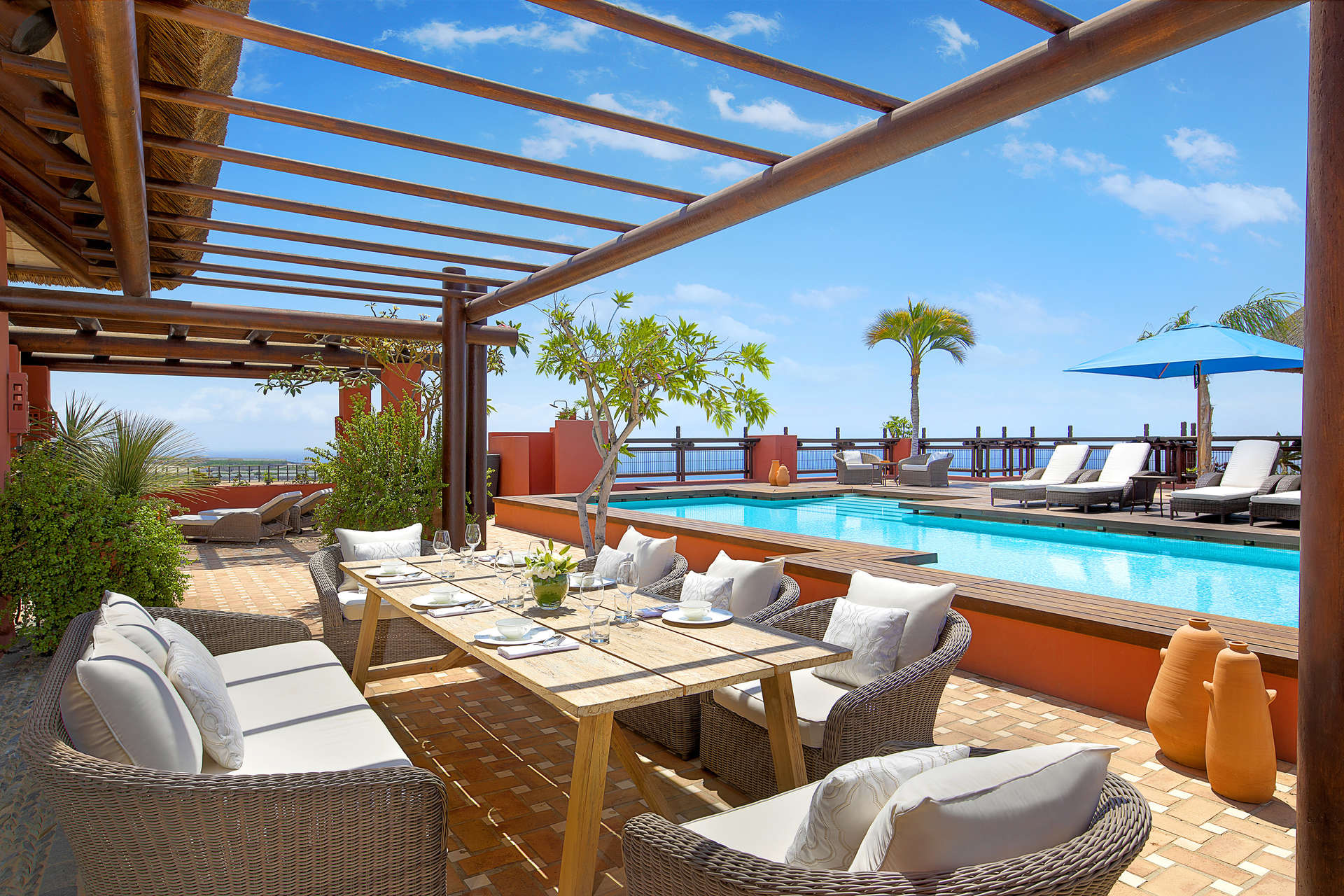 At Tenerife's The Ritz-Carlton, Abama, book the gorgeous Imperial Suite and enjoy a pool all to yourself
The popping desert-pink paint of The Ritz-Carlton, Abama sets the tone for this stylish, family-friendly resort on the Canary Islands, contrasting with the green palm leaves and endless blue of the oceanic backdrop. This spot is the ultimate retreat, with seven swimming pools and not one but two on-site restaurants with Michelin stars. Sip a handcrafted cocktail on the terrace of celebrated Japanese restaurant Kabuki and drink in views of both the lush resort and the hazy blue outline of neighbouring La Gomera island in the distance.
The VIP suites come with outdoor Jacuzzis – or an entire private rooftop pool in the case of the Imperial Suite – and have floor-to-ceiling picture windows to soak in the Spanish sunshine. A colour palette of creams and light wood with wicker outside keep the atmosphere easygoing but refined.
W Rome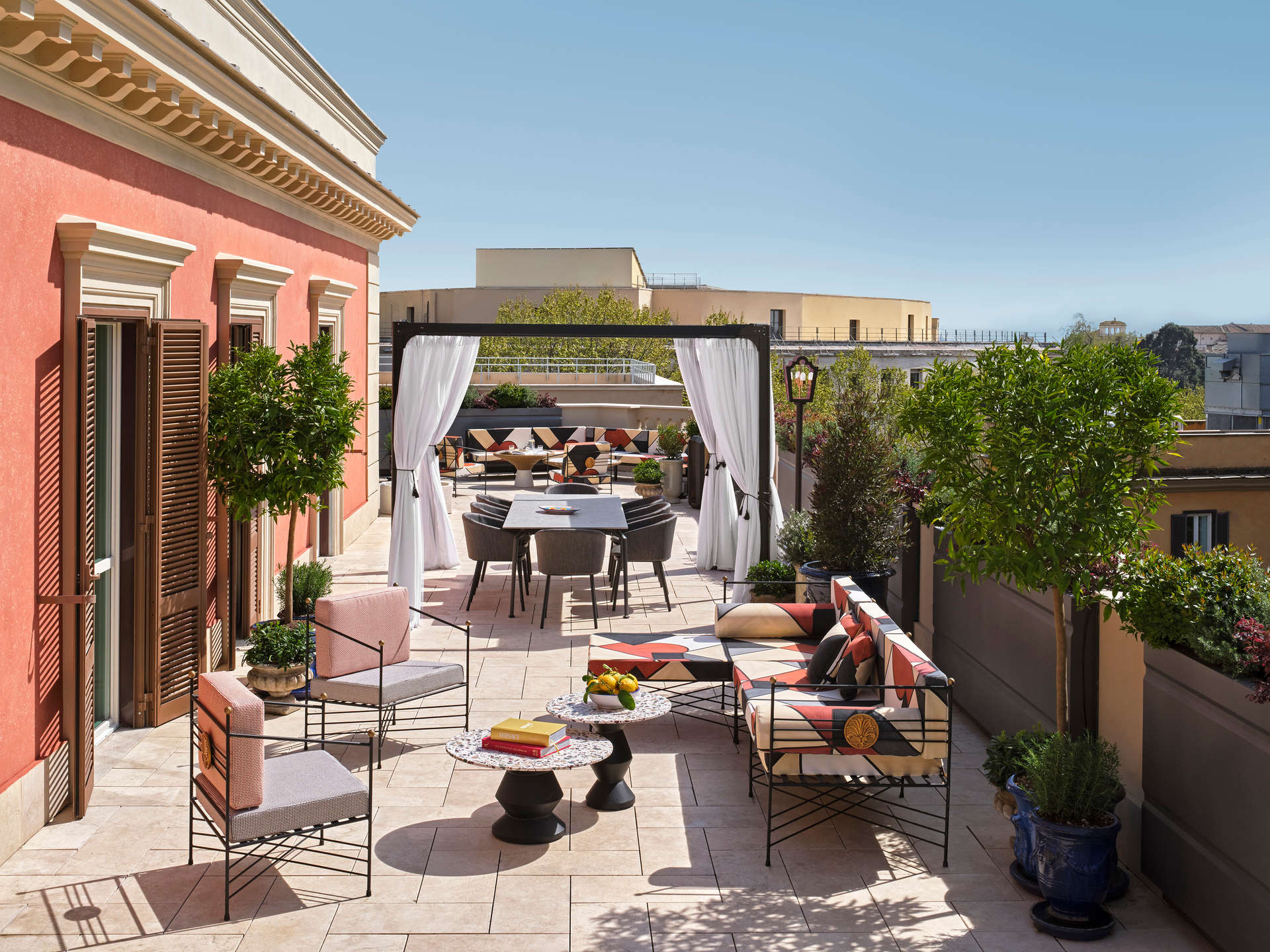 The bold colours and design – not to mention the expansive terrace – of W Rome's Extreme WOW Suite are a joyful celebration of la bella vita
Rome's urban fabric pulsates with some three millennia of human activity. There, the iconically ancient Pantheon and Colosseum; here, a Byzantine mosaic, baroque fountain or Renaissance fresco – and buzzing all around you, the fabulous work-in-progress that is contemporary Roman life, with its inimitable attitude, energy and creativity. So how do you make a mark on this near-Eternal City? W Rome does it with a masterstroke of architectural time travel. Located on Via Liguria, next to the Spanish Steps, the 162-room property's exterior is every inch the handsome historic palazzo – but step inside and W Rome's contemporary interpretation of luxury – not to mention the lobby's floor-to-ceiling fresco – will see you gazing up and down, this way and that – like every true Rome sight must. Expect indulgent Italian detail throughout (think exquisite marble and leather), while the Extreme WOW Suite brings la bella vita to its fullest expression, with its suite-long outdoor terrace and separate lounge with dining areas. The rarity of an expansive Rome terrace with city views makes the suite all the more exceptional.
Al Maha, a Luxury Collection Desert Resort & Spa, Dubai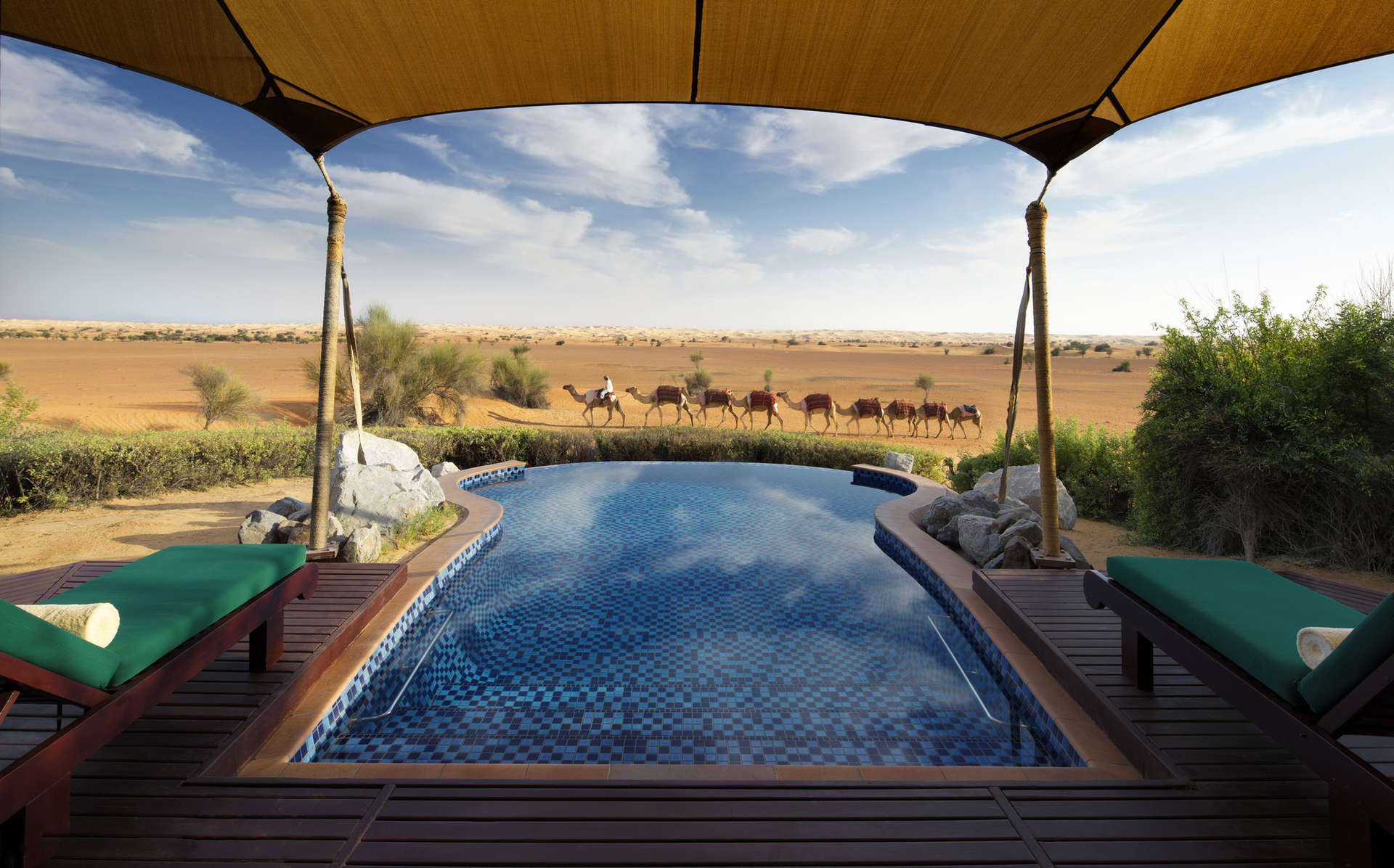 The canopy-covered suites at Al Maha, a Luxury Collection Desert Resort & Spa, Dubai offer stunning desert views
A perfect counterpoint to the big-city skyscrapers, Al Maha, a Luxury Collection Desert Resort & Spa, Dubai is located among the red sand dunes of the Dubai Desert Conservation Reserve, the UAE's first national park. Nearly hunted to extinction, graceful Arabian oryx were reintroduced to this wildlife reserve by Dubai's ruler, and it's now home to the largest free-roaming herd in Arabia. The resort's activities tap into traditional Bedouin culture, including falconry, nature walks and camel trekking.
Each freestanding canopy-covered suite has a plunge pool with an infinity edge and its own temperature controls. Inside, handcrafted dark wood furnishings offset the cream-coloured walls, and arty materials, such as a writing desk and an easel, will draw out your creative side. A pair of binoculars come in each suite as standard so you can feel closer to the landscape and wildlife.
The St. Regis Istanbul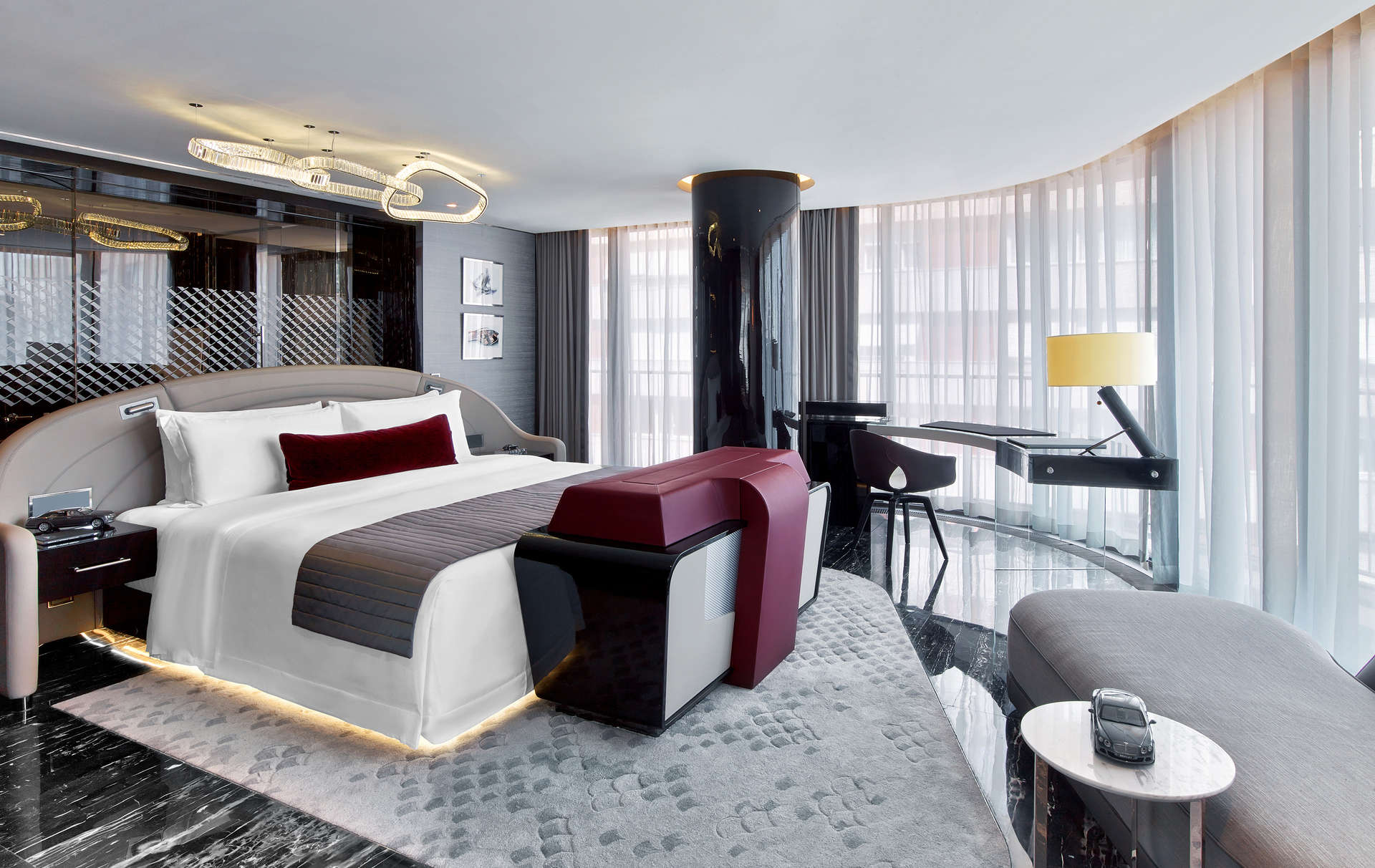 Every exquisite detail at The St. Regis Istanbul's Bentley Suite evokes the celebrated British luxury car brand's unparalleled quality
Istanbul's street life is remarkable, from the buzz of Istiklal Street to the impromptu gatherings at Taksim Square, where Istanbulites come together to mark important moments in Turkish history. In the past decade or so, the prestigious Nişantaşı neighbourhood's Abdi Ipekçi Street has developed into Istanbul's most exclusive retail destination, home to an ever-growing number of high-end brands. Overlooking the fashonistas gliding from Chanel to Gucci to Burberry below, a magnificent hotel room, dedicated to one of the world's most celebrated brands, sits prettily – The Bentley Suite at The St. Regis Istanbul. Whether you're driver or passenger, getting into your first Bentley is an unforgettable moment – and this suite replicates it, with veneer walls evoking the British classic's unmistakable curves, a light installation based on its headlights and an abstract wool-and-silk carpet inspired by the Bentley Continental's front grille. The only thing missing is that glorious engine hum, but we trust that a glass of champagne from the Bentley Mulsanne-style coolers will quickly soothe any disappointment – especially if you sip it on the Bentley Suite's grand balcony as you gaze out over stylish Abdi Ipekçi Street to the Bosphorous beyond.
Al Bustan Palace, A Ritz-Carlton Hotel, Muscat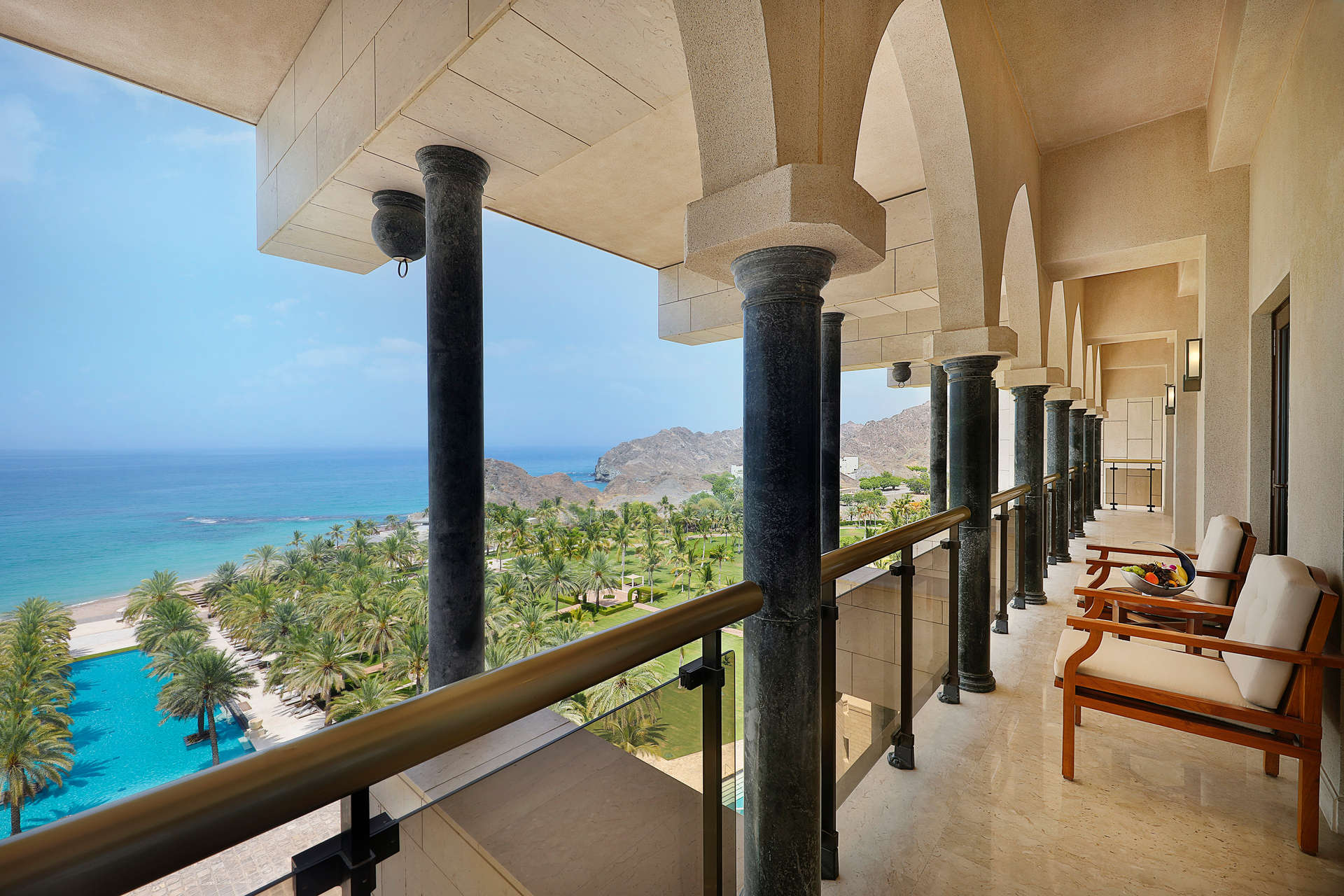 The palatial suites at Al Bustan Palace, A Ritz-Carlton Hotel, Muscat are accented with traditional Omani features
Opulence awaits at Al Bustan Palace, A Ritz-Carlton Hotel, where the reception's lofty ceiling is capped with a dome and glimmering pearlescent tile work greets guests. The woody scent of frankincense, the quintessential essence of Oman that's harvested in the country's Dhofar region, lingers in the air. Nestled between the Hajar Mountains and a private stretch of sand on the Sea of Oman, this property offers access to the best of the sultanate's beautiful landscapes and plenty of activities, including kayaking and paddle boarding.
The palatial suites are accented with traditional Omani features, such as patterned wooden doors and handcrafted metal lamps, but are equally contemporary, with uplit ceilings and oversized oval-shaped bathtubs. The muted beige colour palette emanates a sense of elegance, and floor-to-ceiling windows welcome the desert light. Colonnaded balconies frame the spectacular view of the azure sea and the purple-grey mountain peaks.
Published: July 26, 2022
Last Updated: August 08, 2022