With two countries, golden beaches galore, poetry-inspiring coastal views, dreamy English countryside and a whole raft of culture-soaked cities – including a capital – road-tripping the UK's South West is an adventure to remember.
If you hit the road midweek, you'll have entire stretches of this route to yourself – which means more opportunities to savour your surroundings. We start in the lively South Wales cities of Cardiff and Swansea – which make a perfect short break from London in themselves – before sampling the Wye Valley's bucolic charms, historic Bath and artsy Bristol. Next we meander along winding country lanes through the pastoral counties of Hampshire, Wiltshire and Somerset, and breathe in the refreshing sea-salt air of Devon and Dorset's windswept coast roads. Whether you're after lazy summer days on Jurassic Coast beaches or golden-hued autumnal strolls, South Wales and the South West of England have something to offer at every time of year.
Swansea and the Gower Peninsula
Revered for the white-sand sweep of its bay, and for its many excellent museums, Swansea gets the tour off to a fabulous start. Even the most casual literature fans will be fascinated by the Dylan Thomas Centre, dedicated to Wales' most beloved poet, and Thomas' Birthplace museum. Stay at the Delta Hotels by Marriott Swansea, right by the marina, for easy access to both the city centre and the beach. It's also an easy drive to the Gower Peninsula, home to craggy coves, smooth crescents of golden sand, mysterious ruins, and the best surfing spots in Wales.
Cardiff and the Valleys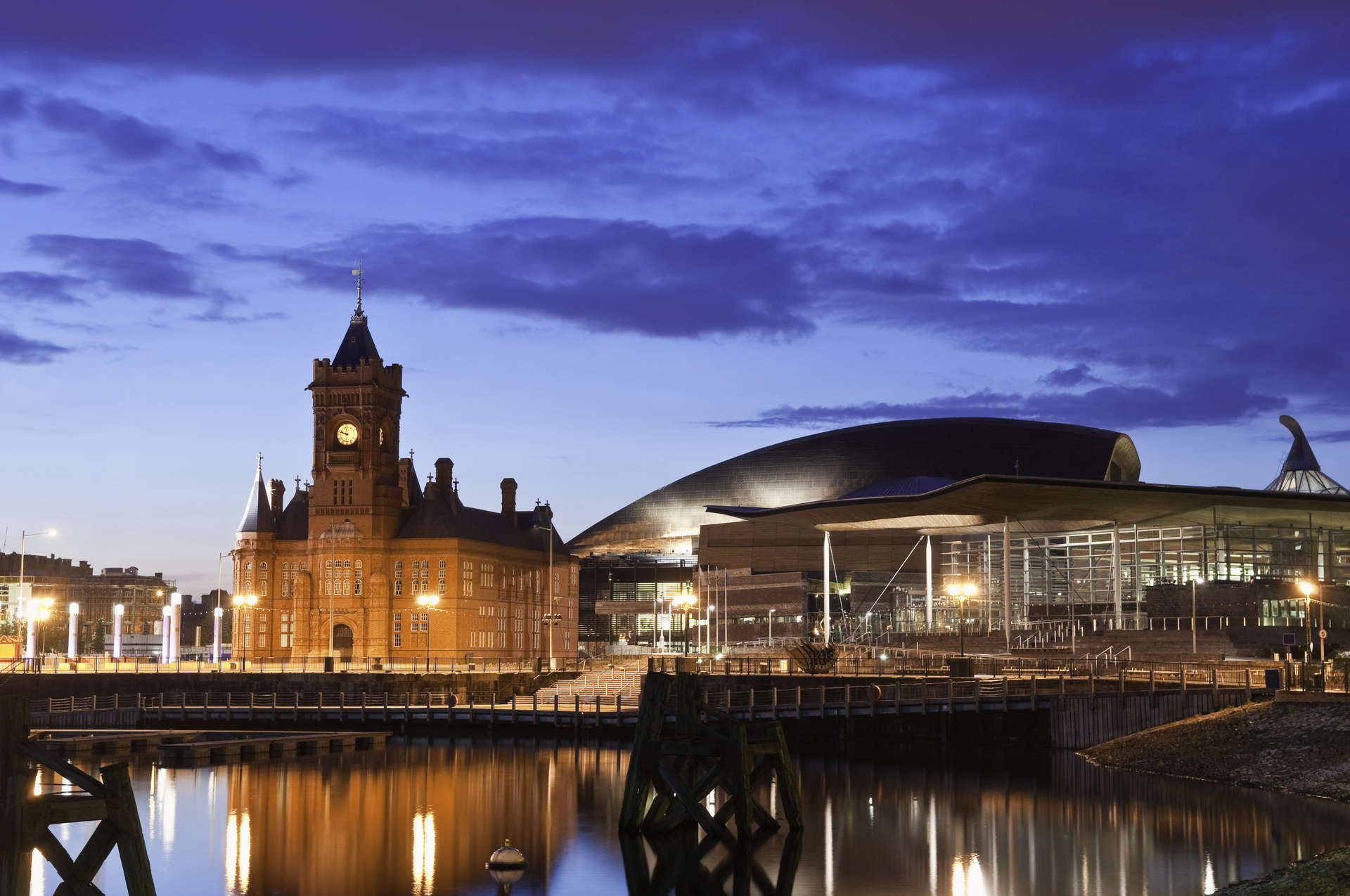 The bold, modern Wales Millennium Centre encapsulates Cardiff's forward-looking spirit
Lying under an hour's drive east of Swansea, Cardiff has a completely different atmosphere to its neighbour. The Wales Millennium Centre encapsulates its forward-looking spirit: it's a bold, modern structure made with traditional Welsh materials, with a huge inscription in Welsh and English carved into its copper dome. You can learn more about one of Cardiff's most celebrated sons, children's author Roald Dahl, by visiting the white-wood Norwegian Church where he was christened, or attending a concert at Roald Dahl Plass. Just ten minutes' walk from the Cardiff Marriott Hotel, step further back into the city's history at Cardiff Castle, with its unique mix of Norman keep and opulent Victorian Gothic apartments, before exploring the thoroughly modern live music venues (midweek often sees up-and-coming acts take the stage), top-tier theatres, restaurants and pubs.
You can get a deeper sense of Welsh culture in the area around Cardiff. Visit the Big Pit in Blaenavon for memorable insights into the area's coal-mining history, or head to Castell Coch to marvel at its fabulously ornate interiors. And if your historical wanderings work up an appetite, indulge in some crumbly, creamy Caerphilly cheese. You'll spot it on menus throughout the region, and can pick up a hefty slice at any deli – try Wally's Delicatessen & Kaffeehaus. Visit the town of Caerphilly itself in July for the Big Cheese Festival (which also has plenty of non-cheesy attractions) if you can. Every bakery in these parts will sell Welsh cakes, which must not be missed. They're like flatter, more compact scones, delicately spiced and sprinkled with sugar.
The Wye Valley and around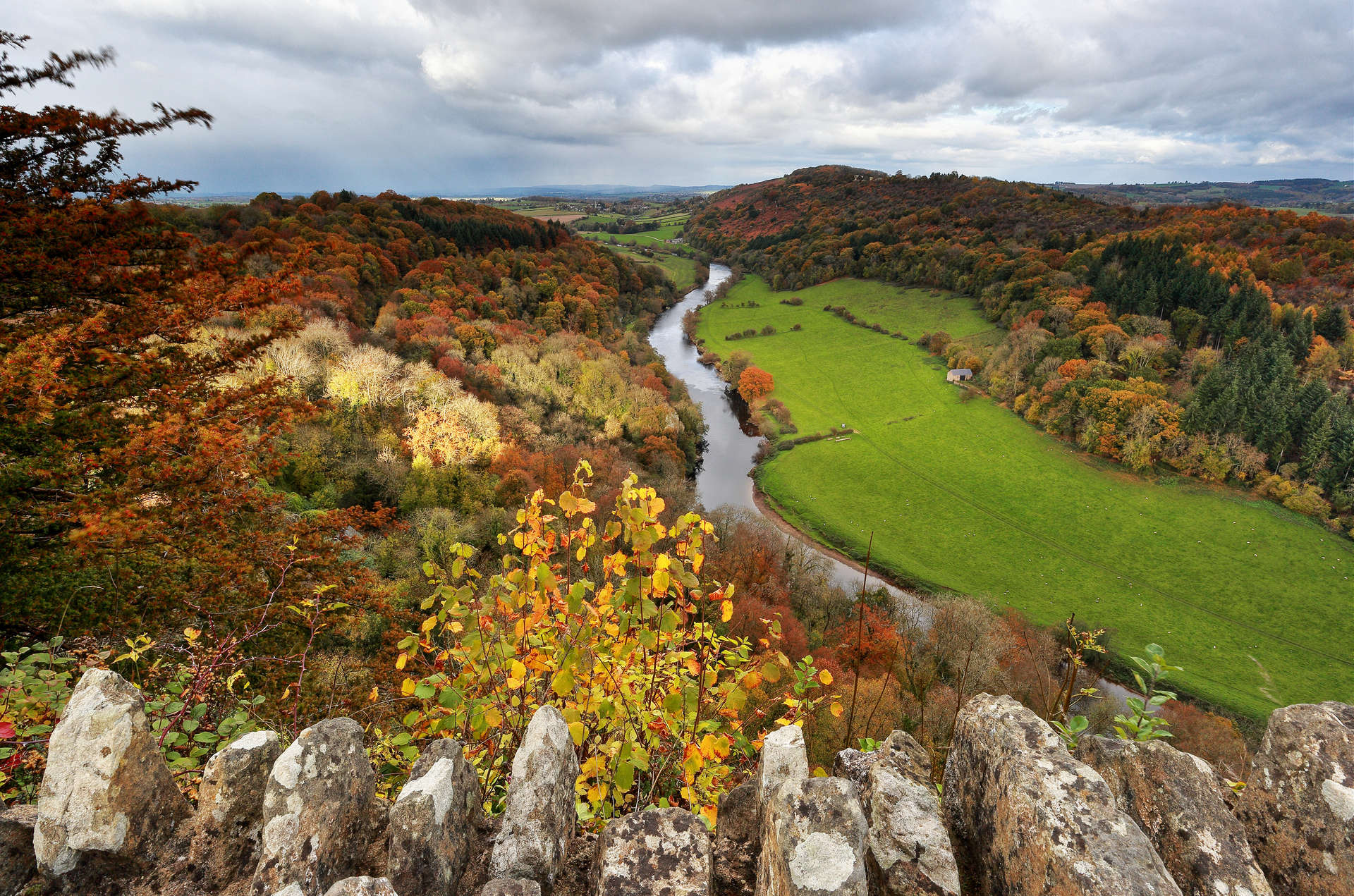 The special beauty of the Wye Valley has inspired artists for generations
The area around the Wales-England border has some of the region's most bucolic scenery, and is the ideal place for some R&R in the middle of your road trip. Stay at the Delta Hotels by Marriott St. Pierre Country Club for a few rounds of golf on the immaculate green, or an indulgent spa treatment. Once you're fully refreshed, you can head out to explore the outdoor attractions of the wooded Wye Valley by bike, on foot, or even from the water – canoeing down the River Wye is a great family activity. The area has inspired artists for generations, so head out for a gentle ramble and see if the romantic ruins of Tintern Abbey affect you as much as they did Wordsworth and Turner.
Bristol and Bath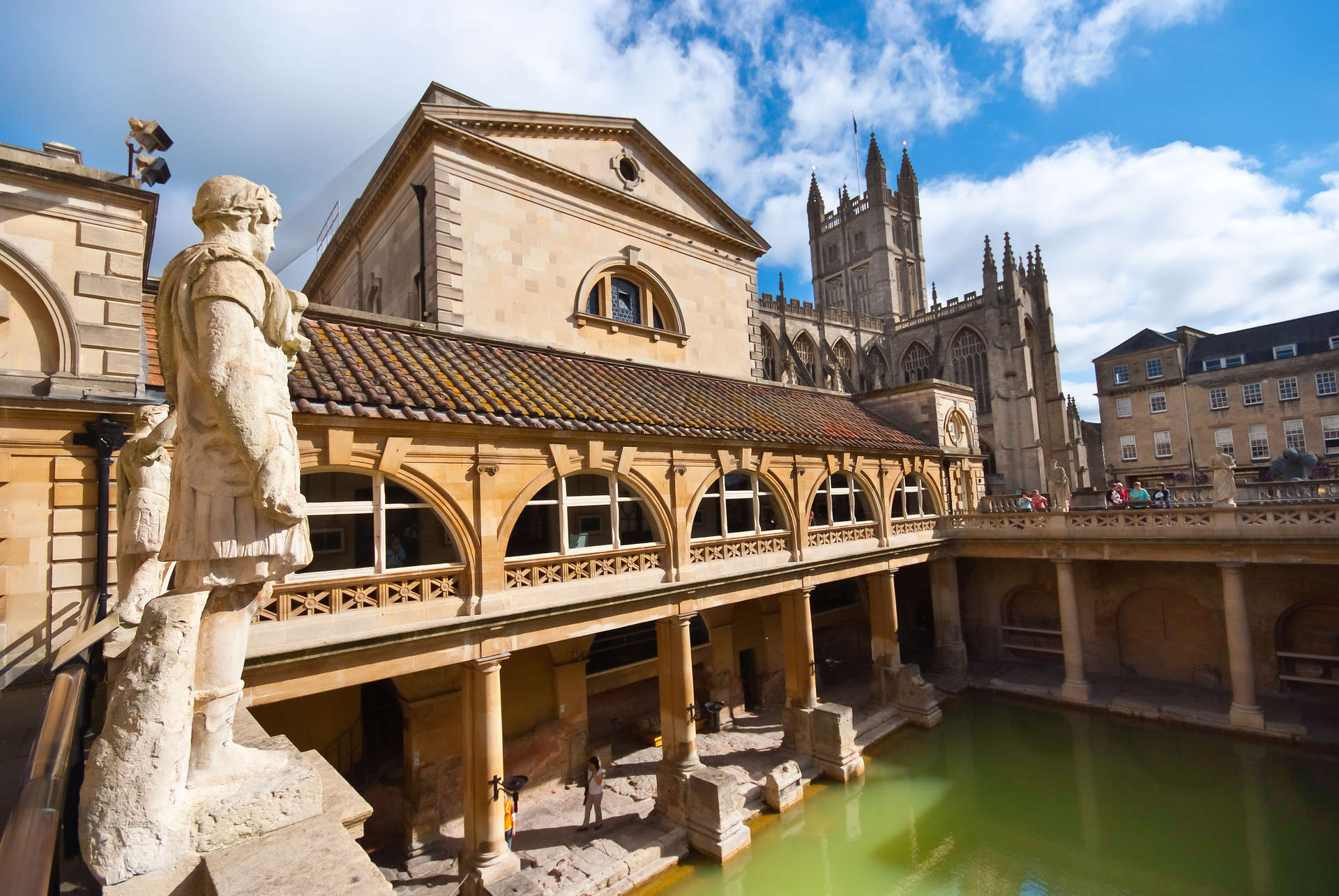 Bath's incredibly well-preserved Roman thermae site was founded some two millennia ago
Once you've crossed the River Severn into England, Bristol beckons. Renowned for the mysterious street artist Banksy, the graceful span of Brunel's Clifton Suspension Bridge, and its thriving culinary and nightlife scenes, this is a joyously varied city. Get a flavour of Bristol's mercantile history in the port area, join a walking tour to learn about Banksy and the wider Bristol street-art scene, or marvel at the city's medieval churches. Stay at the Italianate Bristol Marriott Royal Hotel for easy access to the cathedral and port, or the modern Delta Hotels by Marriott Hotel City Centre for the castle park and shopping quarter.
The region's diversity doesn't end when you leave the city. The illuminated rock formations of Wookey Hole and dizzyingly high limestone walls of Cheddar Gorge and Caves make for great family days out. A visit to Wilkins orchard gives you a glimpse of the area's rural traditions, and a chance to try cider – the South West's favourite tipple – fresh from the barrels. Bath, meanwhile, offers the opportunity to step out of the car and into the early nineteenth century – promenade down its golden-hued sandstone avenues and you'll feel you've stepped into the pages of one of Jane Austen's Regency romances. Go even further back in the city's history by visiting the well-preserved Roman Baths.
Exeter and around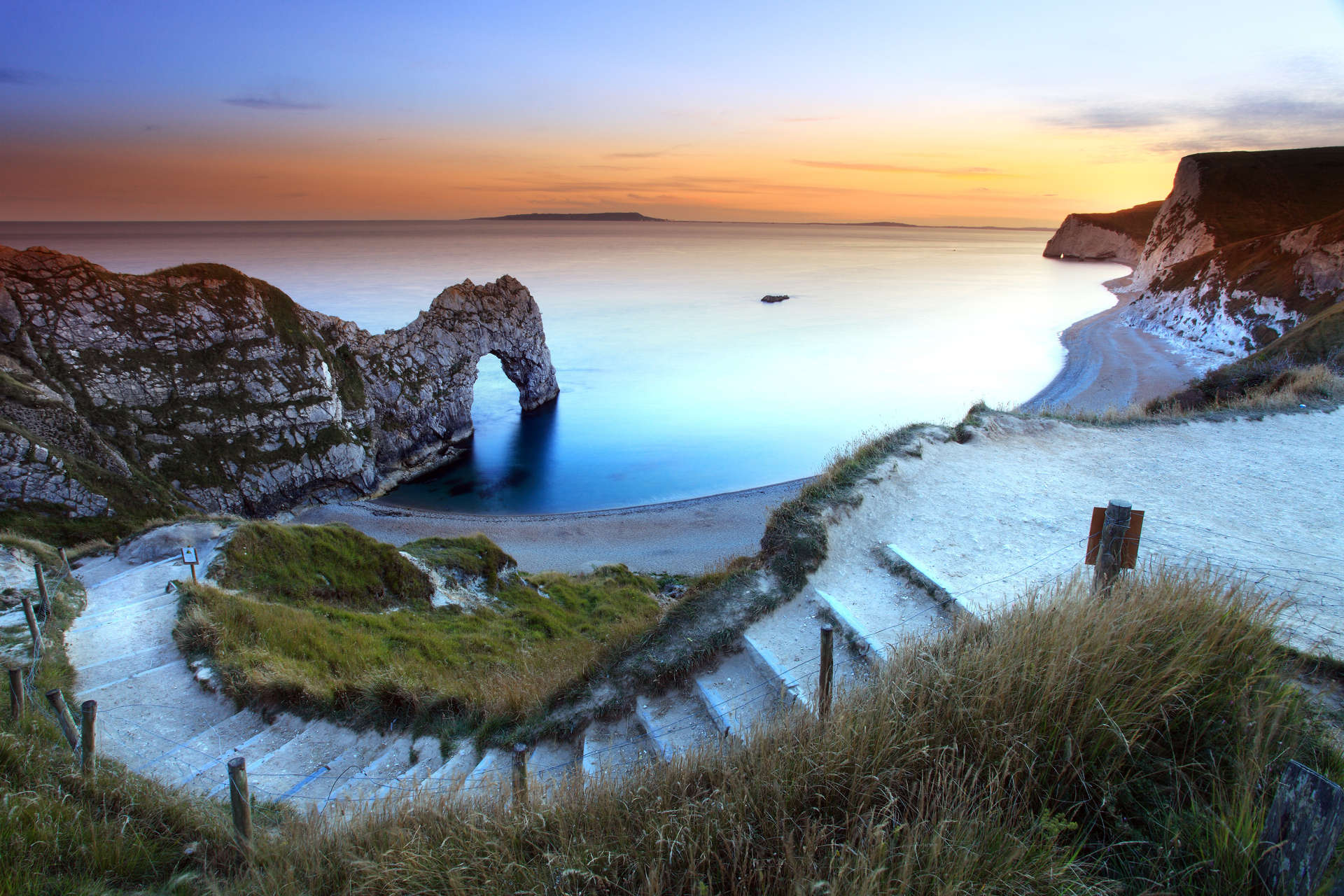 The South West's Jurassic Coast offers everything from windsurfing to fossil hunting
You can feel the history the moment you enter Exeter, an easy hour and a half southwest of Bristol. The is dominated by its cathedral, a soaring structure which is probably the country's best example of Decorated Gothic architecture. From here, descend into the city's atmospheric underground passages, which are always a hit with children. The city is also known for its independent shops, with Sancho's becoming popular far beyond the city for its ethical clothing, while the colourful racks of velvet and tulle in The Real McCoy are a thrill for any vintage fashion fan. There's fierce support for local rugby team the Chiefs, and the stylish Courtyard by Marriott Exeter Sandy Park, next to the stadium, is the best place to stay if you want to catch a game.
While in Devon you're practically required to try the local delicacy, a cream tea – scones served with an inadvisably thick layer of clotted cream and a generous dollop of sweet, tangy jam. Richard Hunt – Head Chef at The View, located on the top floor of the Courtyard by Marriott Exeter Sandy Park – once paid homage to the cream tea's iconic status by baking a one-tonne scone for the Devon County Show. Though not as huge, you can enjoy wonderfully plump scones at Badgers Holt on Dartmoor (which also has vegan and gluten-free options). It's perfect for refuelling after clambering over the granite tors jutting out of the moor, or hiking to the prehistoric Bronze-Age settlement of Grimspound and mystical standing stones like the Nine Maidens and Merrivale Rows.
Exeter makes a great base for exploring the Jurassic Coast, which offers everything from windsurfing to fossil hunting. Make a stop at the quirky 16-sided house of A La Ronde on your way to the watersports hub of Exmouth, or just make straight for the South West Coast Path for a day of glorious sea views. No-frills Frydays in Seaton is a perfect fish-and-chip pitstop along the way.
Bournemouth and around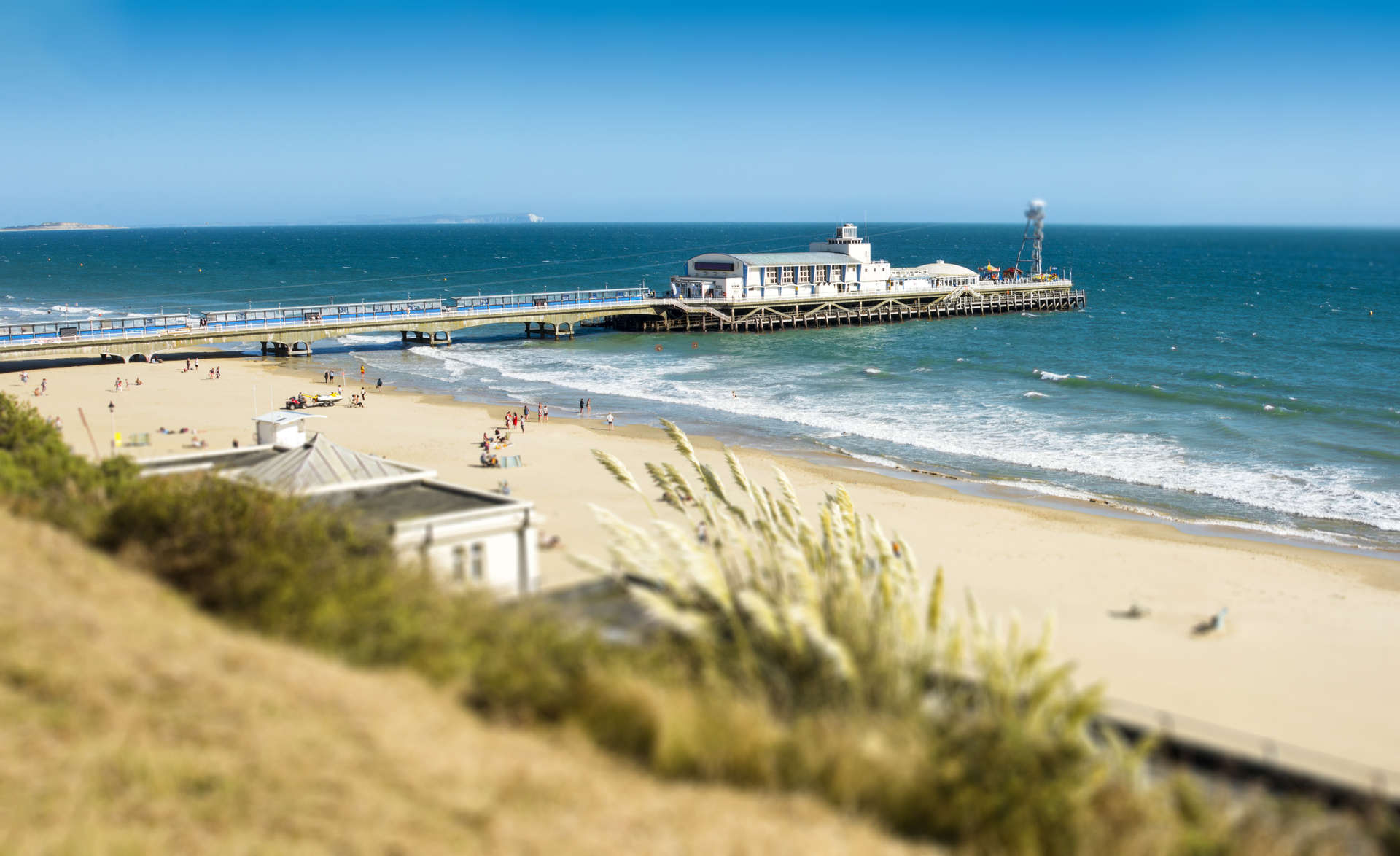 Genteel, Victorian-era Bournemouth is known for its impeccably clean sandy beach
Bournemouth has all the genteel atmosphere of a Victorian seaside resort, complete with pier and clifftop railway. The gateway to the South West and its coastal charms, the town is best known for its impeccably clean sandy beach, old-growth pine trees and lush gardens. The Russell-Cotes Art Museum houses an eclectic collection in an Art Nouveau mansion, perched on a clifftop overlooking the beach. Commanding a similarly impressive spot, the Bournemouth Highcliff Marriott Hotel is one of best places to stay in town. It's a five-minute stroll down to the beach – or just use the West Cliff Lift, right in front of the hotel. Given its location, it's no surprise that Bournemouth is known for its deliciously fresh fish. West Beach is an award-winning option for seafood – local whole or filleted fish are always on the specials board. Hake is always a winner but snap up the lobster if it's available.
Bournemouth and the area around it are steeped in literary and artistic traditions. If you have time, stop off at Lyme Regis en route from Exeter to see wind-whipped seafront locations used by Jane Austen. Just east of Lyme is atmospheric Chesil Beach (of On Chesil Beach and Moonfleet literary fame), a shingle barrier beach which protects Fleet Lagoon and its colony of 600 swans. In Bournemouth itself, St Peter's Church boasts Gothic Revival architecture and artworks, plus ties to one of Britain's great Gothic writers – Frankenstein author Mary Shelley is buried here with the heart of her husband, poet Percy Bysshe Shelley.
On your way back to London, you can add on a stop at the mysterious stone circle of Stonehenge, one of Britain's most impressive – and popular – prehistoric sites. Going midweek will minimise crowds. Of course, in these parts, the ancient sites come thick and fast. If road-tripping midweek has given you a taste for crowd-free travel, then switch Stonehenge for the eyebrow-raising Cerne Abbas Giant, Old Sarum's Iron-Age fort, or the fascinating ruins of Corfe Castle.
Published: August 03, 2022
Last Updated: October 18, 2022
Article Tags: Road Trip , United Kingdom