Bathed in sunlight and surrounded by aquamarine ocean, the idyllic isles of the Seychelles and Mauritius make for the ideal summer escape.
Here you can sink your toes into the whitest of sands, snorkel above reefs teeming with tropical fish, and adventure into the rainforest in search of waterfalls. This is also a place to slow your pace – to spot a giant tortoise, perhaps, or to savour feasts of boat-fresh seafood – and to nourish body and mind with therapeutic treatments. It's time to enjoy your perfect Indian Ocean summer.
Experience nature nourishing your soul
All it takes to relax at North Island, a Luxury Collection Resort, Seychelles is to admire the scenery, or you might indulge in a spa treatment (Photo: Marriott Hotels International)
The sound of the waves washing up on the beach, the scent of tropical flowers on the breeze and the feel of warm sunshine on the skin, Mauritius and the Seychelles promise the chance to truly relax. In this environment, simply kicking back and watching the world go by can be quite enough – but dedicated therapeutic treatments and relaxation practices can open up new worlds of rejuvenation. At North Island, a Luxury Collection Resort, Seychelles, you can enjoy the sunniest of sun salutations with a morning yoga class, take dips in a gorgeous infinity pool carved into granite slopes, and surrender to expert massages with views out to the turquoise ocean.
In Mauritius, the Explore Spa at Le Méridien Ile Maurice tempts you in with Ayurvedic treatments, plus an array of saunas, steam rooms and Jacuzzis to soothe the body and mellow the mind. Book a room in the Nirvana wing and you'll also have access to the exclusive Nirvana pool, complete with bubble benches sized for two in the adults-only pool, and an intimate beach area where sunset cocktails are served.
Explore the Indian Ocean's underwater wonders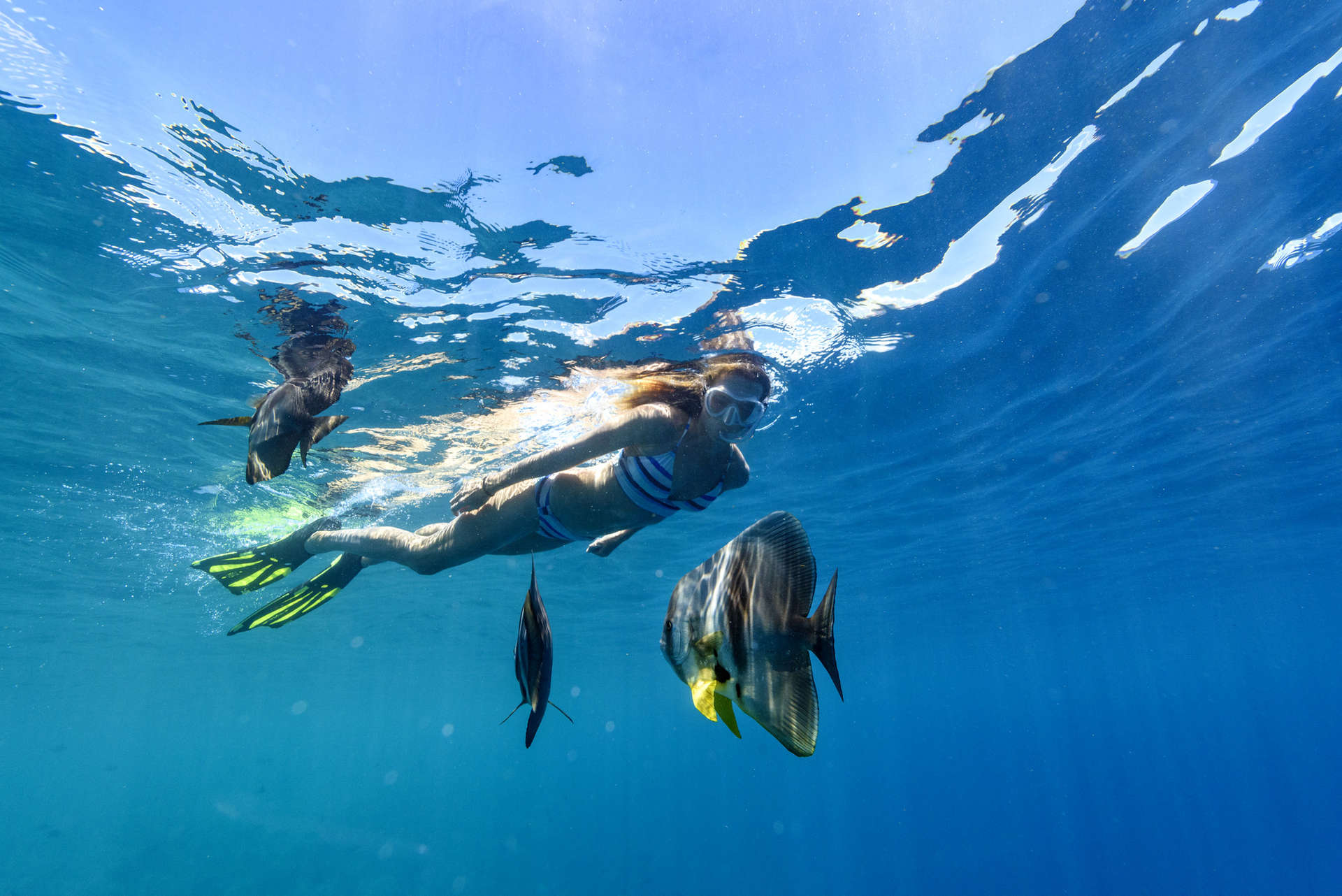 Enjoy the beautiful waters of the Indian Ocean – dive right into them to experience their full splendour (Photo: Marriott Hotels International)
Nowhere can rival North Island in the Seychelles for aquatic beauty. At North Island, a Luxury Collection Resort, Seychelles, you can explore aquamarine waters and coral reefs by donning a snorkel and simply floating in the gentle currents above the inshore reef – expect your shadow to prompt schools of colourful fish to plume and whirl around you as you pass, and keep an eye out for turtles. To get a little deeper, book a scuba dive trip. Alternatively, glide above it all by heading out on a stand-up paddle board or in a kayak.
Over in Mauritius, The Westin Turtle Bay Resort & Spa stands adjacent to one of only two marine nature parks on the island. Turtle Bay is home to dozens of the eponymous creatures and the hotel's Watersports Center can provide snorkel and scuba-diving equipment. They can also organise more active pursuits such as water skiing and sailing.
Sample a perfect taste of paradise
The Indian Ocean has long been a global crossroads, a place where cultures meet and flavours fuse to stunning effect.
In Mauritius, you'll find Indian-inspired dishes such as fish cari (curry) flavoured with cumin, coriander and chilli, as well as dishes with a French flair such as rougaille (a spicy but light tomato sauce served with rice), which nod to the island's history. Dining is best performed al fresco here, for what could be better than reclining beachside, a saltwater-scented breeze wafting the smell of the freshest Indian Ocean seafood towards you as it sizzles on the grill? Settle in at The Boathouse Grill & Bar at the JW Marriott Mauritius Resort for elegant lobster dishes, or join the lantern-lit barbecue at the Beach Grill restaurant at The Westin Turtle Bay Resort & Spa. Alternatively, take a table at Kumin at Le Méridien Ile Maurice, or Kangan at The Westin Turtle Bay Resort & Spa to delight in authentic Indian cuisine of the highest order.
In the Seychelles, seafood takes the leading role, with delicious local red snapper, langoustines and octopus gracing the menu at restaurants such as The Piazza at North Island, a Luxury Collection Resort, Seychelles, an elegant terrace where you'll dine beneath the takamaka tree by day and the stars by night.
Feel the thrill of adventure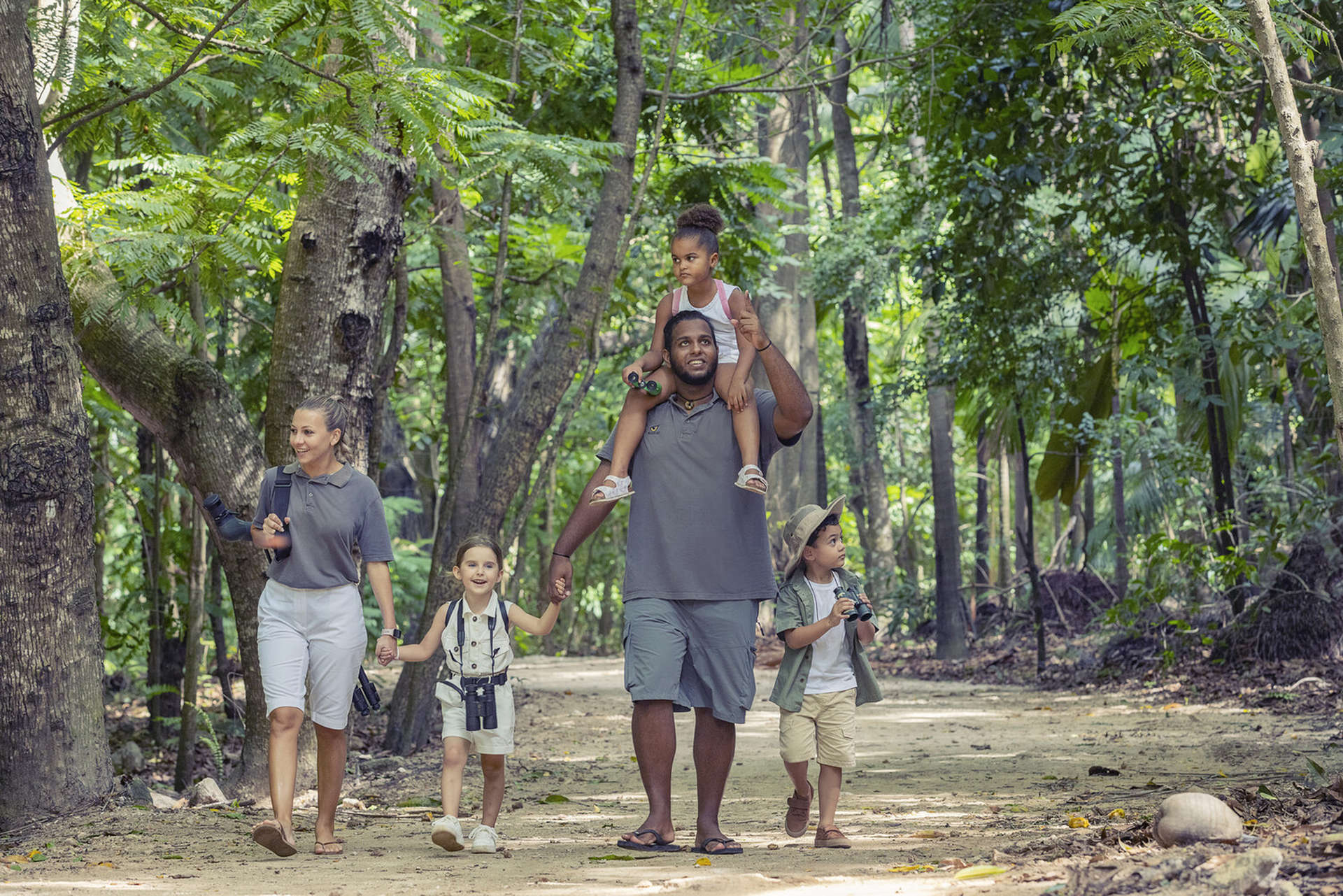 Both adults and children can have their fill of adventure (Photo: Marriott Hotels International)
The Seychelles' largest island, Mahé is ripe for adventure. Head out on the Trois Frères trail, a hike that climbs through a landscape of spice trees, for panoramic views across the archipelago; or take to the Copolia Trail to spot carnivorous plants and experience the dense jungle atmosphere at the island's heart. Both can be organised by Iaïla Resort, as the hotel encourages its guests to explore, and offers a range of bespoke jaunts and expeditions around the island.
Mauritius is dominated by Le Morne Brabant mountain, a basalt formation whose summit stands 556 metres above sea level. Reaching the top of this UNESCO World Heritage Site is the island's greatest adventure, with a 3- to 4-hour climb that rewards with glorious views across the Indian Ocean. Another highlight is Tamarind Falls, a series of seven cascades and idyllic swimming spots that you might just have to yourself. Excursions to both can be organised by the islands' hotels, including Le Méridien Ile Maurice and JW Marriott Mauritius Resort. 
Soak up some local culture
No visit to Mauritius is complete without spending some time in the island's vibrant capital Port-Louis. Stroll along the Caudan Waterfront, where you'll find numerous local restaurants and shops, before paying a visit to the open-air central market to taste local fruits and spices and soak up the local culture.
In the Seychelles, Iaïla Resort offers guests the chance to sample local culture within the resort itself, with its Creole cookery classes and traditional weaving demonstrations. There's even an evening dedicated to the islands' dynamic Moutya music, when you can dance around the bonfire to Seychellois beats.
Plan a truly magical wedding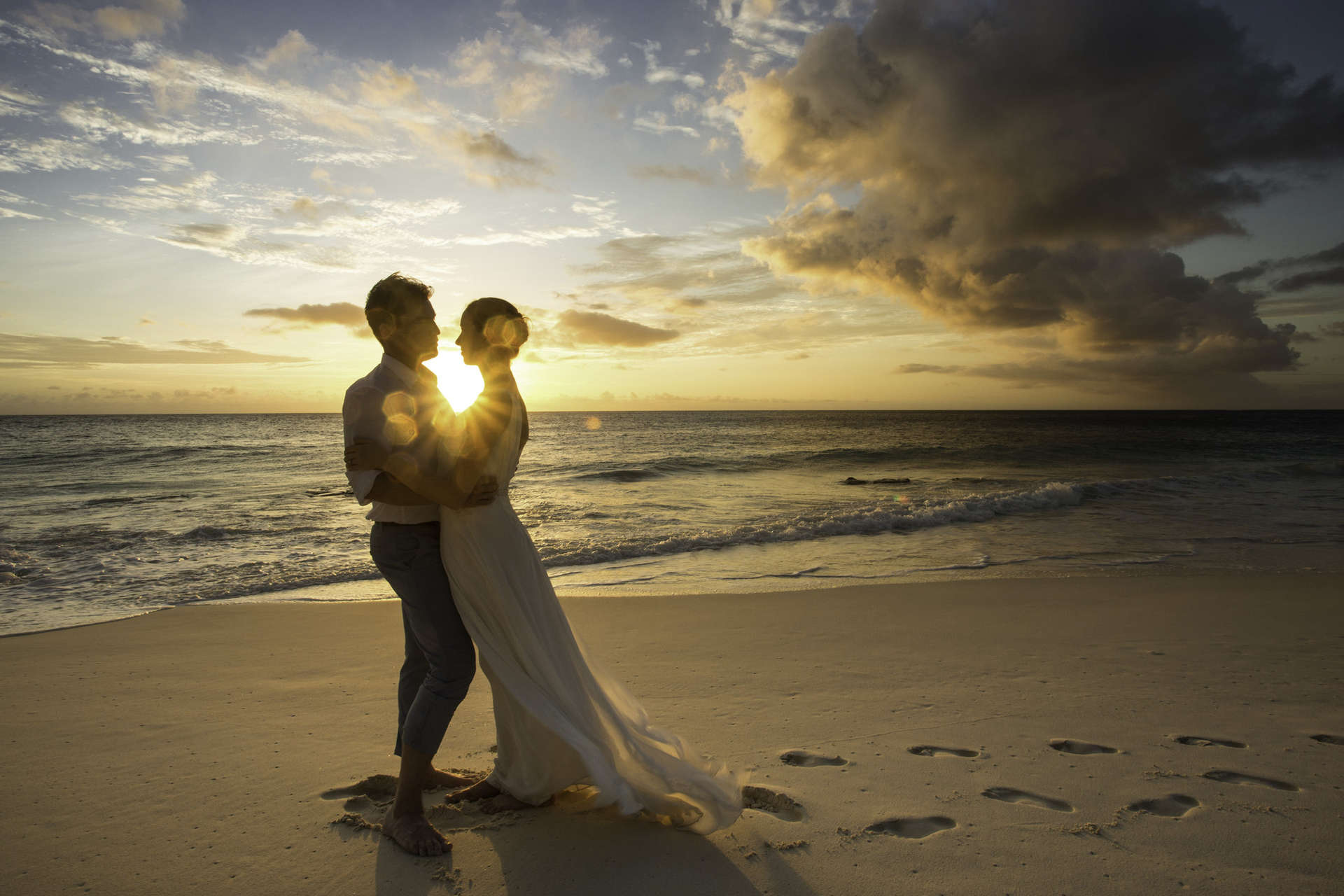 You can be sure that your wedding will be everything you've dreamed of when holding it on these beautiful islands (Photo: Marriott Hotels International)
What could be more romantic than exchanging vows on the beach, the ocean your soundtrack, the jungle your backdrop? Both Mauritius and the Seychelles are blissful places to get married, and the islands' hotels offer everything you need to make your special day perfect.
At The Westin Turtle Bay Resort & Spa in Mauritius, a dedicated Westin Wedding Specialist will take care of every detail, organising the perfect flower-bedecked pavilion on the beach, or decorating the hotel's chapel to your specifications. The spa is your venue for hair, make-up and manicure, while the Banyan Ballroom can host a reception for up to three hundred guests. Also in Mauritius, the JW Marriott Mauritius Resort can organise a ceremony with Le Morne mountain as a backdrop, while in the Seychelles you can choose to book North Island, a Luxury Collection Resort, Seychelles exclusively for your wedding, ensuring total privacy and the freedom to design every detail of your special day.
Published: February 27, 2023
Article Tags: Mauritius , Seychelles