One of the world's smallest and most beautiful countries, with two outstanding UNESCO World Heritage Sites, the Seychelles is everything a tropical paradise should be, and more.
The archipelago's 115 isles are grouped into a cluster of Inner Islands, including the lush, granite-peaked Mahé, Praslin and La Digue; and the Coralline or Outer Islands, a playground of shimmering atolls and lagoons, stretching towards the coast of East Africa. With year-round temperatures ranging from 24 °C to 32 °C, award-winning beaches, resorts and spas, and unique cultural experiences to enjoy, the Seychelles is the ultimate Indian Ocean escape.
The best places to visit in the Seychelles
Mahé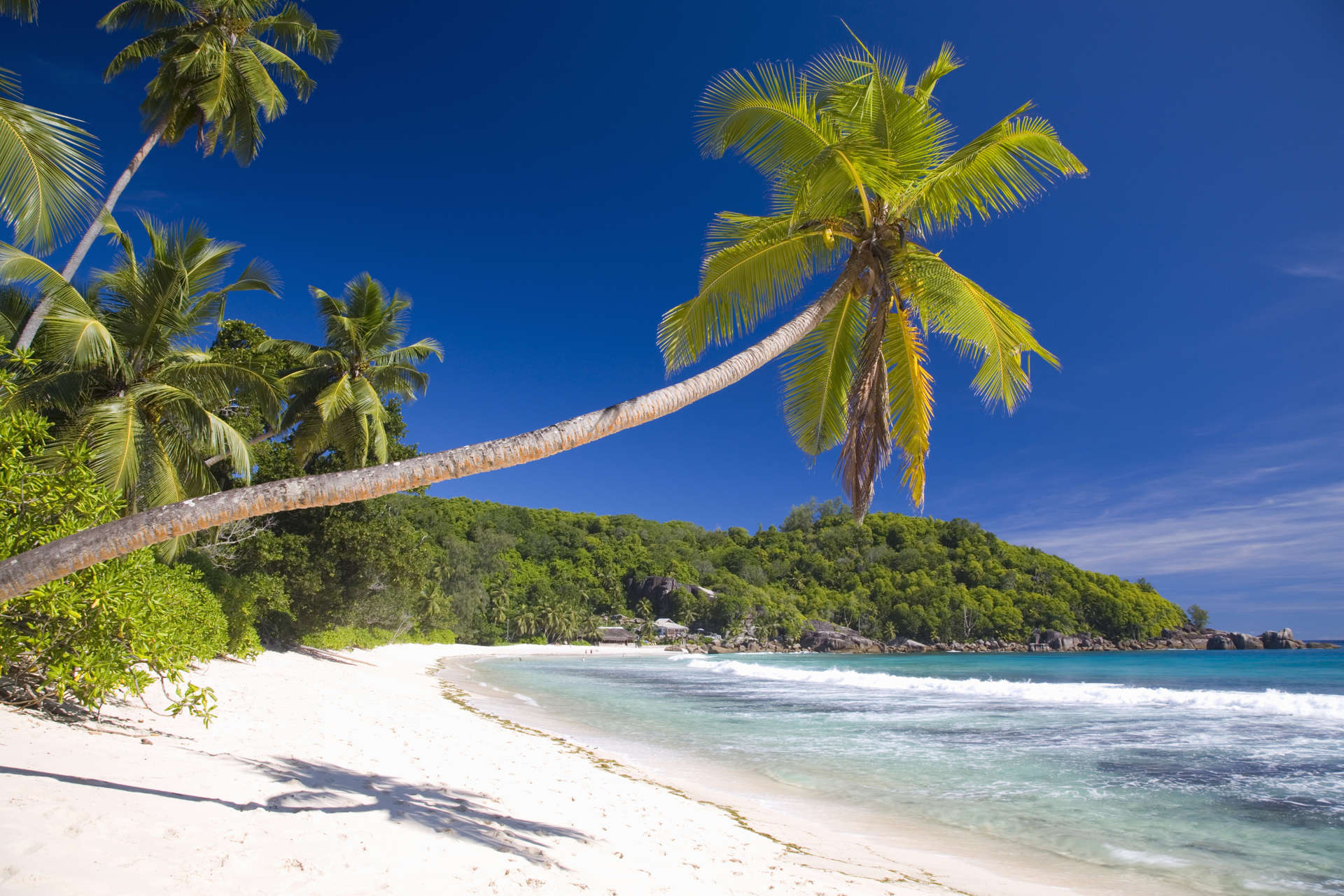 Mahé may be the economic and commercial hub of the Seychelles but it still features an abundance of natural beauty (Photo: Marriott International)
The principal island of the Seychelles, Mahé is the gateway for most international visitors, and hosts the historic capital, Victoria. With a bustling port, it's also the country's commercial centre, and home to ninety percent of Seychellois, along with some of the islands' best places to visit. Known as the 'Creole Capital of the world', Victoria's exciting blend of African, Indian, Chinese, French and British influences can be experienced browsing the lively Sir Selwyn Selwyn Clarke Market, before heading to the Botanical Gardens for a tranquil wander under the shade of native trees. For upmarket shopping and dining, Eden Island is the place.
North Island (Ile du Nord)
How would you like to have your own exclusive island in the Indian Ocean? Lying less than twenty miles from Mahé, North Island, a Luxury Collection Resort, Seychelles, is one of the best places to stay in the archipelago. With just eleven expansive, ocean-view villas, each with their own private plunge pools, plus a gorgeous spa and four pristine beaches, North Island offers sustainable barefoot luxury, immersed in nature. The resort's Noah's Ark conservation programme protects precious habitats and many species of birds, along with hawksbill and green turtles, and giant Aldabra tortoises.
Praslin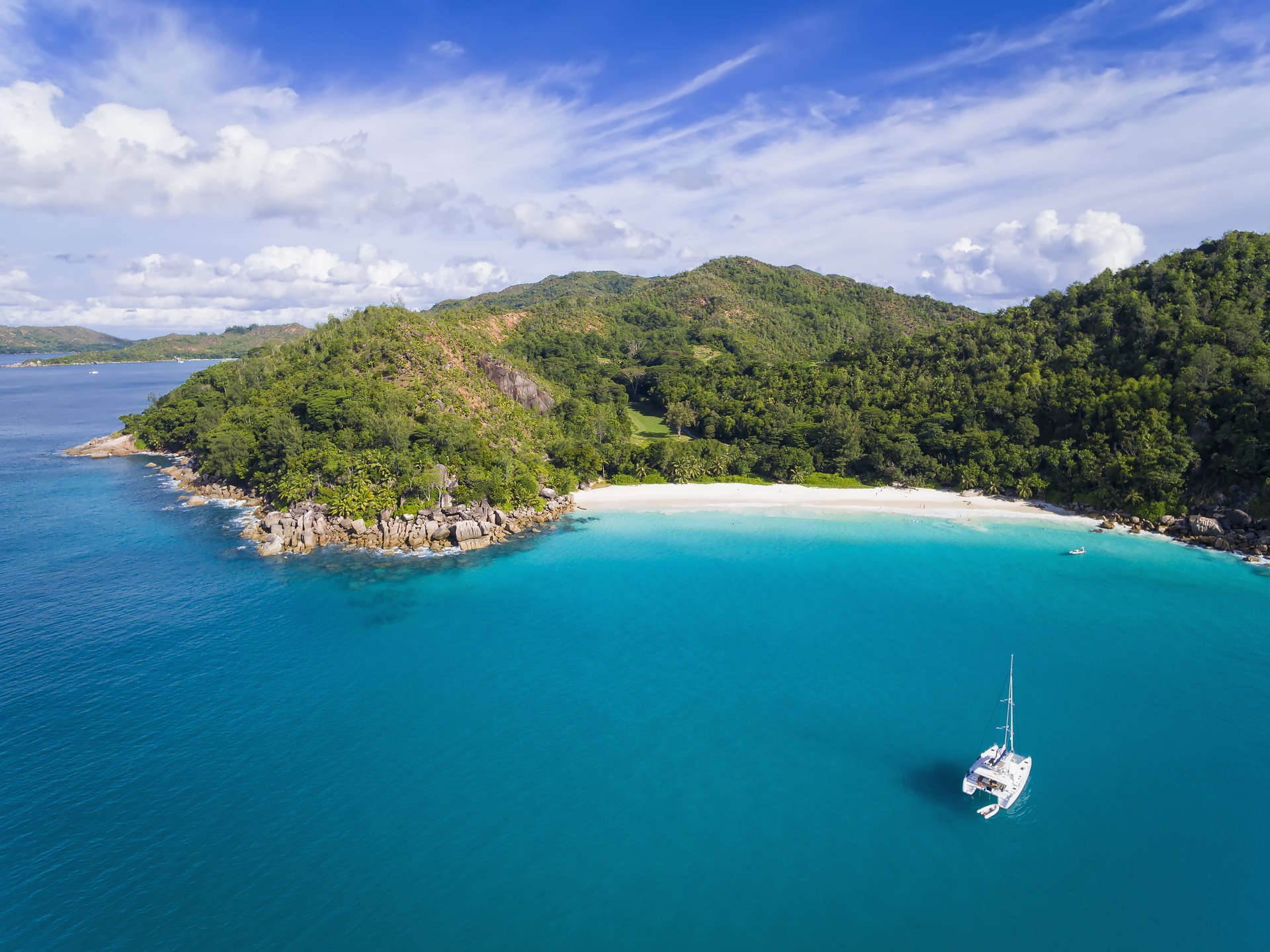 Praslin is the Seychelles' second-largest island and boasts one of the world's best beaches (Photo: Marriott International)
The Seychelles' second-largest island, Praslin is where to go to find one of the world's best beaches, Anse Lazio, with its exquisite turquoise sea and sugar-white stretch of sand. Within Praslin National Park lies one of the Seychelles' two UNESCO World Heritage sites: the Vallée de Mai Nature Reserve. In this untouched Eden of ancient palms grows the world's heaviest seed – the double-nut coco de mer. Hiking trails through the Reserve offer opportunities to spot black parrots, tiger chameleons and bronze geckos; rare species found nowhere else on Earth.
What to eat and drink in the Seychelles
Kari koko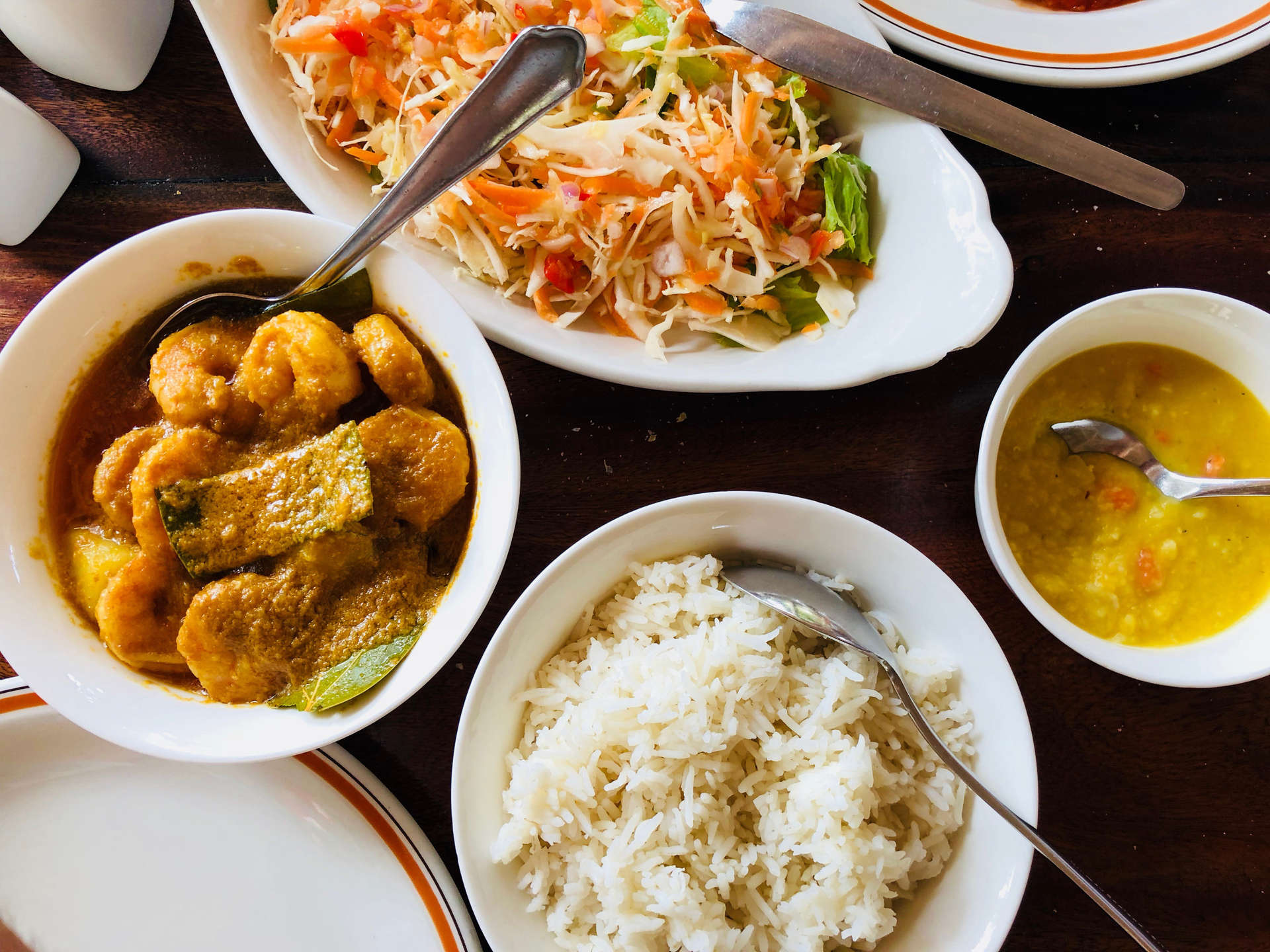 The unmissable kari koko features a heady blend of spices (Photo: Marriott International)
Seychellois or Creole cuisine has a fabulous fusion of flavours, with influences from many countries, including Africa, Britain, China, India, France and Spain. Trying some of the delicious curries, cooked with meat, fish, seafood or vegetables, is a must. Kari koko is a favourite and uses coconut milk and a heady blend of spices including turmeric, chilli and garam masala.
Takamaka Rum Cocktails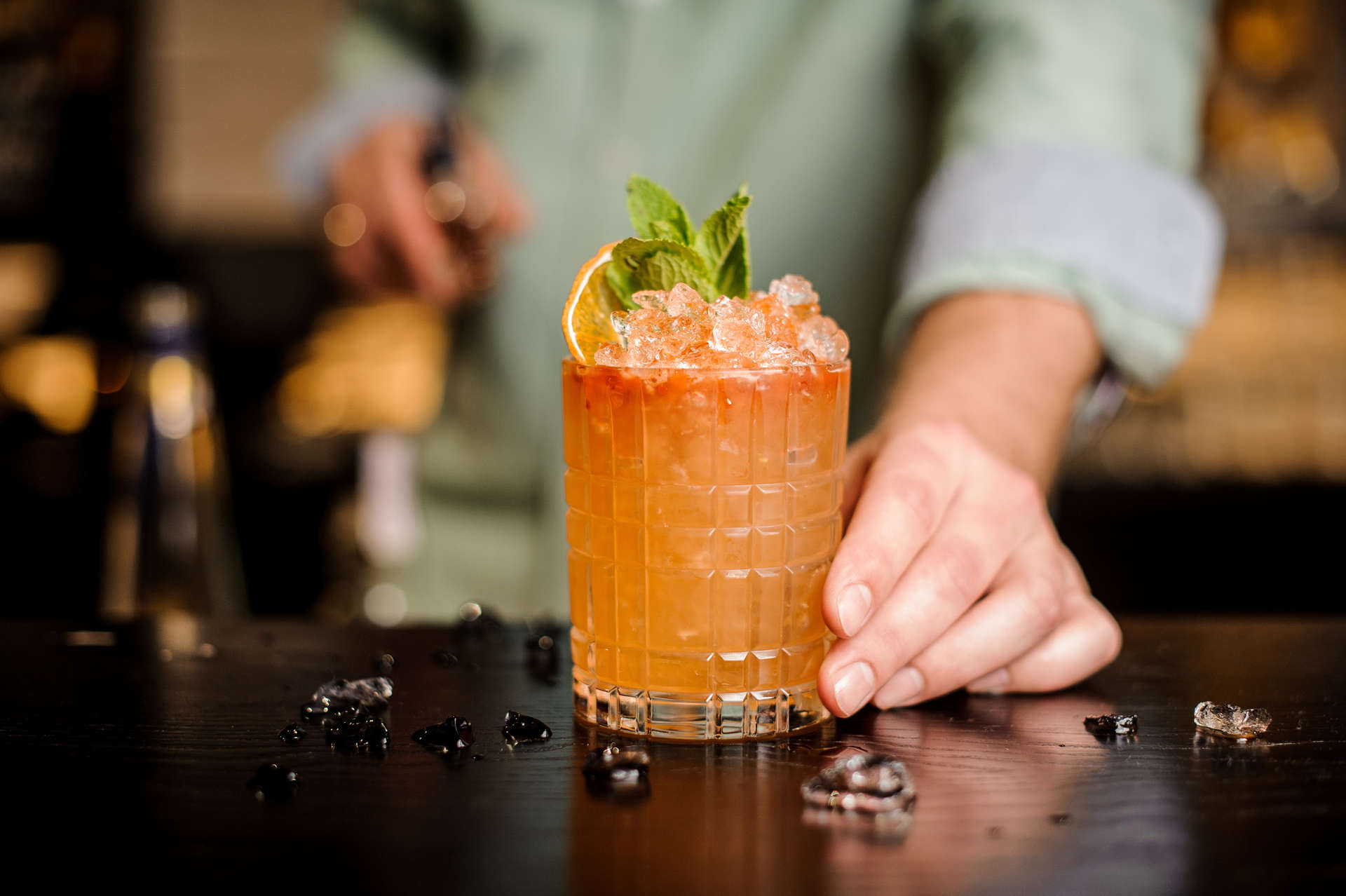 The Seychelles makes some of the world's finest rum (Photo: Marriott International)
Trois Frères Distillery captures the taste of the Seychelles in its Takamaka rums, produced and bottled at La Plaine St André, a national heritage site on the island of Mahé. Made with sugarcane grown by local farmers, molasses from around the Indian Ocean, and spring water from Morne Seychellois National Park, Takamaka's rums include flavours of coconut, papaya and vanilla.
Daube de Banana
Make sure you leave some room after dinner: this delicious Creole dessert is definitely one of the dishes to try while you're in the Seychelles. Sliced plantains – starchy cooking bananas – are simmered with coconut milk, sugar and spices including vanilla, nutmeg and cinnamon. Try them at one of the great places to eat on Mahé, the historic Le Jardin du Roi, set amidst the Seychelles' oldest spice garden.
Top things to do in the Seychelles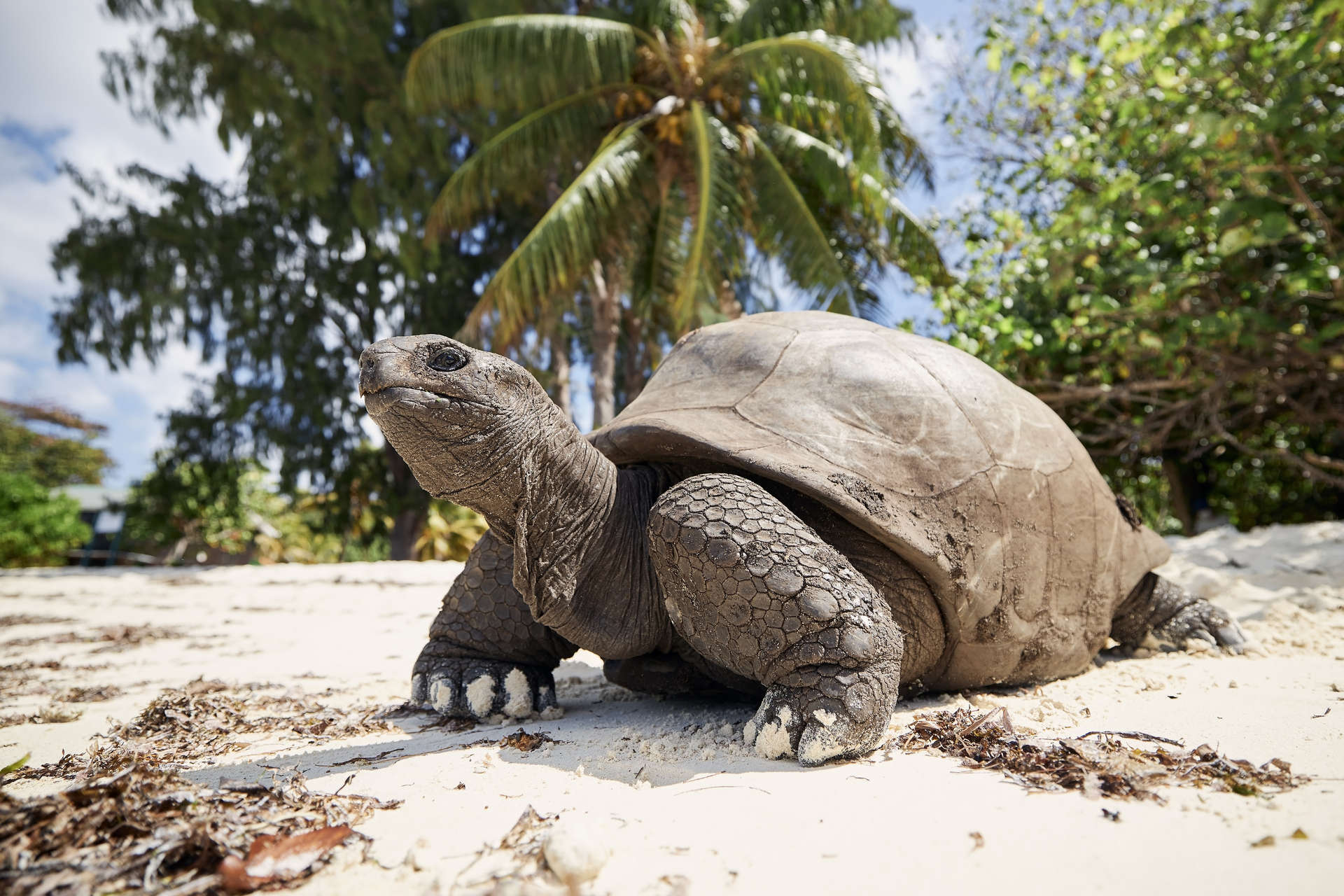 Moyenne Island National Park is home to more than one hundred giant tortoises (Photo: Marriott International)
The Seychelles is a dream year-round destination for snorkelers and divers, offering opportunities to see dolphins, manta rays, turtles, dugongs and whale sharks on the islands' granite and coral reefs. The Aldabra Atoll is the world's second-largest coral atoll and a UNESCO World Heritage site, with the largest population of giant tortoises in the world on Aldabra Island, and many marine wonders beneath the waves, too.
A visit to La Digue is one of the most interesting things to do in the Seychelles. Life moves slowly here, as transport is by bicycle or ox-cart, and a leisurely ride around the island reveals stunning beaches, including the unmissable, world-famous Anse Source d'Argent with its photogenic granite rock formations, and Veuve Special Reserve, home to the rare Seychelles black paradise flycatcher.
For nature lovers, hiking is one of the best things to do, with miles of coastal routes to explore, and trails leading through the islands' verdant interiors and up to breathtaking lookouts. Another of the many fun things to do is to visit Moyenne Island National Park, a short boat ride from Mahé: the world's smallest national park, covering just under ten hectares, and roamed by more than one hundred giant tortoises.
Hidden gems in the Seychelles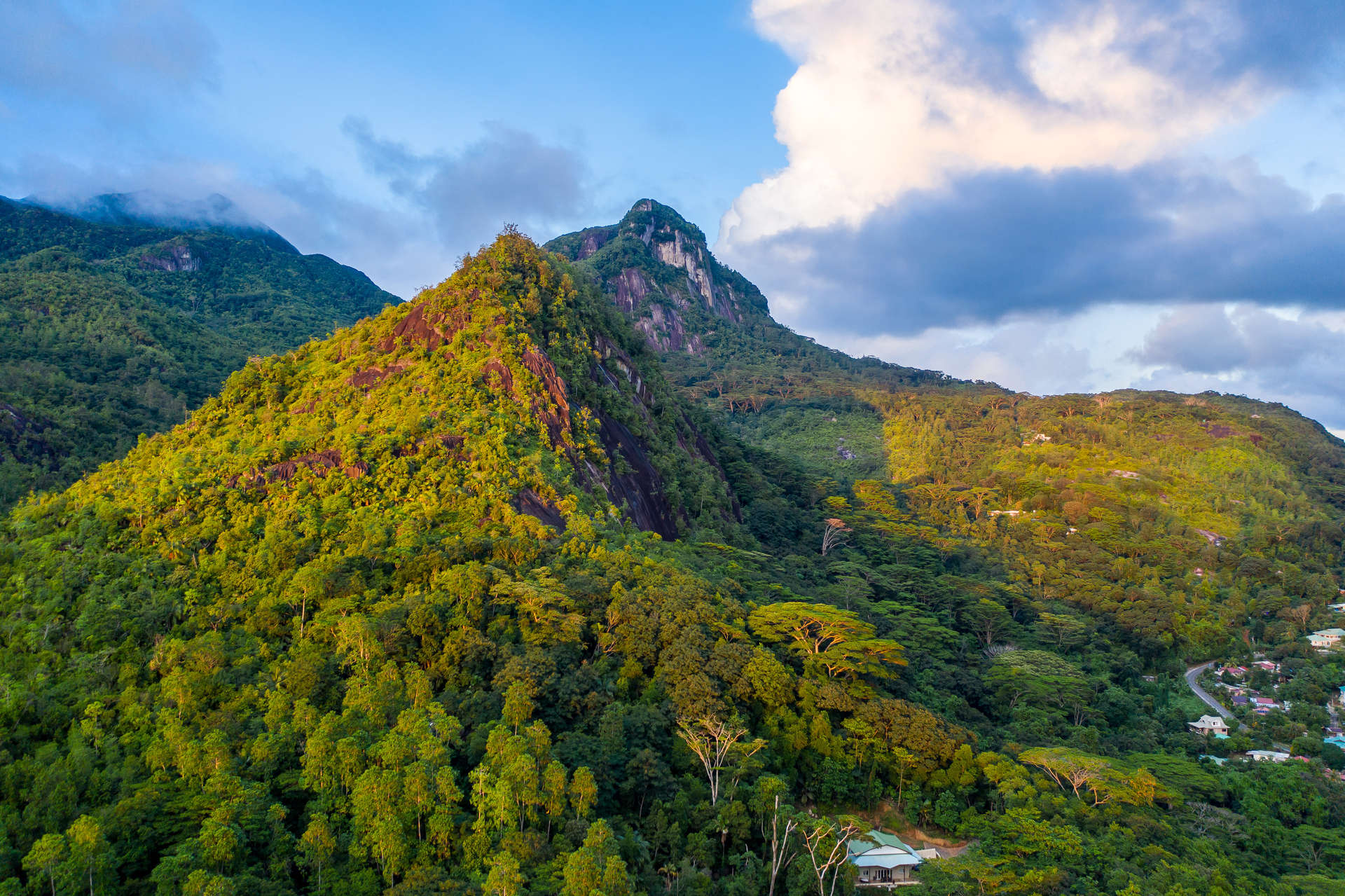 Mahé island's Morne Seychellois National Park enjoys a rich abundance of forest (Photo: Marriott International)
One of the unique things to do in the Seychelles is to go island-hopping to find that perfect, secluded spot. Anse Major is a beautiful bay surrounded by forested peaks on Mahé; with no road, you'll need to hike or take a boat from Beau Vallon or Bel Ombre to get there. Looking for alternative things to do away from the beach? Mahé's Sauzier Waterfall at Port Glaud is a fantastic place to stop for a refreshing dip, while the island's Mission Lodge Lookout in Morne Seychellois National Park offers incredible views of the forest and coast.
Go deeper
English, French and Seychellois Creole are all recognised national languages. Creole is an adaptation of 17th-century French, blended with words from Madagascar and Africa. Locals will appreciate you trying out your Creole on the islands: Bonzour (Hello); Komman sava? (How are you?) and Mersi bokou (Thank you very much).
Published: July 26, 2022
Last Updated: March 10, 2023
Article Tags: Seychelles , Indian Ocean