Seeking the perfect Mediterranean island for your next escape? Whether you're in search of adventure, connecting with family and friends, or rekindling romance during your sandy sojourn, we've rounded up seven of the very best island escapes for every type of traveller.
For Solo Travellers — Mallorca
Digital nomads are relocating to Mallorca to take advantage of the ample selection of new coworking hubs in its capital, Palma, so solo travellers need never feel alone in the largest, beach-fringed Balearic Island.
After a visit to La Seu, the city's enormous Gothic cathedral, follow your taste buds north to the tapas stalls in Mercado Gastronómico San Juan before wandering through the city's labyrinth of medieval lanes crammed with galleries, boutiques and cafés.
An elegant, 90-year-old train departs daily to Sóller, a pretty, rambling mountain village and home of art museum Can Prunera.
For Adventurers — Malta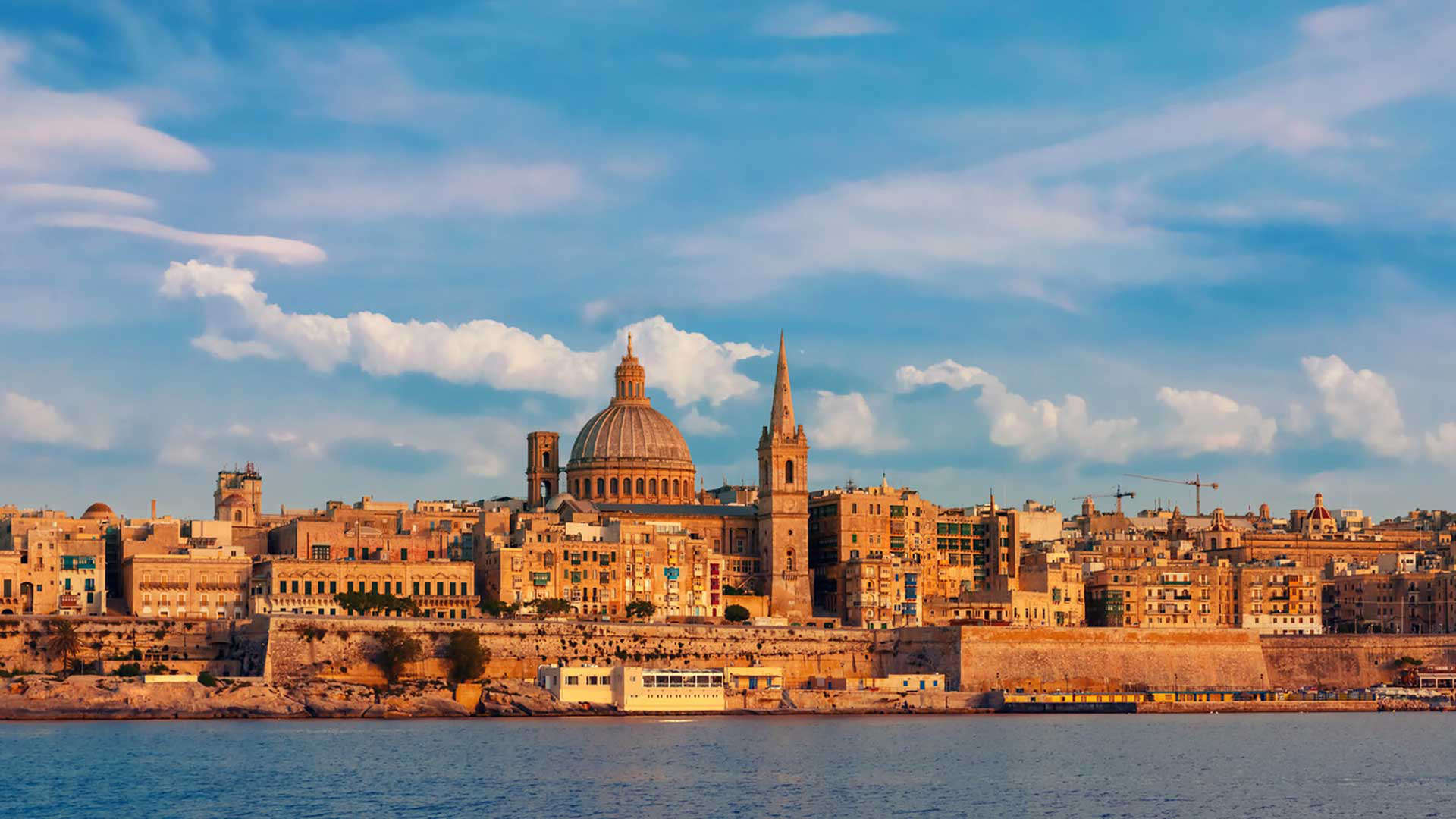 Explore the Baroque architectures in Malta. (Photo: Shutterstock)
The translucent waters of the Blue Lagoon and limestone Baroque architecture of the ancient walled city of Mdina have lured film crews for decades, so movie-buff explorers will be ahead of the posse with the island's instantly recognisable backdrops to "Troy," "Gladiator" or the television series "Game of Thrones."
Adventurous visitors will discover underwater caves and shipwrecks at Buddies Dive Cove or navigate the coastline with Sea Kayak Malta.
Take the Channel Ferry Service to the stunning island of Gozo for a cliff-edge hike through donkey trails, citrus-scented groves and the remains of a Bronze-Age temple.
For Food Lovers — Sardinia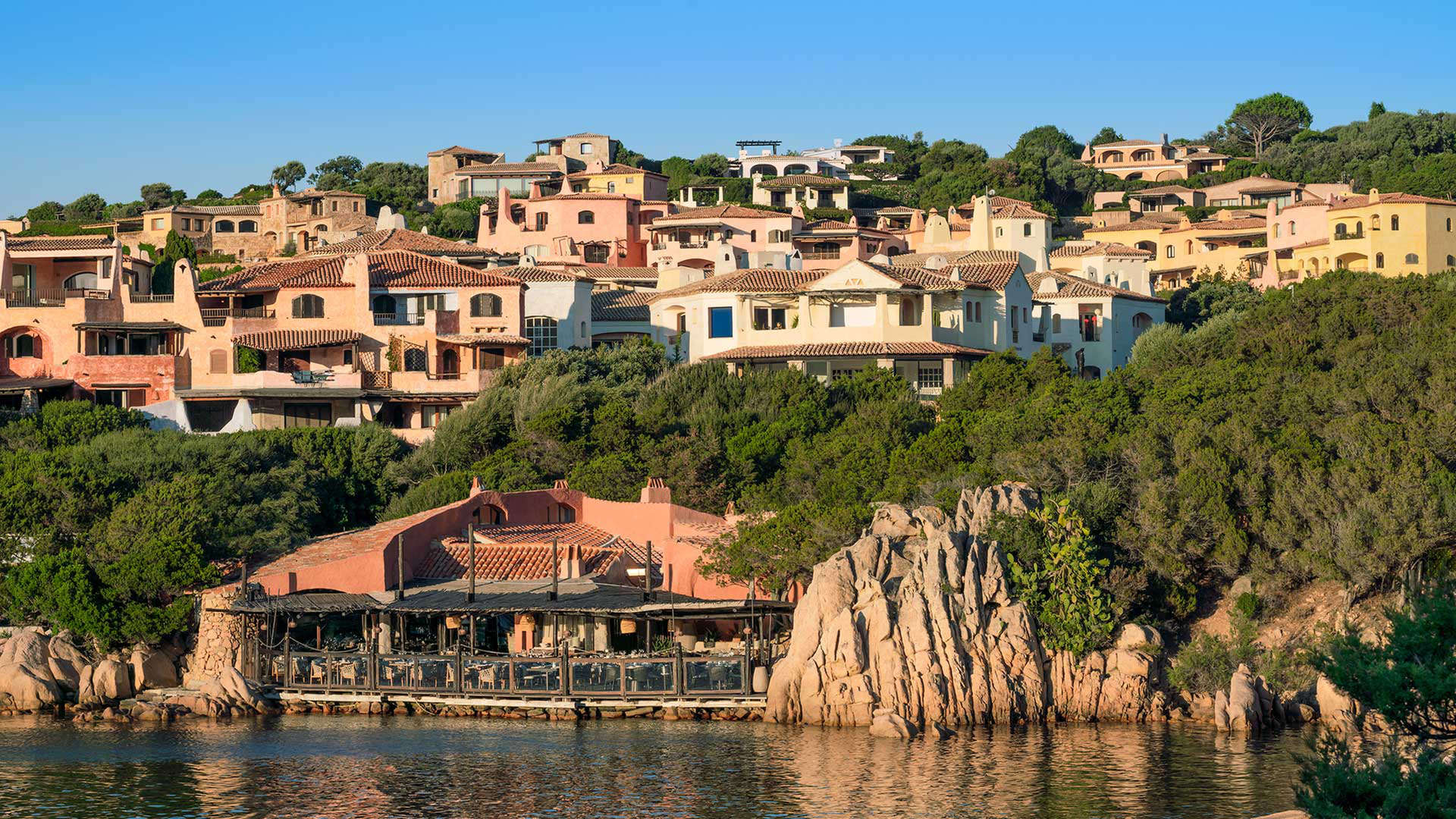 Enjoy local cuisine with a view at Quattro Passi Al Pescatore. (Photo: Marriott International)
Yes, Sardinia's crystal-clear blue waters and dazzling white sandy beaches are travel magnets, but food and wine aficionados have also discovered that the island draws a rich year-round harvest from its mountains and sea, resulting in astounding meals from famed chefs.
Coastal specialities include lobster (in season) and fritto misto di mare (mixed fried fish), while inland you'll find a happening wine scene, aromatic bread, meat and sheep's cheese (try the tangy pecorino Sardo). And no visit is complete without tasting mirto, a myrtle-berry spirit.
Seafood lovers should visit restaurants like Quattro Passi Al Pescatore at the Cervo Hotel, Costa Smeralda Resort, where you can enjoy both elegant cuisine and a stunning coastal backdrop. Sardinia celebrates its bountiful harvests, which include anything from ripening peaches in the summer to shellfish trawls in the winter, with festivals year-round.
For Couples — Santorini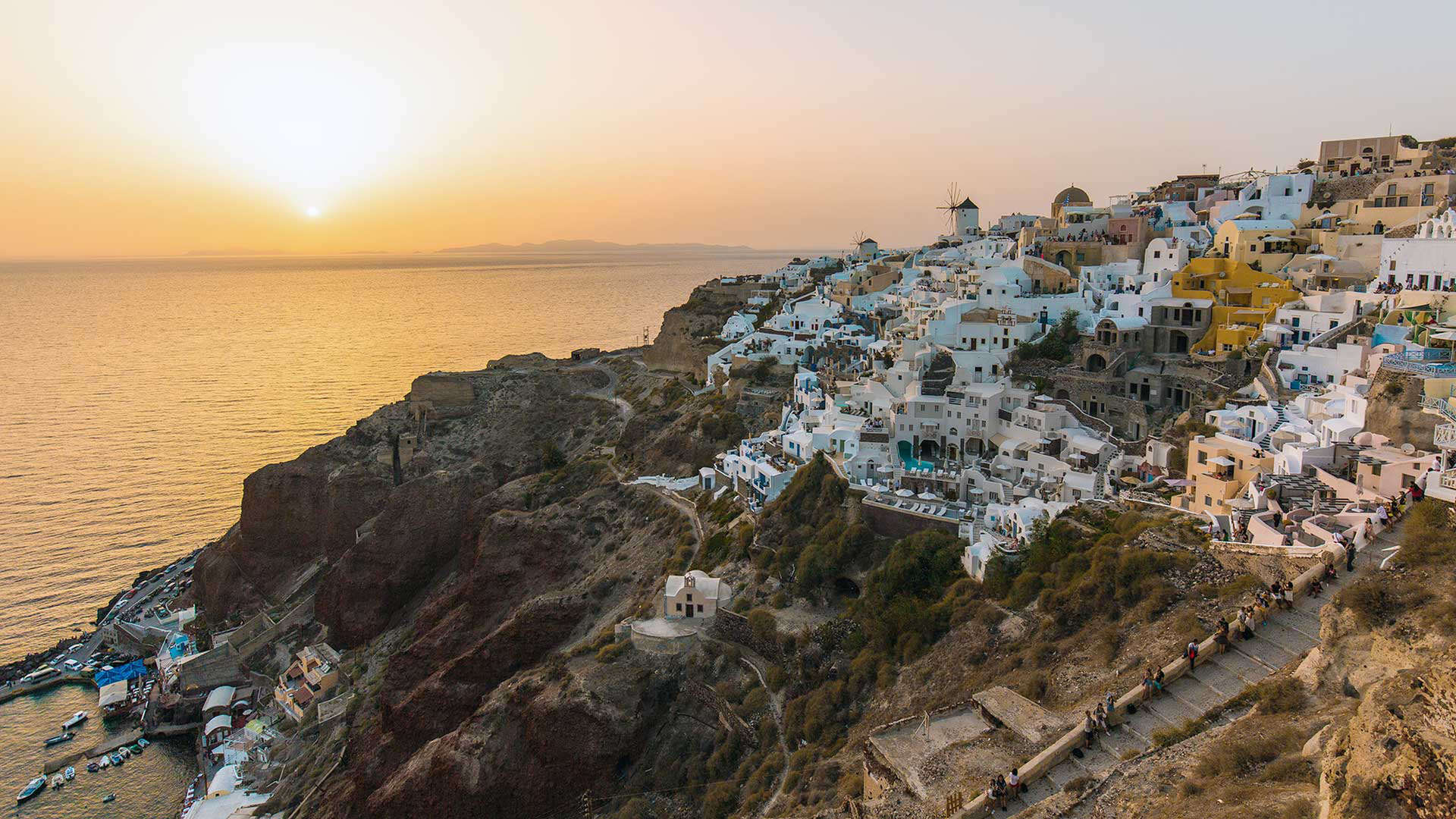 Sunset is the magic hour on Santorini. (Photo: Marriott International)
It's almost as though the evening sky hasn't forgotten the volcanic birth of Santorini as it ignites from indigo to scarlet over the island's crescent-shaped bay. Find a cosy spot by a windmill high over the whitewashed village of Oia or aboard a catamaran with Sunset Oia to relish the phenomenon with your other half.
Daytime in Santorini brings its own romantic vibes; swim off Perissa Beach with its black volcanic sand or on the Red Beach near Akrotiri village. As evening calls, savour the island's rich grape harvest in Alati, a candlelit, 400-year-old wine cave that serves gourmet food in the heart of Santorini's vineyard region.
For Friends — Ibiza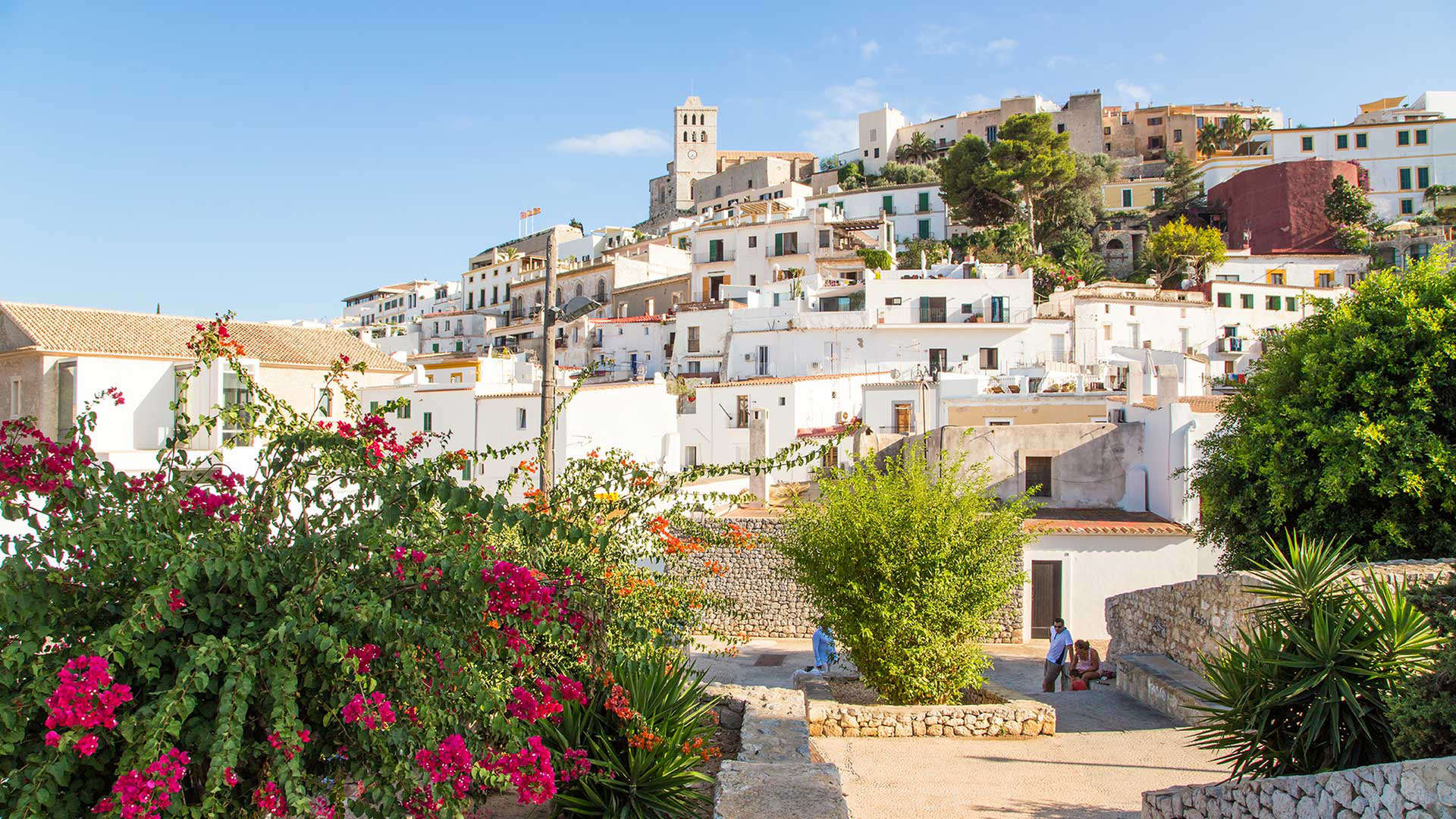 Beyond the beach, discover Ibiza's charms. (Photo: Getty Images)
Europe's party capital has an epic mix of clubs and rooftop cocktail bars with kaleidoscopic sunset views, such as Glow on Santa Eulalia Bay, but Ibiza offers many other opportunities to curate friendships beyond the pulsating beat pouring out of an amplifier.
Slow the pace with a ramble up the lamplit cobbled lanes of the UNESCO World Heritage–listed Dalt Vila, the island's fortified old town, or linger at any of the many boho markets.
Beyond Ibiza Town, enjoy some downtime at Cala Mastella, a pine-cloistered cove on the eastern side of the island, or travel north to discover the island's hidden, whitewashed villages.
For History Buffs — Crete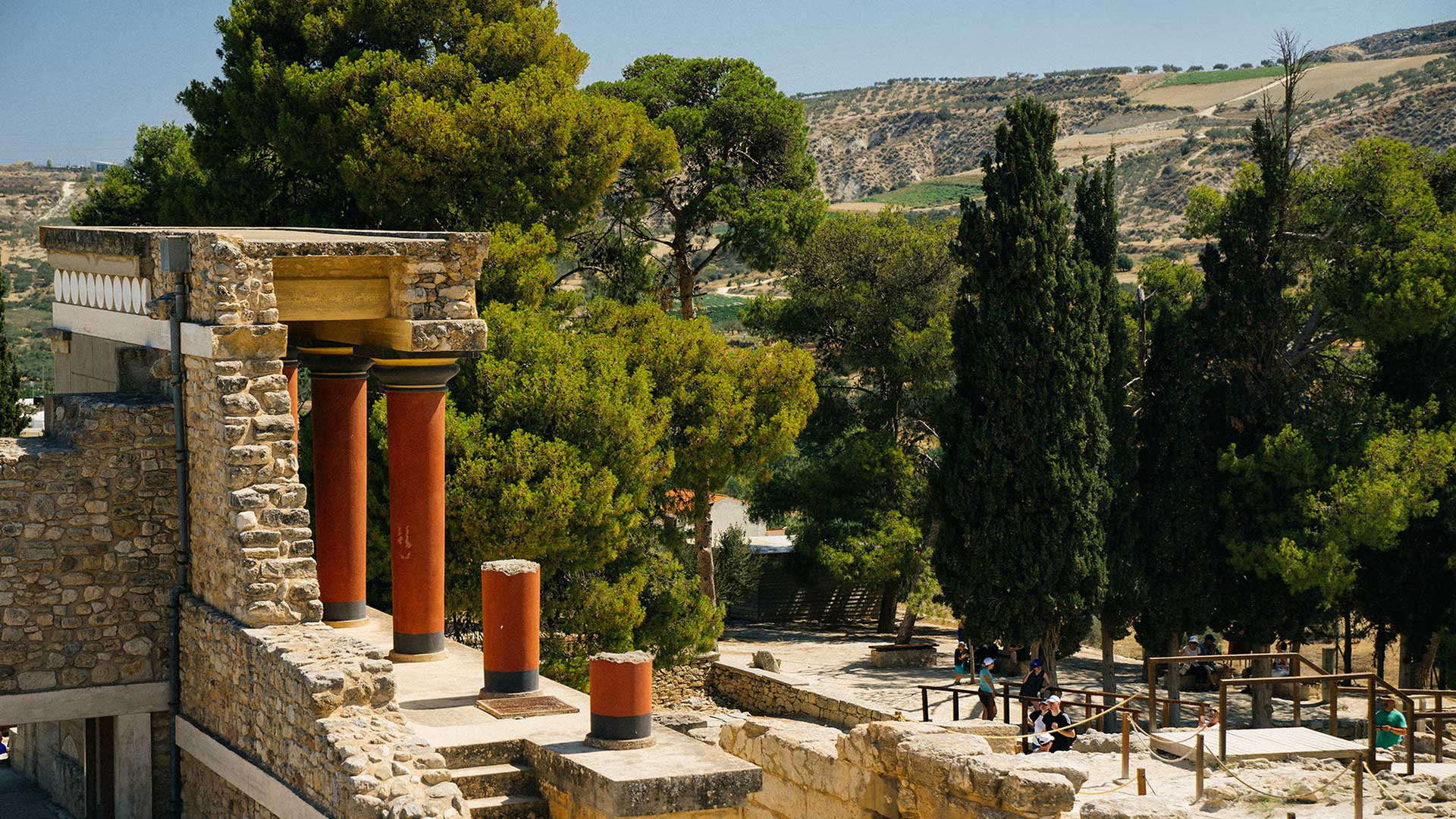 Ancient history abounds in Crete. (Photo: Marriott International)
As the cradle of Minoan Civilization, Crete's epic cultural and historical tapestry is equalled only by its extraordinary landscape. Drop by the Heraklion Archaeological Museum for a historical overview of the island before renting a car to visit the Palace of Knossos ruins to discover the epicentre of the Minoans' 4,000-year history.
Chania's pastel-shaded, 14-century Venetian Harbor lies to the east, while nestled into a hillside on the western coast is the Blue Palace Elounda. It captures the essence of grand Cretan architecture with a view of historic Spinalonga Island.
For Water Enthusiasts — Corfu
With its endless miles of beaches and cobalt blue waters, Corfu has harboured wayward mariners as far back as Homer's Odyssey. For centuries, the island's year-round temperate waters have lured visitors to explore Corfu's vast olive groves, hidden sandy coves like Rovinia Beach on the westerly coast and giant fortress that appears to tumble down to the sea.
Corfu is named after the wife of Poseidon, the Greek God of the sea, so predictably many of the family based adventures have watery themes. Nautilus is a glass bottomed Ionian Sea cruise that departs from Alipa Port while Aqualand near Agios Ioannis is the place for thrills and spills for all generations.
Published: July 25, 2022
Last Updated: December 29, 2022
Article Tags: Corfu , Crete , Greece , Ibiza , Islands , Mallorca , Malta , Santorini , Sardinia , Spain