The JW Marriott Hotel Berlin is a calming oasis near vibrant Berlin's Potsdamer Platz where guests are able to take a breath and really focus on what's important. Whether through peaceful sunrise yoga sessions on the hotel rooftop or rejuvenating walks amid the scenic trails of Tiergarten Park, the JW Marriott Hotel Berlin affirms mindfulness, wellbeing and a sense of togetherness, alongside a deep sense that 'all is well'.
Day 1:
Flourish

with nourishment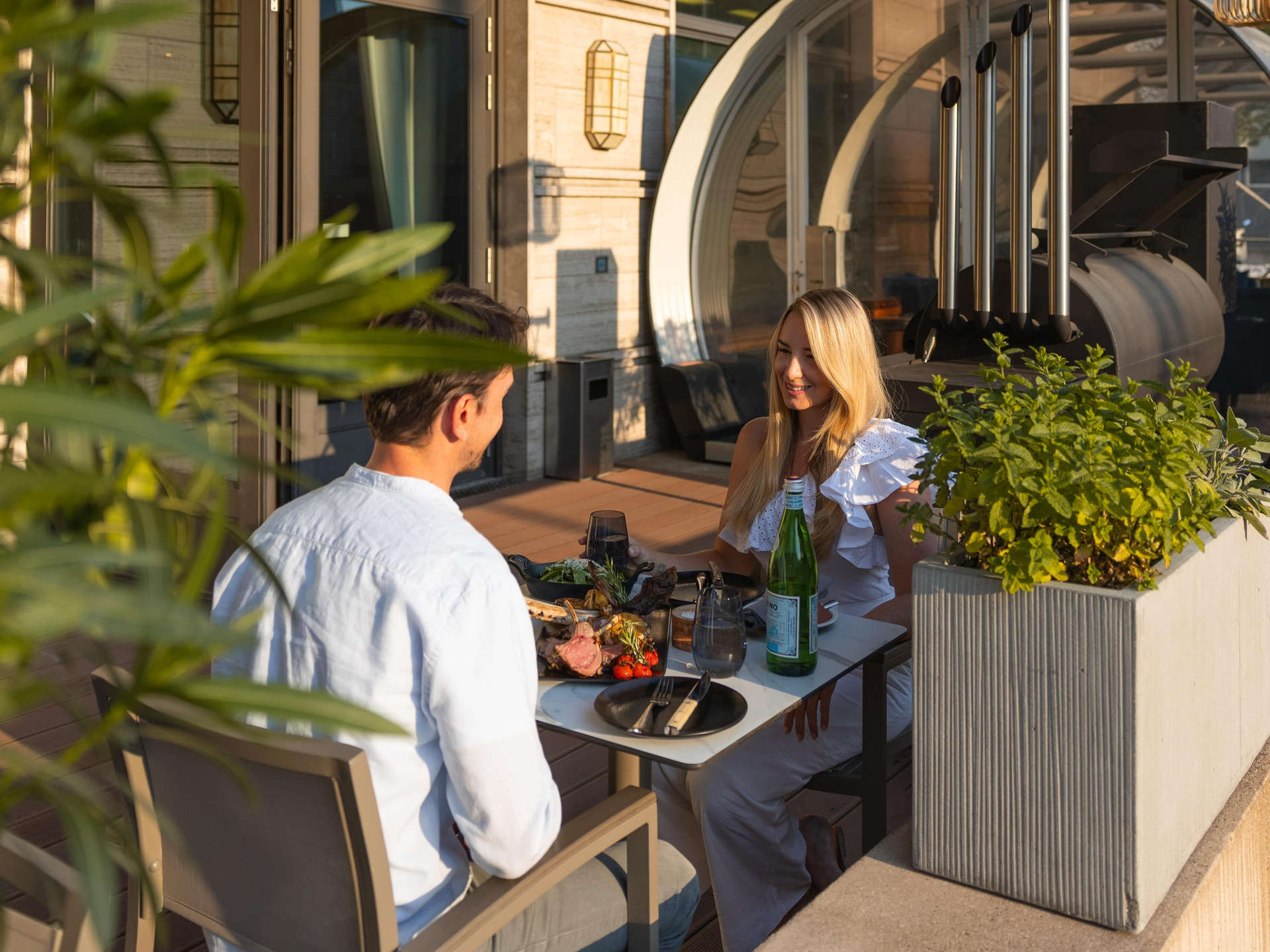 Dine in pure sophistication at the
JW steakhouse

, where you can enjoy an exquisite culinary experience as well as an elegant setting (Photo: Marriott International)

A global melting pot of people and culture, Germany's largest city boasts a wonderfully diverse food scene. Combining that open-minded culinary heritage with the traditional German focus on quality meat produce is the hotel's JW Steakhouse, which offers a sophisticated dining experience, whether you take a table inside or out on the terrace, surrounded by the lush foliage of the JW Garden. 

Using prime cuts of locally sourced Aubrac and Uckermark cattle, the delicately smoked beef is a chance to relish the JW Steakhouse's signature BBQ flavour, from the magnificent Suckow Prime Rib Eye to the delightfully succulent Bergsdorf Beef Fillet.

JW Steakhouse Berlin elevates its dining experience with a unique smoker set on the terrace, infusing dishes with enticing flavours. The restaurant's dedication to sustainability shines through its emphasis on locally sourced produce, which reduces carbon footprint. With an increased proportion of organic offerings, vegan options, and a conscious choice of suppliers practising responsible breeding, JW Steakhouse Berlin champions ethical and flavourful dining.
Day 2: Flourish with a mind-body connection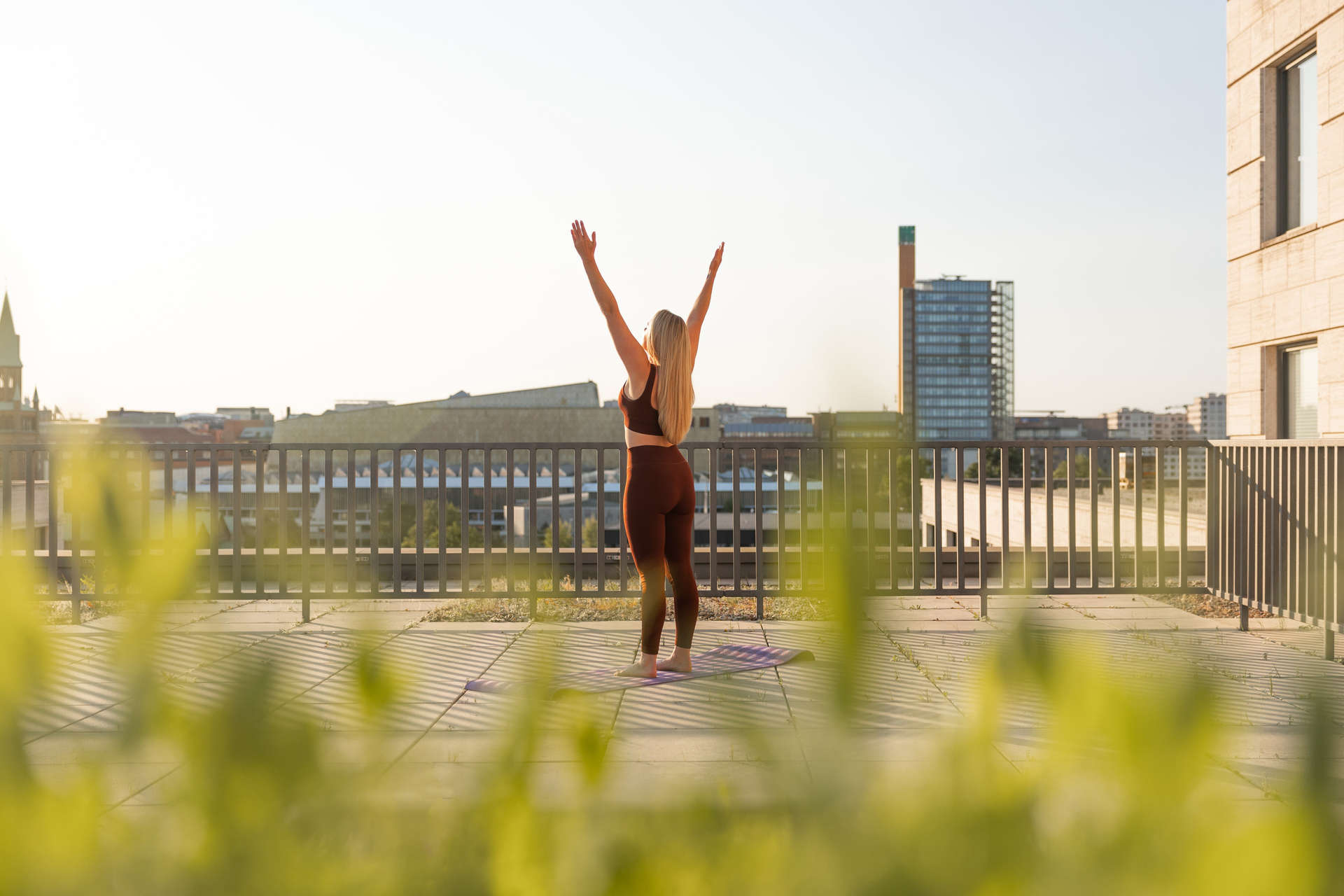 Forget about the hustle and bustle of the city below with a rejuvenating yoga session that will leave you feeling energised and balanced in mind and body (Photo: Marriott International)
Yoga balances body, mind and spirit, and helps to strengthen your core while increasing mindfulness in a fast-paced world. A yoga session on the JW Marriott Hotel Berlin's serene rooftop, seven stories above Berlin's busy streets, allows you to relieve tension and put the bustling city below on pause. 
With the crystalline Potsdamer Platz skyscrapers nearby, verdant Tiergarten Park and the spire of the Fernsehturm TV tower in the hazy distance, the ethereal views from up here are inspiring, and the fresh air is a reminder to embrace spaciousness, even in the big city.  
After a relaxing yoga stretch – and remembering that the mind-body connection can be forged in a variety of ways – take a refreshing plunge at the hotel's on-site swimming pool or settle into a restorative sauna session at the spa. 
Day 3: Flourish with indulgent moments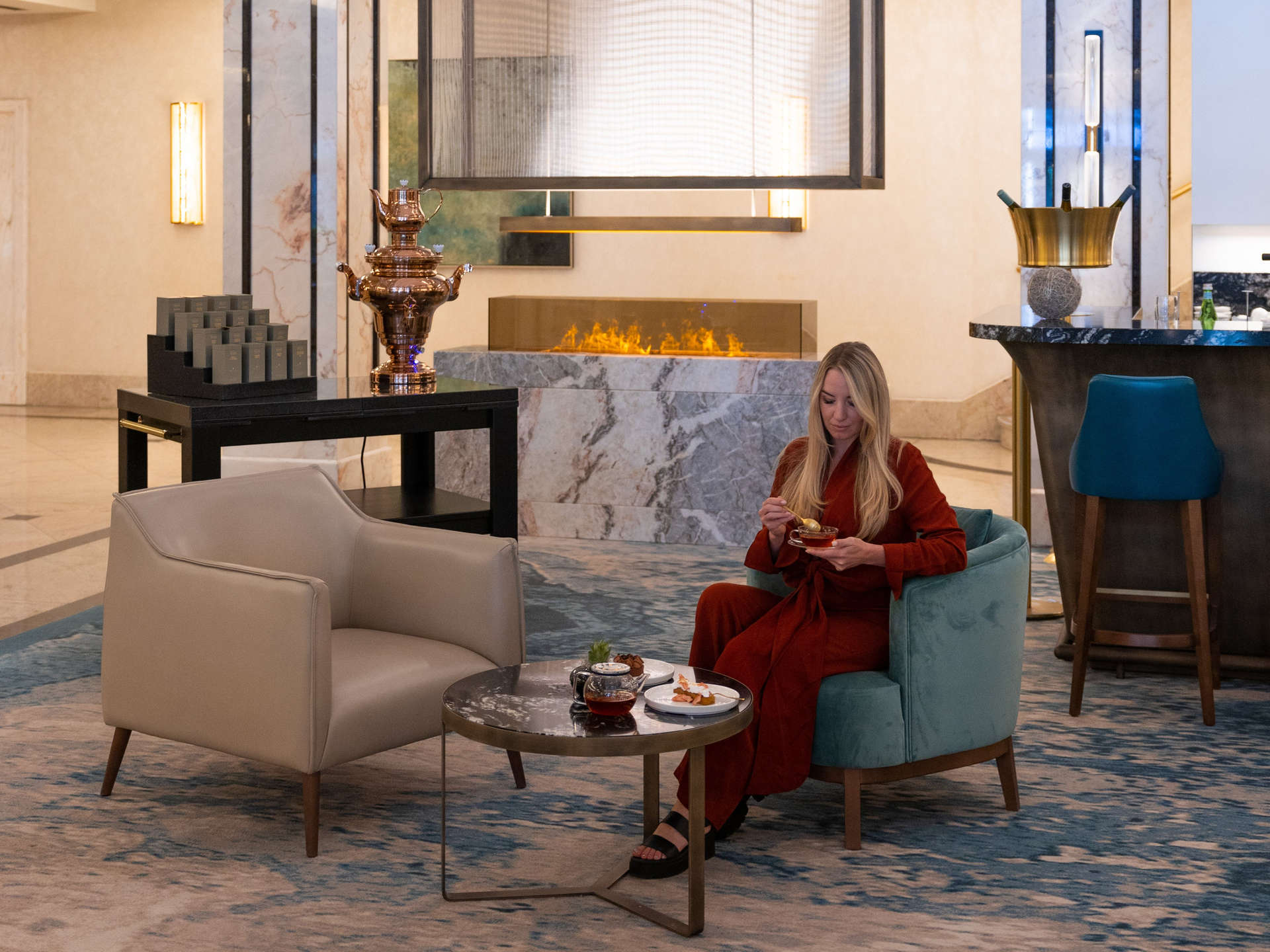 Steal a moment for yourself to relax in the hotel's beautiful Lobby Lounge, where you can indulge in a delicious slice of cake and a cup of refreshing tea (Photo: Marriott International)
Berlin has had a vibrant café culture for centuries, and its people have always sought to find those moments of peace, friendship and camaraderie, and to watch the world go by with a warm cup in hand. 
An opulent space with marble columns and a grand chandelier, the Lobby Lounge at the JW Marriott Hotel Berlin is a calming space to savour a sweet moment or two. Take in the lobby's elegant surroundings from one of the cosy pastel-coloured chairs and relax with an indulgent slice of cake and a freshly brewed tea. 
Sitting quietly on the hotel's rooftop, the hotel's own beehives provide a chance to connect with a truly local way of eating, and their nectar and honey, served fresh in the Lobby Lounge, is as fresh and sweet as anywhere in Berlin.
Day 4: Flourish with moments of calm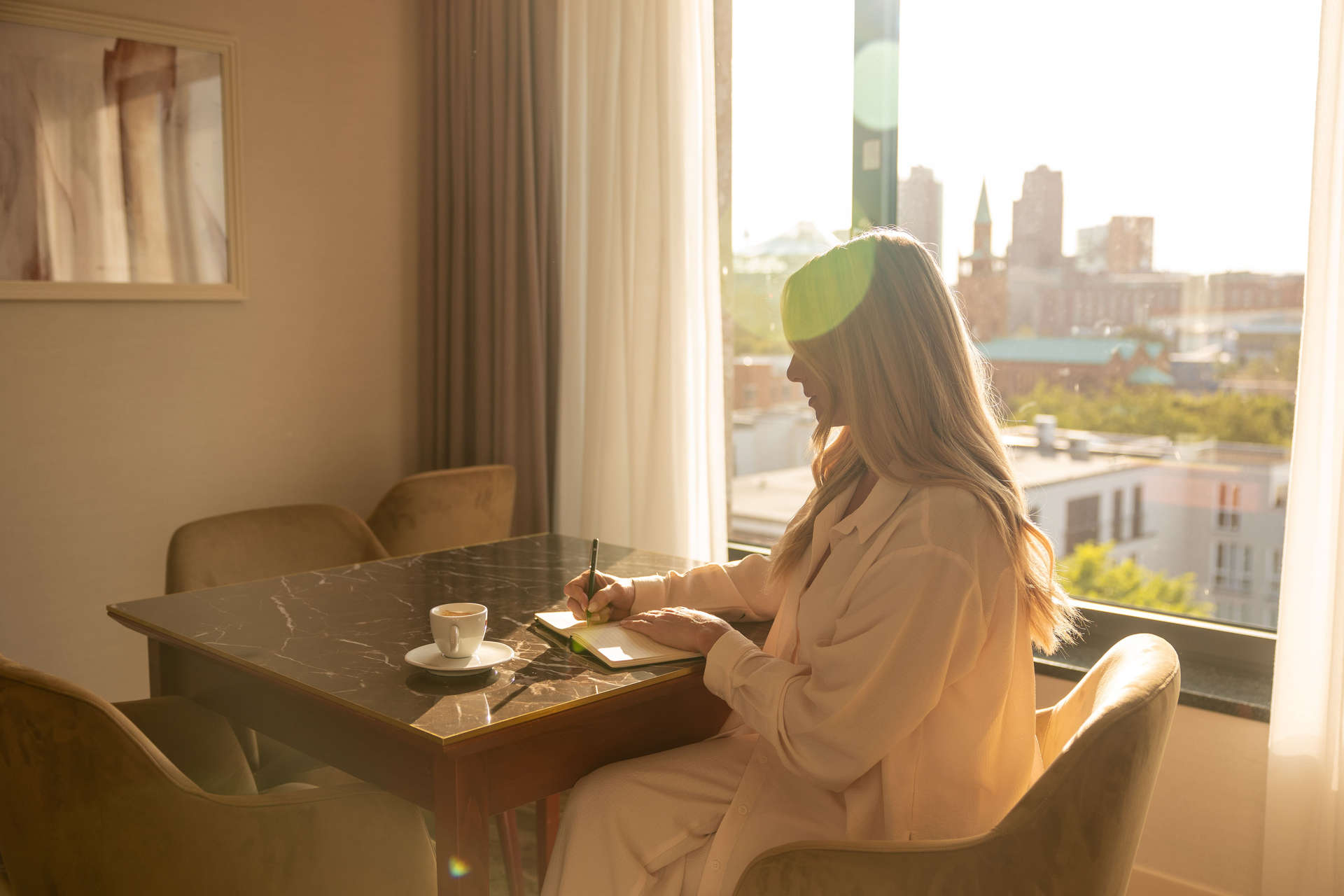 Allow yourself a moment to relax and reflect in the calm of your guest suite, where you will enjoy inspiring views of Berlin's landscape (Photo: Marriott International)
A verdant green space behind the iconic Brandenburg Gate, the Tiergarten Park provides a haven of tranquility within Germany's pulsating capital city, set against the city's characterful skyline.
Guest suites at the JW Marriott Hotel Berlin provide stunning vistas of one of Europe's most unique urban landscapes. Inspired by the views, try some personal journaling, which can offer a very particular and rich variety of calm. Not only does journaling help reduce stress, it can also bring out a flourishing creativity, self-confidence and wellbeing.
Day 5: Flourish with cultivated curiosity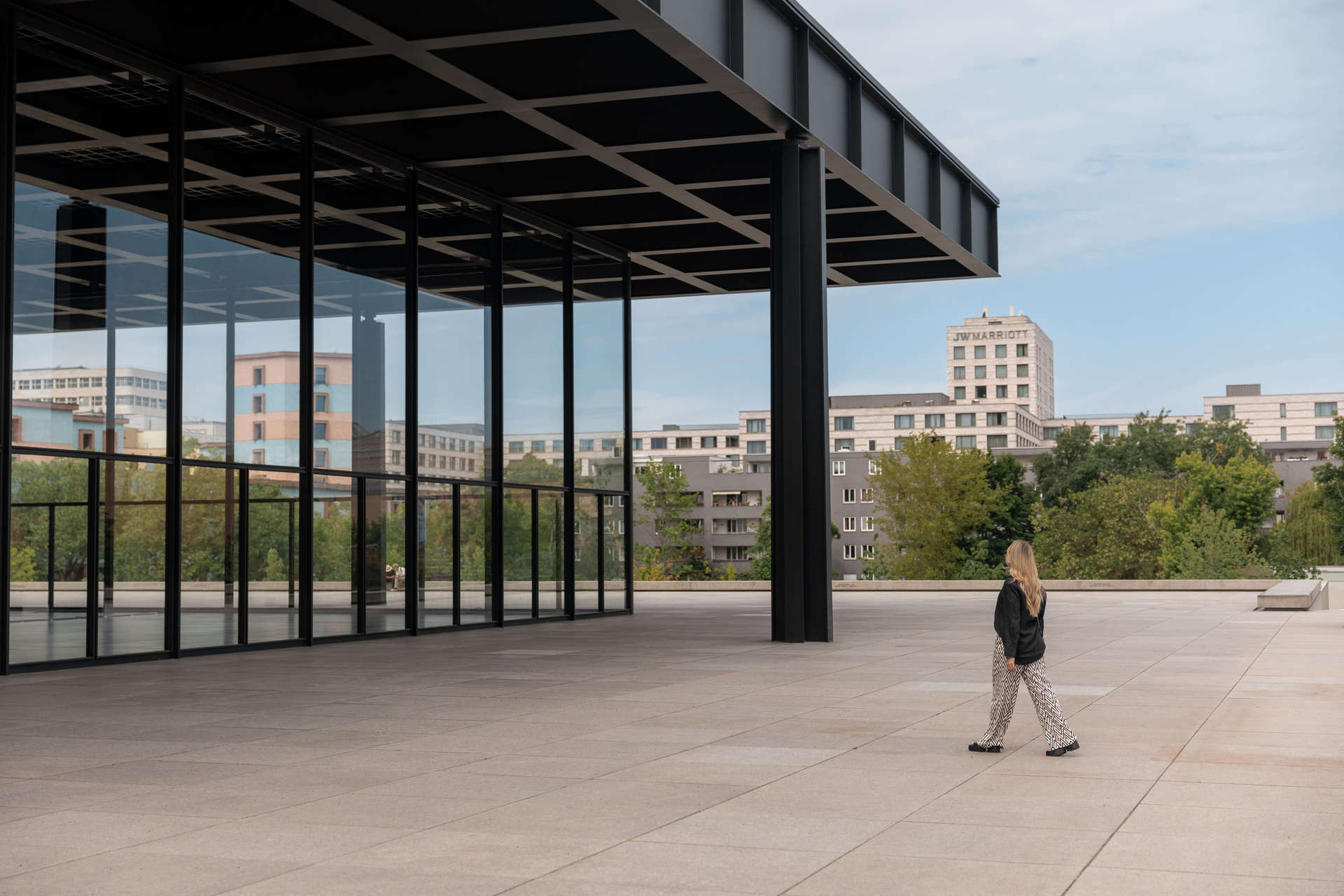 Make the most of Berlin's flourishing creativity by visiting some of its many artistic sites, including the world-famous Neue Nationalgalerie, home to works by both Picasso and Dalí (Photo: Marriott International)
From the bright street art of Kreuzberg to the myriad galleries of Auguststrasse, Berlin is a beacon of creativity in Europe and an iconic source of artistic inspiration, with figures from David Bowie to Ai Weiwei producing some of their finest work in the city. 
Sitting just a three-minute walk from the JW Marriott Hotel Berlin, the Neue Nationalgalerie is a modern art museum, opened in 1968, which showcases masterpieces from icons including Pablo Picasso and Salvador Dalí. The building's smooth lines and steel-and-glass shell form a modernist architectural triumph in its own right.
With that in mind, enliven the senses on a journey of discovery through the museum's quiet corridors – perhaps the unique works of art here will pique some personal artistic expression.
Day 6: Flourish with the taste of local flavour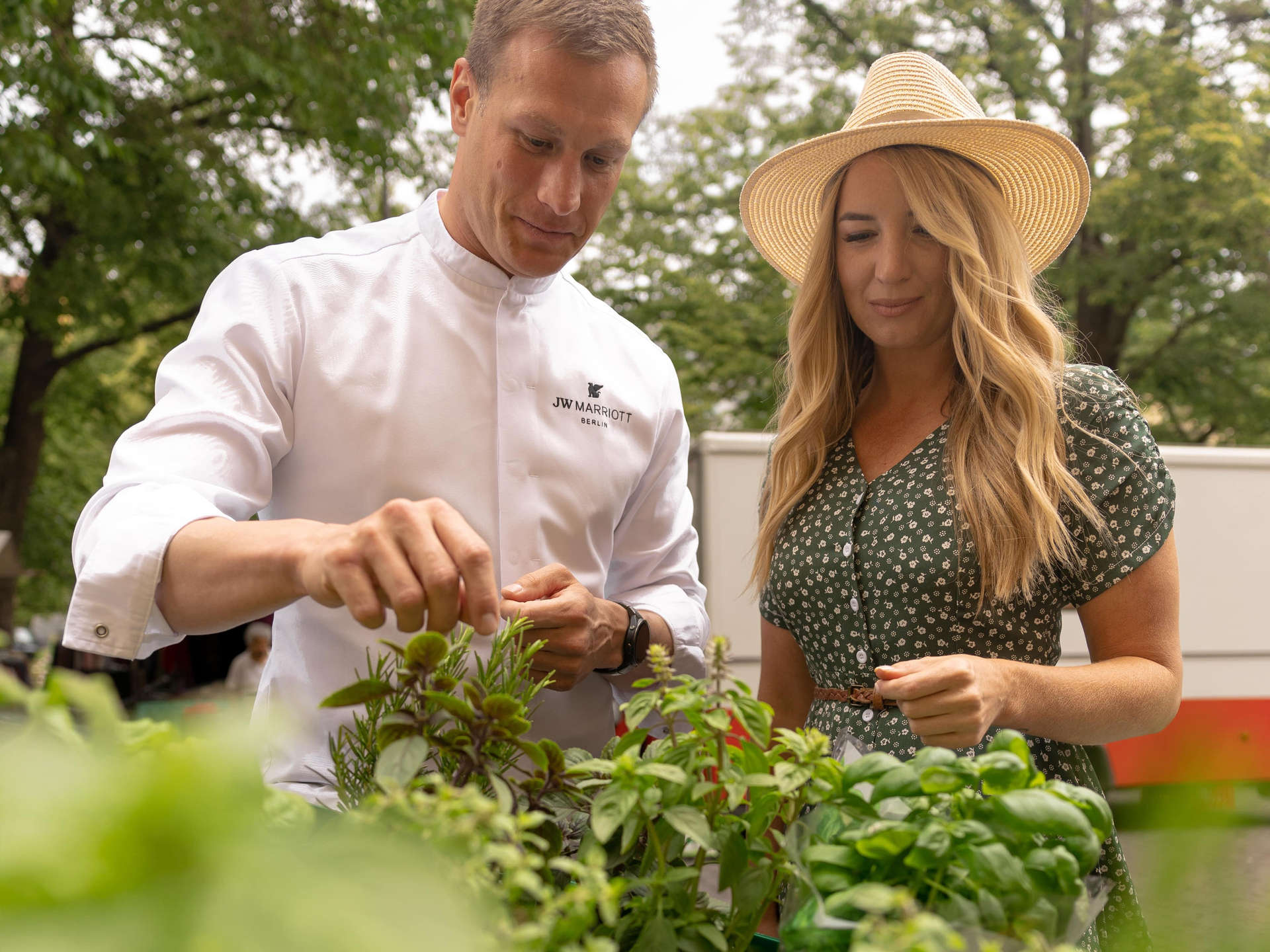 Executive Chef Friedemann Heinrich will recommend the best places to awaken your senses and excite your taste buds, from the city's markets to pastry shops and local restaurants. (Photo: Marriott International)
Whether selecting fresh strawberries from stalls lining the leafy streets of Friedrichshain's Boxhagener Platz Food Market or meandering amid the inviting aromas of Markthalle Neun, Berlin's markets awaken the senses. 
Executive Chef Friedemann Heinrich spent 10 years working in the Middle East and is driven by a belief that products rooted in their environment taste so much better on the plate. Ask him for recommendations on where to find everything from the sweetest apples to the most delicate pastries and he'll direct you to Berlin's culinary hotspots, helping you to feel a connection to the local community.
Day 7: Flourish with nature's rhythm
Make use of the hotel's rental bikes and prepared picnic baskets and take a leisurely cycle through the leafy oasis of Tiergarten Park, where you can relax on a blanket to enjoy the tranquility around you (Photo: Marriott International)
Bond with nature just a five-minute walk from the hotel by exploring the shaded trails of the Tiergarten Park, a leafy 519-acre oasis in the heart of Berlin where the hum of the city falls away into peaceful birdsong. The hotel provides rental bikes so you can feel a calming breeze and roll through the park's winding lanes at your own pace. It's also a great place to jog in this iconic marathon city.
Prepared picnic baskets are also available, so take a book, a blanket and find a quiet spot to unwind and appreciate the simple joy of fresh air and fresh food – the hotel's knowledgeable concierges can point you in the direction of the best picnic spots. After that, make time to explore the park's gentle lakes, the manicured English Garden and maybe stop for a coffee at the charming waterside Café am Neuen See, where rowboats drift by and the busy city feels a million miles away. 
Published: July 10, 2023
Article Tags: Berlin , Germany