Germany offers many once-in-a-lifetime experiences. This culturally diverse country is known for its rich architectural styles, scenic historic towns, mind-blowing hiking destinations, magnificent lakes in the south, and fine-sand beaches on the north coast.
The best places to visit in Germany
Berlin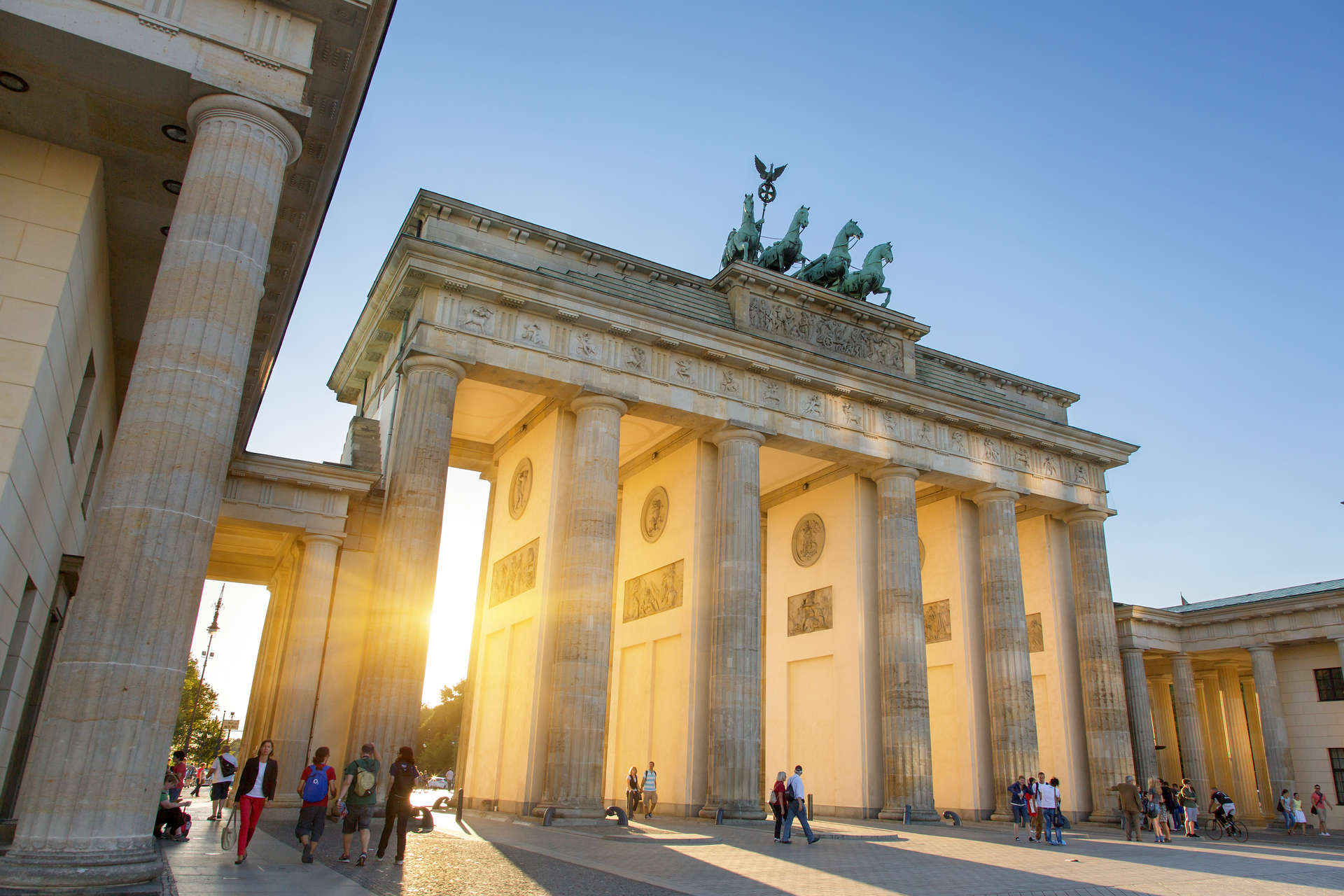 The Brandenburg Gate is one of Germany's most iconic landmarks (Photo: GettyImages)
Though it's the capital, Berlin is far from your typical German city. The formerly divided city has become a true hub of peoples and cultures, a compelling mixture of new and old. During the day, stop off at its three most emblematic landmarks – the Berlin Wall, Reichstag Building and Brandenburg Gate – then immerse yourself in its nightlife after dark. Berlin Marriott Hotel and Hotel am Steinplatz, Autograph Collection both make excellent bases for your urban exploration.
Rügen
Rügen – Germany's largest island – is the jewel of the Baltic coast. Visit its majestic chalk cliffs (Kreidefelsen), which tower 161 metres above sea level in Jasmund National Park, for expansive views of the Baltic Sea. And don't miss walking around the island's traditional fishing villages, watching elegant migrating cranes, or discovering Rügen's UNESCO-listed beech forests.
The North Sea coast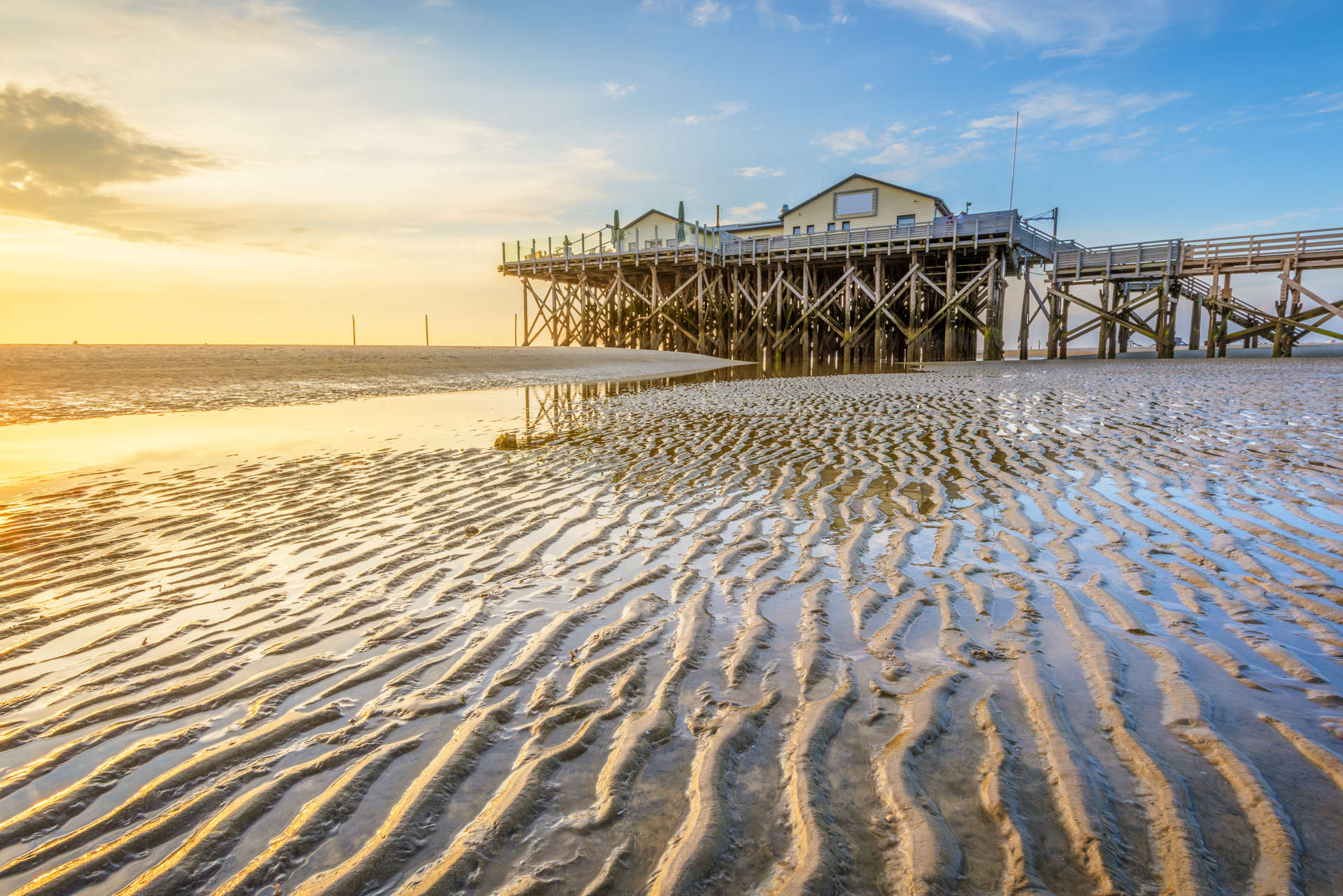 The Wadden Sea is neither land nor water (Photo: GettyImages)
While Germany's Baltic coast is known for its historic seaside resorts, soaring dunes and long white-sand beaches, its North Sea coast has a more unusual appeal. The Wadden Sea UNESCO World Heritage Site is part of the world's largest tidal flats system, and is known for its remarkable biodiversity – particularly its migratory birds. The cities of Hamburg and Bremen are the main gateways to the North Sea.
Hamburg
Being Germany's most important port, Hamburg has always been multifaceted and cosmopolitan. Waterways weave through the city, crossed by six times as many bridges as Venice; explore them on foot in the historical Speicherstadt (City of Warehouses). Planten un Blomen park makes a serene spot for a walk, while the Elbphilharmonie on the Elbe River – one of the world's most acoustically advanced concert venues – is the perfect place for an evening of culture. The ideal starting point for your sightseeing is the Moxy Hamburg City hotel, nestled right in the heart of the city.
Cologne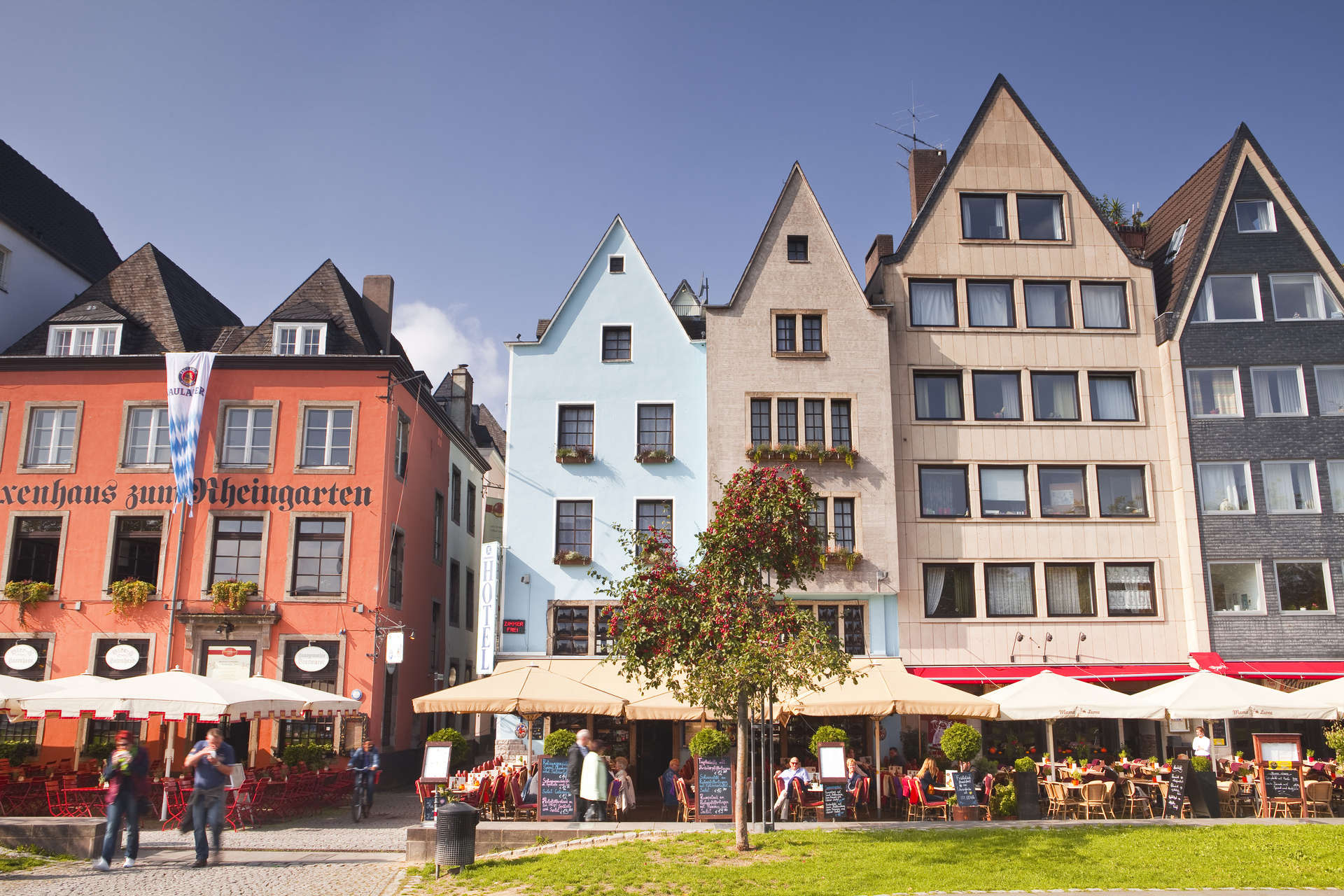 Pastel coloured buildings in Cologne (Photo: GettyImages)
At the heart of this city is one of Germany's most iconic landmarks: the Cologne Cathedral. This UNESCO World Heritage Site and architectural marvel that is truly spectacular and offers reason enough to visit Germany's fourth-largest city. But, to get the most out of your sightseeing, stay at Cologne Marriott Hotel to be just a few minutes' walk away from a few celebrated attractions like the Rhine River, the Cologne Chocolate Museum and Dufthaus 4711.
Burg Eltz, Koblenz
From magnificent palaces to medieval fortresses, Germany is home to roughly 25,000 castles and palaces. Besides Neuschwanstein, surely the most famous castle in the world, there's one in particular which should top your list: Burg Eltz near Koblenz. Isolated Eltz Castle is the epitome of a German knights' fortress, and unlike the vast majority of castles along the Mosel and Rhine Rivers, it has never been badly damaged.
Munich
You might think of the traditional Bavarian leather shorts (lederhosen) and Oktoberfest when you imagine Munich, but this city offers so much more than that. Residence Inn Munich City East positions you in the heart of the action, within walking distance to the top sights including Englischer Garten, Marienplatz, and BMW World. This city is also a perfect base for different day trips, including to the fairytale Neuschwanstein Castle.
The Bavarian Alps
If you love rustic cabins, dramatic mountain scenes and hearty traditional cuisine, you should visit the Bavarian Alps, which are one of the country's most picturesque areas. Berchtesgaden National Park – Germany's only alpine national park – is a real treat for hikers and nature lovers, with countless trails and idyllic sights like the pristine Königssee, the Steinerne Meer (Sea of Stone) and breathtaking Mount Watzmann, to mention just a few.
The Black Forest
Germany's 'black forest' is so-called because of the gloom beneath its dense canopy of evergreens (Photo: GettyImages)
The Black Forest is seen by many as the most mystical place in Germany, with its extensive meadows and impenetrable woods. It is best known for its dreamy villages, world-renowned thermal spas and as the birthplace of Germany's famous cuckoo clock. And of course, cake lovers couldn't possibly visit without trying a slice of rich Black Forest Gâteau. From Stuttgart, where you can base yourself at the Stuttgart Marriott Hotel Sindelfingen, it's easy to reach the Black Forest by car or public transport.
Mecklenburg Lake Plateau
With more than a thousand lakes scattered across this pristine area, Mecklenburg Lake Plateau is the perfect getaway for nature lovers and watersports enthusiasts. Far from bright city lights, it has very low light pollution, which also makes it one of Germany's best stargazing spots.
What to eat and drink in Germany
Soft pretzel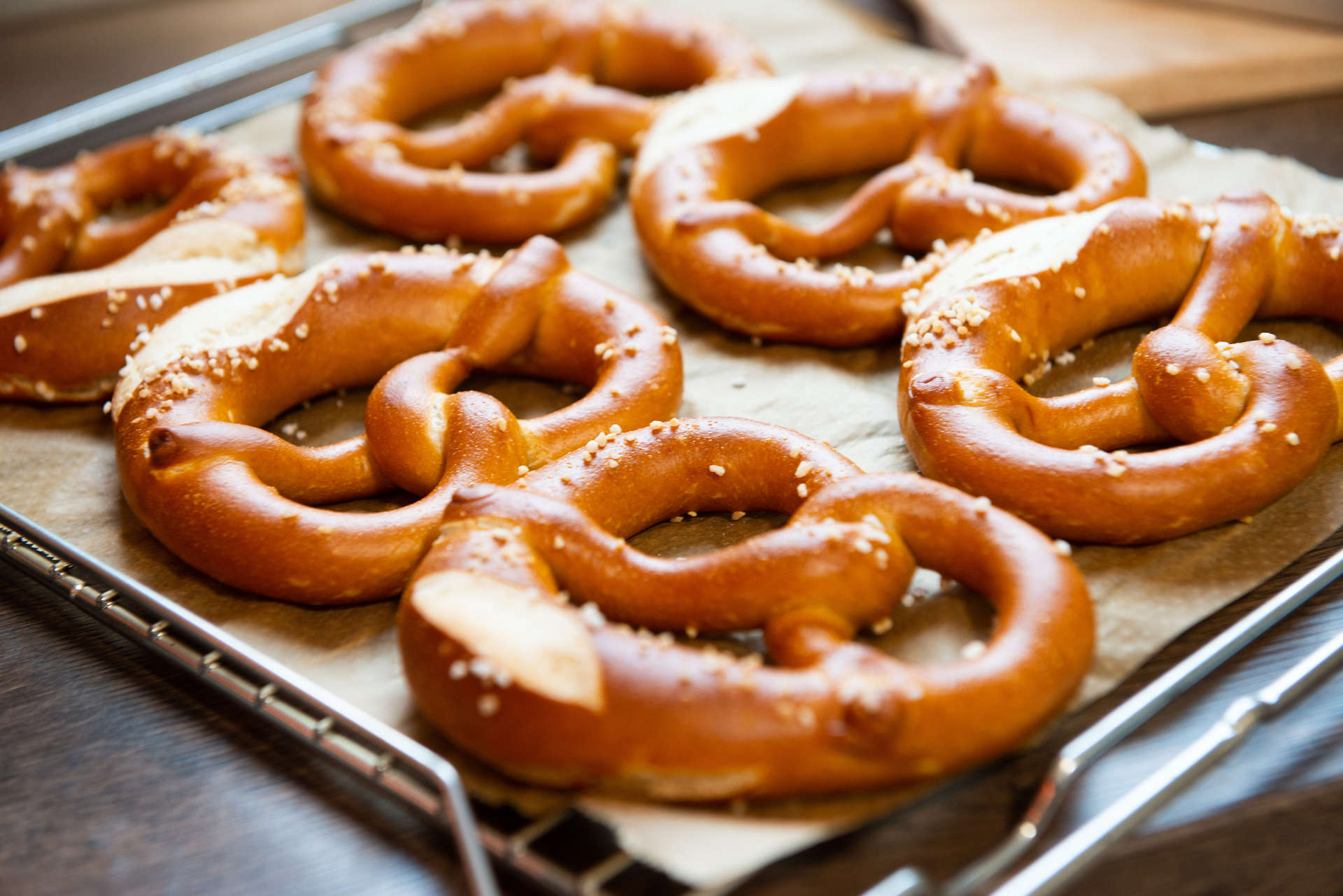 Pretzels go excellently well with beer (Photo: GettyImages)
Don't miss trying this traditional knot-shaped bread from Germany. The "brezel", as it's called in German, is soft and doughy, but with a dark brown, crispy crust sprinkled with coarse salt. In Bavaria you can buy it at the counter of any typical German bakery or – being the ideal accompaniment to beer – in most beer halls or beer gardens.
Hackepeter
This hearty dish is chopped raw pork served (usually) on a bread roll, with salt and pepper or onions on top. Yes, you read that right – raw. While eating uncooked pork is unimaginable elsewhere, in Germany it's a common dish. If you want to give it a try, head to one of Berlin's traditional German restaurants, like Jäger & Lustig, Dicke Paula or Nante-Eck.
Currywurst
If you're after a quick lunch, look no further than the humble Currywurst, which originated in Berlin. This veal-and-pork sausage is German fast food at its finest, cut into slices with curry sauce and curry powder on top and usually served with a bread roll. Best Curry Berlin and Curry & Chilli are good places to try this popular snack in the capital.
Apfelstrudel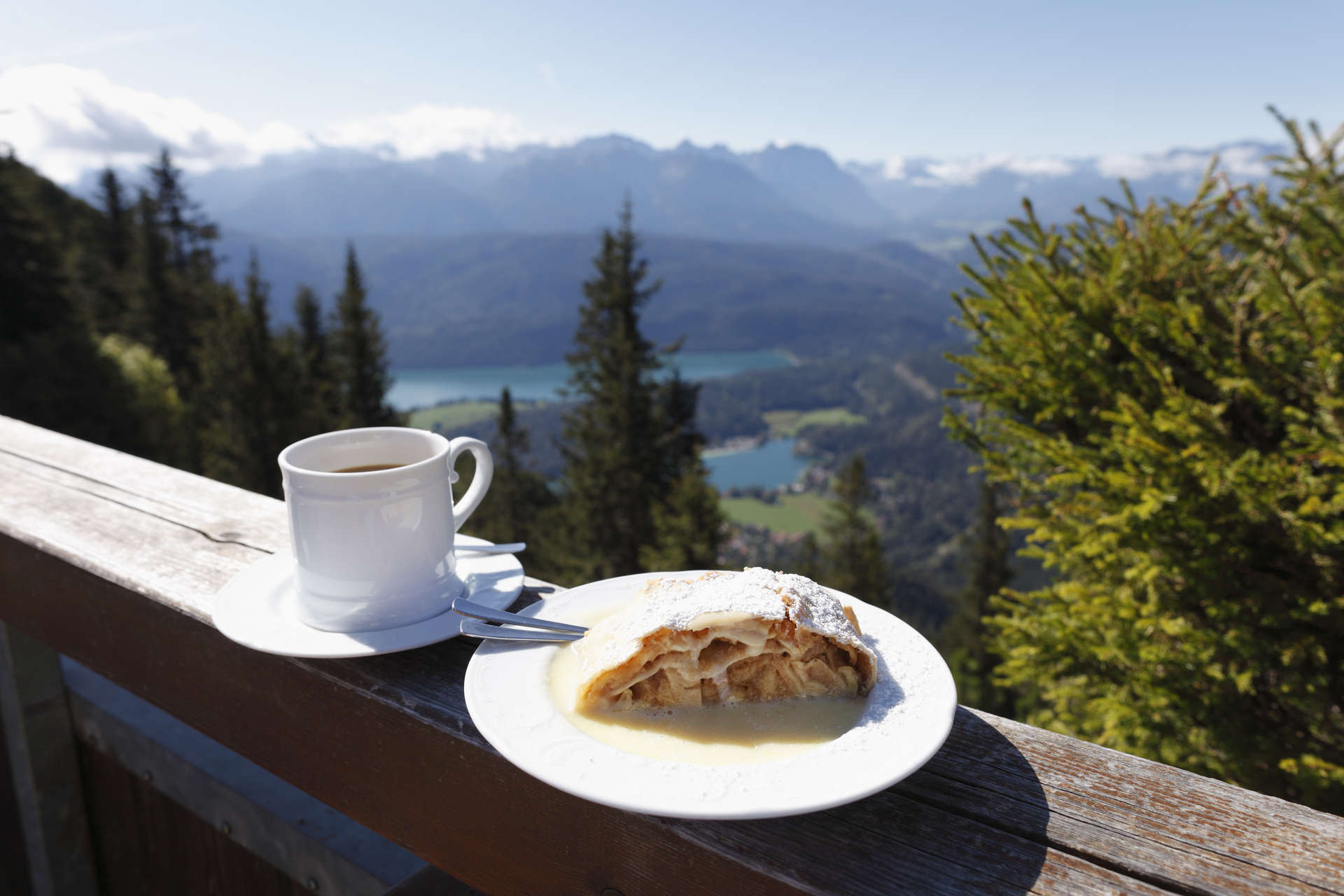 Warm from the oven, it doesn't get better than Apfelstrudel (Photo: GettyImages)
For those with a sweet tooth, this classic German dessert is an absolute must-try. Made out of a sweet, juicy apple and raisin filling rolled up in a thin dough, it's often served with a scoop of vanilla ice cream. There are many places to try this delicacy, but if you're planning on hiking in the Alps, nothing beats stopping for a delicious, fresh baked Apfelstrudel in a log cabin-style restaurant.
German beer
German beer is arguably the world's finest
It is hard to imagine a trip to Germany without tasting at least one authentic German beer. If you are overwhelmed by the huge variety of brands, try to go for a local type, like a Kölsch in Cologne, an Altbier in Düsseldorf, a Paulaner in Munich, or a Berliner Weisse in Berlin. For an authentic German experience drink it outside in a beer garden, or in a traditional brewhouse. Prost!
Unmissable things to do in Germany
Visitors are spoiled for choice when it comes to fun things to do in Germany. After a restorative night at the luxury Gewandhaus Dresden, Autograph Collection hotel in the vibrant riverfront city of Dresden, where the skyline is dotted with spires and cupolas, you can easily take a day trip to the unique landscapes of Saxon Switzerland National Park. Here you will find giant pinnacles of sandstone known as Elbsandsteingebirge, connected by a stone bridge called Basteibrücke (Bastei Bridge).
If visiting from Berlin, combine your trip with a stopover at Rakotzbrücke (the Devil's Bridge) in Gablenz, which forms a perfect circle when reflected in the water below, and charming Görlitz. Considered by many the most beautiful city in Germany, Görlitz' architectural significance is only topped by its idyllic location.
For the most stunning vistas, one of the best things to do is taking the cable car up Zugspitze – the country's highest peak – in southern Germany. The so-called "top of Germany" offers an impressive 360-degree panorama, with views over 400 mountain peaks in four countries.
To immerse yourself in the arts, head to Museum Island in Berlin. This complex, made up of five world-renowned museums in the historic heart of the capital, has been listed as a UNESCO World Heritage site since 1999. Whiling away an afternoon here is one of the most interesting things you can do to experience Germany's culture.
Hidden gems in Germany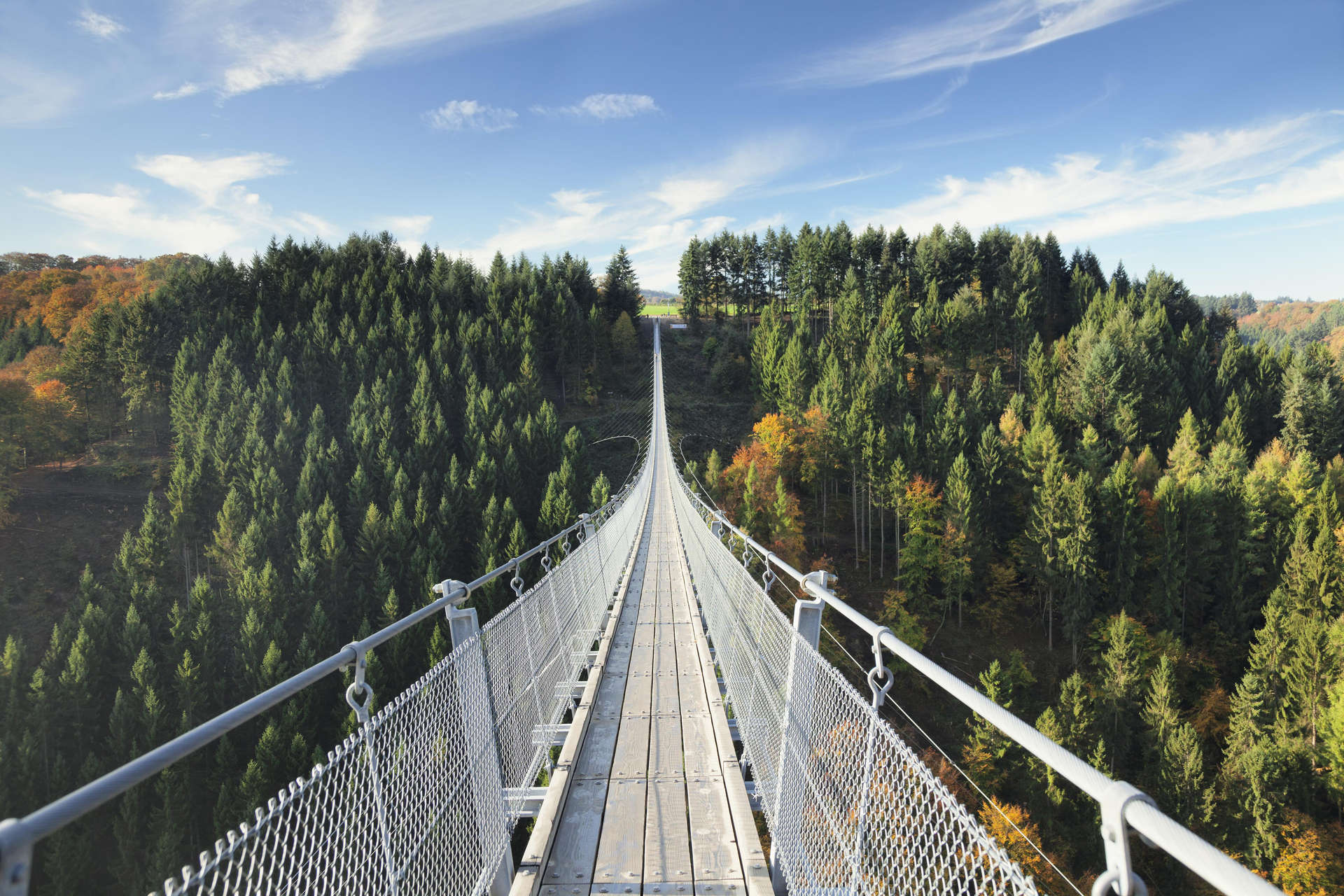 Geierlay Suspension Bridge is popular local attraction (Photo: GettyImages)
While some places in Germany have a worldwide reputation, there are many alternative things to do that you've probably never heard of.
How about a seven-hour round-trip hike to the country's highest lake, Schrecksee (Fright Lake)? The route starts in Hinterstein, a tiny, beautiful village in the Alps a two-hour drive from Munich, near the Austrian border. With an elevation of 1813 metres, getting to the lake is no easy feat. But for those with a sense of adventure, the views of this turquoise jewel, with a verdant island in the middle and alpine meadows stretching down to its shores, are well worth the effort.
Germany is home to several other stunning lakes, too, including Tegernsee, Chiemsee, Konigssee, Ammersee, and of course Starnberg, which is easily reachable from Munich.
For anyone seeking an authentic and picturesque city break, Nuremberg and Heidelberg make for the perfect short escape. While Heidelberg is considered one of the most romantic cities in Germany, Nuremberg is known for its diverse spectrum of art, culture and historical sights, which can easily be reached from the renowned Sheraton Carlton Hotel Nuremberg. If you are a dedicated automobile fan, head instead for Autostadt in Wolfsburg – birthplace of the famous Volkswagen automobile – and stay at The Ritz-Carlton Wolfsburg, just within the popular theme park.
In Teutoburg Forest in North Rhine-Westphalia, mysterious Externsteine is well worth exploring. This peculiar, 40-metre-high sandstone formation is considered by many a sacred place of power, in part due to its carving of the Descent from the Cross. You can easily access and climb several of the rocks, to enjoy far-reaching views from the top.
Talking of heights, there is another secret spot in North Rhine-Westphalia worth a visit: the Geierlay Suspension Bridge. Located in the richly wooded Hunstrück Mountains, this 360-metre-long and 100-metre-high bridge was modelled after Nepalese suspension bridges. Especially on a windy day, the crossing can be a thrilling experience, and a truly unique thing to do.
Go deeper
If you want to explore the culture more deeply, make the effort to learn a few words of German. Even just a friendly "danke" (thanks), "freut mich" (nice to meet you) or "Prost!" (cheers) will open many doors.
If you hear someone saying "Das ist nicht mein Bier" – "that is not my beer" – don't translate it literally. Beer has an important place in German culture, so when you say something is "not your beer", it simply means that you want nothing to do with it.
Published: July 25, 2022
Last Updated: March 15, 2023
Article Tags: Berlin , Cologne , Germany , Hamburg , Nuremberg