Set in the heart of Spain's vibrant capital, JW Marriott Hotel Madrid is an urban sanctuary exuding elegance and sophistication. The hotel's décor captures the essence of Madrid, with soft, soothing colour palettes that encourage guests to unwind and recharge. Whether taking in breathtaking views from your guest room balcony or top-floor suite, enjoying gourmet dishes at the restaurant, or delving into the city's rich cultural heritage, a stay at JW Marriott Hotel Madrid allows you to reconnect more deeply with yourself and the city.
Day 1: Connect with the essence of scent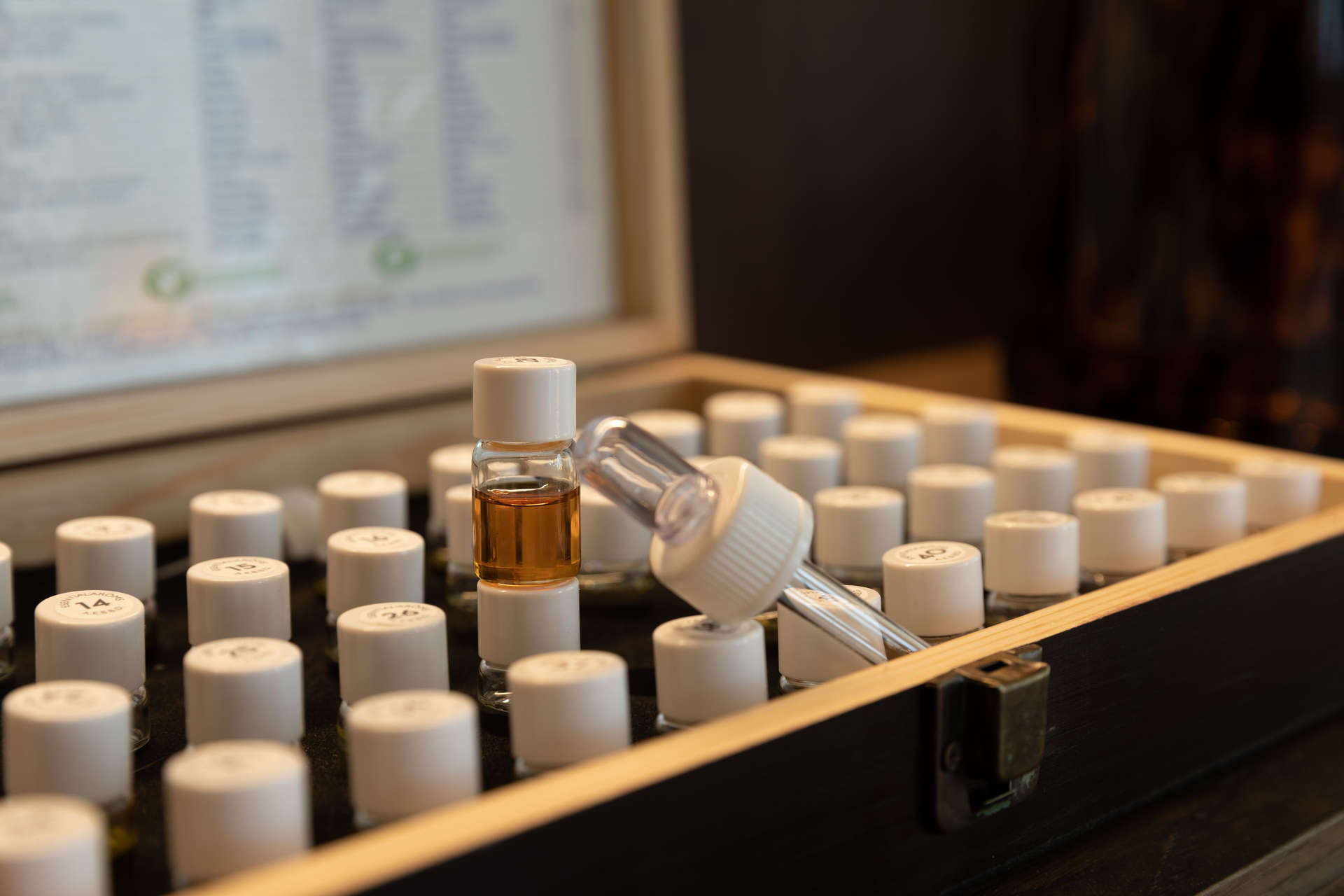 Upon arrival at the hotel, relish selecting your preferred scent from a wide selection of Madrid-inspired aromas – your chosen scent will be there to greet you in your room (Photo: Marriott International)
The sense of smell can evoke strong memories and a vivid sense of place. As you step into the lobby of JW Marriott Hotel Madrid, you'll be warmly greeted by staff with a traditional violet or rosemary-scented tea served in an artisanal ceramic cup. You will be invited to look through an Essence Box to choose from one of the city's signature scents, with essential oil vials including lemon, carnation, chocolate, violet, tuberose, rose and leather. Your preferred scent will be placed in your room to infuse it with an authentic aroma of Madrid.
Perfume bottles, books and essences are on display in the lobby for you to peruse at leisure, while books about Madrid and its aromas are placed on your bedside table to calm and relax the mind before sleep. Scent training workshops in collaboration with the Spanish Academy of Perfume complete your olfactory journey.
Day 2: Connect with the essence of refreshment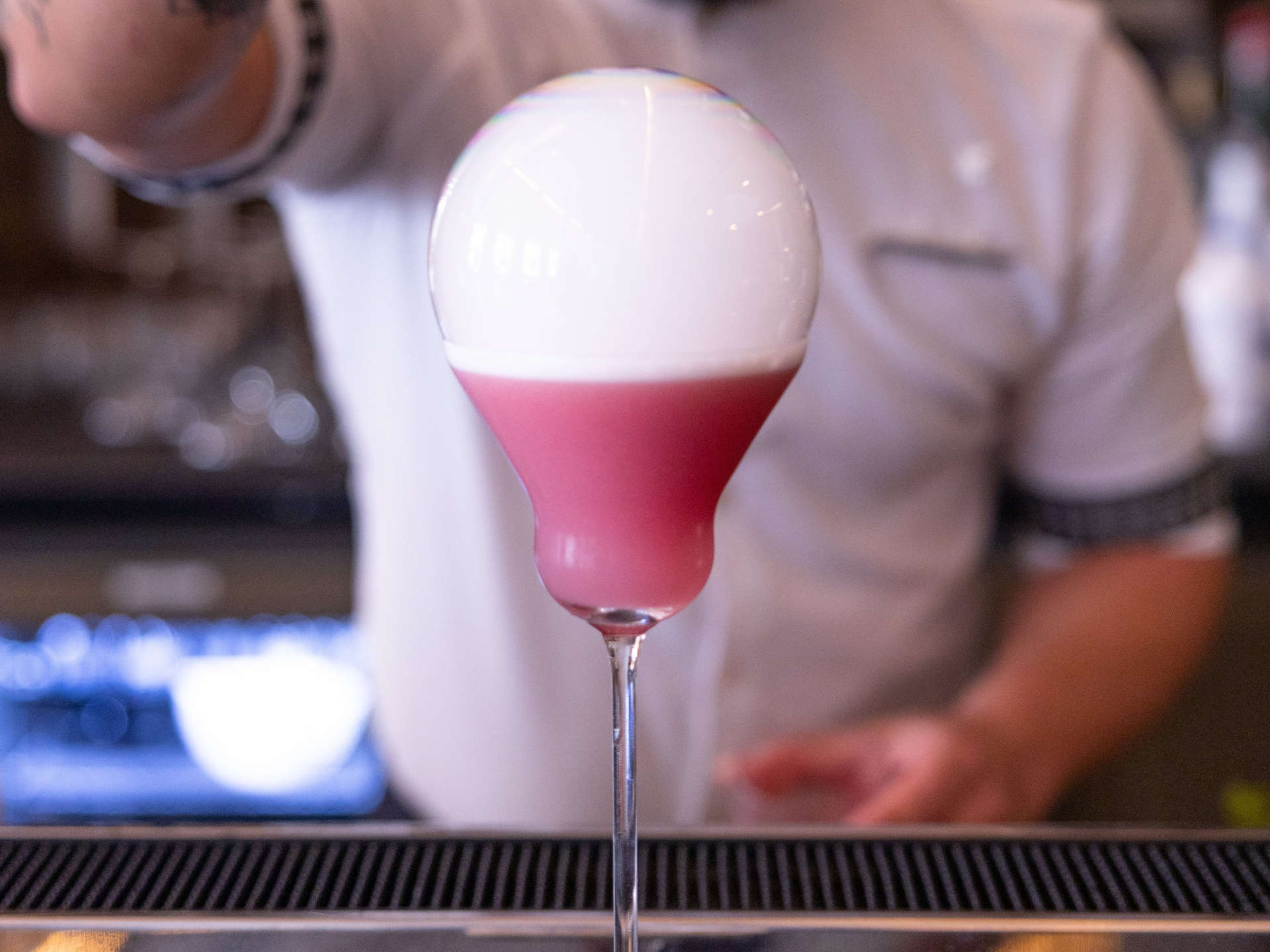 Relax in the stylish setting of QÚ bar with a tantalisingly tasty drink theatrically shaken up by one of the hotel's innovative mixologists (Photo: Marriott International)
Come evening, there's no better way to switch off and unwind than with a refreshing drink. QÚ bar's talented mixologists shake up inventive cocktails and mocktails inspired by the botanical aromas of the Spanish capital. The fluted wood-panelled bar, all sleek slate grey and chocolate brown tones, is a stylish spot to relax with a drink in hand.
Take a seat at the wooden counter and watch the theatrics of the bar, with the experienced team shaking up cocktails prepared with local fruits and herbs, including lemon and rosemary. Enjoy perfectly crafted classics with an inventive twist, or be bold and daring and try something completely new to further tantalise your tastebuds. You'll also find decadent and delicious drinks with irresistible chocolate notes.
Day 3: Connect with the essence of a view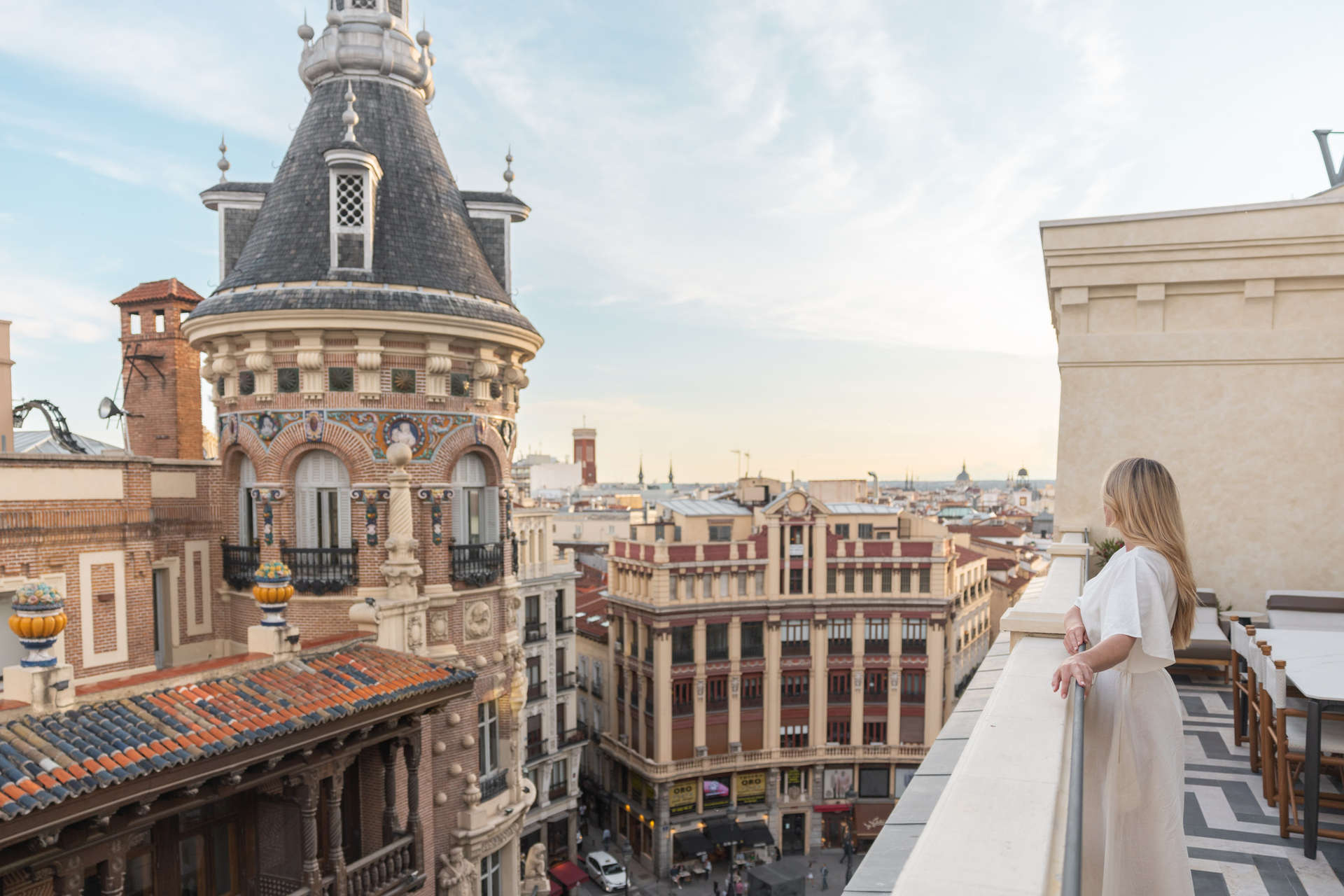 Experience breathtaking panoramic views of Madrid from the haven of your own terrace, where you can sit and relax and enjoy a session of yoga (Photo: Marriott International)
Rooms at JW Marriott Hotel Madrid are veritable urban sanctuaries, with natural materials and neutral colour palettes creating a soft, soothing ambience that invites guests to tune into their internal rhythms. Most suites have large terraces offering panoramic city views, with those from the 12 upper-floor suites simply awe-inspiring.
Providing a personal haven of relaxation and revitalisation, the suites are flooded with natural light, with huge windows offering sweeping views of Plaza de Canalejas and beyond. Guests can nurture their physical well-being as they take in sublime vistas, especially with yoga mats available in-room, and complimentary access to yoga and meditation videos. Bathrooms invite pampering and relaxation, with music playlists and customisable light setups designed to engage all five senses.
Day 4: Connect with the essence of taste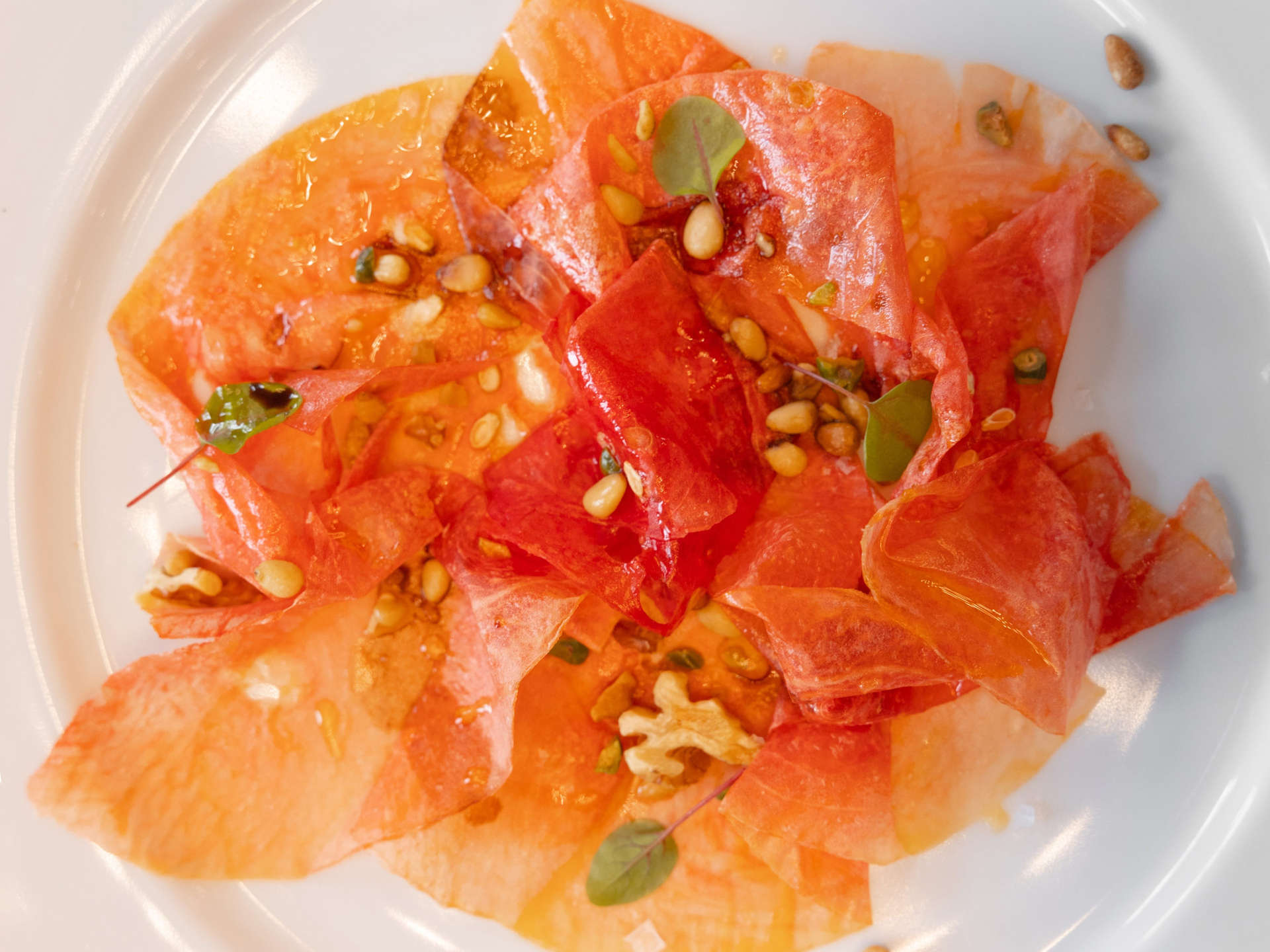 Experience the nourishing quality of Madrid's fantastic culinary scene by sampling the exquisite dishes offered at QÚ, curated by Mario Sandoval and inspired by traditional Spanish cuisine (Photo: Marriott International)
Madrid has a thriving culinary scene, with restaurants making the most of local ingredients to nourish the body, mind and soul. At QÚ, you can savour traditional Spanish cuisine with an innovative gourmet twist, thanks to a well-thought-out menu curated by Michelin-starred chef Mario Sandoval. Dishes are prepared using ingredients sourced from trusted local producers – fruits and vegetables thrive under the Mediterranean sun, with ingredients rich in vitamins and minerals bursting with flavour.
With its dark, metal grey tones, the restaurant has a sleek, contemporary vibe, with smoky-grey pendant chandeliers creating a dramatic touch. Sit back on comfortable, cushioned seating and enjoy the present moment, mindfully savouring every bite using your five senses.
Day 5: Connect with the essence of nature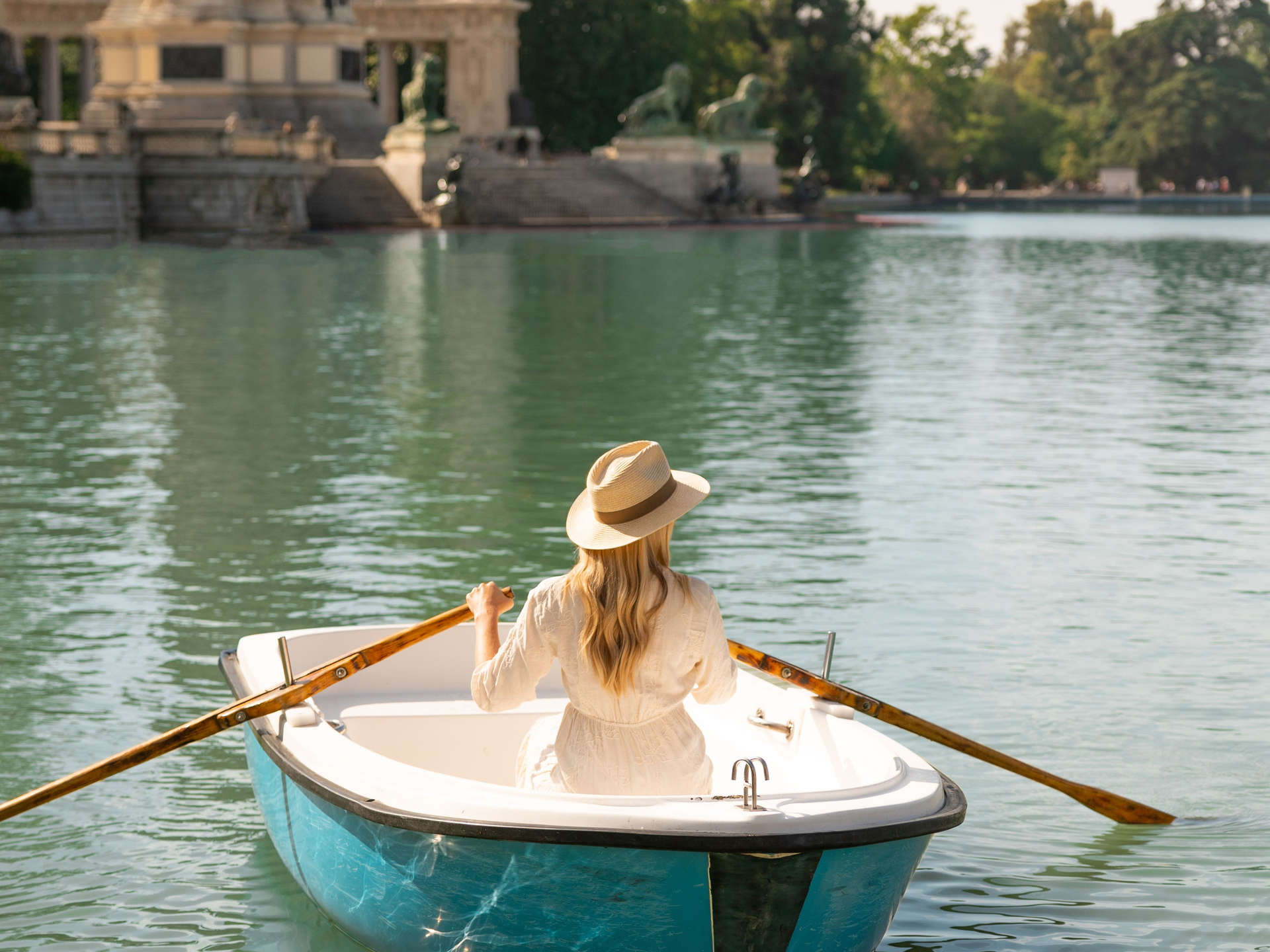 Bask in a moment of peace on the lake at El Retiro, perhaps enjoying a leisurely paddle on a rowboat amid the lush greenery of the surrounding trees (Photo: Marriott International)
A stone's throw away from JW Marriott Hotel Madrid is El Retiro Park, a UNESCO World Heritage Site that is one of the city's most beloved green spaces. It offers a peaceful contrast to the buzz of central Madrid, with delightful pathways shaded by cedar and pine trees. Lying at its heart is a large boating lake where you can hop on a rowboat and enjoy a leisurely paddle surrounded by greenery. For a dose of culture, make for the park's Crystal Palace, a glass pavilion that hosts occasional art exhibitions.
With so much to do, you could easily while away most of the day in El Retiro Park. Pack a picnic lunch and find a shaded spot to put down a blanket – you'll feel connected to nature as you enjoy moments of quiet reflection.
Day 6: Connect with the essence of local flavour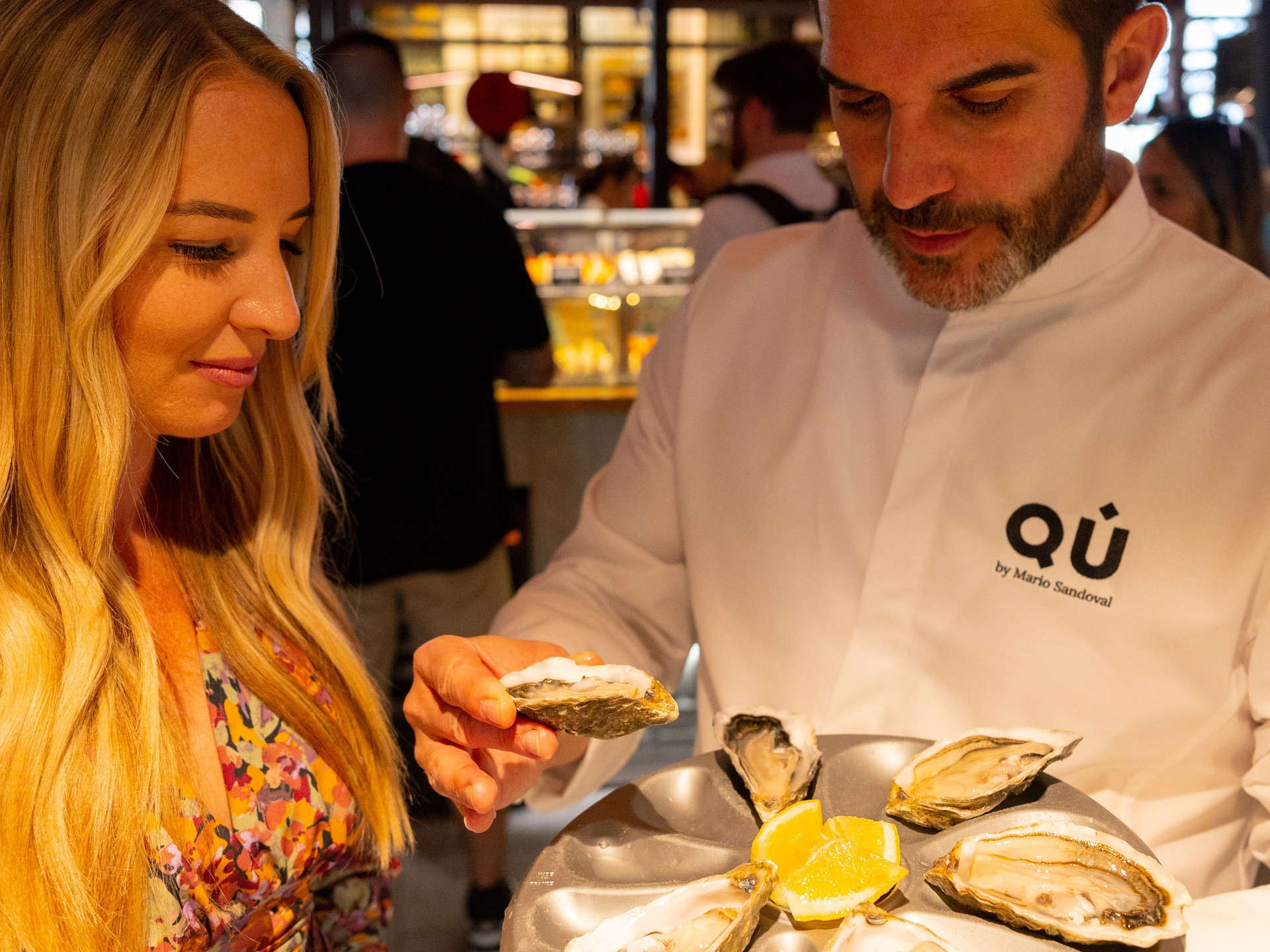 Visit the Mercado de San Miguel to experience a rich variety of delicious gastronomic treats, from Iberian ham to fresh seafood (Photo: Marriott International)
Spain is renowned for its delectable cuisine that makes the most of local ingredients. At Madrid's Mercado de San Miguel, vendors have been selling their wares since 1916, attracting shoppers who come to stock up on all manner of culinary delights. Set in an imposing iron structure, the market is a veritable feast for the senses, with stalls piled high with plump fruits and an assortment of freshly picked greens. You'll find fine Iberian ham alongside fresh fish and seafood brought in daily from Galicia, along with cheeses from Castile, Asturias and the Basque Country. It's the perfect place for a convivial, laidback lunch, with seating at communal tables where you can tuck into Spanish favourites, from chicken or seafood paella to appetising tapas drizzled with luscious olive oil.
Day 7: Connect with the essence of culture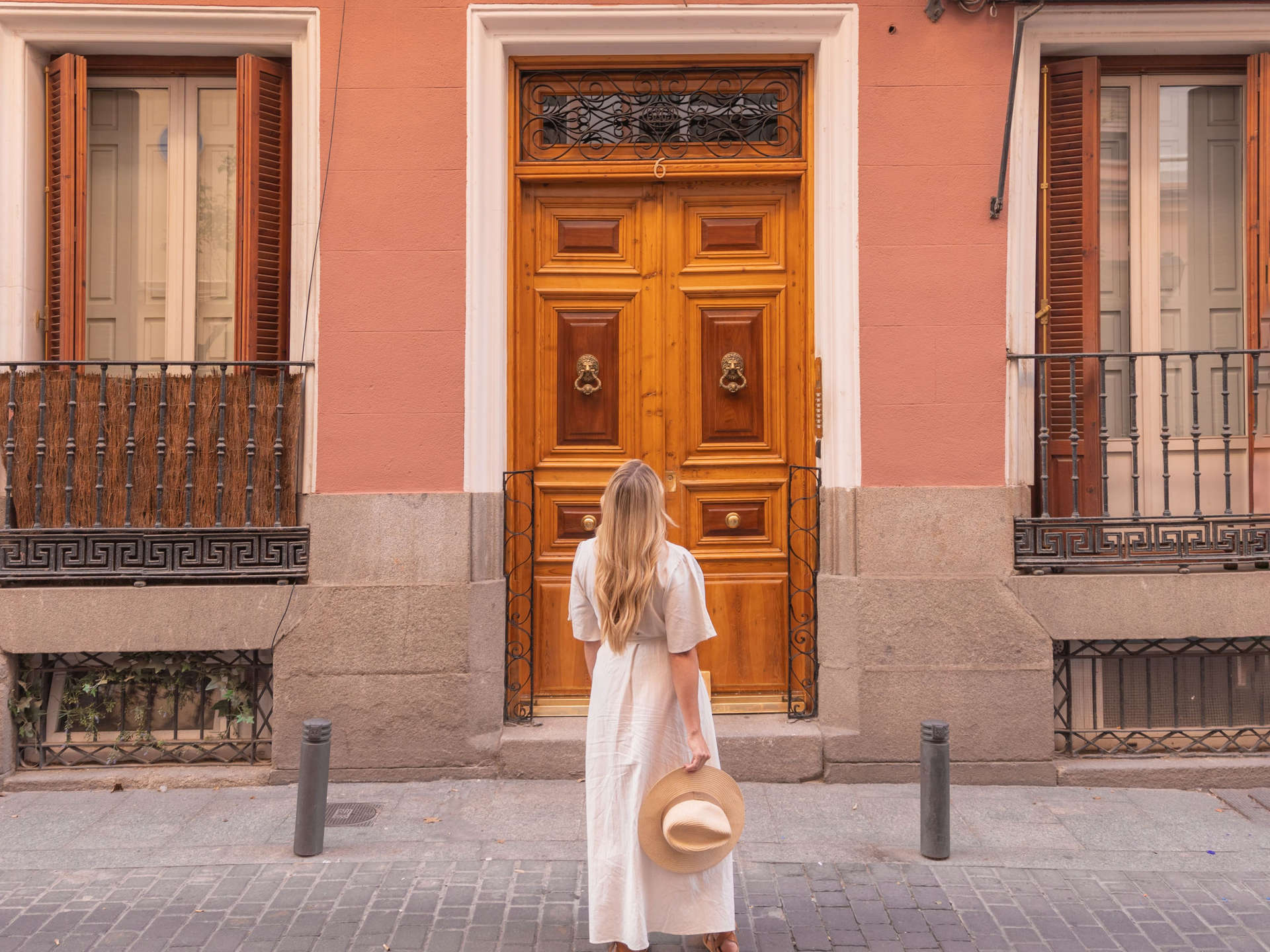 Explore the delightful neighbourhood of Barrio de las Letras, where you will find the former residences of some of Spain's greatest literary figures, as well as many charming shops and bars (Photo: Marriott International)
Several of Spain's literary greats once resided in the Barrio de las Letras, the city's cultural heart, which lies just minutes from JW Marriott Hotel Madrid. In this delightful central neighbourhood, you'll find the former home of Golden Age writer Lope de Vega, today a house museum where you can gain an insight into the life of the celebrated playwright and poet. Tirso de Molina is another famous literary figure who once called the Barrio de las Letras home, while Miguel de Cervantes would often perform his works in small halls and theatres in the neighbourhood.
Once you've explored Barrio de las Letras, pay a visit to the nearby El Prado Museum. This is Spain's main art museum housing a fabulous collection of European art spanning from the 12th to the early 20th century. Among the highlights are works by El Greco, Francisco Goya and Diego Velázquez. The nearby Thyssen-Bornemisza Museum and Reina Sofía Museum are just as impressive.
Be sure to take a stroll along the pedestrianised streets surrounding the JW Marriott Hotel Madrid. As well as charming independent boutiques and high street stores, you'll find bustling restaurants and traditional little bars where you can get a real flavour for local life.
Published: July 10, 2023
Article Tags: Madrid , Spain