Sun-drenched Spain has it all, from tasty tapas in Barcelona to Gothic architecture in Seville, beach style in the Balearics to hiking in the Canaries. Highlights include the vibrant capital of Madrid, plus the cathedral of Santiago de Compostela and the Mezquita of Córdoba, the mountains of the Sierra Nevada and the volcanoes of Tenerife, the Guggenheim in Bilbao and the Picasso Museum in Málaga. Go in summer for beaches, winter for culture and Easter or Carnival for a fiesta.
The best places to visit in Spain
Madrid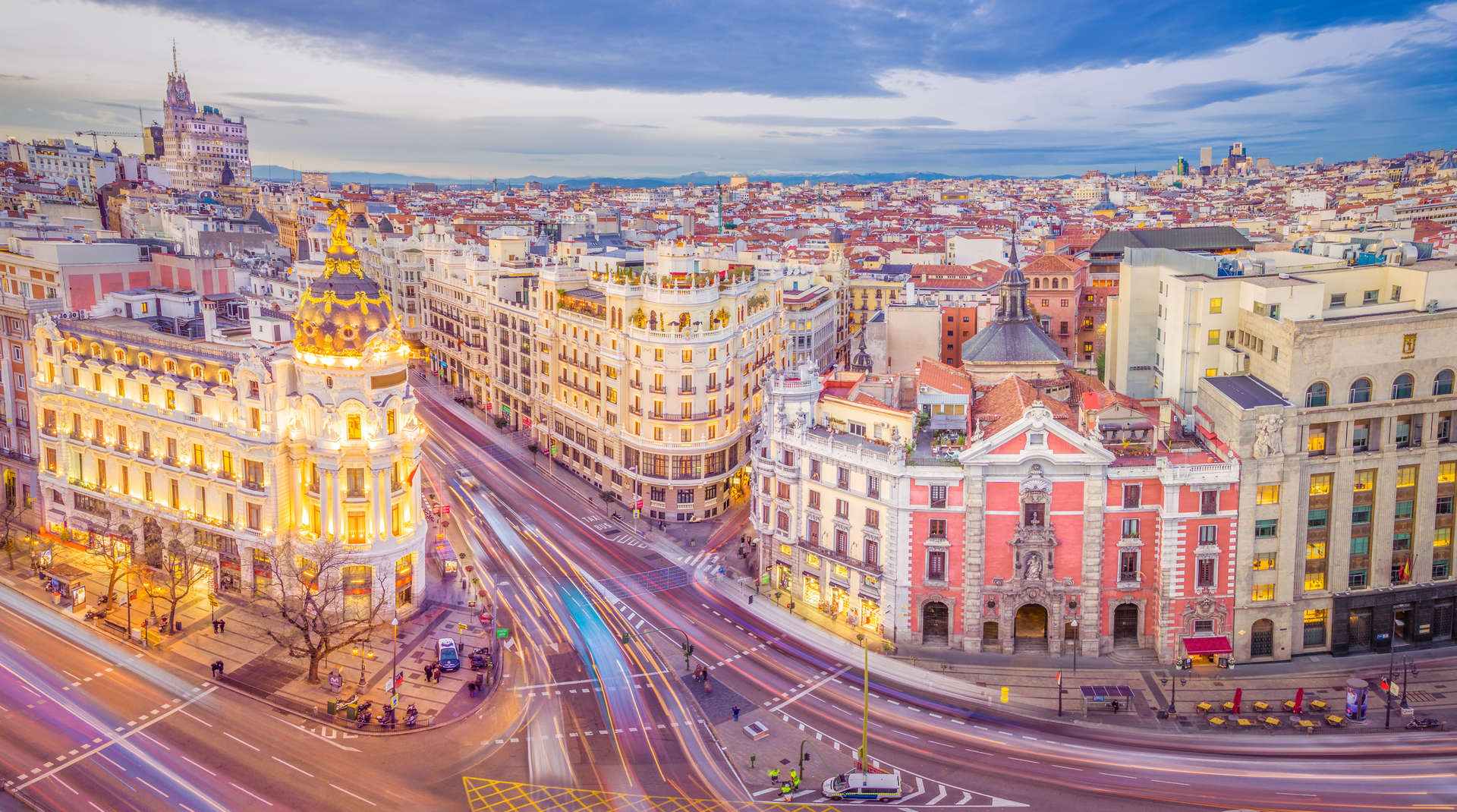 Gran Via at dusk
Spain's modern capital knows how to enjoy itself, and your time here is best spent following suit, reclining over coffee in chic cafés, sipping Spanish wine on terrazas and gearing up for the party to end all parties come the small hours. This is the perfect city for soaking up Spanish culture, especially at its world-leading art museums: the Prado, the Reina Sofia and the Thyssen-Bornemisza (stay nearby at the grand Hotel Palacio del Retiro, Autograph Collection). The city is so historically valuable it's recently been added to the UNESCO World Heritage list, specifically for the tree-lined Paseo del Prado, home to the eponymous museum, and adjoining Retiro Park.
Madrid is also the ideal jumping off point for visiting some of Spain's most historic cities, including Segovia with its Roman aqueduct and Toledo, which preceded Madrid as capital and features architectural masterpieces of every era from Gothic to Renaissance to Baroque.
Barcelona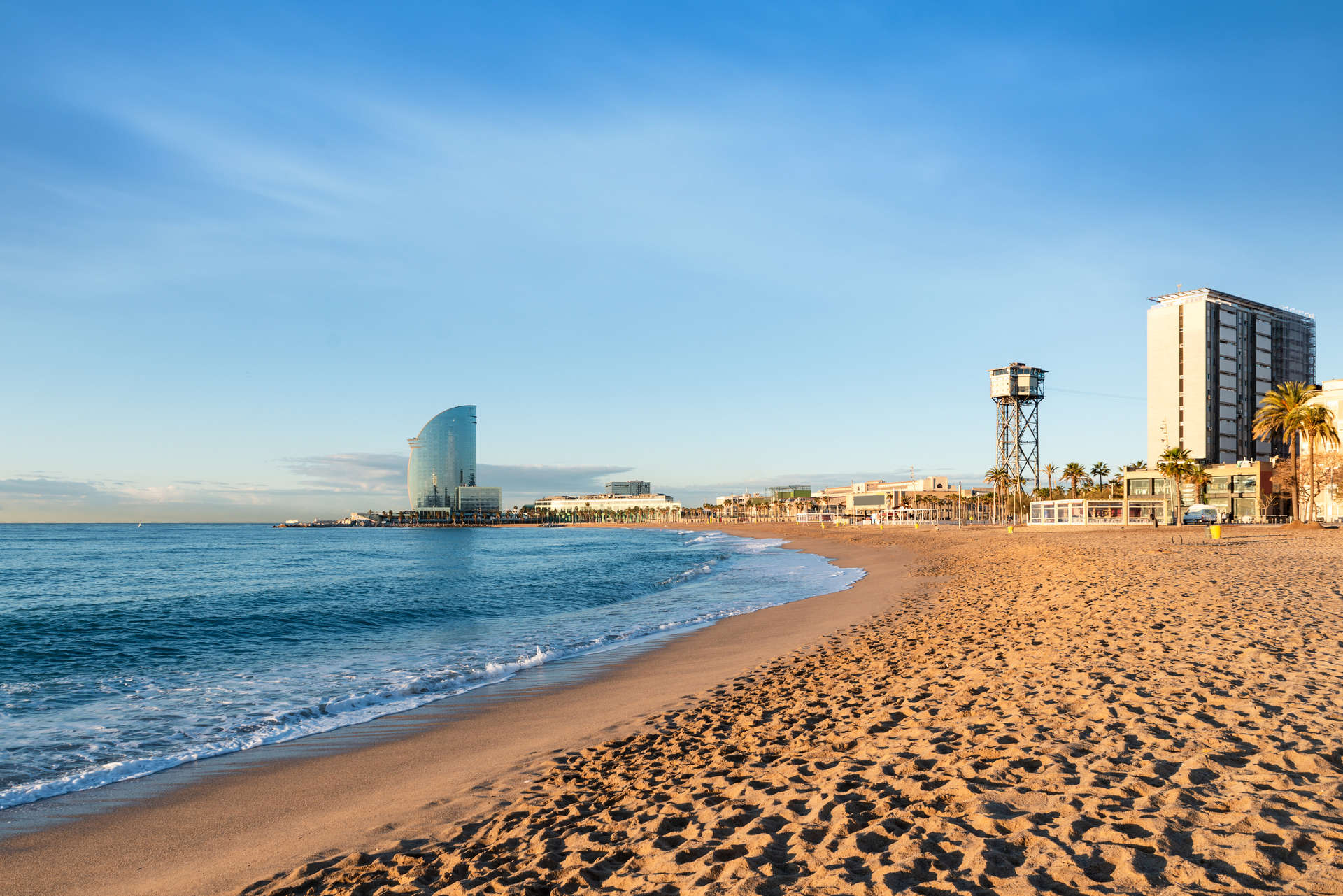 Barcelona
Few cities can rival Barcelona for glamour, and the city is one of the most popular places to visit in Spain. When it comes to where to go, let Catalan architect Antoni Gaudí be your guide, beckoning you to his inimitable modernist masterpieces the Sagrada Família church and Parc Güell. Football fans won't want to miss Camp Nou, home to FC Barcelona, while foodies should make a beeline for La Boqueria market, a temple to all things gourmet. Stay right on the seafront at W Barcelona, or enjoy the city action at the gorgeous Cotton House Hotel, Autograph Collection, with its rooftop pool.
Seville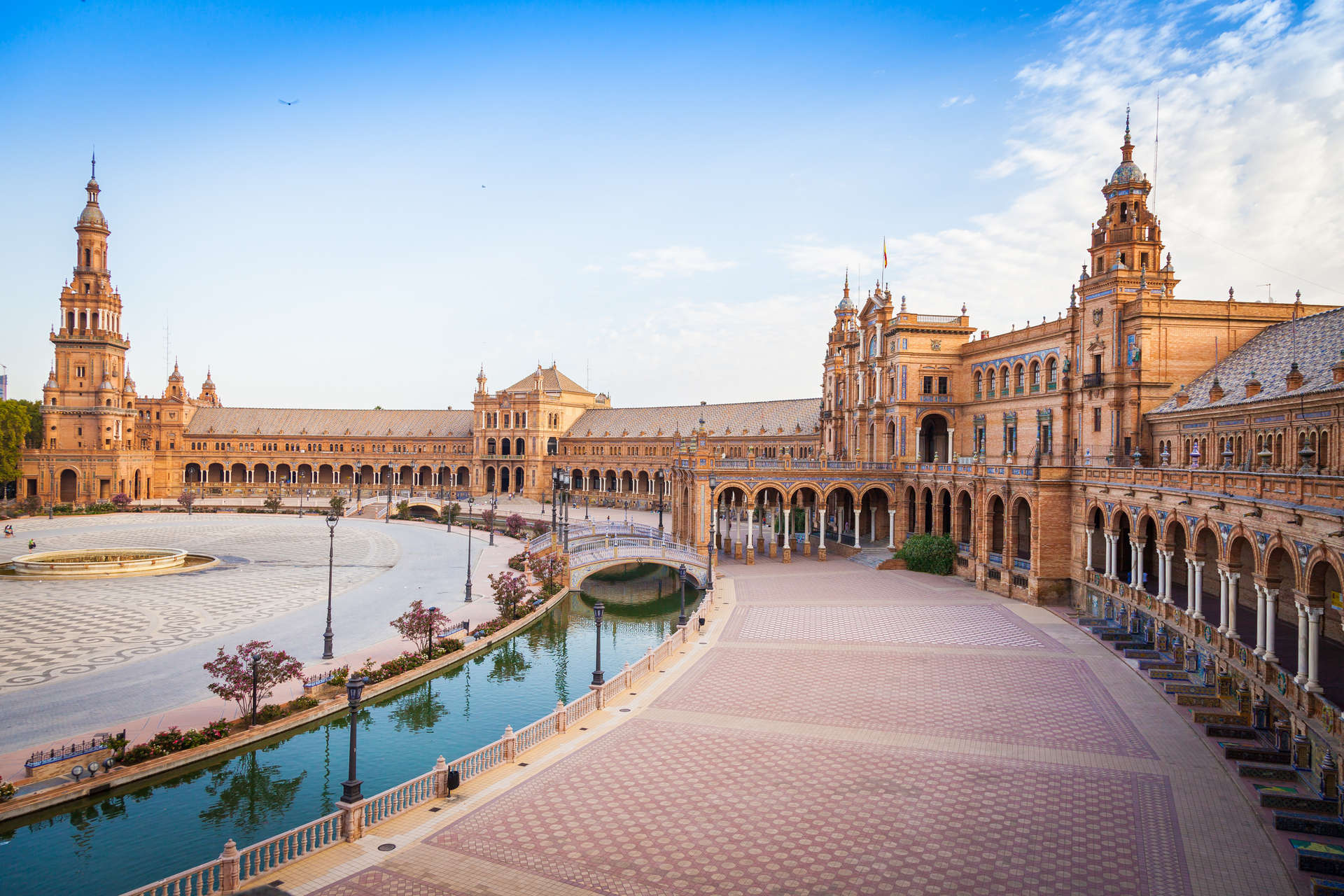 Plaza de Espagna, Seville
Seville is an unforgettably beautiful and spellbinding city, its streets bursting with oranges, its bars bouncing with flamenco culture. Head for the old city to visit the cathedral – the world's largest Gothic church – and climb La Giralda bell tower for sweeping views, before indulging in a long lunch at one of Spain's best tapas joints. Whatever you do by day, hit the bars of Triana by night, for a ringside seat to the fiercest flamenco, and stay in style at Hotel Alfonso XIII, a Luxury Collection Hotel, Seville.
Galicia
Don't overlook Spain's Celtic northwest, where the region of Galicia remains a quieter corner. This is a region known for incredible boat-fresh seafood and tangy chilled white wine, as well as white-sand beaches lapped by cool turquoise water. You'll see plenty of pilgrims here too, walking the ancient Camino de Santiago route to reach Santiago de Compostela and its ancient cathedral.
Valencia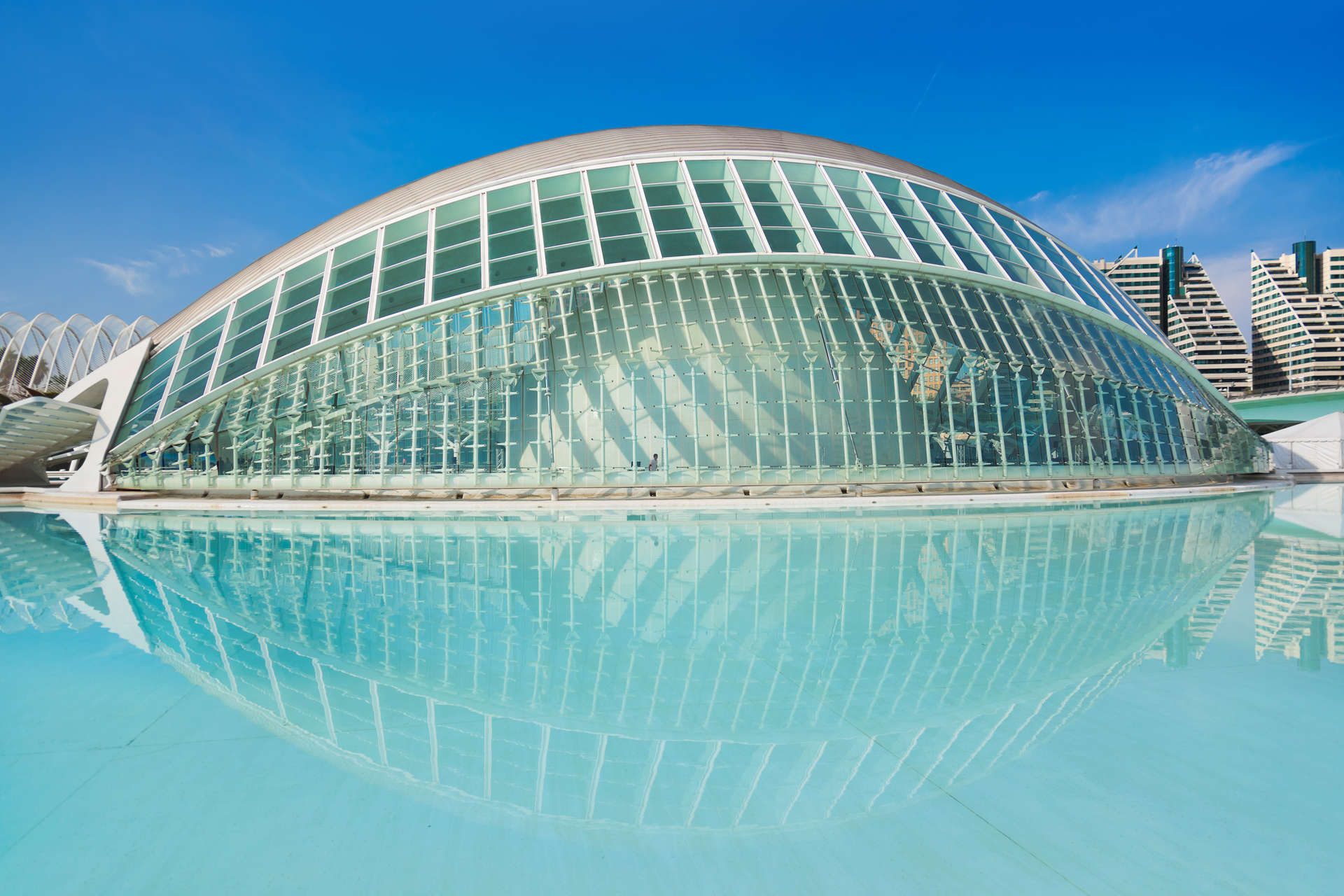 Valencia's City of Arts and Sciences is architecturally spectacular
Mediterranean-facing Valencia not only hosts some of Spain's best beaches and sunniest skies, it's also home to Europe's largest cultural centre, the City of Arts and Sciences. Here you'll find eye-catching architecture from Valencia's own Santiago Calatrava and a line-up of museums including the fascinating Museo de las Ciencias which has interactive exhibits focused on the human body. Stay in the thick of it at the gorgeously boutique-style Palacio Santa Clara, Autograph Collection, or for something quieter, head just outside the city on the Costa Blanca to stay at the five-star Denia Marriott La Sella Golf Resort & Spa.
The Balearics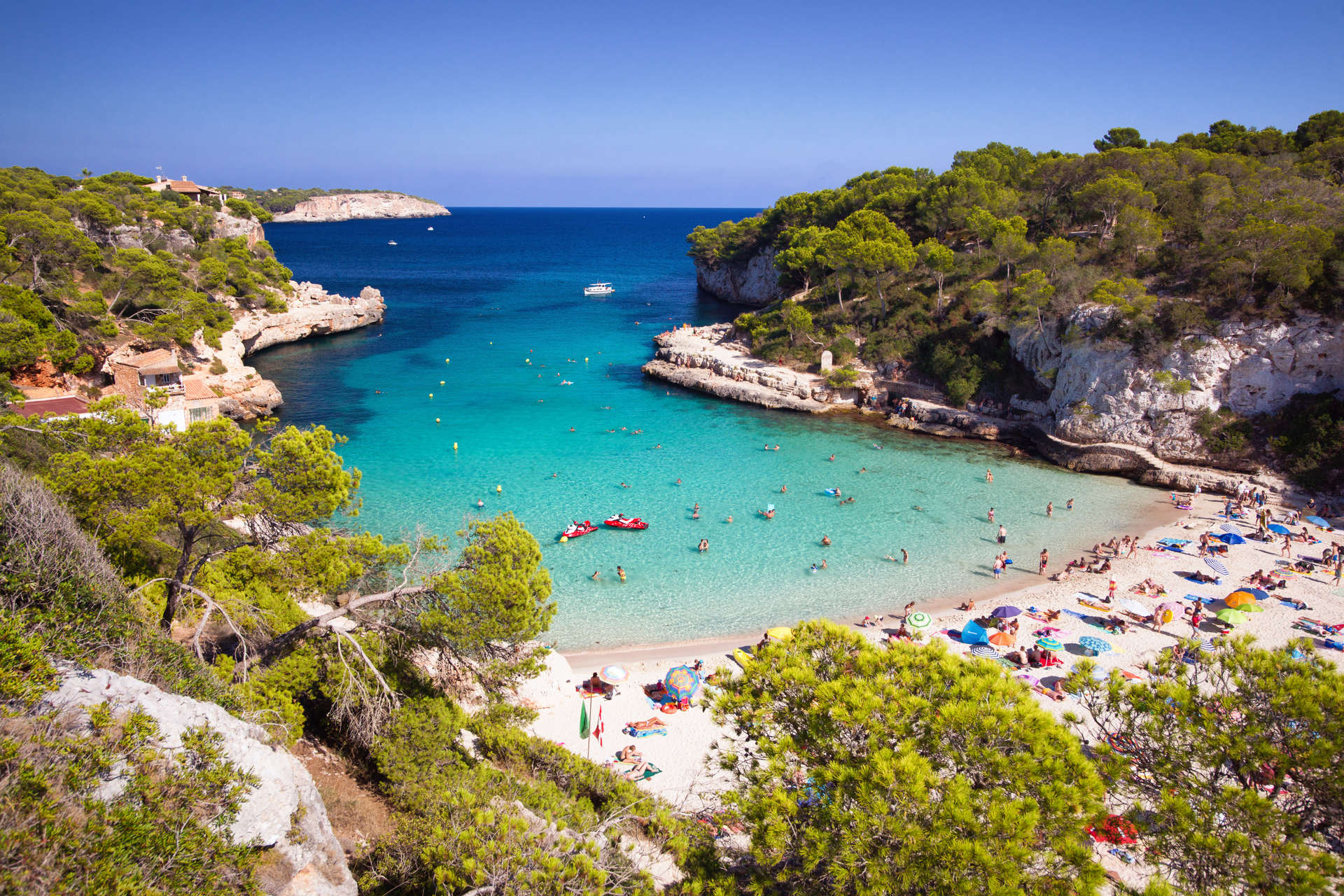 Mallorca is blessed with gorgeous beaches
The Mediterranean islands of Mallorca, Menorca, Ibiza and Formentera are home to some of the prettiest beaches and most picturesque villages in Spain. You'll find great hiking trails and some of Spain's best places to stay in Mallorca, including the Sheraton Mallorca Arabella Golf Hotel and the luxurious St Regis Mardavall Mallorca Resort, while Ibiza teams clubbing culture with yogic vibes. In Ibiza, stay at the impossibly cool W Ibiza.
The Canary Islands
When figuring out where to go in the Canaries, let Mount Teide be your guide. Tenerife's towering volcano – Spain's highest point – stands beacon-like in the midst of the archipelago, tempting you to lace up the hiking boots and get up there above the clouds. Tenerife makes the ideal base for a fun family holiday (stay at the super-swish Ritz-Carlton, Abama), while Fuerteventura has vast sandy beaches and perfect surfing conditions. Lanzarote offers stylish architecture and excellent wines, and Gran Canaria has a bit of everything, from hiking and biking to beaches and bars.
What to eat and drink in Spain
Paella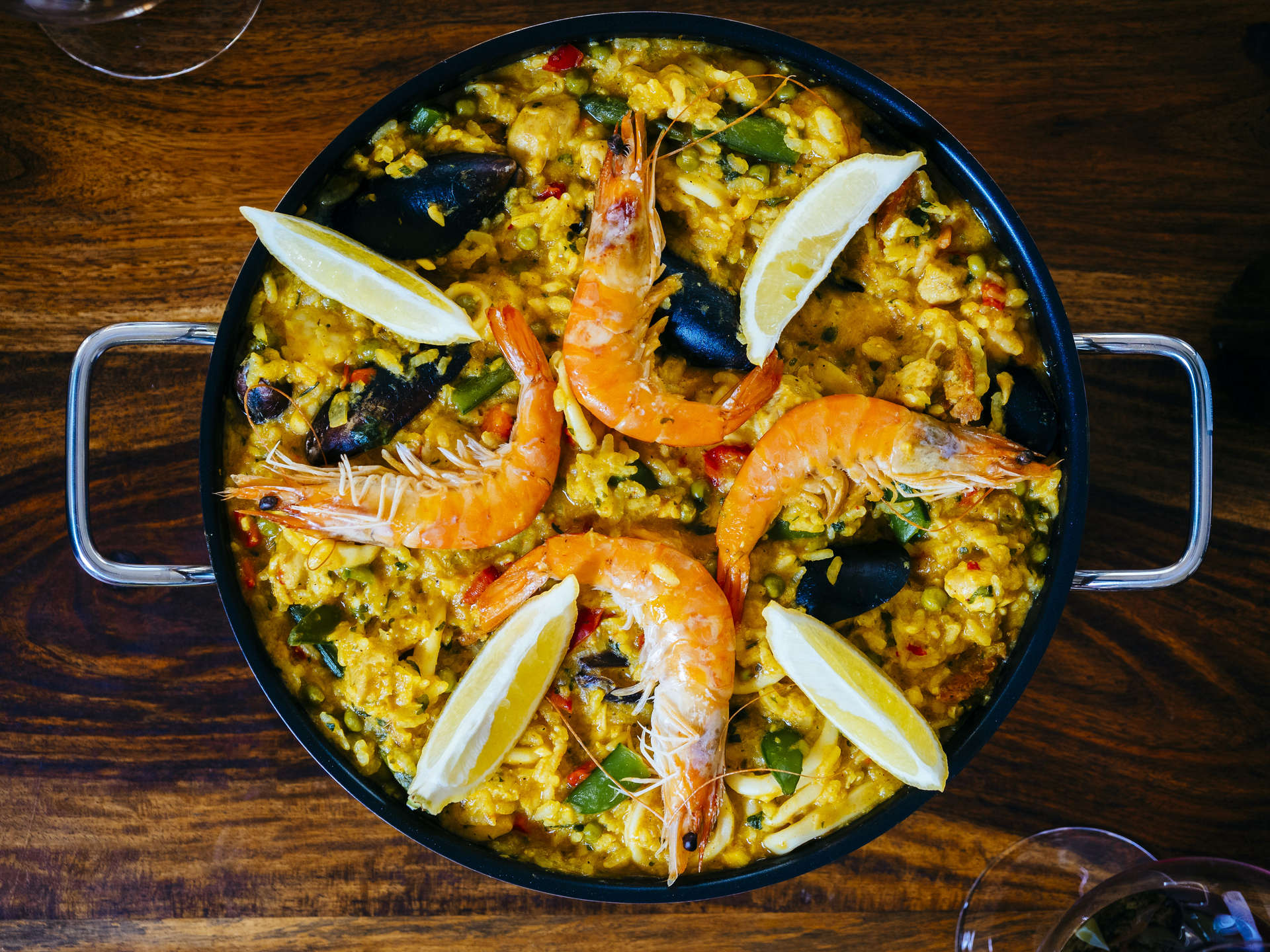 Paella is one of the gastronomic delicacies of Spain
Of all the Spanish dishes to try, paella is the top pick. The famous rice dish hails from Valencia, and the best paellas are still found around the city. Genuine paella is a meat dish, typically featuring chicken and rabbit as well as beans and saffron, but you'll find paella de mariscos (seafood paella) on many menus too – generally topped with jumbo prawns and dark mussel shells. The best paella is found on the coast south of Valencia, in lakeside El Palmar and the village of El Perellonet (try Restaurante Blayet).
Jamón ibérico de bellota
No Spanish tapas bar is complete without jamón behind the counter. This is the cured meat of the Iberian pig, and the best of it comes from animals fed on acorns (bellotas). The ham is a juicy ruby red, slick with fat and has a sweet yet salty taste. Spend more to get higher quality and specify that you want "de bellota". In Seville, try Casa Morales, and in Barcelona, Bodega La Plata or Cal Pep.
Pulpo a la gallega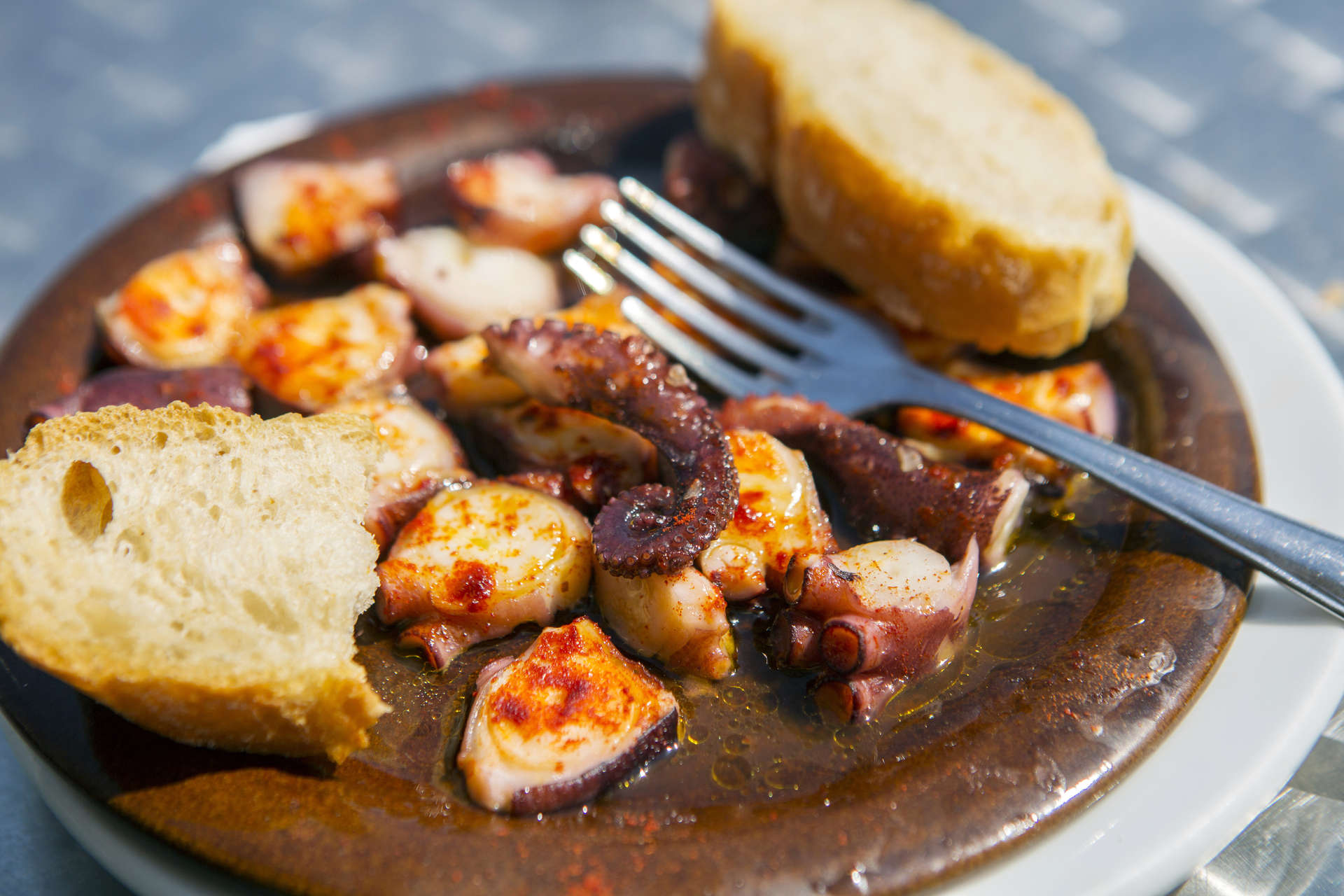 Pulpo a la gallega is simple yet flavourful dish
There are numerous great places to eat fresh local seafood in Galicia, and one particular dish stands out: pulpo a la Gallega. This is made by boiling octopus in a copper cauldron then adding sweet and salty paprika along with salt and olive oil. The result is a delicious dish best served with bread. Try it at Bar Restaurante Serafín in the Cies Islands or Don Gaiferos in Santiago de Compostela.
Spanish wine
Spain is home to some of the world's best-value wines. For a crisp glass of white to go with your seafood, seek out Albariño, from Galicia, or Verdejo, from Rueda, a DOP (Protected Designation of Origin) region in central Spain. Red wines from Rioja, one of the country's most famous DOPs, are predominantly made with tempranillo and garnacha tinta grapes, which give a smooth but full-bodied result. You'll also find one of the country's most exciting hotels here, the Hotel Marqués de Riscal, A Luxury Collection Hotel, Elciego, designed by internationally renowned architect Frank Gehry.
Top things to do in Spain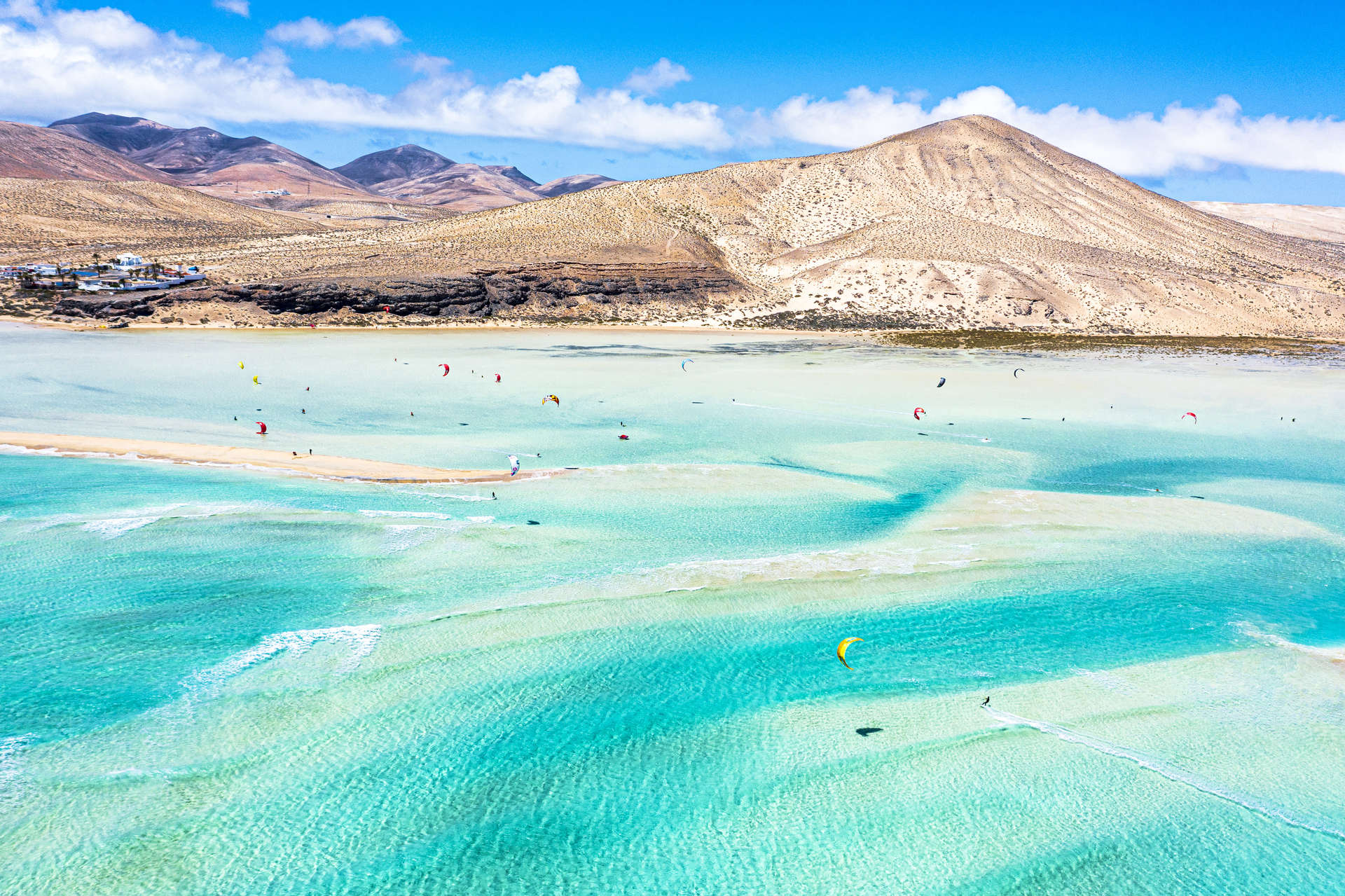 Fuerteventura beach
Spain has so many interesting things to do, including several unmissable, world-class museums. In Madrid the Museo del Prado has a matchless collection of European art spanning the 12th to 20th centuries, while the Guggenheim on Bilbao's waterfront focuses on modern and contemporary art; stay in the superb Hotel Ercilla de Bilbao, Autograph Collection, in the city centre. Picasso fans will love the Picasso Museum in his hometown of Málaga, while the Joan Miró Foundation in Barcelona honours the eponymous modern artist.
The country also does a fine line in sensational religious buildings. The cathedrals of Seville, Burgos, Toledo and Palma are exceptional, and the Mezquita in Córdoba is truly unforgettable.
One of the best things to do in Spain is get outside on two feet, and there are well-marked hiking trails everywhere from the Sierra Nevada mountains of the south to the Picos de Europa in the north. Mallorca's Tramuntana mountains are criss-crossed with wonderful short trails, while the Canaries are replete with muscle-busting volcanic climbs that will take your breath away, especially in Gran Canaria, La Gomera and La Palma.
There are plenty of fun things to do in the islands, including excellent surfing in the waters off Fuerteventura and Lanzarote. Any city you set foot in is sure to have a fantastic tapas trail and lively cafés and bars for whiling away the hours.
Hidden gems in Spain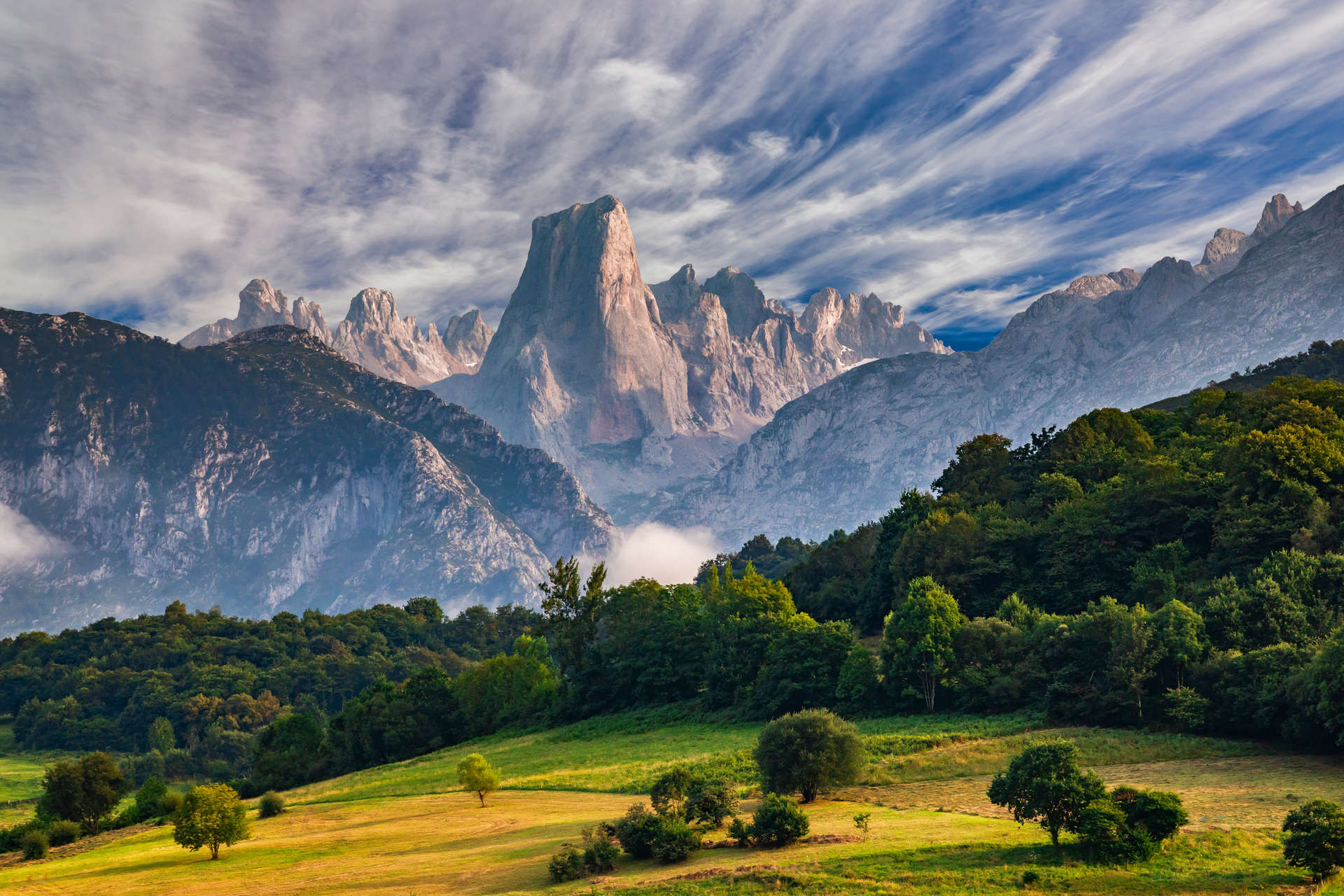 The Picos de Europa is a wild, spectacular mountain range
Often overlooked, the northern, greener part of Spain is packed with plenty of alternative things to do. Here the sea is more for looking at than for swimming in (at least for most of the year). The coastline of Asturias and Cantabria is home to a line-up of chocolate-box fishing villages including Cudillero and Santillana del Mar where you can do just that – perhaps over a dish of local hake washed down with a glass of sidra (cider), poured in traditional style from far above the escanciador's (cider pourer) head. Also in this region are unique things to do, including exploring the Picos de Europa, where the twin Lakes of Covadonga are tucked away at the heart of an Alpine-like landscape, tempting you to hike a while.
Further east, the region of Aragón has a quiet landscape of mountains and farming villages. Slow your pace here and explore the area around the ancient town of Valderrobres, where endangered vultures can be seen wheeling above the Puertos de Beceite mountains and you can go wild swimming in cool pools. Aragón's capital, Zaragoza, makes a wonderful city pitstop, with some of the best and most affordable tapas in Spain and yet another beautiful cathedral.
Go deeper
In much of Spain, tourism is a key industry, so English is widely spoken. Learn a few Spanish phrases though and you'll endear yourself to the locals and get more out of your trip. "Gracias" means "thank you", while saying "la cuenta por favor" brings the bill. Knowing a few food words can help come lunchtime: "gambas" are prawns, "pulpo" is octopus and "pollo" is chicken. Bear in mind that Spain is known for its deliciously slow pace of life, all the better for enjoying lengthy lunches – don't expect to dine and dash, this is a country to linger over a good meal.
Outside the cities, having independent transport is essential – plenty of rural places simply can't be reached any other way than on a road trip.
Published: July 25, 2022