The Turkish Riviera on Türkiye's Aegean coastline is the sort of place holiday dreams are made of, all white-sand beaches washed by warm aquamarine waters, and ancient cities backed by towering mountains. There are plenty of places to visit and things to do here, from haggling in bazaars and touring Roman remains, to scuba diving and Segway tours, but you might prefer to just recline on one of the country's best beaches and bask in the warmth of the sun.
The best places to visit in the Turkish Riviera
Izmir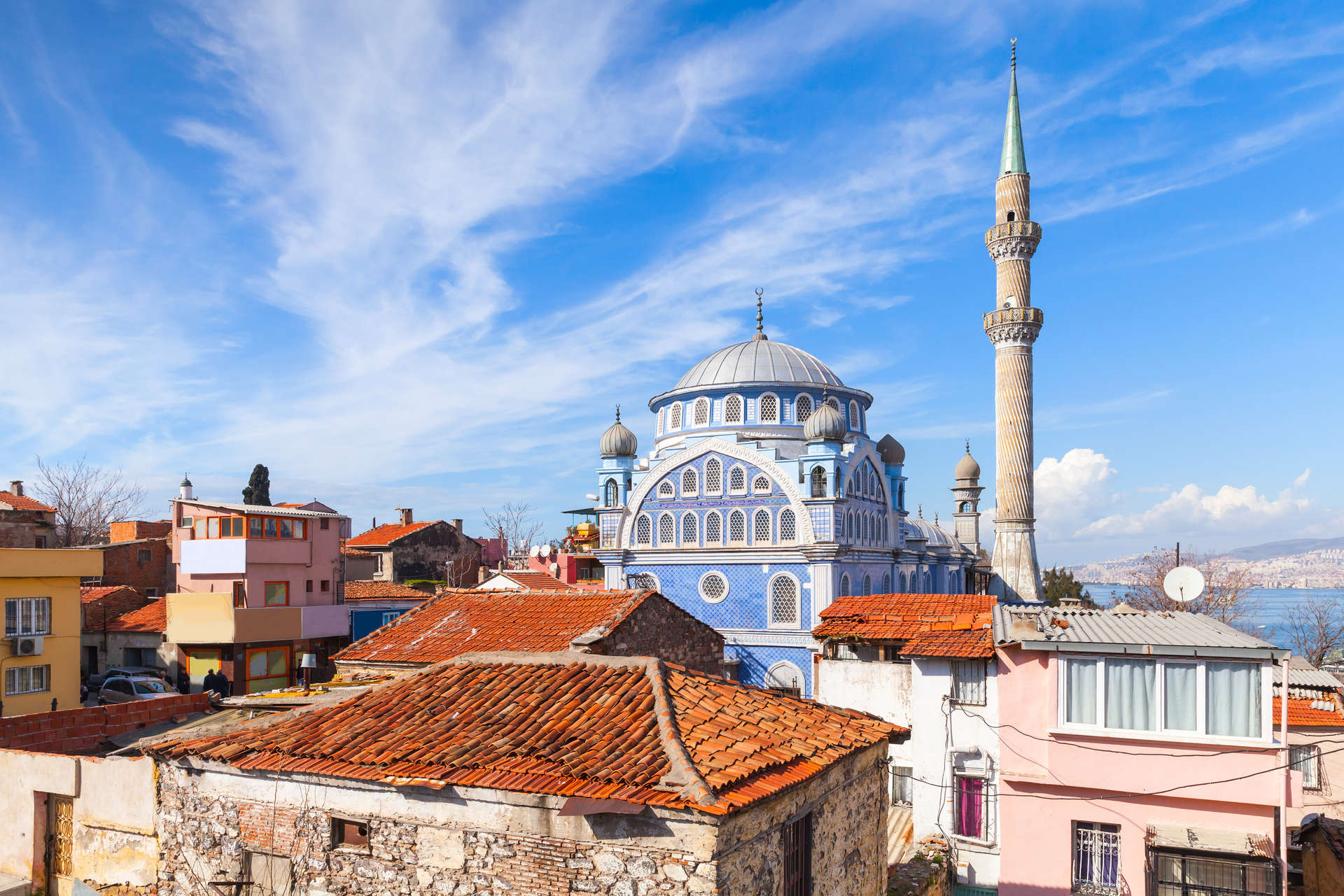 Bustling, buzzing Izmir is one of the Turkish Riviera's liveliest urban centres (Photo: Getty Images)
The Mediterranean port city of Izmir stands surrounded by mountains at the head of a sheltered, turquoise-hued gulf. Start your time here by enjoying glorious views of this beautifully sited city from the top of the cliff-conquering Asansör lift: it's free to ride and with a lovely café at its summit. Don't miss ambling through the ancient agora, where you'll find the remains of what is said to have once been the second largest basilica in the Roman world, and a chance to practice your haggling in the Kemeralti Market before refuelling with a Turkish coffee.
Stay close to the waterfront at the Izmir Marriott Hotel, where the infinity pool offers superb Aegean views, or at the Renaissance Izmir Hotel, with its rooftop restaurant and gorgeous spa. Alternatively, enjoy the view from the tallest building in Türkiye outside Istanbul with a stay at the Four Points by Sheraton Izmir inside the super-modern Mistral Tower.
Çeşme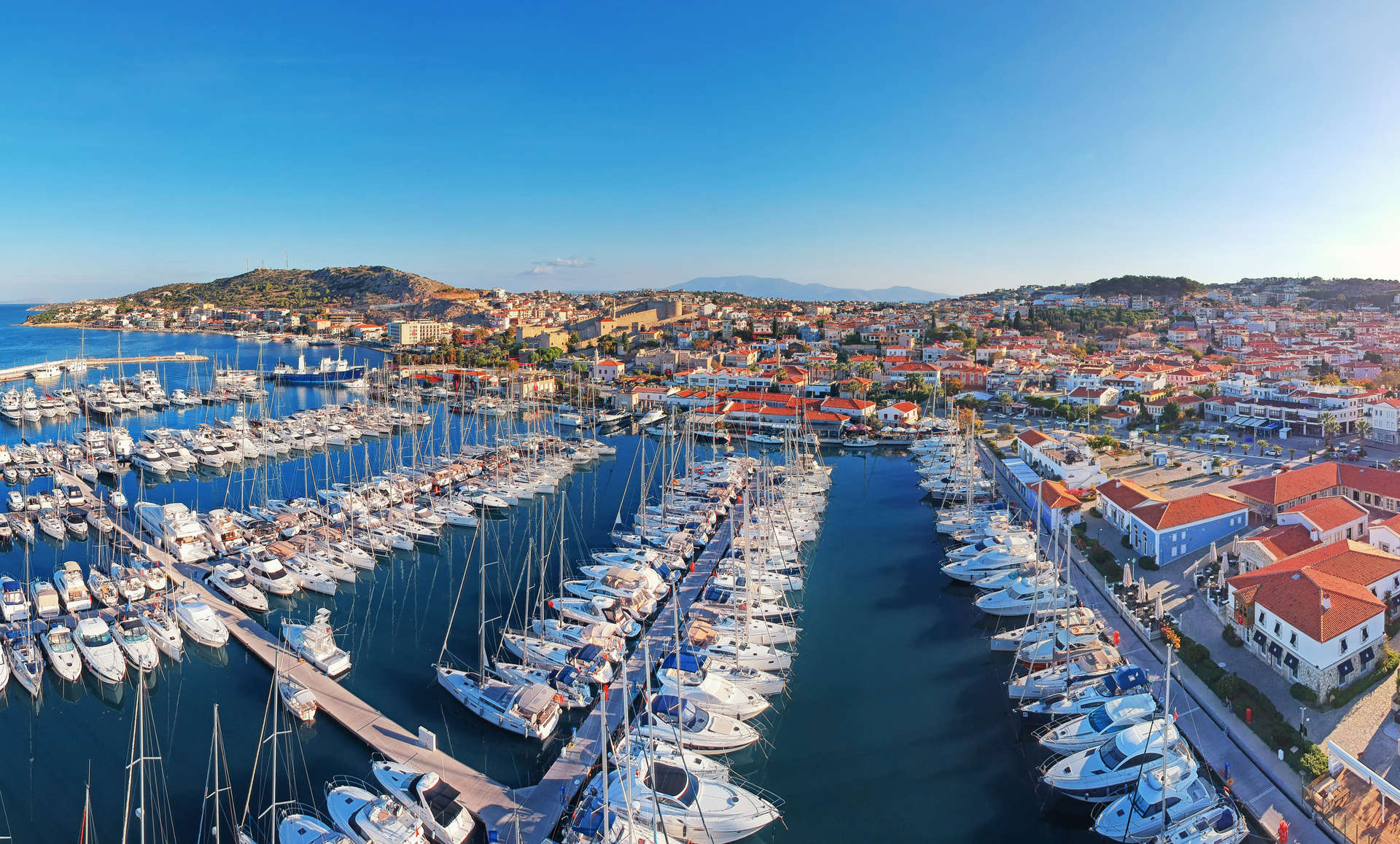 The laidback Çeşme peninsula and its eponymous town is a wonderful place to unwind (Photo: Getty Images)
As you head out onto the Çeşme peninsula, the pace and temperature gradually soften until finally you reach the laidback resort town of Çeşme itself. It's a wonderfully picturesque place to unwind. You can stroll along the promenade to the marina or the beach, and clamber among the battlements to discover local history at Çeşme Castle. Pick of the hotels is the glamorous Reges, a Luxury Collection Resort & Spa, Çeşme, with its sea-view suites and seawater thermal pools.
Bodrum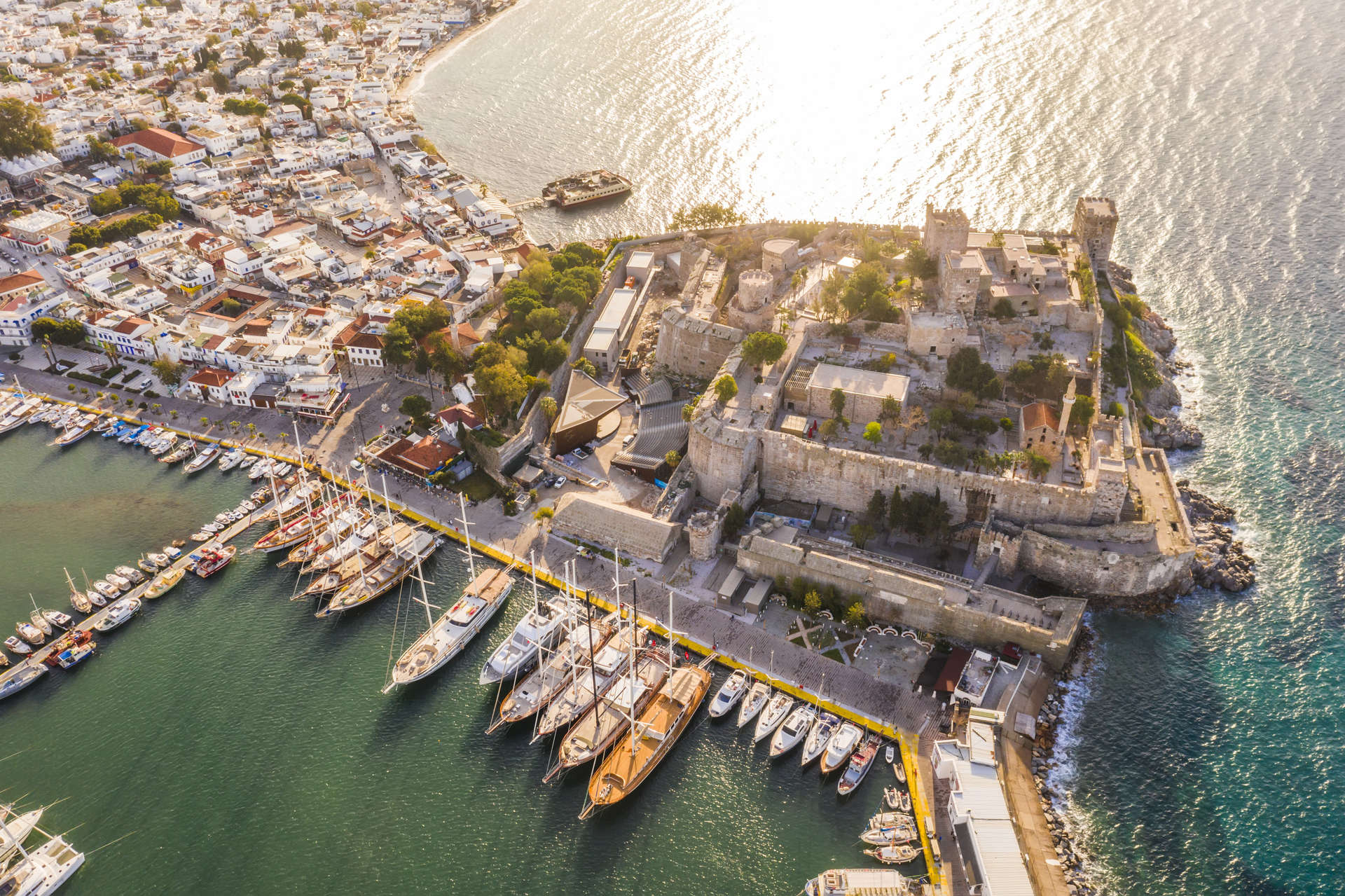 When visiting sophisticated Bodrum, don't miss meandering along the waterfront from the marina to the Castle of St Peter (Photo: Getty Images)
Sophisticated Bodrum is the most exclusive and upmarket resort on the Turkish Riviera, where you'll find everything from beautiful beaches to stylish seafood restaurants, and yacht tours to luxury hotels. Check in to Caresse, a Luxury Collection Resort & Spa, Bodrum for suites with panoramic Aegean views and an infinity pool perched above the shoreline, or opt for Le Méridien Bodrum Beach Resort to enjoy 83 secluded acres of beachfront elegance. Alternatively, The Bodrum EDITION has an exclusive beach club, rooms with private pools and a spa with hammam.
Wherever you stay, don't miss meandering along the waterfront from the marina to the Castle of St Peter, now home to a fascinating museum of underwater archaeology, where you can discover atmospheric shipwrecks and hundreds of amphora rescued from the ocean floor.
What to eat and drink in the Turkish Riviera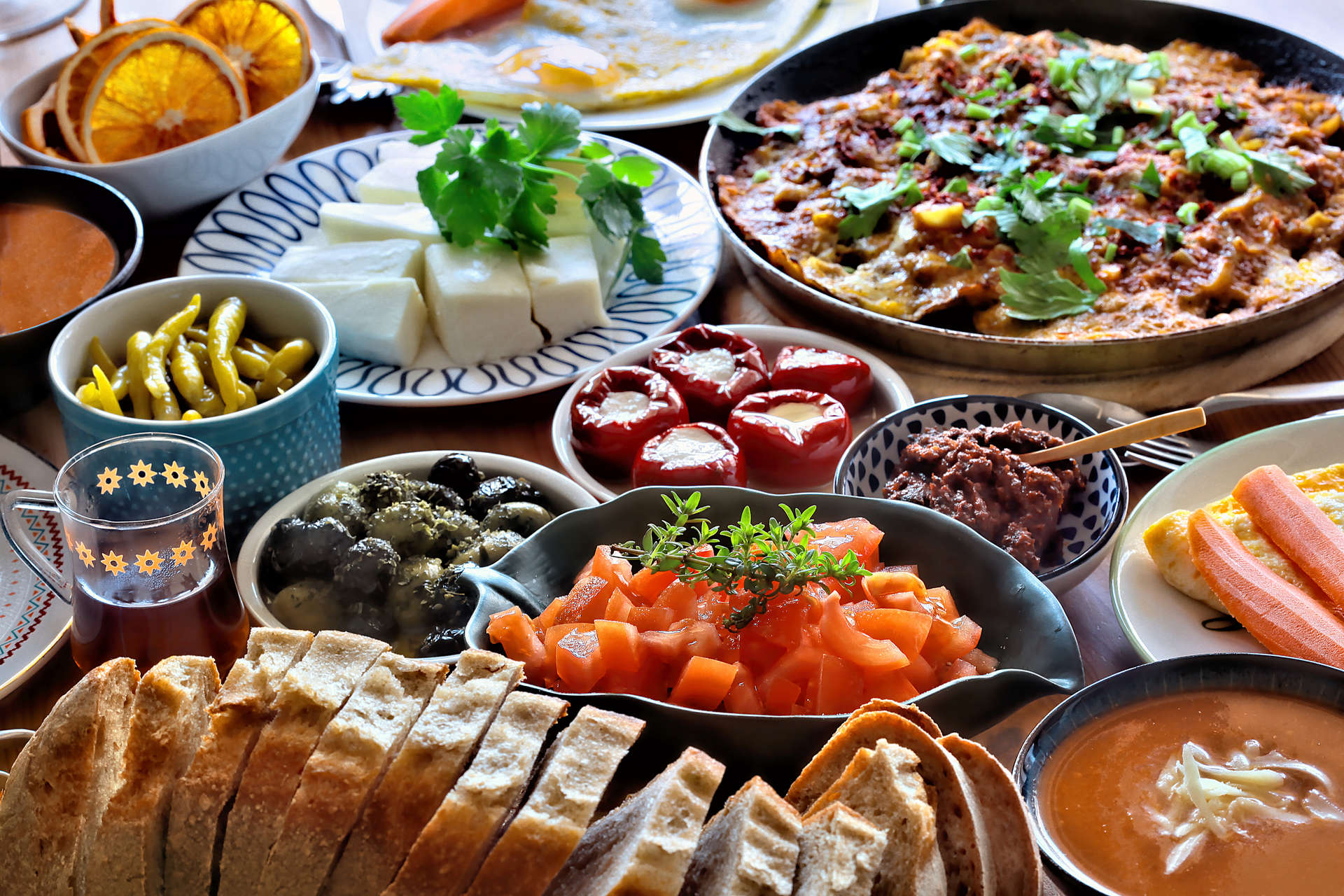 Many Turkish meals feature a fantastic array of delicious dishes jostling for space on the table (Photo: Getty Images)
Turkish breakfast
Breakfast, or kahvalti, is a big deal in Türkiye and it's worth setting aside the time for a leisurely one. A good spread will include several types of cheese (beyaz peynir, similar to feta, almost always makes an appearance) as well as simit bread, local jam and eggs served with sujuk sausage. Expect lashings of black tea to wash it down with.
Meze
Most meals on the Turkish Riviera start with meze, a selection of starters that are often vegetable-based. Expect aubergine to feature heavily – perhaps in patlican salatasi, a salad made with roasted aubergines. You might also be offered midye dolma, a stuffed mussel dish.
Rakı
Made from grape pomace (the pulp left over from winemaking), Türkiye's national drink is often served with dinner – especially with meze dishes such as salty cheese – but also makes the perfect digestif. Served straight up and meant to be sipped, rakı warms the cockles with its high alcohol content and hit of aniseed.
Çökertme kebabi
The Bodrum region is known for its çökertme kebabi, a veal dish that features tiny fried potatoes, a tomato sauce and garlic-enriched yoghurt. It is typically served with peppers and tomatoes and makes a hearty dinner dish.
Çöp şiş
A type of lamb shish kebab, çöp şiş is marinated in olive oil, oregano and pepper, roasted on wooden skewers and served with onion and tomatoes.
Wine
Turkish wine remains small-scale in its production and you'll find bottles from local vineyards available in many shops and restaurants. Look out for zinfandel and shiraz from the Karnas vineyard just outside Bodrum, and cabernet sauvignon from Sevilen near Izmir.
Top things to do in the Turkish Riviera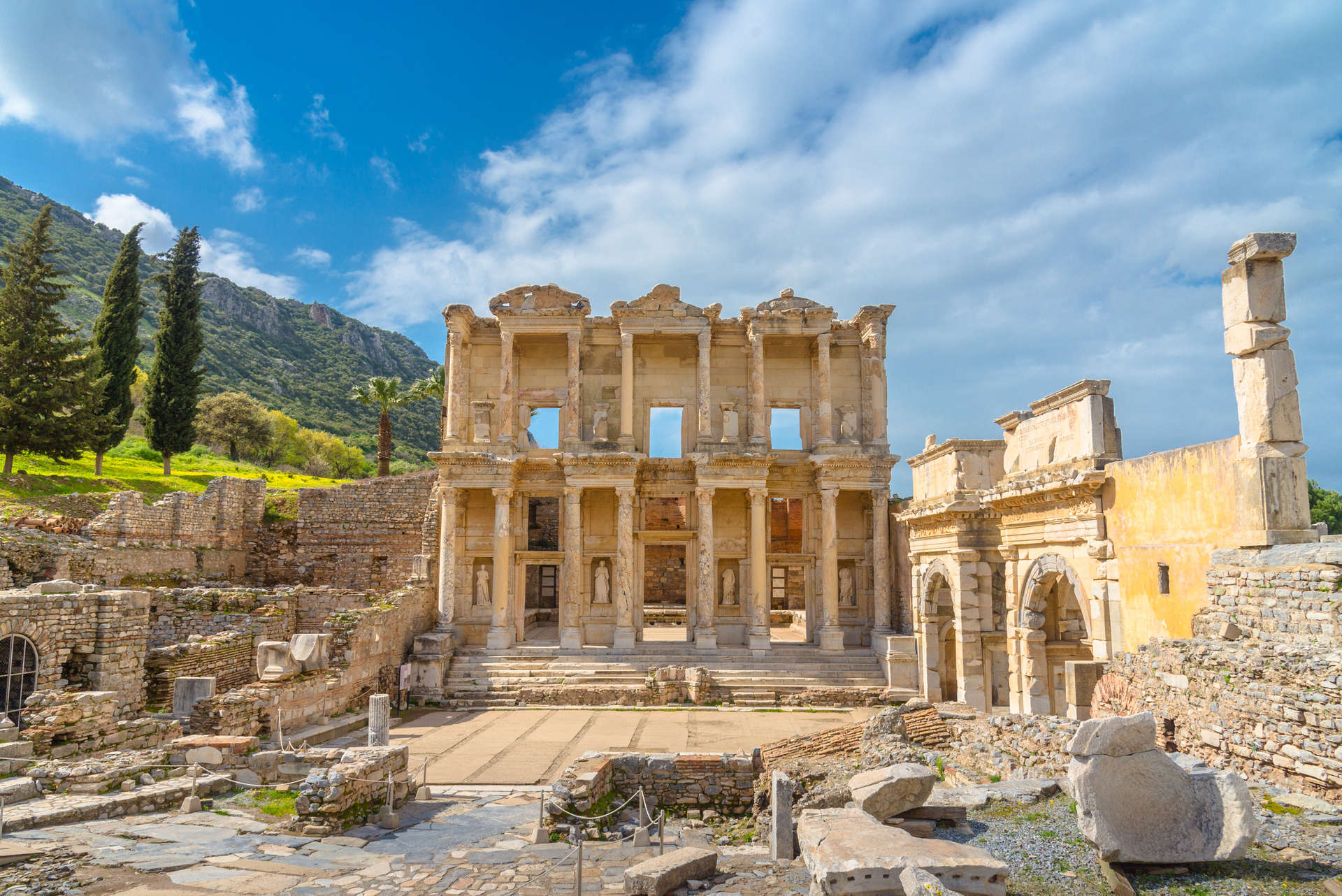 The ancient Roman Library of Celsus is one of the outstanding parts of the stunning Ephesus site (Photo: Getty Images)
The Turkish Riviera is home to Türkiye's best preserved ancient city. Ephesus, just south of Izmir, was added to the UNESCO World Heritage list in 2015 as an outstanding example of a Roman port city and demands a full day's exploration. You'll be amazed by the sheer scale of the grand theatre here and shouldn't miss the line-up of luxurious residential villas known today as the terrace houses – nowhere provides better inspiration for imagining what domestic Roman life might have been like.
For something a little more active, take a boat trip out from Bodrum to snorkel in crystal-clear waters among the fish at Akvaryum (aquarium) bay. Scuba diving in the bay is also fantastic, with its promise of reefs, caves and shipwrecks. You could also join a Segway tour around the hills that ring Bodrum's harbour, or take a hike up through the olive groves to the windmills that line the ridgetop – time your arrival for sunset for the most beautiful views.
Hidden gems in the Turkish Riviera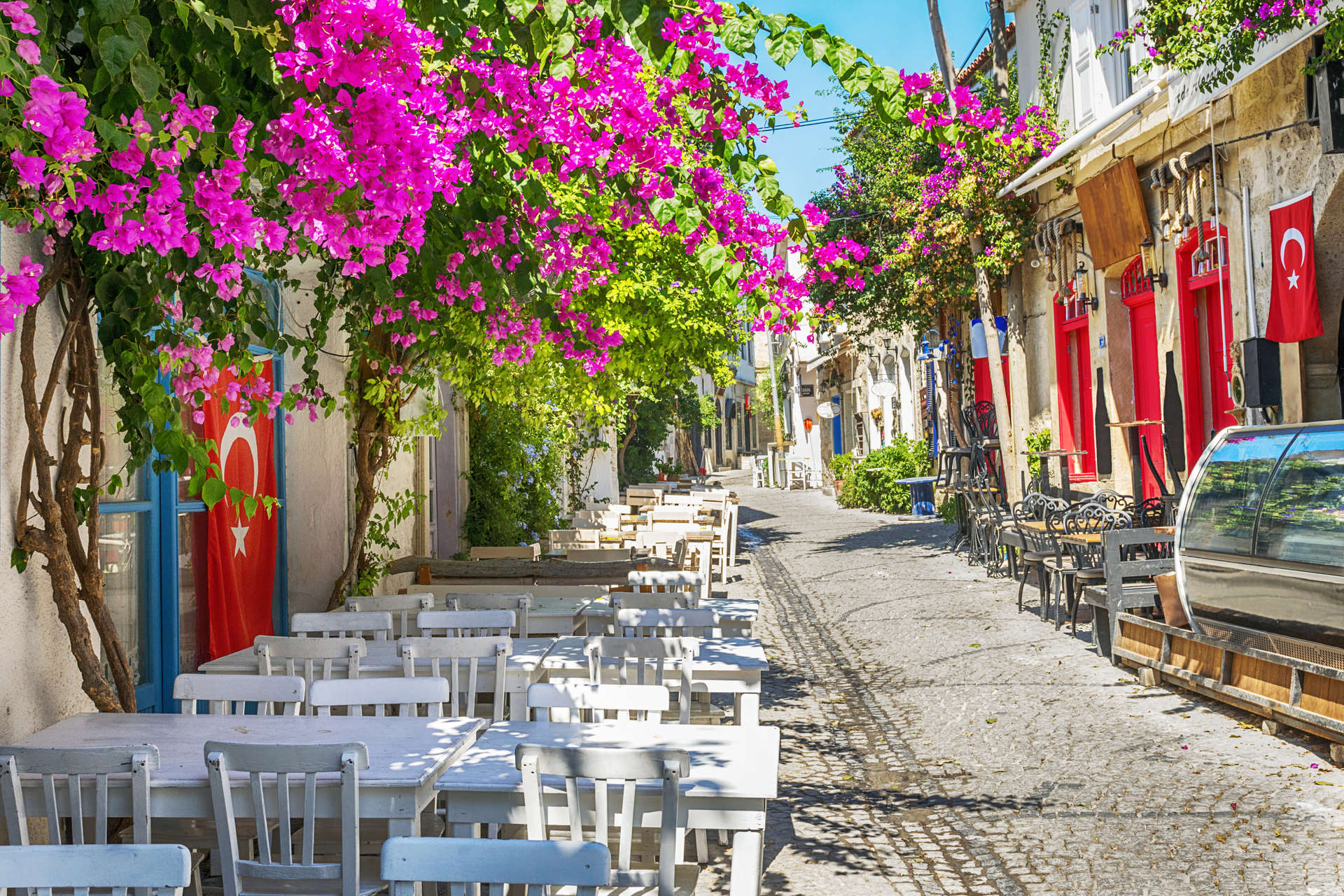 Abundant with bougainvillea, pretty Alaçati is a wonderful hidden gem of the Turkish Riviera (Photo: Getty Images)
Just inland from Çeşme, Alaçati is a gorgeous village with a Mediterranean feel to its cobbled streets and ancient stone houses. You'll find quaint restaurants serving local cuisine here – try Asma Yaparagi or Dutlu Kahve – as well as lots of boutique shops and art galleries.
Close to Ephesus, the hill town of Şirince is another idyllic place for a wander, as well as to try the wine made at the vineyards that surround it. Wine-lovers will also enjoy a visit to the Karnas Vineyard just outside Bodrum, where you can book a four-course dinner with wine pairing that includes a tour of the vineyard and cellar.
Go deeper
Have a go at pronouncing Turkish words as you see them and you'll find that the language is pleasingly phonetic. Although English is spoken in the tourist areas, Turkish people love to hear visitors making an effort to speak their language, so it's worth learning a few simple phrases. Try starting conversations with "Merhaba", which means hello, and using "Teşekkürler" for thank you.
Published: February 22, 2023
Article Tags: Bodrum , Çeşme , Izmir , Turkish Riviera