East meets West in Türkiye, giving the country a unique blend of cultures and influences, from its Greek, Roman and Ottoman ruins to the delicious food, which fuses Mediterranean with Middle Eastern. Istanbul and capital Ankara are year-round destinations, cities where it can feel like you've entered a new century each time you turn a corner. In summer, head to the beautiful beaches on the Aegean coast or explore the region along the unforgettable Lycian Way.
The best places to visit in Türkiye
Ankara
Located in central Anatolia, Ankara is where to go to experience contemporary Türkiye, with its 21st-century skyline and the kind of vibrant restaurant scene you'd expect from a country's capital. But there are plenty of historic sights to explore, too, including the well-preserved Citadel and the monumental mausoleum of Mustafa Kemal Atatürk, the founder of modern Türkiye; don't miss the superb Museum of Anatolian Civilisations either, filled with archaeological finds from across Anatolia. Enjoy tremendous views of the capital's skyline from the 5-star JW Marriott Hotel Ankara, one of the best places to stay in the city and conveniently located in Ankara's business district.
Istanbul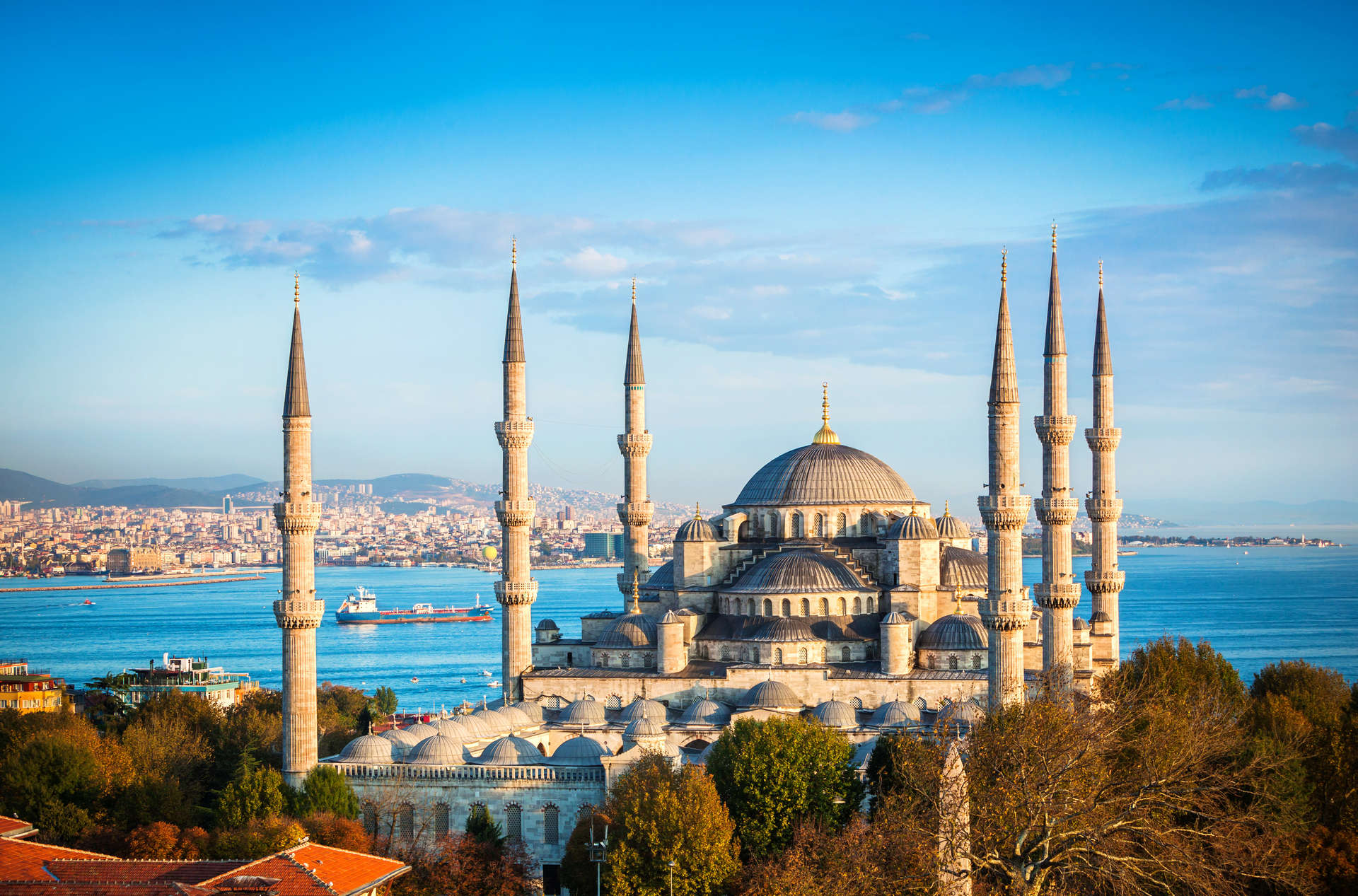 The Blue Mosque, Istanbul (Photo: Getty Images)
Straddling Europe and Asia, dynamic Istanbul is one of the most exciting cities in the world. Mosques, churches and palaces rub shoulders with trendy restaurants and rooftop bars, which stretch up the hills from the banks of the Bosphorus. Sultanahmet, Istanbul's atmospheric old quarter, is home to many of the city's most interesting places to visit, including the magnificent Hagia Sophia and the Blue Mosque, named after the tiles that cover its interior. Just across the waters of the Golden Horn, lively Beyoğlu and glamorous Beşiktaş are at the centre of a buzzing dining scene. The best places to stay are along the Bosphorus – book a room at the stylish The Ritz-Carlton Istanbul, which enjoys some of the finest hotel views in Europe.
Izmir
Türkiye's third-largest metropolis, the historic city of Izmir lies on the Aegean coast, meaning you can mix sightseeing with some downtime on its sandy beaches. Remnants of its ruling powers are still scattered around town, from the Roman Agora of Smyrna to Kadifekale, a castle built under Alexander the Great. Base yourself at the waterfront Renaissance Izmir Hotel and schedule in a day-trip to Ephesus, one of the most spectacular ancient ruins in Türkiye.
Bodrum
Bodrum, Türkiye (Photo: Getty Images)
There's a beach for everyone in glitzy, glamorous Bodrum, where you can spend your days relaxing by the pool or swimming in the turquoise waters of the Aegean. Beachfront The Bodrum EDITION is one of the best places to stay on the Turkish Riviera, with a range of rooms and a villa with its own infinity pool. On the opposite side of the peninsula, Caresse, a Luxury Collection Resort & Spa, Bodrum has its own private beach and a swish restaurant that specializes in local Aegean dishes.
What to eat and drink in Türkiye
Traditional kebabs
Of all the dishes to try in Türkiye, you can't miss experiencing a proper kebab of charcoal-grilled lamb or flattened mincemeat. Istanbul has some great places to eat kebabs – try Şehzade Cağ Kebap, which specializes in cağ kebabs, a type of layered kebab from Erzurum in eastern Türkiye that is (unusually) cooked over a wood fire on a horizontal spit.
Gözleme
A folded flatbread, gözleme is a bit like a pancake, rolled thin and then stuffed with all sorts of savoury fillings before being griddled. What goes inside your gözleme can depend on which region of Türkiye you're in, but favourites include spinach and feta, minced lamb, and halloumi and mint.
Baklava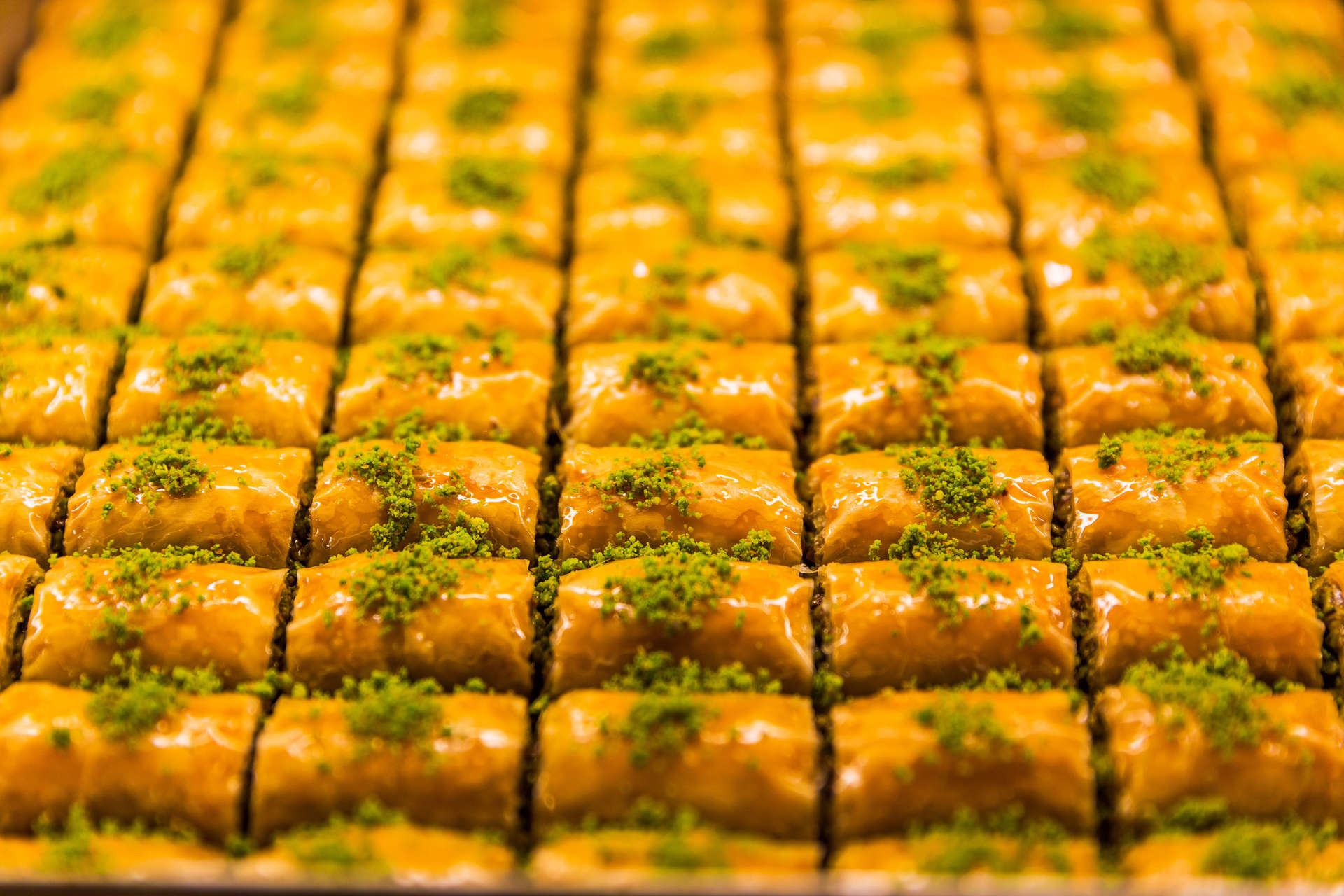 Baklava
Baklava are buttery layers of filo pastry and crushed nuts – most often pistachios, but sometimes almonds, walnuts or hazelnuts – drizzled in syrupy honey. Try this sticky treat in Gaziantep, the "home" of baklava, or stock up in Istanbul's Grand Bazaar.
Turkish coffee
You can hardly visit Türkiye without trying Turkish coffee, a drink so integral to everyday life that it's been inscribed by UNESCO as an Intangible Cultural Heritage of Humanity. Pop into a kahvehane (coffeehouse) for a rich, thick, unfiltered cup – and some lokum (Turkish Delight) on the side.
Top things to do in Türkiye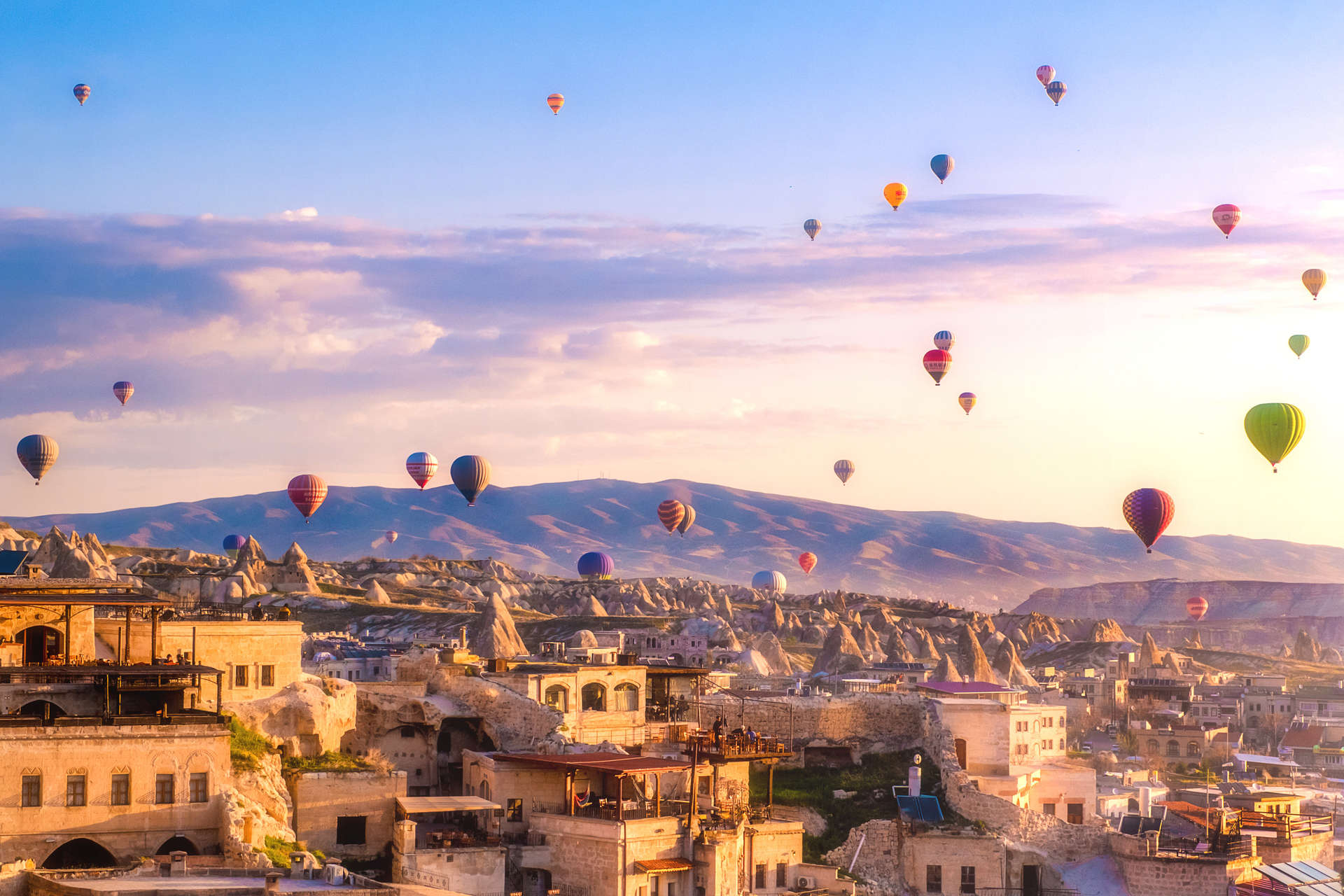 Cappadocia
Cappadocia's surreal landscape of weirdly eroded rock formations looks like something straight out of a fairytale. Entire towns have been carved out of the soft rock – houses, churches, castles and all – and spending a night in a cave hotel here is an unmissable experience. Wake early the next day to float above the "fairy chimneys" in a hot-air balloon, easily one of the most fun things to do in Türkiye.
A prominent stop on the Silk Road, Bursa was the first capital of the Ottoman Empire and is home to the huge 14th-century Ulu Camii (Great Mosque) and the extravagant tombs of the dynasty's first sultans. The city lies in the shadow of Uludağ mountain; hop aboard the cable car, the longest in the world, for alpine walks and far-reaching views.
A dip in the strikingly aquamarine, dramatically sited hot springs of Pamukkale is one of the most interesting things to do in Türkiye. The pools stagger up a hill in a series of white terraces and, together with the nearby ruins of the ancient city of Hierapolis, make up one of Türkiye's 18 UNESCO World Heritage sites.
Hidden gems in Türkiye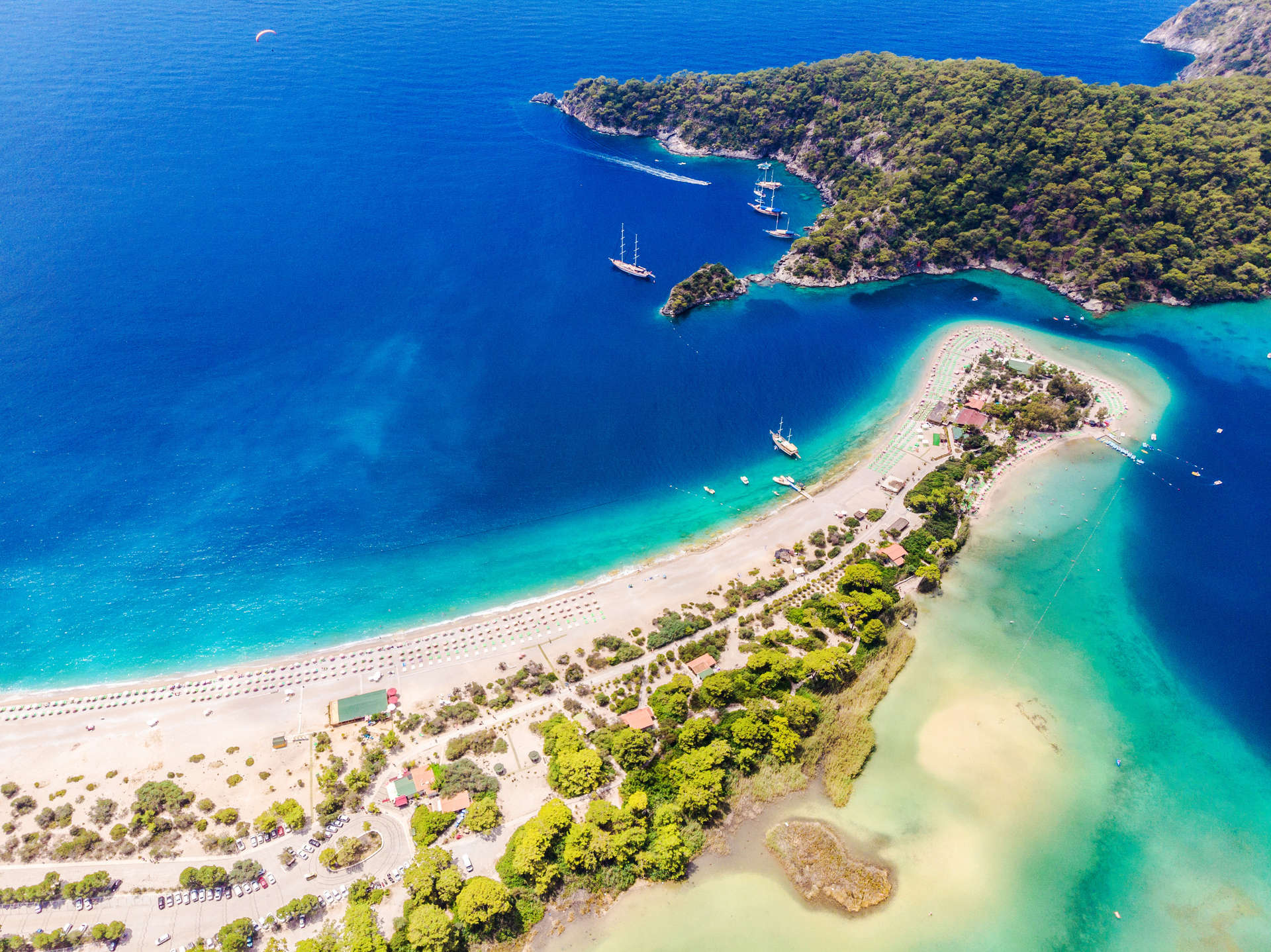 Türkiye's Turquoise Coast
Türkiye's Turquoise Coast is a popular tourist destination, but one of the best alternative things to do is to explore the region on a section of the Lycian Way, taking in cliff-backed beaches and deep-blue lagoons on a hike from Öludeniz to Kabak Valley. Your hotel will be able to help you arrange a Lycian Way excursion. Over on the other side of Türkiye, the Kırkpınar oil wrestling festival has been held in Edirne for more than 650 years – watching the slippery fighters compete in a field outside of town is one of the most unique things to do in Türkiye.
Go deeper
Turkish is a branch of the Turkic language and was written in Arabic script until the 1920s. Basic Turkish greetings include merhaba (hello) and hoşça kalın (goodbye).
Published: July 26, 2022
Last Updated: March 31, 2023
Article Tags: Türkiye