Tuesday, 14th March 2023, 8:30 p.m., Paris.
The Halle Carpentier – the home of the Paris Basketball team – is alive with lights and music.
Out on the court, Juhann Bégarin opens the scoring with a spectacular dunk on the counterattack, followed by a block off the backboard. In less than three minutes, the tone is set!
The game ends with Paris winning 89 to 85 (against Śląsk Wrocław) after putting on a USA-style show - and this isn't just down to the nationality of the club's owner, David Kahn, and Head Coach, Will Weaver.
The club also owes this style of play to its French players! Axel Toupane is one of the few to have won an NBA championship, while young players Juhann Bégarin and Ismaël Kamagate have both been drafted (respectively by the Boston Celtics and the Denver Nuggets): they seem destined for a great career across the Atlantic.
We caught up with all three of them the day after that Eurocup win at their training facility, The One Ball. Invited by Courtyard by Marriott, the club's official sponsor, we talked about their passions in life, starting with basketball of course!
Do you remember the moment when your passion for basketball began?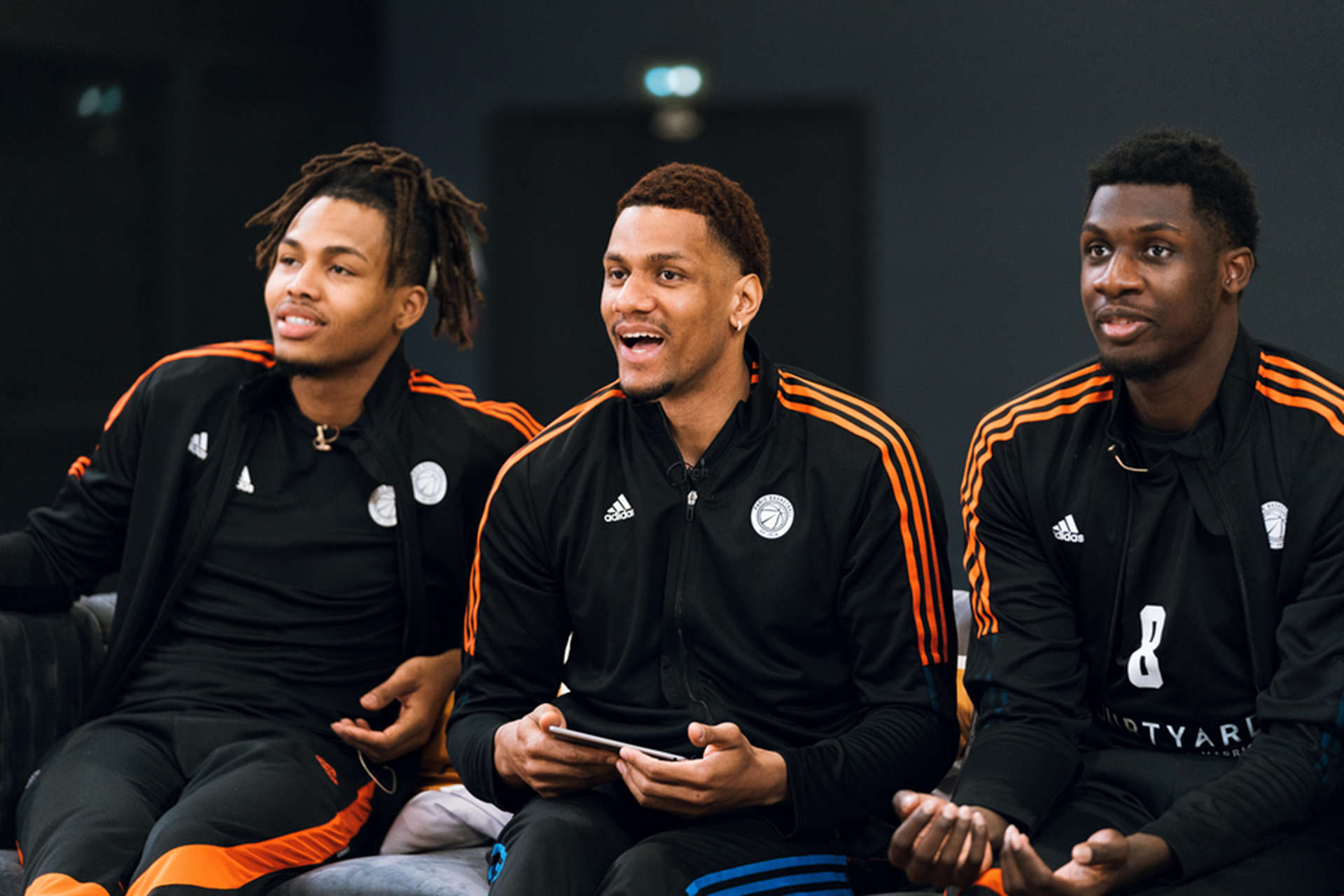 From left to right : Juhann Begarin, Axel Toupane and Ismaël Kamagate (Photo: Marriott International)
"I was 8 years old, and I was watching the NBA Finals between the LA Lakers and the Indiana Pacers. I realised that this was what I really wanted to do, that was where I wanted to be."
For Axel Toupane, the NBA was the key. And he was born to play basketball.
He grew up spinning balls in the sports halls where he followed his father, Jean-Aimé Toupane, (professional player then coach – currently in charge of the French women's national basketball team).
Juhann was also immersed in basketball from an early age. His older brother, Jessy, had already joined INSEP (National Institute of Sport, Expertise and Performance). But following in his brother's footsteps wasn't particularly on his mind.
"What I loved most was meeting up with my friends on the court."
His talent meant that at the age of 14 he was already playing with adults nearly twice his age. This was when he realised a professional career was possible and left Guadeloupe to pursue it.
For Ismaël, the revelation was even later. An avid footballer, he trained as a goalkeeper owing to his above average height. Today, measuring 6'9" tall, he decided to switch from the football stadium to the basketball court at the age of 15. He went on to sign his first pro contract in the summer of 2019, fittingly at Paris Basketball.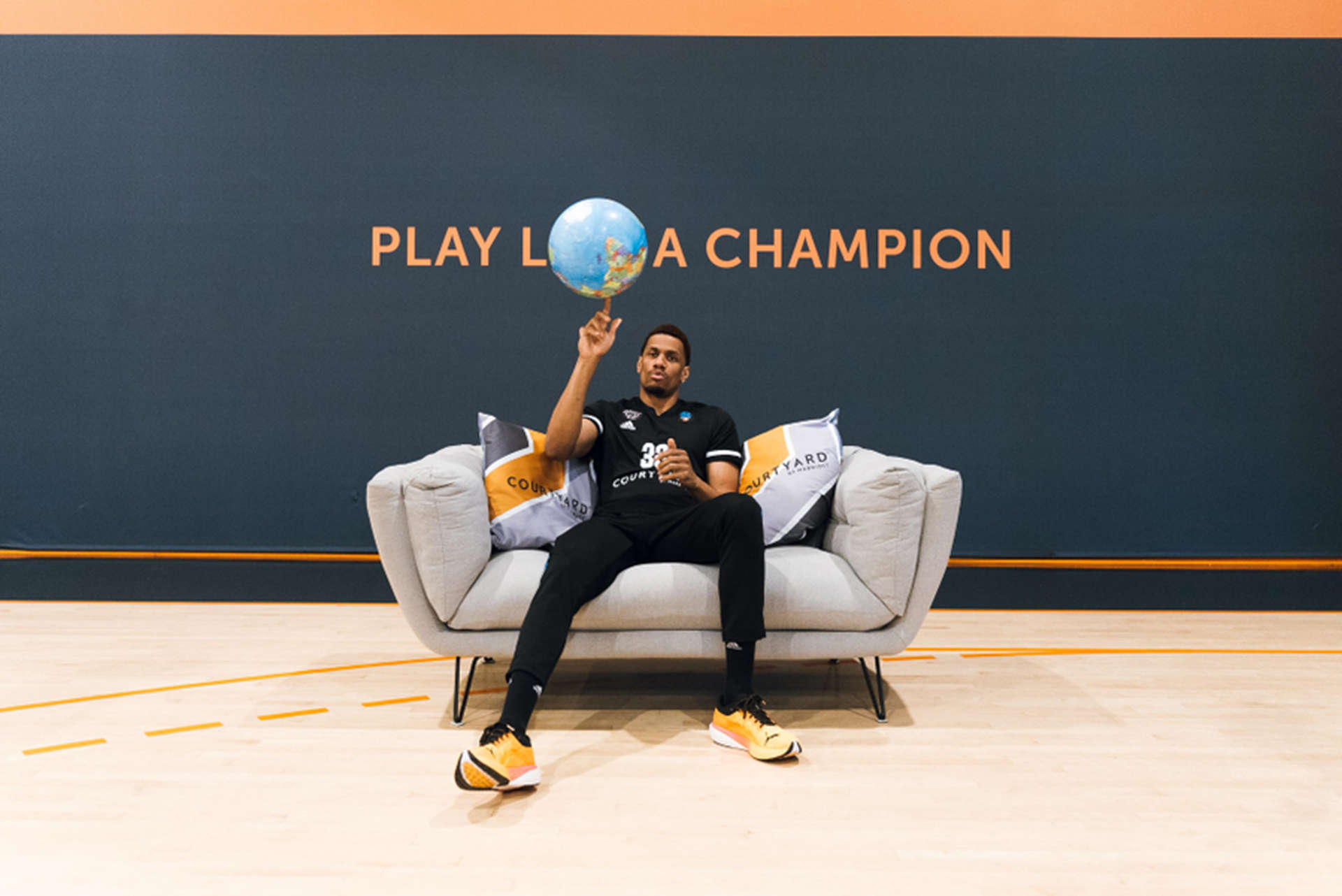 Axel Toupane: "Travelling makes us grow" (Photo: Marriott International)
What do you like most about this sport today?
"I love the atmosphere during matches, when the arena feels electric, when the crowd gets behind us." (Juhann)
Ismaël agrees that the most important thing for him is "to enjoy the time out there on the court, to have fun above all else."
Axel adds that while he likes to win, first and foremost, he underlines what this life has given him off the court:
"Basketball has allowed me to travel the world, to cities I would never have even thought of going to."
If you hadn't become a professional basketball player, what do you think you would have done instead? Besides basketball, what are your other passions in life?
"I probably would have worked in the restaurant industry. I love to cook."
Originally from Les Abymes, Juhann knows how to cook a range of Caribbean dishes, but he also likes to experiment. He's not afraid to try new recipes, especially desserts due to a very sweet tooth.
"If I had not become a basketball player, I would have been a golfer."
Like Michael Jordan before him, Axel enjoys the challenge that golf brings. He played when he was younger, and today he still loves unwinding on the green. That way, he can set basketball to one side, alongside all of his other activities – he's also a successful businessman, appearing in the Forbes 30 Under 30 Class of 2022.
Ismaël, meanwhile, enjoys relaxing – like most young people his age – watching a TV series or playing video games. A true gamer, he always carries a tablet, a computer or even a Switch in his bag. He would even like to make a career out of it:
"I could see myself having a Twitch channel, working as a moderator on forums specialising in video games."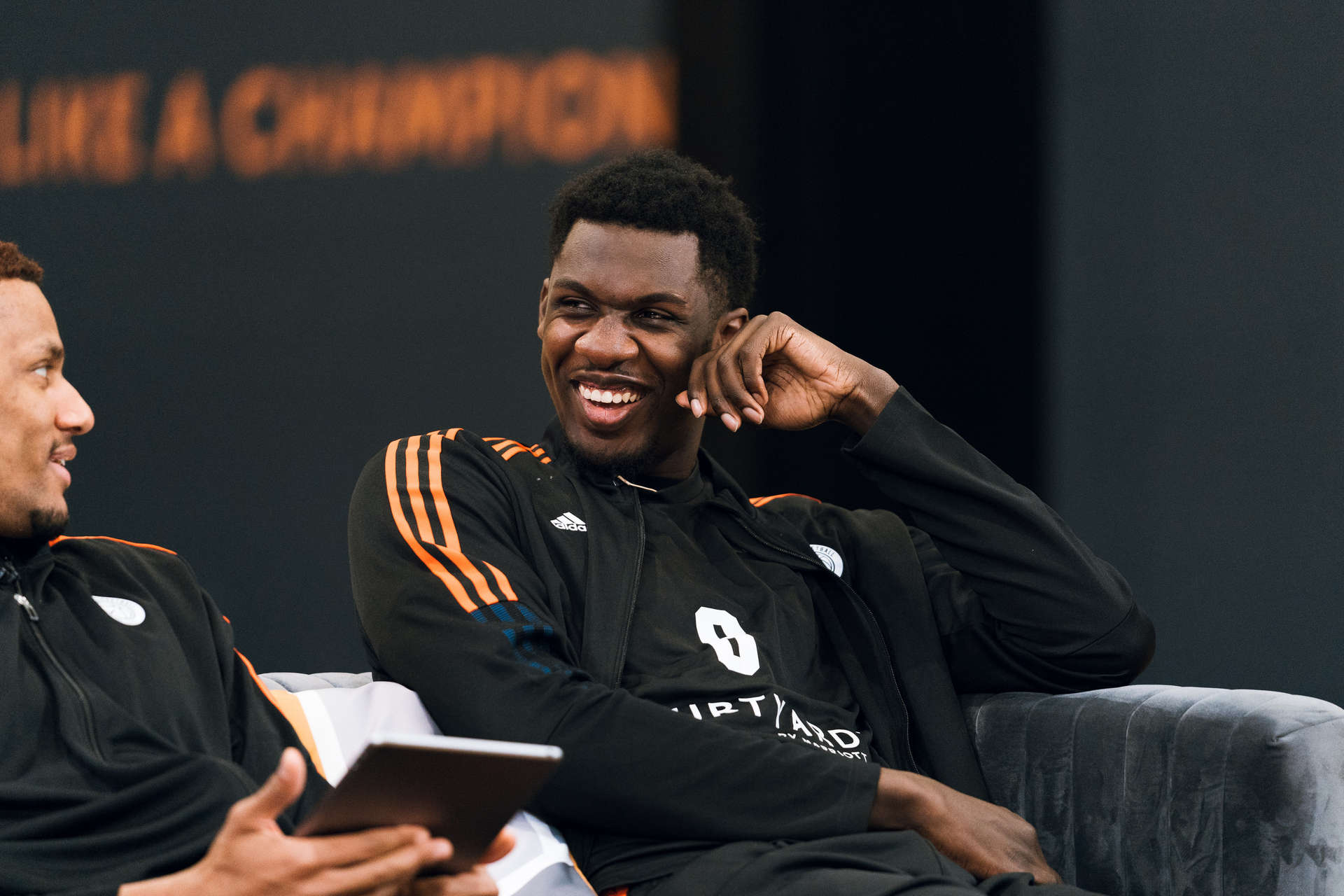 Ismaël Kamagate: "Travelling makes you happy" (Photo: Marriott International)
Earlier, Axel spoke to us about travel. Can you tell us about how travelling with the club is going?
"It's a very strict timetable. Everything is timed with precision: we arrive the day before, we play the next day." (Axel)
Between one training session on arrival and another the next morning, in order to be match ready, the professional basketball players don't really have any free time. There's just long enough for them to rest before returning to the courts to play their match.
If there is one reason why they like to travel, first and foremost, it's because of the atmosphere, to share moments as a team. As well as playing cards and a few board games, these Parisians like to challenge themselves with general knowledge quizzes. They also often engage in endless "nonsensical" debates, Juhann explains. He adds that the mood is often lively, even when they're not alone:
"We're not really the best travel companions!"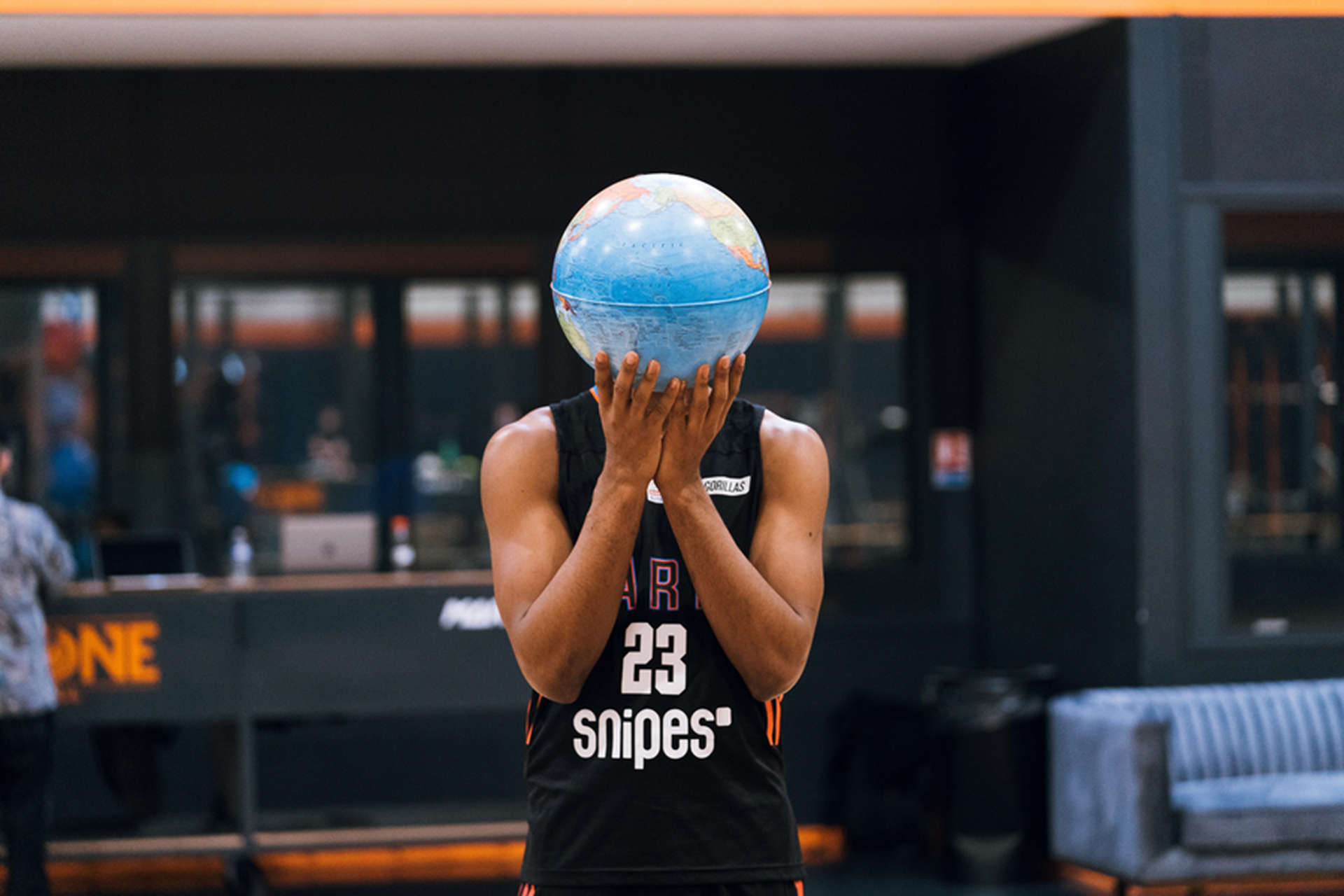 Always mischievous, Juhann Begarin hides behind a globe (Photo: Marriott International)
On that subject, do you have one or two travel anecdotes?
"Actually, the funniest moments are often people's reactions, because when you travel as a team and you get on a plane, you always attract attention." (Juhann)
Since people don't always recognise them ("apart from him," explains Ismaël, pointing to Axel), Juhann often makes the most of it by joking around and pretending that they play a different sport to basketball.
"How's the weather up there?"
Axel explains that most of the time, the questions people ask them aren't very original, but the simple fact of travelling as a team – "when there are a lot of us, looking as we do, all big and strong" – can be fairly comical at times. They all remember a trip to Montenegro, when they were packed in like sardines on a tiny plane.
And, this year, what would you say has been your best memory when travelling as a team?
They all agree that it was their last trip to Hamburg, during the Eurocup. Amazing food. Comfortable hotel room. And "even a gym," adds Juhann.
They also appreciate it when a hotel focuses on well-being, allowing them to enjoy a spa, jacuzzi or swimming pool. As the others nod approvingly, he takes the opportunity to ask us which Marriott Bonvoy hotels would be worth the detour…
As on court, a good atmosphere reigns during the shoot organised by Courtyard (Photo: Marriott International)
If you could travel anywhere in the world, where would you go?
After sharing his love for Paris with us, describing it as "the most beautiful city in the world", Axel explains that he would like to revisit the countries where he has had the opportunity to play matches.
"I'd like to go back to China and explore the country. I spent three weeks there with the French team, during the Olympic Games, but we only had half a day off. We couldn't really take advantage of our time there."
Next up, Juhann starts by telling us about Guadeloupe, because he likes to visit his family, catch up with friends, go back to his roots, mentioning the sun and the white sandy beaches first, before finally choosing another destination:
"I've always dreamed of going to Japan because I love manga, anime, and I'm fascinated by its culture."
Having grown up in the 14th arrondissement, in the south of Paris, Ismaël loves this city he knows so well. But he would like to explore more of Africa, starting with his native Ivory Coast.
Juhann Begarin: "Travel invites discovery" (Photo: Marriott International)
Marriott Bonvoy® is proud to support the partnership between Paris Basketball and Courtyard® by Marriott, its Official Hotel Partner. Click here to learn more and here to see offers like these.

Courtyard by Marriott is a select service hotel brand of Marriott International Inc. with more than 1,200 locations in 60 countries and territories, Courtyard is passionate about empowering its guests and serving the needs of travelers everywhere, no matter the purpose of their trip.
Published: May 16, 2023
Last Updated: May 22, 2023