The cities of Eastern and Central Europe have been honing their luxury offerings for centuries – and to this day the region has a wealth of elevated experiences to enjoy. Whether you're visiting Warsaw, Prague or Budapest, here's how to fill your holiday with superlative dining, behind-the-scenes tours and world-class art, opera and dance – in the most opulent locations.
Explore Warsaw's galaxy of Michelin stars
Hotel Bristol visitors have always appreciated the exquisite artistry composed within its patisserie (Photo: Marriott International)
Poland's capital has no fewer than 13 Michelin-starred restaurants to its name – such as Nolita, whose open-kitchen gives a glimpse of its celebrated chefs at work, and Dyletanci, which serves one of the country's most extensive wine lists. Happily, many of Warsaw's Michelin stars are within easy reach of its prized attractions: less than 15 minutes' walk from the Royal Castle, Bez Gwiazdek offers a new tasting menu every month to reflect a different region of Poland; meanwhile, adjacent to the Museum of Vodka, Elixir by Dom Wódki pairs locally inspired dishes with over 700 liquors from all over the world. Don't miss the truffle-laced beef stroganoff, served with dark, fruity Tarninówka Gen. J. Bema. 
The nineteenth-century composer Frédéric Chopin grew up in Warsaw, and the city is immensely proud of his musical legacy. At the Fryderyk Concert Hall, virtuoso pianists perform every evening at 7pm on a grand piano; it's an intimate gathering of just a few special guests, who listen with flutes of Champagne in hand. Warsaw's other luxurious highlights include private charter voyages on the Vistula River, designer shopping at the Vitkac department store, and gondola cruises around Lazienki Palace, the seveneenth-century 'Palace on the Isle'. 
After a long day's exploring, treat yourself to a restorative 90-minute 'Signature Ritual' at Bristol Spa, within the five-star Hotel Bristol, a Luxury Collection Hotel, Warsaw. Using aromatherapy, acupressure and reflexology techniques, this full-body treatment will soothe your city-weary muscles. It's the perfect preparation for supper at Marconi Restaurant, perhaps rounded off with a Tort Bristol, the hotel's signature confection.
Gain a bird's-eye view of Prague's thousand spires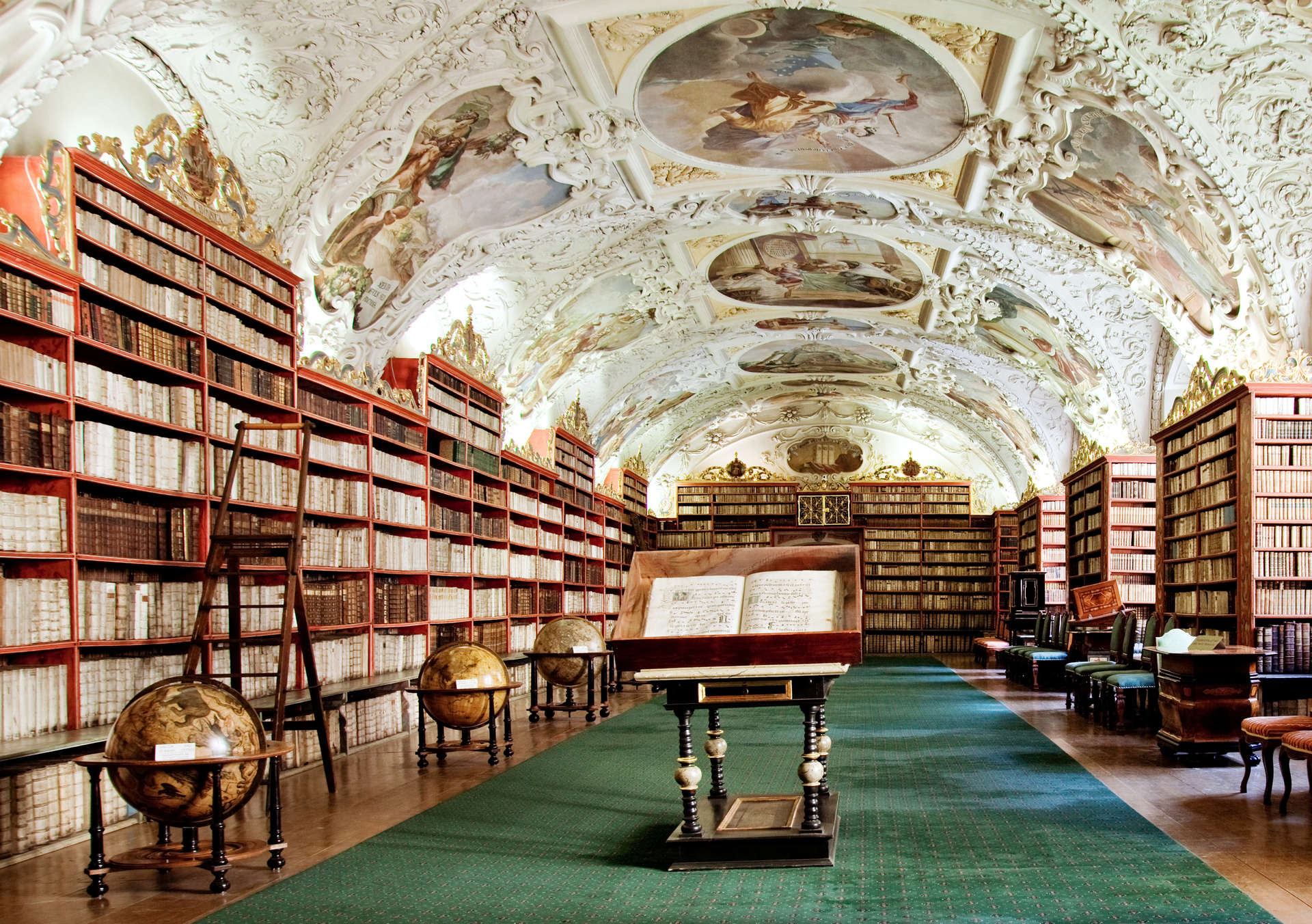 The frescoed ceiling in Prague's Strahov Library ranks among the most ornate in the world (Photo: Getty Images)
There is no finer way to admire the 'City of a Thousand Spires' than from a private helicopter flight. Over the centuries, Prague has garnered Romanesque, Gothic, Renaissance and Baroque architectural styles, and an aerial tour not only grants a bird's-eye view of its most iconic sights – including Prague Castle, Old Town Square and the Vltava River – but also the sylvan parks and hip neighbourhoods beyond. 
You might ask your hotel concierge to arrange a private visit to the Strahov Monastery, whose frescoed ceilings are among the most ornate in the world, or a backstage tour of the State Opera, where huge-scale productions such as La Bohème and Madama Butterfly are performed. Featuring red-velvet seating and a gilded proscenium arch, the auditorium is a work of art in itself. 
To enjoy your very own ornate nineteenth-century murals, book the Fresco Suite at Augustine, a Luxury Collection Hotel, Prague: featuring countryside scenes and trompe l'oeil details, the paintings are so precious that they are protected by UNESCO. The hotel is set in a former monastery, and the frescoes were revealed during renovation work, alongside the original parquet flooring. 
One of the Czech Republic's most treasured exports is Bohemia crystal, which is renowned for its brilliance and quality craftsmanship. You can buy fine examples at Artel Glass – whose boutique is a few minutes' walk from the Charles Bridge – or craft your very own vase at a glass-blowing workshop with Pragl Glass.
Enjoy bathing, bubbles and the Belle Époque in Budapest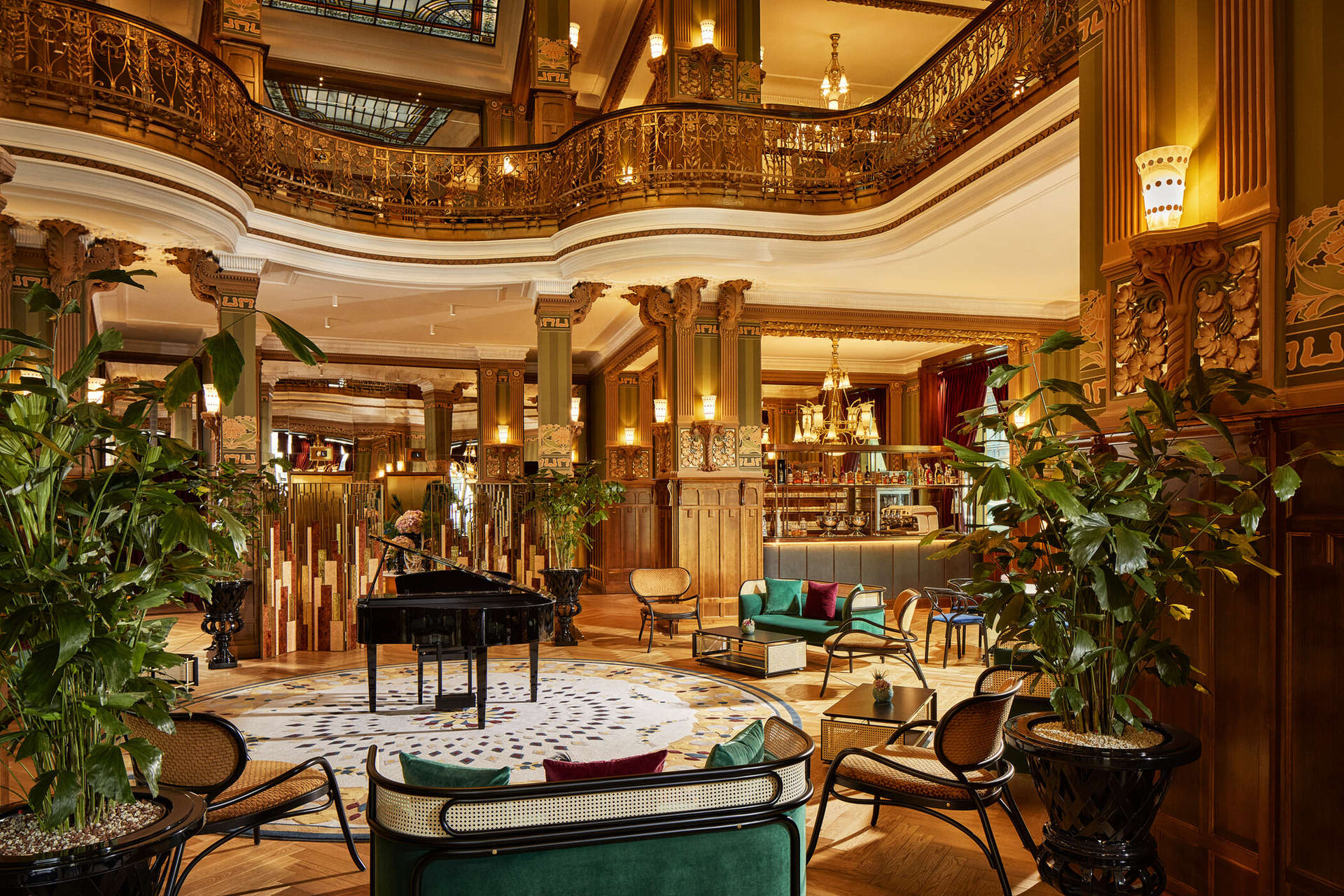 The Matild Café & Cabaret is a glittering restaurant dating back to 1901, faithfully restored by Matild Palace, a Luxury Collection Hotel, Budapest (Photo: Csaba Barbay)
City trip or spa break? Budapest is both. The city is renowned for its geothermal waters, with a bathing history that predates even the Roman Empire. The communal baths such as Rudas or Széchenyi are famous, but you might prefer to seek wellness treatments in a private establishment – such as the spa at The Ritz-Carlton, Budapest. Book its Royal Palace Ritual for 90 glorious minutes of natural salt exfoliation and a full-body hot stone massage, using premium aromatherapy oils. 
The Danube River runs right through Hungary's capital, and a private cruise is the most comfortable way to admire the main sights – with views of Buda Castle, the Hungarian Parliament Building, and Széchenyi Chain Bridge to name but a few. Have a bottle of Pezsgő, the Hungarian answer to Champagne, brought aboard, so you can sip as you cruise along.
From the golden treetops of Gellért Hill in autumn, to the winter ice rink at Vajdahunyad Castle, Budapest is spectacular year-round – but August is perhaps its most vibrant month, with a festival to suit every style. Ask your concierge to secure exclusive-access tickets for Sziget Festival, one of Europe's biggest rock and pop gatherings, or a fireworks-view table at St. Andrea Wine & Skybar during the St. Stephen's Day celebrations (20 August). You may also request that they secure you entry to the F1 Paddock Club when the Hungarian Grand Prix comes to town this month. 
Dine, drink and dance in style at Matild Café & Cabaret, a glittering restaurant which dates back to 1901. It has been faithfully restored by Matild Palace, a Luxury Collection Hotel, Budapest, complete with crisp linens, on-point cocktails and an exquisite menu designed by Wolfgang Puck. To celebrate like it's Matild's Belle Époque heyday, order the house-smoked salmon with lemon-herb blinis, and a cognac-spiked slice of Esterházy torte.
Published: November 15, 2022
Last Updated: March 06, 2023
Article Tags: Budapest , Prague , Warsaw