Hamburg has always been a wealthy merchant city and caters for refined tastes and travelled palates, with fine-dining options found across the city. But there's great gastronomic diversity here, too, from iconic sausage stands to the Sunday morning tradition of eating fish rolls at a bustling market. Read on for a taster of the range of cuisines and approaches to be found in this great Hanseatic city.
Dine with some of Hamburg's most alluring views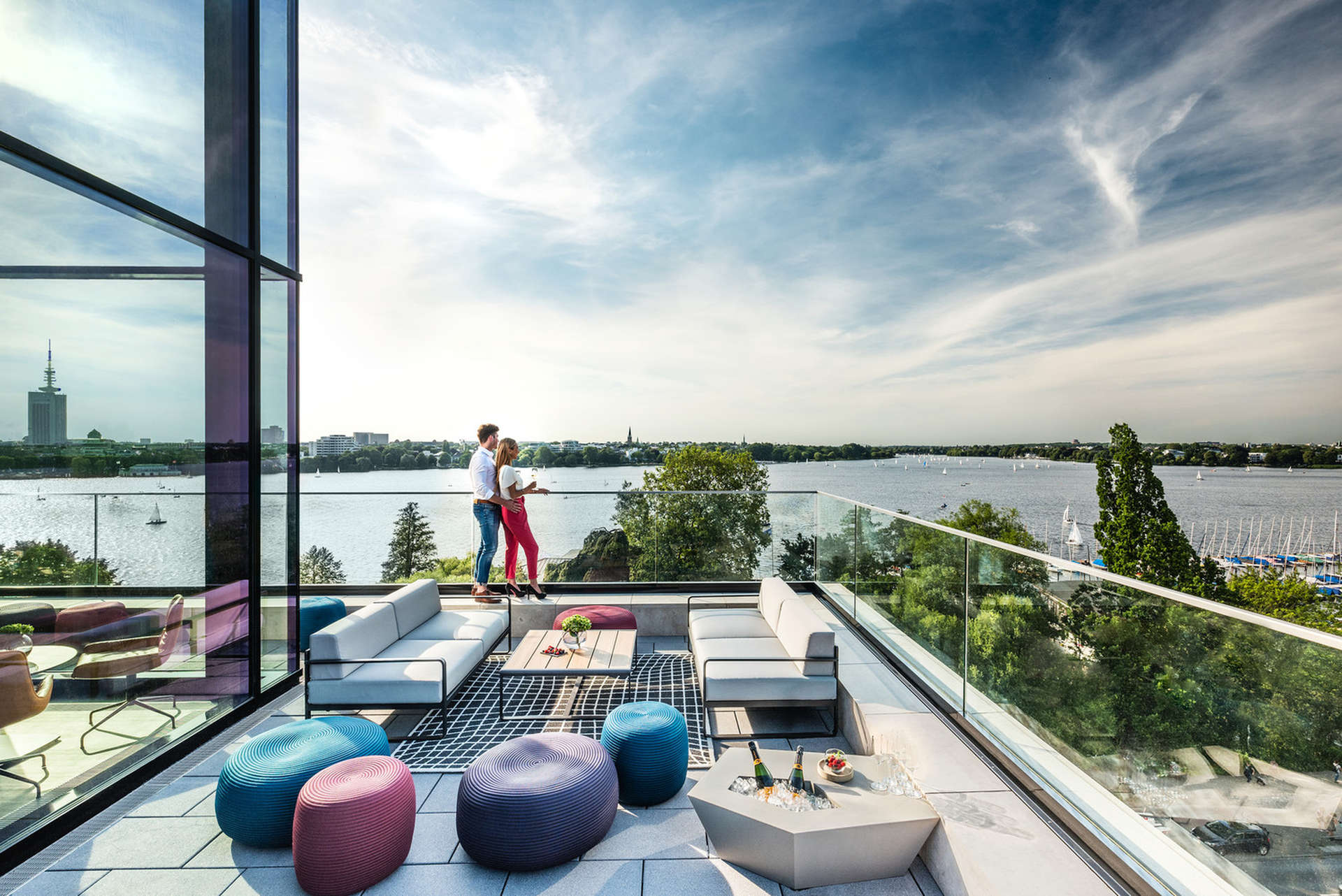 Situated on the 9th floor of Le Méridien Hamburg, HERITAGE Hamburg has floor-to-ceiling windows looking out over the Outer Alster Lake (Photo: Marriott International)
From the historic port to the inner city lakes and romantic canals, Hamburg offers unparalleled views to enjoy over a meal.
The Elbphilharmonie in Hamburg, a concert hall by Herzog & de Meuron, overlooks the historic port and HafenCity's brick warehouses. The same structure houses The Westin Hotel Hamburg and its Blick Bar. 'Blick' translates to 'view', and the venue offers unmatched panoramas of Hamburg – it's perfect for romantic dinners or drinks with a scenic sunset view. Blick Bar's menu reflects Hamburg's culinary diversity, with dishes from hummus dips to vegan pasta and traditional northern German fare from North Sea shrimp brioche to Matjes (soused herring). 
For a special occasion, head straight to the 9th floor of Le Méridien Hamburg alongside the Alster Lake. Up in this lofty position, HERITAGE Hamburg has floor-to-ceiling windows looking out over the lake. Sit back, relax, and drink in the elegant atmosphere, gazing out at the iconic Alsterdampfer, the lake's ferries. The chef here serves some of Hamburg's finest fish: try the traditional Seezunge, Dover sole, served with beurre blanc; seabass with oyster mushrooms and garlic; or even a freshly caught lobster with aïoli. HERITAGE also offers steak cooked to your preference, from entrecôte to fillet, rump to tomahawk, and Châteaubriand for two. Add a side of truffle fries, and don't forget the very German chocolate cake with cherries, schwarzwälder kirschtorte, for dessert. Afterwards, pop into the HERITAGE Rooftop Bar for a cocktail – try the Canonita Spritz, with orange liqueur, pink grapefruit and sparkling wine – and enjoy some more of those views.
For a quintessential Hamburg experience, visit the traditional fish market in St. Pauli port every Sunday morning. It's bustling with vendors selling fresh fish, vegetables and houseplants. The food stalls are a hit with late-night party-goers and early birds alike, offering live music in the market halls. Don't miss trying the Fischbrötchen, a traditional German bread roll with battered fish, which makes for an ideal breakfast in Hamburg.
Explore the

maritime heritage of Hamburg's northern cuisine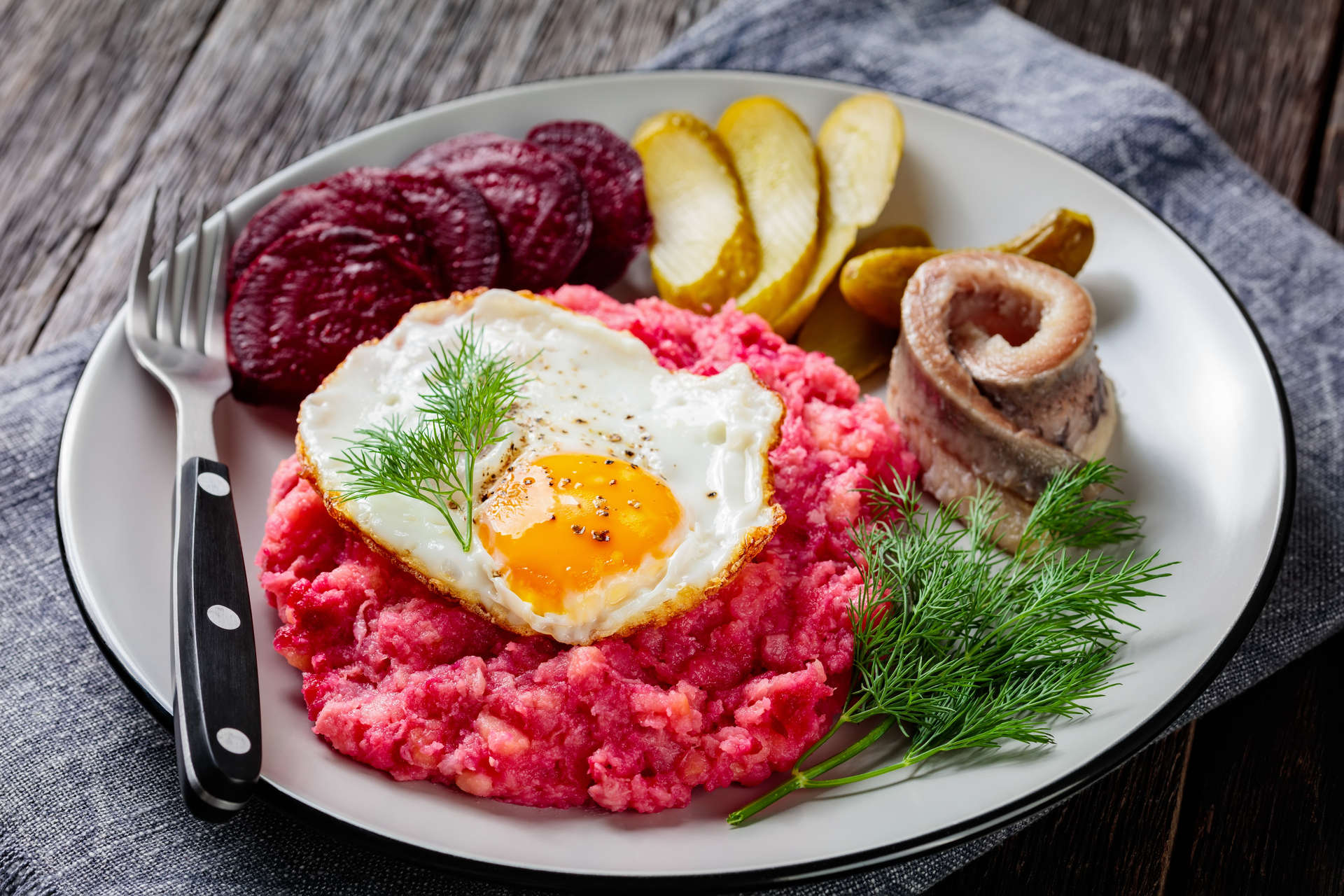 Labskaus, a traditional dish from Hamburg, tells a story of the city's rich seafaring heritage (Photo: Getty Images) 
Hotel Atlantic Hamburg, Autograph Collection is one of the city's most iconic and famous hotels – even James Bond came here, in Tomorrow Never Dies.
Within the hotel's hallowed halls lies the chic Atlantic Grill & Health. Beautifully designed in a very Hamburg maritime style, with blue shutters and white and blue furnishings, the décor is as light as the cuisine. Expect tasty, typically Hanseatic food, with ingredients suppliers listed on the menu – few items come from further away than Denmark, just over three hours up the road from Hamburg. Try the grilled watermelon with sheep's cheese, or the Danish cod with the very moreish cheesy mashed potato. For dessert try the Altländer Apfel, a local apple from just across the river Elbe, cooked in crispy puff pastry with lemon curd.
To sample Hamburg's most unique dish, head straight to the Old Commercial Room, by the iconic St Michel's church. Order Labskaus here, a dish born from sailors' tradition of mashing leftover beef and vegetables. Nowadays, top-quality ingredients are used but it still sticks to its roots as a meal of mashed meat and simple vegetables, served with a fried egg and beetroot.
Enjoy

lunch the Hamburg way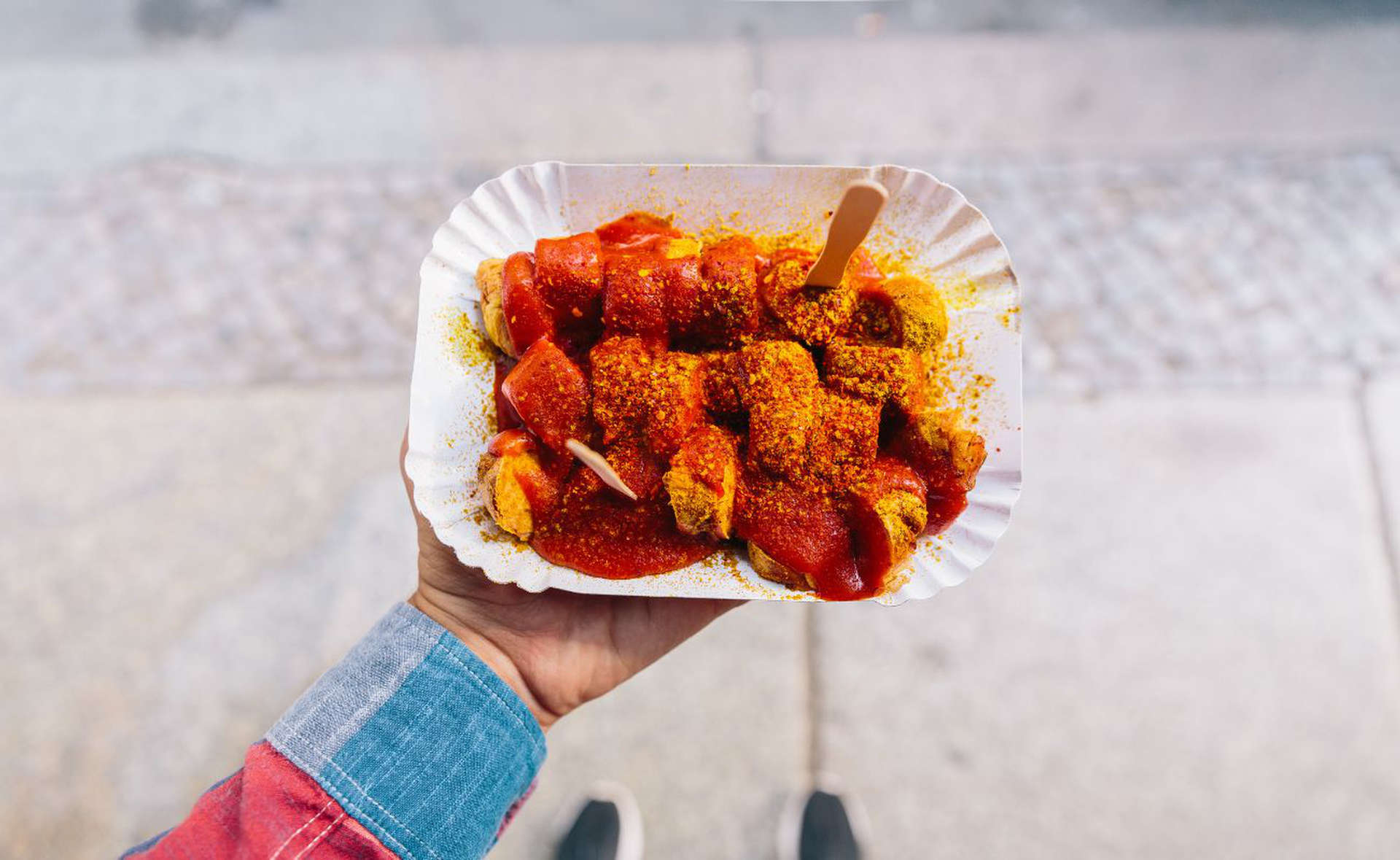 Currywurst, a traditional German pork dish, was invented in Germany in 1949 by Herta Heuwer and has since become an iconic and beloved street food (Photo: Getty Images)
Sitting right in the heart of Hamburg, a 1920s publishing house is now home to the popular Renaissance Hamburg Hotel. Offering a creative mix of open brick and sleek design, the hotel seamlessly sits within one of Hamburg's most stylish shopping street, the Grosse Bleichen. With its covered passages, luxury boutiques and quirky home décor stores winding along hidden canals, this is a lovely corner of the city to explore.
Downstairs in the Renaissance Hamburg Hotel you'll find the charming Bricks Restaurant and Bar, open for breakfast, lunch and dinner. Even if the 'hamburger' we're familiar with only loosely connects to the city, you must try the signature Bricks Burger. This top-tier dish includes a 180g pure beef patty with cheddar cheese, bacon, and signature sauce. If you can't leave the city without eating a hamburger, make it this one.
Sausages are a quintessential feature of Germany's cuisine, and there is no better place to experience this than at Mö Grill. This sausage stand can be found right on the Jungfernstieg boulevard by the inner Alsterlake, steps away from chic department store Alsterhaus. Always busy, always fresh, this is a quick option for lunch – stand in the middle of the bustling city eating a freshly grilled sausage with a side of chips and mayonnaise for a truly authentic Hamburg experience.
Tap your feet as you savour fine cuisine and traditional drinks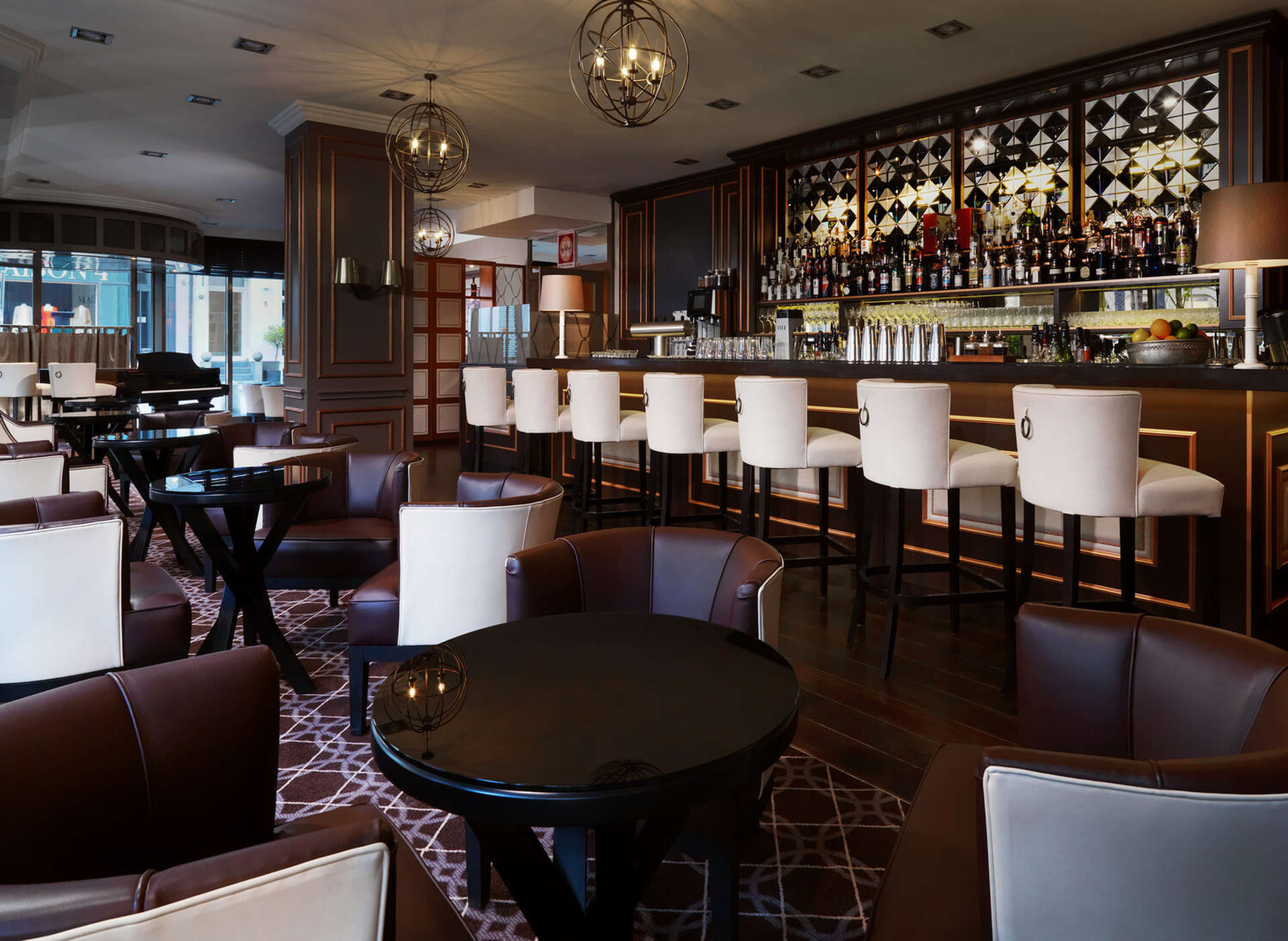 Housed within the Hamburg Marriott Hotel, Pianobar puts on music most nights, ranging from piano to vocals (Photo: Marriott International)
Pianobar, located at the heart of town near the Gänsemarkt, inner Alster lake and opera, is an ideal place for both daytime snacks and evening live music. The bar also has a pleasant outdoor seating area for sunny days. Situated inside the Hamburg Marriott Hotel, this family-friendly venue serves from morning till late night, providing everything from hearty breakfasts to afternoon teas and delightful dinners – you might even enjoy a rich cheesecake in between. This is a good place to have a drink and nibbles – think house-made marinated olives and Parmesan truffle – before or after taking in a concert, with in-bar music most nights, ranging from piano to vocals.
Published: October 27, 2023