Embark on a captivating Mediterranean road trip where majestic roads wind through lush landscapes, leading to hidden bays, sun-kissed golden beaches and picture-perfect destinations that promise cultural delights aplenty. Here are five unforgettable journeys filled with adventure.
Italy: Amalfi coast
The Amalfi Drive in Italy (SS163) presents a 20-mile (32-kilometre) coastal route from Sorrento to Amalfi for those with an affinity for exhilarating hairpin bends that reveal striking glimpses of the hillsides cascading down to the Mediterranean.
You'll need to be poised whilst navigating narrow roads (at some points, merely a single lane each way) with blind corners; Italian drivers announce their approach with a toot of the horn before every turn.
Initiating your journey in Sorrento, the inland portion of the drive (SS145) meanders through landscapes adorned with snow-topped mountains in the backdrop as it winds southwards towards the coast.
An interlude at a hilltop establishment like Zio Sam in Piano di Sorrento offers a teaser of the breathtaking coastal panoramas to come. However, it's once you're on the SS163 that views of the Mediterranean and cliff-nestled villages truly begin to reveal themselves.
Prolong the hour-long journey with pit stops at designated viewpoints. Dally over an espresso at roadside cafés and frolic in the turquoise waters of beaches such as Tordigliano and Fornillo.
Positano, with its pebbled beach and stylish eateries, is the principal attraction along the route, but nearby Arienzo is equally captivating and marks the starting point of the scenic Path of the Gods hiking trail.
France: French Riviera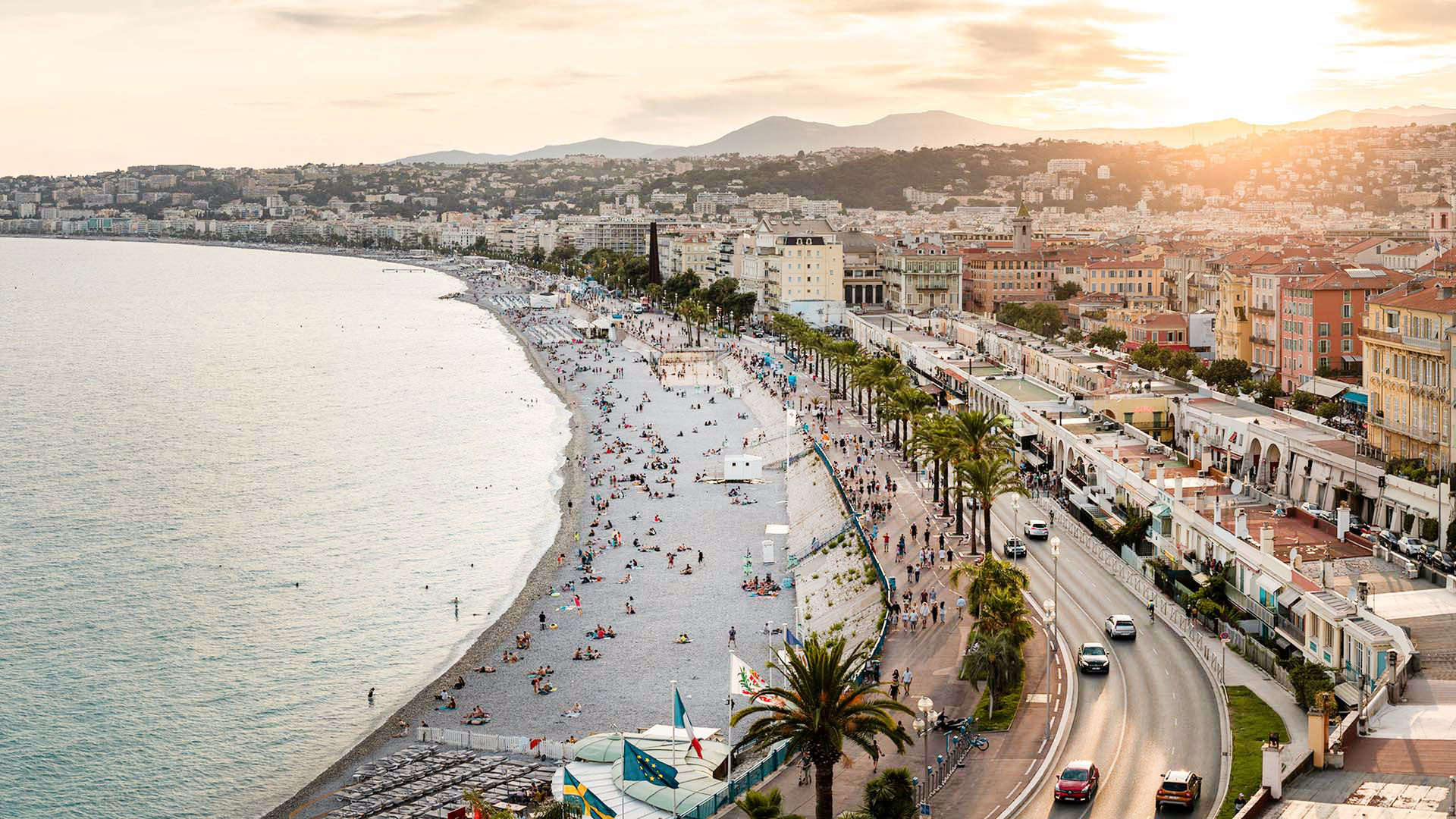 Embark on an enchanting French Riviera road trip starting in Nice. (Photo: Getty Images)
From sweeping golden beaches to a gleaming azure sea, the splendour of the French Riviera is timeless. Nice is a perfect starting point for your road trip. Steer eastwards towards Monaco for a pleasurable 14-mile (22-kilometre) journey with mesmerising views the entire way.
Savour the journey with a wander through picturesque villages such as Beaulieu-sur-Mer, with its traditional farmers' market and yacht-dotted marina, or historic Eze, where you can attempt the art of perfume-making at Galimard.
A midday meal on the beach at Plage Paloma in St.-Jean-Cap-Ferrat is a must, while a sojourn to the gardens of Villa Ephrussi de Rothschild is also essential during a visit to France's south coast.
In Cap-d'Ail, the oceanfront trail is a dream for a stunning sunset promenade. Round off the trip with a circuit around the Monaco Grand Prix route, which loops around the iconic Monte Carlo Casino.
Spain: Barcelona to Valencia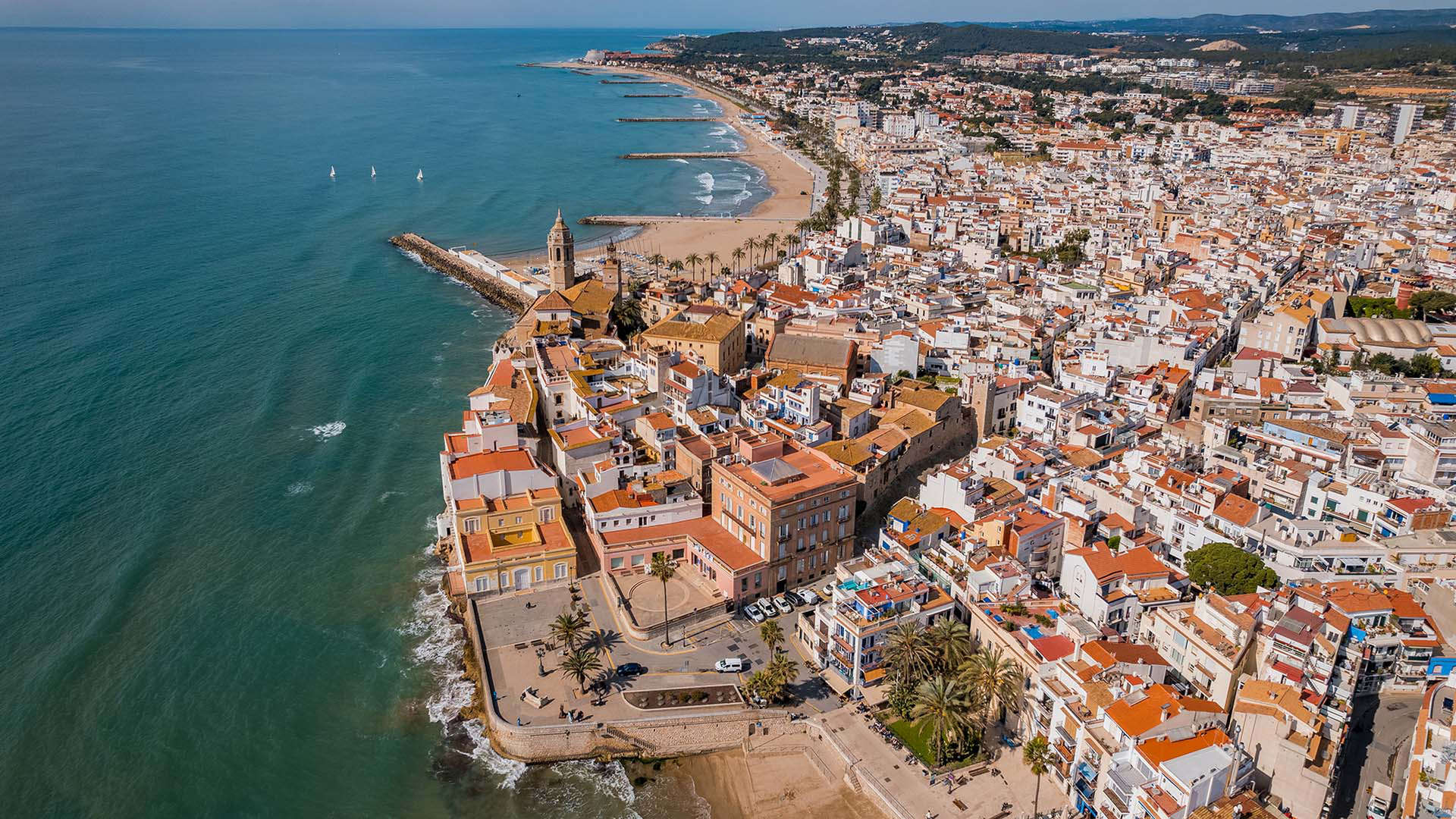 Immerse yourself in cultural wonders in Sitges, Spain (Photo: Getty Images)
The 217-mile (350-kilometre) journey between Barcelona and Valencia takes just under four hours. However, with so many historic towns and villages punctuating the route, you'll want to stay at least a night or two.
Sitges and Tarragona are the most popular stopovers. Tarragona is the larger of the two and is dotted with Roman archaeological sites.
Sitges, on the other hand, has a robust arts legacy — exhibitions like the Cau Ferrat Museum are well worth a visit — in addition to a vibrant LGBTQ+ scene. Venture into Queenz Music Bar for a splendid night out.
Other worthwhile stops include Tortosa, known for some of Spain's finest historical architecture, like the Catedral de Santa Maria; and Reus, the birthplace of the illustrious architect Antoni Gaudí. Pay homage at the Gaudí Centre Reus, which sheds light on his creative process through original manuscripts.
Greece: Peloponnese Peninsula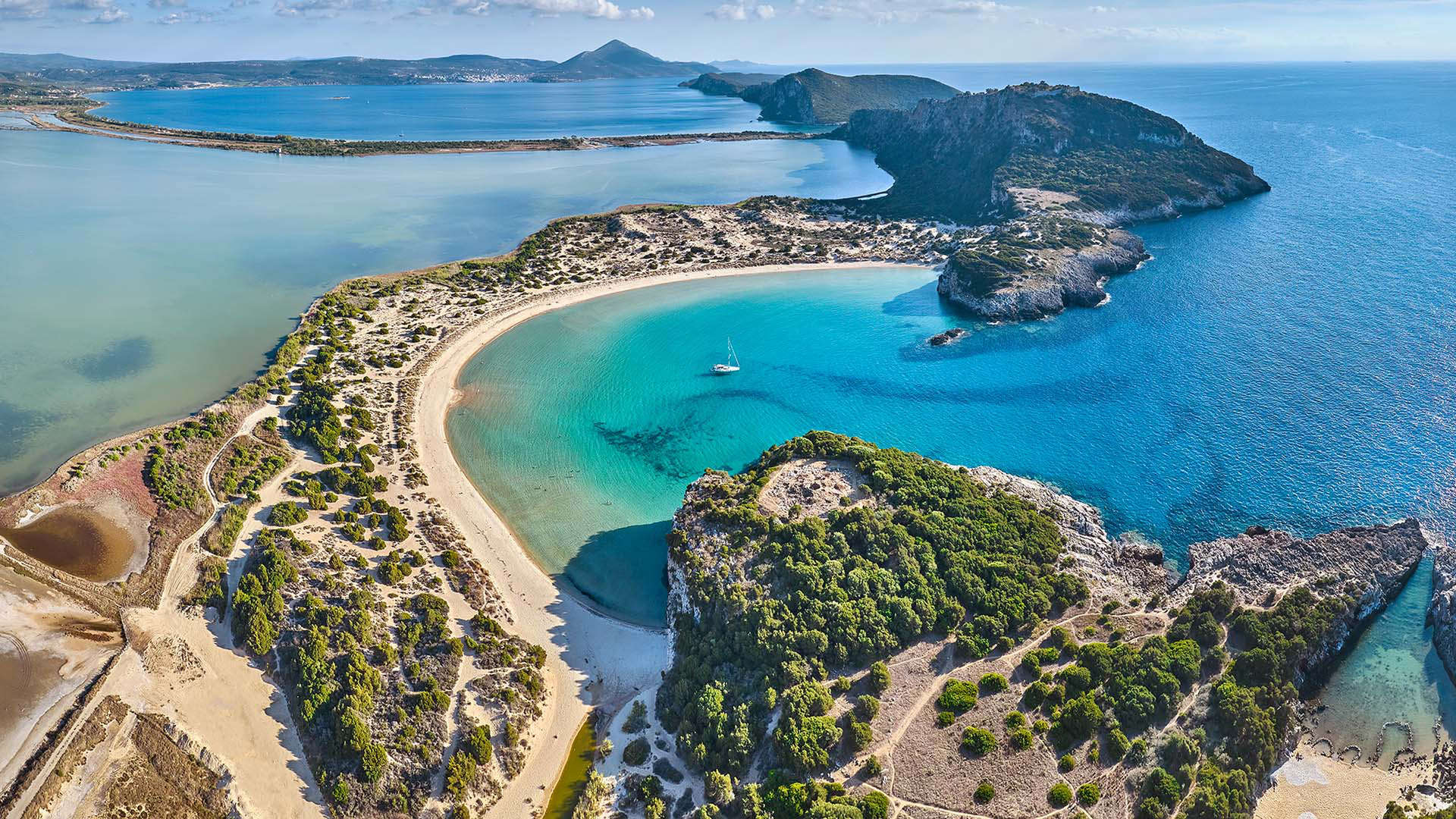 Follow Greece's roadways til you find glorious Voidokilia Beach. (Photo: Getty Images)
Head to the stunning Peloponnese peninsula just west of Athens for a Greek getaway away from the throngs yet replete with immaculate beaches and mouthwatering meze.
It's easy to budget a week or more here, but if you're strapped for time, head directly to Pylos, where whitewashed buildings sporting terracotta-tiled roofs cluster along the shoreline.
Most of your time here will likely be spent beachside, with Voidokilia Beach being a particular favourite. History enthusiasts won't want to miss the Palace of Nestor, which features in Homer's "Odyssey."
From there, trail the coast to reach the expansive Patras. As the third-largest city in Greece, it mirrors the cosmopolitan aura of Athens — sophisticated restaurants and bars are in abundance, with history on every corner. The Roman Amphitheatre and Agios Andreas Cathedral are two must-see spots.
Türkiye: Istanbul to Bodrum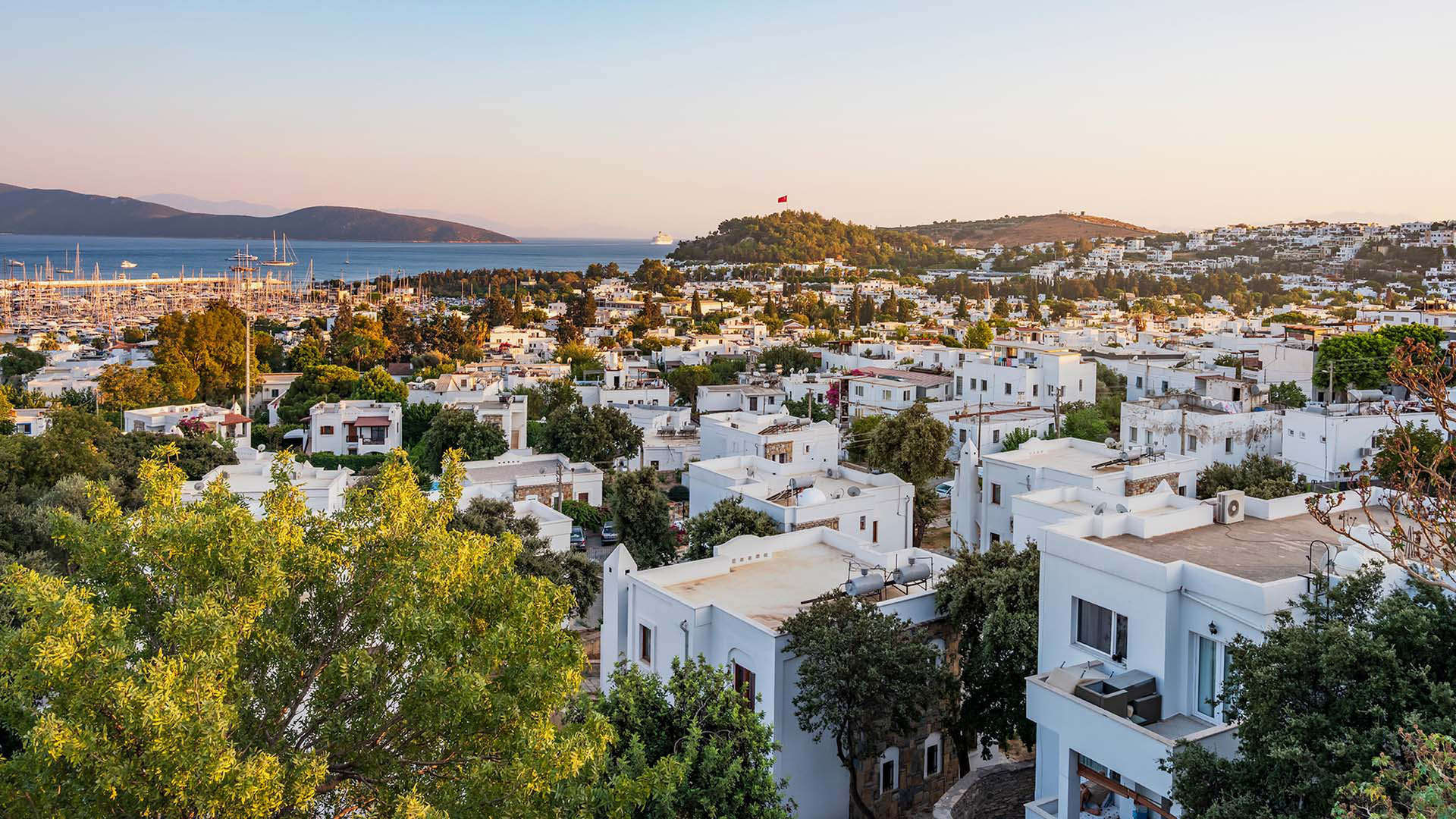 Indulge in coastal bliss in Bodrum, where the azure sea beckons. (Photo: Getty Images)
The route between Istanbul and Bodrum weaves through the lush greenery of Türkiye's rugged interior before revealing the glimmering Mediterranean Sea. This is an over eight-hour nonstop journey by road, so be sure to include plenty of stops along the 433-mile (700-kilometre) journey.
Trim the drive by taking the two-hour ferry from Istanbul to Bandirma across the Sea of Marmara instead of a complete journey around it. Follow the motorway straight for three hours to Izmir. Here you'll be greeted with bustling markets mingled with Greek archaeological sites, against the azure backdrop of the Aegean Sea.
Add a couple of days to your trip to explore nearby towns like Alaçatı, famous for its bougainvillaea-draped buildings and cobbled streets.
From Izmir, the journey to Bodrum takes three hours — or longer if you wish to pause at coastal towns like Kuşadası, ideal for an alfresco lunch with a marina view. Bodrum is the quintessential "relax and feel pampered" destination, with Gümbet and Camel beaches among the most favoured spots to do just that.
As you road trip comes to a close, reward yourself with some time on the beach, the shallow crystal-clear waters lapping at your feet.
Published: May 26, 2023
Last Updated: June 15, 2023
Article Tags: Amalfi Coast , Barcelona , Bodrum , France , Greece , Italy , Nice , Spain , Türkiye