A change is as good as a rest, or so it's said, but it can also help those seeking inspiration in their work lives. In a world where more and more people work in the same place they sleep, the idea of a workcation – a short-term change of scene that refreshes tired minds and offers new perspectives – has never been so appealing. The details are up to you. A workcation can last a few days, a week or longer; it can take place in your home city, country or further afield; and it can include as much or as little as you desire of the traditional pleasures of a holiday – sunshine, relaxation, the occasional evening cocktail – alongside your work routine. It sounds tremendously appealing, but there are a few things to factor in before you book your trip (and after you check for travel restrictions and closures). Here's how to ensure your workcation does the job.
Make It Easy to Recharge Your Batteries
Even if you're working, getting away from everyday life should involve some recuperation time, too. No one wants to arrive home just as frazzled as when they left.
That's where W Muscat in Oman excels: Not only does it boast an amazing spa and fitness facility that's open 24/7, but there are 30-minute detox yoga sessions on the beach, make-your-own recharge drinks, and even a Rubik's Cube to get the creative juices flowing.
Find a Home Away from Home (but Better)
Your home office gets a serious upgrade at W Doha. (Photo: Marriott International)
There are some home comforts you can't do without: a desk, Wi-Fi, the chance to play music or move around when you need to. Workcations can offer all this, but better, with more space than a cramped kitchen and lots to discover inside and out when work is over for the day.
At W Doha in Qatar, you'll find guest rooms that inspire, thanks to views across the azure sea or the city, with many spaces featuring a work desk with IP phone and high-speed Wi-Fi, docking stations and a culturally aware media library available through W's Whatever/Whenever service.
For somewhere with a cosy, elevated vibe, Bankside Hotel, Autograph Collection in London is hard to beat. With its hand-picked furnishings, specially commissioned artwork and friendly, intelligent service, it is the perfect home away from home in a city where getting things done is part of the culture. Not just that, but London's greatest delights – from Borough Market to Covent Garden – are right on your doorstep.
Put Yourself at the Heart of the Action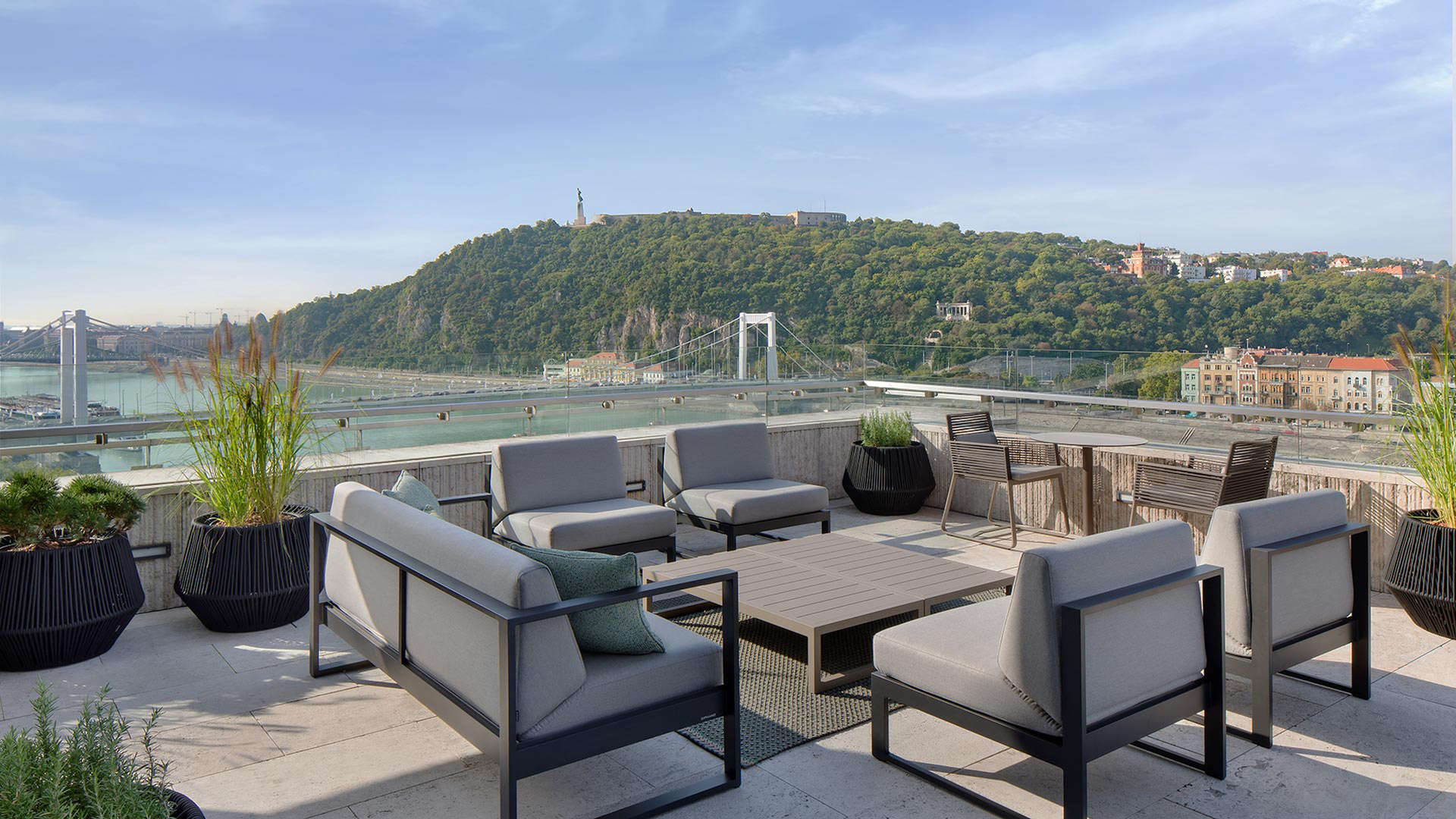 Enjoy epic views from your hotel room and beyond in Budapest. (Photo: Marriott International)
It would be a shame not to experience some of your temporary home's delights. Budapest is one of Europe's most fascinating cities, where a meandering stroll can take you past a host of remarkable sites, including the Széchenyi Chain Bridge and Buda Castle. Budapest Marriott Hotel, situated on the right bank of the Danube River, is close to both, with rooms that feature stunning river views, ergonomic working spaces and high-speed Wi-Fi, too.
If you're in Paris, you want to see Paris, so stay close to the key sites. Prince de Galles, a Luxury Collection Hotel is situated on a quiet street, while still being located close to the Champs Élysées, the Arc de Triomphe and, beyond that, the pleasures of the city centre. This spacious hotel also has a variety of flexible spaces in which to work, including a lovely patio.
Discover a Room with a View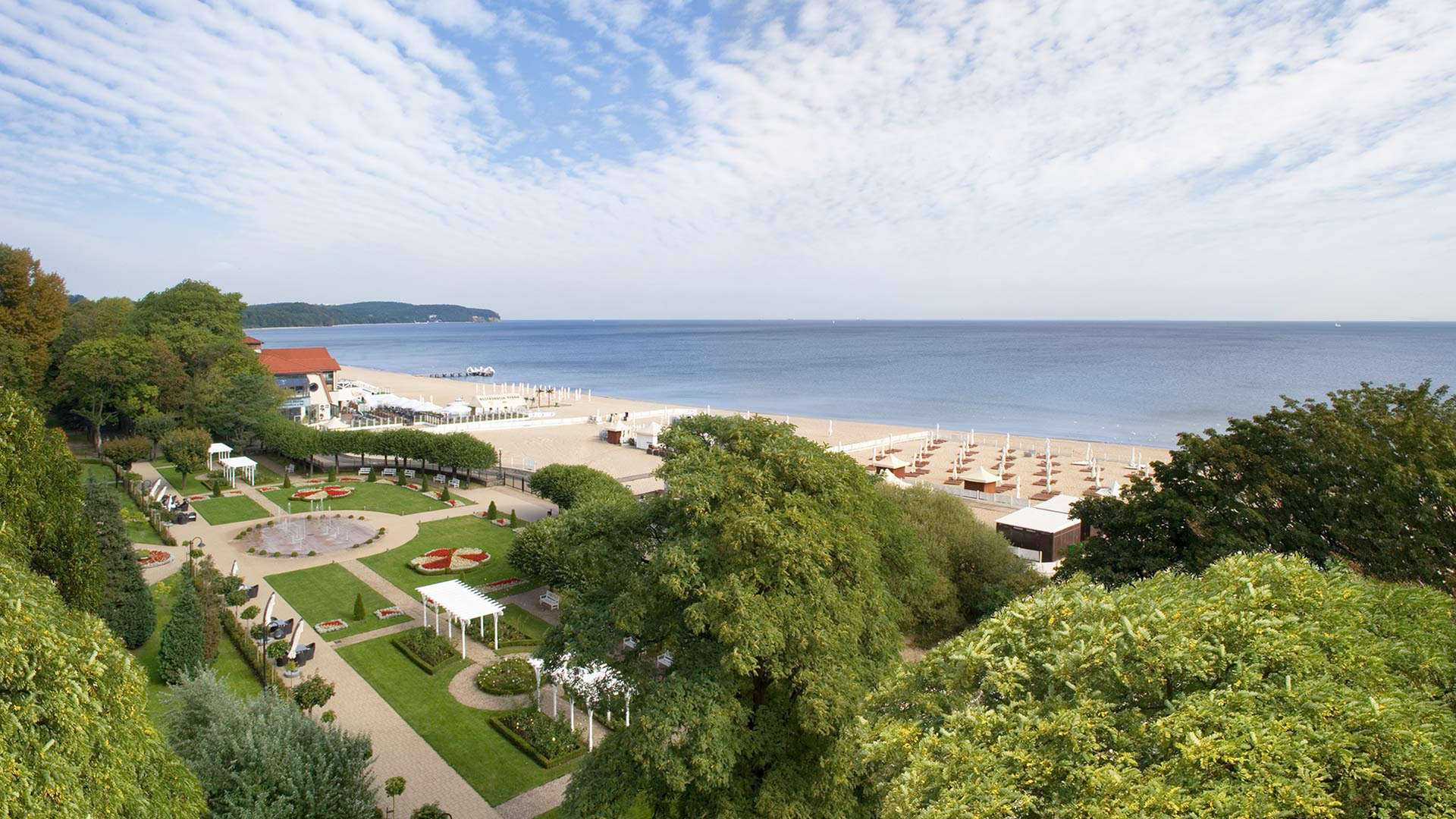 The beach is in arm's reach in Sopot. (Photo: Marriott International)
No one wants to spend their workcation staring at a wall. You need something to look at; even the best hotel room is better with a panoramic view that stretches for miles in the daytime and twinkles with light and possibility after dark.
At the Sheraton Sopot Hotel on Poland's coast north of Gdansk, rooms offer views across the deep-blue depths of the Baltic Sea and overlook a beautiful beach with the longest wooden pier in Europe. Hotel facilities include the Sheraton Sopot Spa, which includes a fitness centre, swimming pool and the Spa Experience wellness zone consisting of saunas, steam rooms and more.
Beaches always make for good views. The Sheraton Tel Aviv has recently been refurbished, with rooms and suites that overlook the city beach and the azure Mediterranean. Just make sure you get some work done – temptation to explore is real.
Give Yourself the Chance to Stay a Little Longer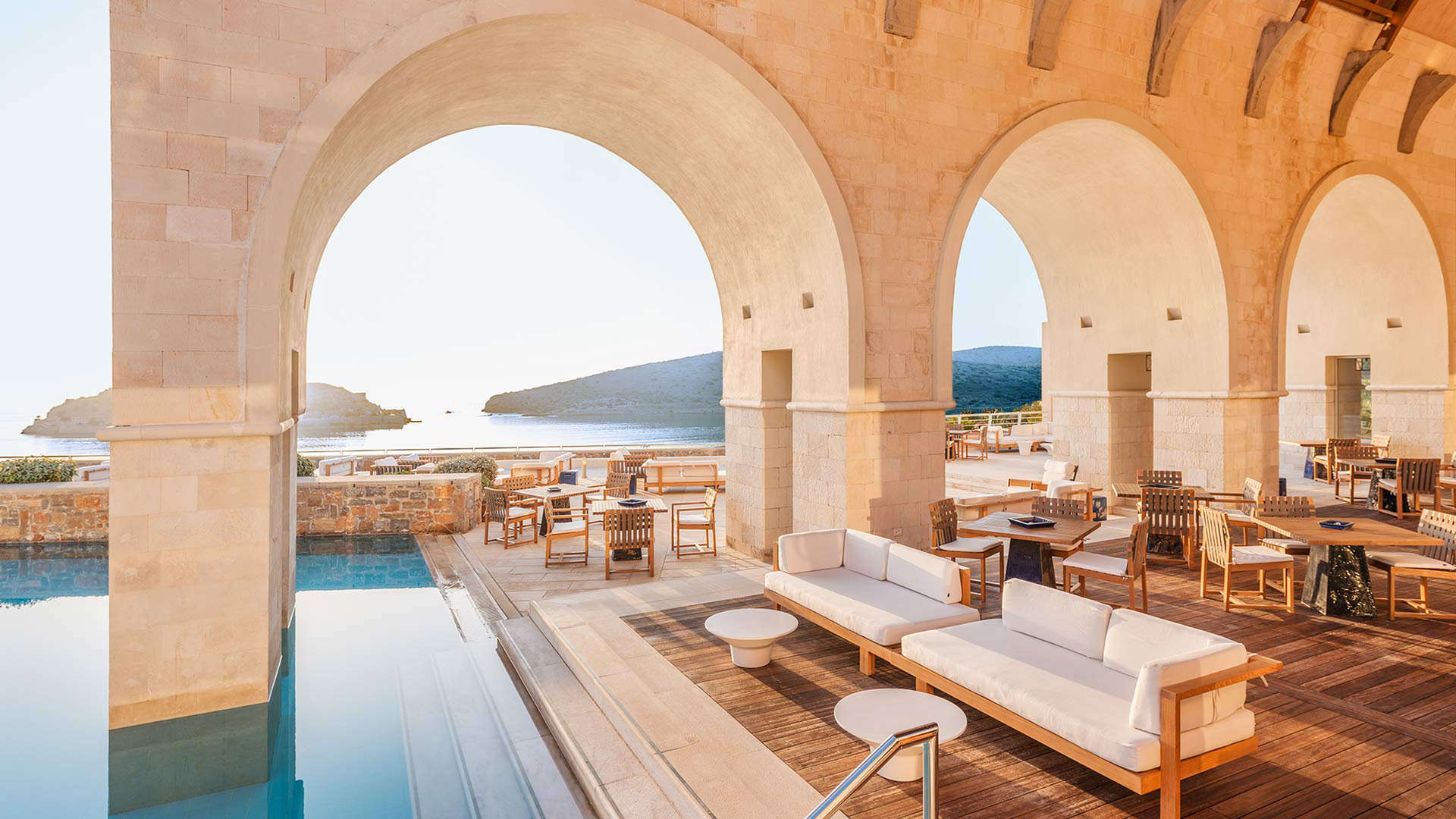 Take a dip in the Blue Palace's pool after work. (Photo: Marriott International)
You might find your workcation so productive you don't want to go home. Visitors to Crete, home to glorious beaches and jaw-dropping scenery, often feel like staying a bit longer; at the Blue Palace Elounda, a Luxury Collection Resort & Spa, a 143-acre luxury resort, you'll find one more reason to linger.
The rooms offer abundant space and privacy, private pools and an exclusive array of perks and amenities. When you add in the private beach, elegant fittings and delicious, healthy Cretan cuisine, it's not clear why you'd ever want to go home.
Seek Out Nomad-Friendly Visa Requirements for Extended Stays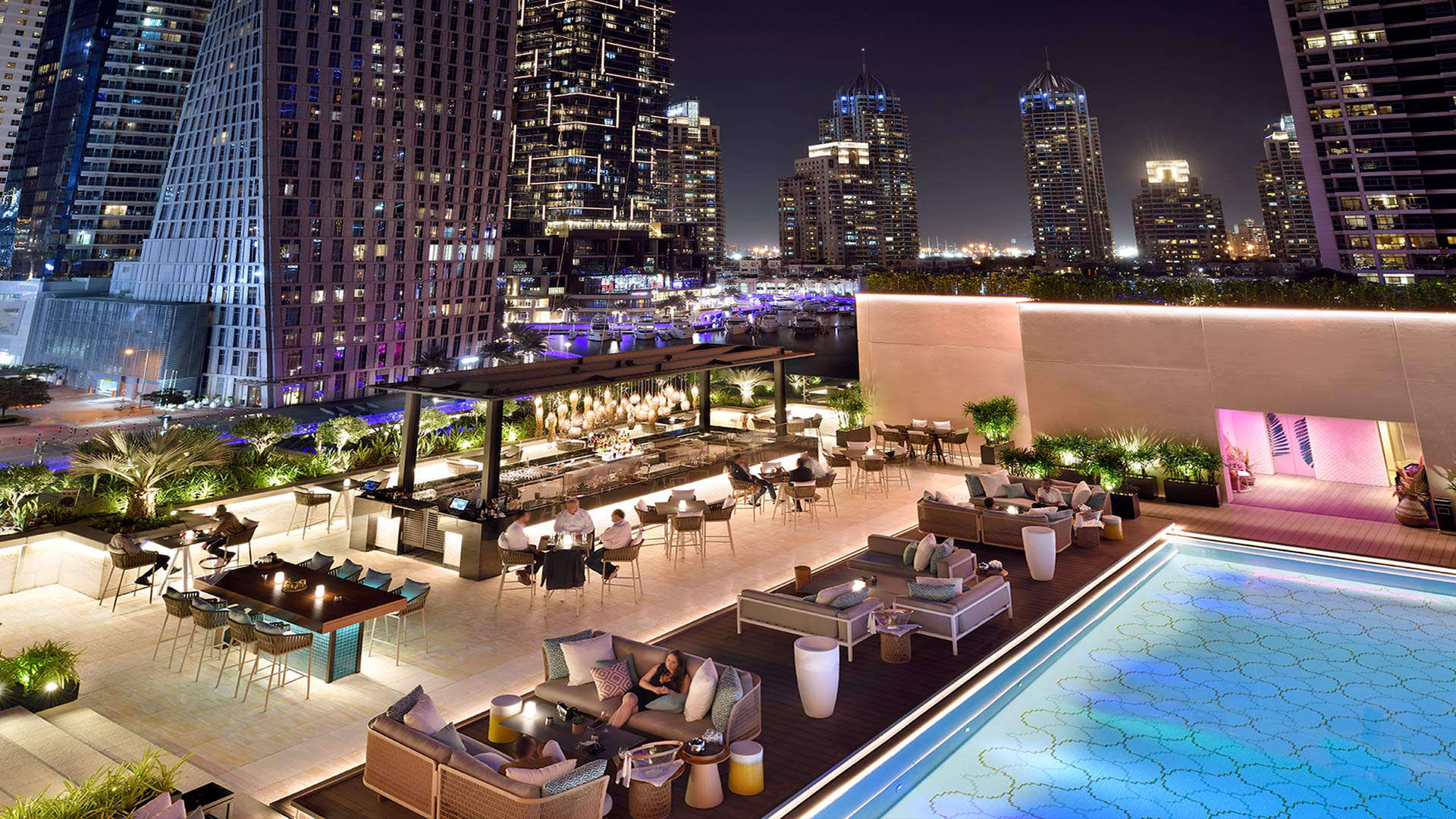 As darkness falls and temperatures cool, Dubai's nightlife heats up. (Photo: Marriott International)
If getting your hands on a visa for your chosen destination is difficult, you're already starting to lose the benefit of a workcation. Consider countries where access is easy, such as Dubai, which offers 20 countries (including the UK) visa-free stays of up to 30 days. In Dubai, Grosvenor House, a Luxury Collection Hotel offers fabulous views across Dubai Marina and the city, plus a terrace pool and a spa so you can indulge in R&R after work.
Similarly, Georgia allows visa-free entry for citizens of 93 separate countries, including the UK, for stays of up to a year. This fabulous country has so much to offer, from one of the world's most fascinating wine cultures to Tbilisi's cobblestoned Old Town. Book a room at Tbilisi Marriott Hotel in the city centre, where recently renovated rooms are kitted out with desks.
Published: July 25, 2022
Last Updated: March 13, 2023
Article Tags: Budapest , Crete , Doha , Dubai , Europe , London , Muscat , Paris , Poland , Tbilisi , Tel Aviv