For travellers forever searching to incorporate sustainable practices into their lives, the where and how of their food and drink sourcing is just as important as the enchanting locale in which their meals are served. Here we've sourced nine gastronomical experiences that offer locally sourced products made on-site or exclusively created for select hotels across Europe, the Middle East and Africa.
Hotel-Grown Herbs and Veggies in the United Arab Emirates
Situated in the heart of the vast Al Wadi Desert, The Ritz-Carlton Ras Al Khaimah, Al Wadi Desert offers ultra-luxe villas adorned with indigenous Bedouin-style furnishings, a private pool, lounge area and spectacular nature views.
Passionate about sustainability, the hotel's kitchen staff maintains a lush, year-round herb and vegetable garden growing basil, mint, garlic and assorted seasonal produce, despite scorching summertime temperatures.
By adding organic waste compost to the garden soil, the resulting homegrown products and seasonings that grace the menus at the resort's Farmhouse and Kaheela restaurants are fresh, organic and fertiliser free.
Fresh-Pressed Olive Oil in Venice
Sample the local olive oil with meals at Fiola at Dopolavoro. (Photo: Marriott International)
For an indulgent holiday break, the JW Marriott Venice Resort & Spa spoils guests with lush garden grounds, multiple pool areas and olive groves galore on the private Isola delle Rose island — just a short boat ride from the city.
Many menus across the resort's restaurants incorporate fruit and vegetables grown in the island's nutrient-enriched soil, and the extra-virgin olive oil is exclusive to the property — the olives that comprise it are handpicked from 104 olive trees and then cold-pressed and aged in-house.
Guests are welcome to sample the oil with meals at Fiola at Dopolavoro restaurant or at a weekly olive oil tasting where the oil is paired with homemade bread.
Local Wine in Elciego, Spain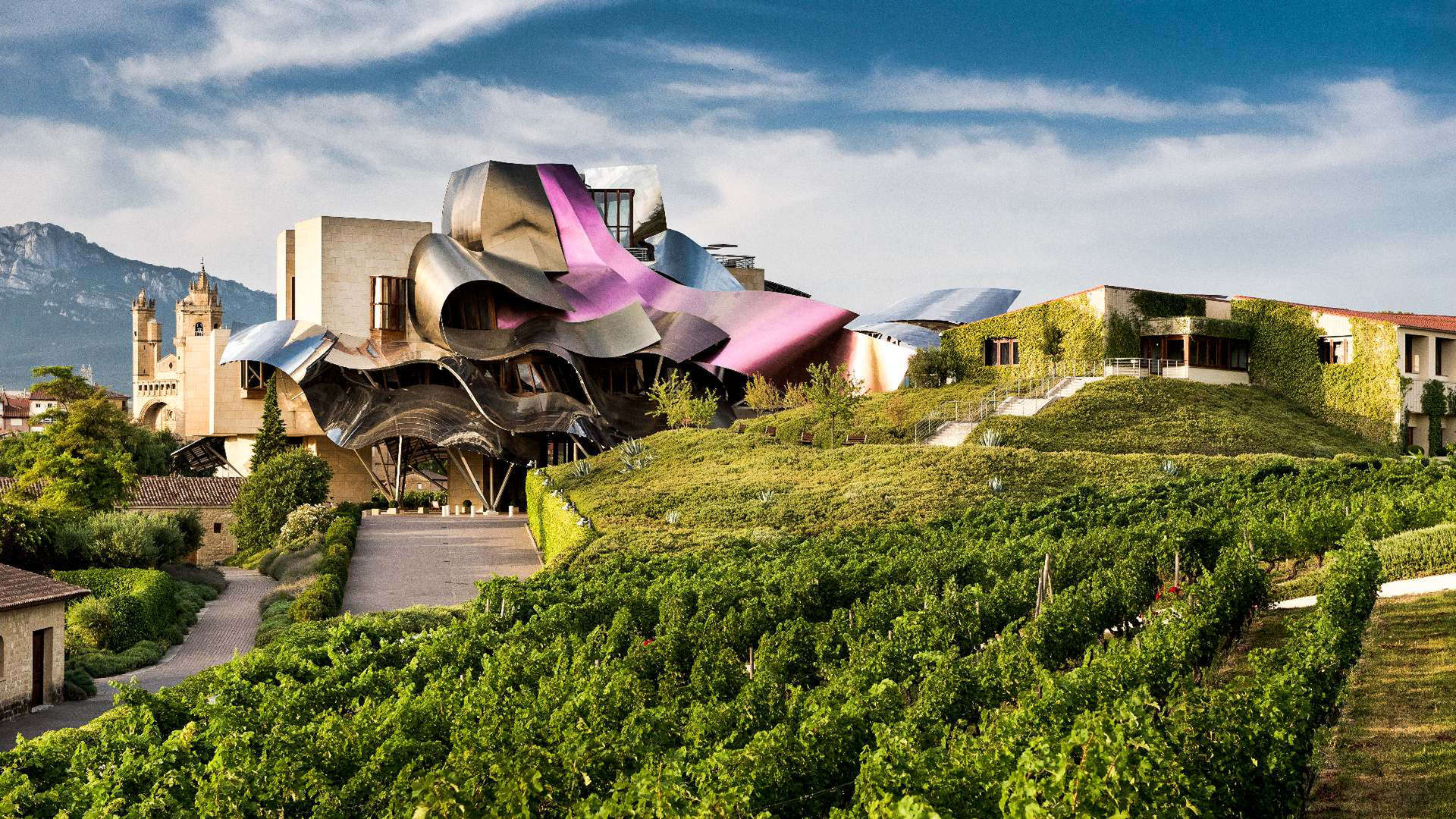 The eye-catching design at Hotel Marqués de Riscal is unforgettable — just like its fine wine collection. (Photo: Marriott International)
Designed by celebrated architect Frank Gehry, the Hotel Marqués de Riscal, a Luxury Collection Hotel, is an awe-striking titanium marvel based in Elciego, a quaint La Rioja town dating back to medieval times.
As one of the oldest wine estates in the region, every inch of Marqués de Riscal – from the vineyard-view rooms and vinotherapy spa treatments to the gastronomy and world-class wine cave – relates to the cultivation of wine.
Harvested using traditional, centuries-old methods to create exceptional red wines, local grape varietals include tempranillo, graciano and mazuelo, which are blended to perfection with native French cabernet sauvignon grapes.
Mediterranean Bounties in Sardinia, Italy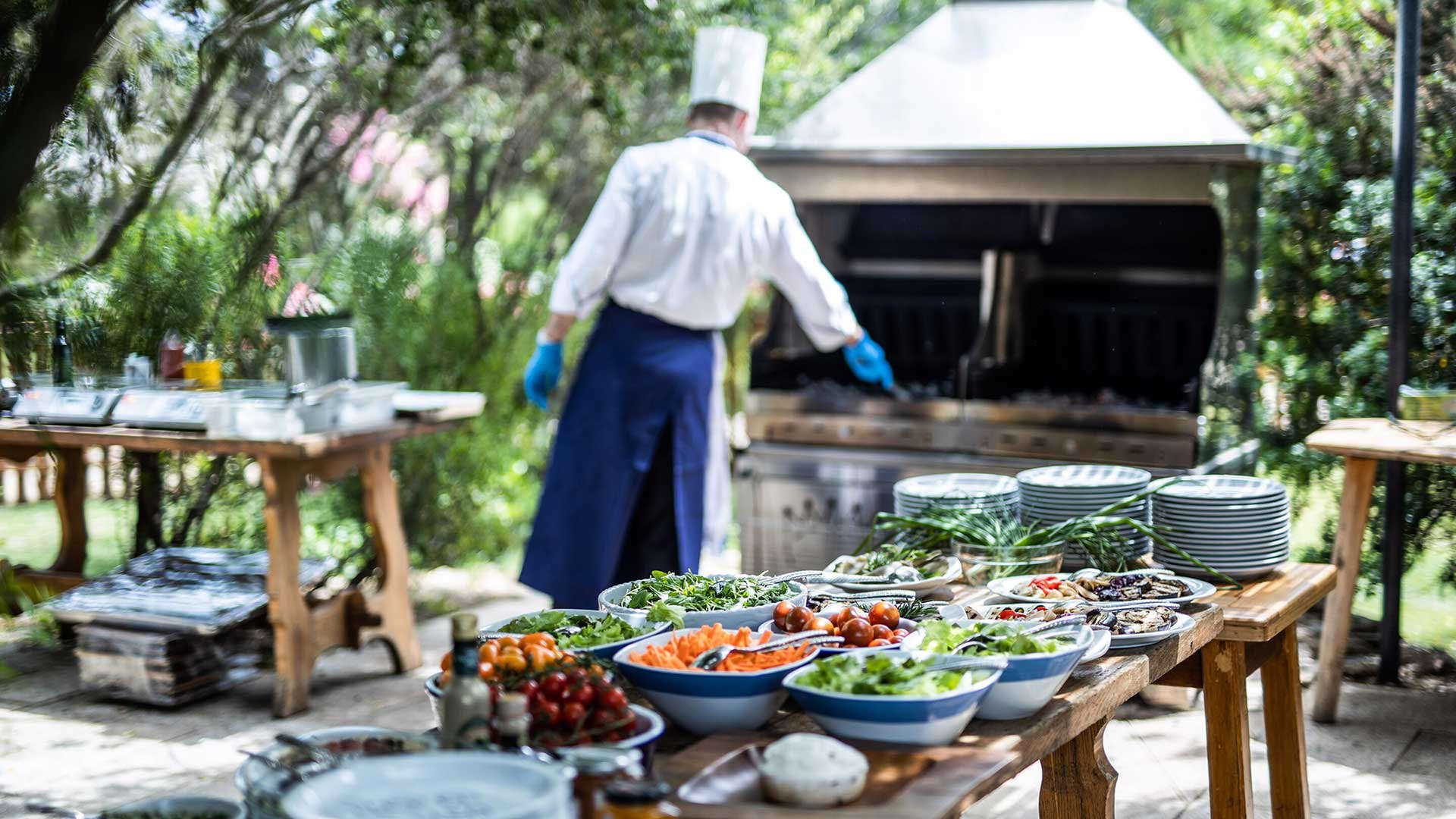 Enjoy a back-to-nature dining experience at La Fattoria. (Photo: Marriott International)
Inspired by the serene beauty of the bay it surrounds on the fabled Emerald Coast, Hotel Cala di Volpe, a Luxury Collection Hotel, Costa Smeralda was designed to emulate a quaint fishing village splashed with the vibrant natural colours of the Mediterranean.
Take a breather exploring the property's fertile vegetable garden and small farm where you might breathe in the pungent aromas of regional herbs, pick fruit from the trees or visit the ever-growing family of baby goats.
Be sure to book a meal at La Fattoria, which offers a true back-to-nature experience. Tucked into the hotel's vegetable garden and open to groups upon request, La Fattoria seats up to 20 people for a private, family-style meal featuring ingredients from the property's abundant bounty.
Beehives in Berlin
Facing the dynamic Potsdamer Platz, the words "sleek" and "sophisticated" best describe The Ritz-Carlton, Berlin and its art deco interiors. Throughout the property, the glamour continues across meticulous rooms; a creative, fragrance-inspired concept bar; and one of the largest ballrooms in the city.
Breakfast is an indulgent affair. Aside from the usual morning delights, fresh honey, originating from the eight resident beehives located on the hotel's rooftop and collected during the summer months, is served.
Up to 400,000 bees make this signature product each year for in-house consumption – it's packaged in glass jars with vintage-font labels to offer as keepsakes.
Locally Distilled Gin in Edinburgh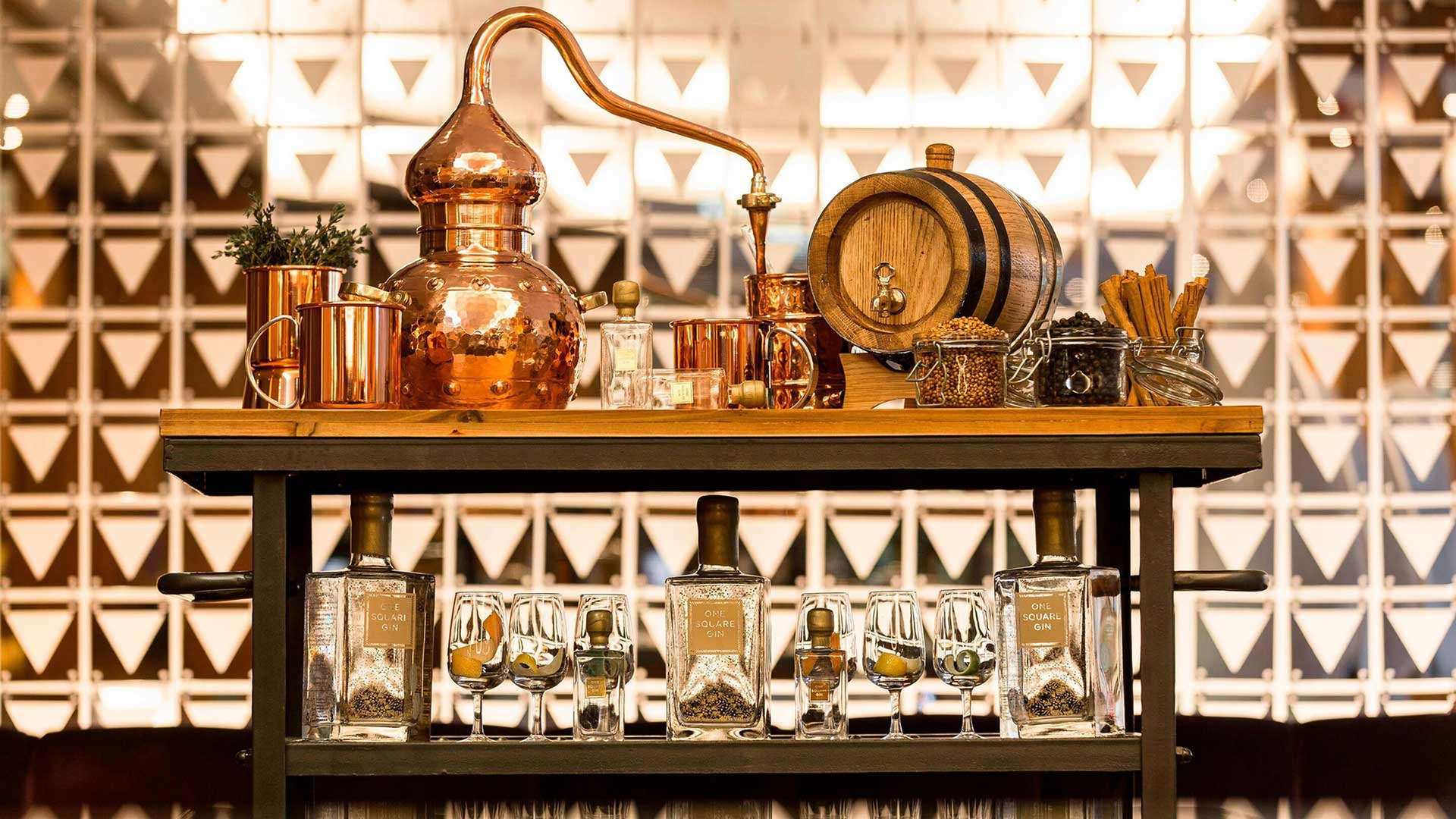 Don't miss a gin-tasting experience during your stay. (Photo: Marriott International)
Boasting magnificent views over Edinburgh Castle, as well as farm-to-table restaurants and state-of-the-art spa facilities, the Sheraton Grand Hotel & Spa is the perfect hub from which to discover this renowned Scottish town's UNESCO World Heritage city centre.
Unwind with the hotel's One Square Bar's exclusive namesake gin, made by hand at local Pickering's Gin distillery and infused with 15 global botanicals that include heather, liquorice, anise and citrus.
Or for a memorable indulgence, book a gin-tasting experience that includes an expert rundown of the distillation process, a sampling of four gins and a miniature One Square Gin bottle that's batched and sealed on premises.
Rooftop Garden Goods in London
A skip and a jump from some of London's most notable attractions, St. Ermin's Hotel, Autograph Collection offers an elegant stay in a 19th-century hotel built on the grounds of a 15th-century chapel. Even better, the property houses a rumoured secret tunnel that has inspired a plethora of historical anecdotes.
Rarely found in urban accommodation, the hotel's rooftop greenhouse is home to a herb and produce garden that grows seasonal fruits, vegetables and herbs to accompany the onsite Caxton Grill's European-style cuisine.
For the ultimate edible souvenir, purchase a jar of St. Ermin's honey, made by the hotel's rooftop honeybee colony – these busy bees gather choice nectar from parks around the city.
St. Thomas Beer in Prague, Czech Republic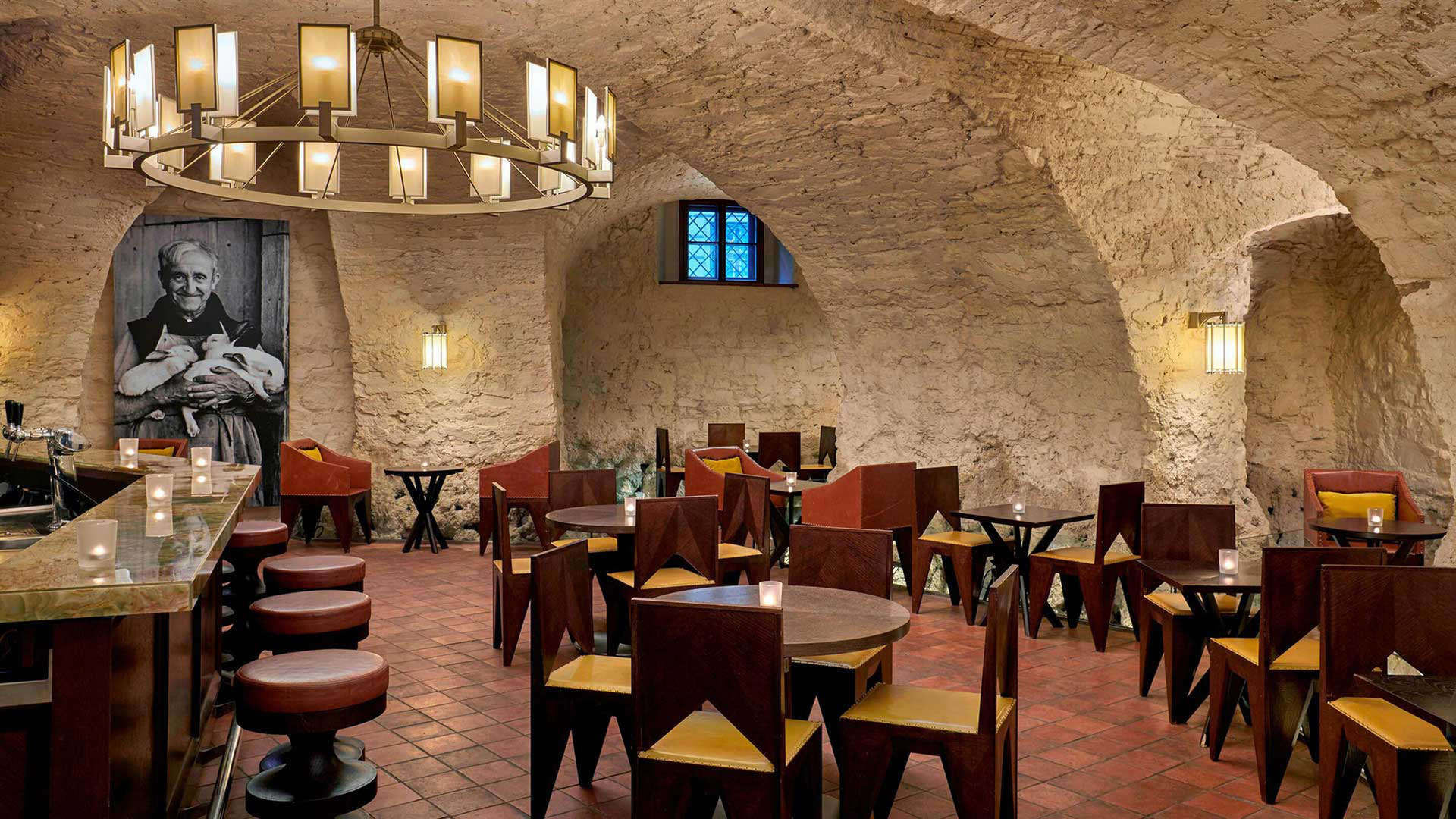 Sip a brew with history at St. Thomas Brewery Bar. (Photo: Marriott International)
In a privileged location just beneath the iconic Prague Castle sits Augustine, a Luxury Collection Hotel, which offers a stylish stay that marries modernity with the rich history of 13th-century Augustinian monks.
For a special treat, visit the hotel's St. Thomas Brewery Bar and sample the exclusive St. Thomas beer, a dark brew first produced in 1352 and long favoured by Czech royals. Once the cellar of the original 17th-century St. Thomas Brewery, the space still retains hallmarks of its original design – though the monks that once brewed beer here were eventually replaced by expert brewmasters.
Today, the Matuška microbrewery makes the ancient ale, which is served exclusively at the hotel's Brewery Bar and The Refectory, once a dining hall for Augustinian monks, now a modish bar and lounge complete with original frescoes and symbols.
Farm-Fresh Dairy in South Africa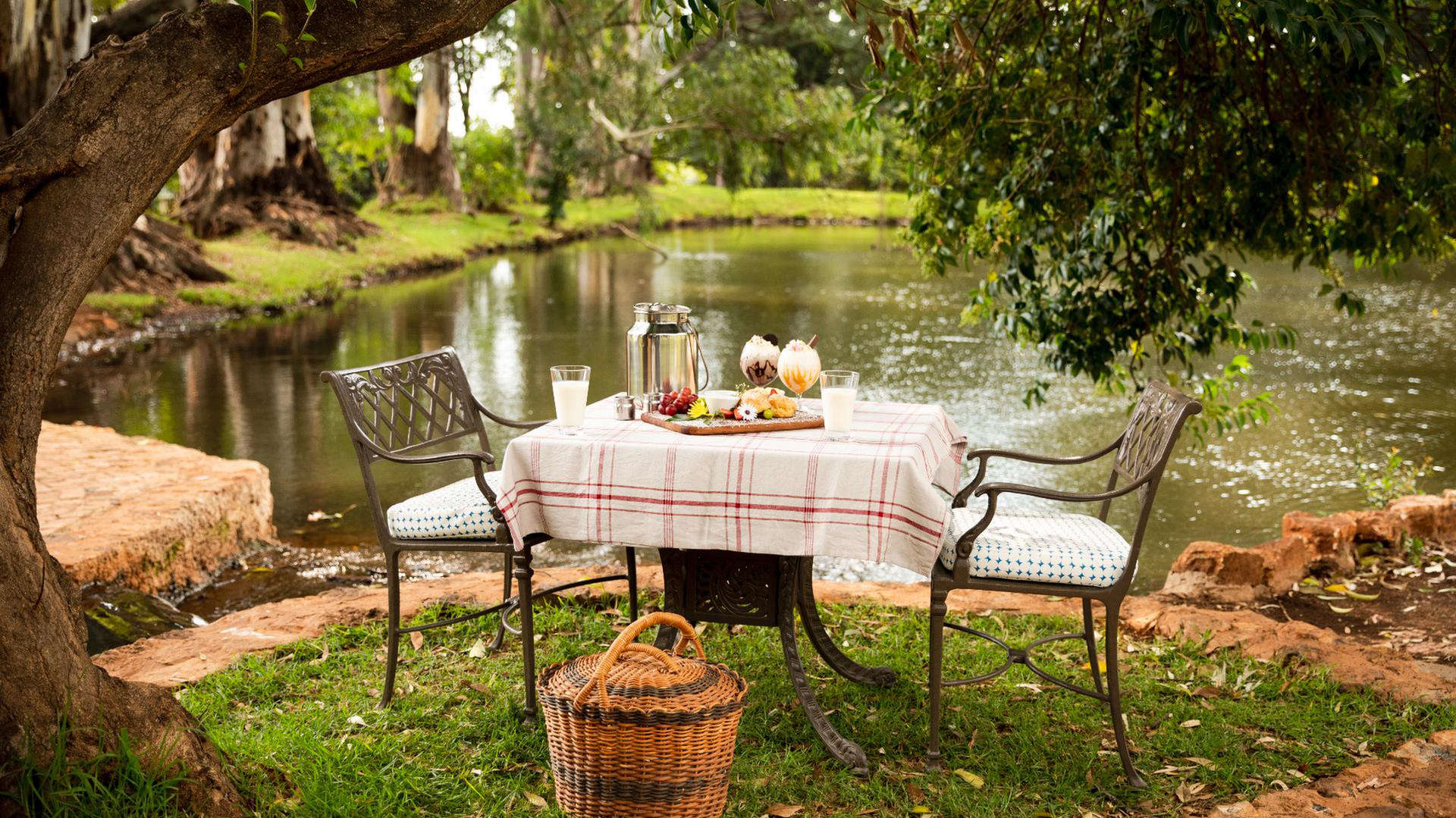 Savour farm-fresh ingredients ate African Pride Irene Country Lodge, Autograph Collection. (Photo: Marriott International)
Overlooking a picture-perfect lake and its verdant surroundings, the African Pride Irene Country Lodge, Autograph Collection provides the ideal setting for a country manor escape – though it lies just a short distance from the buzz of city living.
Aside from nature-reserve strolls and leisurely picnics, the lodge's dairy farm and adjacent tea garden, the Barn, offer visitors a unique look at authentic 19th-century farming. Here you'll find a herd of cows, refurbished stalls and vintage gallon pails used to collect the fresh milk, cheese and clotted cream that's sold onsite at the deli.
To achieve that singular farm-to-table flavour, the certified milk is served raw and without a hint of additives.
Published: July 25, 2022
Article Tags: Berlin , Czech Republic , Edinburgh , England , Germany , Italy , London , Prague , Restaurants , Sardinia , Scotland , South Africa , Spain , United Arab Emirates , Venice