From five-star service and opulent interior design to personalised tours and exclusive experiences, Istanbul, Qatar and the UAE offer every luxury imaginable. Whether you're looking for urban helicopter rides and behind-the-scenes access or high fashion and exquisite jewellery, here's how to seek out the very best when visiting this discerning region.
Discover unique perspectives in Doha

, Qatar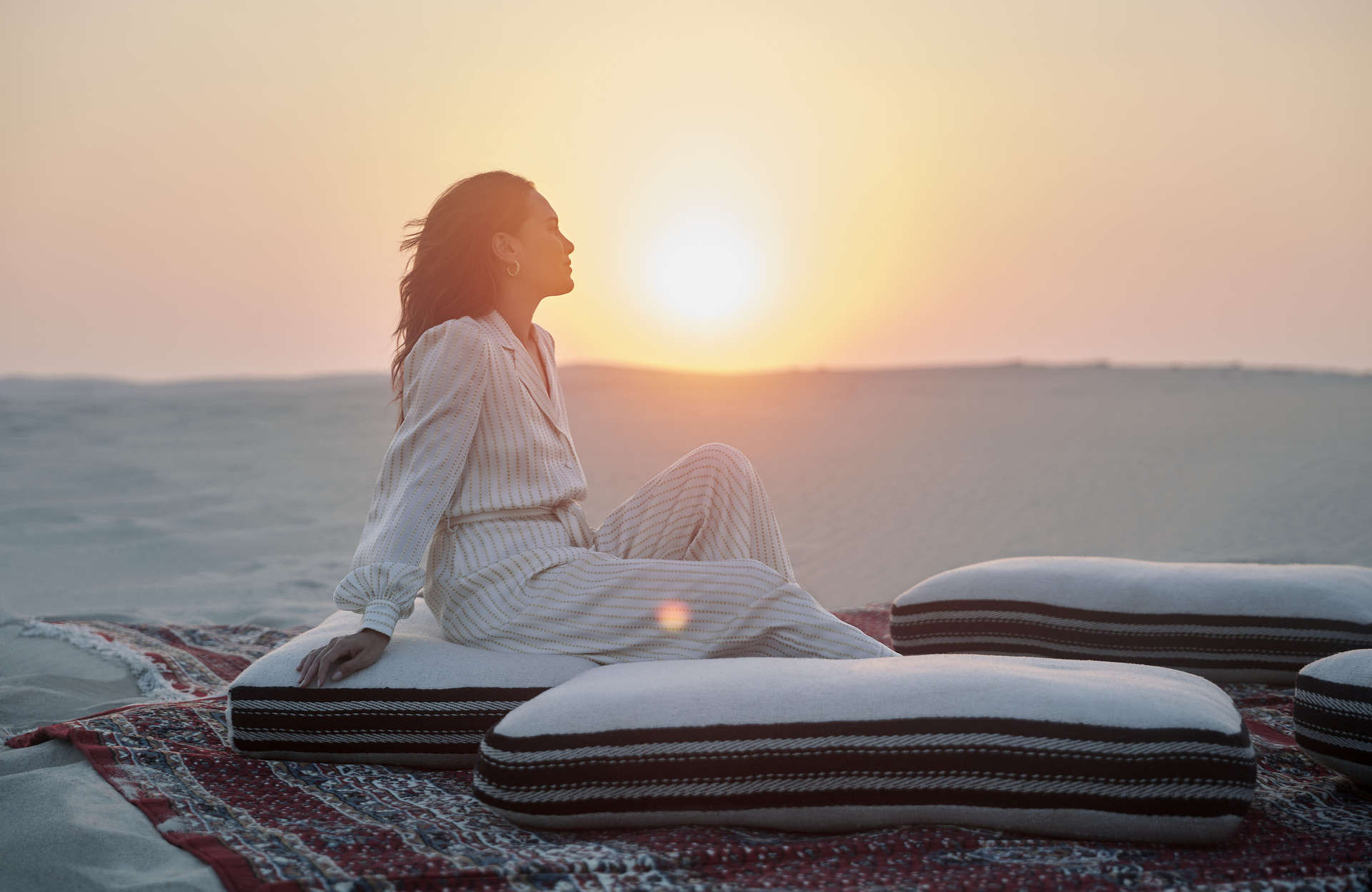 See Qatar with fresh eyes when you stay at Al Messila, a Luxury Collection Resort & Spa, Doha (Photo: Marriott Hotels International)
Qatar is full of incredible architecture – so begin your Doha adventure with a helicopter tour, for an elevated view of The Pearl-Qatar's million-dollar yacht marinas, West Bay's iconic skyscrapers, and the gemstone waters of Doha Corniche. Your hotel concierge will be happy to arrange the experience for you.
Afterwards, browse designer fashions from across the Middle East and Europe at Galeries Lafayette or take a private tour of the National Museum of Qatar to discover the country's remarkable evolution. Its exhibits include dazzling jewellery made from Qatari pearls, such as Elizabeth Taylor's teardrop-shaped earrings.
From one pearl to another: Al Messila, a Luxury Collection Resort & Spa, Doha glimmers pristine white, its turrets surrounded by lush gardens landscaped with native mimosa and acacia trees – a true oasis in the middle of the city. As well as its selection of secluded villas with private pools and butler service, the resort is home to one of the most extensive and advanced spas in the Middle East. Featuring a ladies-only wellness retreat wing, the spa is a cornucopia of marble hammams, floatation tanks, oxygen rooms and hydro-wellness pools.
Another great place to stay in Qatar is the The Ritz-Carlton Sharq Village, Doha, which has been designed to look and feel like the marbled palace of a sheikh. The private-balcony rooms and suites feature floor-to-ceiling windows that capture the full beauty of the palm-fringed coastline.
Meanwhile, The St. Regis Doha features a myriad of dining options, with sixteen exquisitely curated restaurants and bars – including Hakkasan for fine wines and Chinese cuisine, La Bodega Negra's high-octane Mexican, and Astor Grill for seafood and steaks. After supper, Sax Rooftop Lounge – a Room with Soul is the spot for an intimate nightcap.
Another fabulous Doha dining destination is The St. Regis Marsa Arabia Island, The Pearl Qatar, which occupies its own island in the very heart of Porto Arabia. The resort's restaurants explore a rich diversity of cuisines from Anatolian and Greek to Peruvian-Japanese fusion.
Enjoy one-of-a-kind experiences in Dubai, UAE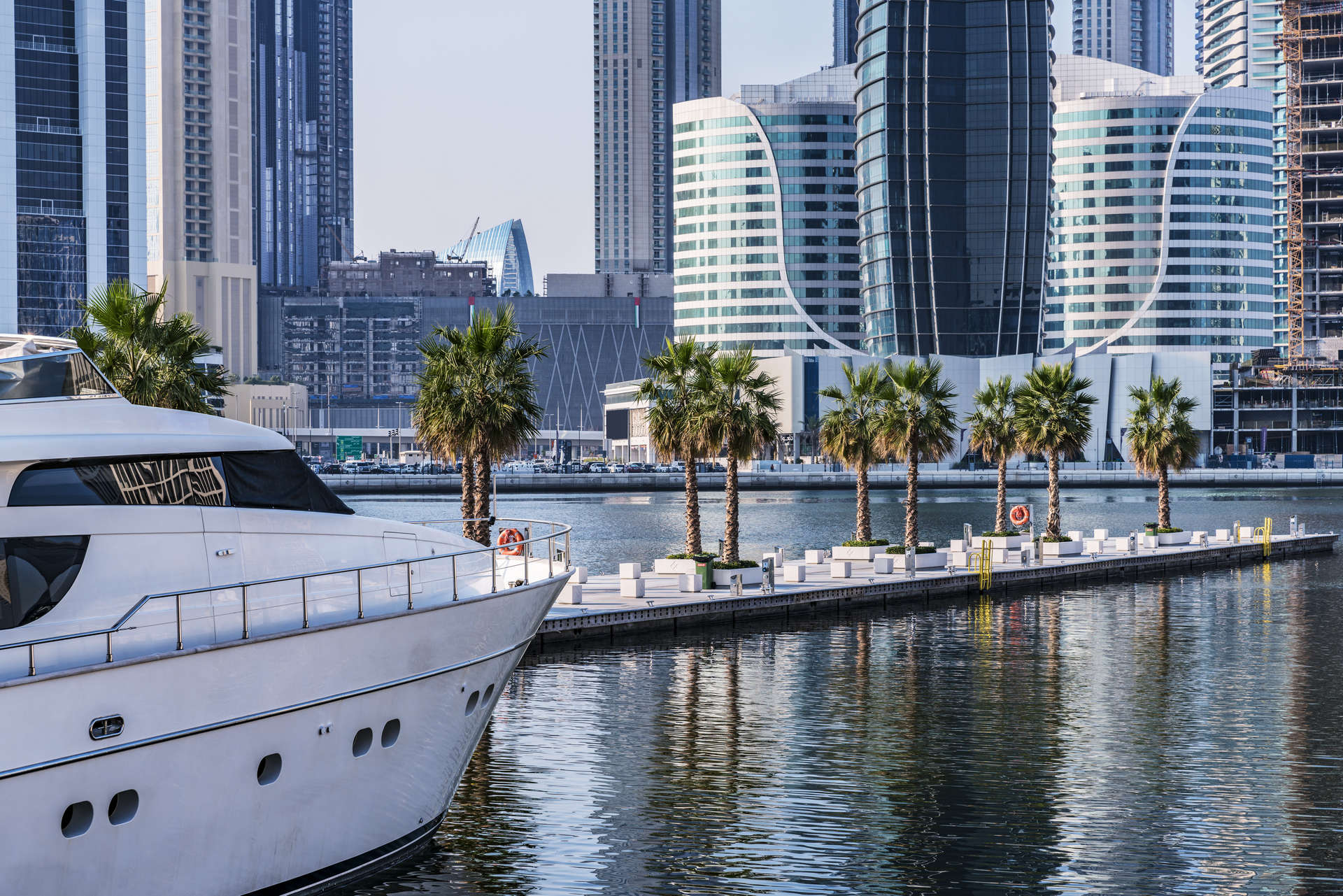 Gain a unique perspective on Dubai by sailing into the marina on a chartered yacht (Photo: Getty Images)
Forget selfies: for that ultimate Dubai experience, you'll want a personal snapper, so ask at your hotel about booking a professional photo shoot. The city has an abundance of glamorous backdrops, from the white sands of Kite Beach and the spires of DIFC, to private yacht charters, the Dubai Fountain Boardwalk and the iconic Palm archipelago. Guests at The St. Regis Dubai, The Palm can take advantage of the incredible views from the top of the hotel when creating photographic mementoes of their visit.
There's always something new to do in Dubai, and exclusive access – whether that's VIP tickets for Art Dubai, shopping at Alserkal's designer boutiques, or sunset cocktails on the Burj Khalifa's 154th floor – can take your experience to new heights. As well as its superb dining options and lavishly appointed rooms and suites, The St. Regis Downtown, Dubai offers each guest a personal butler, who will be happy to make arrangements like this for you.
Beyond the city limits, Dubai's urban landscape quickly yields to terracotta dunes, the habitat for endangered Arabian oryx, sand gazelles, ospreys, falcons and more. Al Maha, a Luxury Collection Desert Resort & Spa, Dubai is an all-suite tented camp in the royal family's Dubai Desert Conservation Reserve, whose every dwelling features a private pool, sumptuous lounge and uninterrupted desert views.
Enjoy explorations of the reserve – whether in the air-conditioned comfort of a 4x4 or by embarking on an adventurous camel ride – alongside exclusive stargazing experiences, walking safaris, and private picnics in the dunes. 
Experience fine art, falconry and F1 in Abu Dhabi, UAE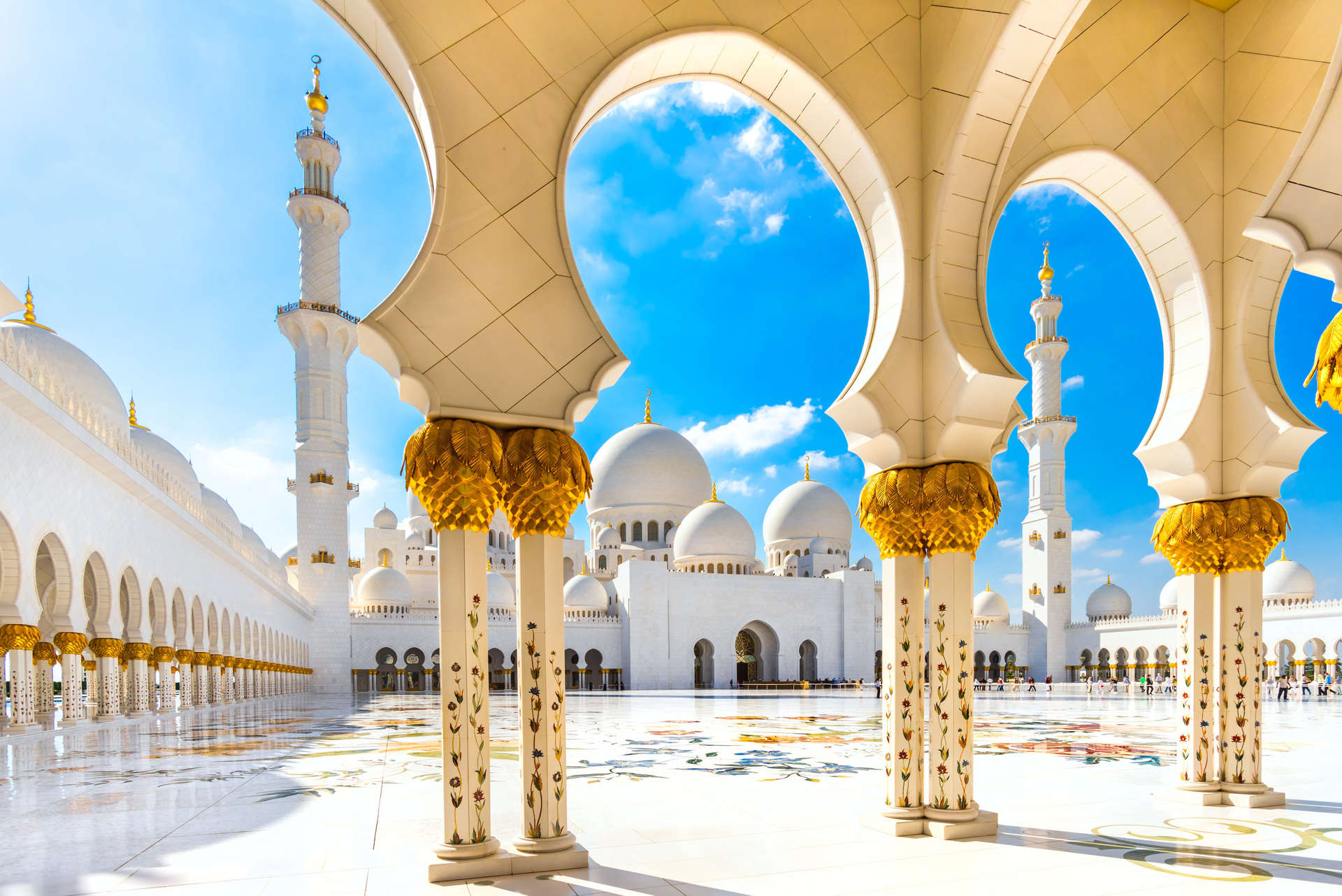 Linger a while at Abu Dhabi's Sheikh Zayed Grand Mosque to appreciate the exquisite care that has been taken with every last detail (Photo: Shutterstock)
As well as being home to the UAE's cosmopolitan capital, Abu Dhabi is also – courtesy of great expanses of desert – the nation's biggest emirate. On the edge of those golden dunes, Al Wathba, a Luxury Collection Desert Resort & Spa, Abu Dhabi is an oasis of flawless service, palatial suites and unique experiences. Here, you can learn the art of falconry with a Bedouin bird-handler, head into the desert on horseback, and enjoy Saray Spa rituals inspired by traditional treatments – such as camel milk foot-baths and massages featuring oud-infused oils. Then there's the Zarb Dining Experience, where a tender and flavourful dish of vegetables and meat are slow-cooked in an underground pit – it's a true testament to traditional cooking.
Back in the city, Louvre Abu Dhabi houses priceless artworks by the likes of Van Gogh and Ai Weiwei, while the Sheikh Zayed Grand Mosque features Swarovski crystal chandeliers, exquisite tilework and gold-leaf calligraphy – all of which can be explored on a private tour. 
When the Grand Prix isn't in town, a driving experience at Yas Marina Circuit puts you behind the wheel of a Ferrari 458 GT, to follow in the tyre tracks of the world's greatest racers. For a front-row view of proceedings, book a suite at W Abu Dhabi - Yas Island: it's the only hotel in the world to straddle a F1 race track. Also conveniently located for Formula 1 action is The Ritz-Carlton Abu Dhabi, Grand Canal, which is inspired by Venetian architecture. With 57 acres of lush gardens and one of Abu Dhabi's largest outdoor pools, the resort is a veritable oasis.
In the mood to browse for unique mementoes of your stay in Abu Dhabi? Ask your hotel concierge to match you with a personal shopper who will whisk you straight to the top boutiques and brands. 
Cross the continents in style in Istanbul, Türkiye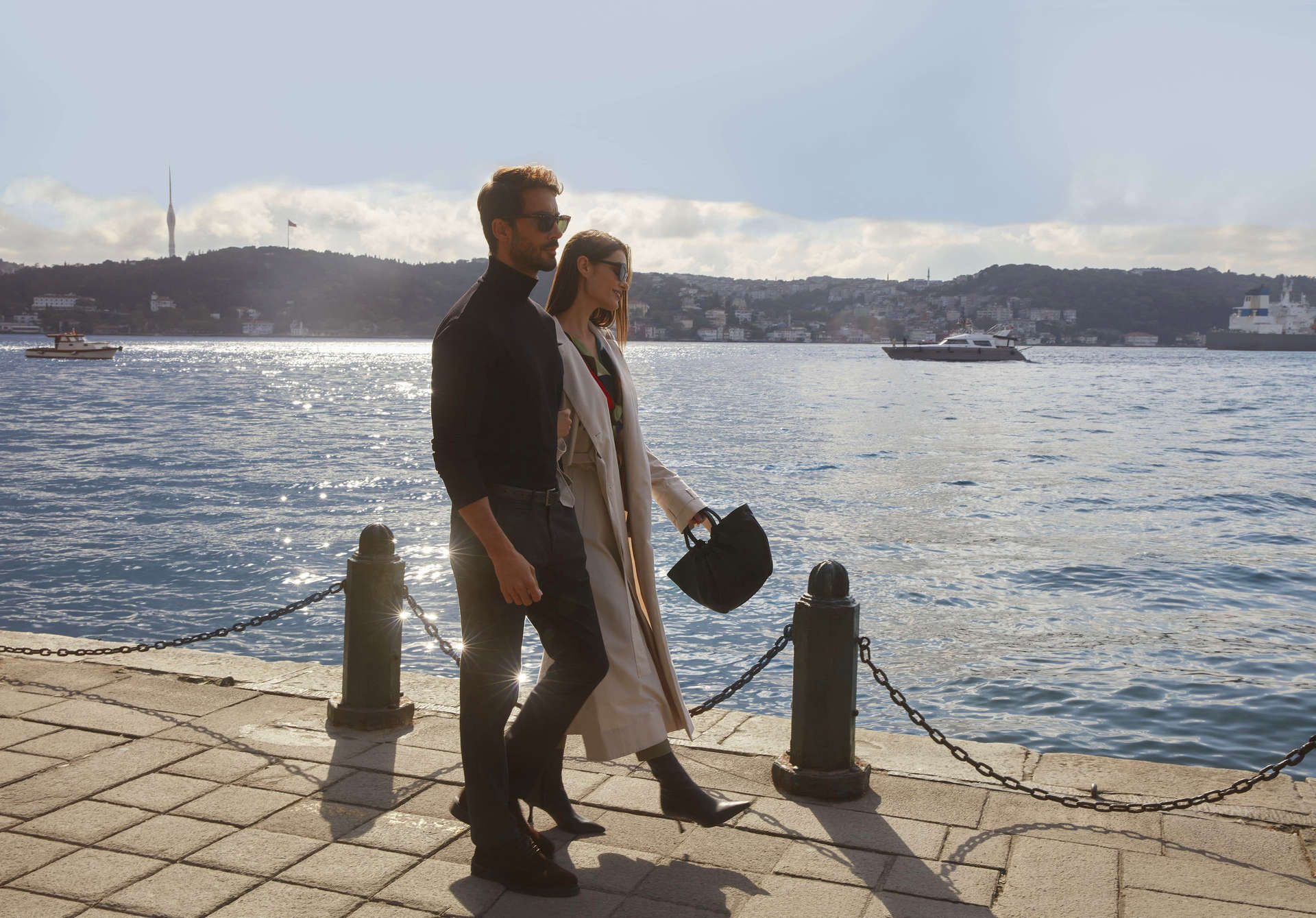 You can look across to a whole other continent while taking a stroll along the Bosphorus Strait in Istanbul (Photo: Marriott Hotels International)
The Bosphorus Strait divides Istanbul between Europe and Asia – so you can look across the water to a whole new continent. Set your sights beyond the standard sightseeing cruises and arrange a private yacht charter via your hotel concierge. From the polished decks of these sleek crafts you'll enjoy views of the Hagia Sophia and Blue Mosque, and perhaps even venture to the Princes Islands, the tiny archipelago famed for its sapphire-blue bays.
Back on dry land, your concierge can also organise tailor-made tours to suit your passions, whether art, shopping, sightseeing, history – or a little of everything – with skip-the-queue tickets to the likes of Topkapı Palace and Basilica Cistern.
While Istanbul has many excellent restaurants (such as Feriye, whose terrace overlooks the Bosphorus Bridge), you might opt for a private food tour of the Grand Bazaar to devour authentic lamb kofte, plump manti dumplings and syrupy baklava.
Afterwards, toast your Türkiye adventure with a traditional Champagne Sabering ​​ritual at The St. Regis Istanbul, in which a bottle is opened with the flash of a sword. At the hotel's Iridium Spa, lavish Turkish hammam treatments will soothe your city-weary legs, while Wolfgang Puck's Spago restaurant serves exquisite sushi, seafood – try the roasted octopus – and truffle-laced risotto, with twilight views of the glittering Bosphorus.
Some of Istanbul's most stunning Bosphorus views can be enjoyed from the rooms and suites of The Ritz-Carlton, Istanbul, which elegantly marries the very best of ancient and contemporary Turkish hospitality. Think Anatolian cuisine, Turkish coffee ceremonies and hammam treatments alongside mixologist-crafted cocktails and stylish design.
Sample Bedouin bliss in Ras Al Khaimah, UAE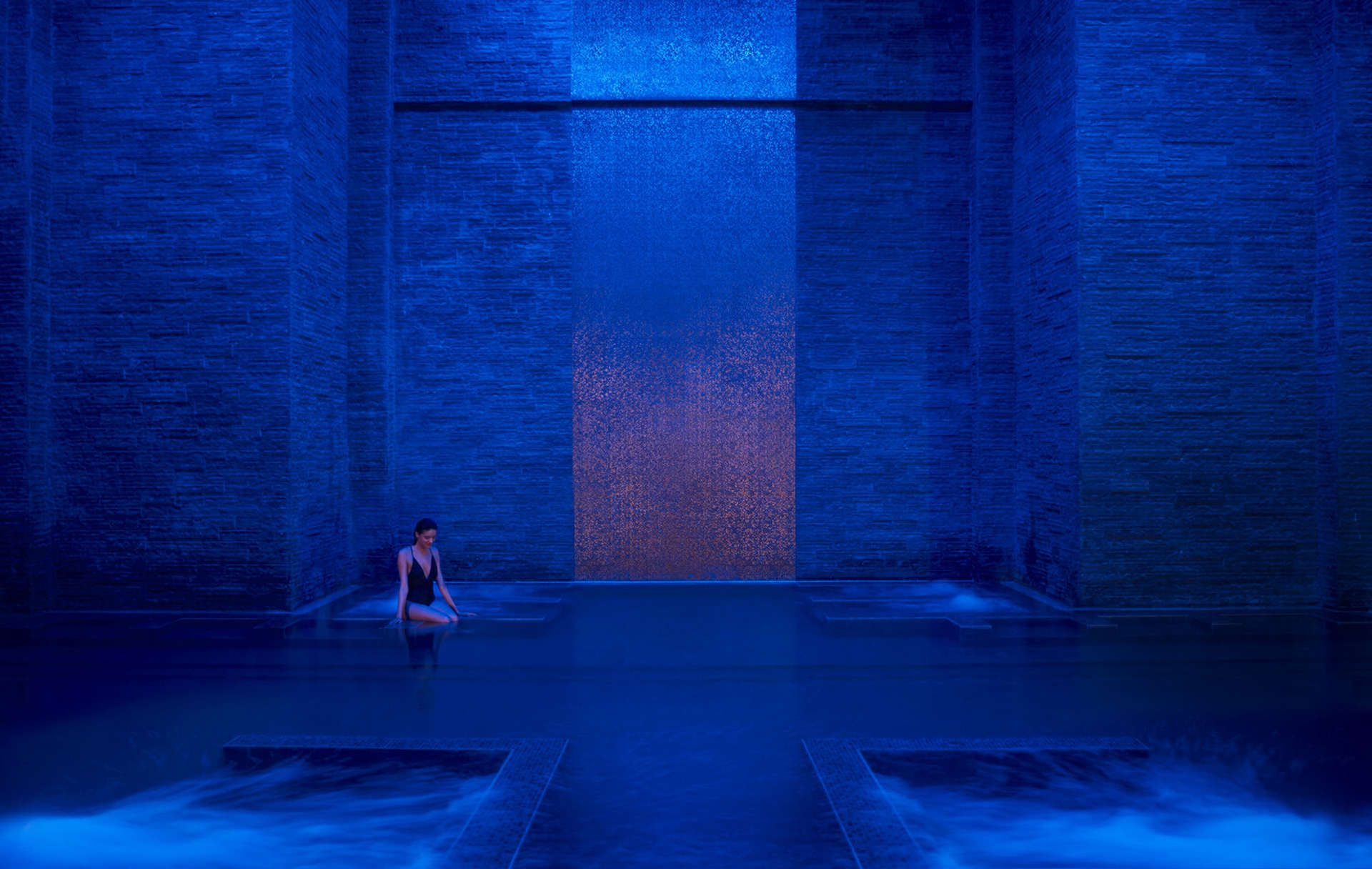 At The Ritz-Carlton Ras Al Khaimah, Al Wadi Desert, take a hydrothermal journey through The Rainforest, whose 16 spa stations include acupressure massage in the Vitality Pool (Photo: Christopher Cypert) 
An hour's drive north from Dubai lies Ras Al Khaimah, another of the UAE's seven emirates and an area renowned for its pristine sand dunes, in which landscape sits The Ritz-Carlton Ras Al Khaimah, Al Wadi Desert. The resort's array of exclusive experiences complements its natural location: from chef-cooked barbecues out in the desert, to chauffeur-driven wildlife safaris and camel rides beneath the full moon.
Take a hydrothermal journey through The Rainforest, whose 16 spa stations include a herbal sauna, purifying brine cavern, invigorating ice igloo and acupressure massage in the Vitality Pool. Or start the day with a wildlife feeding experience, joining the Al Wadi Desert Nature Reserve rangers serving breakfast to the resident oryx and gazelles. If you'd like to explore further afield, connect with a guide from Adventurati Outdoor and tackle the rewarding eight-hour hike to the stunning Hidden Oasis.
The Ritz-Carlton Ras Al Khaimah, Al Wadi Desert resort's all-villa accommodation is designed in the style of a traditional Bedouin camp – albeit with private pools, room service and all the little luxuries you could wish for. After a long day's exploring – and especially after that eight-hour hike – enjoy a hot desert-stone massage in your villa's garden, or look to the stars in the company of an expert astronomer. Tomorrow, another adventure awaits.
Published: December 27, 2022
Article Tags: Türkiye , Qatar , United Arab Emirates